Sticky Password is a tool to securely store sensitive data. In its highly protected repository, you can place accounts to log on to sites and applications, personal and financial information, and contacts to quickly fill out forms, as well as notes with any other data.
The extension is installed in the browser and imports the passwords already stored there and remembers the new ones when you enter them for the first time. You are able to manage them all on any device via the application for Windows, macOS, Android, iOS, and BlackBerry.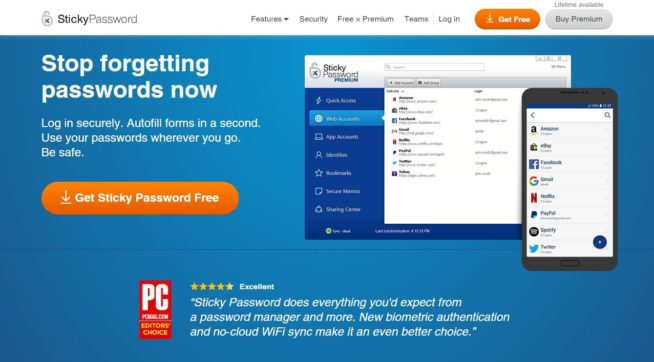 Sticky Password focuses primarily on individual use. A free version is great for working on one device. You can save, generate, and automatically enter passwords. In this case, a backup copy can be created manually by exporting to a file and being saved on a local disk or portable drive. If you have multiple devices, the best solution is to purchase the Premium plan, which provides the cloud backup option, as well as the synchronization via the cloud or a local Wi-Fi network. There are two payment options: an annual subscription or a one-time license with no time limit. In addition, the developers have teams and academic offers.
What do you get by downloading Sticky Password?
You save a lot of effort, time, and nerves. First, Sticky Password automatically saves and inserts account information to log into sites, so you no longer need to memorize all your passwords — you just need to know the master one. Second, the program itself can generate strong random passwords when you sign up on the website. Third, you can add accounts not only for sites but also for various applications, for example, a desktop version of Skype. And also, we liked the auto-completion of registration data, including name, date of birth, email, phone, address, card numbers, etc.
Absolute security of your password database. First, Sticky Password uses AES-256, the world's leading data protection standard, like the Pentagon's one. Second, the company itself does not know the master password for unlocking your data, nor any of the passwords themselves. Third, you can synchronize devices on a local Wi-Fi or using a flash drive. Fourth, two-factor authentication/biometric identification is required to unlock data. And finally, if necessary, you can run a database lock.
Full synchronization of passwords from sites and applications on all devices (Windows, macOS, iOS, and Android) and in all browsers (Chrome, Firefox, Safari, Edge). Synchronization can be carried out through the cloud, local Wi-Fi, on a flash drive or manually.
A lot of additional features, such as connecting to accounts directly from the application icon, saving passwords in the cloud, secure notes, importing from browsers, integration with Kaspersky Lab, etc.
A fully functional free version that has everything you need.
An affiliate program with a generous reward of up to 50%.
But why is using Sticky Password safer than manually entering passwords? The very first and most important thing is that Sticky Password protects against phishing sites that resemble real ones like twin brothers. Even if you are not lazy every time you come up with a new password for each site and are 146% sure of your memory, there is always a chance that you open the wrong link in Google or click on the wrong button in Facebook.
Similarly, Sticky Password protects against keyboard/screen/clipboard interceptors. Some people save their passwords in browsers, but browser protection is not so strong and synchronization works only within the products of one company.
Verdict
Sticky Password is a powerful, effective password manager. The product handles extraordinary authorization pages better than competitors, offers several synchronization options, and even manages passwords for applications.
The program is excellent and is one of the best in the market. Why not try it?
Pros
Great attractive user-friendly interface
Great security options
Sync over home Wi-Fi
Saves the logins to all apps
Attractive price, lifetime license
Good support
Cons
Limited online dashboard
Limited 2-factor authentication options
1. Features
1.1 Password manager for all installed apps
The user can use Sticky Password to store logins and passwords to programs requesting them. To select a program, you can either specify the file name or drag the icon into the password field. Next, you just have to enter your credentials. This feature works reliably even with the latest password-protected programs. Most of us have set up our email and instant messaging clients to automatically remember a password, so they start instantly. This is very convenient, but it is quite risky for security. Using Sticky Password for authorization instead of built-in options can highly increase this aspect.
1.2 Password generation
When you sign up for a new account and position the cursor in the password field, Sticky Password generates a strong and secure password. You must select a password length — between 4 to 99 characters, a set of used characters (upper case letters, lower case letters, numbers, and punctuation marks) and simply click the "Generate" button. Like LastPass, Sticky Password allows you to avoid similar characters, such as the letter O and the number 0.
The password generator estimates the password strength by 4 gradations: weak, normal, advanced, and ultimate. When using the standard settings, you will receive a password of 15 characters without special characters (since many sites do not allow punctuation marks in passwords). These parameters lead to a high degree of security, which is an improvement over the previous version of the product.
To check the security of your existing passwords, select Notifications on the Quick Access tab and click the "Enable Notifications" button. After that, you will see a list of saved sites with the weakest passwords. Of course, a comprehensive informative report on the security of all passwords would be more appropriate here.
1.3 Biometrical authentication
By default, your master password is requested each time you log into your Sticky Password account. You can configure the product to replace the master password input by connecting a USB media or Bluetooth device. Please note that in this case, authentication will not be two-factor, since there is a complete replacement of the master password input and not an additional basic authentication option.
When using Sticky Password on a mobile device, the user can configure fingerprint or face recognition authentication on iOS and Android devices that support biometric data. However, there can be some issues with Touch ID on iOS.
Of course, this feature is available on a home Windows computer or Mac. However, Sticky Password promotes the iris recognition technology using the EyeLock device. The device is very promising, but its high cost at the moment ($ 279.99) seriously limits its audience. At the same time, right now, Sticky Password is the only product that offers an iris recognition method support.
1.4 Store the passwords on a USB stick
When you cannot access the passwords stored online, you need to use a portable version of the program on a USB drive, which contains all your existing passwords. You can use it to access saved resources, as is the case with the regular Sticky Password version. The logins and passwords will be stored exclusively on a USB drive without automatic synchronization.
1.5 Filling in the web forms
The user can set an unlimited amount of user data in Sticky Password to fill in web forms. The saved data may contain post addresses, contact information in various services and social networks, as well as credit card and bank account information. Sticky Password allows you to add multiple credit cards and bank accounts, but all other fields have unique values.
Sticky Password can capture the data you entered into a web form. When the program detects the confirmation of filling in the form, it offers to create a new record with the entered information.
When Sticky Password detects a page with a form, the fields that can be automatically filled in are highlighted with a red frame. Just click the button in the browser and select the entry. At the same time, don't forget to check all the fields to make sure that there are no fields with a red frame left blank.
1.6 Bookmarks and personal notes
During installation, Sticky Password offers to import the bookmarks from browsers. Synchronized bookmarks are available on all devices, which is very convenient.
Personal notes are formatted text documents that Sticky Password stores and synchronizes with passwords and sensitive data. 10 preset templates display a list of fields that you would most likely want to save: license keys, passports, and credit cards. You can edit notes in any way or create new ones from scratch.
Personal notes are not used to fill in forms. They simply store important information for the user and make it available on all devices.
1.7 Direct synchronization via a personal Wi-Fi network
In most cases, all the passwords and credentials will be synchronized via the Sticky Password servers between all your devices. The sync process will use your available connection be it a mobile connection or office network. However, using public networks can be quite dangerous for your data. What is the solution? Synchronize the logins and passwords using your trusted home Wi-Fi network. All devices must be connected to the same network.
2. Pricing
There is not a huge variety of plans, there are just free and premium ones. Of course, you can use the service for free but in this case, you will be quite limited. For example, you will not be able to synchronize your data between devices or get priority support.
The premium plan is comparable to those of most competitors. You can select between an annual subscription or a lifetime license. In the first case, you will pay $29.99 per year, and for the latter — $149.99 for a lifetime. For business customers, the company offers an annual subscription for the same price, and for teachers and students, they charge $12.95 for 1 user per year. The lifetime license is available only for individual users.
The free version of the application provides all the necessary options to be useful in most situations. All your logins and passwords will be reliably protected, you will be able to activate the two-factor authentication, use Sticky Password on your any device or browser, as well as use the biometrical authentication. The premium subscription will provide some additional options like password sharing or cloud backup. Here is the full comparison of both plans: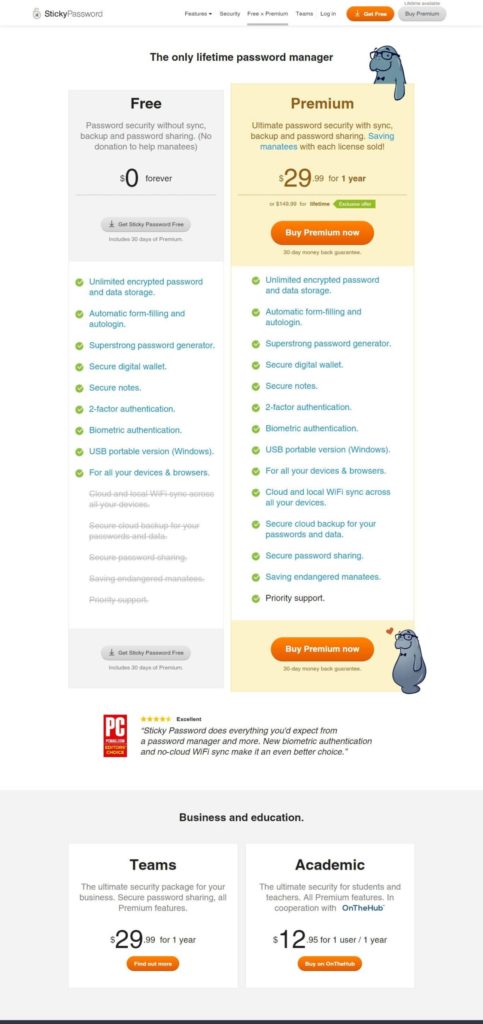 Sticky Password is a great solution for most users as it provides a lot of useful options without the users overpaying for them.
3. Registration
Go to the Sticky Password official website, click on Get Free button to download the password manager for free, and install the program as usual.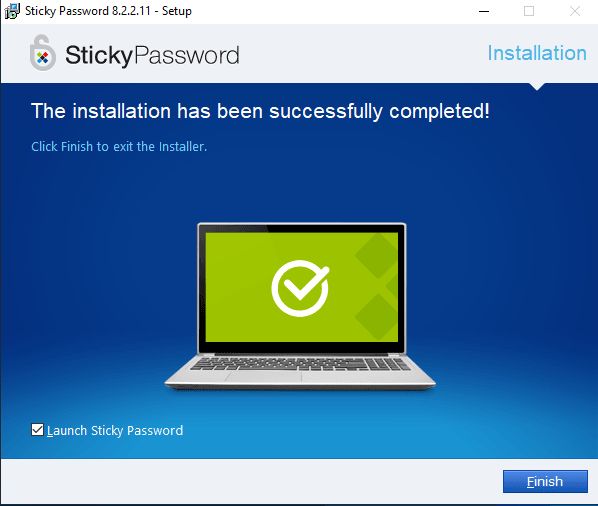 Having installed the app, create a new Sticky Account. Enter the email address that will become your StickyID, and create the master password. Be careful: the master password is not saved anywhere, so if you forget it, you will lose all your data forever.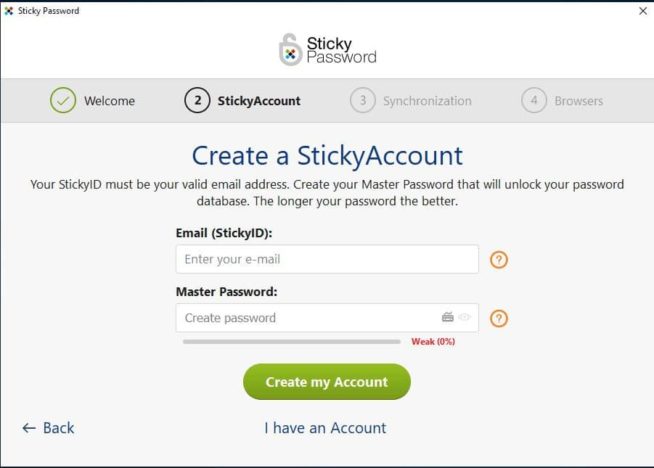 Specify the basic settings for synchronization and integration into browsers. All saved passwords from these browsers will be imported automatically.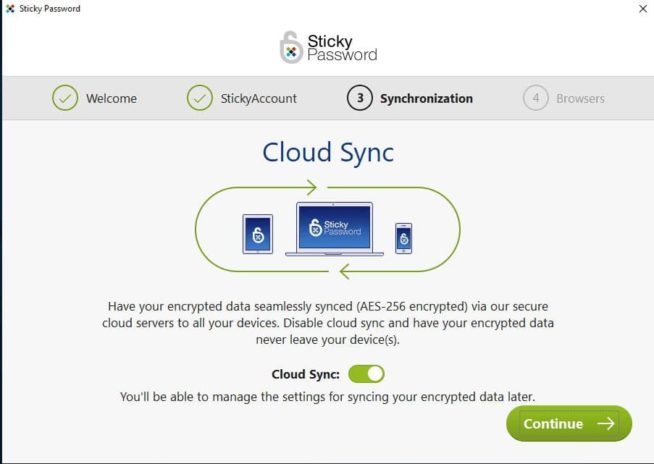 Also, the install wizard will install the browser extension.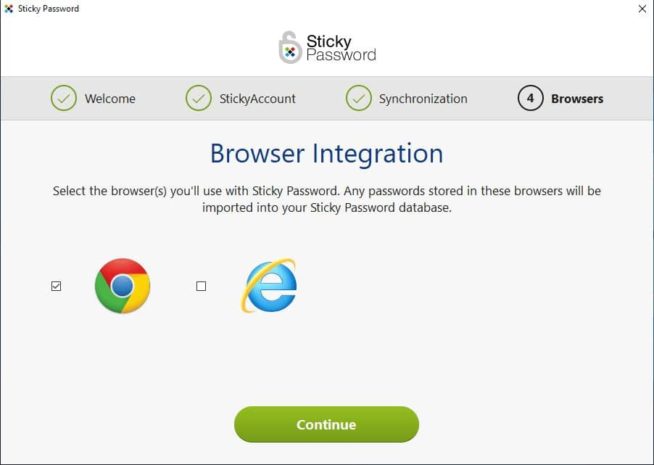 The trial premium version is automatically activated for 30 days without any credit card numbers and billing data being required.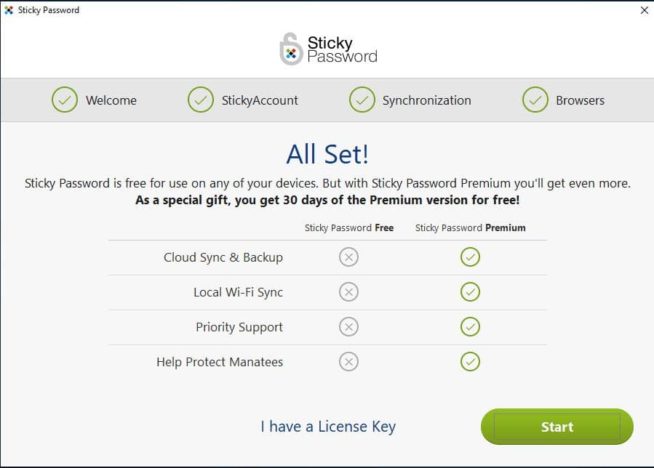 4. Supported platforms and apps
Sticky Password supports all the popular operating systems, platforms, and browsers. You can use the service on Windows and Mac desktops, as well as Android and iOS mobile devices regardless if they are smartphones or tablets. In addition, it provides extensions for Google Chrome, Opera, Mozilla Firefox, and Internet Explorer. Moreover, it will work even on browsers based on Firefox and Chrome such as Pale Moon or Comodo Dragon.
4.1 Desktop app
The application is very similar both on Windows and Mac OS. At the bottom of the Start screen, there are links to the most popular options and all others can be found in the side menu. This way, you are able to access your web accounts, app accounts, identities, bookmarks, secure memos, and sharing center and you will be able to find all your saved logins and other data.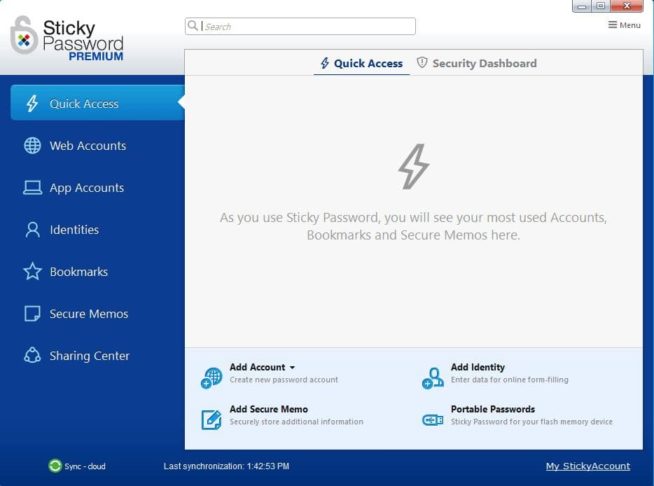 In the menu, you are able to access some additional features and settings.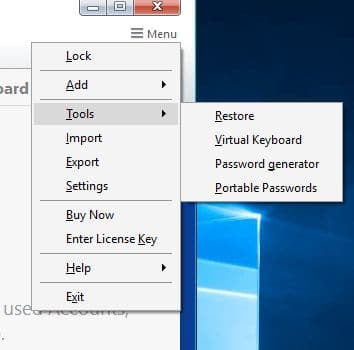 For example, here is the password generator which will help to get a unique and really strong password of up to 99 characters.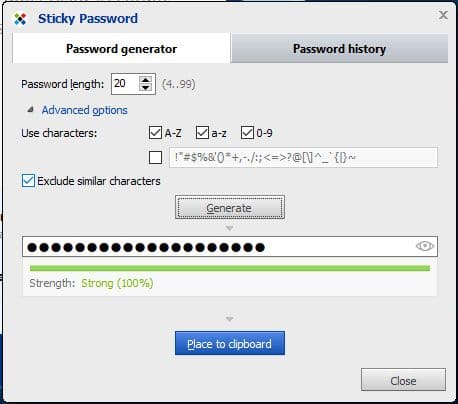 In the settings, you can fine-tune and configure absolutely everything related to your application and account. Here are the available options: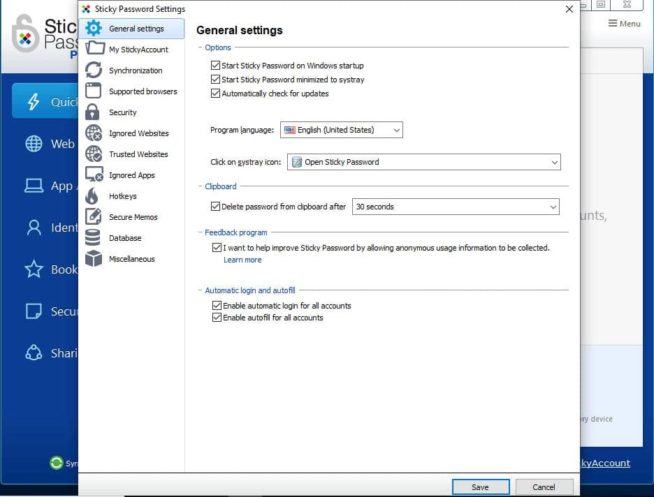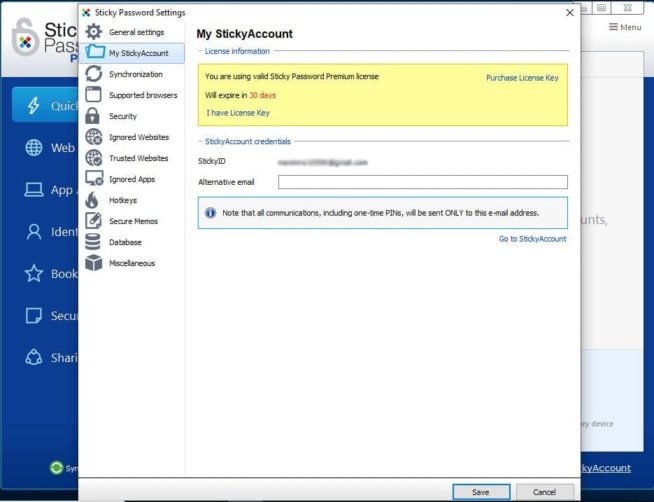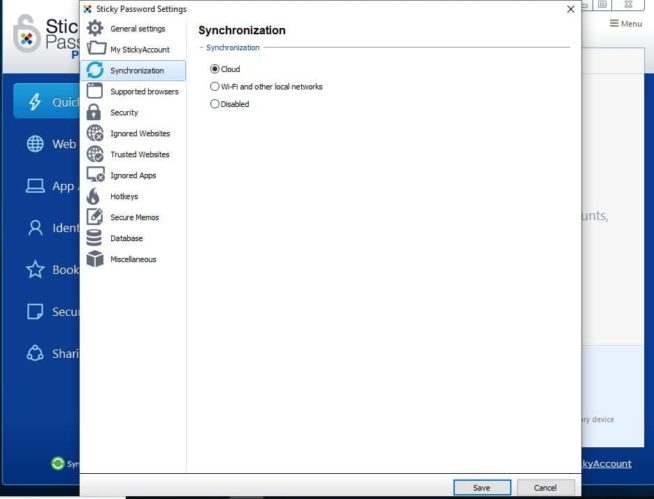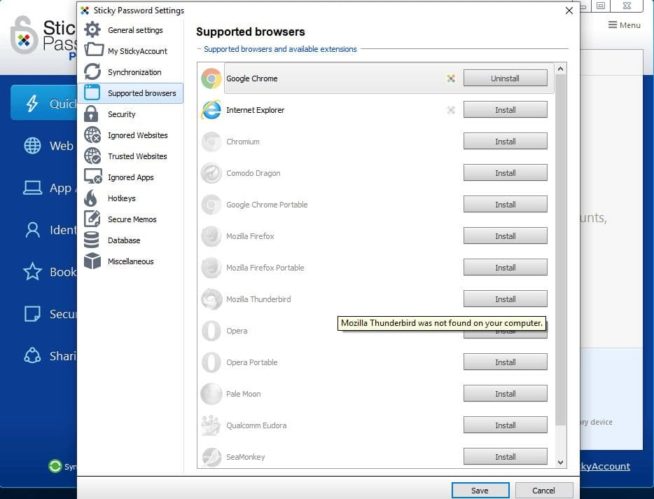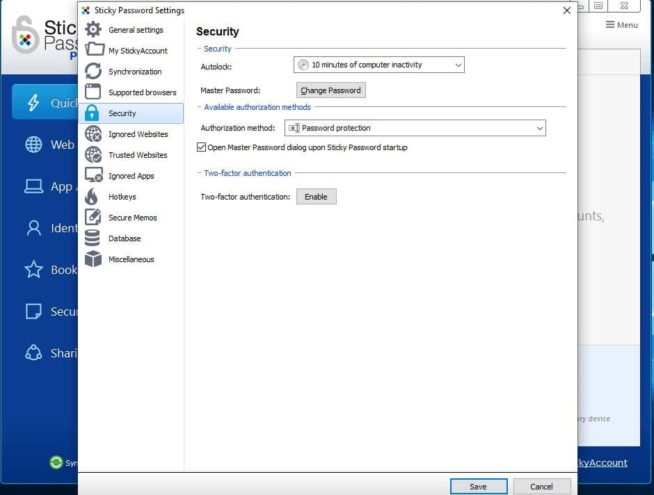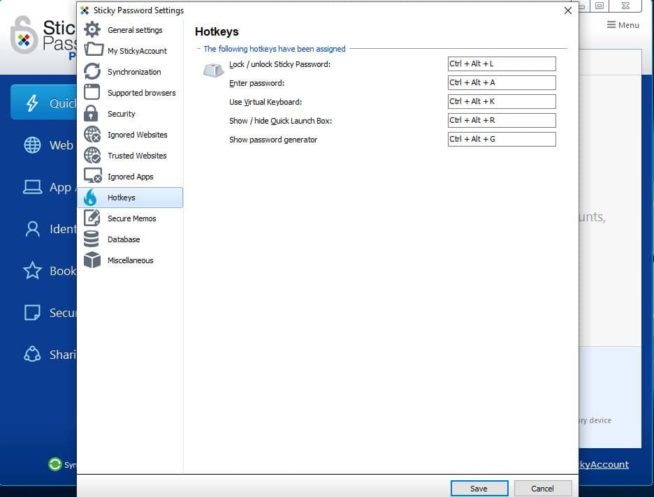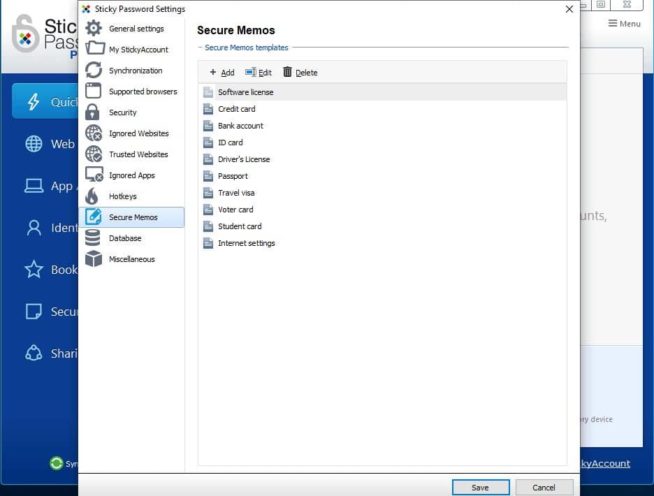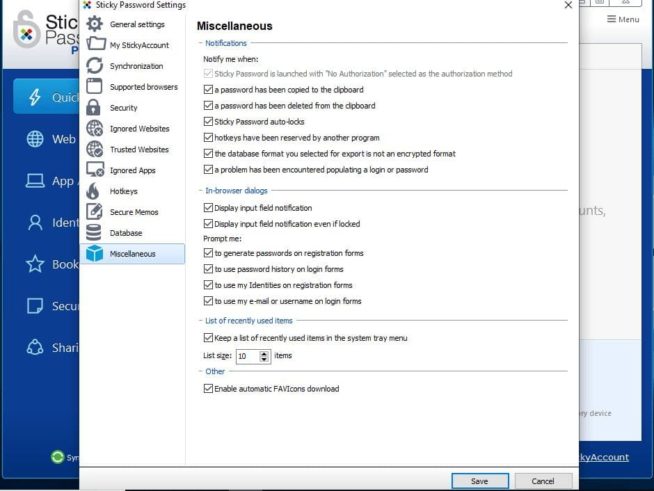 In addition, you can access the menu via the taskbar: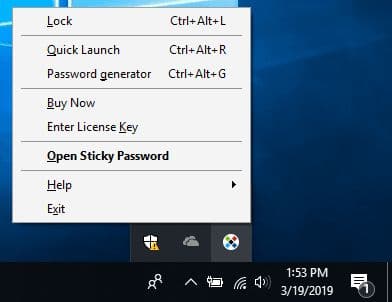 4.2 Mobile app
Just like the desktop one, their mobile app is very similar between iOS and Android. When using it for the first time, you are able to create your account, enable synchronization, and start the free trial.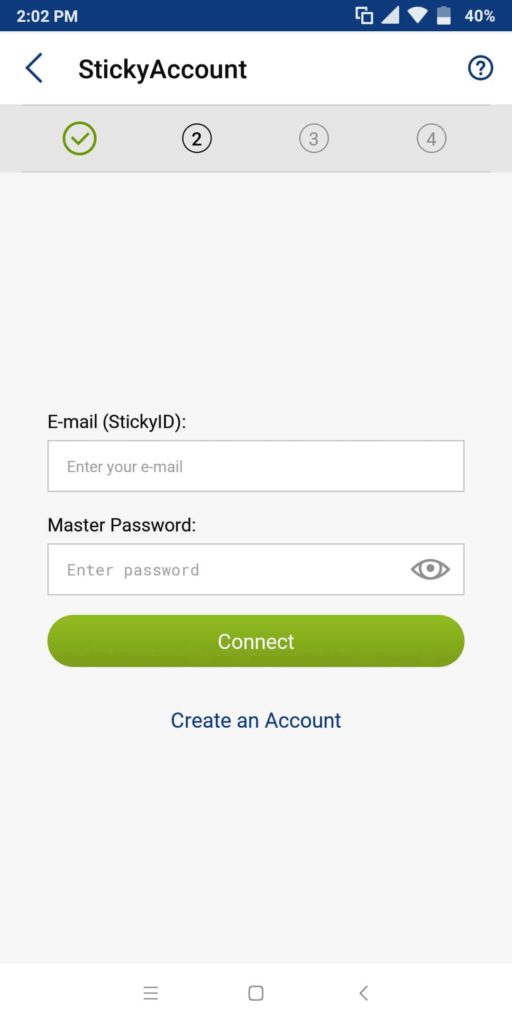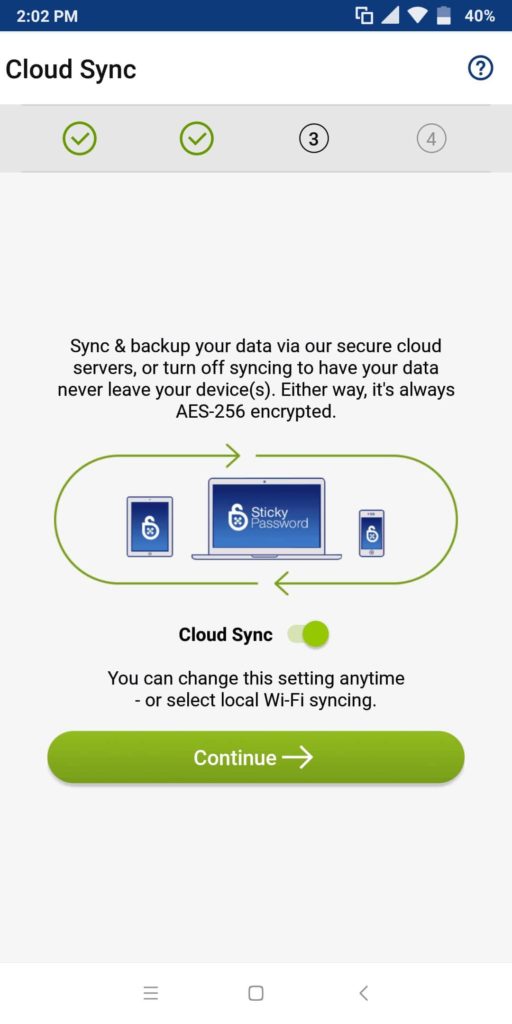 On the start screen, you are able to access your web and app accounts, identities, bookmarks secure memos, and sharing center — not much different from the desktop version.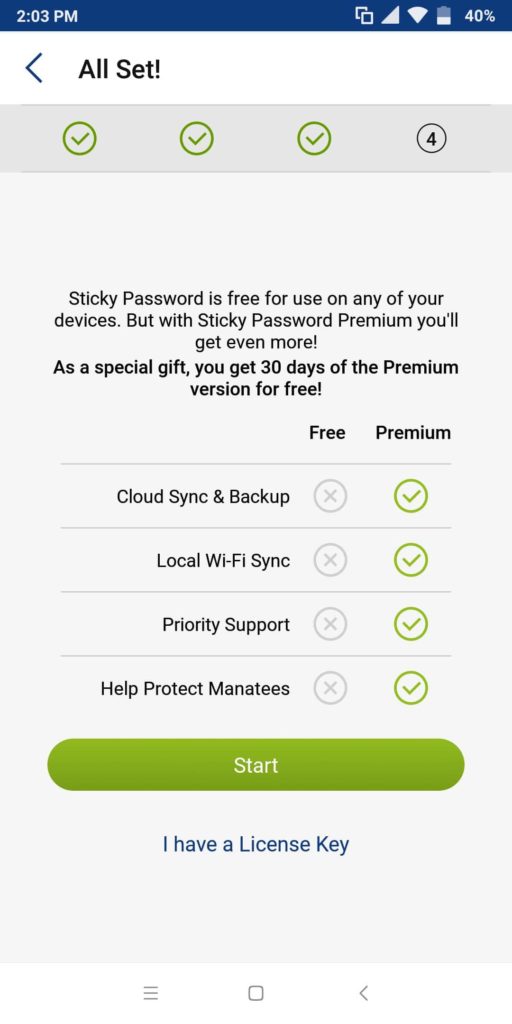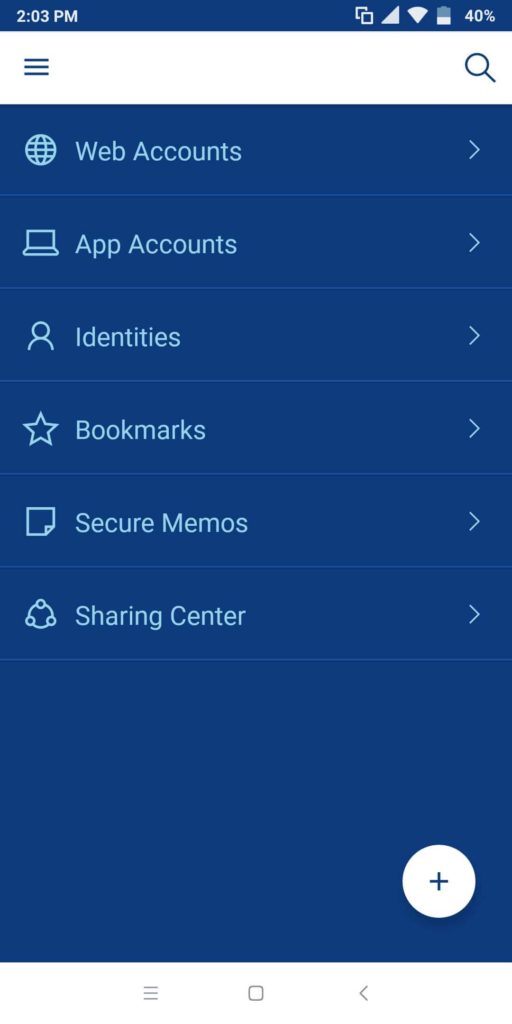 In the sidebar, you can select additional options like the password generator or the Sticky browser. In the Settings tab, you can set up and configure the app and account.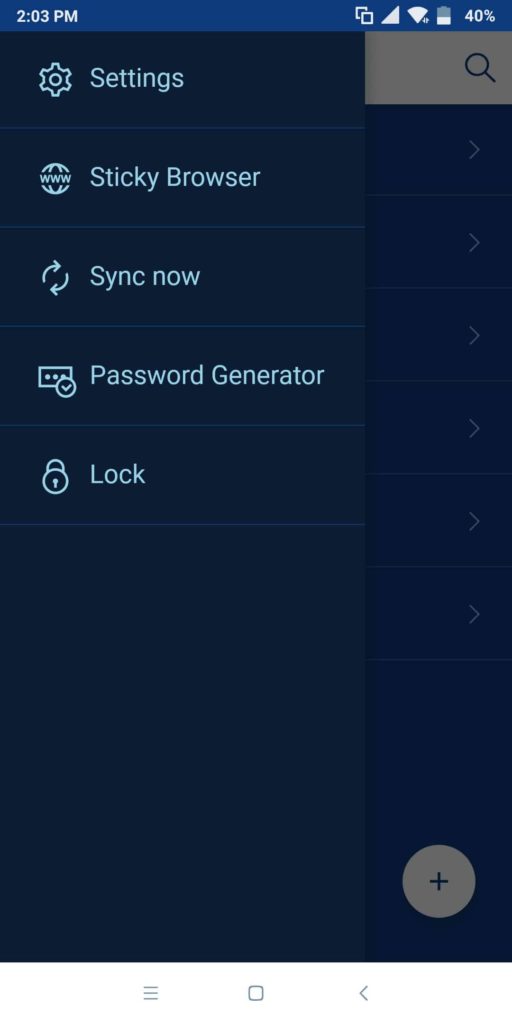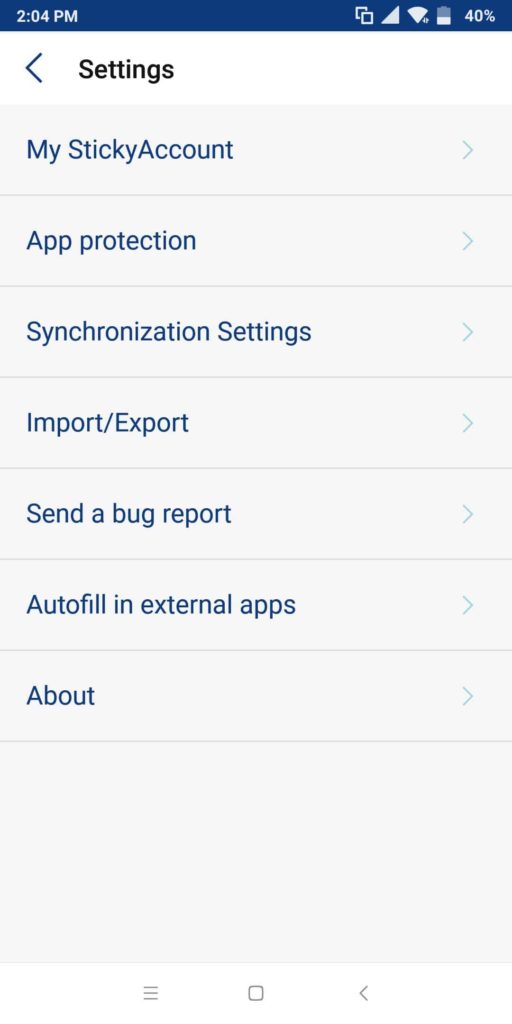 The password generator has the same functionality as the desktop app. Additionally, you can select whether to insert the generated passwords into the field or copy it to the clipboard. Also, you can add an account, memo, bookmark or identity right from the start screen.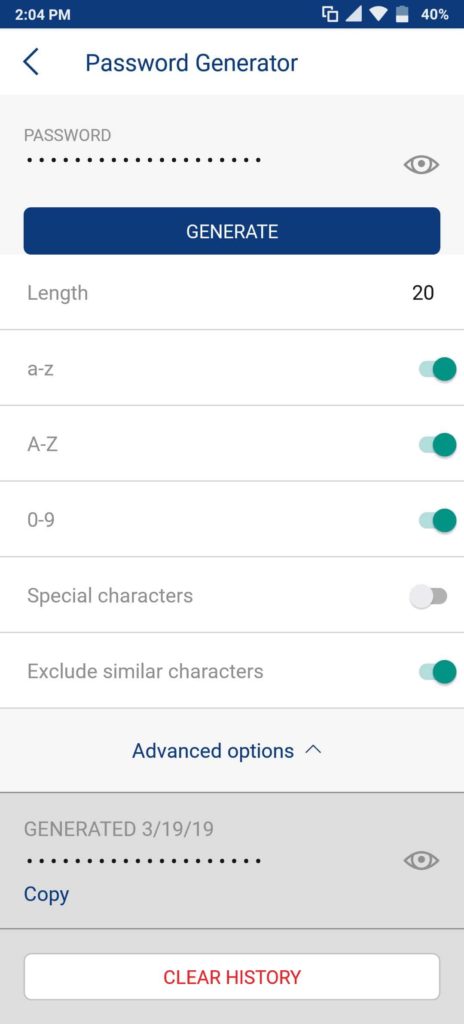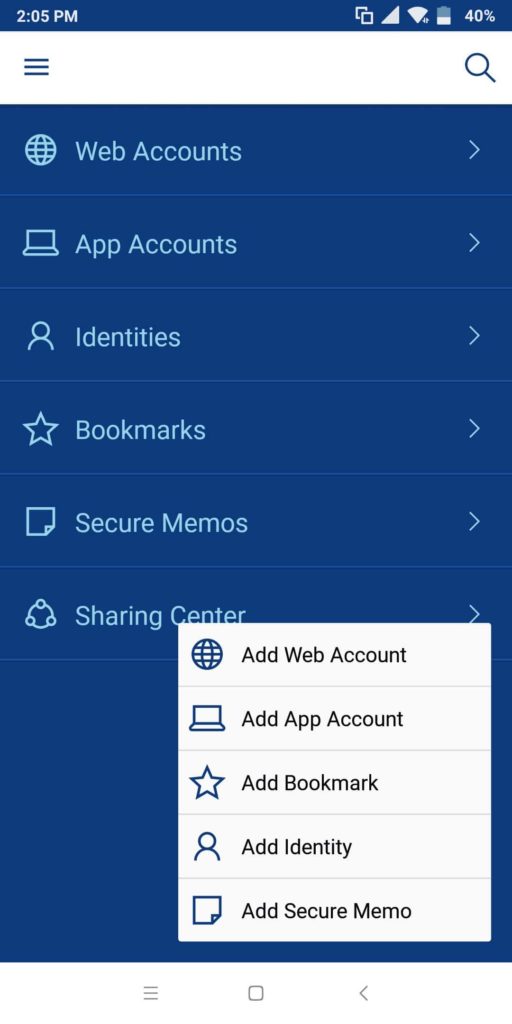 4.3 Browser extension
The browser extension is connected to the desktop application and cannot be used on its own. This means that you will have to open the app for the settings. In any case, the browser extension is friendly and provides access to all the basic features.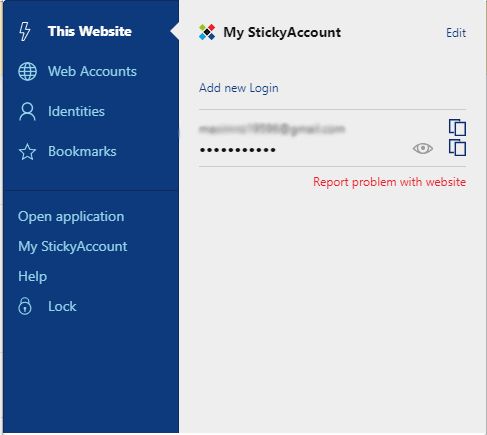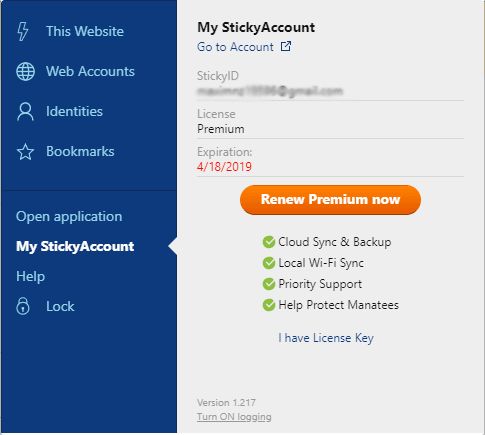 4.4 Online access
Unlike most competitors, Sticky Password does not provide access to all the logins and passwords via the web browser. The web interface is very limited.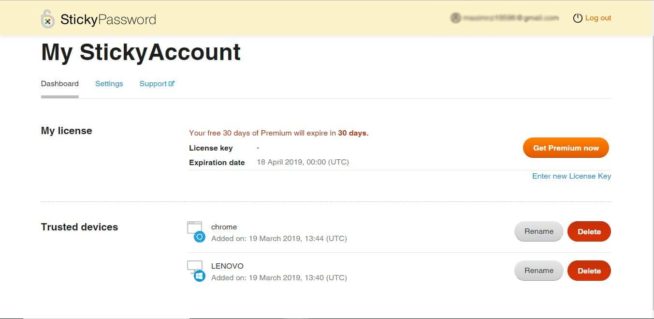 The online console of Sticky Password is designed to manage license keys and trusted devices. In particular, if you have lost or changed a device, you can remove it from the list in order to block possible unauthorized access.
By default, Sticky Password adds a new device when the user accesses StickyPass for the first time from that device. You can change the authorization method, for example, configure it to request a 4-digit PIN, which will be sent to the registered email address. If you set up Sticky Password on all computers and mobile gadgets, you can limit adding new devices.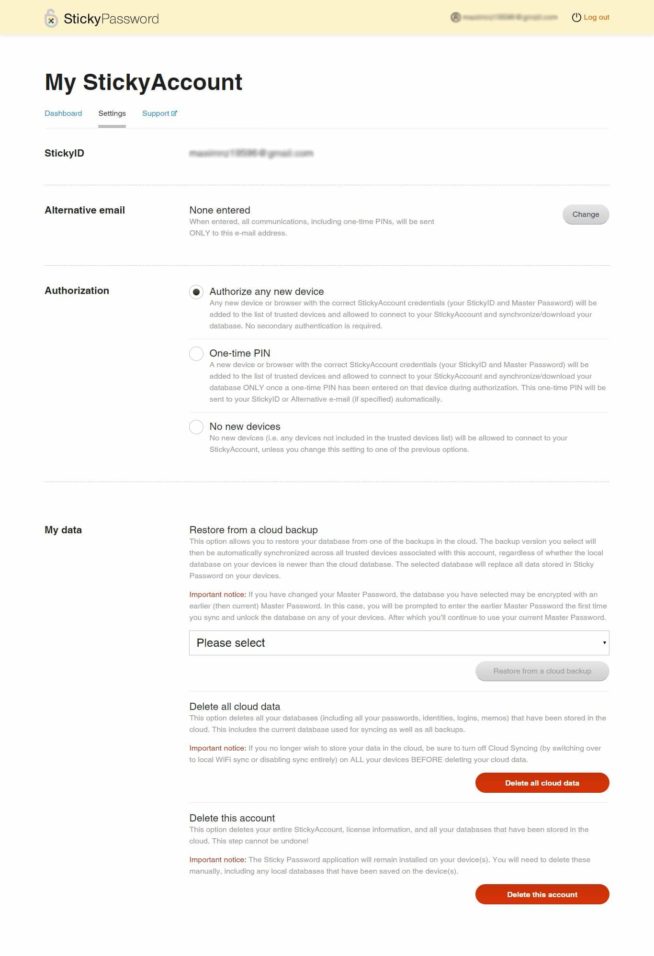 Finally, using the online console, you can delete all your personal data or completely delete your account. It is unlikely that a regular user will often use these options. For testing purposes, we successfully deleted all the tested data.
5. Security
The database containing your sensitive data is protected by AES-256 encryption which is an industry-standard. This protocol is considered to be impossible to crack. The connection used for exchanging data between your device and Sticky Password server is SSL/TLS encrypted. This means that even if someone intercepts the signal, they will never be able to decrypt it. Moreover, to avoid the chance of interception, there is an option to store the database on a local device or a portable USB stick. You also can delete all the data stored on the servers.
To access the information, you will need to create a master password. Sticky Password doesn't know your master password, so, if you lose it, you will lose your data forever. They also provide a 2-factor authentication via Google Authenticator. This is a very reliable option and in most cases, it suits the needs of almost every user. However, it would be great to see the support of other apps and services. Sticky Password does not provide anything very special but, in any case, would be a great option for almost everyone.
6. Technical support
Technical support is perhaps the weakest point of Sticky Password. It is available only via email. To tell the truth, the situation is not much better with other companies on the market. Both free and premium users are able to get technical support but only premium users have a guaranteed response time limit of 24 hours. At the same time, free subscribers will not get their replies much later.
Apart from direct support, the company provides a great help center with general articles and answers to frequently asked questions. There are great step by step instructions with lots of screenshots. This is a strong point as not every competitor provides the same.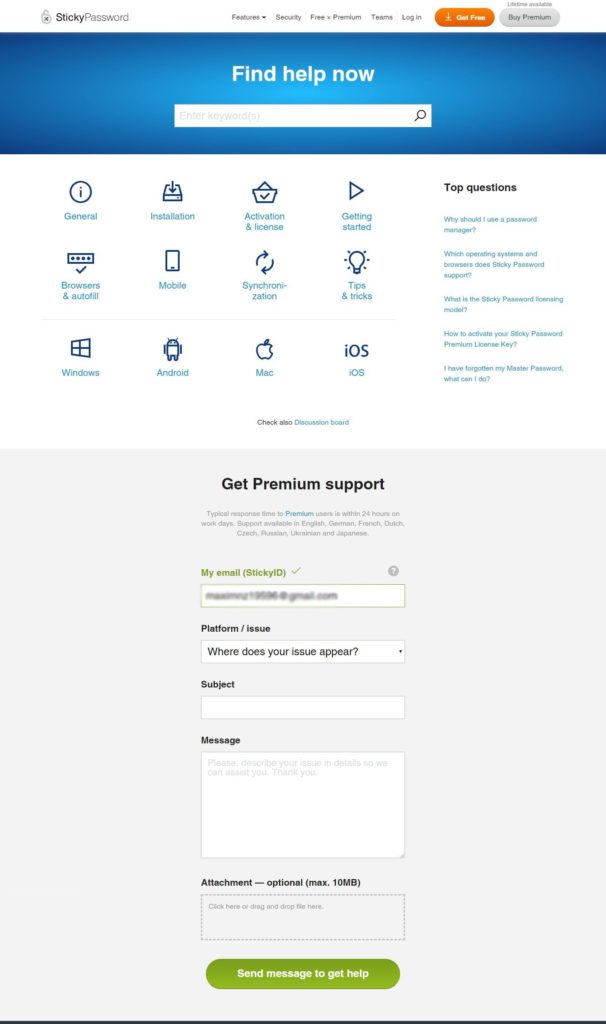 The strongest point of Sticky Password support is that it is multilingual. It is available in English, German, French, Dutch, Czech, Russian, Ukrainian, and Japanese. It's fantastic to be able to get support in your native language!
We asked the following question:
In the free plan, I cannot sync my logins between devices. Does it mean I can use my account only on one device, or I can use it on several devices like my smartphone and laptop but without being able to sync the logins between them?
Having filled in the form, we got a notification and a confirmation email with the ticket number.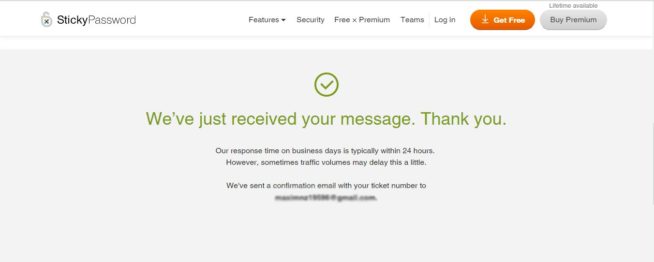 In about two hours, we got a reply:
You can use Sticky Password Free on all your devices, all these devices can be connected to your StickyAccount. However, the sync, sharing, and secure cloud backup features won´t be available. You can then anytime activate these features by inserting a Premium license key to your StickyAccount.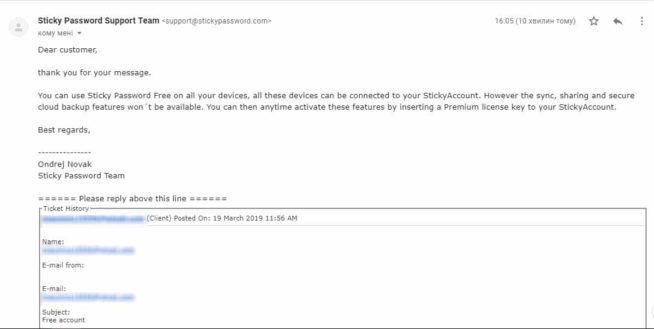 The reply was clear and informative as well as really fast. To tell the truth, we didn't expect to be getting an answer in such a short time.
As for the ability to use the same account or several devices, it's better than on RoboForm for example, where the free users can use the same account on only one device. Well done!
7. Competitors
7.1 LastPass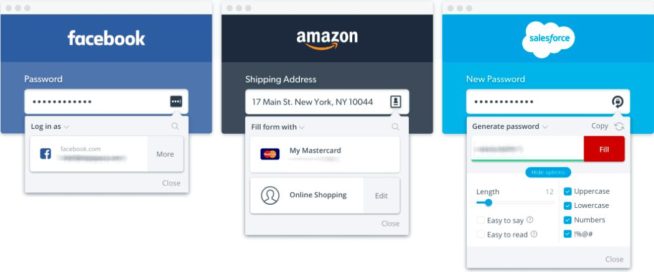 Supported platforms: Web, Mac, Windows, Linux, Chrome, Firefox, Safari, Internet Explorer, Opera, Microsoft Edge, Android, iOS, Windows Mobile.
Pricing: a limited free version, Premium — $24 per year for 1 user, Families — $48 per year for 6 users.
Protect your data by using a master password.
Online payment protection.
Password generation.
Reliable encryption.
Family plan.
7.2 1Password

Supported platforms: macOS, iOS, Windows, Android, Linux, Command-Line, Chrome OS, Google Chrome, Microsoft Edge, Opera, Firefox, Safari, as well as 1Password X — autonomous browser extensions without desktop application.
Pricing: individual plan for $35.88 per year and family plan for $59.88 for 5 users.
Autonomous work.
Cloud storage backup.
Great technical support.
Travel mode deletes the data on your devices and restores them when you come back home.
Powerful password generator.
7.3 RoboForm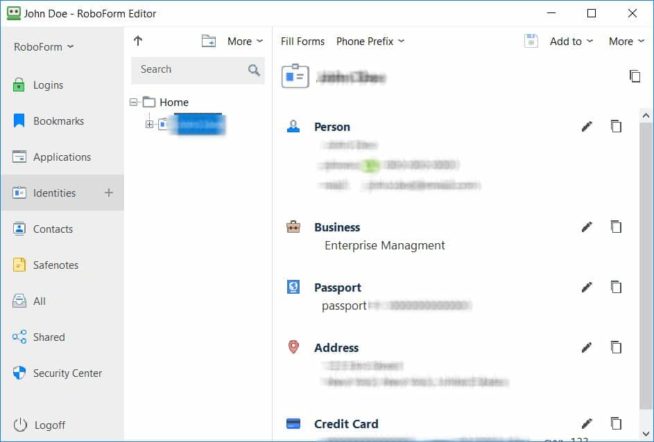 Supported platforms: Android, iOS, macOS, Windows, Linux, Chrome OS, Google Chrome, Mozilla Firefox, Opera, Safari, Microsoft Edge.
Pricing: a limited free version, individual plan for $23.88/year, and family plan for $47.75 per 5 users.
Protection from phishing attacks.
Easy one-click login.
Offline mode on desktop computers.
Security center.
Powerful password generation.
Trusted contacts for emergency access.