You just need some equipment and general know-how, and you can cop sneakers like a pro. With the help of a server and a sneaker bot of your choice, you can beat others to the punch, just like you've been beaten many times. Bots can automate the sign-up and checkout process, and therefore be faster than humans. Bots access the websites of your favorite sneaker brands by using codes to gain 'backdoor' access based on Selenium.
When you combine this approach with the prowess of servers and the anonymity of proxies, you'll be the first in line for those coveted limited-edition sneakers. Well, you and every other person using the same strategy. It's all about choosing the right bot. However, choosing an excellent bot to buy shoes isn't a piece of cake either.
In this guide you will learn:
What a sneaker bot is and how they work.
How to pick a sneaker bot.
What a sneaker bot server is and when you may need one.
What the best sneaker bot is in 2021.
NOTE: Most sneaker bots require the use of specific proxies in order for you to be able to cop sneakers without getting your IP blocked. Residential proxies are the safest since datacenter IPs usually get blocked. I recommend sneaker proxies together with your shoe bot. Some providers also have set up guides for most bots out there.
1. What should a sneaker bot include?
1.1 Regular updates
The most important thing is to choose a bot with regular updates. While some bots charge for this feature, others offer it for free. As I mentioned before, because the technology is always changing, you need a bot that will be able to keep up. Not to mention, if you don't have the latest version of the bot, the sneaker site will most likely lock you out.
1.2 Customer support
Furthermore, it's crucial that the bot you choose has excellent customer support. Because speed is the most critical thing when copping limited-edition sneakers, the response time of the support team is vital. If something goes wrong, you want them to have your back, not to leave you hanging. Since every sneaker bot company will tell you that they have stellar customer support, it's best to investigate for yourself. Browse some review websites and read the comments other users left there. If most users sing praises to the Customer Support, that's a good sign that you can rely on it in times of need.
1.3 Multiple accounts & site support
Moreover, you should pick a bot that has multiple accounts support, and that's compatible with multiple sites. The more websites a bot supports, the better your chances of getting your hands on a pair of sneakers are. The same goes for the option of multiple accounts. That is especially true if you want more than one pair of sneakers.
1.4 Multithread technology
Furthermore, it's crucial that the bot has multithread technology. That will allow quick and easy multitasking and easier cruising through the sneaker website and cop more shoes at the same time.
1.5 Proxy support
Finally, if possible, choose a sneaker bot that offers proxy support. However, some of the cheaper bots don't provide this feature. So, keep an eye on that while making your choice.
You also need sneaker proxies and only use IPs from datacenters for monitoring, because IPs from data centers will usually get blocked when used as normal proxies for copping.
If you want to cut to the chase and get a provider recommendation, I vouch for SmartProxy. They've been providing quality proxies for quite some time now, and they're a well-established name in this industry. Go check them out, I'm sure their services are going to fit your needs. If you have any questions regarding the proxies mentioned above, do not hesitate to ask them.
2. When you need a sneaker bot server
Sneaker bot servers are optimized for running your bots at the best possible performance. Most of them are preconfigured Windows VPS-servers on which you can install a bot of your choice. The big benefit is that these servers are located near the datacenters of sneaker sites to save you critical milliseconds when copping shoes.
Do you really need a sneaker bot server? It depends on if you want to have the best possible chance of getting your sneakers and if you want to run multiple bots at the same time. If you haven't had any luck with running your bot on your home computer due to slow Internet, then a sneaker server is a recommended solution to try. You should take a look at SneakerServer if you plan on going this route.
3. Best sneaker bots in 2021
Sneaker bots cut down your sign up process time and save you those precious few milliseconds that is the difference between getting a pair and missing out. Aside from speed, sneaker bots offer CAPTCHA solvers, early links, and they also monitor for restocking and can perform multiple tasks at once.
Here is my list of the best sneaker bots in 2021:
You should read more about these sneaker bots below.
This all-in-one bot is one of the most popular Adidas and Yeezy bots across the web. It's an oldie but a goodie. AIOBot is completely automated and it searches and buys sneakers you've inputted in the program beforehand. They put out YouTube videos on their channel on how to configure your bot right before most major releases. Don't miss that! Also, don't forget to join their Discord to get the latest early links!
The interface takes some time to get used to if you're a complete beginner. If you have even just general know-how, you'll use this bot easily and quickly. What's great about this bot is that it supports over 74 different sneaker stores in different countries (highest number of all bots). This makes it the perfect sneaker bot for the EU and most other regions of the world.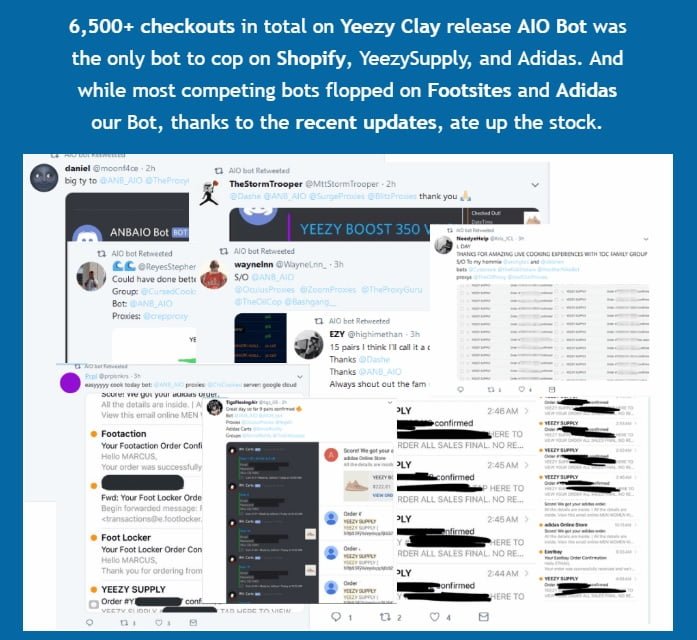 Furthermore, this bot has a very responsive support team. I always put a lot of weight on the support that a specific bot provides, because when things go wrong, you need them to watch your back. That is why I rated this bot very highly. However, at $325, it is somewhat pricey. But, on the upside, that seems to be the only complaint that the users have. So, if you're serious about copping sneakers, I suggest investing in this type of sneaker bot, as well as a proxy.
Another great feature this bot has is the automated updates that AIO bot offers to its users. That is a crucial feature because the world of modern technology is changing at a fast pace, and I recommend using the bots that can keep up with that. This sneaker bot also works on Mac, but you need to install Windows on Virtual Box.
---
Another Nike Bot is one of the most popular sneaker bots on Reddit that supports Nike SNKRS stores in the USA, Japan, the UK, China, EU, Australia, and Hong Kong. In fact, it supports over 40 cop sites. It's very fast and can support multiple accounts. That can come in handy if you're planning on purchasing multiple pairs of sneakers of the same or different editions.
Another Nike Bot supports up to 100 accounts, and while you don't have to use them all, it's nice to know that you have the option. The fact that you can have multiple accounts means that you are a more significant competitor and that much closer to the desired pair (or a few) of limited-edition sneakers.
However, you can only use Another Nike Bot on one PC. If you want to use it on multiple devices, you'll have to buy their Extra Licence. Furthermore, Another Nike Bot has a Twitter Sniper feature and Countdown Support. Consequently, it has a high satisfaction rate.
---
3.3 BetterNikeBot (BNB)
This specialized bot will help you get your hands on limited-edition Nike sneakers. If you're a massive fan of the famous brand, this kind of bot, which focuses on one brand only, might be the right choice for you. Furthermore, BNB is reasonably priced. Considering the fact that it supports over 30 cop sites, the price of $200 for their regular package isn't as high as with some other bots.
However, keep in mind that BNB doesn't offer stellar customer support. They are very technically oriented, which means that you'll get a fast interface and an excellent service. But, they lack in some areas. namely, customer support. That is something you need to consider before investing your money.
Some of the features that BNB offers are early links, product search links, and unlimited NDC accounts. That means that you can specify multiple early links for each of your NDC accounts, and you aren't limited in how many of those you can have. Furthermore, BNB offers an auto CAPTCHA solver feature, as well as Twitter Stream API, Restock Mode, and many more. BNB is also updated fairly regularly.
---
3.4 Nike Slayer
Nike Slayer is an even more specialized bot. Namely, it focuses on specific sites like Eastbay, FootLocker, Champs Sports, and FootAction. It has over 1000 satisfied customers and offers customer support via Twitter, Facebook, Livechat and email. This bot takes a different approach to copping sneakers. For one, it has an extremely user-friendly interface. It's quick and simple to use.
However, that might be due to the fact that the features Nike Slayer offers are limited. For example, while it does offer Rapid Checkout and Task Restarting features, much like other bots do, it doesn't have more advanced options like the Twitter Stream feature. Furthermore, because this bot specializes in specific websites and brands, that means that it doesn't support that many cop sites. That doesn't really justify the average price of their packages, which is around $250.
---
3.5 EasyCop
Easy Cop is a Windows-only software program that has scaleable prices. Therefore, depending on what you need, you can pay anywhere between $95 and $595 for this sneaker bot. This bot is relatively new on the market and has some basic features. It offers Auto Checkout, regular updates, and Restock Monitor features. It also has more features, but those require the purchase of pricier plans.
Their more expensive plans offer White Label feature, as well as the Success Notification feature. Furthermore, if you're interested in the Proxy Support, and Account Generators, you'll also have to pay more and pick one of the more expensive plans. The most significant difference in the plans this bot offers lies in the number of accounts you can have. The basic plan limits you to 2 accounts per store, while the most expensive one, for example, allows you to have an unlimited number of accounts.
---
3.6 SneakerBots4All
SneakerBots4All pride themselves on being a 35-in-one automated add-to-cart bot. However, you can also choose some other, less extensive, but also less expensive plans. For example, you can also try their 11-in-one bot, for the price of just $15. SneakerBots4All offers limited features, but for a much lower price than its competitors. However, you can also choose their Everything package for the amount of $375. This package offers premium features, such as the Twitter Scanner, Restock Scanner, and more.
Since some favorite brands use social media to announce their limited-edition releases, you can also try some social media automated bots like Jarvee or Follow Liker. For example, Nike uses Twitter Link Only (TLO), which means that you can only access the link for early releases of limited editions through Twitter.
---
3.7 SuperCop Bot
SuperCop Bot is one of the bots that offer lower prices. For $90, you get worldwide support for Windows, Linux, and Mac/OSX. This bot has an unorthodox approach to copping sneakers. It's actually more of a browser plugin than a standalone bot. It seems to us that it's not as powerful or as quick as some other competitors.
However, it does have a meager price, especially compared to industry leaders. That is why I have included it on my list. SuperCop Bot is easy to use, with an interface similar to many frequently-used mobile apps.
---
3.8 SoleSlayer
SoleSlayer is a powerful sneaker bot because it allows you to find limited edition products, best releases, and the best sneakers you might miss otherwise. It will track the top trending shoes as they become available, add them to your shopping cart, and process the payment. That way, you get the shoes you want, and they are sent to you quickly.
It's quite simple to use, so you won't need a lot of skills or knowledge. Once you've set everything up correctly, it does all the work for you.
Features
SoleSlayer is an auto-checkout bot that is only available for .com websites, such as Footaction, Foot Locker, and others. You may be able to use it on some limited editions, such as Yeezy Boosts and Adidas. With the SoleSlayer bot, you get:
Multi-site support
Multi-account support
Guest session support
Rapid checkout
Multi-threading
Multi-channel notifications (email, SMS, Twitter)
Advanced handling of errors
Optional auto-checkout and credit card support
Pricing
You'll find a variety of versions or tiers with this bot. Each of the four options is the same bot. You just get a different task amount that can be run with each level and price. The different options include:
Starter Pack with Five Tasks – $150
Standard Pack with 20 Tasks – $250
Business Pack with 50 Tasks – $350
Ultimate Pack with Unlimited Tasks – $550
It's possible to start small and upgrade if you decide you need more tasks.
You may find that using this bot for many tasks will get you blocked from a variety of foot sites. It's a powerful tool, but it might be too fast and powerful. This means websites can recognize that it is a machine. Therefore, you need a residential proxy to connect to, which means you're anonymous.
---
3.9 SoleSeekr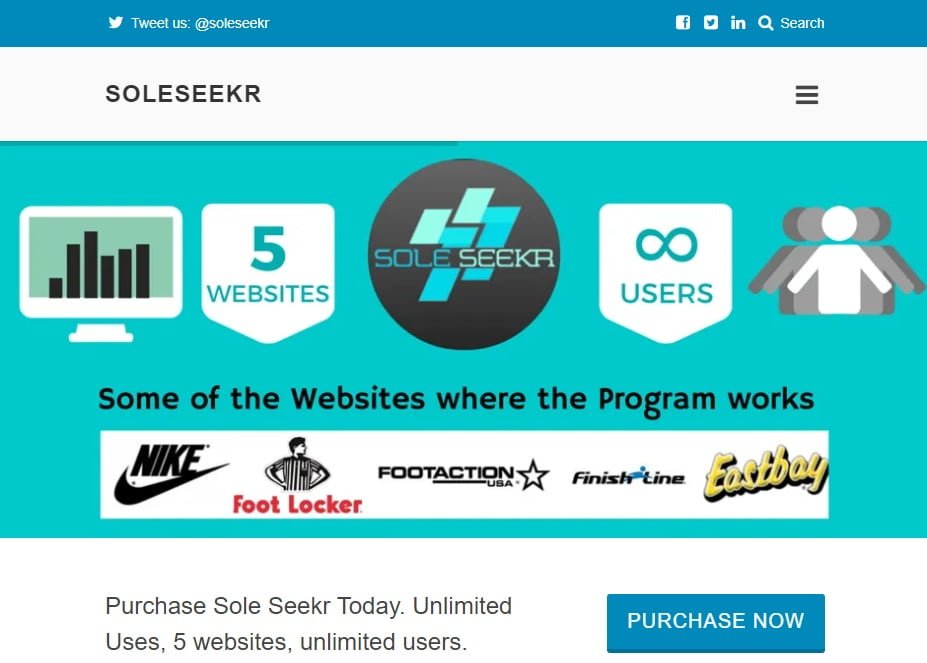 The SoleSeekr bot also lets you cop the best sneakers from popular foot sites on the web. It has a variety of excellent features with advanced technology. However, it currently only supports five major online foot-sites.
Features
One of the great things about this bot is that it will support using unlimited accounts. You've got a better chance of getting your favorite sneakers from a foot site. It also uses Winsock technology, so the bot is ultra-fast and faster than your Chrome extension. This is great a benefit because it means less lag time or performance issues.
The multi-thread application is great because it allows you to run 1,000 accounts at one time. That means you can also run various reports, synchronizing them all to get more sneakers. Its notification system works quite well, too. This means you can get emails and text messages when sneakers are added to the cart. However, one of the most important things is the proxy. You'll find it easy to use, so you can get it set up without a problem. This also ensures that the website doesn't realize you're using a bot.
Pricing
You'll find multiple options for the SoleSeekr bot. Of course, some of them are for servers, which can get you started or take you to the next level. Bot levels include:
SoleSeekr 5-1 Premium – $150
SoleSeekr for Mac and PC – $115
SoleSeekr 5-1 Lite – $95
SoleSeekr Server ATC – $25
SoleSeekr Next Level Server – $15
SoleSeekr Starter Server – $5
This is a great sneaker bot to try because it works. Plus, it offers many features you may need to help you cop your favorite sneakers as they become available.
---
3.10 CyberSole
CyberSole is a bot that came on the market in 2017 and had consistent success with a variety of features. It's become a favorite for the botting world. It supports the following platforms and websites:
Shopify
Supreme
Mesh
Foot-sites (Champs, FinishLine, FootLocker, Eastbay, Footaction)
Single sites (Net-a-Porter, Lacoste, Porter, etc.)
Features
This bot offers a variety of premium features. These include:
Unlimited tasks. You can run endless tasks. However, most users can't do this because of proxy and server restrictions.
Captcha solver. Most bots can't get around the captcha, but this one can. Therefore, it can prove it is a human and get you through all of the processes so that you can buy the shoes.
Mobile app control. This unique feature allows you to check-out while on the go. It's available on any iOS device and will enable you to manage, edit, and create tasks with a few clicks.
Proxy support. You can import your proxies with a few clicks, but CyberSole also offers a blazing and unbanned proxy through its app. It's easy to test proxy speeds to make sure you're ready for new releases.
Price
While many bots have a tier-style pricing scheme, CyberSole does not. It costs £300, but you get all of the features and unlimited tasks.
If you're running on Windows and don't necessarily want to shop at Adidas or Nike, this could be the best bot for you. However, you will have to wait for it and have a Twitter account to find out when it is 'restocked.' Therefore, it might not be the best choice if you want a sneaker bot right now.