You just need some equipment and general know-how, and you can cop sneakers like a pro by using the best sneaker bots mentioned in this article. With the help of a server and a sneaker bot of your choice, you can beat others to the punch, just like you've been beaten many times.
Bots can automate the sign-up and checkout process, and therefore be faster than humans. Bots access the websites of your favorite sneaker brands by using codes to gain 'backdoor' access based on Selenium.
When you combine this approach with the prowess of servers and the anonymity of proxies, you'll be the first in line for those coveted limited-edition sneakers.
Well, you and every other person using the same strategy. It's all about choosing the right bot. However, choosing an excellent bot to buy shoes isn't a piece of cake either.
In this guide you will learn:
What a sneaker bot is and how they work.
How to pick a sneaker bot.
What a sneaker bot server is and when you may need one.
What the best sneaker bot is in 2023.
NOTE: Most sneaker bots require the use of specific proxies in order for you to be able to cop sneakers without getting your IP blocked. Residential proxies are the safest since datacenter IPs usually get blocked. I recommend sneaker proxies together with your shoe bot. Some providers also have set up guides for most bots out there.
1. Best sneaker bots in 2023
Sneaker bots cut down your sign-up process time and save you those precious few milliseconds that is the difference between getting a pair and missing out. Aside from speed, sneaker bots offer CAPTCHA solvers, early links, and they also monitor for restocking and can perform multiple tasks at once.
Here is my list of the best sneaker bots in 2023:
You should read more about these sneaker bots below.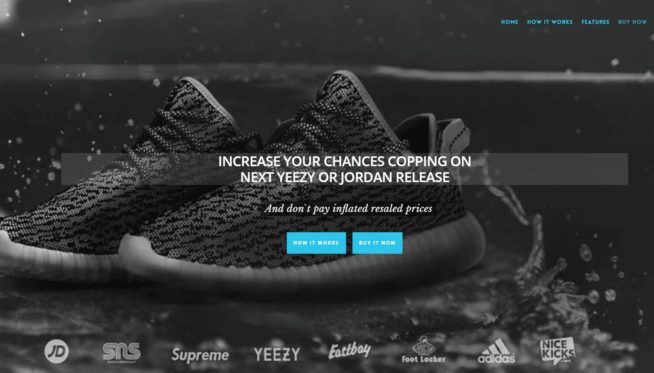 This all-in-one bot is one of the most popular Adidas and Yeezy bots across the web. It's an oldie but a goodie. AIOBot is completely automated and it searches and buys sneakers you've inputted in the program beforehand. They put out YouTube videos on their channel on how to configure your bot right before most major releases. Don't miss that! Also, don't forget to join their Discord to get the latest early links!
The interface takes some time to get used to if you're a complete beginner. If you have even just general know-how, you'll use this bot easily and quickly. What's great about this bot is that it supports over 74 different sneaker stores in different countries (highest number of all bots). This makes it the perfect sneaker bot for the EU and most other regions of the world.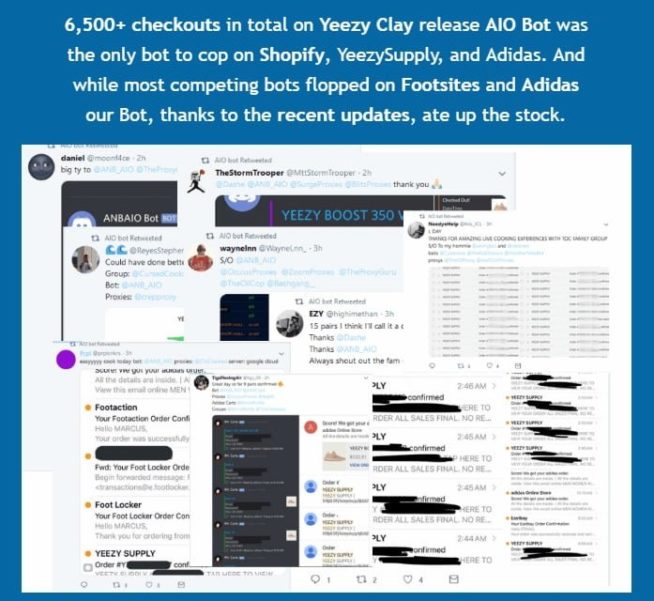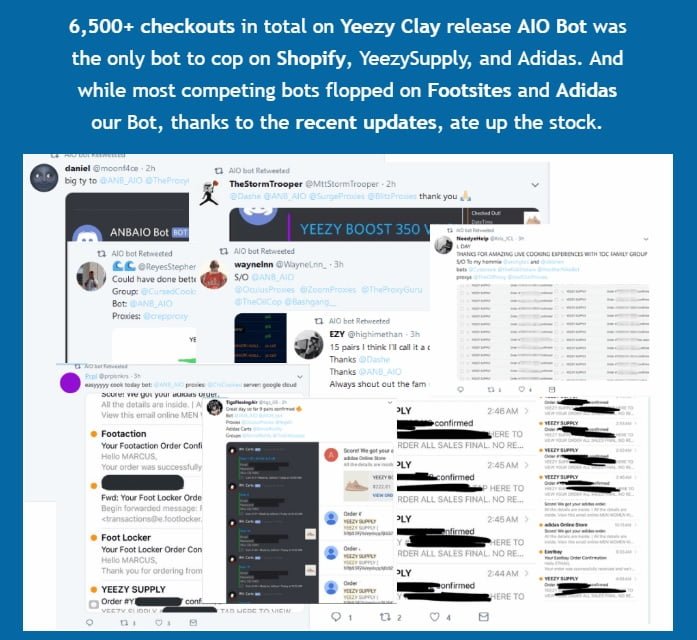 Furthermore, this bot has a very responsive support team. I always put a lot of weight on the support that a specific bot provides, because when things go wrong, you need them to watch your back. That is why I rated this bot very highly. However, at $325, it is somewhat pricey. But, on the upside, that seems to be the only complaint that the users have. So, if you're serious about copping sneakers, I suggest investing in this type of sneaker bot, as well as a proxy.
Another great feature this bot has is the automated updates that AIO bot offers to its users. That is a crucial feature because the world of modern technology is changing at a fast pace, and I recommend using the bots that can keep up with that. This sneaker bot also works on Mac, but you need to install Windows on Virtual Box.
---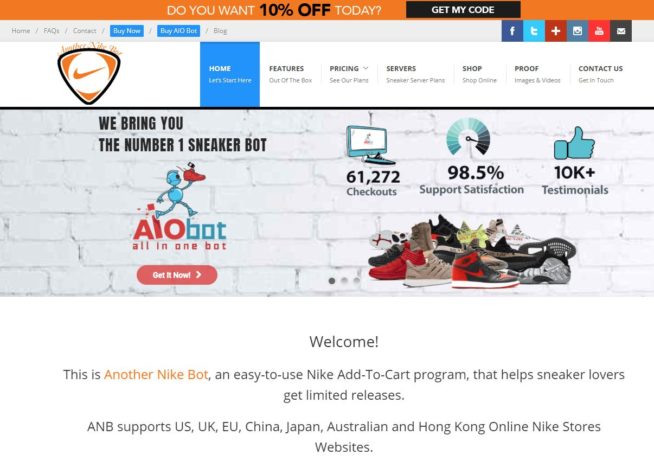 Another Nike Bot is one of the most popular sneaker bots on Reddit that supports Nike SNKRS stores in the USA, Japan, the UK, China, EU, Australia, and Hong Kong. In fact, it supports over 40 cop sites. It's very fast and can support multiple accounts. That can come in handy if you're planning on purchasing multiple pairs of sneakers of the same or different editions.
Another Nike Bot supports up to 100 accounts, and while you don't have to use them all, it's nice to know that you have the option. The fact that you can have multiple accounts means that you are a more significant competitor and that much closer to the desired pair (or a few) of limited-edition sneakers.
However, you can only use Another Nike Bot on one PC. If you want to use it on multiple devices, you'll have to buy their Extra Licence. Furthermore, Another Nike Bot has a Twitter Sniper feature and Countdown Support. Consequently, it has a high satisfaction rate.
---
1.3 Kodai – Sold out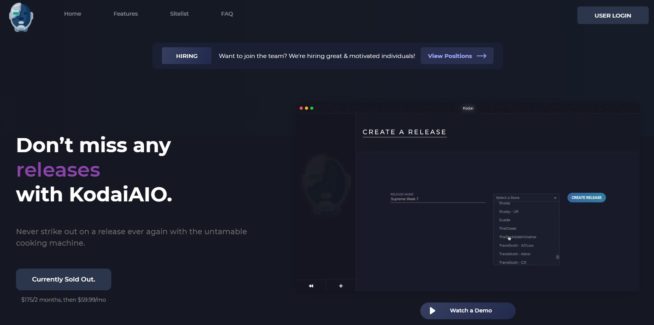 Kodai is another exceptional bot you can use for your best sneakers. Although it's quite expensive and only available for rent at the moment, it's versatile and worth every dime spent on it.
With Kodai, you can't miss out when any new sneakers are released. It cops the sneakers as they are released, and wastes no time in doing so. It features a cross-platform technology, which makes it usable on all Windows and Mac gadgets. Thus, there's no restriction on what gadgets to use and whatnot.
It's also user-friendly as you can easily learn to use the bot to destroy new releases. Feel the immense power of Kodai as it is always updated and equipped with new techniques that ensure that it smashes all hyped releases. It also gives its users access to a complimentary dashboard where upcoming releases can be viewed and where personal analytics can be seen.
To show that it's indeed a functional sneakers bot, Kodai so far has over 200,000 checkouts; this makes it one of the best sneaker bots to go for. No wonder it prides itself as one-of-a-kind.
---
1.4 Ganesh – Sold out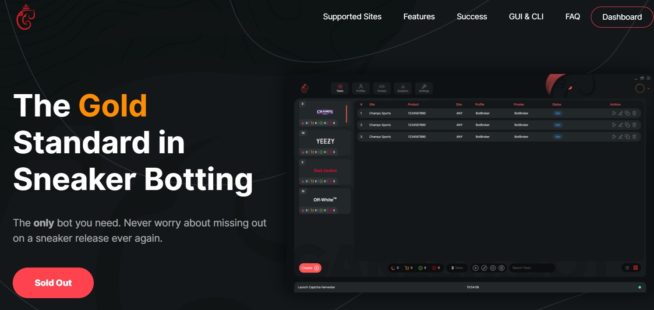 Ganesh boasts as the 'gold standard' in the sneaker botting game. It's indeed a champion as it has garnered to its credit over 650,000 superb checkouts. This is no doubt a small feat. Thus, it offers its users an unrivaled experience in the sneakers copping arena.
Ganesh is one bot with impressive features. One fascinating thing about this bot is its simple outlook. It's easy to set up profiles and perform other tasks with ease.
It also comes with a user-friendly interface that is easy to navigate. You can also customize it to your desired taste. It features an anti-bot team that helps to ensure that you have a glitch-free experience. Moreover, its customer support group is available 24/7 to answer all queries and provide every support you need to get the best out of this bot.
It supports a long list of sneakers retailing sites to ensure that you never miss a new release. Ganesh is good but a bit expensive to buy. You can find it for $4550 and up on bot broker.
---
1.5 Balko – Sold out

Balko Bots, since its release in 2018, has continued to serve its users well. It's a bot usable on Shopify, Adidas, Offwhite, and Supreme. Beyond the hype, Balko has a remarkable track record of success.
Also, it is equipped with exclusive features that get the job done on time. Also, when a bug is noticed in the bot, its developers are always swift to provide an update that gets rid of that bug.
Balko Bot is indeed one of the best-automated bots that can help you get desired sneakers with no issues at all. However, it comes at a relatively low price of $220 per year. It is renewable in 6 or 12 months for $40-$60. Balko also allows you to get a lifetime license, giving you access to use the bot whenever you want.
Unfortunately, the Balko bot is presently out of stock, but it is being sold on bot broker for $3750 and up.
---
1.6 Wrath Bot – Sold out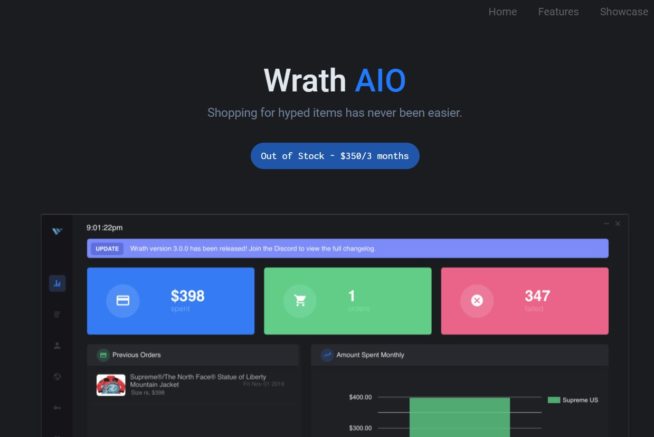 Wrath bot helps you to shop for hyped items easily. It's a highly reliable bot usable on Shopify and Supreme. It's equipped with advanced features to give you the best. It features a Shopify bypass that grants you secured access within a split second.
Also, it has multi-task support, which allows you to process a lot of tasks simultaneously. Its interface is quite simple to understand and use. Plus, it also offers multiple checkout modes in milliseconds which is quite useful for bypassing Supreme.
Its analytic feature gives you access to your previous order records and helps you track your spending monthly. It also comes with a captcha harvester that comes in handy for allocating captcha for easy bypasses. So, there's no stopping Wrath bot from copping the sneaker that tickles your fancy.
Wrath AIO is presently out of stock and is sold for $6500 on bot broker. Watch out for the next release so that you can get a hold of the bot to get your desired sneakers.
---
1.7 Dashe Bot – Sold out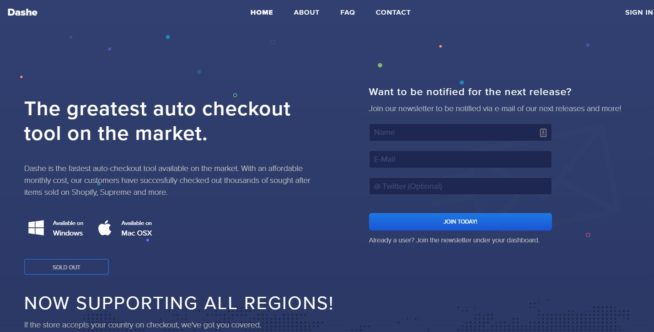 Dashe bot is a force to reckon with in the sneaker copping industry. It's one of the fastest automated checkout bots you can get your hands on. Once you buy the bot, it gives you access to a user dashboard; this is where you can order any new release of your choice. It's equipped to cop large retail outlets like Supreme and Shopify.
Dashe is not only useful for copping sneakers, but it's also your surest bet if you want to secure exclusive fashion items and luxury clothes. It comes at $50 every month. Once you make payment, you don't have to pay additional fees for updates. It's available in all regions that have access to Shopify. You can get it for $265 and up on bot broker.
---
1.8 BetterNikeBot (BNB)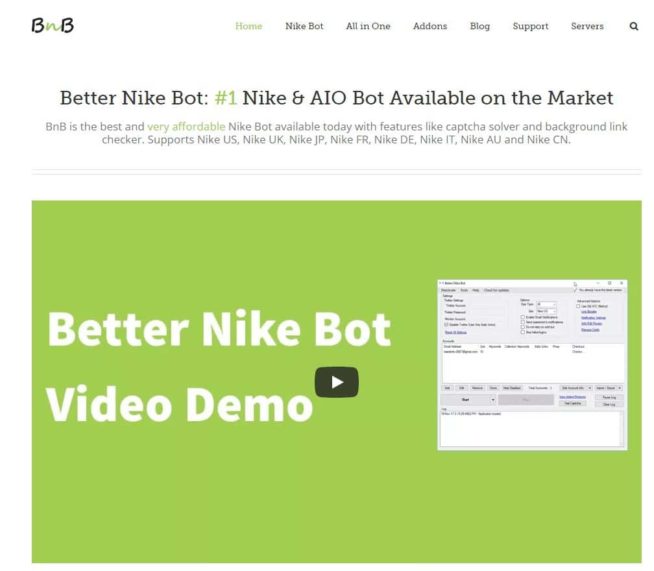 This specialized bot will help you get your hands on limited-edition Nike sneakers. If you're a massive fan of the famous brand, this kind of bot, which focuses on one brand only, might be the right choice for you. Furthermore, BNB is reasonably priced. Considering the fact that it supports over 30 cop sites, the price of $200 for their regular package isn't as high as with some other bots.
However, keep in mind that BNB doesn't offer stellar customer support. They are very technically oriented, which means that you'll get a fast interface and an excellent service. But, they lack in some areas. namely, customer support. That is something you need to consider before investing your money.
Some of the features that BNB offers are early links, product search links, and unlimited NDC accounts. That means that you can specify multiple early links for each of your NDC accounts, and you aren't limited in how many of those you can have. Furthermore, BNB offers an auto CAPTCHA solver feature, as well as Twitter Stream API, Restock Mode, and many more. BNB is also updated fairly regularly.
---
1.9 Nike Slayer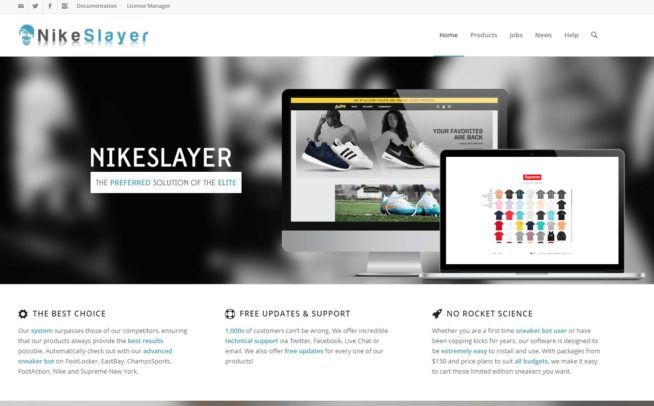 Nike Slayer is an even more specialized bot. Namely, it focuses on specific sites like Eastbay, Footlocker, Champs Sports, and FootAction. It has over 1000 satisfied customers and offers customer support via Twitter, Facebook, LiveChat, and email. This bot takes a different approach to copping sneakers. For one, it has an extremely user-friendly interface. It's quick and simple to use.
However, that might be due to the fact that the features Nike Slayer offers are limited. For example, while it does offer Rapid Checkout and Task Restarting features, much like other bots do, it doesn't have more advanced options like the Twitter Stream feature. Furthermore, because this bot specializes in specific websites and brands, that means that it doesn't support that many cop sites. That doesn't really justify the average price of their packages, which is around $250.
---
1.10 EasyCop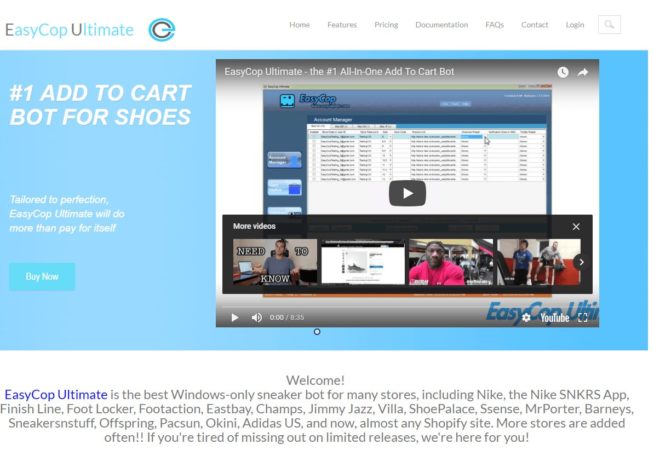 Easy Cop is a Windows-only software program that has scaleable prices. Therefore, depending on what you need, you can pay anywhere between $95 and $595 for this sneaker bot. This bot is relatively new on the market and has some basic features. It offers Auto Checkout, regular updates, and Restock Monitor features. It also has more features, but those require the purchase of pricier plans.
Their more expensive plans offer the White Label feature, as well as the Success Notification feature. Furthermore, if you're interested in Proxy Support, and Account Generators, you'll also have to pay more and pick one of the more expensive plans. The most significant difference in the plans this bot offers lies in the number of accounts you can have. The basic plan limits you to 2 accounts per store, while the most expensive one, for example, allows you to have an unlimited number of accounts.
---
1.11 SneakerBots4All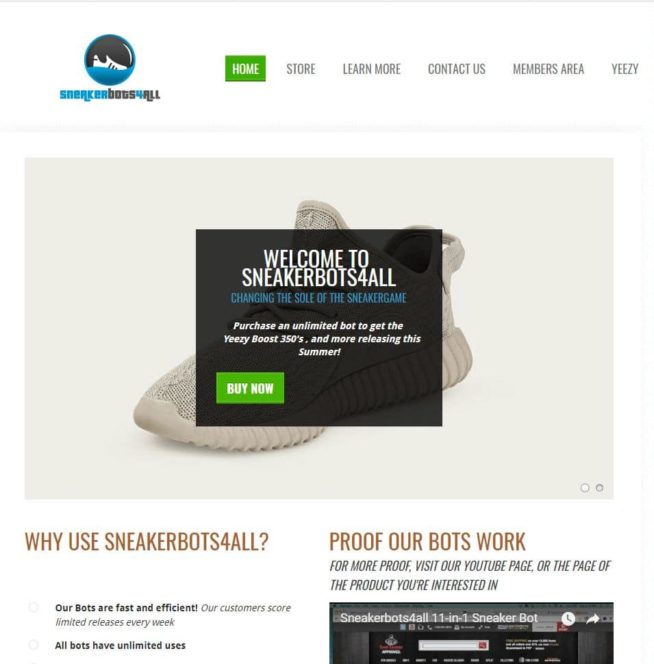 SneakerBots4All prides itself on being a 35-in-one automated add-to-cart bot. However, you can also choose some other, less extensive, but also less expensive plans. For example, you can also try their 11-in-one bot, for the price of just $15. SneakerBots4All offers limited features, but for a much lower price than its competitors. However, you can also choose their Everything package for the amount of $375. This package offers premium features, such as the Twitter Scanner, Restock Scanner, and more.
Since some favorite brands use social media to announce their limited-edition releases, you can also try some social media automated bots like Jarvee or Follow Liker. For example, Nike uses Twitter Link Only (TLO), which means that you can only access the link for early releases of limited editions through Twitter.
---
1.12 SuperCop Bot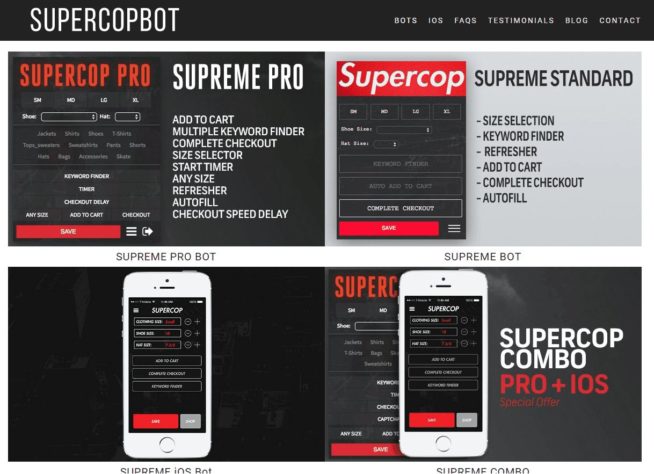 SuperCop Bot is one of the bots that offer lower prices. For $90, you get worldwide support for Windows, Linux, and Mac/OSX. This bot has an unorthodox approach to copping sneakers. It's actually more of a browser plugin than a standalone bot. It seems to us that it's not as powerful or as quick as some other competitors.
However, it does have a meager price, especially compared to industry leaders. That is why I have included it on my list. SuperCop Bot is easy to use, with an interface similar to many frequently-used mobile apps.
---
1.13 SoleSlayer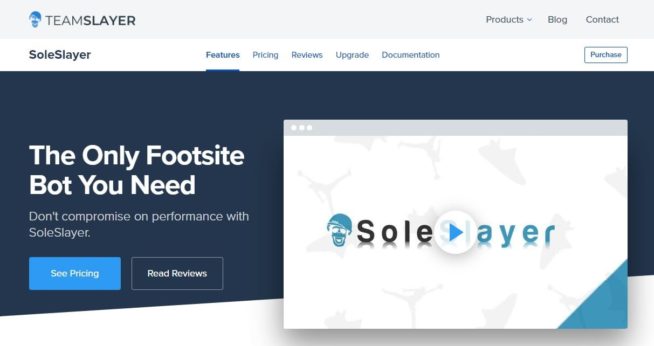 SoleSlayer is a powerful sneaker bot because it allows you to find limited edition products, best releases, and the best sneakers you might miss otherwise. It will track the top trending shoes as they become available, add them to your shopping cart, and process the payment. That way, you get the shoes you want, and they are sent to you quickly.
It's quite simple to use, so you won't need a lot of skills or knowledge. Once you've set everything up correctly, it does all the work for you.
Features
SoleSlayer is an auto-checkout bot that is only available for .com websites, such as Footaction, Foot Locker, and others. You may be able to use it on some limited editions, such as Yeezy Boosts and Adidas. With the SoleSlayer bot, you get:
Multi-site support
Multi-account support
Guest session support
Rapid checkout
Multi-threading
Multi-channel notifications (email, SMS, Twitter)
Advanced handling of errors
Optional auto-checkout and credit card support
Pricing
You'll find a variety of versions or tiers with this bot. Each of the four options is the same bot. You just get a different task amount that can be run with each level and price. The different options include:
Starter Pack with Five Tasks – $150
Standard Pack with 20 Tasks – $250
Business Pack with 50 Tasks – $350
Ultimate Pack with Unlimited Tasks – $550
It's possible to start small and upgrade if you decide you need more tasks.
You may find that using this bot for many tasks will get you blocked from a variety of foot sites. It's a powerful tool, but it might be too fast and powerful. This means websites can recognize that it is a machine. Therefore, you need a residential proxy to connect to, which means you're anonymous.
---
1.14 SoleSeekr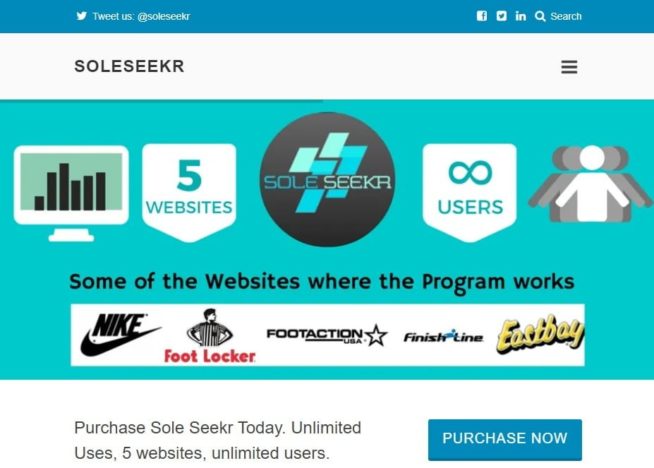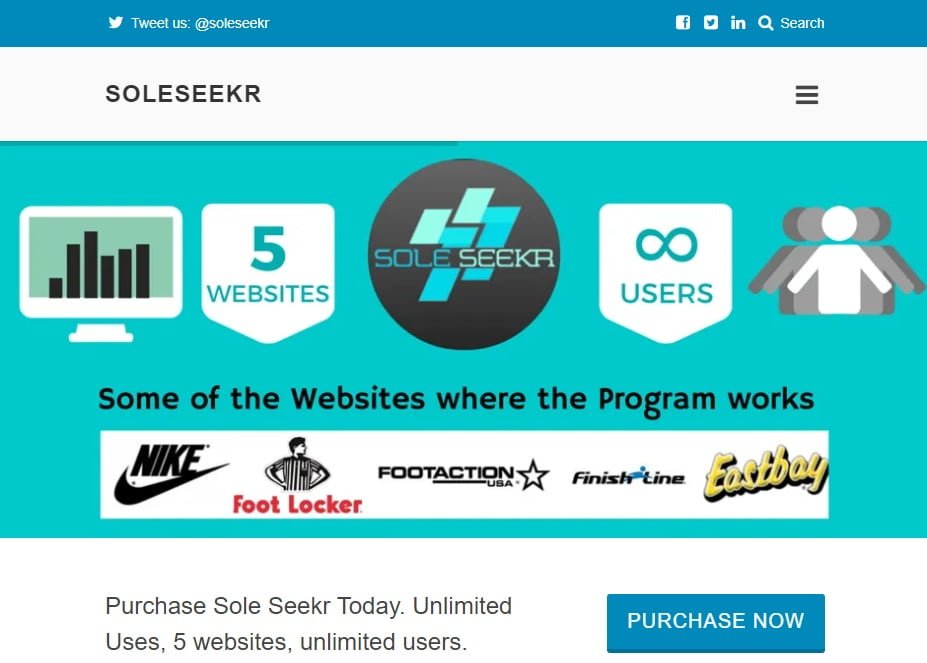 The SoleSeekr bot also lets you cop the best sneakers from popular foot sites on the web. It has a variety of excellent features with advanced technology. However, it currently only supports five major online foot-sites.
Features
One of the great things about this bot is that it will support using unlimited accounts. You've got a better chance of getting your favorite sneakers from a foot site. It also uses Winsock technology, so the bot is ultra-fast and faster than your Chrome extension. This is great a benefit because it means less lag time or performance issues.
The multi-thread application is great because it allows you to run 1,000 accounts at one time. That means you can also run various reports, synchronizing them all to get more sneakers. Its notification system works quite well, too. This means you can get emails and text messages when sneakers are added to the cart. However, one of the most important things is the proxy. You'll find it easy to use, so you can get it set up without a problem. This also ensures that the website doesn't realize you're using a bot.
Pricing
You'll find multiple options for the SoleSeekr bot. Of course, some of them are for servers, which can get you started or take you to the next level. Bot levels include:
SoleSeekr 5-1 Premium – $150
SoleSeekr for Mac and PC – $115
SoleSeekr 5-1 Lite – $95
SoleSeekr Server ATC – $25
SoleSeekr Next Level Server – $15
SoleSeekr Starter Server – $5
This is a great sneaker bot to try because it works. Plus, it offers many features you may need to help you cop your favorite sneakers as they become available.
---
1.15 CyberSole – Sold out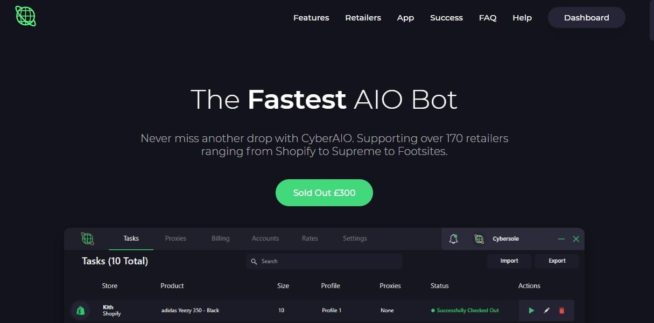 CyberSole is a bot that came on the market in 2017 and had consistent success with a variety of features. It's become a favorite for the botting world. It supports the following platforms and websites:
Shopify
Supreme
Mesh
Foot-sites (Champs, FinishLine, FootLocker, Eastbay, Footaction)
Single sites (Net-a-Porter, Lacoste, Porter, etc.)
Features
This bot offers a variety of premium features. These include:
Unlimited tasks. You can run endless tasks. However, most users can't do this because of proxy and server restrictions.
Captcha solver. Most bots can't get around the captcha, but this one can. Therefore, it can prove it is a human and get you through all of the processes so that you can buy the shoes.
Mobile app control. This unique feature allows you to check out while on the go. It's available on any iOS device and will enable you to manage, edit, and create tasks with a few clicks.
Proxy support. You can import your proxies with a few clicks, but CyberSole also offers a blazing and unbanned proxy through its app. It's easy to test proxy speeds to make sure you're ready for new releases.
Price
While many bots have a tier-style pricing scheme, CyberSole does not. It costs £300, but you get all of the features and unlimited tasks.
If you're running on Windows and don't necessarily want to shop at Adidas or Nike, this could be the best bot for you. However, you will have to wait for it and have a Twitter account to find out when it is 'restocked.' Therefore, it might not be the best choice if you want a sneaker bot right now. It is currently only available for rent and sold for over $5000.
2. What should a sneaker bot include?
2.1 Regular updates
The most important thing is to choose a bot with regular updates. While some bots charge for this feature, others offer it for free. As I mentioned before, because technology is always changing, you need a bot that will be able to keep up. Not to mention, if you don't have the latest version of the bot, the sneaker site will most likely lock you out.
2.2 Customer support
Furthermore, it's crucial that the bot you choose has excellent customer support. Because speed is the most critical thing when copping limited-edition sneakers, the response time of the support team is vital. If something goes wrong, you want them to have your back, not to leave you hanging. Since every sneaker bot company will tell you that they have stellar customer support, it's best to investigate for yourself. Browse some review websites and read the comments other users left there. If most users sing praises to customer support, that's a good sign that you can rely on it in times of need.
2.3 Multiple accounts & site support
Moreover, you should pick a bot that has multiple accounts support, and that's compatible with multiple sites. The more websites a bot supports, the better your chances of getting your hands on a pair of sneakers are. The same goes for the option of multiple accounts. That is especially true if you want more than one pair of sneakers.
2.4 Multithread technology
Furthermore, it's crucial that the bot has multithread technology. That will allow quick and easy multitasking and easier cruising through the sneaker website and cop more shoes at the same time.
2.5 Proxy support
Finally, if possible, choose a sneaker bot that offers proxy support. However, some of the cheaper bots don't provide this feature. So, keep an eye on that while making your choice.
You also need sneaker proxies and only use IPs from datacenters for monitoring, because IPs from data centers will usually get blocked when used as normal proxies for copping.
If you want to cut to the chase and get a provider recommendation, I vouch for Smartproxy. They've been providing quality proxies for quite some time now, and they're a well-established name in this industry. Go check them out, I'm sure their services are going to fit your needs. If you have any questions regarding the proxies mentioned above, do not hesitate to ask them.
3. When do you need a sneaker bot server?
Sneaker bot servers are optimized for running your bots at the best possible performance. Most of them are preconfigured Windows VPS servers on which you can install a bot of your choice. The big benefit is that these servers are located near the datacenters of sneaker sites to save you critical milliseconds when copping shoes.
Do you really need a sneaker bot server? It depends on if you want to have the best possible chance of getting your sneakers and if you want to run multiple bots at the same time. If you haven't had any luck with running your bot on your home computer due to slow Internet, then a sneaker server is a recommended solution to try. You should take a look at SneakerServer if you plan on going this route.
4. How do sneaker bots work?
Basically, you input all the necessary information about you, such as your name, credit card info, and address then you instruct the bot on what item you want to buy.
These bots can either be instructed through keywords related to the product's name or the URL of the product itself. You can usually get your hands on the URL of a yet-to-be-released product from "cook groups" who work hand in hand with botters.
Once the product is released, the bot will go through the checkout process quicker than any human out there. Some good bots can check out sneakers in as little as 0.2s.
If it weren't for sneaker bots, shopping limited-edition sneakers would become a battle of who has the fastest internet connection.
Although I made it sound somewhat simple, setting up a sneaker bot can actually be quite complicated. For starters, you have to set up proxies as well as a dedicated server before setting up the bot itself.
Bots can function without a dedicated server. However, having one is highly recommended because it increases the speed of the bot's connection to the site.
Proxies are unique IP addresses that make it look like you are different buyers buying from different parts of the globe. This can prove useful in many ways. For instance, if you want to buy the latest YEEZYs, you'll have to enter into an online queue and the more entries you have, the higher are your chances of grabbing a pair.
Not using proxies will also lead to the site identifying all your automated entries as coming from one source, most likely resulting in an IP ban.
Once you have your bot, proxies, and server, you'll need to train yourself. What do I mean by this? Well, having an expensive sneaker bot, for instance, won't ensure that you'll get sneakers.
This is because there are users out there who have been in this game for years, and they're familiar with almost every aspect of the sneaker-selling websites, giving them a sort of advantage over you.
You'll have to get used to your bot, familiarize yourself with how the targeted site works as well as its delays, and much more.
4.1 Sneaker bot proxies
There are numerous types of proxy suppliers, including Unknown proxies, Shadow proxies, Oculus proxies, and Leaf proxies.
However, the most popular types of proxies for sneaker bots are ISP and residential proxies. The latter is a must, especially if you're planning on buying from a site that implements serious bot protection.
Residential proxies are based on an ever-rotating IP address, which ensures that the bot doesn't stop functioning if one IP address gets banned.
As for which proxy you should use, well, my personal recommendation would be Smartproxy. These guys have been in the business for a while now, and they provide some of the best proxies out there. I'm sure that their services will go hand in hand with your needs, regardless of what they might be.
4.2 Gmail accounts for sneaker bots
Popular sites such as Supreme, Shopify, Foot sites, and Yeezy Supply require a Gmail account. These sites implement CAPTCHAs which can be solved quickly through the use of Gmail.
Preferably, you'd need an aged Gmail account, one that was created in 2010 or before. As is the case for almost any tool here, there is a black market for old Gmail accounts.
There are people out there who farm old Gmail accounts and go as far as putting a lot of traffic and activity through them to not make them look fake.
4.3 Virtual credit card profiles
There are numerous ways to get your hands on credit cards for sneaker bots.
For starters, you can rely on virtual credit cards. This is a feature that most modern credit card providers have, which allows you to make an unlimited number of "virtual" cards that all source back to your own personal card.
The good thing about this is that in case a virtual card gets flagged, the people over at the sneaker sites cannot trace it back to your own card.
Additionally, most sneaker sites nowadays don't allow buyers to save profile checkouts as a form of bot protection. And for that, you'll need to use different credit cards, names, numbers, and addresses for each purchase.
How can you do this? You might wonder.
Well, it's simple, really; you need to jig on your virtual credit cards (VCCs). We'll explain that in a second.
Jigging on credit cards
Say your address is 123A Bleecker Street, and it's a house.
To jig on your VCC, you simply need to add a "Room 1" to your home address.
On the next profile, add "Room 2" and so on and so forth. You can do this for up to 500 rooms if needed.
You can also use "apartment 1", "apartment 2" and go up to 10,000 apartments.
To the company and the site, these are all different addresses, different people. But in reality, it's just your own house.
4.4 Sneaker bots updates
Most developers constantly push out updates for their bots. Some get updated as often as every day. These updates are necessary because most sneaker sites fight to ban these bots on a consistent basis, and the only way for the developers to fight back is by pushing out updates.
Most developers nowadays use mediums such as Discord to inform users that there's an update. In case you forget to update your bot, you might face a barrage of errors before getting it to work, or it might not function at all.
5. Types of sneaker bots
There are countless sneaker bots on the market right now, and the main thing that sets them apart is which sites they're compatible with. You can't really find a bot that can function on all websites hence the need for a bit of research before determining which one you should get.
5.1 Nike bots
Nike has been cracking down hard on sneaker bots for a while now. They are aware of the fact that many people use sneaker bots to try and get their hands on some limited edition Nike sneakers before everyone else.
Nike is determined to eliminate this advantage that many bot users have over regular users, so if you're trying to buy some Nike sneakers, and then you'll need to find a really good Nike sneaker bot, such as Another Nike Bot.
These bots come with numerous great features, mainly the ability to add sneakers to your card incognito as well as providing you with a faster way to make payments.
Unfortunately, nowadays, there aren't many bots that can bypass Nike's strict security system. In other words, you need to really do your research before signing up with any Nike bot. My personal recommendations are Another Nike Bot (ANB), BetterNikeBot (BNB), and Nike Slayer, all of which are reviewed in this article.
5.2 Adidas bots
Similar to Nike's, these Adidas bots are exclusively made for people who are looking to grab some sneakers off of Adidas online. However, like Nike's, Adidas' security against bots is very tight.
Adidas' anti-bot trick functions as follows: a virtual queue which bots can struggle to get through. Rest assured, though, as there are bots out there that are capable of bypassing Adidas' rigid security measures, such as AIO Bot.
5.3 Supreme bots
It comes as no surprise that a company as big as Supreme is trying its best to fight off sneaker bots. In other words, their website has a number of security measures in place, which render numerous sneaker bots utterly useless.
However, as is the case with any site out there, there are some hardworking developers who bring bots that are capable of bypassing these security measures, including CyberSole.
5.4 Shopify sneaker bots
A Shopify bot allows you to get past the few security measures that Shopify put in place. I said few because, unlike the other websites mentioned here, Shopify hasn't implemented many strong security features to prevent bots from functioning properly on their website (mainly because Shopify stores sell a plethora of products, not only Sneakers and shoes).
Security is somewhat bad to the point where you can rely on data center proxies on Shopify, something that you definitely cannot get away with in Nike's or Adidas' websites.
5.5 Foot-Sites bots
If you're trying to grab some sneakers through websites such as Footlocker, EastBay or Foot sites bots will be of great help. These include SoleSeekr.
6. Rookie mistakes to avoid when using a sneaker bot
Now that you know all the different kinds of sneaker bots and which ones are best for which sites, it is important that you get an idea of the most common mistakes that people make and how to avoid them.
You should always keep in mind that using a bot doesn't equal guaranteed success. However, there are certain mistakes that people commit which can hinder your chances of success. These include:
6.1 Using the wrong proxy
As I've mentioned above, having the right proxy server is essential to using a sneaker bot. Still, you are going to have to get your hands on some high-quality proxies.
This is merely the case due to the ever-increasing security of sneaker websites which can easily fish out low-quality proxies nowadays.
That's why I've recommended a list of what I consider to be the best residential proxy providers on the market right now, just above. Most of them are really useful for almost everything, not just sneaker shopping.
I don't recommend relying on free proxies (or shared ones), obviously, since most, if not all of them, will easily be discovered by the website's security, leading to your account getting banned. I know that the idea of paying for a proxy isn't an exciting one but trust me when I say that it's worth it.
6.2 Not using a remote server
Unless you have access to a super-fast internet connection and you don't live far from the website's server, not using a server is a death sentence.
Don't forget that you'll be competing against people from all around the world, some of which will be using their own bots. So just rely on a good server and let it do the rest even if your internet speed is very good.
6.3 Ignoring instructions
Most quality bots come with instructions that if you miss or chose not to follow, you could miss out on your sneakers. For instance, there are a lot of settings and parameters you need to tweak before going into action, as well as a lot of key information to keep in mind.
We tend to skip on most instruction manuals out there. However, if you do this with a bot, you'll end up pretty disappointed each time you try to cop a pair of sneakers for personal use or reselling. It's a game of seconds and even milliseconds, so being as prepared as humanly possible is key to making a difference between winning and losing.
6.4 Using the wrong information
You'll also need to make sure that you don't input the wrong credit card information or proxy details. A bot cannot do its job properly if it's functioning based on wrong information.
So, I highly recommend that you cross-check every bit of information you enter into the bot before going in.
7. Using a sneaker bot – FAQ
7.1 Is using a sneaker bot illegal?
Technically? Yes. However, it's more complicated than that. While bots haven't been declared illegal by legislation yet, they still break the terms and conditions of almost any brand out there. Of course, no big company is going to support the use of bots hence why they put a lot of effort into security measures that fight off said bots.
A lot of people consider it as cheating, unethical perhaps. However, it is not illegal, so you won't find yourself in trouble with the authorities for using one.
7.2 Do sneaker bots really work?
Obviously, they do. They're quite common to the point where bot-makers are fiercely competing with each other to produce the best, most functional ones.
Nowadays, sites such as Nike, Adidas, and YeezySupply release new products using a raffle-based system. In other words, each individual buyer is placed in a queue, and a few people get randomly selected to get the product.
This sounds like it could destroy the purpose of bots. However, on the contrary, bots can be used to include mass entries into raffle queues which greatly increases your chances of grabbing some neat sneakers before they sell out.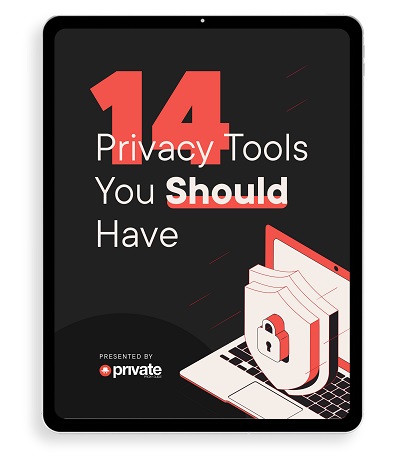 Learn how to stay safe online in this free 34-page eBook.