Having your computer perform poorly is one of the most infuriating things, especially if you use your PC to do business. With tons of malware, viruses, and junk applications, our computers tend to slow down, reducing overall performance drastically.
Having this in mind, people are looking for certain tools to boost their PC's performance and bring it back to its full glory. System Mechanic Ultimate Defense is an all-around suite made just for that. Through complex tools and security features, it makes sure your machine is performing at its peak.
With the ability to remove malware and optimize your system, System Mechanic Ultimate Defense should be the end-all-be-all solution to all your computer-related problems. But is it really the case? Is it THAT good? Well, let's see that in my System Mechanic Ultimate Defense review.
Buy System Mechanic Ultimate Defense
1. System Mechanic Ultimate Defense Review – Verdict
To summarize this System Mechanic Ultimate Defense review, let me tell you that I had, and I still have a pretty good time with this security suite. Not only does it work reliably and vigilantly but it also isn't taxing on my system resources, which is often the case with similar products.
System Mechanic Ultimate Defense is feature-rich and it offers everything you need to beef up your machine and make it more secure.
Pros
Very easy to use
30-day money-back guarantee
Eliminates system issues effortlessly
Reliable Malware Killer and Antivirus
System scans are pretty fast
Customer support through multiple channels (live chat, email & phone)
It won't slow down your computer
Cons
Available only on Windows computers
Use these coupon codes for the best deal available!
Get 70% off System Mechanic Ultimate Defense, just $23.98!
Coupon code: privateproxyguide
Get 70% off System Mechanic Pro, just $20.98!
Coupon code: privateproxyguide
Get 70% off System Mechanic, just $14.98!
Coupon code: privateproxyguide
Buy System Mechanic Ultimate Defense
2. System Mechanic Ultimate Defense: All Features Analyzed!
Let's get to the nitty-gritty of my System Mechanic Ultimate Defense review. Right off the bat, I'll walk you through all of its features to see what you can expect from this robust and functional suite of tools.
2.1 System Mechanic
The feature I like the most is System Mechanic. It lets you scan the entire computer for certain issues, thus, determining your system status. For example, upon testing my computer for the first time, my system status was Critical, which you can see below.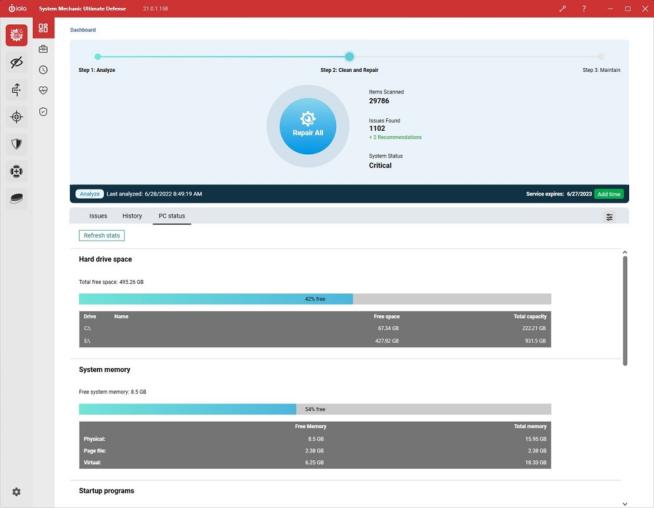 System Mechanic showed my HDD space, system memory, as well as startup programs and running programs. Much to my surprise, I had 10 unknown programs running in the background, plus 12 unnecessary programs.
Clicking on the "Repair All" button, I managed to fix all of these issues, bringing my system status to "Good."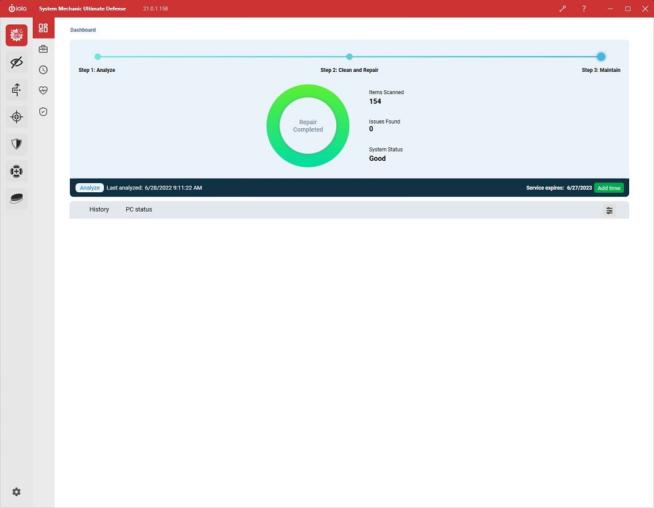 In the process, System Mechanic clean my junk files, repaired some security items, and shut down unnecessary processes slowing down my computer. Needless to say, I'm impressed with how well and smooth it worked, without "hijacking" my computer resources at all.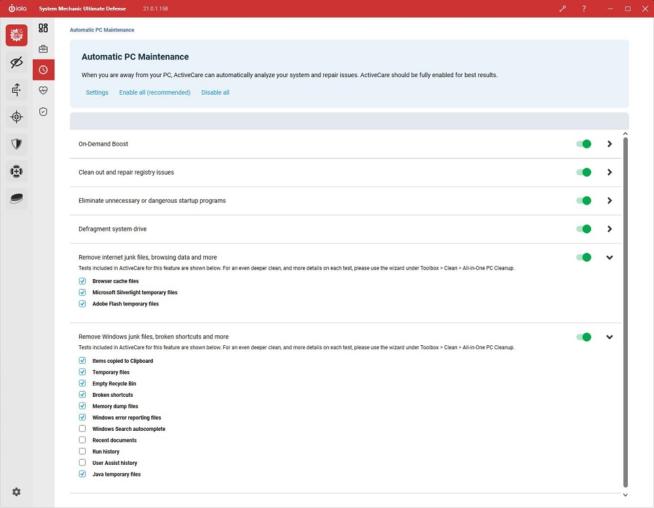 Additionally, in System Mechanic, you can enable Automatic PC Maintenance. In this case, System Mechanic Ultimate Defense will do everything for you, without you having to fiddle around with settings. You'll just get a notification of when it's done, leaving you to enjoy your PC to the fullest.
2.2 Privacy Guardian
In this System Mechanic Ultimate Defense review, I must address this Privacy Guardian feature. Perhaps one of my favorites.
This feature is all about preserving your online privacy by preventing tracking and collecting personal information. Many sites you visit are known for these practices but System Mechanic Ultimate Defense can remedy this issue.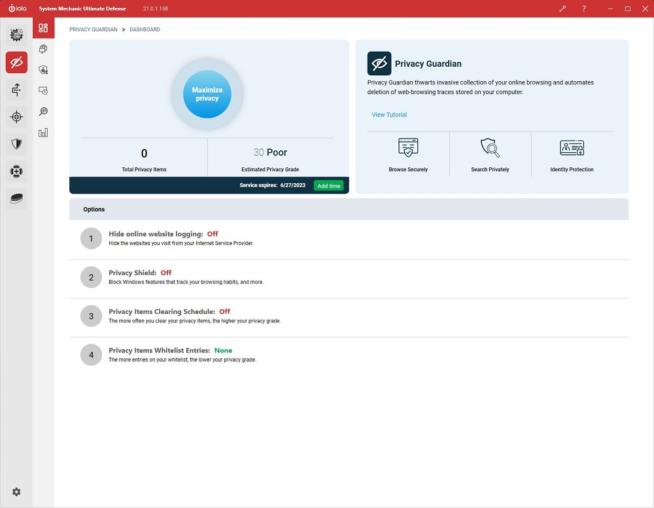 By clicking on Maximize Privacy, you'll disable Windows tracking, and website logging, and clear your privacy items. However, I like the addition of a Whitelist where you can add the websites you want to exclude from Privacy Guardian.
Although, I personally don't recommend doing so, given that pretty much all websites use cookies and store some information about you.
2.3 ByePass
Another feature I found useful is called ByePass. However, ByePass is a Chrome/Firefox extension that you can install once you activate your System Mechanic Ultimate Defense account. By doing so, you'll get an excellent password manager that also serves as a password protector.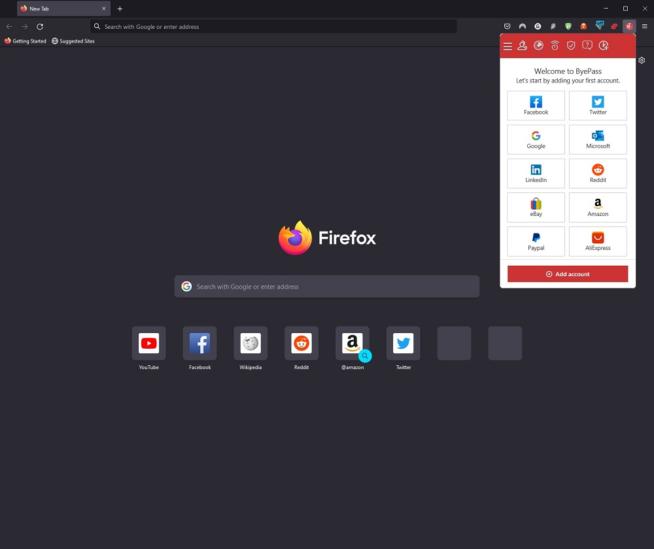 You can use ByePass to store passwords for every social media account or perhaps, use the extension to add useful notes. Moreover, I like the ability to safely store credit card and PayPal information to avoid typos when making purchases online.
Finally, I want to mention ByePass' ability to generate secure passwords. You can choose how many characters you want, as well as generate easy-to-type passwords to make your life easier. This, accompanied by comprehensive security reports, makes ByePass a very capable addition.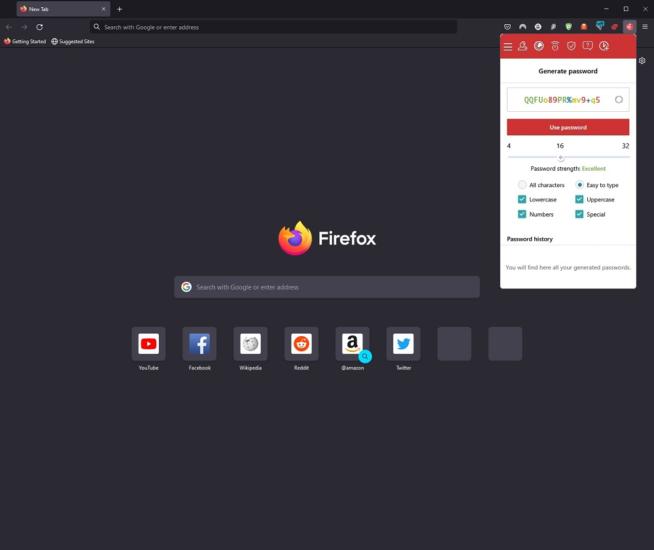 Mind you, this addition is available only for Chrome and Firefox browsers, so you can't use it on mobile devices. But that's not a problem given how well ByePass works. Once I added my passwords, I never had to type them in again, making the entire log-in process a breeze!
2.4 Malware Killer
System Mechanic Ultimate Defense offers a tool called Malware Killer. As its name implies, it's here to slay and devour malware attacking your computer effortlessly. You can do so through a scan that you can perform on several levels.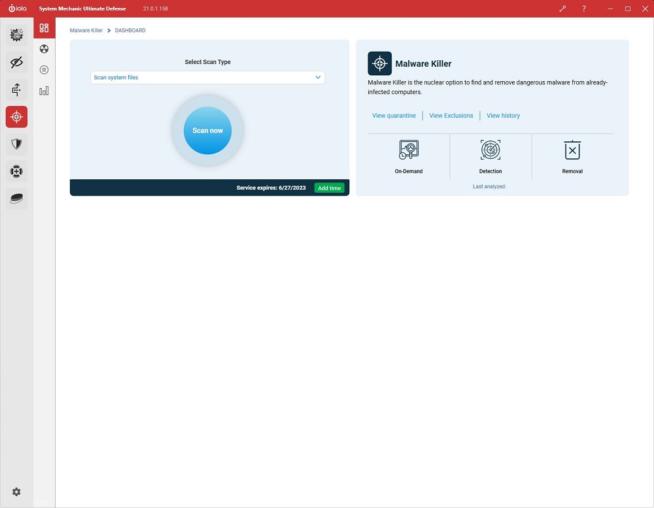 Here, you can scan system files, all drives, a specific file, a specific folder, or configure Malware Killer settings. I appreciate the variety in these settings, as you don't need to perform a long scan to check out suspicious files.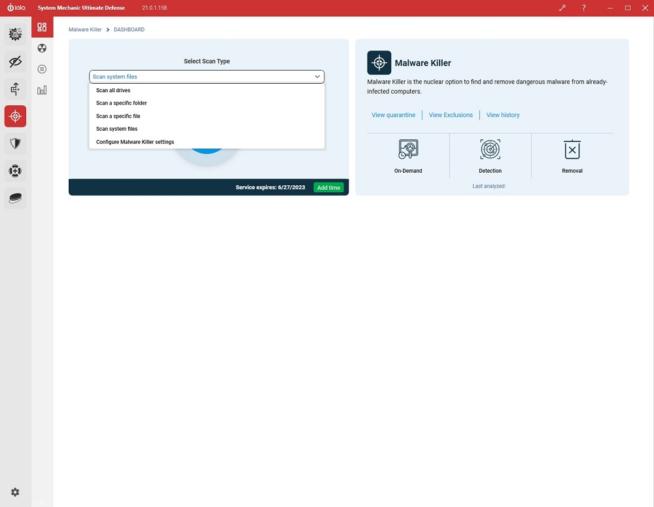 Instead, you can scan files separately and see if your suspicions are justified. Furthermore, you can add exceptions as well, just in case Malware Killer mistakes a particular file for malware. Once you exclude the file, Malware Killer won't deem it malicious anymore.
2.5 Antivirus
Malware and viruses aren't the same. Viruses are much more dangerous and they can take the form of a Windows process that can slowly but surely bring your PC to a screeching halt. System Mechanic Ultimate Defense's solution is rather efficient here.
It has Antivirus that works flawlessly, eliminating viruses with 99% efficiency. This feature is called System Shield and allows you to perform a full scan on a system level to determine whether or not you have potential threats.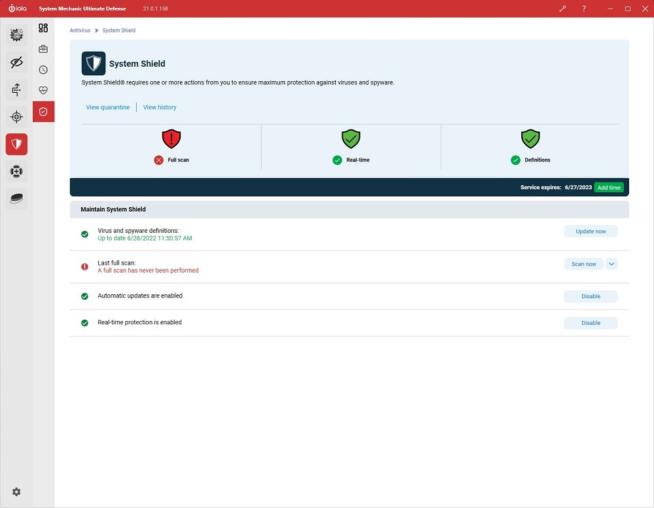 What's more, System Shield can be updated with new viruses and spyware definitions, making sure that it's up to date with new and dangerous threats. I personally like turning on real-time protection and automatic updates so that I don't have to scan my computer every day.
In this environment, System Mechanic Ultimate Defense will do everything for you. Which, in the end, is the whole point of a security suite like this.
2.6 Search and Recover
My System Mechanic Ultimate Defense review wouldn't be complete without the feature called Search and Recover. I found it extremely useful for recovering deleted files or files I accidentally moved to another location.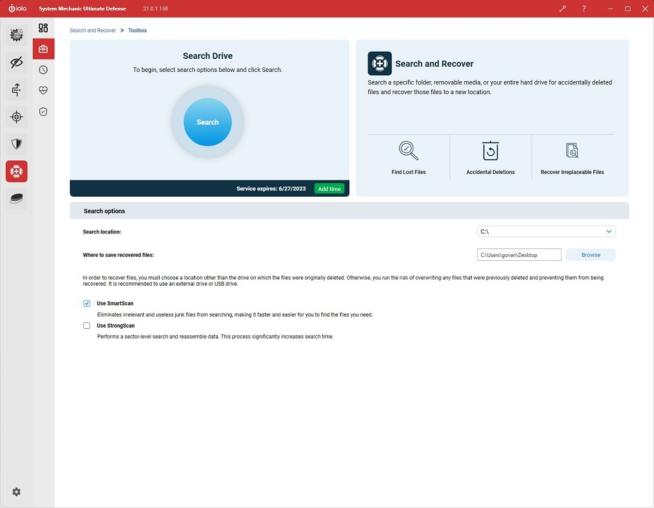 Search and Recover works rather simply. You just define the search location and choose where you want to save recovered files. Then, you can use SmartScan to eliminate junk files from search results, but also StrongScan for more in-depth search results.
Albeit, enabling the latter significantly increases search time, so it's good if you're not in a hurry.
2.7 Drive Scrubber
Lastly, let's talk about Drive Scrubber. Its name says it all but for those who are oblivious, Drive Scrubber is here to scrub your drive – clear now? In other words, this feature can wipe the hard drive you choose if you want to format it or simply throw it away for any reason.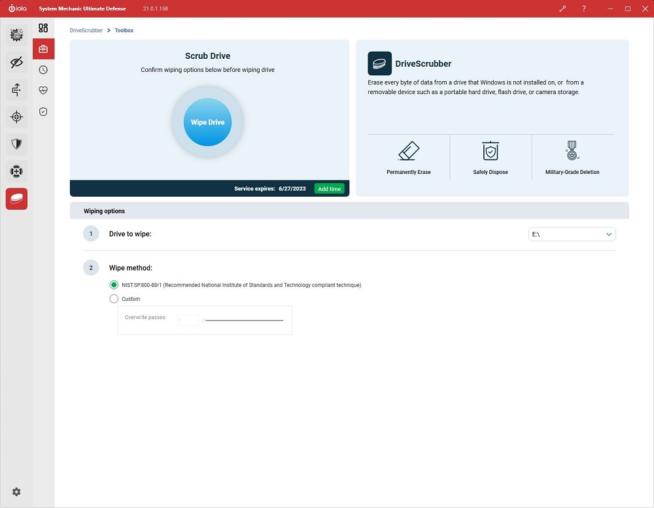 iolo, the company behind this software, claims that the deletion is military-grade, which means that every byte of data is wiped from the hard drive you choose. After it's done, the information is permanently deleted and the drive is ready for disposal or another use.
Beware that this doesn't work only on hard drives. Instead, you can use it on portable drives like a flash drive, camera storage, SD cards, etc, etc. Also, it will work only on drives where Windows isn't installed, for obvious reasons.
Buy System Mechanic Ultimate Defense
3. Ease of Use and Device Support
When talking about device support, iolo limited System Mechanic Ultimate Defense to one platform – Windows. Thus, if you use macOS or Linux, you might need to go for another option because this one won't work.
The good thing is that iolo took its time to develop a nice and bug-free app. I mean, you already saw that it looks really good, with all of the features lined up on the left for easier access. Each feature has sub-menus and additional settings that I found easy to access, too.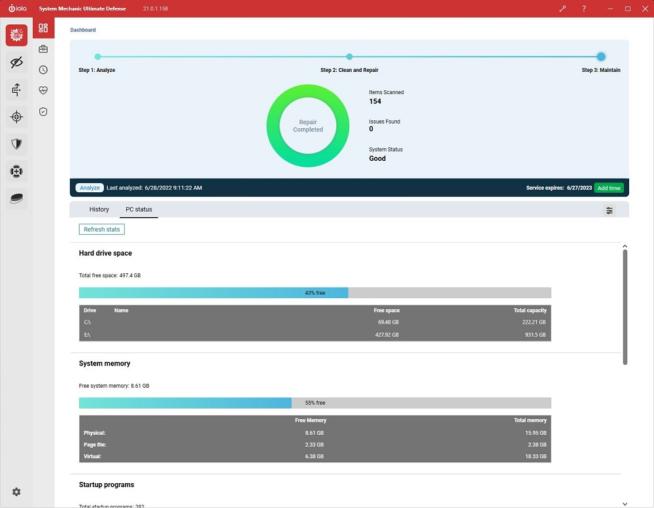 I also appreciate its descriptions. Each feature has its explanation, telling you what it is and how it works. This way, if you're a newcomer, you'll still know what to do, so you won't need to wander around the app like you're lost in the jungle.
Perhaps the best thing about System Mechanic Ultimate Defense is that you can do everything with a single mouse click. Wanna scan for malware? Use the blue button. Wanna wipe your hard drive? Use the blue button! Wanna optimize your PC and eliminate junk files?
Again – use the blue button!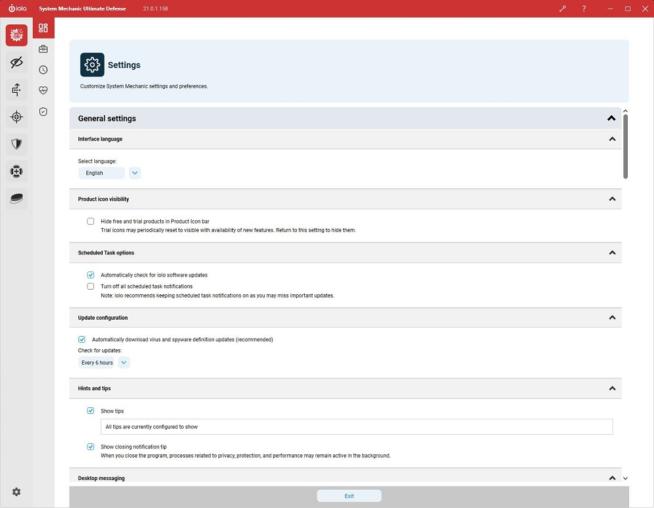 Clicking on the gear icon opens up the Settings menu where you can additionally customize the app and its features. However, I find this Settings menu a bit cluttered and complex compared to the app interface, so I don't suggest fiddling around if you don't know what you're doing.
The app is also available in several languages, so you can change the language at the top of the Settings menu. Therefore, if you find English a bit less understandable, you can change the app language to French, Spanish, German, and a few other languages.
Buy System Mechanic Ultimate Defense
4. Customer Support
iolo does a great job at providing round-the-clock support. Apart from live chat, you can contact the company via email or even using a phone number on the site. The number isn't toll-free, so if you're located outside of California where it's based, don't be surprised by an expensive phone bill.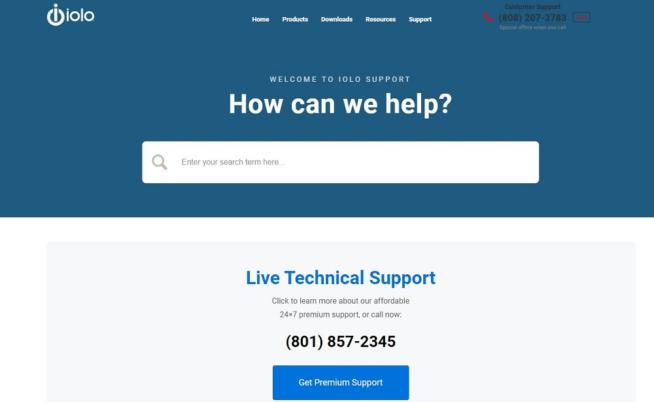 Nevertheless, that's not all. iolo offers a comprehensive knowledge base and a huge FAQ section to make sure you can fix the potential issues without going out of your way to contact them.
Buy System Mechanic Ultimate Defense
5. Pricing: Is It Affordable?
iolo offers a plethora of security products for your devices. System Mechanic Ultimate Defense is their most popular product but also the most expensive one, given its complex combination of various security features.
System Mechanic Ultimate Defense is the highest tier of System Mechanic and at the time of writing this review, it costs $23.98 a year with the 70% discount, which is a very good offer.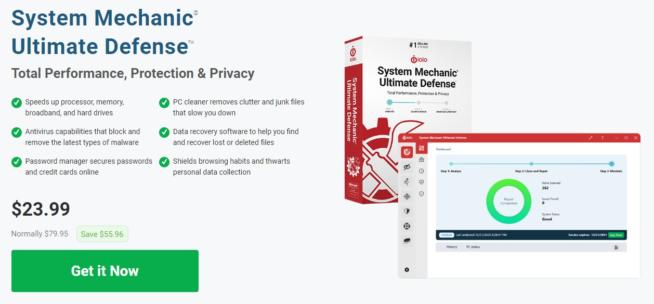 The whole range starts with the aforementioned System Mechanic. It's a cut-down version of the package I reviewed today but it also starts at $14.98 a year.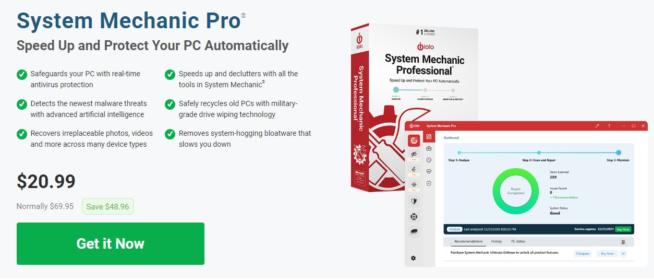 On the other side, System Mechanic Pro costs $20.98 a year and it sits between Ultimate Defense and the starter plan comfortably. Although, for a small price difference between Ultimate Defense and Pro, I recommend the first option because it's more feature-rich.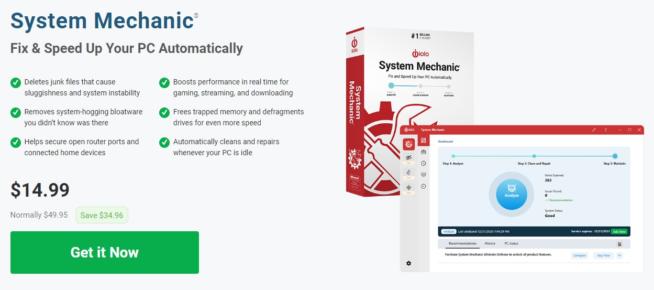 Lastly, a 30-day money-back guarantee is here as well, so in the case of dissatisfaction, you can claim your refund.
Buy System Mechanic Ultimate Defense
6. FAQ
6.1 Can I use System Mechanic Ultimate Defense for free?
Yes, you can use it for free but not forever. iolo offers a free trial that lets you test out System Mechanic Ultimate Defense free of charge, without having to provide credit card details. After the trial expires, you'll need to purchase the suite to be able to use it further.
6.2 How to use System Mechanic Ultimate Defense on my Mac computer?
Sadly, you can't use System Mechanic Ultimate Defense on macOS. At the time of reviewing it, System Mechanic Ultimate Defense and all of its versions are available only on Windows.
6.3 Can System Mechanic Ultimate Defense accelerate my internet?
Yes, it can! Thanks to optimizing Windows internet settings and blocking Windows tracking, it can make web browsing or even gaming smoother and safer.
In fact, System Mechanic Ultimate Defense boosts every aspect of your computer's performance, one of which is the internet and the processes that rely on it.
Buy System Mechanic Ultimate Defense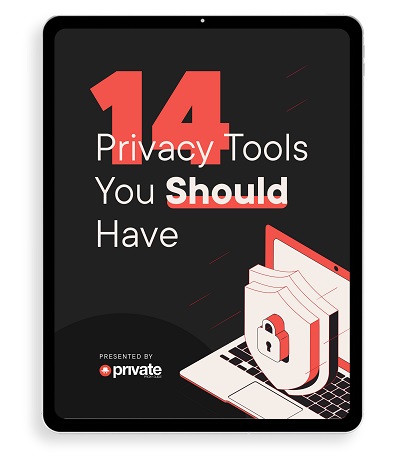 Learn how to stay safe online in this free 34-page eBook.