The Internet has become a place of snoopers and hackers who are on the lookout for stealing, composing your device through various sophisticated techniques. We cannot leave our online safety to chance and in the hands of an often ineffective online security shield of anti-viruses. You need and deserve a good VPN that provides you with anonymity while ensuring optimal security.
We take a closer look at what PureVPN has to offer and whether it's worth your money. While their feature list is long, it is important to focus on what really matters to the user.
1. Verdict
PureVPN has not always been in the good books of critics and industry experts. Interestingly things are taking a turn for the good with their revamp of the core elements. The speeds are incredible, and the app feels well placed with room for improvement in efficiency through more intuitive features. Their browser extension packs everything you need and can deliver without requiring the desktop app. You can start with the 7-day trial before deciding on the subscription.
| | |
| --- | --- |
| Jurisdiction | The British Virgin Islands |
| Simultaneous connections | 10 |
| Supported VPN protocols | IPsec, IKEv2, PPTP, OpenVPN TCP/UDP, L2TP, SSTP, and WireGuard |
| Logs policy | No logs |
| Price | From $1.99 per month on 2-year plans |
| Money-back guarantee | 7 days free trial and 31-day money-back guarantee |
| Customer support | Email & live chat |
| Works with Netflix? | Yes |
| Allows torrenting? | Yes – Official P2P optimized servers |
| Servers | Over 6,500 servers in 78+ countries. |
Pros
City-specific VPN servers across the world
Unlimited bandwidth
Impressive speeds on far away situated servers
Direct P2P download support for torrents
Eight different VPN protocols to choose from
Live Chat Support along with email support ticket
Based in the British Virgin Islands, out of the purview of the EU and the USA.
Cons
Past issues of log keeping
Dated right-click menu style on the desktop
No servers in China
2. What We Liked About PureVPN
2.1 Mobile App
Starting with mobile apps because the majority of the current digital revolution is driven by portable smart devices. Install the app, available for both the major mobile operating systems. They offer a 7-day free trial that does require a credit card. You will be charged for the month after the free period is over.
Log in using either the email ID or a username, whichever works for you. When you log in for the first time on a new device, it will take you through various fundamental aspects of the app.
After you are done with the introduction tutorial, we land on the app's home screen, which is well-placed following the minimal design. No clutter or features is blowing in your face. Tap on the giant connect button, and it will connect you to the nearest server available for the first time. From the second time onwards, it will connect you to the last connected location.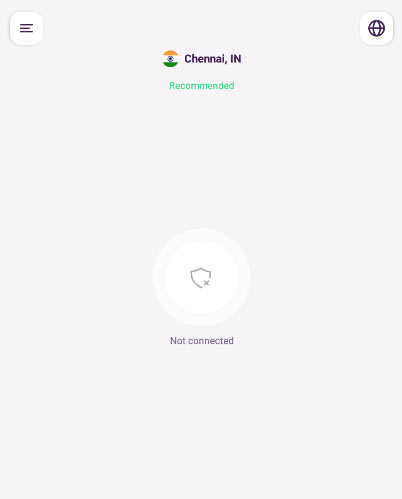 Choose different server locations by tapping on the Global icon on the top-right of the screen. It will show the recently connected server locations as well the favorite servers.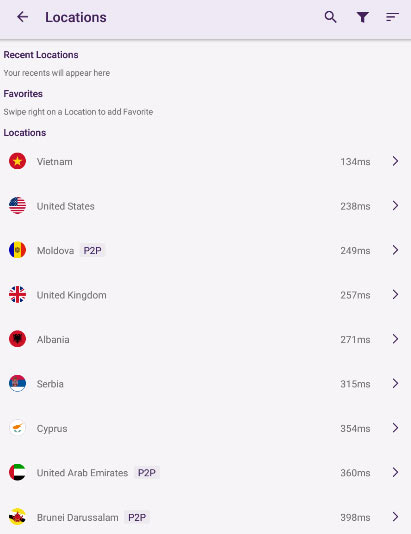 This section can search for server locations using the search bar or filter them alphabetically. You can also filter for displaying only P2P-supported servers.
Tap on the right arrow next to a country for viewing different city servers available. Select any city by tapping on it, and you will be connected to the VPN server.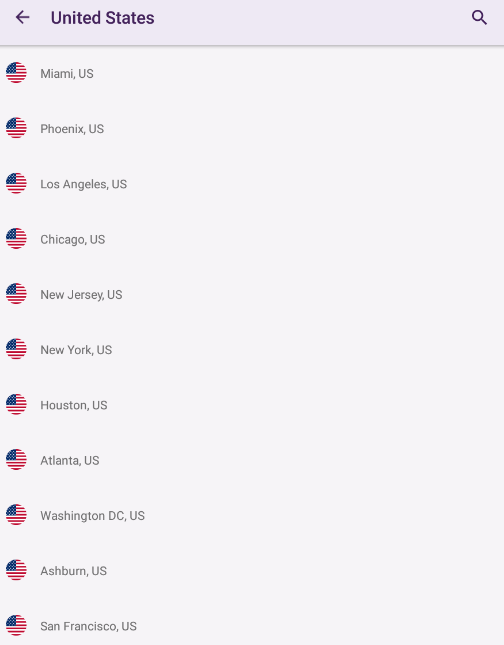 Favorites
Come back to the server section, and here we can add any of them to our favorites by sliding it to the right. A start will appear, which confirms the addition. It can be done for the country and city-wise servers.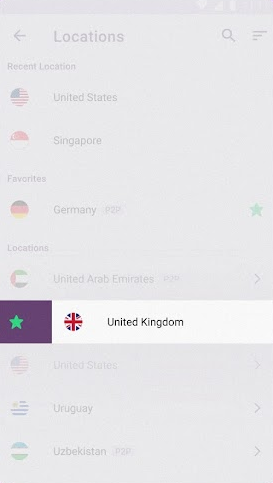 Settings
Our eyes goes directly to the personalization server selection as we swerve into the settings. It aims to connect you automatically with the server on which you had the best experience. Now the question is, how does it decide it? It depends upon your review and the duration spent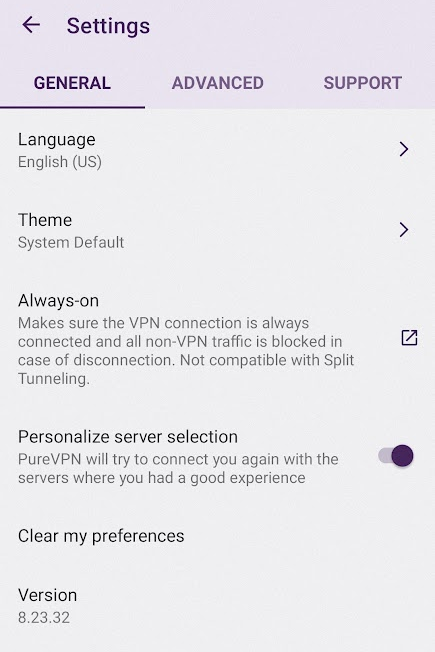 Look an inch above, and you see the Theme option. There are two offered Light and Dark themes. It is set as System Default which adjusts according to your phone's theme.
The advanced tab has VPN protocols and split tunneling, which can be set up instantly for specific apps. Split tunneling is disabled by default, and we will talk about it in a while.
Notification Bar
This actually stands out amongst all its competitors. No one wants to open the app every time you want to disconnect the VPN connection for a while. PureVPN smartphone app offers you the disconnection button in the notification slide.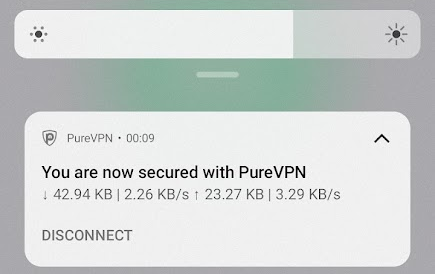 Not only that, but you can also see the connection status – downstream and upstream speed, total data used. One thing to note here is that you can disconnect here, but you will need to open the app again to connect again.
Support Section
The support section houses support articles, FAQs, feedback, and more. You can even raise a support ticket here. Bear in mind that selecting any of the options will open the website's link inside the app, relying on your default web browser.
2.2 Desktop App
PureVPN is available for Windows, macOS, and several Linux distros. A pretty straightforward installation on the first two platforms, and you can log in using a username/email along with the password.
Similar to the mobile app, click on the connect button, and it will switch on the server by connecting to the nearest VPN server. The preference is given to servers in your residing country.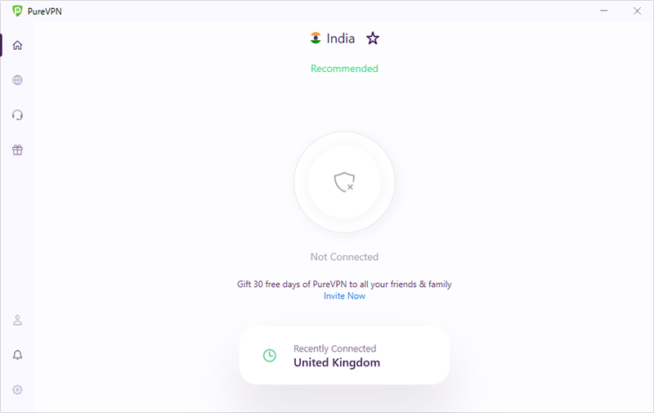 We have tried dozens of different VPN services and their apps. PureVPN's connection establishment process is amongst the fastest available. You are connected to a server within 3 seconds for a distant location and under a second for regions in proximity.
Favorite Server
Over seven thousand servers are at your disposal. Over time, some will become your preferred go-to VPN server locations. Keep them at your fingertips by marking them as favorites. You can do that by clicking on the star next to it. Head to the server section through the globe icon, located on the leftwards sidebar.
Search for your favorite server and click on the start next to it to mark it as favorite—Mark your favorite city servers by clicking on the right arrow next to a country name.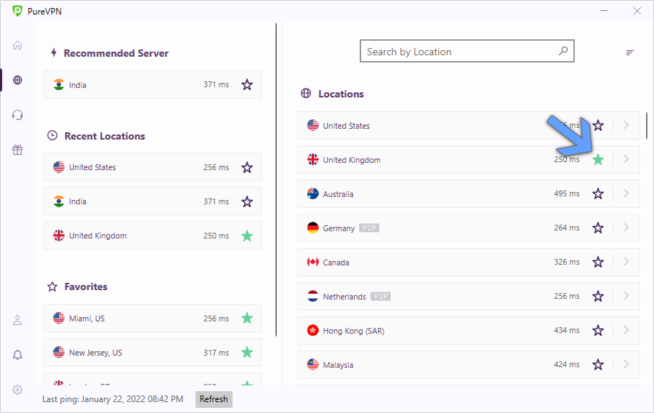 We decided to test the shortcuts for our favorite marks. Click on the earmarked country connected adequately but missed our starred city server. For instance, we added a New York, USA server to our favorites. Then proceeded to connect to it through the shortcut button, but it connected to Miami, USA instead.
Taskbar Menu
The PureVPN icon in the taskbar provides a menu. To be perfectly candid, it feels dated given what the likes of CyberGhost offer in the shortcut menu.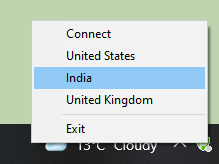 Here the favorite servers appear in a country-wise manner. Bear in mind that it will not be city-specific, as we tested and confirmed earlier. In a nutshell, you can expect to use it for simple connection and connecting your favorite VPN location.
Auto Connect
Even using the favorite shortcut for connecting to the preferred VPN server may feel like too much work. You can skip it and configure it to automatically connect with a specified VPN server.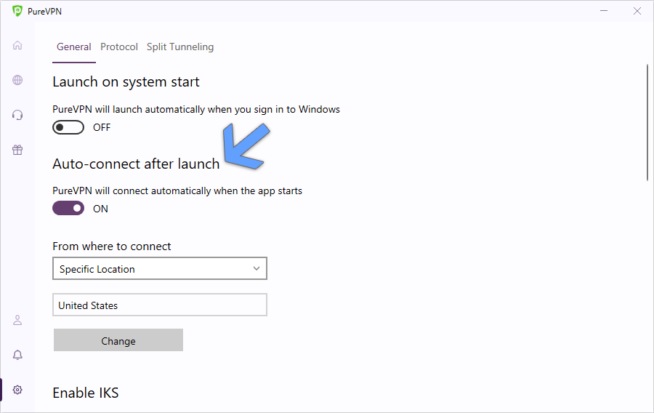 Head to the General settings and look for Auto-connect after the launch section. Slide the button for enabling the feature, and From Where to Connect option will become live.
You can select either of the three options from here in line with your convenience.
Specific Location – Connects to a VPN server of a specific location selected by you. The city-specific servers cannot be guaranteed here.
Recently Connected Location – The server of your last session will be connected again here.
Recommended Location – This will connect you to the nearest and most optimal VPN server.
This feature does add a couple of seconds to the app launch time. Take that into account when setting the auto connect feature.
Other Features
Other features on the app include Split Tunneling and the ability to change the VPN protocol. The protocol has a fallback option that connects to the next best available option when your choice is not working.
Along with that, you can also enable the Internet Kill Switch (IKS), which will disable the Internet if the VPN connection is disconnected for any reason.
2.3 VPN Protocols
A total of eight different protocols are supported on PureVPN as confirmed with the customer support – IPsec, IKEv2, PPTP, OpenVPN TCP/UDP, L2TP, SSTP, and WireGuard.
A combination of 4 different protocols is available for most computer platforms. The options go down to two for routers and relative peripherals.
When installing the PureVPN app on any device, the protocol is selected to auto, whichever feels best. Leave it unless you have experience with protocols. Changing them to something unwarranted can cause reduced performance or stop the VPN altogether.
2.4 Browser Extension
Oftentimes we need to visit specific websites which are blocked in your region. Launching the app and then connecting to a VPN feels like a lot of work. VPN browser extension cuts down on the inconvenience and lets you connect to the VPN with a click. Disconnect after you are done and avoid interrupting the network connection of other apps.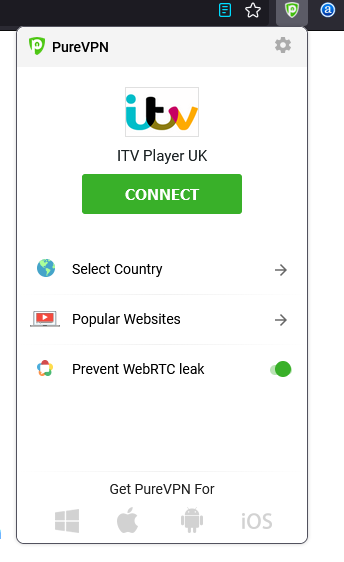 PureVPN offers browser extensions for Chrome and Firefox. Any web browser using a similar browser engine can use these extensions. Coming back to the extension at hand, you need to log in using the VPN in your browser. A free trial is available that requires putting down the payment information.
Servers
All the servers are available here, including the city-specific locations available in the Select Country. There is a search option that searches only the country, which is unlike their desktop counterpart.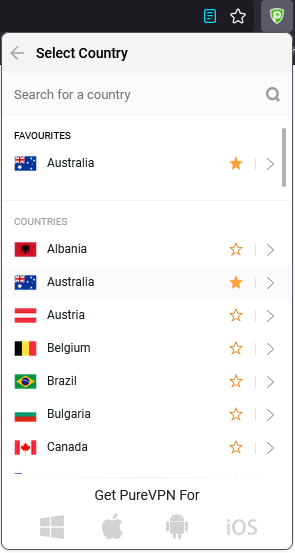 Popular Websites
Some popular websites require a VPN for a variety of reasons. Prominently it is used to access different region's content libraries of OTTs like Netflix, Prime, Fox Sports, and more. The Popular Websites section houses all the popular websites requiring VPN to access the content and services offered exclusively in another region.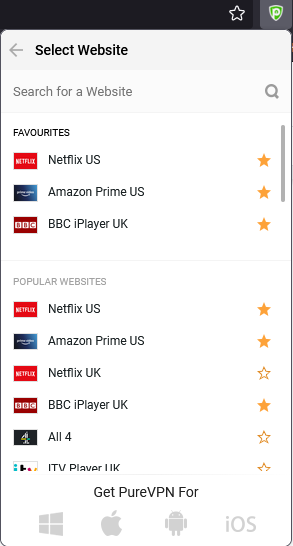 Select the website, and it will connect to it using a VPN region best suited for ensuring an optimal experience. For instance, we selected BBC iPlayer UK, and it opened the website with a UK-based VPN server.
Bypass Proxy
Not every website needs to go through the VPN connection tunnel. Add those websites to the bypass list, and they are routed through the regular network. The new additions to the list are enforced when you establish a new connection after the current session.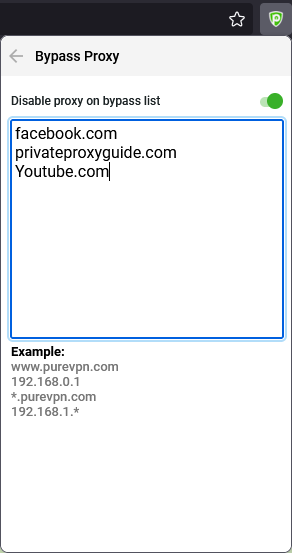 Access the Bypass Proxy feature from the settings, which is available using the gear icon on the home screen.
2.5 Speed
Earlier, the VPNs offered rigid protection online but compromised on speed. This is not acceptable in today's age where speed is of umpteen importance for high-quality consuming content, preferably in 4K resolution.
Torrenting using a VPN has become a must because of the rampant scrutiny and blocking of various torrent websites. You need a VPN on all the time while offering speeds close to what is advertised by the Internet service provider.
We decided to take PureVPN on a rigorous speed testing ride. Before going forward, you must know about our network setup.
| | |
| --- | --- |
| Internet Speed | 500 Mbps Downstream, 450 Mbps Upstream – Wired |
| LAN Chipset | Realtek® RTL8111HN Gigabit LAN |
| Processor | AMD Ryzen 5 5600x |
Users from different parts of the world will use PureVPN for connecting to servers located at various places. For that reason, we sampled 7 major cities situated in geographically dynamic parts of the world.
The test results consist of three speed tests' average performance in the morning, afternoon, and evening. After that, the combined average is presented here.
| | |
| --- | --- |
| City | Speed |
| India (Host region) | 478 Mbps (Down), 391Mbps (Up) |
| Germany | 344 Mbps (Down), 112 Mbps (Up) |
| USA (Chicago) | 301 Mbps (Down), 281 Mbps (Up) |
| China | 449 Mbps (Down), 396 Mbps (Up) |
| United Kingdom | 387 Mbps (Down), 384 Mbps (Up) |
| Japan | 243 Mbps (Down), 277 Mbps (Up) |
| Australia | 194 Mbps (Down), 204 Mbps (Up) |
Overall, the speeds were above expectation. Speeds to the USA server surprised us in the morning and evening. There was a slump in the afternoon, but it was corrected on the third test.
2.6 No DNS Leak – Tested
DNS is essentially how your computer is able to connect with servers. Each website is hosted on a server with a particular IP address. DNS converts your website URL into an IP address and then helps in connecting with the website.
In this processor, your location, browsing activity, and the device might be exposed when network journey to the DNS server. A good VPN hides all this information, providing a different identity of the VPN server instead.
We conducted a thorough DNS leak test consisting of one default connection without the VPN and then with four different VPN server locations.
Test 1 – Without VPN (Default Location)
The first DNS test displayed the IP address along with the location and broadband company. There was a DNS leak here.

Test 2 – With VPN: United States of America
The second DNS test with the USA VPN server concealed the IP address and other details. There was a NO DNS leak here.

Test 3 – With VPN: Germany
The third DNS test with the Germany server protected the IP address along with other details while showing the VPN server's identity. There was a NO DNS leak here.

Test 4 – With VPN: New Zealand
The fourth DNS test with the New Zealand server protected the IP address and other details while showing the VPN server's identity. There was a NO DNS leak here.

Test 5 – With VPN: Kenya
The fifth DNS test with the Kenya server protected the IP address along with other details while showing the VPN server's identity. There was a NO DNS leak here.

IP Address
Location
ISP
DNS Leak

49.207.xx.xxx

(Without VPN)

Delhi, India
ACT Fibernet
YES
192.210.143.51
Seattle, United States
ColoCrossing
NO
156.146.33.243
Frankfurt Main, Germany
Datacamp Limited
NO
103.76.164.164
Auckland, New Zealand
Intergrid Group Pty
NO
196.251.100.132
Mombasa, Kenya
Angani
NO
How to Read the DNS Leak Result?
Note down your default broadband's IP address, location, and ISP. It exposes your details in the DNS test. Then compare them with the following four tests, which do not match your actual details.
2.7 Encryption
PureVPN uses AES-256 encryption for establishing the connection. It uses AES on all the VPN servers without fail. All your data is transmitted with a layer of encryption that makes it impossible for snoopers and hackers to steal your information.
2.8 Support
The customer support impressed us with their prompt replies and follow-up for the emails we dropped. Their live chat is available 24×7 without fail, providing swift and accurate answers to the queries presented.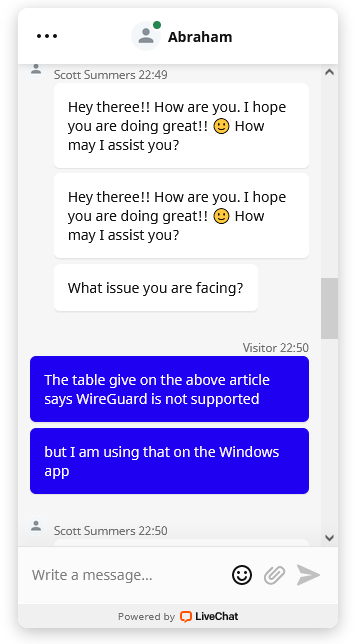 All the apps have a support section which consists of live chat, support ticket, and an FAQ section for your general queries. These options are also available on PureVPN's website, where the login is not required.
3. What We Did not like about PureVPN
3.1 High Latency – Not for Gaming
The speeds are phenomenal across the board, and we give that to PureVPN. Granted, the ping/latency would be higher on a server, but four times than the default for a nearby VPN location is not ideal.
Multiplayer gaming would seriously be hindered with incessant lag and delays, thus negatively affecting the overall experience.
3.2 Concerning Past of Logs
A federal investigation in 2017 was helped by PureVPN's information sharing of logs and user details. It raised many questions over the company's claims of maintaining no logs.
Two years later, PureVPN invited an independent auditor for attaining No-Log certification for restoring the trust of the consumers.
4. FAQ
4.1 Does PureVPN offer a trial without a credit card?
That would be a NO. You need to put down your active payment information, which does not charge a dime in the trial. Post the free period, and you will be charged monthly or annually, depending upon which plan is selected during the registration process.
4.2 Is Dedicated IP included in the subscription?
It is available as an add-on for the subscription but not included by default in any of the plans. The dedicated IP add-on costs $3.49/month, which can be taken for a longer duration.
4.3 Can PureVPN unblock Netflix?
PureVPN can unblock up to seven Netflix libraries – US, UK, Australia, Canada, Japan, France, and Germany. You can enjoy the Netflix of the said regions without any interruption. The PureVPN browser extension has Netflix sites of all the mentioned regions in the popular sites section.
4.4 Does PureVPN work in China?
Yes, it does work in China, and you can find a detailed guide on how to proceed. One thing to remember here is that PureVPN does not offer China-based VPN servers. You can use Hong Kong and Taiwan servers for accessing Chinese content.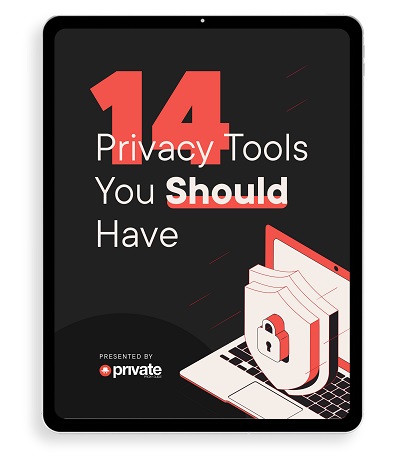 Learn how to stay safe online in this free 34-page eBook.