ZenMate is a Germany-based VPN. It has become a very popular service among millions of users, mainly because it guarantees high connection speeds and can unblock Netflix. If you cannot live without cinema and enjoy watching movies online or downloading torrents (yes, you can use peer-to-peer networks with ZenMate), then this VPN service will be a good choice. Read on to find out more in this updated Zenmate VPN review.
ZenMate can be downloaded and installed without problems, as the service offers applications for almost all major platforms. You can also connect up to 5 devices in one subscription. ZenMate offers a tempting deal that is hard to reject because you get a 30-day money back guarantee and a 7-day free trial. This service is perfect for viewing content online and sharing torrent files, but you should also know that the service does not work in China, Iran, and Saudi Arabia. So, if you are going to use a VPN application in these countries, ZenMate will not work for you.
The priority of ZenMate is security. There is a Kill Switch feature in case your connection drops. Emergency disconnection from the Internet protects users from an unstable connection and this functionality is very important to protect anonymity. The ZenMate server network is not very impressive (there are servers in 30 countries), however, they do provide excellent services that compensate for this. The service uses 128-bit AES encryption in browser extensions, which is not as reliable as the 256-bit encryption when used in apps but it is definitely quite effective. ZenMate offers a variety of service packages for individual users and business customers. If you want to secure all of your workspaces, you can contact the ZenMate staff to find out what they can offer you. Zenmate VPN reviews on Reddit and Quora are mostly positive. Zenmate also has a TrustPilot Score of 4,7 which is excellent.
Here are some brief facts:
Based in Germany, under Germany's jurisdiction.
5 simultaneous connections.
Servers in 30 countries.
Free plan, affordable premium plans.
7-day free trial and 30-day refund guarantee.
Good connection speeds.
Torrent support can unlock geo-restricted services.
Various payment methods.
Multiple security options.
24/7 support.
Clear privacy policy.
ZenMate Privacy policy
Logging personal data is always an important concern when using a VPN, especially because this is the main reason why users choose this type of service. ZenMate users will be happy to know that the service has clearly stated in their documents what data they log and why. Because the company works under the jurisdiction of Germany, they must work according to the General Data Protection Regulation (GDPR). This is a great directive to control the user's data stored by various companies. It limits them from sharing the data with 3rd parties and obliges to strictly control any possible leaks.
So, what data do they collect?
Non-personal data: browser, operating system, referring website, sub-websites, date and time of Internet sessions, IP address, Internet service provider, and similar information.
Personal data: name, address, email address, username, and payment information.
This is rather technical information and ZenMate promises to use it only to prevent various cyber-attacks, optimize the website content, improve the service, provide the highest level of protection, or to send you the informational letters. Sensitive information like credit card details, transactions, purchased items, your approximate location (just the country), visited websites, and Internet sessions are not stored or logged.
How can we estimate their privacy policy? It's clear – the users know what information is collected – but we think they also could collect fewer data. Many competitors store absolutely nothing. At the same time, they do not share any data with 3rd parties – this is a great feature.
---
ZenMate Registration, payment, and prices
ZenMate provides two pricing plans: free and ultimate. Also, on their website, you can find the information about the premium plan. However, the company does not provide a premium plan anymore as it was extended to the ultimate one.
What are the differences between the plans? The free plan has a lot of limitations and offers only a browser extension. The Premium plan provides all the features to use the service without limitations. How much does the ZenMate VPN cost? Here is the comparison table.
Free
Premium
1 month
Free
$9.99
1 year
$47.88 – works out at $3.99/mo
2 years
$49.20 – works out at $2.05/mo
As you can see, it is much better to use longer subscriptions as in that case you save a lot of money. For example, if you get the 2-year subscription, you will pay about $2 per month instead of $10.
The service supports all the most popular payment methods. You are able to use PayPal, bank cards, Qiwi Wallet, and Union Pay. Unfortunately, it does not work with cryptocurrencies. In any case, you are able to get this subscription anywhere. Maybe it will be more difficult if you prefer some exotic payment systems.
How to get a subscription? You need to follow only a few steps.
Click on the Get ZenMate VPN button and choose the subscription package you want. For the test, we selected a 1-month premium subscription plan.
Enter your email address. This is necessary to link and activate your account.
Select a preferred payment method. We will use PayPal as it is the most convenient option.
Right after that, you get a confirmation email. Click on the link to activate your account. Also, there is a little trick: you can activate the account before confirming the payment. In that case, you get a 7-days free trial. In addition, you get a welcome email with the generated password to use in the apps and browser extensions.
---
ZenMate Apps
Having confirmed the account, it is time to get and install the app. ZenMate offers apps for Windows, Mac OS, Android, and iOS, as well as extensions for Chrome, Firefox, and Opera. For all other platforms including Linux, Android TV, Smart TV, Raspberry Pi, Chromebook, and gaming consoles, there are the instructions on how to configure them manually with OpenVPN.
We tested the Windows and Android apps as well as the Chrome extension.
ZenMate for Windows
Get the installation file from the download page and double click to install. The installation takes literally a few seconds. Then, the application asks for your email and password. Do not forget to copy your password from the welcome email. If everything is entered correctly, the application will open its main window and start connecting.
The interface is modern and attractive looking. It's not overloaded with unnecessary details. In the center, you will see the big connection button and the drop-down menu with the list of available locations. Select any of them for the best online experience. Unfortunately, you are able to select only countries and not specific cities. For some users, this can be critical but for the average one, it's absolutely okay.
Below, there are 4 buttons: My Subscription, Settings, Used Traffic, and Notifications. The first one provides information about your subscription status and linked email.
In the Settings, you are able to apply some basic configuration: automatic connection to the server, run on startup, Kill Switch, DNS Leak Protection, as well as enable or disable locations monitoring. Also, you can change the interface language to English, German, Turkish, Korean, Russian, or Spanish. This is a great option for those who are not proficient in English.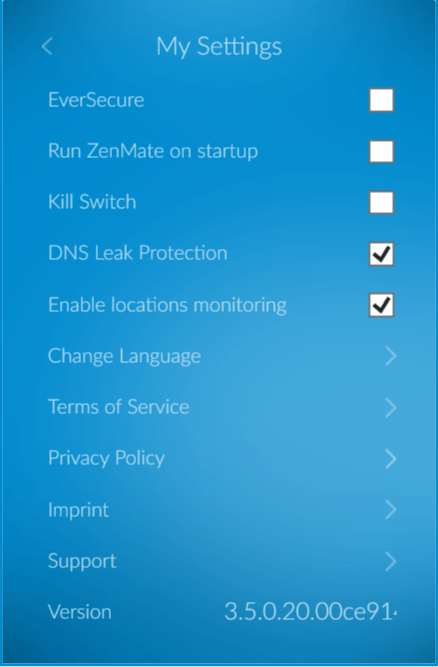 Having connected to the server, you are able to check your statistics in the separate tab.
In general, the application works fast, without freezes. The connection to the server takes up to 5 seconds. Well done for ZenMate.
ZenMate for Android
The application is available in the Play Store. It does not take a lot of memory on your device and works fast. The menu is similar to the app for Windows. There is a big connection button with the drop-down list of available locations, as well as several tabs: your subscription data, settings, and notifications.
In the Settings, you are able to enable automatic connection, malware blocking, tracking protection, as well as other basic options – nothing much, you will not be confused. When the connection is active, the special icon will be on the notification bar.
In general, the application is attractive and easy to use. It works without freezes and connection drops.
ZenMate for Chrome
The browser extension will protect just your browser, not the whole system. On the main screen, the extension displays the basic information about your subscription expiration and the protection status. Below, you are able to connect or disconnect, change the location, enable or disable features, and some other basic settings.
---
ZenMate Online dashboard
Here, you are able to control your account, subscription, transactions, devices, and apply basic settings. In the Account Summary tab, you will see the basic information about your ZenMate account such as the account type, expiration date, and the referral link to invite your friends.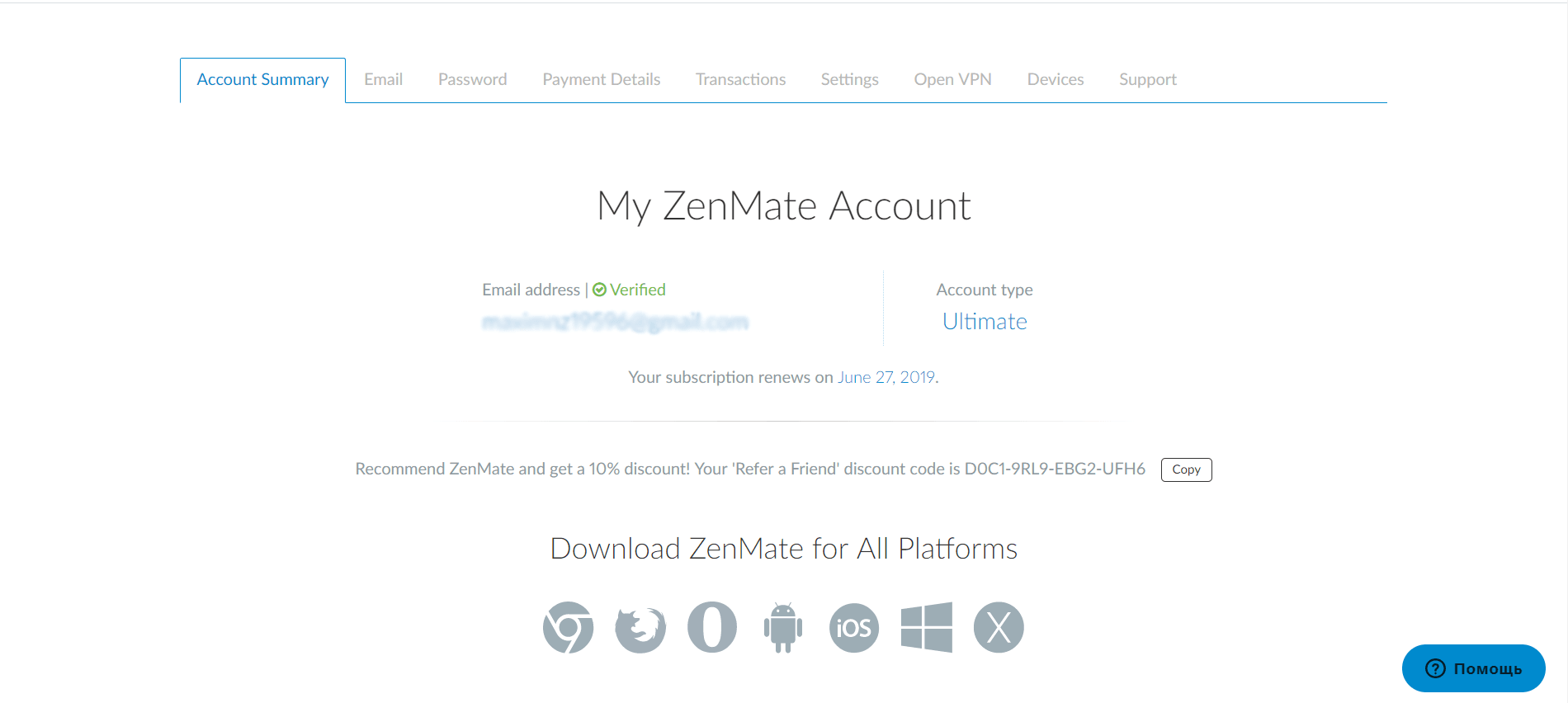 In the Email and Password tabs, you are able to change your email address and password, respectively. In the Payment Details tab, you are able to change the payment method and subscription plan.
In the Transactions tab, you are able to control all your subscriptions and cancel them when necessary.
The Settings tab gives you the option to apply basic settings to your account.
In the Devices tab, you will be able to control your devices and delete them from the list.
---
ZenMate Features
Kill Switch. When your VPN connection drops, the app will break your direct connection. This way, the feature provides permanent protection.
DNS Leak Protection. To avoid being tracked by scammers and some services, ZenMate provides DNS leak protection, helping you to remain untracked.
Identity Shield. If you are an active Internet user, you often leave your email on various services and platforms. However, in some cases, your personal information can be used by scammers. ZenMate will notify you when your email is involved in similar data breaches.
SafeSearch. It's a browser extension which protects you from harmful websites. They will be blocked before being able to cause you any harm.
Web Firewall. This is another browser extension for additional protection of your connection. It blocks ads as well as protects you from online threats.
---
ZenMate Servers
The server infrastructure is the weakest point of ZenMate. At the moment, it includes only 298 servers in 30 countries – a lot fewer than many leading companies provide. They are mostly concentrated in the USA and Western Europe. If you live outside these areas, then you will most likely be disappointed when searching for a local server.
Of course, not everyone needs access to exotic places, so if you need the most popular territories, such as the USA, Australia, the United Kingdom, and Western Europe, do not worry. However, some popular locations are missing. We recommend reviewing the list of servers on the ZenMate website to ensure that the places you need are covered.
---
ZenMate Speed test
The connection is one of the most important parameters of the VPN. We made several tests to check how fast is ZenMate VPN.
Here are some results.
Without VPN
United Kingdom
Germany
Romania
US West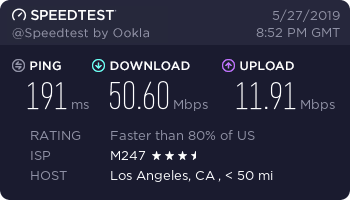 Brazil
Australia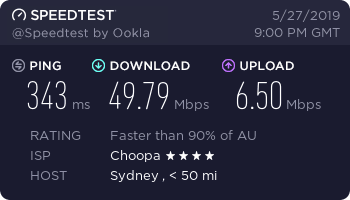 Hong Kong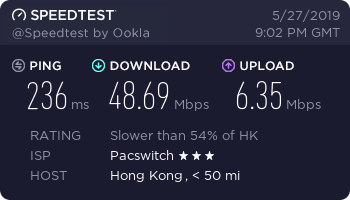 In summary, very fast connection speed on all tested servers.
---
ZenMate Security and encryption
ZenMate uses the TLS 1.2 (RFC 5246) protocol and supports various cipher suites with PFS (Perfect Forward Secrecy). The browser extensions use AES-128 encryption, and the desktop and mobile clients use AES-256.
We also made some security tests using whoer.net.
Here are some results.
Without VPN
United Kingdom
Germany
Romania
US West
Brazil
Australia
Hong Kong
We got some strange results, but no leaks. Of course, security is not perfect but it is quite good for everyday use.
---
ZenMate for Torrents and geo-blocked services
We tried to download the distributive of Linux Mint. The download speed was very high, the file downloaded fast. Next, we tried to access some geo-restricted streaming services. Here are the results:
BBC iPlayer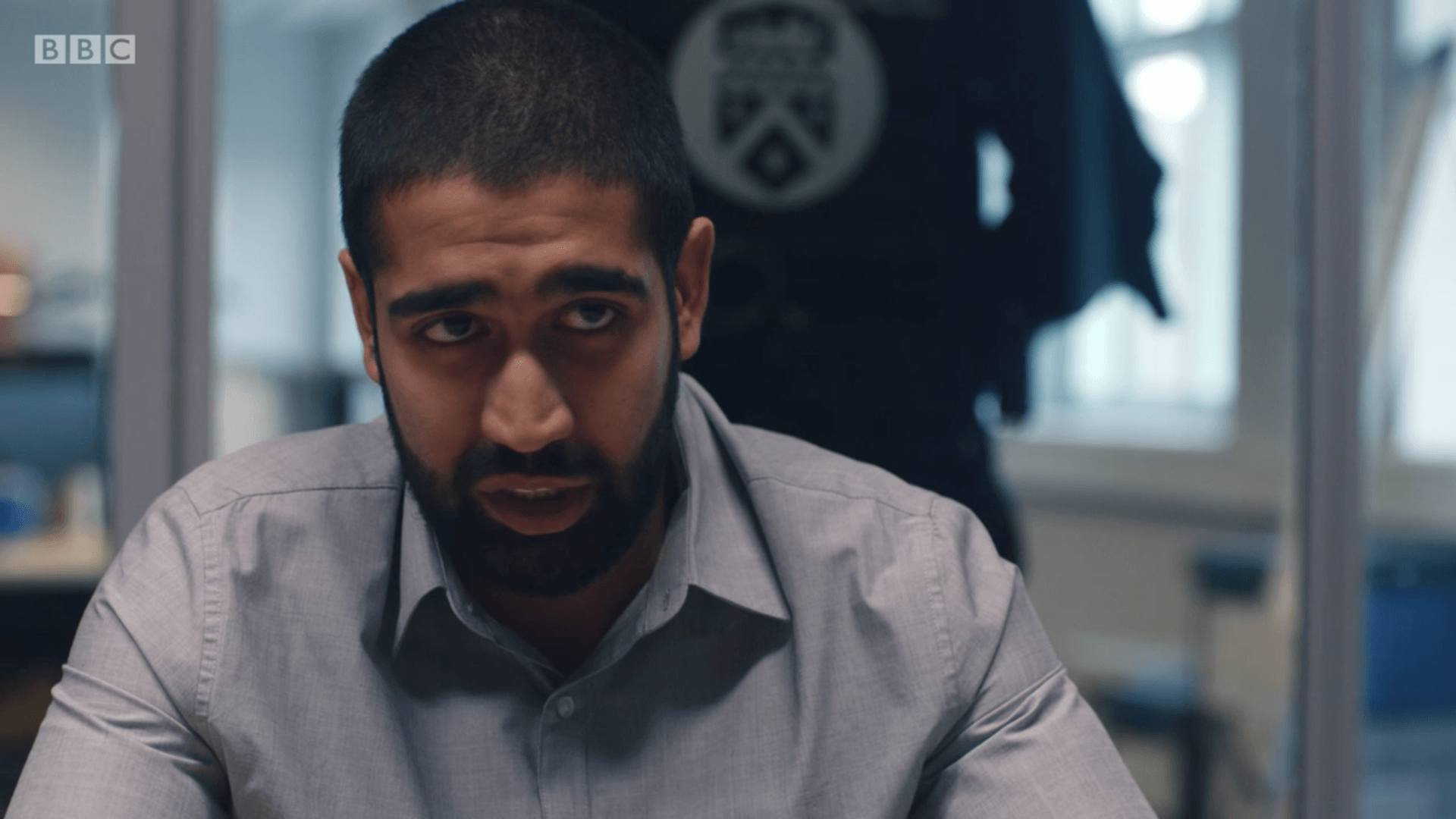 CBC Canada
ZDF Germany
Fox TV
Netflix
ZenMate works with all the major platforms. However, with Netflix, we had to reconnect several times.
---
ZenMate Access in censored areas
Officially, the service does not work in China, Iran, and Saudi Arabia. So, if you are going to use a VPN application in these countries, ZenMate will not work for you. As for other countries, it should work correctly.
---
ZenMate Support
We really liked the safety information in the Academy section on the ZenMate website. It covers literally everything: from public Wi-Fi networks to Edward Snowden and network neutrality. This is useful information, although it is presented very simply. Moreover, you are able to get personal support via email or online form on the website. It works 24/7 but there is no live chat – something really bad in today's world.
We contacted the support with the following question:
On the pricing page and during the subscription process, you say that I have a 30-day money back guarantee. At the same time, on the support page and in the refund policy you claim this to be 14 days. Can you please explain which one is correct?
To do that, we opened the Support page and clicked on a Submit a request button. Then, we selected the platform and contact reason and entered the question.
Then, we got a notification that the request was successfully submitted. Seconds later, we got an email confirmation. In about two hours, we got a reply that the refund period is 30 days. The answer was clear and informative.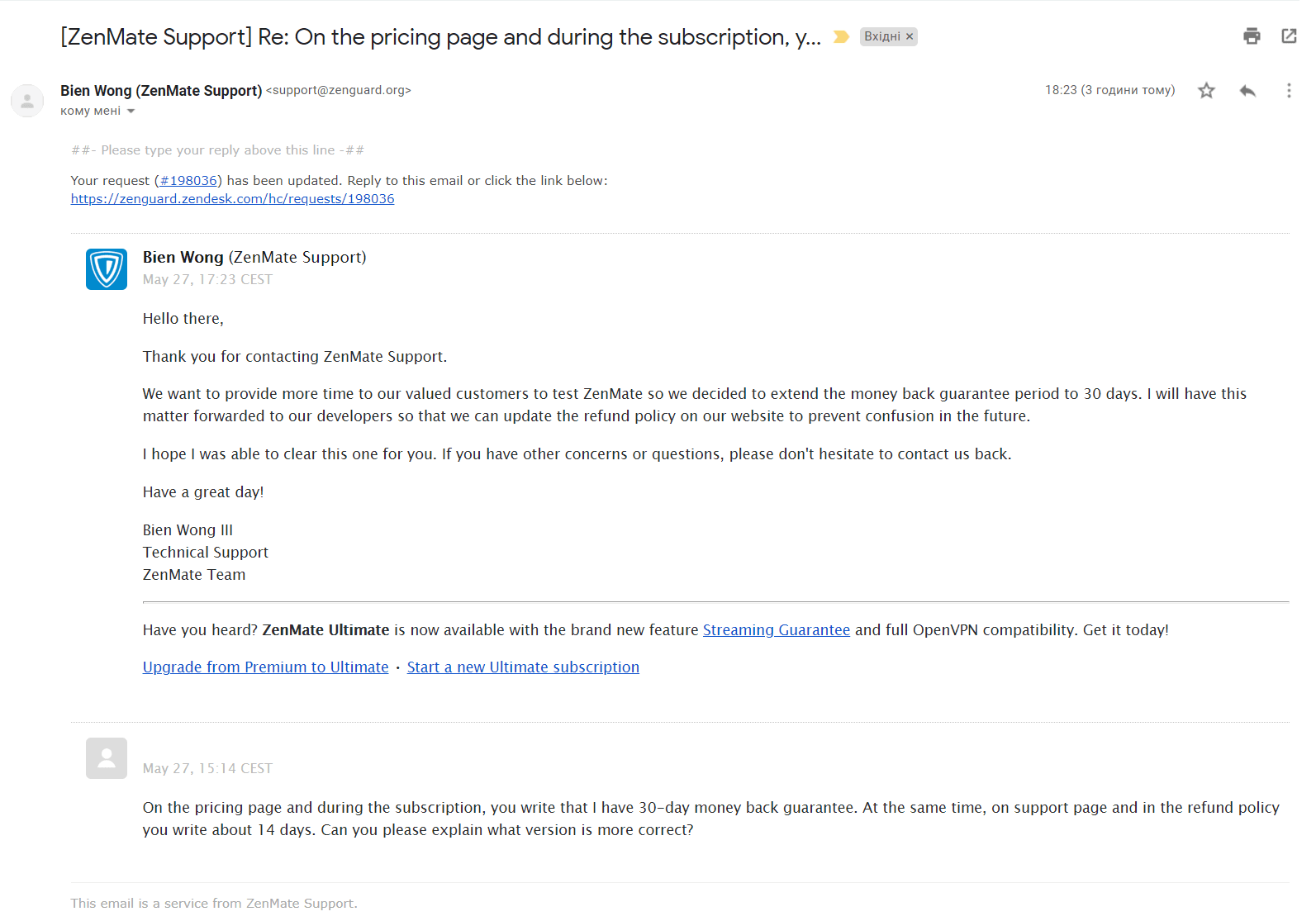 ---
ZenMate Refund
You are able to request a refund within 30 days. In order to do that, you have to contact the support team. Specify in the contact form the reason for the refund request. Open My account/Subscription – Request a refund – First payment/Subscription renewal – Less than 14 days from purchase/More than 14 days from purchase. The company refunded us within minutes without any questions. Usually, you get your money back after several days by the payment method you used while getting the subscription. It depends on your bank. Keep in mind that some methods are non-refundable.
---
ZenMate Pros and cons
Pros:
Great connection speed.
Clear privacy policy.
Free trial of 7 days and refund within 30 days.
Multiple platforms support.
Attractive price.
Torrent support.
Works with most streaming platforms.
Variety of available payment methods.
Cons:
Few available servers and locations.
Windows app can be unstable.
Only AES-128 in the browser extension.
Some outdated information on the website.
---
Conclusion
In general, ZenMate demonstrated good results. It could unlock streaming platforms and no leaks were detected. However, there are some things to improve, for example, the server infrastructure and app stability. So, if you are an average home user, it will be a great choice for you.