We all love making our kids happy by purchasing them their favorite piece of tech. Given their countless hours at school, having a phone at their disposal is a must, especially to stay in touch with you or kill boredom during lunch breaks.
Kids have a high degree of curiosity, however, and their phones will help them quench that thirst. Sometimes, that's not a good trait, as kids can get in trouble on the internet, which requires your intervention. However, it's better to prevent than to intervene.
That's why parental control apps like EyeZy (www.eyezy.com) exist. It will allow you to track your kid's phone and have an insight into how he/she is using it. This is a newcomer to the market, so it's interesting to see how well it performs in the sea of parental control tools that are available.
In this EyeZy review, we'll examine all of its features, talk about the pricing, and see if it's any good. If you're on the market searching for a new parental control app, you might want to read this review all the way.
1. EyeZy Supported Devices & Setup
Let's start this EyeZy review by talking about supported devices and setup. Logically, the app supports both iOS and Android devices, although I find the setup on iOS to be much easier.
1.1 iOS Setup
If your child has an iPhone, the whole setup lasts around a minute or two. EyeZy lets you connect to the device in 3 ways – by using an Apple ID, via a jailbroken device, or by using a local sync. The easiest method is by using your kid's Apple ID.
You just sign in using your Apple ID and password, confirm that it was you who signed up on the phone, and you're good to go. EyeZy won't even install a tracking app on the phone, which I really like! This means that it's basically impossible for your child to notice anything.
And the good thing is that it does not influence the performance. Once again, this means you'll remain inconspicuous and be able to track your child's activities without getting detected.
1.2 Android Setup
Android setup is a bit more complicated, but nothing out of the ordinary. For the start, EyeZy supports all manufacturers, such as Samsung, Xiaomi, Huawei, LG, Google Pixel, and many others. The installation steps are a bit different depending on the manufacturer.

However, the main thing is to disable Play Protect and its ability to scan the applications. By doing so, you'll need to download the EyeZy installer, enter the registration code displayed on the screen, and it should work properly.
On Android, EyeZy will indeed install the app. But beware that it's perfectly disguised as just another process on the phone, such as Application Updated or something like that. It has no impact on the performance, of course, and your child will have no way of detecting it.

Besides, EyeZy offers step-by-step setup guides for any scenario, so you'll have no issues setting it up. That applies even to less tech-savvy persons that don't have previous experience with this sort of software.
2. Features of EyeZy
With the setup out of the way, in this EyeZy review, we should see what features you can use to effectively monitor your child's phone. Being a premium product, EyeZy is very feature-rich and offers some crucial functionalities for total control over the phone.
They include:
2.1 Access to All Files, SMS, Calls & Contacts
A staple of every parental control app is full access to the given device. For the start, EyeZy lets you access all types of files on your child's phone. Starting from photos, you'll be able to see all of them and get updates in real-time of new photos added to the device.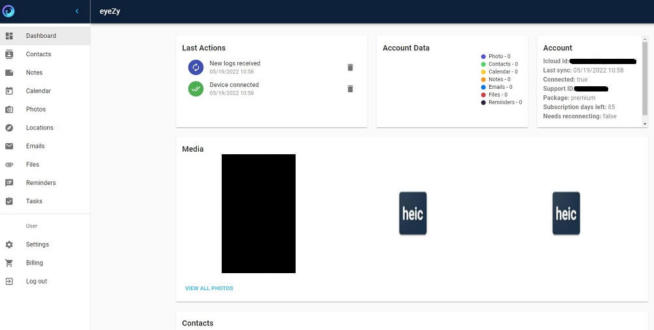 By having access to the photos, you can see with whom your child is spending time or simply make sure he/she isn't exposed to nudity or inappropriate content. Also, you can access the files on the phone. You can see various documents, games, videos, or notes.
I also like the ability to download all those files to your device. However, having no ability to see deleted files isn't very convenient. EyeZy doesn't record deleted files, so keep that in mind if that's a big deal to you.
Another great feature is the phone analyzer. This feature will take note of all incoming and outgoing calls on your child's phone. Therefore, you will know the phone number but also the duration of the call. I find it very useful, to be honest, but there are a few things I don't like here.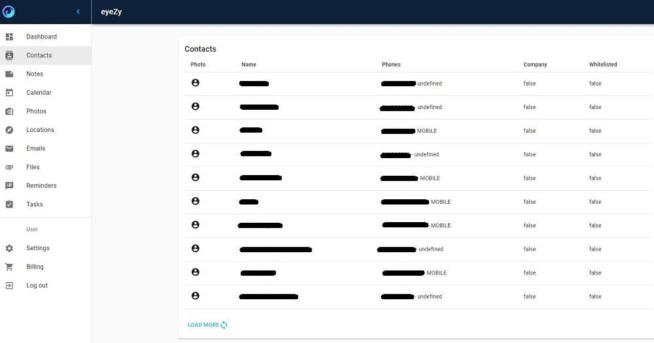 For example, EyeZy doesn't take note of deleted calls and it can't record calls like some other, more expensive parental control apps. Still, with the ability to access the entire contact list and gain insight into calls and their duration, I think that EyeZy gives you enough for the money.
2.2 Pinpoint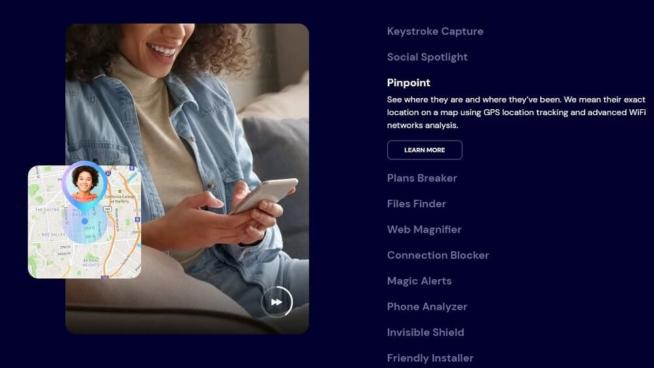 Pinpoint is a pretty self-explanatory name. If you have a child that spends a lot of time outside the home, you'll most likely worry about its location. Having your child at school or training probably isn't too worrying.
However, if you want to make sure you always know where your child is, you need to be able to track its location. That is possible if the GPS functionality is turned on, of course. In this case, you'll be able to see all of the visited locations on the list or by using the map view, where you'll see the exact route.
Bear in mind that Pinpoint can track the location if the GPS feature is turned off. It will then utilize the WiFi location and check all WiFi hotspots to which the phone was connected. Although, in this case, EyeZy will give you longitude and latitude values of that location only.
When speaking of tracking location, I also must mention the ability to see your child's calendar. If he/she scheduled a meeting or party you don't approve of, you'll know that before it happens, so you can react accordingly.
2.3 Magic Alerts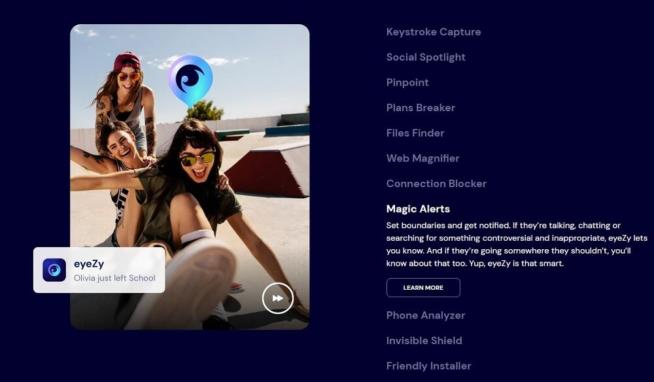 Magic alerts let you add certain keywords and get alerts if your child types them on the phone. This feature works really well as it works even inside the apps, and not only in text messages. You can, for example, use a keyword of his/her friend you don't like.
If the friend's name is mentioned, your child might want to meet up with him, allowing you to react in advance. These alerts can be received inside EyeZy but if you enable email alerts, you'll get an email if a certain keyword is mentioned.
2.4 Keylogger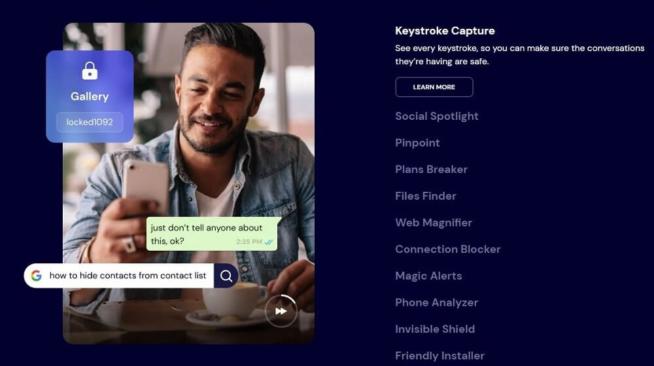 An app like this can't go without a proper keylogger. For those uninformed, a keylogger records each keystroke on the device, be it in a social media app, text messages, or web browser. However, to make things more convenient, this keylogger lets you divide everything it recorded into categories.
You can, therefore, choose the apps like Instagram, Gmail, or WhatsApp and check recorded keystrokes for each of them. And if your child uses an incognito window on Chrome, for example, this keylogger will work even in that scenario!
2.5 Screen Recorder
If the keylogger failed to record some keystrokes, you can back everything up with a screen recorder. The screen recorder can record the screen in different social media apps which allows you to see with whom your child is chatting, and of course, the entire chat history.
Some of the apps you can record include Instagram, Telegram, Tinder, Facebook, and many others. However, beware that EyeZy isn't the fastest in terms of syncing. On average, it takes 10+ minutes for the screen recording to sync with your EyeZy app which isn't very long but it's also not in real-time.
2.6 Social Spotlight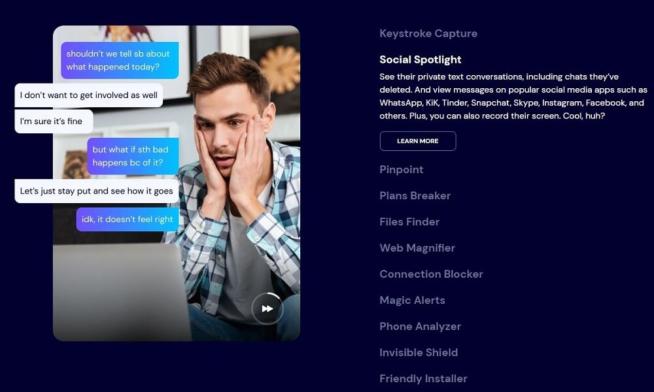 By far the best feature of EyeZy is the social spotlight. Once again, it has to do with social media sites, but it's SO effective that it works flawlessly, regardless of the social media app we're talking about. As you can guess, this feature lets you spy on your child's social media activity and inspect DMs.
You'll be able to read emails, and messages on Instagram or Facebook, and even shared photos and videos. This applies to text messages as well, where you'll be able to see even recently deleted messages. Speaking of which, let's mention Facebook Messenger's secret conversations.
EyeZy can access them as well, so if your child is hiding something, you'll be the first one to know about it. In fact, you can use this feature if you suspect your husband or wife is cheating on you. That way, you'll be able to go through all the messages and prove or disprove your claims.
Either way, it's a fantastic feature that people will surely use the most. Although very intrusive, it's great in the hands of conscientious parents that will use it only in case of suspicion.
2.7 Web Magnifier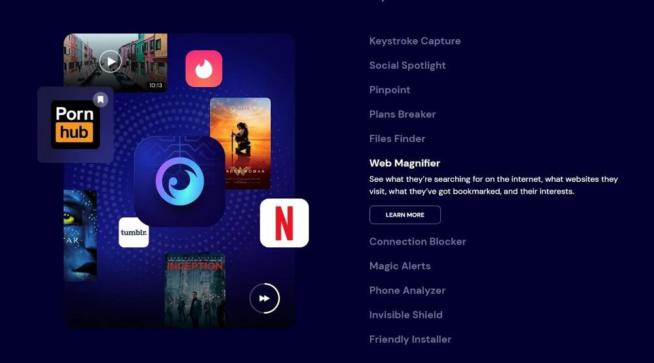 Wondering if your child is watching adult content or gambling online? Well, the only way to find that out is to check its browsing history. Again, a web magnifier will work even for incognito window browsing, showing you the exact website your child visited but also pages on certain websites.
I also like that EyeZy shows you the visiting frequency. You'll be able to see how many times your child visited the website and what exactly he/she did there. Of course, all of the sites and pages are shown via clickable, blue URLs, so if you're curious, you can visit them all by yourself.
Or perhaps, you can check out your child's bookmarks directly from the app and see which pages or websites are saved. This feature worked well on my iPhone, by the way, so in my experience, it didn't require me to jailbreak my device.
2.8 Connection Blocker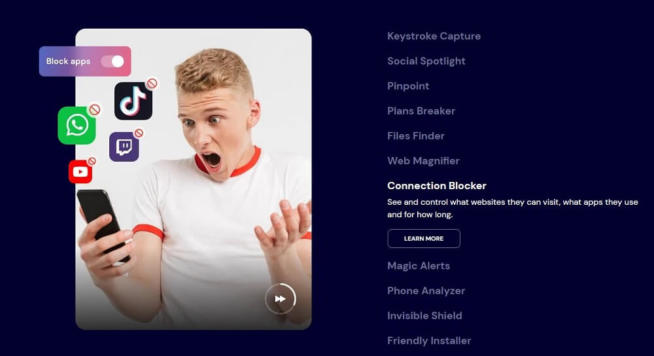 The last feature in this EyeZy review is a bit more direct than the other. Namely, it offers a so-called connection blocker that lets you block WiFi networks, applications, and websites on your child's phone.
Blocking websites is the easiest thing here. You just type in the URL of the site, click on Apply, and when your child tries to visit the site, he or she'll get a blank, white screen. Although very effective, I don't like that you have to add sites and links one by one.
If you have a lot of sites you'd like to be blocked, it'll take a lot of time to add them all. On the good side, the sites will remain blocked even in the incognito window, so that's a huge relief.
What if you want to block a WiFi network? You can do that as well, on both saved and unsaved networks. I also appreciate that EyeZy lets you block WiFi networks on which the targeted phone is connected.
Blocking apps is also possible and it's very easy. You just need to find the application you want, click on the Block button right next to it, and you're done. EyeZy shows you ALL installed apps, however, so on the list, you'll also find system-related applications.
This makes it a bit uncomprehensive, as you'll need a bit of time to find the apps you want. Once you block the app you want, your child will see a blank black screen when trying to open it. This implies that the app is successfully blocked and completely inaccessible to your child.
3. Can My Kid Detect EyeZy?
As said, EyeZy is so discreet that it'd take an extreme amount of effort to be detected by your child. On iOS, that is especially the case, as EyeZy doesn't install the application on the phone. On Android, it's a bit different because the app is needed for tracking.
However, you can easily hide it from the app drawer and it won't be visible. If you visit the Settings menu on Android and check the apps, you won't see it installed by its real name. It'll take a different name like Update Service and it'll consume merely a few percent of the phone's battery.
Performance-wise, the phone will remain the same. The app is not resource-heavy, so your child can still utilize its phone's full capabilities and enjoy it to the fullest. That is if… well if you haven't blocked any apps or websites, which you'll most likely do.
4. EyeZy Pricing
As we approach the end of this EyeZy review, let's talk a bit about its pricing. You saw that this is a very feature-rich parental control app, with a few minor downsides we addressed. Despite its versatility, EyeZy isn't very expensive.
You can see the monthly plan that costs $69.99 a month and this is, undoubtedly, VERY expensive. The 3-month plan is more affordable and is priced at $39.99 a month where you save 33% compared to the monthly plan.
The best and most valuable deal is the one on the far right. It's a one-year plan at just $16.66 a month, giving you savings of 83% compared to the monthly plan. On top of everything, it offers a 14-day money-back guarantee, so you can test it out and get a full refund if you don't like it for some reason.
5. Customer Support of EyeZy
Customer support of EyeZy is phenomenal. You can contact it however you want but the most convenient way of doing so is via the live chat widget on the site. Once you type in your email and question, the customer support agent will appear and tackle your issue in no time.
And if you're not in a hurry, you can always contact EyeZy through its email or social media profiles. EyeZy is available on Twitter, Facebook, and Instagram, and even has a YouTube channel with a few useful videos.
Most impressively, the customer support team works 24/7, 365 days a year. And if you want to get into direct touch, it offers two phones that you can use to call them for assistance. These are not toll-free numbers and EyeZy is based in Cyprus, so take note of that.
6. EyeZy Review Summary: A Very Good Choice!
To wrap up this EyeZy review for 2022, we need to give it a proper conclusion. So, what can we say about EyeZy? Well, in simple terms, this is a very good choice for people who put parental control at the top of the priority list.
EyeZy isn't great for parental control only. People use it to track their partners and catch them cheating as well. This is possible thanks to EyeZy's features like Pinpoint, Keylogger, Screen Recorder, and Social Spotlight which make tracking so much more effective.
Sure, EyeZy can't record phone calls and its syncing isn't the fastest, but that are very minor complaints, having in mind everything else that this parental control app offers. Is it worth the money, though? Absolutely – but only if you go for its long-term 12-month plan.
In this case, it's a bargain compared to a more expensive competition!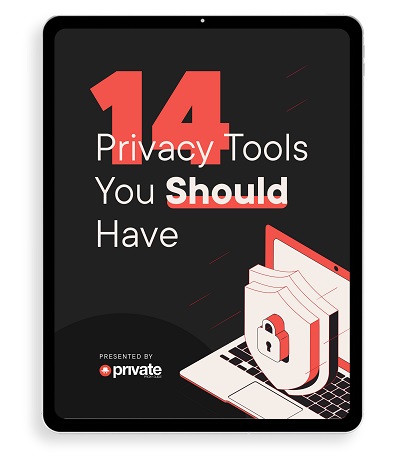 Learn how to stay safe online in this free 34-page eBook.