One of the newcomers to the ever-growing proxy service provider industry is High Proxies. Arriving on the scene in late 2015, High Proxies have done well to establish themselves as a serious provider of high-quality proxies for professional internet marketers. They provide a wide range of different proxies to suit any type of marketer, with proxies that are designed specifically for websites such as Google, Instagram, Amazon, PayPal, Tumblr and many more.
Get 10% off recurring order on ALL orders.
High Proxies Promo Code – "PRIVATEPROXYGUIDEXOFF10"
High Proxies overview:
| | |
| --- | --- |
| Servers: | 33 locations in 11 countries |
| Price: | $3.20-$260 |
| Speed: | up to 4000 Mbps |
| Threads: | up to 100 threads |
| Setup: | up to 6 hours |
| Money-back: | 3 Days |
| Support: | webform, email, live chat |
| Payment: | Paypal, Payza, Bitcoin |
| Port 25 blocked? | Yes |
| Proxy types: | HTTP & HTTPS |
| Proxy anonymity: | High |
| Authentication: | User/pass & IP |
1. How much does High Proxies cost?
The price range for High Proxies are reasonable, and some of the best in the industry when you consider the fact that these are all virgin proxies. The private proxies cost over twice as much as the shared proxies, as you would expect, but the private proxies still come in at only $1.35 each. At the time of writing this review, the prices that we paid were:
Private Proxies – $1.35 per month
Shared Proxies – $0.64 per month
Virtual Private Network – $6.00 per month
Shared VPN – $3.50 per month
Every proxy comes with free setup and guaranteed 24/7 support. High Proxies also specialize in a few specific proxies, which we haven't personally tested, but have heard nothing but positive reviews about them. These are:
Craigslist Proxies – $2.45 per month
Ticketing Proxies – $2.25 per month
Instagram Proxies – $2.60 per month
2. What about IP locations?
If you are fond of IP diversification, High Proxies are pretty solid. They currently have 33 different locations for their data centers, with 17 of those being in the USA. If you need more variation across Europe, you won't find that with these, but the USA proxies are varied enough to keep you safe and anonymous during your campaigns.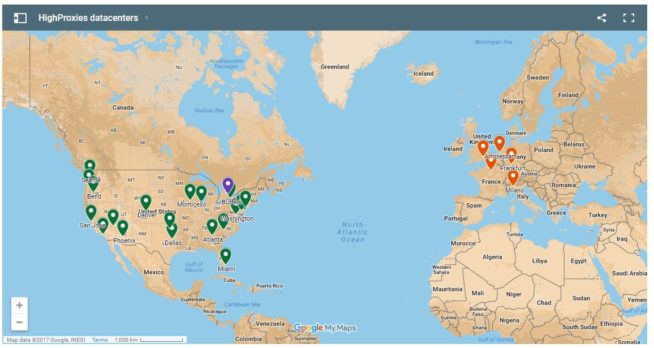 The USA data center locations are all based in the major cities that you come to expect from proxy providers today. Cities such as Philadelphia, Miami, Los Angeles, New York and Portland are just a few of them. For the European locations, you are limited to just London and Frankfurt.
3. High Proxies features
If you are on the fence and still debating whether or not High Proxies are the best choice for you and your business, let's take a look at some of their highlight features so you can get a better understanding of the type of quality you can expect from their proxies:
Raid – They use RAID SATA hard drives to provide the fastest server swap and overall performance.
Linux Based – Linux is well known for providing superior performance, stability, security and power. Their VPN's all run CentOS.
Powerful Intel-Based Servers – For optimal performance and speed, High Proxies utilize Intel Quad Core XEON processors for their servers.
1000mb/s Speeds – All proxies run on a Gigabit network, providing unparalleled speeds and performance.
Firewall Protection – All of their servers utilize a firewall for additional security.
Plenty of RAM – All servers have 16GB of RAM available, allowing up to 100 threads per proxy.
4. Support
High Proxies is using a ticket-based system that works, but I found it to be a little bit clunky. The clunkiness is not exclusive to High Proxies though – I'm just not a fan of them in general. With that being said, they do have a live chat option for any pre-sale questions that you may have. I haven't tested the live chat option for any billing or technical support issues, so I can't comment on that, but there always seems to be someone around. The responses were pretty fast. I received an answer to my question within 24 hours which is usually what you expect from most online services nowadays.
5. Was there anything you didn't like?
Actually, there was one thing. The majority of proxy users who purchase from companies like High Proxies are typically running intricate software that requires an unmetered bandwidth and unlimited threads. The proxies I purchased from High Proxies were fast and consistent, but I didn't like the fact that there was a 100 thread limit on them. I prefer to use proxies with no upper limit, just in case I want to really be aggressive with my campaigns one day. Other than that, my experience with High Proxies was generally positive. The proxies are fairly priced, they provided consistent performance with great speeds, the support staff are always on hand to help you out and they have plenty of data center locations to choose from.
Overall, I would definitely recommend High Proxies to people who are serious about their internet marketing business, regardless of whether you are an expert or a complete beginner. I will be using them again in the future, for sure.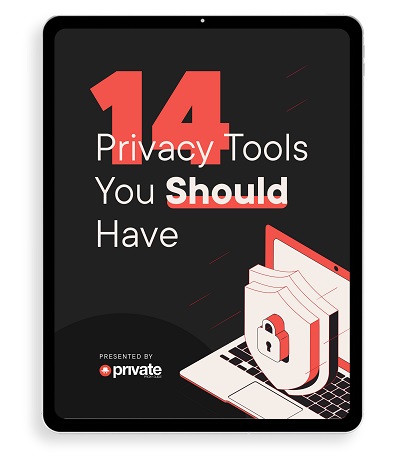 Learn how to stay safe online in this free 34-page eBook.