CyberGhost (www.cyberghost.com) allows accessing restricted resources like Netflix from any country in the world, or bypass any other limitations. CyberGhost VPN can even work in China without any restrictions! A lot of users in Russia now have problems to access the websites, so this app can also help them. There are more things to see in this updated CyberGhost VPN review.
Until recently, CyberGhost VPN provided an official free plan with limitations. Unfortunately, it is not available now. The service is affordable to most users in the world. CyberGhost provides a lot of unique features and it guarantees access to the sites blocked in some countries due to governmental censorship. CyberGhost provides a good connection speed and a high level of protection. As of April 30, 2018, the company provided about 2200 servers in more than 60 countries with a total bandwidth of 41.80 Gbits per second. It is really impressive.
The provider offers its customers apps for every popular operating system and platform. This includes fast and light apps for Windows, Mac, Android, iOS, Linux, and even routers and other devices and platforms. So, you will be able to access the VPN everywhere and not just on your home PC. It should be said that there are some negative CyberGhost VPN reviews on Reddit. CyberGhost VPN has a TrustPilot Score of 4,8 which is excellent.
Here is a brief overview of CyberGhost VPN:
| | |
| --- | --- |
| Jurisdiction | Romania |
| Simultaneous connections | 7 |
| Supported VPN protocols | OpenVPN, PPTP, and L2TP-IPsec |
| Logs policy | No logs |
| Price | from $2.75 per month |
| Money-back guarantee | 7 days free trial and 30-day money-back guarantee |
| Customer support | Email & live chat |
| Works with Netflix? | Yes |
| Allows torrenting? | Yes |
| Servers | Over 2200 servers in 60 countries. |
Find our top VPN-provider alternatives to CyberGhost below.
VPN Service

www.nordvpn.com
NordVPN
Review
Price: $11.95 $3.71/month Servers: 5500+ in 59 countries Simultaneous connections: 6 Jurisdiction: Panama Payment: PayPal, AmazonPay, Crypto, Google Pay, Klarna Torrenting: OK Unblocks US Netflix: Yes Dedicated IP: $70/yr TrustPilot Score: 4,7/5 Money-back: 30 days Extra: Double VPN, Obfuscated servers Visit NordVPN »

www.expressvpn.com
ExpressVPN
Review
Price: $12.95 $8.32/month Servers: 3300+ in 94 countries Simultaneous connections: 5 Jurisdiction: British Virgin Islands Payment: PayPal, Crypto, AliPay, Klarna, Torrenting: OK Unblocks US Netflix: Yes Dedicated IP: Not provided TrustPilot Score: 4,7/5 Money-back: 30 days Visit ExpressVPN »

www.cyberghostvpn.com
CyberGhost
Review
Price: $11.99 $2.25/month Servers: 6600+ in 89 coutrines Simultaneous connections: 7 Jurisdiction: Romania Payment: PayPal, Crypto Torrenting: OK Unblocks US Netflix: Yes Dedicated IP: $51/yr TrustPilot Score: 4,8/5 Money-back: 45 days Visit CyberGhost »

www.surfshark.com
Surfshark
Price: $11.95 $2.49/month Servers: 3200+ in 65 coutrines Simultaneous connections: Unlimited Jurisdiction: British Virgin Islands Payment: PayPal, Crypto, Google Pay, Amazon Pay Torrenting: OK Unblocks US Netflix: Yes Dedicated IP: Not provided TrustPilot Score: 4,3/5 Money-back: 30 days Visit Surfshark »

www.purevpn.com
PureVPN
Review
Price: $9.60 $3.33/month Servers: 6500+ in 140 coutrines Simultaneous connections: 10 Jurisdiction: Hong Kong Payment: PayPal, Credit Cards Torrenting: OK Unblocks US Netflix: Yes Dedicated IP: $35.88/yr TrustPilot Score: 4,7/5 Money-back: 31 days Visit PureVPN »
1. What is the CyberGhost VPN logs policy?
CyberGhost is based in Romania. Despite it is part of the EU, the government does not spy on its citizens like in other European countries. In fact, the country is not part of 14-eyes countries. It means that you can feel absolutely safe about your data. CyberGhost does not store any logs so they don't know about your activity at all. All your activity is absolutely anonymous. Why is that so important to you? Your data will not be given to any third party. An additional option that helps to improve your privacy is a built-in adblocker. As you are not shown the ads, malicious modules will not get into your PC and your data will not leak. It gives you another reason to feel safe using CyberGhost VPN.
---
2. Monthly price for CyberGhost VPN
As mentioned earlier, until recently, CyberGhost VPN provided a free plan. The only limitation was a less choice of servers (although, you could choose a country), connection queue, and a bit slower speed. As for now, this plan is not available, and only paid plans are left. However, they are not too expensive so you can choose an affordable plan.
There are three plans available: 1 month, 3 months, and 1 year. The longer period you choose, the cheaper a month will cost. The basic price is $11.99 per month. But when you choose a 3-month plan, you will pay $9.99. At the moment, the company offers a great discount: if you choose a 1-year plan, you will pay $33 for the first year, and then $66 annually. It is $2.75 and $5.5 respectively. Very cheap, actually.
Now, let's try to buy a plan. First of all, we go to the home page, then choose Pricing. The system will offer us to take three simple steps:
Choose a plan — we choose one year, as it is the most attractive at the moment. It is also selected by default.

Type your email address — be attentive because your account is connected to your email and the system will send a confirmation link to activate your account.

Choose a method of payment — CyberGhost offer almost all modern methods of payment including bank cards of the most existing payment systems, PayPal, WebMoney, and even Bitcoin. So, you can even keep your privacy here.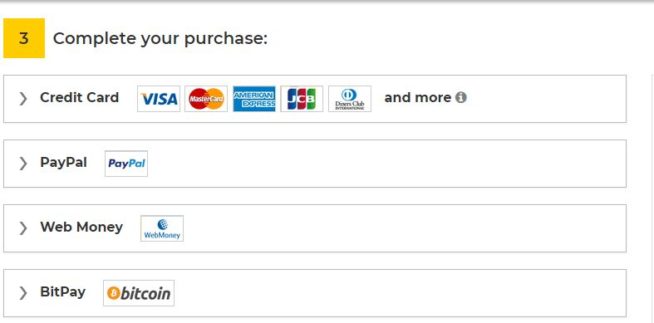 When you enter all the data, you will be redirected to the confirmation page. After that, the system will send you an email, and you will have to open the letter and click on the confirmation link. Now your account is active and ready to be used.
Next, you will have to download and install an application to use CyberGhost VPN. If you are going to use it on your computer, download the installation file directly. To use the application for mobile devices, go to the Google Play Store or apple app store. In this review, we are going to use the applications for Windows and Android.
---
3. Install and setup CyberGhost VPN
There are applications for Windows, Android, Mac OS, iOS. For other systems and platforms, there are detailed guides on how to configure the connection. The app for Windows is lightweight, and the installation takes less than a minute. The main screen is divided into six colored bars. Each bar is responsible for the basic feature: surf anonymously, unblock streaming, protect Wi-Fi, torrent anonymously, unblock basic websites, and choose my server.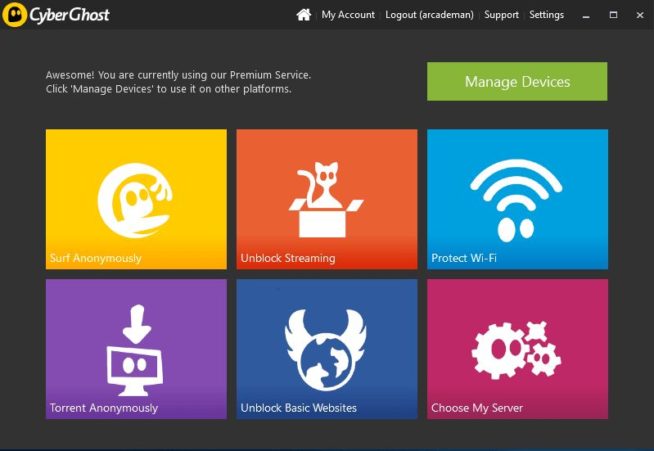 On Android, you will have to slide the screen to access the feature. There are the following screens: Wi-Fi protection, safe streaming, anonymous surfing, and choose a server. Other features are available in the settings screen.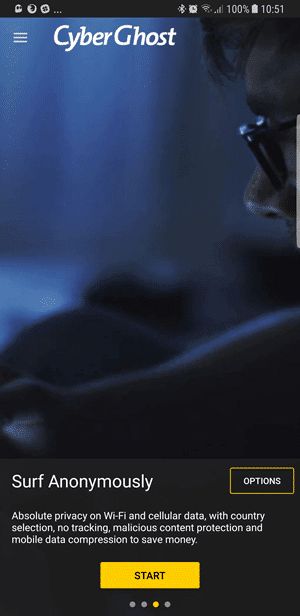 Let's look at more details about each feature.
Surf Anonymously — clicking on this bar, you can choose whether the CyberGhost VPN should block malicious software, advertisement, and online tracking. Additionally, it can compress data, and provide extra speed. You can choose a server and country manually, or let the application select automatically.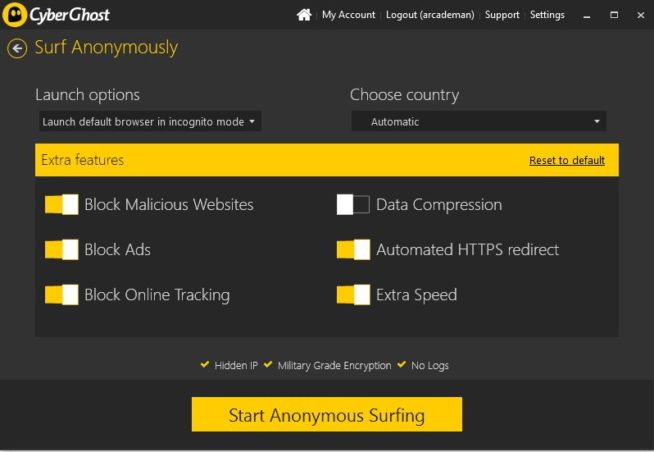 Unblock Streaming — CyberGhost offers to unlock the most popular video streaming services like Netflix, YouTube Red, Canal+, ESPN, Fox, ZDF and many others. The app offers the best country to connect to a server so you don't have to worry about whether it will work. However, some users can face some issues when trying to connect to certain platforms.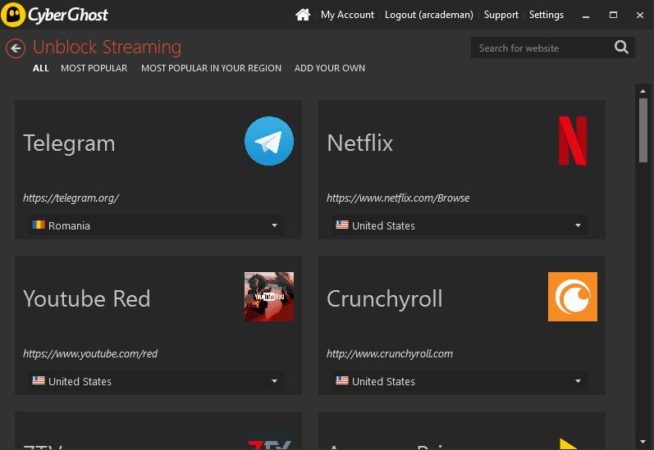 Protect Wi-Fi — when an app detects a wireless network, it can automatically protect it. It is a very useful feature especially when you often use public Wi-Fi. You can choose to block ads, malware, and tracking. Your connection will be reliably protected.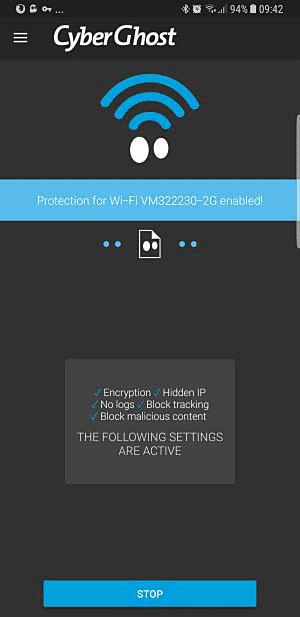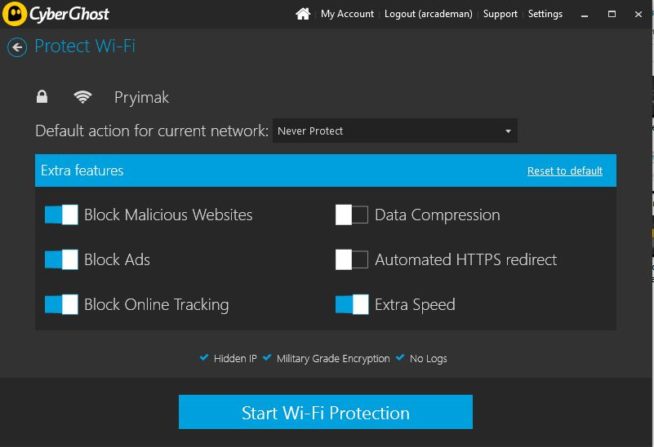 Torrent Anonymously — this is a special mode to allow the secure way of using the p2p networks like a torrent. Activate it when you are going to download some file or watch torrent stream TV.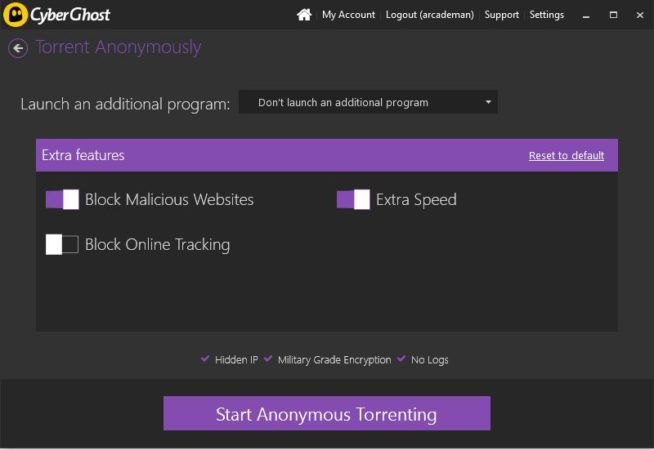 Unblock Basic Websites — in some countries people cannot access the website popular around the world. CyberGhost VPN allows using them without restrictions. In the app, you can unblock Facebook, Google, CNN, Euronews, WikiLeaks, Instagram, Telegram, Twitter, Wikipedia, Booking.com, and WordPress.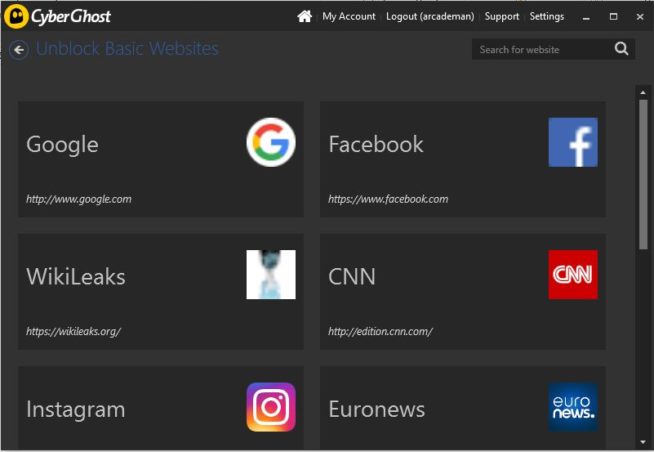 Choose My Server — choose among all available server the specific one you want to connect to. You can sort them by the following parameters: most empty, most crowded, fastest servers, no spy servers, as well as the server supporting torrent and providing extra features.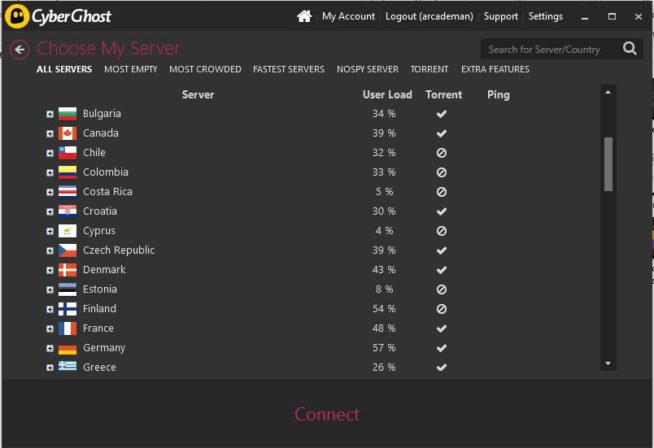 ---
4. Features
Hide Your IP
When you visit any site, the server sees your IP address, given by the internet provider. That is why you cannot access some resources that are available in certain territories. With CyberGhost, your IP will be hidden and replaced by VPN's address. So, the websites will not be able to track your activity. Even the ISP will not see your activity. Additionally, no one else will be able to see your real address. It means that you can use any service and visit any site.
Wi-Fi Protection
Very often, when you connect to public Wi-Fi, for example, somewhere at the station or in a café, it is not protected, especially the network without a password. It means that all your data can be easily tracked and intercepted. As a result, it may bring you a lot of problems. The app indicates the new network that you are connecting to, as protects it from being tracked. Now, you can connect even to the unprotected network, and it will remain secure.
Protected conversations and transactions
A lot of people use their devices to keep in touch with friends and colleagues, and they store all the communications on their PC or mobile device. What if someone tracks your connection and reads all your messages? Some of them can be really private and even harm your business. The same about using online banking. Most probably, you use your online banking to pay for different services and buy goods. It can be dangerous to make online payments without reliable protection. CyberGhost will provide this extra protection. The highly secured encryption protocols will keep all your conversations and bank transactions well protected. It doesn't matter now what network you are going to use.
Access restricted content
Some network admins, internet providers, or even governments can block access to some online resources. Most often, the situation is common in non-democratic countries. So, VPN is the only way to access some sites. With CyberGhost, you will be to access any restricted content from any part of the world.
Protection for 5 devices at the same time
Use the highest-level protection on up to 5 devices at the same time. You are able to get an app for each device separately, as well as configure your router to protect all possible devices on your home network.
Block Ads
Who likes seeing a lot of ads while surfing the internet or using other software? We guess, no one. Despite it is boring, it causes data leaks. CyberGhost provides the best adblocker without additional extensions. The server will cut the ads code down and send the clean traffic to your device. It will reduce the traffic expenses which is especially useful for limited connections or mobile data. Also, it delivers additional privacy protection.
Block malicious resources
It is very easy to catch a virus on the internet especially when you visit some malicious websites. Such sites may contain a lot of viruses and are just dangerous. Also, there are a lot of fishing sites that can steal your personal data like your credit card number or email password. The malware blocker will check each URL you are going to visit and if the resource is dangerous, it will block it. The CyberGhost uses a lot of special registers and databases to identify the bad resource and protect your connection. To analyze the behavior of every user, the website owners use tracking systems. You will be surprised when you know what some of them know about you. CyberGhost blocks all tracking elements and modules to provide you the highest security. No one can track you anymore.
---
5. CyberGhost Servers
CyberGhost VPN offers more than 2200 servers in 60 countries around the globe. On the official page, you can see the current status of each server including the number of connected users, and the total bandwidth. In the application, you can sort them by speed, load, as well as torrenting and extra features.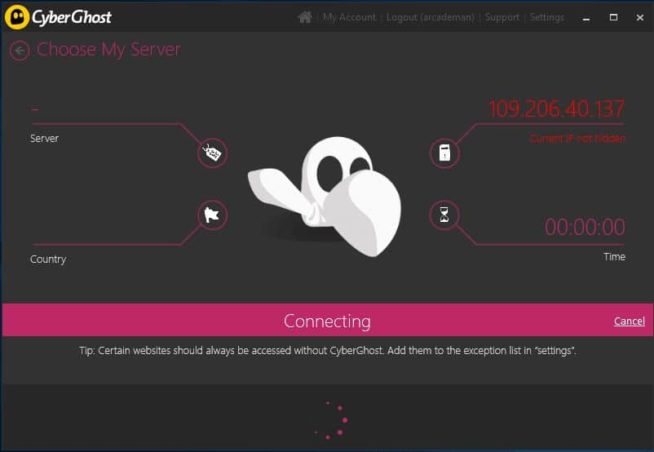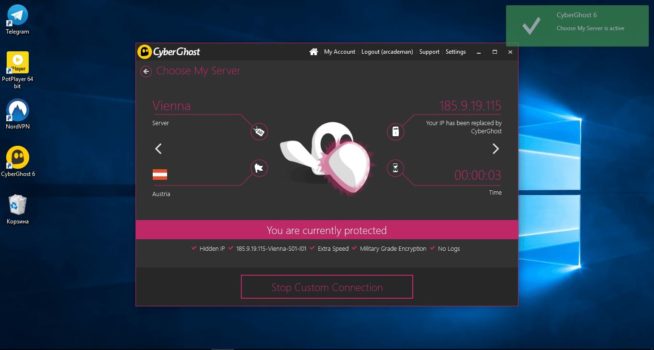 ---
6. CyberGhost Speed test
While doing the speed test, we were physically located in Ukraine.
Find out more about how to check your VPN connection in this article.
We chose several locations and the closest server to connect to for our speed tests.
Here is the connection speed without VPN: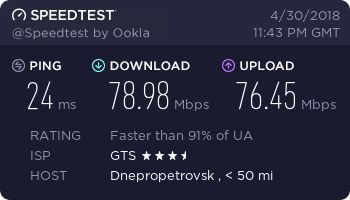 Now, let's check some VPN servers. We tested the following servers:
Manchester-S22-l04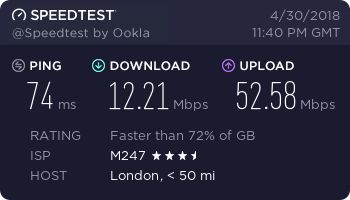 Kopenhagen-S01-l01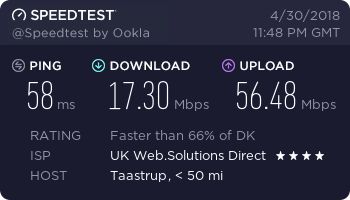 Stockholm-S03-e02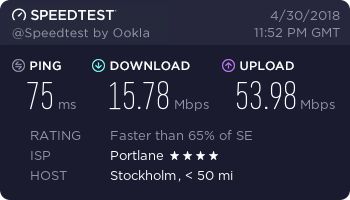 Milan-S09-l01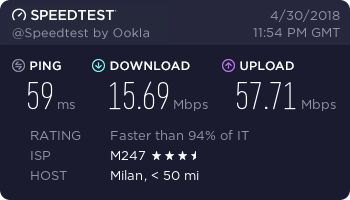 Paris-S10-l01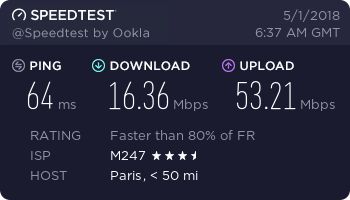 Sao Paolo-S01-l01
Atlanta-S01-l01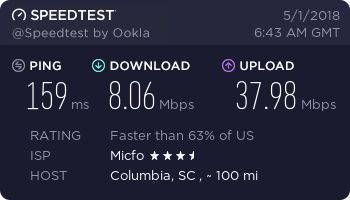 Cleveland-S01-l01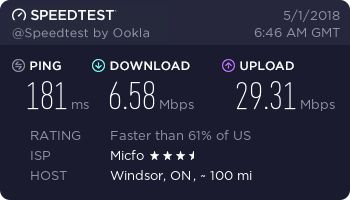 Las Vegas-S02-l01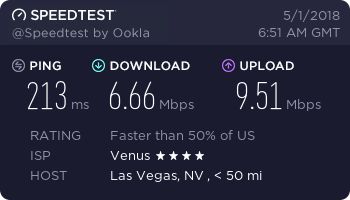 New York-S11-l05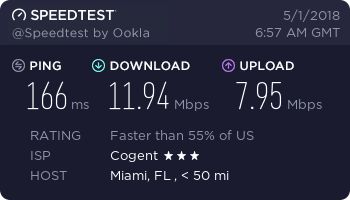 Seattle-S02-l01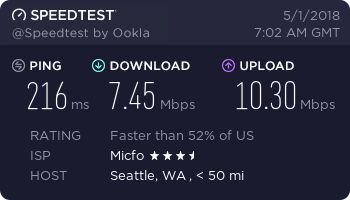 Toronto-S06-l01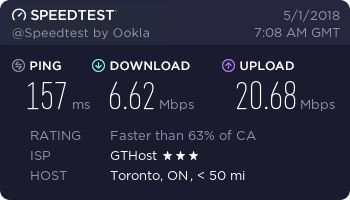 Brisbane-S01-l01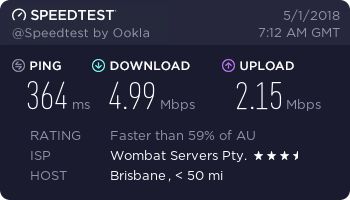 Singapore-S02-l01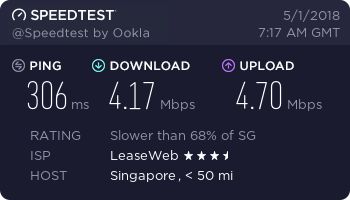 Mumbai-S01-l01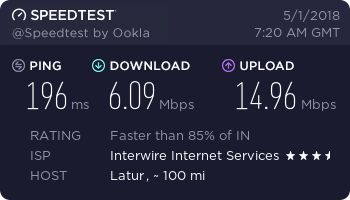 As you can see, the VPN connection seriously cuts the speed. The further you are physically located from the connecting server, the lower speed you get. In most cases, your connection speed will drop up to several times. Even the closest server in Kiev cut the speed by almost 30 megabits. Although, in general, you will not feel any inconveniences working on such connection speeds.
---
7. CyberGhost DNS-leak test
CyberGhost VPN supports the following protocols: OpenVPN, PPTP, IKEv2, and L2TP/IPsec. In addition, the connection is encrypted by a 256-bit AES algorithm. It means that your data will not be intercepted and read by third parties. CyberGhost VPN also promises that you are protected from any DNS-leaks. We ran several tests on whoer.net to confirm if that is true.
Here are the results:
Kiev-S02-l01

Manchester-S22-l04

Kopenhagen-S01-l01

Stockholm-S03-e02

Milan-S09-l01

Paris-S10-l01

Sao Paolo-S01-l01
Atlanta-S01-l01

Cleveland-S01-l01

Las Vegas-S02-l01

New York-S11-l05

Seattle-S02-l01

Toronto-S06-l01

Brisbane-S01-l01

Singapore-S02-l01

Mumbai-S01-l01
As you can see, in almost all cases our DNS leaked showing the Ukrainian DNS. Only a few servers showed CyberGhost DNS. So, we cannot say that you are completely anonymous online while using CyberGhost. Yes, some servers block DNS leaks but most servers we tried did not. Moreover, the servers in Cleveland and Singapore showed suspicious IP addresses. So, while using these servers, third parties will be able to track you. This is not good at all. How do you fix the issue? Connect to several servers and check whether your DNS leaks or use some other VPN-provider.
---
8. Does CyberGhost VPN work with Netflix, BBC iPlayer, and Torrents?
We tried several options to check if downloading torrents work. We downloaded Ubuntu 18.04. First, we connected to a server in Frankfurt with torrent support.
Here is the result: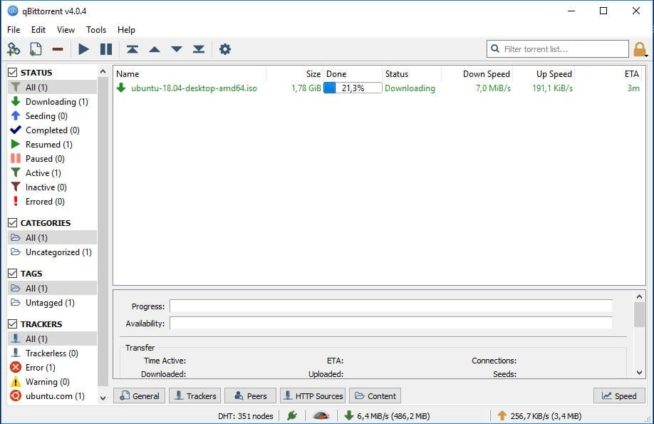 As you see, CyberGhost VPN provides almost the same speed as with direct connection. Another option was to activate the Torrent Anonymously feature. Let's see how it works: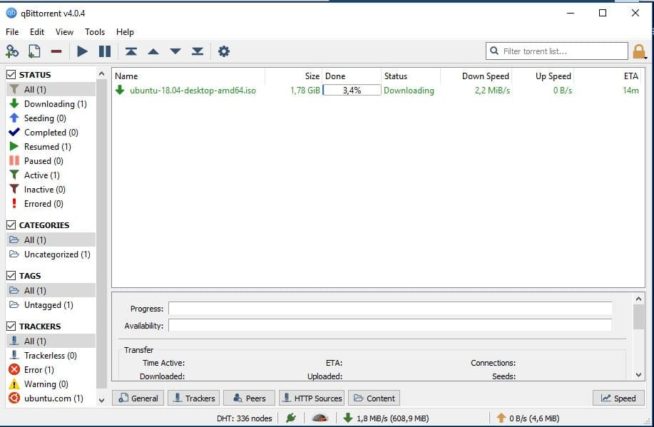 CyberGhost connected to a server in Warsaw and provided a much lower speed than the server in Frankfurt but it is still enough to download middle-sized files. So, torrent works excellent. Now let's see whether we can access the geo-restricted services. We tried the following platforms:
Netflix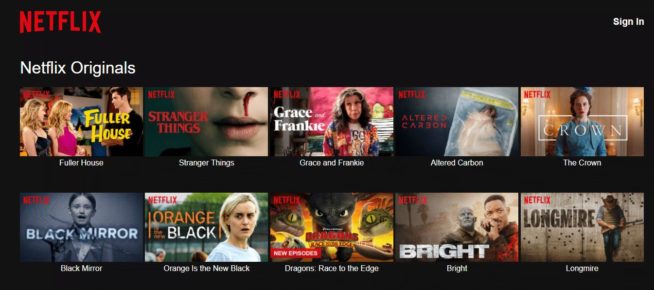 Canal+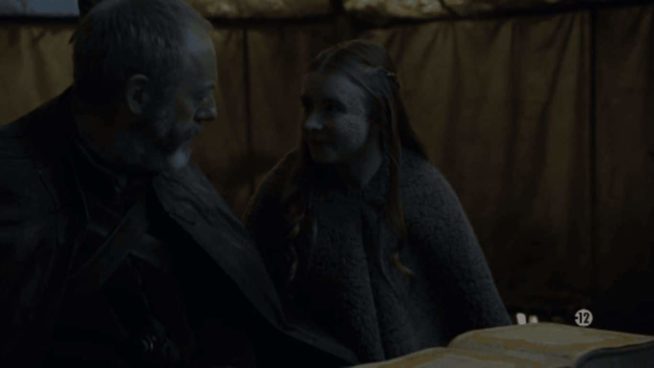 ZDF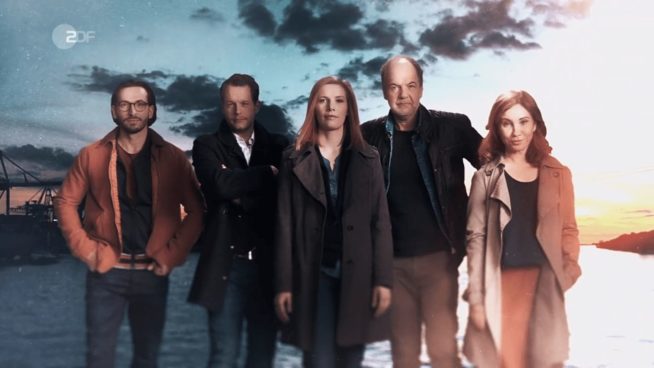 Channel 4 UK — we were waiting for almost 10 minutes to download a page, but it didn't download. So, we cannot say that this channel can be accessed easily. Additionally, we connected to the servers in London and Toronto and tried BBC iPlayer and CBC TV. We could not access BBC iPlayer on several servers. But with CBC everything works great: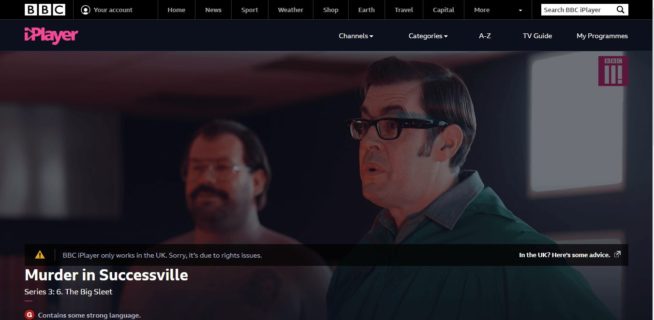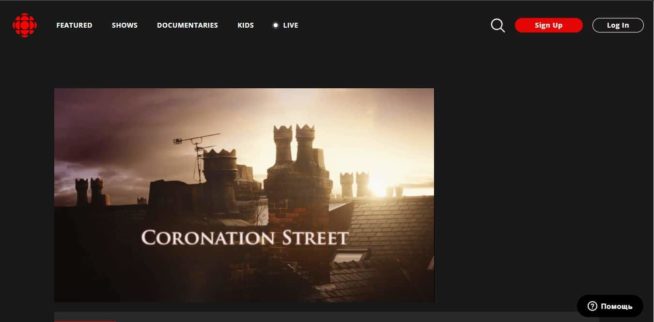 ---
9. How to access CyberGhost VPN in censored countries
We contacted the support team to ask how the service works in highly restricted areas like China. We got an answer that CyberGhost is not sure about working in China, due to the restrictions they've imposed. And China does not particularly agree with VPN services. The only options are to have a manual VPN configuration via the L2TP protocol. If the manual configuration fails to set up a connection to one of their servers, it's very likely that the area you are in has high restrictions regarding the use of VPN servers.
---
10. Support
We contacted the tech support to ask how to access CyberGhost VPN in censored countries like China. We asked the following:
Could you please tell me how I can access your website in a country where it is blocked like in China? Will your site be accessible there if I decide to download the app there?
We got the answer written in the previous section. What can we say about the support in general? We got an answer in less than a minute. The company representative provided detailed information and even shared links with additional information. Moreover, support is available in three languages: English, German, and French.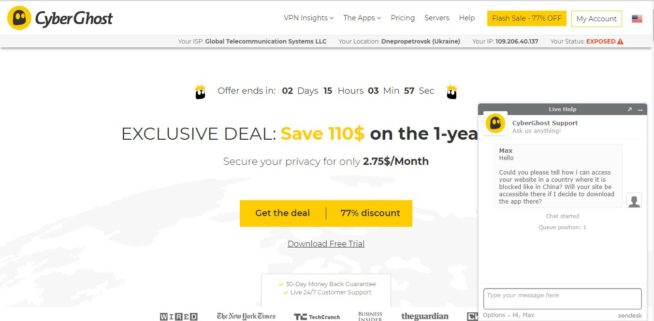 ---
11. Refund
You are able to unsubscribe from the service in a period of 30 days. To do that, log in to your account on the home page, choose My account — Subscription — Cancel subscription. You will get a confirmation email, and in 7 days — all your money back. All is clear and fair.
---
12. CyberGhost Pros and Cons
Pros:
Good connection speed.
Unlocking streaming platforms.
A lot of servers around the world.
Friendly support.
7 days free trial and 30-day money-back guarantee.
Affordable plans.
Applications for most popular operating systems and platforms.
Cons:
Sometimes the connection drops.
The slow speed of some servers.
Quite often it's impossible to connect to geo-restricted services.
DNS leaks and suspicious IP address
I'm very interested in hearing about your experience with CyberGhost VPN. Don't hesitate to leave a CyberGhost VPN review in the comment section!