The Internet is a double-edged sword. You can get the best of things out there while being vulnerable to privacy and security threats online. What you are watching or doing online shouldn't be anyone else's business; not even your ISP should dive their nose into it. This is where a good VPN comes in, taking care of your online anonymity and providing an additional layer of security.
Today the spotlight is on Cyberghost VPN, which has been raking in impressive reviews from all around. Their consistent download speeds and a wide range of servers from over 90 countries worldwide certainly provide options to the users.
1. CyberGhost VPN Verdict
Does CyberGhost VPN land on its feet and expectations? We leave that up to you. As far as the speeds are concerned, it did better than its competitors on most counts baring few time windows. The desktop and mobile app share UI inspiration that makes it easier to switch between them. Their month and a half long money-back guarantee does instill confidence in trying it out. You can also try the free 7-day trial before putting in the money.
| | |
| --- | --- |
| Jurisdiction | Romania |
| Simultaneous connections | 7 |
| Supported VPN protocols | OpenVPN, IKEv2, and WireGuard |
| Logs policy | No logs |
| Price | From $2.25 per month on 2-year plans |
| Money-back guarantee | 7 days free trial and 45-day money-back guarantee (15 days for a single month plan) |
| Customer support | Email & live chat |
| Works with Netflix? | Yes |
| Allows torrenting? | Yes |
| Servers | Over 7,500 servers in 90 countries. |
Pros
Extremely fast
Unlimited Bandwidth
Three VPN protocol options
Special servers for Preventing Surveillance and Snooping
Exclusive Servers optimized for streaming and gaming
Uniform UI across the platforms
45 days money-back guarantee
Cons
Limited functionality on browser extension
Less number of gaming optimized servers
No city-based servers
2. What we Liked about CyberGhost VPN
2.1 Mobile app
You get a seven-day trial without requiring a credit card on the mobile app. Take the service for a spin before making a decision. There are minimal restrictions there in this period. The mobile app is relatively straightforward to set up as it asks for location, notification bar permission. You can deny the consent to the former as it is for automatic Wi-Fi coverage.
The user interface is similar across mobile, desktop, and other similar platforms with minor differences. Get to the home screen and tap on the giant IO switch for connecting to the nearest available server.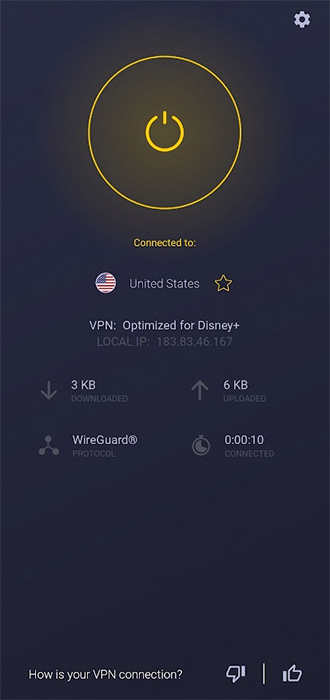 When you want to select a server, tap on the best location button to open the server list browser. Search for countries in the section; similarly, in the streaming section, you can search for your subscribed OTT and country-specific libraries, such as Netflix US, Hulu, France TV, etc.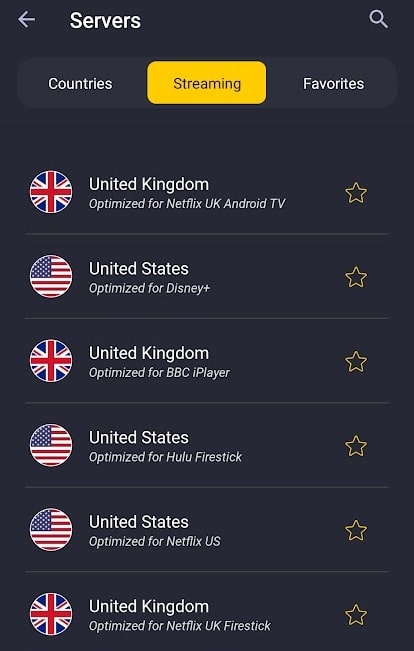 As soon as you connect to the VPN, the notification bar will display the CyberGhost app's information that you are connected to the Internet through its secure tunnel. On other occasions, it will say, "CyberGhost VPN is disconnected.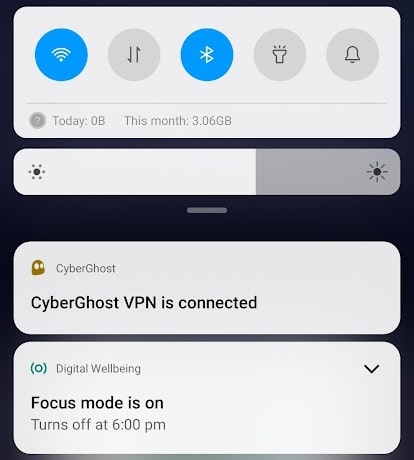 We have seen enough on the front; let us take a close look at the settings. Here you can enable Domain Fronting, which helps circumvent Internet censorship, which is especially prevalent in third countries. It works by replacing the domain address which you are accessing with another one. This way, the censorship filters in place will think that the whitelisted websites and domains are being accessed.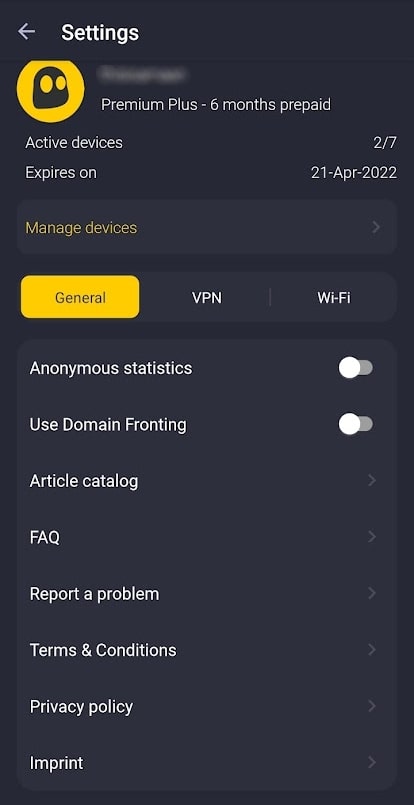 Head to the VPN section in settings, and there are plenty of features worth exploring. First up is the Dedicated IP, which can be set up using a token. Then the VPN protocol where it is set to auto by default. Leave it like that unless you are familiar with protocols. On Android, we have the option of WireGuard and OpenVPN. Similarly, on iOS, OpenVPN is replaced by IKEv2.
Moving downwards, there are ads, trackers, and malware blockers that iOS misses out on, along with the split tunnel. We decided to test it right away, and it did not disappoint most websites with standard block-based ads. It royally struggled with in-app and video-based ads.
The App Split Tunnel feature is limited to Android, handy for debarring some apps from using the VPN connection.
Lastly, the Wi-Fi section has the protection that asked for permission earlier, helps automatically turn on the VPN when using an unrecognized Wi-Fi network. This comes in handy when using the Public Internet to prevent network drop by and snooping.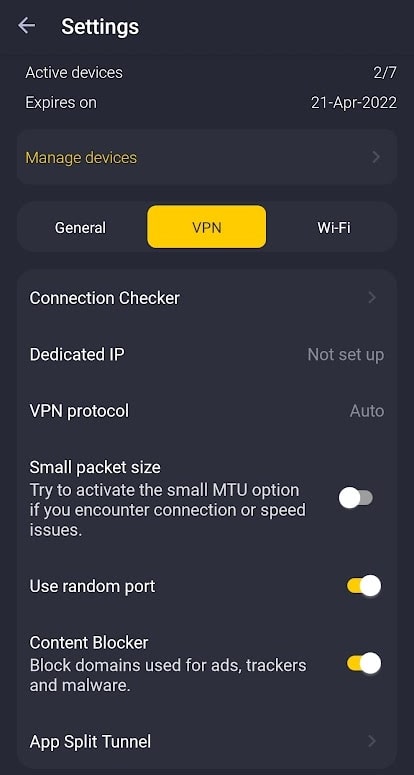 2.2 Impressive speeds
Before moving forward, our fiber-based broadband offers 500 Mbps download and 450 Mbps upload speed constantly.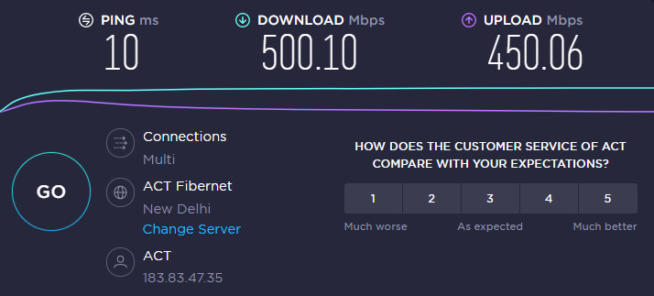 Let's get right back to the speeds, which are impressive during the early hours where the VPN server is located. It goes down as we move to the busier part of the day. The mornings till noon and the late evenings are the best time for getting virtually a similar speed as promised by your ISP.
Of Course, the location is at play here. The closer the VPN server location, the speed will be closer to your standard broadband speed. Any server within a 1,000 miles radius performed well.
We tested across seven different continents with 49 cities before aggregating the speeds as follows. The tests were conducted thrice a day for trying different levels of load on the servers.
| | |
| --- | --- |
| Region | Download Speed |
| United States | 286.72 Mbps |
| Germany | 254.88 Mbps |
| Italy | 278.71 Mbps |
| Russia | 310.54 Mbps |
| France | 210.98 Mbps |
| China | 357.10 Mbps |
| Japan | 344.58 Mbps |
| Argentina | 246.35 Mbps |
| India | 389.62 Mbps |
| Hong Kong | 372.30 Mbps |
2.3 Desktop App
First, we get asked for consent to send anonymous usage statistics, which feels like a responsible beginning. Many VPN applications keep it enabled until you turn it off from the settings.
Launch CyberGhost VPN's desktop app after installation, and you will see a tiny icon in the taskbar. A single click will open the quick-bar with the connect button. Click on the IO button to connect to the fastest and nearest server for your location. It takes 3-5 seconds to connect to a server, depending on the load.
When you want to explore more servers, click on the left arrow or the best server location button. It is pretty hands-on, in line with the modern UI while keeping room for legacy users.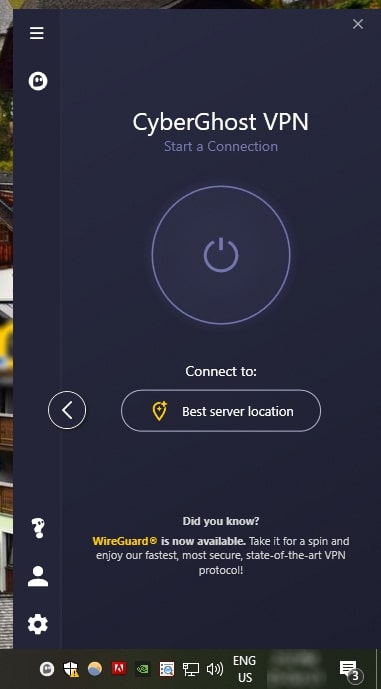 While the modern quick-bar is suitable for hands-on VPN connection, it lacks server selection at a glance. Use the right-click option to open the classic menu with an additional option of favorites that contains servers from countries that you shortlist as a user.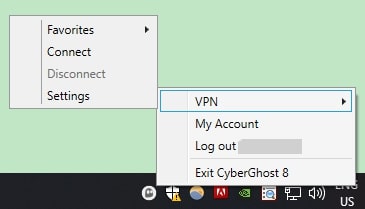 Double-click on the taskbar icon to open the main window of the CyberGhost app. The favorite servers tab will open up with a search bar on the left side.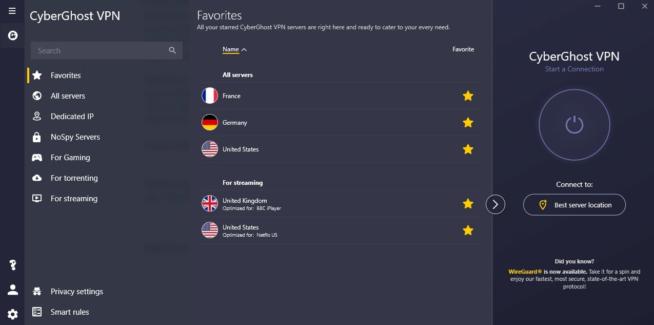 All Servers – They contain the list of all 7,500 servers plus available from more than 90 countries worldwide. Scroll up-down or use the search bar to find the server from the desired country.
Dedicated IP – Each device you own for connecting to the Internet has an IP address. It acts as an identity for the connected device. When using a regular VPN, the service provider gives you a shared IP that many users share. With a dedicated IP, a unique token-based IP is given that only belongs to you. It has a clean reputation, with an easy two-click manual configuration. The same address is reserved for every time you go online using the VPN.
NoSpy Servers – Connect to a certain number of servers that keep measures in place to protect against surveillance, also out of the 14 Eyes jurisdiction.
For Gaming – Online gaming demands high performance along with minimal latency. Select from the list of servers with ping mentioned next to each server along with their country and distance from your location.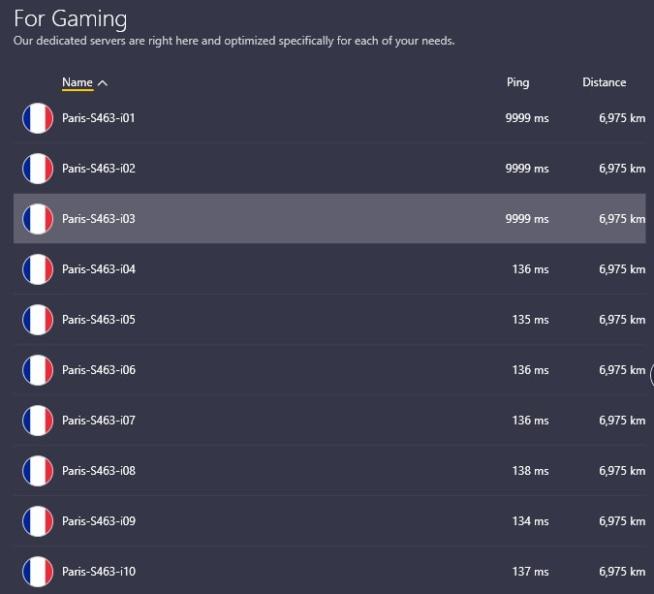 For Torrenting – Unlike most VPNs, CyberGhost allows and, in fact, encourages using torrents for downloading files. The For Torrent section lists VPN servers optimized for p2p torrent downloading and enhancing speeds.
For Streaming – Many consumers use VPN for accessing different libraries of Netflix, Prime Video, and other region-specific OTTs. This section has a list of servers bearing the country names and access to the libraries of specific OTT platforms.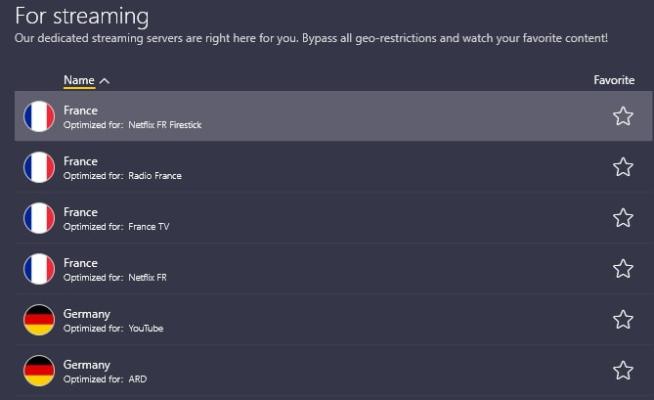 2.4 Smart Rules
Create your privacy triggers that work according to your instructions. They allow you to make launch rules, Wi-Fi protection, exceptions, and app rules from the section.
Launch Rules
First up, set up launching the VPN with a server from a specific country without requiring you to select it beforehand.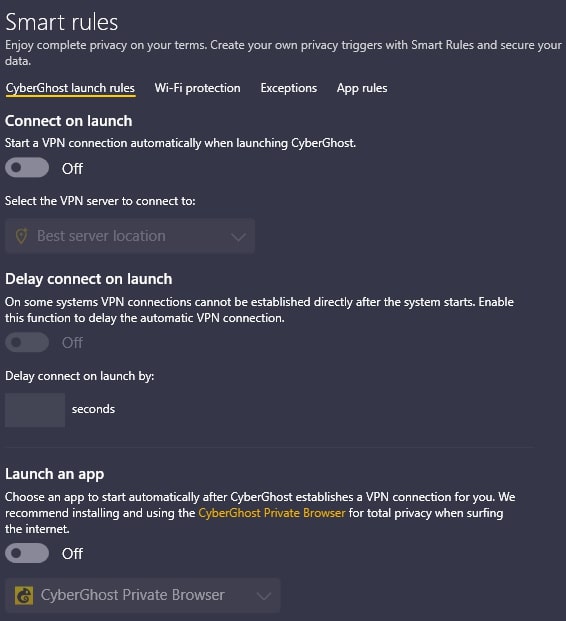 Some computers have several processes launching up during startup. You can delay the launch of automatic VPN launch to accommodate other applications on the computer. The launch can be set up to 100 seconds.
Launch an App
You would want to use a browser or an application through a VPN connection. So the natural routine is to turn on the secure connection and then launch the app. Why go through this process when you can automate it from the Smart rules. Enable the option, and you can even open Chrome's incognito mode directly. Other apps are also allowed which use the Internet.
Wi-Fi Protection
Also available on the mobile app, Wi-Fi protection comes in handy when using a public or untrusted Wi-Fi network. Use it on your laptop to switch on CyberGhost VPN automatically when an unsecured or untrusted Wi-Fi is connected to the computer. Along with, save a bunch of trusted Wi-Fi networks that can either use a VPN or keep it standard, according to your needs.
We tested it by connecting to the Wi-Fi at Starbucks, and the VPN turned on instantly.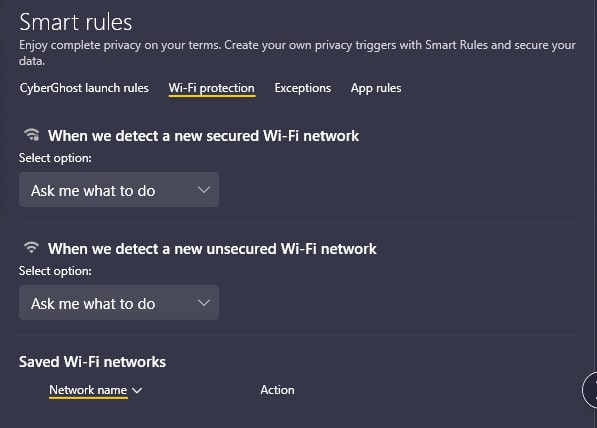 Exceptions
If you are using Smart Rules, the chances are that the VPN is turned on automatically as soon as you log into the user account. What if you wanted to visit some sites without a VPN connection. This is where the Exceptions feature comes in. Add a website address, and it will not pass through the CyberGhost VPN tunnel. That is not all; the added exceptions can be enabled or disabled individually on special scenarios.
App Rules
This is different from Launch Rules, as the VPN is automatically launched here when you open a pre-configured app. Enable it and add any app to the designated apps. The launch of the app will trigger the VPN to turn on with the server of your choice. If you are unsure of the server, then leave it to the Best server location.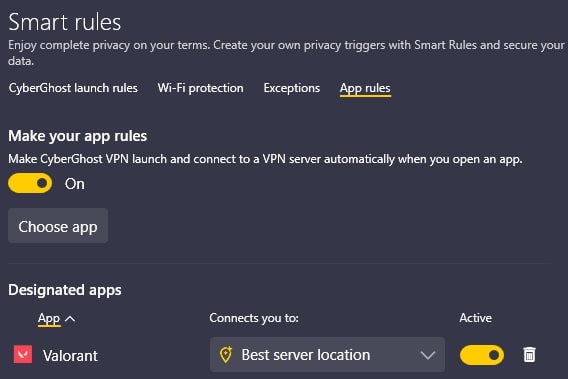 Closing in the desktop app chapter, the Killswitch is available only for the Windows app. The macOS version misses out on it.
2.5 Privacy
CyberGhost means serious business here with its emphasis on data protection and user privacy when it comes to privacy. The company is headquartered in Romania with strong data privacy laws where no one is mandated for sharing any data. That is not all; the country is also outside the jurisdiction of the 5/9/14 Eyes that form a powerful alliance for data protection.
Their No-logs policy, backed by Romania's privacy laws, helps in instilling confidence in the service. The following are not stored in any form on the server:
IP address
DNS queries
Browsing history
Accessed content
Session duration
Connection timestamps
Disconnection timestamps
Bandwidth usage
VPN server connections
DNS leak proofing through the in-built mechanism ensures that your DNS queries, history, and other identifying information are not leaked out.
2.6 VPN Protocols
The VPN protocols play an important role in how your VPN connection will behave, the security measures, and how your data will be transmitted across different locations. CyberGhost VPN supports three leading protocols – OpenVPN, WireGuard, and IKEv2.
Unfortunately, you won't get all three options on all mobile platforms and devices. Different combinations of two are available on either mobile operating system, as we discussed earlier.
The windows app has all three options at your disposal, while the macOS one has IKEv2 and WireGuard.
2.7 No DNS Leak – Tested
DNS is essentially the phonebook of the Internet. You type in a website name; it goes to the DNS server, which translates it to the server's IP address where the website is hosted.
Your ISP or the DNS server can view your browsing activity, services you use, IP address, location, and more. This can be prevented using an anonymous network such as a VPN or a proxy. However, many VPN services don't do it properly, causing DNS leaks, exposing your information to intruders, ISP, DNS servers, and even governments in several countries where the law states compliance.
CyberGhost promises No DNS leak of any kind by activating the in-app DNS leak-proof feature. This is coupled with the zero-logs policy, which states the no records are kept of your online activity, habits, and other things.
We decided to do the extended DNS leak test with 36 queries in each instance. First, we checked before with the standard ISP without a VPN and then used four distinct VPN servers located in different parts of the world.
Test 1 – Without VPN
The test showed the IP address details along with the broadband home page when you open the browser. To sum it up, there is a DNS leak.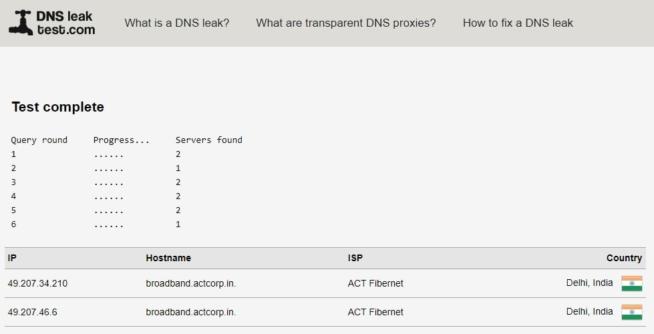 Test 2 – With VPN: United States Server
The DNS is not leaking with the VPN using a US server because our real IP and location appear hidden.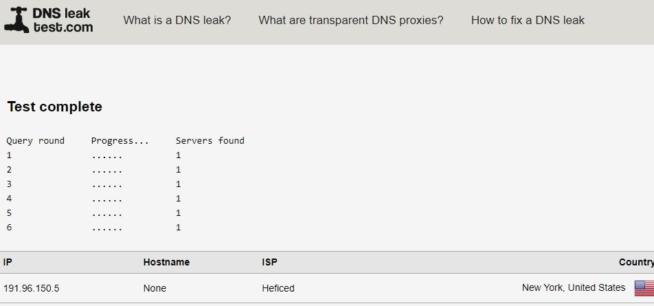 Test 3 – With VPN: Germany Server
On the second try with a Germany-based VPN, the result stayed the same. The DNS is not leaking at all.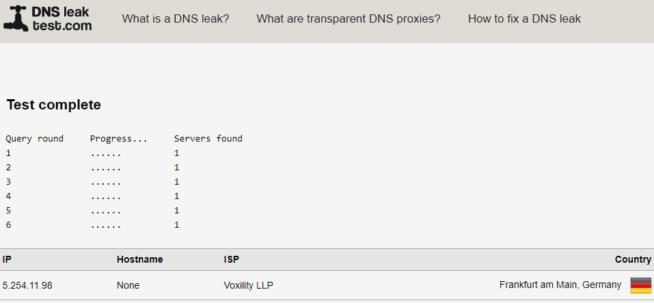 Test 4 – With VPN: France Server
The third test with the server in France passed with flying colors as well. The DNS is not leaking and has passed the test.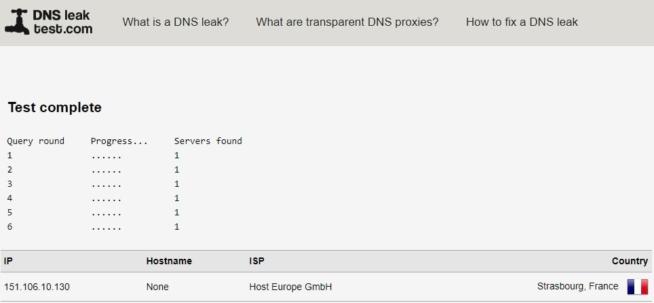 Test 5 – With VPN: China Server
Servers in China are considered a problem for many VPN servers. It is not a problem here as the DNS is not leaking here either.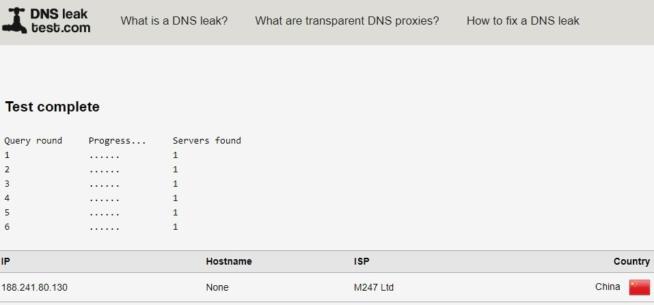 IP Address
Location
ISP
DNS Leak
49.207.35.210
(without VPN)
Delhi, India
ACT Fibernet
YES
191.96.150.5
New York, United States
Heficed
NO
5.254.11.98
Frankfurt Main, Germany
Voxility LLP
NO
151.106.10.130
Strasbourg, France
Host Europe GmbH
NO
188.241.80.130
China
M247 Ltd
NO
How to Read the DNS Leak Result?
Note down the IP address, location, and hostname from Test#1 and compare with the other 4 test instances to see if they match. If any of the parameters match the first test, then there is a leak, which is not the case with the CyberGhost we demonstrated above.
2.8 Unlimited Bandwidth and traffic
We tested the limit of the claimed "unlimited bandwidth" by downloading large files from Filehippo, Microsoft Dev network, and other similar sites. It did not disappoint and continued to provide the available speeds (which we will discuss later ). As long as the device limit has not been reached, you continue to take advantage of the unmetered bandwidth.
2.9 NoSpy Servers
Data centers and technological infrastructure in any country comes under pressure from local state authority. Adhering to various data laws often results in snooping and surveillance by the authorities that can compromise the integrity of your data. CyberGhost is headquartered in Romania and has a unique NoSpy datacenter there, which is built to keep the servers isolated from mass surveillance and third-party intrusion.
You can find the NoSpy servers list on the computer apps, which are located in Romania. It is out of the jurisdiction of 5 Eyes and even 14 Eyes which provides a token of confidence about snooping and mandatory adherence to demands by the EU and USA.
2.10 Dedicated IP
Get a dedicated IP through add-on while subscribing to the service. Generally, VPN services offer shared IPs which often get blacklisted and earn a bad reputation amongst the IP address databases across the Internet. You can avoid that by getting a dedicated IP, which is free from any reputation and reserved for you to use till the end of the plan. It costs $5/month on a monthly basis. You can save more by getting a perpetual plan.
2.11 45 days money-back guarantee
Good service with trust in its performance never shies away from providing an extended warranty or money-back guarantee. Several VPN services offer up to 30 days of the money-back guarantee, and some offer seven days guarantee. CyberGhost provides a 45-days money-back guarantee with no questions asked.
However, it would be best if you kept in mind the more delicate print here. Subscribing to a month's plan will warrant a 14-day guarantee, while anything 6 and above months will provide you with a 45 days flat money-back guarantee.
2.12 Prompt Customer Support
The much-advertised live-chat support is quick, on the point, and helps you guide in the right direction. We had a query regarding the browser extension only providing free servers, even for the subscribers.
For accessing the live chat, we went to the Chat with US section and clicked on the support button given at the right bottom. It opened the search bar for knowledge-base, where you have to type in your query and press ENTER. That is when the LIVE CHAT button will appear at the bottom. Click on it and fill the form with basic information to proceed.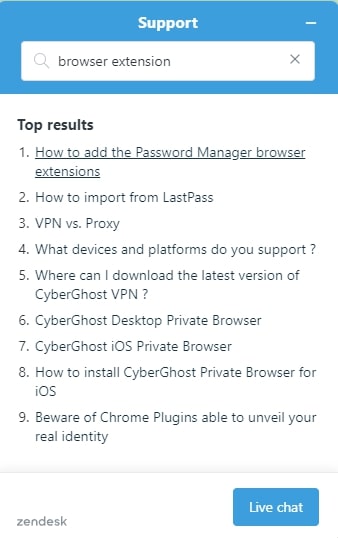 The wait was 3-seconds long before we connected with a customer support representative. After typing in our query, she was quick to provide us with the answer.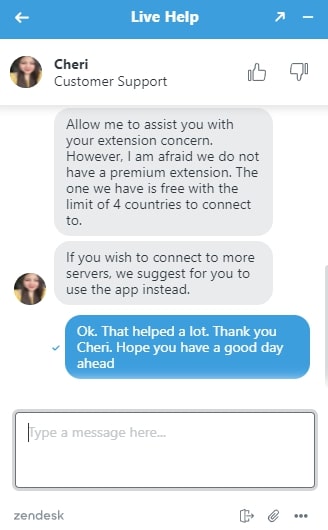 In a nutshell, the knowledge base has your back, and when you're scraping the barrel there, there is always the live chat support. It is unavailable in a few developing markets but should work when you connect to VPN before visiting the support section.
2.12 Good Deals on Plans with Offers
With the kind of speed and consistency, the pricing seems fair. It is in line with the other leaders of the segment, ExpressVPN and NordVPN. The longer-duration plans are the cheapest, providing considerable savings. If you are on a tight budget, keep an eye out for the periodic offers that provide huge savings.
Pricing
| | |
| --- | --- |
| Plans | Price |
| Annual Plan | $6.39/month, $76.68/year |
| Monthly Plan | $12.99/month |
| 6 months plan | $6.39/month |
3. What we did not Like about CyberGhost VPN
3.1 Underwhelming Browser
Install the desktop app, and the CyberGhost private browser is bundled together. Based on the Chromium web engine (Same code-base as Google Chrome), you will feel at home as a religious Chrome user. All the Chrome extensions are compatible, and you can use pretty much all the features.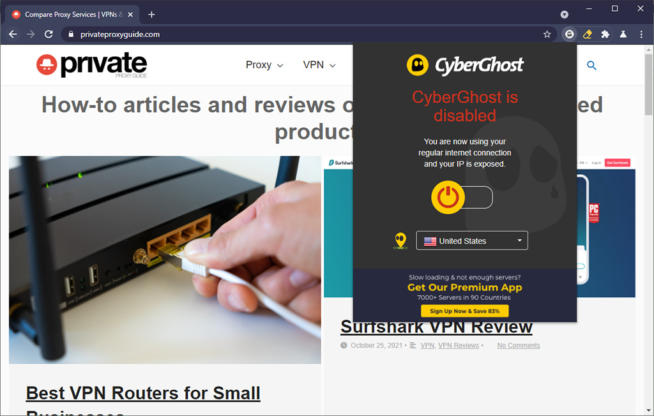 The official CyberGhost VPN extension is pre-installed, which can be enabled for free usage. Even after subscribing to the premium, we could not understand how to enable it on the extension. After a lot of experimenting around, I decided to ask customer care, but we will talk about it for a minute.
All in all, the private browser did not seem to provide any extra layer of security apart from the ad blocker on conventional sites. It royally underperformed on video hosting sites such as YouTube, Twitch, and Vimeo, amongst others.
3.2 No City-based servers
Internet marketers and SEOs can give this VPN a miss if they have city-based geographical targeting needs. The VPNs are available based on countries, with few cities mentioned in the streaming optimized server list.
Along with that, you can only have 7 concurrent devices or sessions, which severely hampers the performance of large automation campaigns.
3.3 Browser Extension
Usually, browser extensions are supposed to aid in providing better service. CyberGhost's extension, which is available for Chrome and Firefox, does the exact opposite. After confirming with the chat support, it is only available with free servers. For using the subscription, an app will be needed here.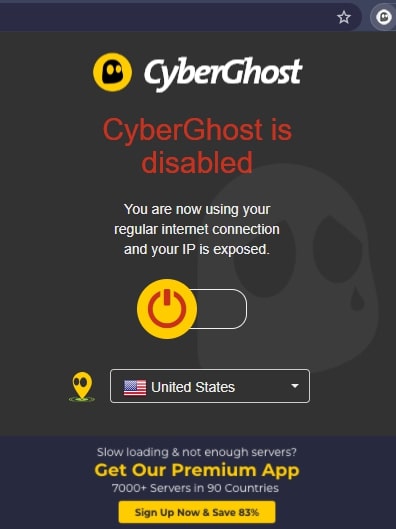 4. CyberGhost VPN FAQ
4.1 Which platforms does CyberGhost VPN support?
It supports all major platforms, ranging from standard computer OS such as Windows, macOS, and Linux. Video game consoles, TV apps, routers, and more are officially supported through apps, configuration.
4.2 Is CyberGhost secure and safe to use?
The service relies on military-grade AES-256 encryption for all its servers, making it incredibly difficult for network snoopers to have a say. On top of that, special NoSpy servers are available for extra caution, which are hosted outside the jurisdiction of the 14 Eye.
4.3 Does it offer a trial?
YES, and without submitting payment details. Take it for a spin for a week with minimal foundations. Do remember that the trial can be availed once per user. You can also use the free service through the browser extensions and on the mobile app (for a limited period), limited to 4 servers which are slower due to excessive load.
4.4 Is the dedicated IP included in the plan?
The dedicated IP is an optional add-on that costs $5/month on the annual plan. There is a 45-days money-back guarantee on 6 or more months plans.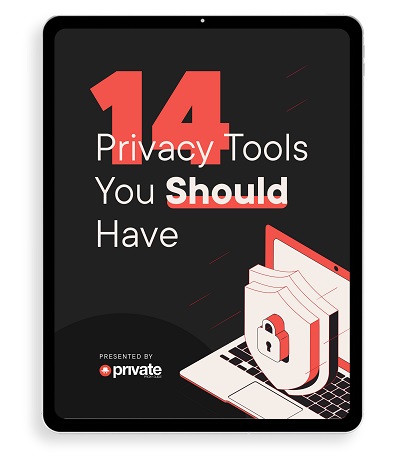 Learn how to stay safe online in this free 34-page eBook.