Do you need a VPN to keep your IP hidden, but don't want to pay for it? There is a great solution. Urban VPN (www.urban-vpn.com) offers a completely free service to keep your online anonymity and security. It has a huge number of available servers in 85 different countries all around the globe. This VPN is an attractive service not only because it is completely free, but also because it offers excellent quality.
Unlike other VPNs that provide free services, this one ensures that everything about your system and operation is of the highest quality when it comes to downloading and installing this VPN. According to some users, Urban VPN is one of the free VPNs that they enjoy the most.
We tested the service for several days and here is what we liked and what we didn't like.
1. Urban VPN review verdict
Is Urban VPN worth using? It highly depends on your needs and expectations. If you are looking for a free VPN for browsing and streaming, don't expect cosmic speed, and don't care much about privacy concerns, it is a great solution. Do you want reliable service with great speeds, a distinct privacy policy, and real customer support? Then look for something else.
Pros
Free unlimited VPN
Variety of available locations
Support of all the popular platforms
Great streaming support
No IP, DNS, and WebRTC leaks
Cons
No clear details on how the service works
Low privacy
P2P model — security and stability concerns
Primitive apps with limited functionality
Fewer available locations than advertised
No customer support
Slow and unstable connection
Paid mobile app
Torrents are not supported in all locations
2. What we liked about Urban VPN
2.1 Free unlimited VPN
Compared to other services which provide a limited free version and premium subscription with advanced options, Urban VPN is completely free without any additional conditions. Moreover, you don't even need to provide an email address for registration. You just have to download the application, select the server location, and start browsing or streaming. The service does not limit you with the traffic or bandwidth use. Again, it's a huge advantage over competitors. So, it's really a great solution for those who want to use a basic VPN without extra charges.
2.2 Variety of available locations
Compared to other free VPNs which provide few servers in several locations, Urban VPN provides hundreds of servers in 84 locations and their number is constantly growing. You can even connect to unique and exotic locations such as Belarus, Guatemala, or Mongolia.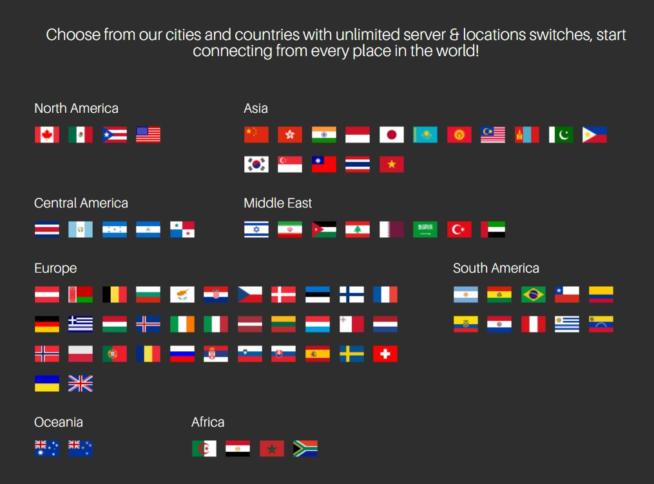 The full list of available locations is on a separate page. You will find all available countries, the number of servers, as well as the number of users online. We could not find what the difference is between servers and online users. At the same time, we are sure that Urban VPN is one of the best free VPNs when it comes to geographical variety.
2.3 Support of all the popular platforms
You can download and install Urban VPN on all your devices. There are apps for Windows, Mac OS, Android, and iOS, as well as browser extensions for Chrome, Edge, and Firefox. However, it's not available on Linux and devices like smart TVs, gaming consoles, or routers. At the same time, you can use browser extensions on Linux and some other platforms.
2.4 Great streaming support
Not even every paid VPN can unlock Netflix, BBC iPlayer, or other popular geo-restricted streaming platforms. Urban VPN does it almost perfectly. Although, it's not guaranteed. We tried to watch US Netflix, British BBC iPlayer, German ZDF, French Canal+, Australian ABC, and Canadian CBC. In most cases, we had no problems with watching them, however, in some cases, we had to reconnect to access the streaming content.
2.5 No IP, DNS, and WebRTC leaks
All locations we tested didn't leak IP addresses, native DNS, and WebRTC. So, Urban VPN is quite a secure VPN for safe browsing. Keep in mind that this is true for desktop apps. If you are going to use Urban VPN with the browser extension, it will not hide your public IP and, in some cases, DNS.
3. What we didn't like about Urban VPN
3.1 No clear details on how the service works
Despite all the positives, there is no clear information on how Urban VPN works. They position themselves as a so-called peer-to-peer powered VPN. Nobody knows what it means but we think it's like Hola VPN. Instead of building and maintaining its own infrastructure, the company uses the resources of all its users.
So, you must be ready to share the resources of your device and Internet connection with other Urban VPN users. This has a great advantage. For most streaming platforms, it's a lot more difficult to detect such a VPN and you can easily use geo-restricted content. On the other hand, it is not a safe solution. When you do not connect to a dedicated server, there is a high risk to get your data stolen or intercepted.
3.2 Low privacy
Urban VPN's privacy policy, available in full on the Urban VPN website, is reasonable and well-organized. It includes details of what data they collect and how they use it.
The document states that Urban VPN collects four types of data:
1 Online Identifiers.
when you use their services or visit their website, they collect certain online identifiers such as Agent Id, UDID, Android ID, and your IP address. These are necessary to provide the VPN services and to extract the approximate geographical location (i.e., country), as well as to provide, enable and enhance the operation of their services and website. Then, we read that "IP addresses collected for location purposes are deleted immediately following the completion of use (not saved)", which probably means they are deleted when you disconnect from the service. However, it is further clarified that the IP address obtained when using Urban VPN for the desktop will only be removed "when you uninstall the VPN application and stop using the Services".
2 Web Browsing Data.
Such as URLs of visited websites and apps as well as search queries. They use them to operate and provide their Services, for example, to create a black list of target websites and provide the "safe browsing" alerts feature. The company explains that in most cases, the data detailed above is considered non-personal data. However, sometimes web browsing data contains terms that could be considered as personal data. This data is deleted shortly after it is collected. We think the company is trying to say that it records the URLs you visit but does not attach them to your account but rather adds them to a list of URLs generated by all customers, without the ability to determine which resources you personally visited. At the same time, full URLs can sometimes contain personally identifiable information, for example, domain.com/submit?name=thiscity=that, and we assume Urban VPN removes this data very quickly but retains the anonymous browsing information.
3 Contact Information.
If you voluntarily contact Urban VPN. This includes your name and email address. They use this data solely to provide the requested support or response to your inquiry. They may process the contact history to improve services and resolve disputes.
4 Technical Data, automatically transmitted by the user's device.
This may include the type of browser, operating system, access time and date, approximate geographical location, etc. The company says that they use this data solely to provide and enhance their services and to enable its operation. In general, the policy demonstrates ample scope for session logging, and since some points are not clearly defined there may be room for more.
Next, we read that the company does not sell, trade, or rent users' confidential data to third parties. At the same time, they can share it in some cases:
to the extent needed to comply with any applicable law or regulation, to establish or exercise their rights to defend against legal claims, or to prevent harm to the rights, property, or safety;
in case of a corporate transaction;
to the extent required to fulfill the purposes of providing their services.
Also, they can share, sell, or make commercial use of the encoded collected data with other business partners, service providers, and data aggregators. What if you don't agree with that? You can opt-out manually from sharing your data with others. Read the instruction here. We believe it's not obvious for the majority of users. However, it's your payment for the free service.
3.3 P2P model — security and stability concerns
Despite some advantages and privileges of such a system, it makes the connection potentially very unstable and dependent on other users. This could also explain why our speeds with Urban VPN and the quality of the connection varied so greatly. In addition, a peer VPN comes with certain security risks. Your traffic literally goes through another user's device.
Consequently, you need to have great confidence in Urban VPN's encryption. Otherwise, it is theoretically possible that other users see your internet traffic. Add to this the fact that Urban VPN is not very clear and transparent about their encryption, and you'll understand our hesitation.
Another big problem with P2P VPNs is that internet behavior is still attributable to users. Because you make your system available as a "conduit" for someone else's network traffic, it may appear that you are doing something illegal, while actually, another Urban VPN user is the culprit.
3.4 Primitive apps with limited functionality
The Urban VPN client for Windows is very simple and does not have a lot of advanced features. All you can do is select the location or disconnect from the connected location. Also, the app displays the connection time. There is nothing else: no favorite locations, no auto-reconnect option, no customization, etc.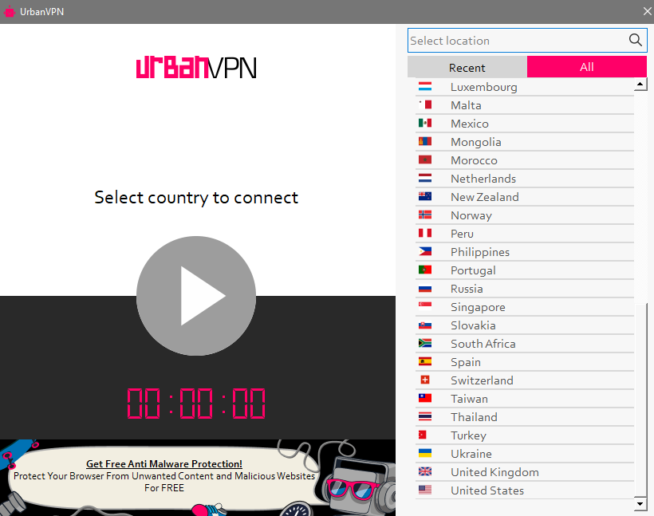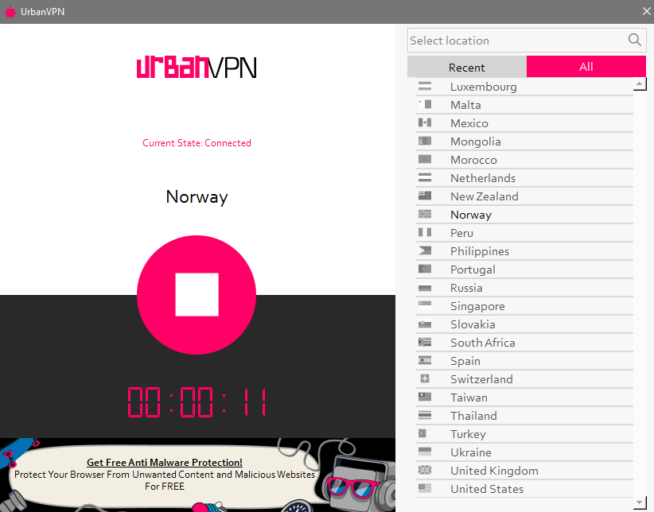 The browser extension is a simple proxy with a list of locations, an on/off button, and, unexpectedly, an ad blocker that works independently of the proxy. Like in the Windows app, you can choose a location, click Connect and get a new IP address, click Disconnect and restore the original one. The extension also displays the connection time.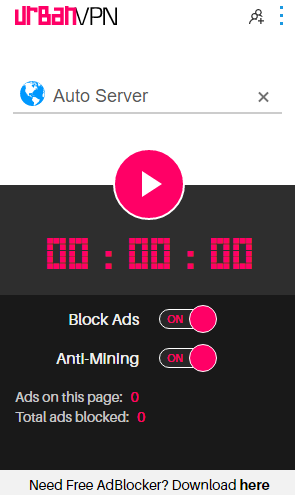 The Android app is a bit more informative. It also displays the user traffic, ping, current download and upload speed, history, favorites, as well as your original and current IP address.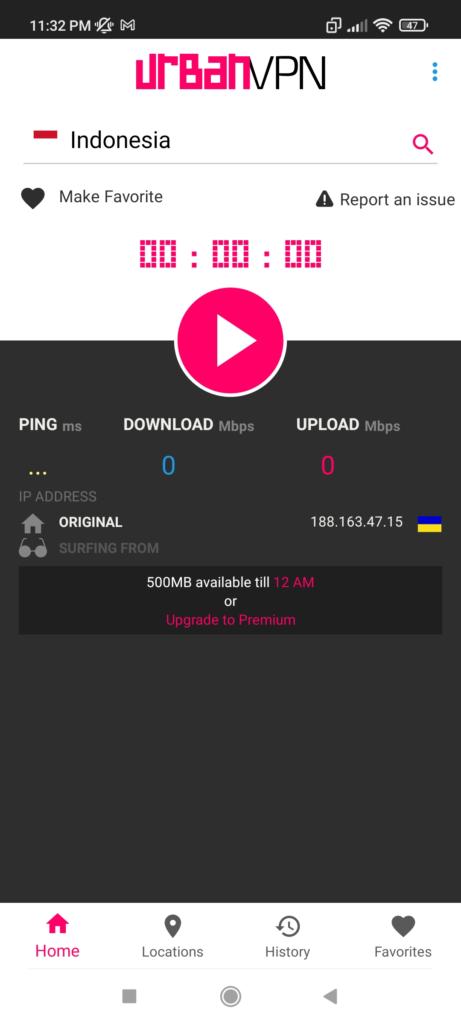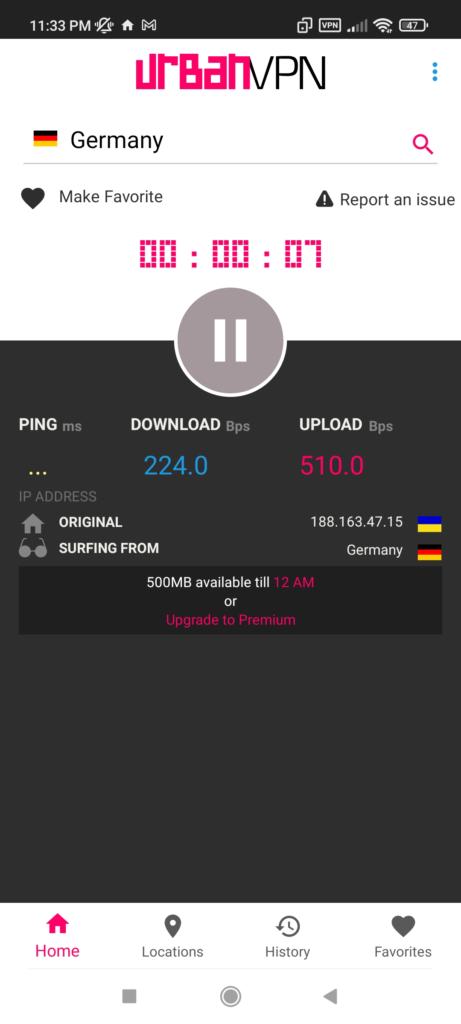 Unfortunately, there are no settings or ways to control how the app should work. No matter what platform you're going to use, there are no ways to select advanced options. All you can do is select a specific location and enable or disable the ads blocker. Despite their primitivity, the apps are very easy to use even for inexperienced users. Just turn them on and start browsing.
3.5 Fewer available locations than advertised
Surprisingly, there are significantly fewer locations in the applications than announced on the website. Thus, in the Windows app, there are just 48 locations available, while in the Android one — 51.
3.6 No customer support
Urban VPN states that they are ready to help when the user needs it and you are free to ask anything through live support. However, this does not seem to be true. Urban VPN has no live support, no chat, no support section on the website, not even an email address for general help.
The site includes one or two email addresses for specific areas but not for real support. So, if you need any help, there is no one to help you. We understand it's a free service but having at least limited support via email concerning technical troubles would be great.
3.7 Slow and unstable connection
We checked 20 locations around the globe. First, we tested our direct speed. Via Wi-Fi, we had 70 Mbps for download and 65 for upload. Now, let's see the Urban VPN results.
Location
Ping, ms
Download, Mbps
Upload, Mbps
Argentina
288
3.15
2.12
Australia
322
4.07
0.79
Austria
66
1.40
0.38
Canada
145
4.19
3.38
Croatia
62
11.51
4.88
Denmark
57
13.77
7.04
France
Failed to connect
Hong Kong
Failed to connect
Hungary
40
12.49
15.05
Iceland
103
4.84
4.50
Israel
102
7.34
4.74
Italy
79
12.39
3.65
Mongolia
140
9.27
3.38
New Zealand
371
2.31
0.99
Norway
87
5.48
1.72
Peru
225
2.44
0.29
South Africa
Connection failed. No Internet
Thailand
342
0.60
0.34
UK
64
4.73
1.05
US
123
7.88
3.70
The tests demonstrated that Urban VPN connection speed is far from being high. In some cases, they are indecently slow. However, in most cases, that's enough for comfort browsing or even streaming.
Another big problem is connection instability. It very often drops when using some locations.
3.8 Paid mobile app
It was surprising for us to find out that the mobile version includes a paid subscription, and the free plan gives only 500 MB per day.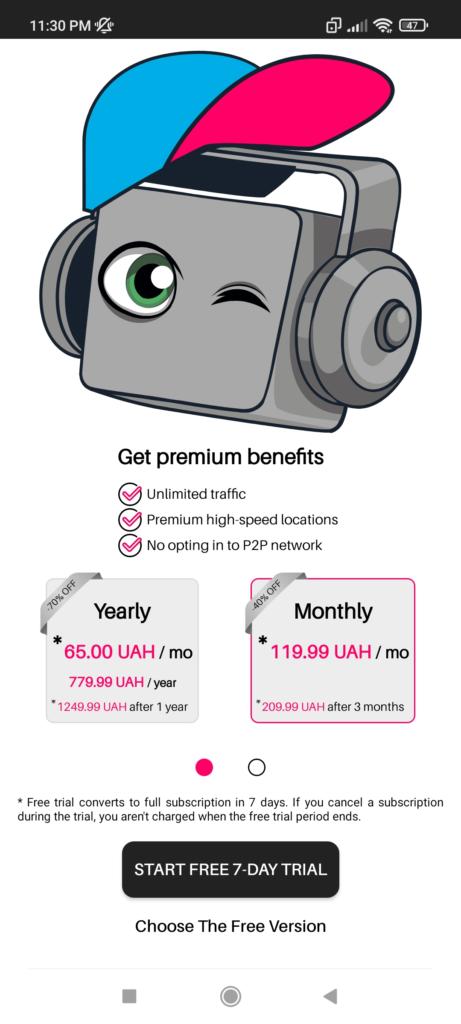 How much is it?
Annual plan
$2.4 per month
$29 per year
$46.65 after 1 year
Monthly plan
$4.49 per month
$7.79 after 3 months
It's not extremely expensive. But keeping in mind that there is no clear information about the subscription, the fact that the company positions itself as a free VPN, and the lack of contact information, we wouldn't risk buying this subscription. Yes, their Terms of Service page includes some information about the subscription and refund, but it doesn't change the situation much.
Moreover, if you don't like how it works, you cannot request a refund directly from the company. You will have to be refunded via Google Play or Apple Store.
3.9 Torrents are not supported in all locations
Generally, Urban VPN supports torrent networks, however, not in every location. So, if you need to download something via a P2P network, try different locations.
4. FAQ
Is Urban VPN free?
Yes, officially it's free. However, the mobile apps include a premium subscription.
Is Urban VPN safe?
In our tests, native applications didn't leak IP, DNS, and WebRTC. At the same time, its privacy policy is not so unambiguous. There are a lot of concerns.
Which platforms does Urban VPN support?
Windows, Mac OS, Android, iOS, as well as browser extensions for Chrome, Edge, and Firefox.
Is Urban VPN fast?
Our tests show that Urban VPN is not so fast. However, it's not a bad result and is enough for most tasks.