Hide.me is a Malaysian VPN service launched in 2011. What makes it so good among others is the ingenious zero logs policy and a strong emphasis on confidentiality. This policy, coupled with decent privacy features, makes Hide.me worth the money, otherwise the Premium fare would be unreasonably expensive. The average connection speed, if it doesn't surprise you, will definitely please you with its stability and adequacy.
The Hide.me VPN service has a relatively small network of servers, but it is regularly upgraded. Most of the streaming services work fine, however, Netflix and BBC iPlayer are not very stable. They don't always work even though Hide.me promises them to be completely reliable. You have to check with their support to hear what server to use. Not much interesting is said in Hide.me reviews on Reddit.
Jurisdiction of Malaysia.
5 simultaneous connections.
Great connection speeds.
Variety of payment methods including cryptocurrencies.
Zero logs policy, clear privacy policy.
Full set of security features.
Applications for all popular platforms and operating systems.
Lifetime free plan.
Moneyback guarantee within 30 days.
24/7 helpful and friendly support.
Privacy policy
Hide.me is an excellent choice if privacy is your top priority. This service adheres to the zero logs policy and is located in Malaysia. This means that it is outside the jurisdiction of the United States and outside the EU data laws.
Their official website contains the full privacy policy which describes all the cases where they work with your sensitive data. Hide.me can keep temporary logs of basic connection information during your session and then delete them at the end. What is more, the data they collect refers only to their own website – all other sessions are kept anonymous. In order to track the data limitation in the Free plan, the service uses the logs of basic information about traffic usage, which are later deleted and updated hourly. This is the approach we like.
Also, they clearly indicate the reasons why they may need your data. These reasons include further development, usage monitoring, preventing and detecting the technical issues, informing you about discounts and other information letters, etc. The full privacy policy is available on this page.
---
Registration, payment, and prices
Hide.me is one of the few VPNs that provides a lifetime free plan. Of course, this is quite limited. What do you get with it?
2 GB of traffic every month
1 simultaneous connection
5 worldwide locations
At the same time, you are not limited when it comes to the security options – they are all available in full. So, if you want to see how it works or just need a VPN from time to time, it is quite a good option. If you lack the amount of traffic and servers, select the premium plan.
This provides unlimited bandwidth, the ability to use 5 devices at the same time, and all 1400 servers in 56 locations. How much does Hide.me cost? It depends on the subscription period:
1 month – $14.95/mo
1 year – $119.95/yr – $9.99/mo
2 years – $129.95/yr – $5.41/mo
The prices are quite high – there are a lot of much less expensive providers. We were especially unpleasantly surprised with the 1-month plan – even market leaders do not charge almost $15 a month. If you take a subscription for 2 years, the prices are average.
You are able to select a variety of payment methods for your subscription which include bank cards of virtually any country, PayPal, WebMoney which is very popular in the post-USSR countries, and cryptocurrencies including Bitcoin, Ethereum, Litecoin, and Monero. So, to get a subscription is very easy for everyone. With cryptocurrencies, you are able to remain absolutely anonymous as you do not have to share your real name. Keep in mind that Hide.me does not process the payments themselves. They use 3rd party processing centers and do not store any financial information of users.
The procedure of registration is very simple and requires only a few steps.
First, you need to select the plan: free or premium. For the test, we are going to select the premium plan.
Next, select the subscription duration. We are going to take a 1-month subscription.
Now, enter your account details. The service requests a valid email address.
Select a suitable payment method. We used PayPal as it is the most convenient. Here, you are able to select whether you want the automatic renewal. The option is available for every payment method. It is good if you are not sure whether you will like the service and want to use it after the subscription expires.
Right after you complete the purchase, you get the information with your reference number and Hide.me informs you that your account will be ready soon. They say it will be ready within 15 minutes but our account was ready in less than one minute.
We got two additional emails: one with an order confirmation and another with the login and password. You will have to use these to access the Member area and in the applications.
---
Apps
Hide.me provides standalone applications for Windows, Mac OS, Android, iOS, and Amazon Fire TV, as well as extensions for Google Chrome and Mozilla Firefox which work in combination with desktop applications. So, you are not able to use the browser extensions on their own. In addition, you are able to use Hide.me with Linux, Blackberry, and routers with manual configuration. In the review, with tested the Windows and Android app, and the Chrome extension.
Windows
The interface is clear and light. The main screen is not overloaded. You can see the big connection button as well as links to the connection details, location change, and settings.
The application menu includes the Account Information, Settings Split Tunnel, Stealth Guard, Kill Switch, VPN Protocol, Support, and Browsers tabs so you are able to configure almost everything. The settings are divided into application and network settings. There are both basic and advanced options available.
In the Stealth Guard and Kill Switch tabs, you are able to fine-tune these options. There are a lot of parameters available.
Also, you are able to select a preferable VPN protocol and apply advanced settings. Some of them are great for advanced users however, do not change them if you are not sure.
The application also allows performing a privacy check. If you are not connected to the Hide.me VPN, it will detect your real location and IP address. Then, you are able to select the required location. This is also indicated to be done if there are several locations in one country.
Having connected to the VPN, the privacy check will show that your connection is protected. It takes several seconds to establish a connection.
Android
Keep in mind that the Android application in the Play Store is not available in every country. If this is the case for you, just download the .apk file from the official website and install it manually. The application itself is lightweight and has a clear and intuitive interface. The tabs are at the bottom and they include VPN, Location, Settings, and Extend. You can also check your connection privacy. If you are not connected to the VPN, the application will detect your real location and IP address.
In the Settings, you are able to configure the VPN protocol, automatic connection, Split Tunneling, Kill Switch, and the app language. Nothing much but all the basic features are configurable.
The application also allows performing a privacy check. If you are not connected to the Hide.me VPN, it will detect your real location and IP address. Then, you are able to select the required location. This is also indicated to be done if there are several locations in one country. Having connected to the VPN, the privacy check will show that your connection is protected. It takes several seconds to establish a connection.
Like in a desktop app, the locations are grouped by countries. If there are several locations in one country, all the cities are indicated. Having connected to a server, the app will display the new connection details.
Chrome
The Chrome extension is very basic and does not allow using your account. You will only be able to use the free locations. It allows only to connect/disconnect, select locations, and enable/disable some specific options. Use the desktop app to access all locations.
---
Features
Kill Switch. This security feature will allow disconnecting your Internet connection if your VPN connection drops. This is a must-have option for every respectable VPN provider. When this feature is enabled, the application will prevent the leak of your real IP address.
Split Tunneling. The option allows selecting which applications will use a VPN connection and which apps will use a direct one.
Stealth Guard. This is a unique feature that allows you to flexibly choose certain apps or entire internet connection and limit them to a VPN connection. So, if you have limited an app to VPN, it will never work unless you have connected to the VPN. If the VPN connection drops, the app will also be disconnected.
Own DNS. The company does not use any 3rd party DNS providers. This allows it to provide services of the highest quality and protection.
---
Servers
Hide.me has a rather small network of servers compared to its competitors. It counts about 1400 servers in 56 locations. Don't expect connections to some unusual and exotic places and the choice of cities is also not very large. However, the service covers most of the popular sites, especially since new servers are added regularly.
Hide.me has servers in several US cities. The users are able to choose between the east and west coast, as well as specific cities. You are also given the choice between city-level servers in the UK, the Netherlands, Italy, Germany, Australia, Spain, and Switzerland. In each place, there are 4 to 8 servers, and they have 4 to 8 shared IP addresses.
---
Speed test
We ran some speed tests using different locations. Our internet bandwidth is 50 Mbps and we are located in Ukraine.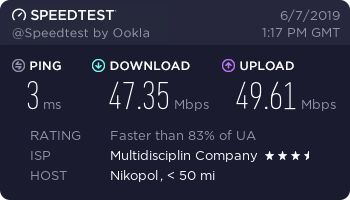 Here are the results of the performed tests.
Netherlands, Haarlem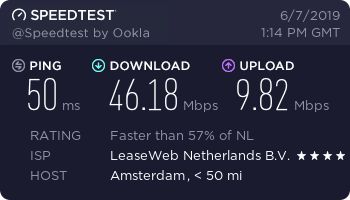 UK, London
Poland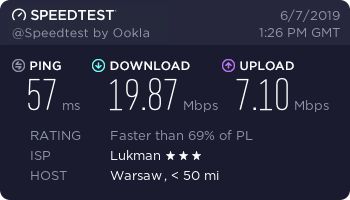 Sweden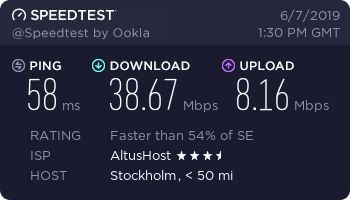 Spain, Barcelona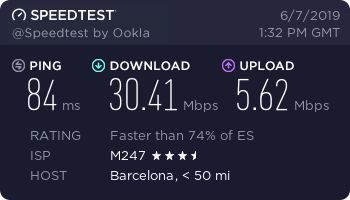 USA, Phoenix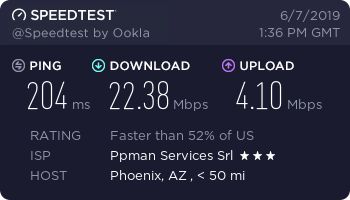 USA, New York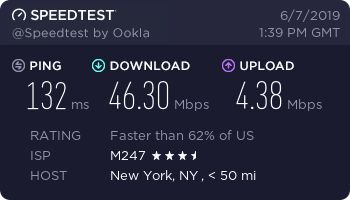 Canada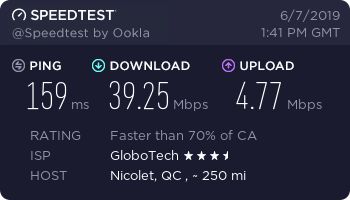 Brazil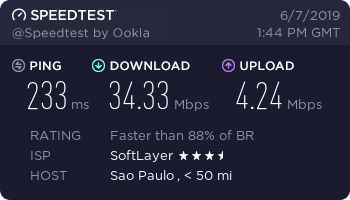 India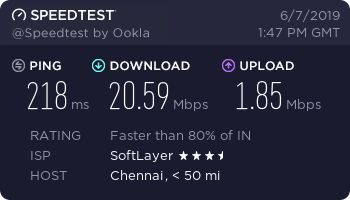 Singapore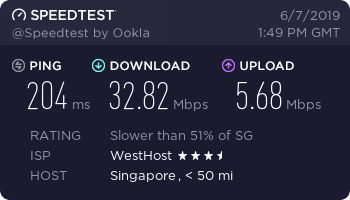 Australia, Sydney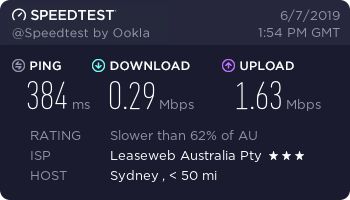 Most servers provide very high speed. Only the Australian one was slow – less than 1 Mbps. In most cases, you will be able to use all the potential of the VPN.
Security and encryption
Hide.me provides the highest level of encryption and security for all your devices. They support the industry-standard OpenVPN, L2TP/IPsec, PPTP, SSTP, SoftEther, and IKEv2 protocols with AES-256 encryption. You will be reliably protected everywhere. We performed some tests using whoer.net to check whether the connection is really protected.
Netherlands, Haarlem
UK, London
Poland
Sweden
Spain, Barcelona
USA, Phoenix
USA, New York
Canada
Brazil
India
Singapore
Australia, Sydney
The results were mostly excellent. No DNS-leaks.
---
Torrents and geo-blocked services
Hide.me VPN supports P2P networks and can unlock the most popular streaming services. Keep in mind that P2P is not available at every location. However, where its support is declared, the connection speed is really high. We could download the Linux Mint distributive in several minutes – it almost didn't cut the connection speed provided by our ISP.
Regarding streaming platforms, we checked some of the popular ones:
BBC iPlayer – Not working
We tried both UK serves but could not watch anything.
CBC
Canal+ France
ZDF
Fox TV
Netflix
We had to try several servers to watch Netflix.
---
Access in censored areas
Like most of its competitors, Hide.me does not guarantee to work in highly censored countries like China or Russia. However, you can try the manual configurations on your device.
---
Support
Hide.me claims to provide 24/7 support via Live Chat, Tickets, Knowledge Base, Email, and Community but is that really the case? We could not find any links to the live chat. On the home page, they use a contact button but it's just a Zendesk client and they reply to you via email.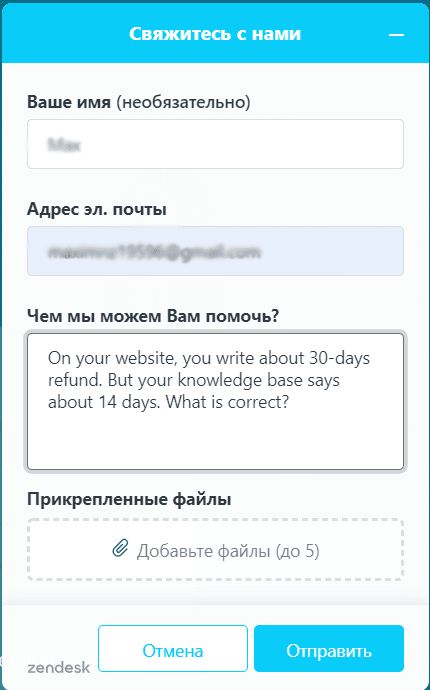 You are also able to open a ticket and ask them any question. The community is a forum with informative discussions – you're able to find a lot of useful tips there. The knowledge base includes a lot of information grouped by similar topics. It provides quite a lot of details but some information is a bit outdated. We are sure they must pay more attention to that.
We asked them several questions:
On your website, you write about a 30-days refund but your knowledge base says 14 days. What is the correct option?
In your Google Chrome extension, I could not find any ability to sign in to my account. So, I can use only the free locations. Is there any chance to solve this issue?
You write about support via live chat. Could you help me find a link to it? It is not available anywhere.
We created separate tickets. For that, we opened the Help page and clicked on Open a ticket button. We selected the topic and entered our requests. We got a reply to each message in less than an hour. They were informative and clear. It's quite good but with live chat, it could be better.
---
Refund
If for any reason you do not like the service, you can contact the support within a month and ask for a complete refund. They do not ask any questions and send a refund very soon. Depending on your payment method, the money will be back in your account in up to 10 days. We did not have any problems with the refund and got our money back in a few days.
---
Hide.me Pros and cons
Pros:
A variety of supported protocols.
Zero logs.
Great apps for most platforms.
Good connection speed.
Free plan.
Cons:
Small server infrastructure.
Not all streaming platforms supported.
Quite expensive.
Missing live chat
---
Conclusion
If you need a VPN with good connection speed, a variety of supported protocols, applications for every platform, and zero logs policy, Hide.me will be a good choice. However, if you are on a limited budget, there are more attractive solutions.