Are you looking for the best residential proxy providers for web scraping or any other project? Then take a look at the recommended services below and make sure to read the FAQ to find out more about what to use.
1. Best residential proxy providers in 2021
1.1 Storm Proxies – Cheapest residential proxy provider
Storm Proxies is the smallest provider of rotating residential proxies in this list with a network of about 70 000 IPs, but that doesn't make it the worst! They are in fact our best choice for rotating residential proxies for only $19/month which is perfect for beginners. I have reviewed their service with good results. You can read it here. Please note that these work on sneaker sites, but not Ticketmaster! Bear in mind that Storm Proxies only offers PayPal as a payment option and they have a limited number of IP locations.
Get a 15% recurring discount on your purchase by using the promo code "PRIVATEPROXYGUIDE15OFF".
1.2 Smartproxy – Great residential proxies for getting sneakers
Smarproxy has the best residential proxies for copping sneakers and other shopping bots. Their prices are affordable too with their micro package from $75/month. Smartproxy is the most beginner-friendly residential IP provider given their helpful guides and relatively cheap starting packages, and that is why they have earned our top spot on this list of residential proxy providers. However, their IP-pool is not as large as our 2nd choice below which is more business-oriented.
Don't forget to read my Smartproxy review.
Get a 20% discount on initial payment by using promo code "PPG20OFF".
1.3 Luminati – Good residential proxies for web scraping
Luminati has the best residential proxies for businesses and mid-to-large size corporations. Their IP-pool is huge and they have a lot of ways you can integrate their proxies with your software. Why not use their 4G mobile proxies for Instagram? Luminati is also the ONLY service to offer static residential proxies! The only downside is their relatively high price, but that's expected by a premium service like Luminati. It's worth it if you run a business and really just want "the best" and don't mind paying for it. You can read my review of Luminati here. They also have an excellent TrustPilot score of 4,6 and many positive customer reviews praising their excellent customer support and quality proxies. What I also like about them is their API which makes it easy for developers to use their proxies in your software. You can't go wrong if you select Luminati for your proxy needs. They get their proxies from the Hola network. There are 223 countries, 26,846 cities, 11,748 ASNs, 592 mobile ASNs available at the moment.
Don't forget to read my Luminati review.
1.4 Oxylabs – Great residential proxies for business use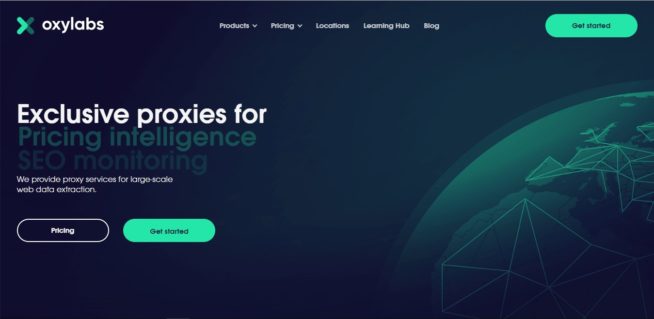 With a TrustPilot score of 4,7, you know that Oxylabs is a great service. They offer an enterprise-grade residential proxy network for large scale operations. Almost all customer reviews of Oxylabs tell about their great support, so expect to get good help for anything complicated related to using their proxies. What I also like about Oxylabs is that they have a huge selection of different products that most other providers don't have, for example, they offer static residential proxies and SOCKS5 proxies. Their packages start at $300/month which can be expensive for some uses. They have more than 30 million IP proxies owned by real Internet service providers in almost every country in the world. They do have a free trial and all plans are based on traffic usage.
GeoSurf offers some of the best rotating residential proxies for SaaS-services in need of many IPs. They are successfully used by SEO-companies and digital agencies in need of proxies for ad-verification. GeoSurf offers around 199 geographic locations, including Canada, the USA, Mexico, Argentina, Colombia, Brazil, Germany, Thailand, etc. It provides the best service for proxy servers working within multiple countries. They have built-in IP rotation which provides high performance and wide opportunities for all types of business activities. This helps users send any number of parallel requests through their IP addresses, which are verified and work consistently, without the risk to be blocked. GeoSurf is very programmer-friendly, as examples of its code are provided for the API in all of the supported programming languages. GeoSurf has a convenient dashboard to monitor all the statistics. GeoSurf is a bit overpriced — the basic plan starts from $300.
1.6 The Proxy Store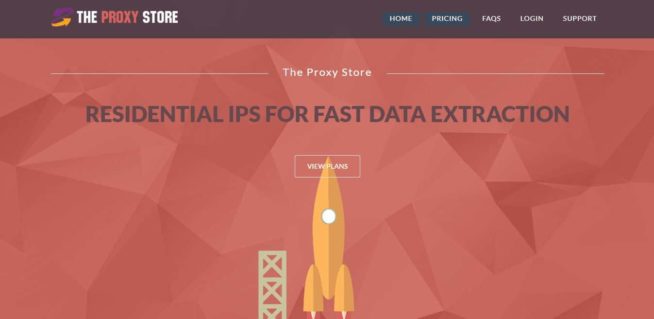 The Proxy Store is a backconnect residential proxy provider (2nd on our list). They offer packages similar to Storm Proxies, but their starter package is more expensive and they don't sell ports but instead a limited number of residential IPs per package which is "too little" since you usually want to change IPs during a certain time interval. They offer IPs from almost every city in the world. The company does its best to offer as much diversity as possible. The pool consists of proxies from around the globe.
1.7 Microleaves
Microleaves is not one of the best residential proxy providers, but they are worth mentioning as they have a large advertised pool of IPs, but their service has a bad reputation online related to slow/bad proxies which is why it's almost last on this list. I would advise trying another service before this one. Microleaves offers a 3-day money-back guarantee. Backconnect proxy servers use various proxy servers such as HTTPS, HTTP, Socks4, and Socks5. They provide more than 26 million IP addresses and work rapidly. They also help change the IP address every 5 minutes so that the user is protected and hidden. Microleaves offers various pricing plans with 25, 50, 100, 250, 500, 1000, 2000, 3000, 4000, and 5000 proxies included. Microleaves is the ideal choice for data mining and scraping. The proxy location can be easily selected from the control panel. The location can also be selected using the API. One drawback is that they only offer expensive packages.
1.8 NetNut
NetNut has great residential proxies for web scraping and SaaS-services. They also have a good reputation. They have their own network for better security and performance. Their simple and convenient control panel provides real-time access to all statistics via simple API. NetNet offers support via TeamViewer. They also have a 7-days free trial period. One drawback is that you can not select a specific city. There is also no IP whitelist. There is also no SOCKS support.
2. FAQ
1. What are residential proxies?
Residential proxies are "borrowed" IPs from private consumers (homeowners). These IPs are usually acquired from end-users of software who have agreed to let their device serve as network nodes. There are two kinds of residential proxies – 3G & 4G mobile proxies and "regular" residential proxies. Both can be used in a mix in order to achieve a "natural" traffic footprint.
2. What are rotating proxies?
Most proxy providers can rotate IPs at set intervals – such as every 5 minutes or assign a new IP for every new request. Residential proxies with rotation can reduce the risk of getting captchas and other blocks during web-scraping.
3. Why are residential proxies better?
Normal datacenter proxies are more easily detected and banned because their IPs are seen as located in datacenters (not from real home users). Residential proxies look more natural since the IPs come from real ISPs such as Verizon and Comcast.
4. When should residential proxies be used?
Residential proxies should be OK for most usage scenarios where the service you are going to use it on expects residential IPs (traffic from private consumers) such as on shopping sites using bots or for ad-verification. Rotating residential proxies with API-access is also great for scraping sites such as Reddit or running your own SaaS-service.
5. What to think about when using residential proxies?
Be mindful of how you select geo-locations for your proxies. Some sites require IPs from the same city. It is common for sites to throw red flags and lock you out if you for example login to your account from Miami and then after 10 minutes login from New York. So, make sure that you select a residential proxy provider with city-level targeting.
6. Are there any downsides to using residential proxies?
Connecting to a residential proxy usually involves higher latency compared to using datacenter proxies.
Most of the proxy services rotate IPs at set intervals which means that there is a low chance that you get the same IP again. If having a static IP is a must, then this can cause problems. It is usually better to use a static IP for account creation and managing accounts on different sites, such as Instagram. There are services such as Luminati that offers dedicated residential IPs that you can use for this purpose.
Residential proxies packages are paid based on traffic used (compared to paying based on IPs used for datacenter proxies) which may become expensive if you use a lot of bandwidth.