The digital space is growing exponentially along with the proxies to bypass censorship, and access stonewalled information.
Similarly, if you run web-scraping software or do tool-based market research, data-center-based proxies may not be enough. They are already on the blacklist of most servers, disrupting your work.
We can overcome this problem by switching to residential proxies. They are connected to real IPs belonging to a residential address which are least likely to be blocked.
On top of that, your traffic routes through the ISP and is cloaked by a different identity. Using a residential proxy server, you can be John from New York but appear as Matthew from Australia online or any other identity through user selection.
So the question arises, where do we find such proxies to get started? Look nowhere else as we have compiled a collection of the best Residential proxies available.
1. Best Residential (ISP) Proxy Providers in September 2023
| | | | | |
| --- | --- | --- | --- | --- |
| Proxy Provider | IP Pool | Price Starts at | Proxy Protocols | Geo-Targeting |
| Smartproxy | 40 million+ | $75/month+VAT | HTTP(S) | Up to Country Level |
| Nimble Proxy | 100 million+ | $255/month | HTTP(S) | Up to City Level |
| Oxylabs | 100 million+ | $300/month | HTTP(S) | Up to Country Level |
| Storm Proxies | 40,000+ | $50/month | HTTP(S) /SOCKS5 | Up to Country level |
| Bright Data | 72 million+ | $300/month | HTTP(S) /SOCKS5 | Up to Country Level |
| Shifter.io | 31 million+ | $249/month | HTTP(S) /SOCKS 4 and 5 | Up to Country Level |
| Soax | 8.5 million+ | $75/month | HTTP(S) /SOCKS5 | Up to City Level |
| Proxy-cheap | 7 million+ | $4/GB | HTTP(S) /SOCKS5 | Up to Country Level |
| Proxyrack | 5 million+ | $49.50/month | HTTP(S) /SOCKS5/UDP | Up to Country Level |
| IPRoyal | 10 million+ | $3/GB | HTTP(S) /SOCKS | Up to City Level |
| Geonode | 2 million+ | $47/month | HTTP(S) /SOCKS | Up to City Level |
– Great residential proxies for getting sneakers
Proxy type – Rotating IPs (Residential)
Proxy Network size – 40 million plus
Proxy Protocol – HTTP(S)
Here we have a rotational residential proxy which makes it practically impossible for the receiver servers to identify your location, personal information, or traffic patterns. With over 10 million rotating proxies, never get detected, blacklisted, or blocked by any network server or application.
There is no free trial apart but a three-day money-back guarantee if things go south.
Features
IPv4 Proxies
IPv4 proxies represent real devices with the IPv4 address. On the Internet, they are the most widely used protocol for communication involving two or more devices. Here it cloaks and changes your IP to its own address, thus hiding your identity online.
Backconnect Proxies
Connect countless times to a residential proxy pool before connecting to the Internet. On top of that, the network proxy keeps on shuffling between different proxies on each request, keeping an IP for a predetermined period of time.
Unlimited Proxy Requests
Scrape data with ease and efficiency using the unlimited proxy connections topped with no cap on rotating proxies. Switch as many residential proxies as you want while using any bots, applications that are put to task. This is not all; using their automated bots, Sneaker bots, you can get an edge over other shoppers in making purchases during an online sale.
No Subnetworks
Generally, a group of proxy IPs is related, being hosted on the same server. On some occasions, they are on the same ISP. In a nutshell, a network within a network defeats the purpose as servers might detect a proxy. Smartproxy does not use shared proxies, and all the Residential IPs are unique to their device.
Advanced documentation
Whether you are a newbie who is just starting out or a seasoned professional in the field, documentation is tailored for each experience group. The guides and tutorials are explained well and can be followed without requiring assistance.
Pricing
Start with the Micro plan that charges $75+VAT/month with a 5 GB traffic limit. The price per GB is $15 after the initial quote is exhausted.
Smartproxy
Pros
IPv4 and HTTPS
Cheaper than competitors
Top-notch scrapping performance
Diverse session controls
Sticky Proxies
Cons
Support can be far better
City-specific proxies are not available apart from 8 options
No free trial
Get a 20% discount on initial payment by using promo code "PPG20OFF".
– Great affordable solutions
Proxy type – Rotating IPs (Residential)
Proxy Network size – 64 million plus
Proxy Protocol – HTTP(S)
Nimbleway is a new player in the game with blazing-fast residential proxies in many countries worldwide. This company takes pride in having a well-thought-out interface coupled with data-scrapping capabilities that you can take advantage of at any moment.
Compared to some of its competitors, it's extremely affordable and offers full API functionality along with up to 150 pipelines depending on the subscription plan. Nimbleway also offers a 30-day refund policy for all plans.
Features
Nimble API – Nimble API allows you to scrape the web for relevant data for your website or business. Aside from web scrapping, you can engage in SERP, E-Commerce, or Places scraping which gives enough variety for efficiently pulling out the information you want.
Nimble IP – Nimble IP is a feature for obtaining several types of proxies. The company offers blazing-fast residential proxies but also ISP and Data Center proxies with the ability to choose the port range as well as the location of the proxy.
Nimble Browser – This provider has a web browser which is part of its intuitive web-based interface. It's faster than a conventional browser and offers Fingerprinting technology to prevent hackers and snoopers from tracking your online activities and endangering your privacy.
Full API Control – Nimbleway allows for full API control when scraping data online. You'll get a sample code that you can edit and optimize to meet your needs in terms of scraping and acquiring bits of information you need.
256-bit Encryption – To make things better, each API request is encrypted with AES-256 encryption with decryption keys stored on separate machines. This service, therefore, takes the utmost care of your privacy and security.
Pricing
Nimbleway's pricing starts at $255/mo for the annual Essential plan. Its Professional plan is the best value at $935/mo for the annual variant and gives you real-time alerts, unlimited concurrent requests, and advanced session control.
Pros
One of the most affordable solutions
Very easy to use
Web scrapping is very efficient
Nimble Browser is reliable and secure
It offers ISP and Data Center proxies
Unlimited concurrent sessions with the Professional plan
Cons
Customer support could be more responsive
– Good Proxy Provider for Large IP requirements
Proxy type – Rotating IPs (Residential)
Proxy Network size – 100 million plus
Proxy Protocol – HTTP(S)
Oxylabs is amongst the pioneers of the residential proxies industry. Talking about its geographic cover, all the countries are covered, with most cities in the world. You can also target areas by ASNs. On top of that, you get a dedicated tool for data retrieval.
There is a 7-day trial in which you have the money-back guarantee with no questions asked.
Features
Scraper APIs
Building upon the next generation APIs, you can crawl e-commerce and Google websites by deploying the API. All the data will be returned in HTML or JSON (structured). It even has a real-time captcha bypasser for seamless data scraping.
Largest Residential IP Proxy
No other residential proxy provider has an IP pool anywhere as big as Oxylabs. The 100 million-plus real IPs are sourced from people who sell their traffic bandwidth or via partner apps.
Intuitive Dashboard
The dashboard consists of five distinct sections, which are further divided into several sub-sections. The first one is for the overview, three are for proxies, and the last one is for your account. An account manager is at your disposal through the button given at the bottom.
Optimized Chrome extension
Take advantage of the Chrome extension, which is available for residential proxies as of now. The extension goes by the name of Oxylabs Proxy manager, which can be downloaded from the Chrome store. It also allows adding proxies from other sources.
Easy Integration Public APIs
Manage your residential proxies either through the dashboard or automate the process by deploying the Public API. It can be integrated with third-party software using developer-friendly documentation to guide you through.
Pricing
Oxylab's basic plan will set you back by $300/month, offering 15 GB of bandwidth bundled in the plan. Post the quota, and you will be charged $15/GB.
Pros
Country and ASN filters
Largest Residential proxy pool(100M+)
Specialized tool for real-time crawling
Dedicated account manager
Unlimited concurrent connections
Cons
Lacks pricing options for budget customers
Huge monthly financial commitment
No browser extension for Firefox
– Cheapest residential proxy provider
Proxy type – Rotating IPs (Residential)
Proxy Network size – 40,000 plus
Proxy Protocol – HTTP(S) /SOCKS5
Offering comparatively a fraction of proxies, Stormproxies banks on their robust and consistent service. All the servers are located in the USA and Europe alone, throwing Geo-targeting out of the window. However, if you are targeting the two regions, then this would work out the best.
Features
Unlimited Bandwidth
No hidden costs, limits on the bandwidth. Go all guns blazing with your web scraping bots without worrying about the data balance. All the plans have the same policy on the bandwidth.
High Speed Across the Network
You get a consistent speed of 1 Gbps across all the IPs, irrespective of the proxies the users are deploying. They have decent scraping performance, along with an average response time.
Three and Fifteen Minute Proxies
The new IPs are delivered every five minutes. You can set the three or fifteen-minute proxies according to your requirements. Short-term duration is suitable for browsing and casual use, while longer sessions are ideal for other automation works.
Fastest Money-back guarantee
When you don't like the service, the wisest thing is to ask for a refund. Stormproxies excels here by providing money back in 2 hours on some plans while 24 hours on others.
Simplified Interface
Following the minimalistic user interface has made it easier for newbies, beginners to use the residential proxies. Login to your account, select a node, and the rest will be taken care of by the service, rotating the IPs on the interval.
Pricing
You can subscribe to the cheapest plan, starting at $50 a month. It comes with five ports of residential proxies, with an option of $10 per extra port.
Pros
Economical residential proxies
2-hour money-back guarantee
Flexible pricing
Easy-to-use UI
Excellent customer support
Cons
NO username and password authentication
Smaller IP pool
Limit Geographical targeting
Get a 15% recurring discount on your purchase by using the promo code "PRIVATEPROXYGUIDE15OFF".
(Formerly Luminati) – Good for Web Scraping
Proxy type – Static and Rotating IPs
Proxy Network size – 72 million plus
Proxy Protocol – HTTP(S) + Socks5
Beginning with the residential proxy with the larger proxy network, Bright Data reigns in the industry. Formerly known as Luminati, you will find it ideal for web scraping and datasets management. We get a free 7-day trial with a decent amount of balance to test drive the service.
After verifying the email, we landed in the dashboard with a friendly tutorial to get started. Apart from web scraping, they also offer image extraction, ISP, and Mobile proxies.
Features
Rotating Proxies
Users can either choose a static IP or go with the rotations, which are not capped on Bright data. Rotating proxies help in evading censorship and blacklisting by servers. Furthermore, they are used in cloaking locations to access region-restricted websites, servers, and other services.
Unlimited Concurrent sessions
Run multiple sessions for running exclusive campaigns without worrying about hitting the sessions cap because there is none. You can set it on various servers and run them simultaneously on different machines. Be wary of the bandwidth while running multiple sessions, as it gets used up pretty fast. You can always take the custom or higher plans with unlimited data offered by default on a shared IPs plan.
Proxy manager
Manage all your proxy at once with detailed metric logs. Monitor and browser all requests through the dashboard. Also, set regex and custom rules to regulate traffic, bandwidth. It is available for both as a standalone client on PC and servers as well. With its wide use case ranging from price comparison to ad-verification, you will find its utilities beyond expectations.
Switchable IPs
Shuffle through various IP types – shared, data-centre, residential, and mobile 4G IP with a click of a button. There is no restriction on switching to any of the offered IPs. The billing cycle will be adjusted according to the switch.
Most Extensive Coverage
Want a residential proxy with IP from the most remote country you know? Bright data has an IP from that location, with the broadest courage of 195 countries, literally the entire world.
Pricing
The cheapest would be with the starter plan that starts at $300/month with $15/GB for every additional Gigabyte of data outside the allotted balance.
Bright Data
Pros
Most comprehensive network coverage in the industry
Unlimited concurrent sessions
No limits on switching IPs
Easy to integrate on a server and through APIs
Centralized dashboard for managing proxies
Offers static IPs
Cons
Pricier than other residential proxies
Implementation requires a wider learning curve for beginners
Documenting is confusing at times for first-timers
– Good Proxy for Ad verification
Proxy type – Rotating IPs (Residential)
Proxy Network size – 31 million plus
Proxy Protocol – HTTP(S) /SOCKS 4 and 5
Formerly Microleaves, Shifter has been in the market for a considerable amount of time. Catering to large business and ad campaigns, offering excellent data scraping service with "normal" looking IPs. They are amongst the bigwigs of the industry, standing tall with Bright Data and Smart Proxy.
The rotation duration for Residential IPs is 5 mins and can be reduced according to the requirements.
Features
Blazing Fast Connection
You will never max out the server-side speed with the 1 Gbps connection offered by Shifter. Upload and download large files in a blink of an eye without a second thought.
Build Automation Around Proxies
Backed by the reliable APIs, build automation around adding authorized IPs along with random rotation. You can find the entire tutorial on creating scripts Using the API connection.
Unlimited Bandwidth and Connections
Shifter.io doesn't have any cap on the bandwidth and the number of concurrent connections. The starter plan has 10 Backconnect proxies, with each node offering 100 different IPs each at a time. Depending upon your configuration, you can assign an unlimited number of connections tied with different IPs, which are rotated every 5 mins or less.
Accessible Advanced Panel
Unlike most residential proxy panels, Shifter keeps it concise and simple to use for different user groups. Billing has an exclusive tabbed section, keeping the financial numbers away from work at hand. Coming back to the panel, you have the usage stats, IP blacklist/whitelist, and more on the same screen without requiring clicking on different buttons.
Instant Scaling
When you are running a campaign that is gaining traction exponentially, the vital proxies mustn't give up midway. Scale up your campaign instantly without waiting for formalities.
Pricing
Shifter.io has a basic plan that offers 10 Backconnect proxy ports, costing $249/month. Increasing ports will double the price at a fixed rate.
Pros
Affordable Proxy packages
User-friendly dashboard
Supports a large number of social media sites
Wide apps integration
Flexible APIs for proxy automation
Cons
Bugs take time to get fixed
Less visual customization options
No city-based targeting in the basic plan
– Good Proxy for Advanced Geo-Targeting
Proxy type – Rotating IPs (Residential)
Proxy Network size – 8.5 million plus
Proxy Protocol – HTTP(S) /SOCKS5
A lot of the Residential proxies offer country-based IPs, and some even go one step with their higher plans offering cities. Soax starts from there, offering not only country, regions but cities, ASN. You can rotate IPs anywhere between 90 seconds to until they become unavailable.
A paid trial with 100MB data at $1.99 can be available before subscribing to the plan.
Features
Precise Geo-Targeting
Most proxy services max out on countries alone, leaving cities untapped. Soax goes one step further with its city-specific proxies along with ASNs to keep it genuine.
A large number of Ports
The basic plan itself offers 300 ports to start the campaign with unlimited concurrent sessions. It provides ample room for someone beginning from scratch without burning a hole in the pocket.
Dedicated Browser extensions
There is no need to install any desktop app for using the proxies. Take advantage of the dedicated extensions available for all the leading web browsers. Add the extension, login, and blacklist your IP to start working on a project.
Strong Authentication
Every Soax proxy requires authentication, and they offer two ways to do that. The first involves using the IP whitelist, which can be done from the browser extension as well. The second way is classic, using your login credentials.
Node Accessibility
You may need static IPs belonging to specific residential locations on a long-term basis. Reserve access to specific residential devices and send requests from the same IPs on a recurring basis.
Pricing
Soax has a basic plan that offers 300 ports, costing $75/month with 5 GB bandwidth. Increasing ports will get you an increment on the ports
Pros
Advanced Geo-targeting
Static IP reserve
Flexible pricing
Dedicated browser extensions
Reliable customer support
Cons
Servers have slower response times
Limited data bandwidth
Lack of in-depth Knowledge articles
– Good Proxy on the Budget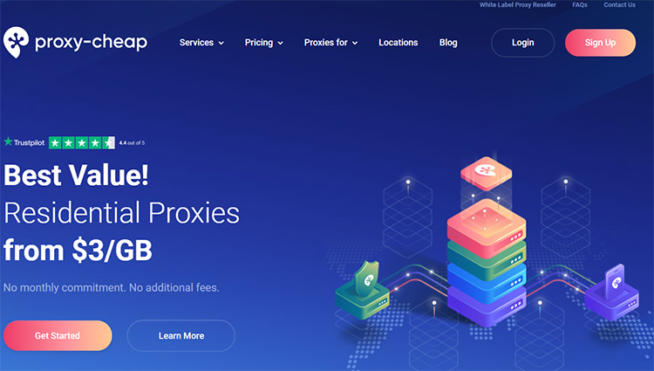 Proxy type – Rotating IPs (Residential)
Proxy Network size – 7 million plus
Proxy Protocol – HTTP(S) /SOCKS5
Generally, a residential proxies plan requires a monthly commitment which runs into hundreds of dollars. This makes it infeasible for a larger consumer base because of their shoe-string budget, possibly just starting out. Proxy-cheap lives up to the name by offering plans with prices per GB instead of a monthly charge.
Features
Instant Deployment
Purchase data and hit the road within 90 seconds with a residential IP address. Use the IP generator to get the address fast without manually entering any of the information.
Long IP durations
The static IP sessions can last for at least 30 minutes and until the servers are restarted. Configure them according to your campaign needs and rotate them when the need arises.
Bypass Captchas with Ease
Captchas are there to obstruct your automated web scraping, mass queries, and other works. Proxy-cheap uses the CapMonster, an automatic captcha recognizing service that helps you effortlessly bypass them.
No Monthly-monetary commitment
Based on the pay-as-you-use model, there are no monthly recurring fees or charges to make a hole in your pocket. Purchase data in Gigabytes and the rest is taken care of by the company. Access the entire IPs pool and every feature offered.
Fantastic Customer Support
Starting with their sales support, they take extra during your billing process. Many users have commended the company to change the plans after purchase or issue a full refund if you change your mind.
Pricing
Start with $4/GB, and it gets economical as you purchase additional GBs. There are no monthly recurring fees, as we have already discussed.
Pros
Budget-friendly
Advanced captchas bypass mechanism
Flexible pricing
Dedicated browser extensions
Reliable customer support
Cons
Refund policy is rigid
No city-specific proxy
No web-browser based extension
– Good Proxy for Social Media Projects
Proxy type – Rotating IPs (Residential)
Proxy Network size – 5 million plus
Proxy Protocol – HTTP(S) /SOCKS5/UDP
Now we have an underdog at our hands. Proxyrack is amongst the most promising residential proxies that have sprouted in the last couple of years. They specialize in social media-based proxy needs, compatible with all major platforms such as Skype, Instagram, Facebook, Gmail, and Telegram, amongst others.
Features
Auto Replace Proxies
With over 5 million proxies in the pool, it is natural to have some go bad without warning. Proxyrack system monitors and replaces them automatically without hindering the user's project.
Better Rotating Intervals
Set the rotation intervals between 3 to 30 minutes, ideal for different use cases. The IPs will change automatically like others but only after the time set up by you.
Exclusive Unshared IPs
Get an exclusive unused and unshared IP when you subscribe to Unmetered plans. These IPs are not used by other users or companies are reserved for customers subscribing to specific plans. They have the lowest chance of getting blocked.
Longest Money-back guarantee
Use the residential proxies for up to two weeks and if you are not satisfied, ask for a no-question refund on your order. It will be processed within 24-48hours.
Option to Pay Per GB
Some of their metered plans can pay per GB of data used instead of subscribing to a monthly quota. Pay a monthly fee of $49.95 and then pay per Gigabyte of data used after exhausting the initially provided credits.
Pricing
Premium residential proxies plan with metered bandwidth will cost you $49.95 with a pay-per-GB data usage model. You can pay 15 more and get the unmetered plan with unlimited data.
Pros
Unlimited Bandwidth for Cheap
Extensive Protocols compatibility
Pay in Cryptocurrency
Long period for a refund
Bad Proxies are replaced automatically
Cons
Limited Geo-targeting
High latency on few IPs
No specific use case proxies
– Good Proxy for Online IDs creation
Proxy type – Rotating and Static IPs (Residential)
Proxy Network size – 10 million plus
Proxy Protocol – HTTP(S) /SOCKS
IPRoyal has been under the radar, and you wouldn't see its advertisements everywhere. Their service performs exceedingly well, offering both IPv4 and IPv6. Just like Proxy-cheap, there is no monthly monetary commitment to make your pocket lighter every month. Pay for what you use and nothing more.
Features
Genuine IPs used by Real Users
IPRoyal has a Pawns program that lets users earn money by sharing their Internet simply by sharing the connection. This way, they get real connections with unique IPs of genuine users. Users install the application on their device and let it run in the background.
City-level targeting
Go the last mile with geographical targeting and leave no stones unturned. Target every corner of the world with a large pool of IP, not leaving behind any potential region.
Any Legal Site Allowed
As long as the website is legal, there is no restriction on employing the proxy on it. You can deploy multiple proxies on a site without any hindrance. The APIs can be added to the mix as well when required.
Long Sticky Proxy Session
Stick with the same residential proxy sessions for up to 24 hours on the same IP address. You can set the period according to your project needs and enable IP rotation as well.
Proxy SwitchyOmega Support
SwitchyOmega is a versatile tool for managing all your proxies with specifically defined rules. It can be set up on Firefox and Chrome within minutes.
Pricing
There are no monthly plans as we covered earlier. The charge is $3/GB with a cancel anytime policy. All the features are at your disposal including the growing IP pool.
Pros
Pay as you use model
Ever growing IP pool
Long sticky proxy sessions
City-level geo-targeting
Deploy on any website
Cons
Speeds are slower than peers
A smaller pool of residential IPs
Customer Support is not up to the mark
– Good Proxy for Price Comparison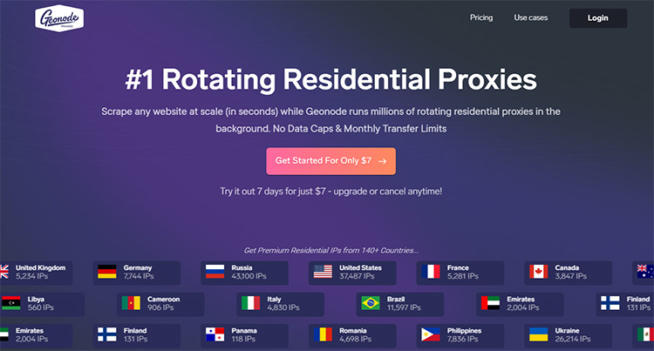 Proxy type – Rotating and Static IPs (Residential)
Proxy Network size – 2 million plus
Proxy Protocol – HTTP(S) /SOCKS
Geonode offers residential proxies without a ton of limits to bog you down. Dive into the 2 million exclusive IP pool and enjoy the unlimited bandwidth without any interruption. There are, however, charges on the number of threads (connections) which can be run simultaneously, with the mini-plan offering 10 threads. There is no free trial, but you can try it for a week by paying $7.
Features
Pay by the number of connections
There is no cap on the bandwidth or the IPs accessed. You can rotate them at your will without any restriction. The IPs can be rotated on automation and controlled using the API as well.
Easy Integration API
The developers will not need to pull their hair out while integrating the APIs. With special attention to deployment, it is incredibly easy and has sizable documentation to walk you through it.
Dual Authentication
Geonode supports both forms of authentication. You can use username-password or rely on IP authentication. Up to 20 IPs are allowed on the whitelist.
No Data logs
No logs of your information and data are kept on the servers. Your activities using the proxies are not left, neither recorded nor stored anywhere. This helps ensure umpteen privacy for your residential proxy usage.
Bulk Country Targeting
Target a specific country by using the proxies from there and ignoring the rest. You can do that by configuring them from the IP Gateway page, under the rotating ports section.
Pricing
You can start with the most basic plan, which costs $47/month, offering 10 CPU threads to work with. The rest of the offerings and features are the same across the plans.
Pros
Cheapest in the monthly pay model
Excellent API integration
Bulk target country
Good location coverage
Dual authentication
Cons
Fewer threads offered
No browser extension
IP generator is buggy
2. Residential Proxies FAQ
2.1 What are residential proxies?
Residential proxies rely on the IPs from real home users with their consent, allowing their devices to be used as the network nodes. There are two types of residential proxies – Mobile Proxies and standard residential proxies. Either of them can be used for residential IP requirements, but the formers are generally slower in speed.
2.2 What are the cons of using a Residential proxy?
They are generally slower than the regular data center-based proxies, offering high latency and lower speeds. Your proxy speed relies on a connection by the ISP of the homeowner. Any problem there will directly hamper your experience.
Good sticky and static IPs are often reserved, and the ones you like may not be repeated, giving the million size pool offered by most services. It is better to use a service with an IP reserve feature.
Residential proxies are comparatively expensive to use. They charge by the gigabytes, and the bills often run into hundreds or thousands of dollars if not appropriately managed.
2.3 What are rotating proxies?
Rotating proxies are a feature that lets the users change the IP address after a specific interval. It is usually done automatically, which enables bypassing captchas and web-scraping campaigns with minimal block or blacklisting.
2.4 Is it legal to use proxies?
Using proxies for legal activities is allowed in virtually all regions across the world. Unless there is regional censorship with strict regulations, using proxies wouldn't be an issue at all.
2.5 What to look for in a Residential proxy?
The size of the IP pool will help in IP rotation.
Geographical coverage of the network, consisting of the countries and regions which you want to target.
The speed of the proxies will determine the time required for my operations.
Lower cost per GB for plans with metered bandwidth.
API integration for server deployment for large-scale projects
2.6 When should residential proxies be used?
Residential proxies should be OK for most usage scenarios where the service you are going to use it on expects residential IPs (traffic from private consumers) such as on shopping sites using bots or for ad-verification. Rotating residential proxies with API access is also great for scraping sites such as Reddit or running your own SaaS service.
2.7 What to think about when using residential proxies?
Be mindful of how you select geo-locations for your proxies. Some sites require IPs from the same city. It is common for sites to throw red flags and lock you out if you for example login to your account from Miami and then after 10 minutes login from New York. So, make sure that you select a residential proxy provider with city-level targeting.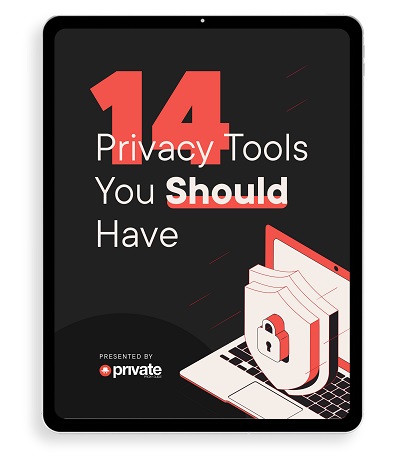 Learn how to stay safe online in this free 34-page eBook.