Have you looked at the choices available when it comes to choosing a Usenet provider? There is such variety that it appears daunting to pick on one particular provider. Therefore, I have simplified that hunt for you.
NOTE: Stay safe while on Usenet by encrypting your traffic with a VPN. See my list of recommended VPN services.
1. Best Usenet providers in September 2023
So, here is a list with comparisons of the 8 best Usenet providers in 2023 to consider.
Usenet provider
Price/month
Features
Visit
UsenetServer
$7.95
14-day free trial
4559 Days Binary Retation
Zero Logs VPN included
Free Unlimited Search
PayPal
Visit »
GigaNews
$8.33
14-day free trial
3 Years Binary Retation
VyprVPN VPN included
100 connections
NO PayPal
Visit »
NewsGroupDirect
$6.25
NO free trial
3500 Days Binary Retation
Ghost Path VPN included
100 connections
PayPal, BitPay, WorldPay
Visit »
Eweka
€7.00
7 day free trial
4556 Days Binary Retation
NO VPN
50 connections
PayPal
Visit »
EasyNews
$9.99
14 day free trial
4559 Days Binary Retation
Free Zero-log VPN
60 connections
150gb/month
PayPal
Visit »
NewsHosting
$8.33
14 day free trial
4559 Days Binary Retation
Free Zero-log VPN
60 connections
PayPal
Visit »
TweakNews
€9.07
10 day free trial
4200 Days Binary Retation
Free Zero-log VPN
60 connections
PayPal
Visit »
NewsDemon
$4.00
15 day free trial
3002 Days Binary Retation
Free Zero-log VPN
50 connections
PayPal, Bitcoin, SEPA
Visit »
1.1 UsenetServer – Overall Best Usenet Provider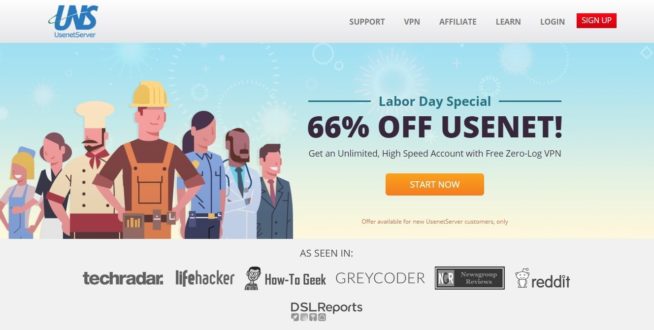 UsenetServer comes with a convenient 14-days free trial option. Therefore, you get to explore the core features and the interface before you finalize that you would go with the provider. The retention of 4037 days offered by the provider is one of the best in the segment. Some plans help you combine the security benefits of a VPN and thus enhance your privacy features.
This is also an easy to use software-based VPN that you can personalize based on your web requirements. This provider delivers more than 99% of completion rate which is a plus for users with intensive applications reliant on it. There are convenient monthly and annual subscriptions available at $10 per month and $7.95 per month respectively. This is also one of the most recommended Usenet providers on Reddit and Quora.
Pros
The UsenetServer has access to more than 800 broadband servers allowing it to boost the connection speeds.
The reliability of the download speeds offered by this provider is one of its strongest traits.
The search option offered with the plans works responsively and accurately.
Monthly, as well as annual subscriptions, offer unlimited downloads and SSL-secured connections.
On the whole, considering the features provided, this is one of the most reasonably priced service providers in the market.
Cons
This is more suitable for those with multiple requirements from their Usenet services.
The Zero-log VPN costs an extra $4.99 per month for those opting for monthly plans.
1.2 GigaNews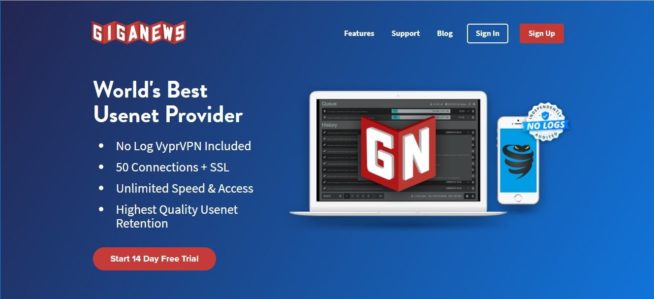 GigaNews offers services for internet providers as well as for individual users. If you have a large budget and if you need something that offers everything that you need from a Usenet provider, look no further than this. Like the UsenetServer this one also offers a 14-day free trial period. There are two categories of plans limited plans and unlimited ones.
Here is the pricing pattern for the plans-
Limited plans
Pearl – $4.99 per month
Bronze – $9.99 per month
Silver – $14.99 per month
Unlimited plans
Diamond – $21.99 per month
Platinum – $19.99 per month
The basic Pearl plan is a good one to start with, but it provides only a 30 days retention with the plan. It also comes with limited features like 5GB monthly access. The other limited plans are better choices if you need 3-year retention and higher monthly storage access. The VPN services are not included with the limited plans. If you are looking to club the VPN subscriptions with the Usenet plans, then you need to choose the expensive unlimited plan where you get access to VyprVPN.
Pros
The customer service offered by this company is quite impressive. You get prompt responses no matter what your query is and the lines are open round the clock.
From the basic plans to the most advanced ones, all of them come with 256-bit SSL encryption to help with more secure connections each time.
The retention quality is dependable for all the plans from this provider.
Cons
The basic plan is not a very practical option considering the limited number of features. Therefore, you would have to spend a lot more money per month than with other Usenet providers.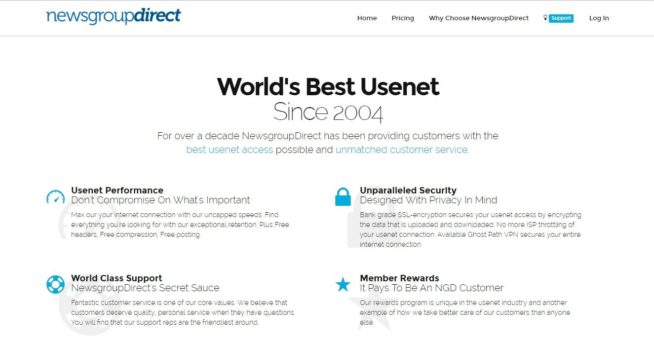 Newsgroupdirect claims to be one of the best Usenet providers and has a reputation for offering reliable Usenet services since 2004. It is particularly known for the unlimited speed attainable with the connections and the reasonably priced plans offered.
Here are the 3 plans you can choose from-
Monthly – $7.95
Half-yearly – $40
Annual – $75
This one offers a 15- day or 15 GB money-back guarantee option wherein you can ask for a refund if you are not satisfied with the features offered. With great customer support to back up the features, this one also offers reward programs for the Usenet users who signup.
Pros
The effective monthly spend is only $6.25 per month if you choose the annual plan. This is one of the most affordable options in the segment.
The binary retention rates on this one are very good. This is particularly useful for those who are looking for long term retention of numerous messages.
The account information page is very informative when it comes to tracking the usage patterns. This also helps you decide whether you should choose a different plan or stick with the current one.
The SSL-encryption offered with the plans offer a bank-grade security
The plans all come with free posting, headers, and compression
Cons
There is no free trial period. Therefore, you have to make payment upfront. You can only ask for a refund later on (within 15 days) if you do not like to continue.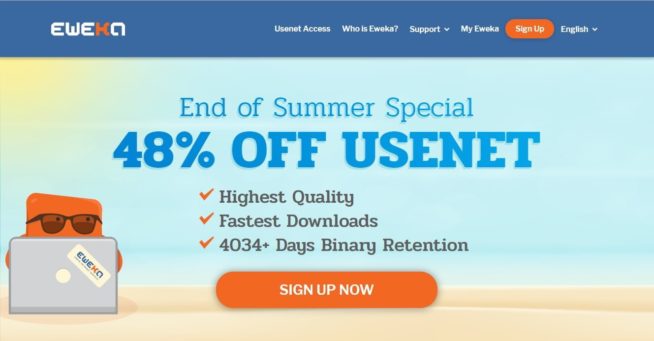 Eweka provides 3 convenient plans to pick from, and they all offer a 4025 days retention period. Originating from the Netherlands this firm first started in the year 2001 and has grown to be a trusted name in the industry. The following are the plans available-
Prepaid plans
Standard – €7.50 per month
High speed – €9.60 per month
Annual Subscription – €7.00 per month
The standard plan includes only 50Mbps speeds, unlike the others that come with 300Mbps. The number of connections is also restricted to 8 per account if you choose the monthly plan for prepaid standard. The annual subscription alone comes with a 7-day trial period option.
Pros
The company's multilingual customer support channels are very useful for first time Usenet users
All the plans come with 256-bit SSL encryption for the security of the connections
All the plans come with unlimited downloads and robust performance
Cons
There are Europe based servers. Payments are accepted by international clients, but you would be working without US servers.
Even the most expensive plan from the provider allows only 20 connections.

Easynews simplifies the whole concept of Usenet and provides instant access from your web browser. You do not have to spend time in the configuration process. They offer a 4029 days retention period. With the company's command over its servers, it reliably delivers unlimited speeds for downloads. All the plans come with access to NNTP discussion groups. They all allow 60 NNTP connections.
Here are the pricing options available with this provider-
Classic plan – $9.98 per month
Plus Plan – $14.97 per month
Big Gig plan – $29.94 per month
Data transfer limits are 20GB, 40GB and 150GB respectively for the above plans. The VPN access is free only with the Big Gig plan whereas with the others you would have to pay an additional $2.99 per month. The same also applies to unlimited NNTP access benefits. For Classic and Plus Plan it is not free, and you would be charged $9.95 per month additionally. The company offers a 14-day trial period for first-time users.
Pros
The Easy Assembler tool offered by this provider comes in handy for posts with multiple parts.
This is one of the very few companies that provide a convenient rollover option. Therefore, if you always complain about not using up the data provided per month, then you can easily carry it forward to the next month. There is a cap on the allotted data per month and the carry forward capacity based on the plan you choose.
As you would be accessing it directly from the browser this one is also designed to be mobile-friendly for seamless access.
The plans all deliver free NNTP header compression as well as Zip manager tools.
Cons
You would have to spend a lot if you need unlimited data access and larger rollover balances.
The loyalty data credited to the account is merely 1GB for the basic plan.

The retention of 4029 days comes with all 3 plans offered by the provider. They all include the unlimited speed of connection and 256-bit encryption as well. Newshosting is one of the best-rated providers on a global level.
The following are the plans and their monthly charges-
Lite – $10
Unlimited – $14.95
XL Powerpack – $19.95
An annual subscription option is available for Unlimited, and XL Powerpack plans where the cost per month reduces to $12.95 and $15.83 respectively. You can choose to try a 14 day/30GB trial period. Newshosting is charging an extra $4.99 or more for the first two plans. It offers plenty of advantages on the whole though the pricing is slightly on the higher side. However, for the price paid you only get support in one language, English. Therefore, it might not be suitable for non-English speaking users around the world despite having a strong international presence.
Pros
All the plans come with data transfer rollovers, and there is an unlimited rollover option for the Unlimited and XL Powerpack plans.
The 24/7 customer support channels are convenient to access, and they do provide quick replies to all types of queries. The resolution times for the issues reported are also pretty short.
All the plans include free newsreader services
Cons
The connections are limited to 30 for the first two plans. You will have to choose the most expensive XL Powerpack if you need more connections, 60 in this case.
1.7 TweakNews

If budget is your primary concern, this is the leading name for affordable pricing of Usenet plans. It is all about the value that the plans bring. For the primary users as well as the advanced some plans and features get the job done.
With a convenient 10 day, trial period here are the monthly rates of each plan available-
Fast – € 7.95
Ultimate+VPN – €12.95
Lightning – € 9.95
As you can see, the Unlimited+VPN plan offers the best value. It also includes unlimited speeds which are capped at 50Mbps and 100Mbps for Fast and Lightning plans. The 3 plans come with 30, 60 and 40 connections respectively. Besides the month based subscription and plans you also get to choose block-based packages of 10GB, 50GB, 100G, 250GB, and 500GB starting from €2.00 for the 10GB block. None of these come with VPN however. But they all include free SSL security.
Pros
Free SSL encryption is included in all the plans
There are unlimited downloads available no matter what plan you choose.
There are half-yearly and annual subscriptions available for all the plans. These bring down the per month rates a great deal.
Free newsreader services are included with all 3 plans.
Cons
Free VPN comes only with the Ultimate+VPN plan.
1.8 Newsdemon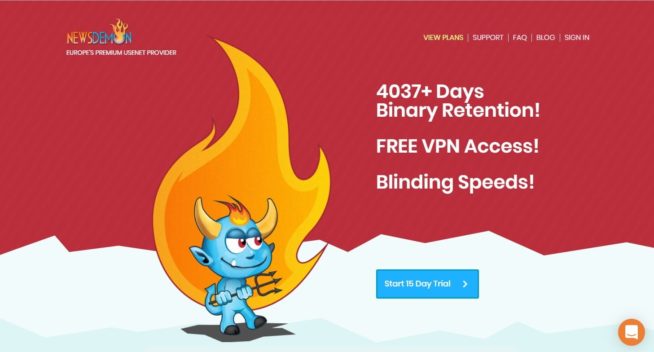 If you need something with a straightforward interface and practical features, then this is one of the most popular choices. It is very convenient to use even for first-time users. For the advanced users looking for some high-end features, there are slightly more expensive plans that you can consider. This is one of the very few providers that offer block-based pricing, like Tweaknews. Here you do not get time-based plans.
The following are the block pricing options-
Beginner-50GB – $5.00
Basic – 75GB – $6.00
Veteran-100GB – $7.00
Elite-200GB – $8.00
Pro-500GB – $9.00
No matter which plans you choose you to get standard features like free headers, free posting, 50 connections and a retention period of 4029 days. There are unlimited speeds offered for quicker downloads. To try out the features before finalizing the provider you can choose the 15-day trial period it provides.
Pros
The block-based pricing makes it easy to choose a plan based on your usage without worrying about lapsed data in the account or rollover tracking.
There are additional non-expiry plans where you can choose from blocks as small as 10GB priced at $4.00 up to 1000GB priced at $89.00. All these non-expiring plans also come with the option to enable SSL encryption.
There are US-based as well as Europe-based servers tapped for the connections based on the location of access. This adds to the consistency in speed.
Cons
The VPN connection-based plans cost a bit higher than most other providers.
If you need something easier to track, something that works on a per month basis then this is not your best choice.
1.9 NewsLeecher
NewsLeecher has a 14-day no-commitment trial period for all plans that can be canceled at any time. There are three plans to choose from: Client Plus for $3.99, Pure Usenet for $9.49, and Ready-To-Go for $11.99 per month. All major Visa, MasterCard, Maestro, and PayPal can be used as a form of payment. Each plan offers something for everyone. Pure Usenet and Ready-To-Go have binary retentions for 2,850 days, text retention for 4,150 days, and 256-Bit SSL for encryption.
Pros:
Able to cancel anytime without being committed to the 14-day trial
Plans are for beginners and experienced Usenet users
No Bandwidth Throttle
No Spyware or Adware
Cons
Not all plans offer unlimited access for NewsLeecher Software, SuperSearch, and SuperLeech Service
Not all plans offer binary, text, encryption, and max connection
It does not mention VPN
1.10 Usenet.Farm
Usenet.Farm has three plans to choose from. The plans are Stingy €4.95 monthly fee, To the max €7.95 monthly access, and €15 prepaid for block usage. Each plan providers 40 – 50 connections and unlimited speed except the Stingy plan.
Pros
Unlimited speed
Account sharing
Have the option of buying a monthly plan or block usage
Cons
Speed reduces if you go over the limit
A trial period is offered, but the length of the trial is not mentioned
VPN and Bandwidth is not mentioned
The website is very vague about service
The payment method is not mentioned
1.11 Astraweb
Astraweb has three plans to choose from, offering a 14-day trial for each. In addition to the plans, there are options to purchase additional memory up to 1,000GB. The plans are 1-month for $15/month, 3-months for $15/month, and 12 months with unlimited DSL for $8/month. There is no mention if VPN is included or if there is an extra charge. Payment is accepted for Visa, Mastercard, American Express, Debit Cards, Bitpay, and Sep Direct Debit for some EU countries.
Pros
All plans offer unlimited speed, SSL, 4,000 retention days, and 50 connections
Can purchase additional memory with unlimited speed and 50 connections
25GB/$10
180GB/$25
1000GB/$50
Cons
It does not mention if additional speed is per month or a one-time cost
VPN or Bandwidth is not mentioned
1.12 Supernews
Supernews have a 3-day free trial period with unlimited Usenet access and not a restriction on access or monthly minimums. You can either do a monthly plan of $5.99/month or a yearly plan of $74.25. All users are provided with SSL encryption, unlimited access, and unlimited speed. Payment is made in the form of Visa, Mastercard, Discover, or American Express.
Pros
Plans are simple
Unlimited access and speed
30 SSL Connections
No limitation to accounts
Cons
After the first month, the monthly price increase to $11.99
After the first year, the price increase to $99
The trial is only for three days
Do not mention the number of retention days for binary and text
Do not mention VPN or Bandwidth
1.13 Pure Usenet
Offering no limit on data and speed, three plans to choose from, Pure Usenet provides a 7-day free trial and support 24-hours a day throughout the year. Pure Usenet platform offers maximum speed regardless of your connections. Each plan has 4,100 days of retention. The Pure M – 1 Month plan is €3.87/month, €5.67 for the Pure XL – 1 per month, and Pure XXL – 1 month for €7.47/month. Payment can be made via MasterCard, Visa, Sofort, PaySafe Card, bitcoin, or iDeal.
Pros
Free SSL
Up to unlimited Mbps
Up to 20 connections
4,100 retention days
Cons
1.14 FastUsenet
FastUsenet free trial is for 14-days with unlimited access and 50 SSL. At a $30 value per year, the Newsreader search is unlimited for a year free. Plans are based on Gigabytes ranging from 6GB for $2.95/month to unlimited for $6.95/month, and all plans have a retention file for 4,750 days. Credit cards are accepted for payment as well as PayPal.
Pros
Plans are based on memory
50 secure connections unlimited downloads
Mobile and web access to Newsreader
Servers in the US and Euro
Cons
1.15 Newsgroup Ninja
Starting at $5.83 a month, Newsgroup Ninja gives new customers a 7-day free trial with a money-back guarantee. The Newsgroup has retention days of over 4,749 and unlimited Bandwidth. Preventing snooping and ISP throttling, Newsgroup provides customers with 50 SSL connections and zero logs for every account. Visa, Mastercard, Bitpay, and American Express are the payments of choice.
Pros
Unlimited downloads and speed
Unlimited Bandwidth
50 connections
Unmetered access
Over 4,749 days of binary tension
SSL Encryption
Cons
Choosing the exemplary Usenet service requires research to determine which is best for you. Taking advantage of the accessible trails provider you with options to help decide what works best. While some platforms may offer the best deals, they may be lacking with features that you need. The best thing to do is try all platforms that offer free trials to determine if any of them work best for you.
2. How to choose a Usenet provider?
Finding the best Usenet provider is not an easy task. While there are plenty of features that make a Usenet provider the right choice here are some tips to remember while you make a decision:
Look for those that come with a free trial period. Whether it is a day-based option or data usage-based, having a free trial would help you get a slice of exactly what the provider offers.
Always make a comparison of the features to know about the value of the plan than merely looking at the price alone.
Unlimited speeds are always better choices to work with. This would improve the reliability of the downloads
Pick those that come with a reasonable price for a VPN. This eliminates the need for spending extra on a VPN provider for your connection.
The inclusion of a convenient Usenet search is a critical feature.
The number of connections providers offer might not appear like a significant figure in the initial stages. When you choose annual plans, you are stuck with the limited connections limitation for a more extended period. Therefore, choose one that allows a higher number of connections. The same also applies to the retention period offered.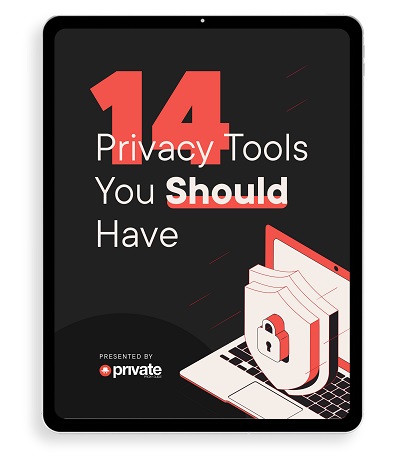 Learn how to stay safe online in this free 34-page eBook.