What is the most secure email provider? Many people ask this question.
Today, in 2023, using a protected email service is a matter of security and privacy.  In this article, we will review the 13 most secure private email providers.
Which email provider is actually reliable? It's true that email services such as Gmail, Outlook or Yahoo are easy to use. But do they protect our privacy? Unfortunately, the answer is NO.
Yahoo developed special software for the National Security Agency so that they could secretly check their users' emails. During the trial, Google admitted to reading its users' emails.
And when it comes to Microsoft, it is even worse. They were so generous that they helped the NSA monitor the users of Hotmail, Skype, and Outlook services within the PRISM project.
What are the criteria for choosing a reliable mail? Reliability is determined by the following factors:
Mail protection from hacking and interception by third parties.
Confidentiality — protection of information from the developers themselves
Refusal of developers to cooperate with governments and other agencies.
All services considered in this overview meet all of the above requirements. Or at least they say they do. Let's take a look at the most reliable email services that provide mail encryption without sharing the user data with the authorities or other services.
NOTE: Add an extra layer of protection by encrypting your traffic with a VPN. See our list of recommended VPN services.
1. The most secure email providers in 2023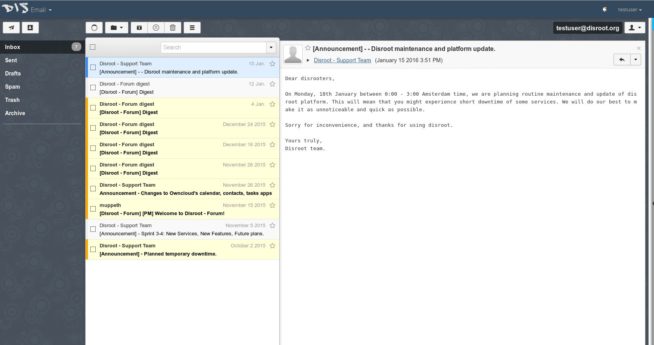 This is another great encrypted email service. While a lot of services out there are not working correctly, Disroot is stable and gains popularity year after year. This is an independent and reliable provider of a secure and absolutely protected email service. It does not track your emails, does not contain ads, and does not store any personal data about you. It will not even ask any questions not strictly related to the email service. It works via a web application that is very easy to use and has an attractive interface. To protect your emails, it uses highly reliable unbroken PGP encryption. Additionally, it provides cloud storage and a cloud text editor through its partners.
Features
Reliable protection.
The latest PGP encryption protocol.
Ad-free.
Location
We could not find information about the location of the servers.
Pricing
Basically, the service is free to use but each subscriber is encouraged to donate. The developers are open to receiving any amount of money.
Pros
Big user community.
The attractive interface of the web application.
Unbroken encryption protocol.
Cons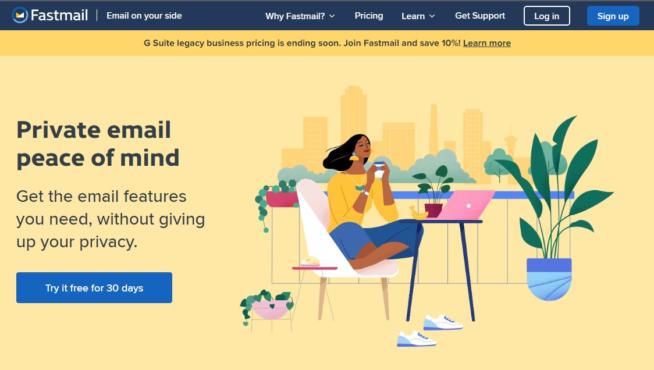 Fastmail is an email service provider that focuses on security. If you're tired of email services that bombard you with advertisements, you won't find any on this platform. Fastmail business accounts provide unique features, such as the ability to create a customized domain and much more. Entrepreneurs who don't require a lot of mailboxes but need a lot of addresses across numerous domains will like this program. The customer support team is also great, as you speak to a real person instead of a chatbot!
Features
Email search feature
Proprietary anti-spam filters
Customizable notifications
Calendar, contacts, and email in one app
Aliases
Import and export features from other services
Location: Fastmail Pty Ltd., based in Australia, manages the product; however, the major Fastmail servers are in Amsterdam and New York.
Pricing: There is a 30-day free trial. Once the trial expires, you can choose the Basic plan for $3 per user per month, the Standard plan (most popular) for $5 per user per month, or the Professional plan for $9 per user per month.
Pros
Supports 100 domains and 600 aliases (Standard tier)
Easy to administer
Numerous labels per email
Cons
Limits outbound support
No HIPPA BAA support
A lack of collaboration tools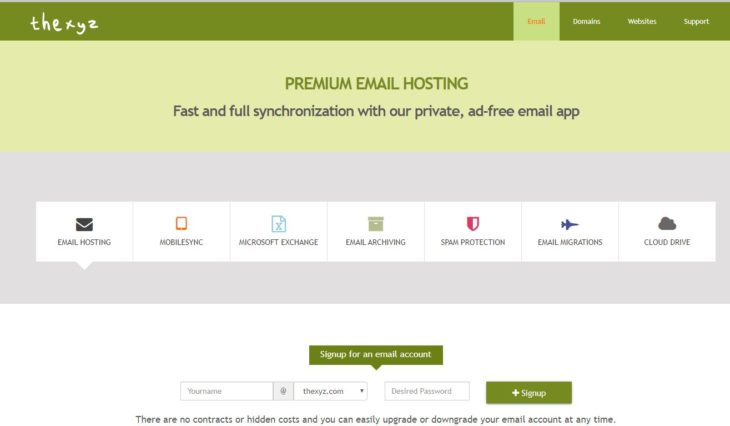 Thexyz is a premium email service provider with a big focus on privacy. It is the ideal service for business-oriented use since there is a monthly cost involved. They have a cloud-based email import tool that can fetch emails from almost any email provider with support for IMAP if you want to store or move all your emails to a secure place with Thexyz. I would recommend Thexyz if you are looking for a secure email provider and are ready to pay for it.
Features:
25GB mailbox storage
DMARC, DKIM and SPF protection
Spam and virus protection
2FA
Full email encryption
Location: Canada
Pricing: $2.95 per month or 29.95 annually.
Pros
Great spam-protection
High privacy protection
Cons
No free option
Based in Canada (5 eyes country)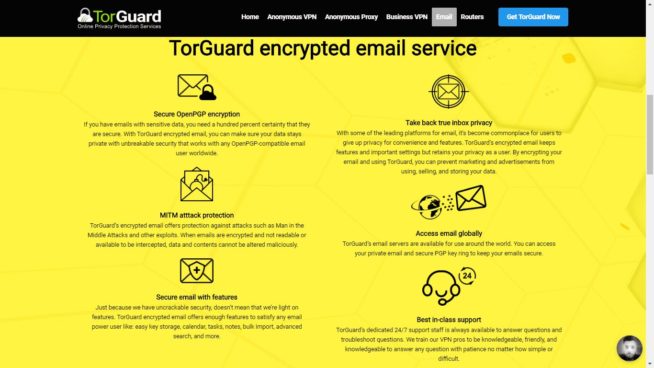 The service is provided by one of the most well-known VPN providers. Of course, it offers protection of the highest level. Your emails are protected by server-side PGP protection. All the hardware is located in Ukraine. No personal information is stored after you delete it, meaning that you will not be able to restore the email account when you decide to unsubscribe from it. The same applies to the inbox and sent messages. There is no trash bin, so all the messages are deleted forever. TorGuard promises to not keep any logs about email usage. They also do not share your information with the government or third-party agencies. The only situation when they would share your data would be if they received a court order.
Features
The service is provided along with a VPN.
Highly reliable PGP protection.
No logs stored.
The content is deleted immediately and forever.
Location
All the server facilities are located in Ukraine.
Pricing
Free with some limitations.
$6.95 monthly, $15.95 quarterly or $49.95 annually.
Pros
Ultimate security protocols.
Affordable price.
VPN service along with email.
Cons
No cloud storage.
Very little email storage.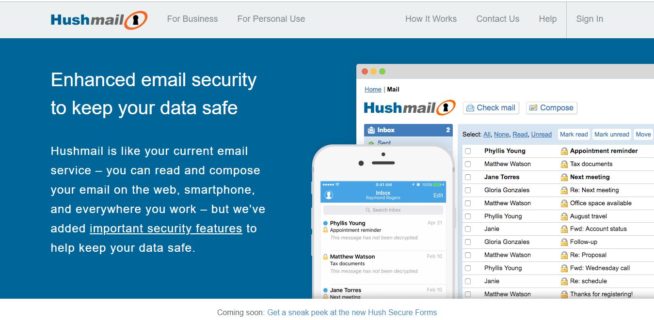 This top-rated email provider uses advanced encryption protocols and technologies to protect your email. As a result, no one will be able to read your messages. One of the best features of the platform is that you are able to send encrypted and secure messages to users of any other platforms including Yahoo, Gmail or Outlook. The web version has a user-friendly and unique interface to send and receive encrypted emails. You will be able to create an email address in a few simple steps. There are several domains available including @hush.com, @hushmail.me, @hush.ai.
Features
Two-step account verification.
Remote access via IMAP and POP protocols.
Desktop client and mobile apps for iOS and Android.
Import contacts to the address book via a CSV file.
Email signature supported.
10GB of email cloud storage.
Advanced spam filter.
A variety of different email settings.
Auto-response to received emails.
Storage
Max file size to send: 20MB per file, total 50MB per mail.
Mailbox storage: 10GB in the premium plan.
Location
The servers are located in Canada.
Pricing
Free 14-day trial, after that the premium subscription of $49.98 per year applies.
Pros
Simple and very easy to use. Does not require any additional software.
No crypto key management is needed. This is the reason why the service is perfect for traveling users.
Cons
The system does not enforce the use of a strong password.
The platform is not available on Mac OS.
Works only on the newest browsers with the latest updates.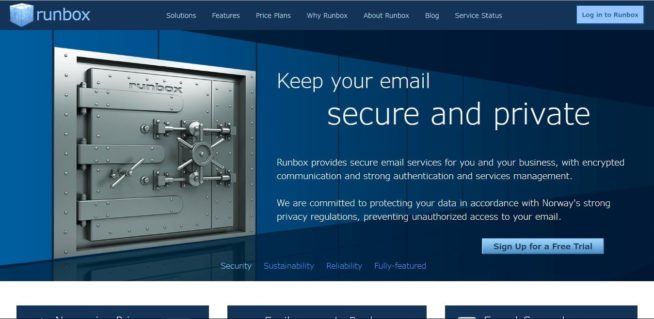 While not the most popular, Runbox is a very reliable secure email service provider. It uses an encrypted connection to send the messages via its servers meaning that no one will be able to access and read your email. You will also be protected against data leaks and theft. The servers are located in Norway where they are protected by the local privacy laws. For extra anonymity, you will be able to use bitcoin for payment. To protect your data, the service uses two-factor authentication. In addition, the service does not keep any external tracking cookies, making it practically impossible to hack into your email account.
Features
Ability to create email nicknames to use several email addresses with just one account.
Powerful and reliable in managing a large volume of data.
Professional email management includes filtering, customized sorting, forwarding etc.
Integrated services.
Powerful email privacy protection.
Spam and virus filtering.
Great cloud storage.
Universal access via Web, IMAP, WAP etc.
Storage
Max attached file limit: 100MB.
Mailbox storage: 10GB.
Location
The servers are located in Norway.
Pricing
From $7.95 to $79.95 annually.
Pros
Unique interface.
30-day free trial and 60-day money-back guarantee.
Migration from other services.
Cons
High business subscription pricing.
No mobile applications.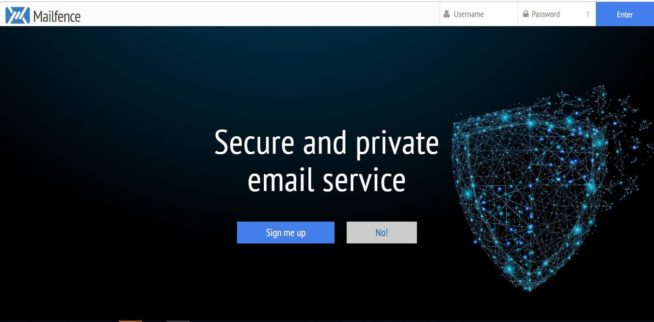 Created in 2013, the service offers a great secure OpenPGP-based platform with end-to-end encryption. Unlike many competitors, Mailfence sends encrypted emails to the users of any other email service, making your communication really protected.
Features
Two-factor authentication support.
Digital email signature.
Ads-free.
A variety of email configuration options.
Advanced spam filter.
Text messages and fax as a paid option.
Import contacts from Gmail, Outlook, vCard, CSV file etc.
Documents cloud storage and calendar.
Send messages via the address used during the registration.
Storage
Max attached file size: 10MB in the free plan, 50MB in Entry/Pro plan.
Mailbox storage: 500MB in the free plan, 5GB in the Entry plan, and 20GB in the Pro plan.
Location: All Mailfence servers are located in Belgium.
Pricing
Free without ads but with some limitations.
2,50€ per month in the Entry plan.
7,50€ per month in the Pro plan.
Pros
Servers located in Belgium.
AES-256 encryption protocol.
Mobile app
Cons
Limited cloud storage in the free plan.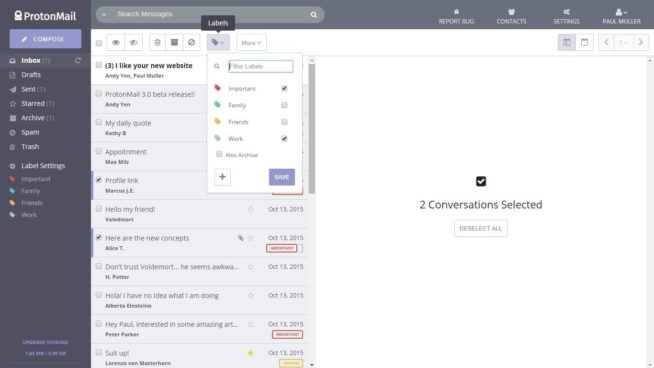 Many security specialists consider ProtonMail to be the best secure email provider at the moment. Apart from protected messages, the platform provides a flexible configuration and reliable protection from scammers. At the same time, it is very easy to subscribe and use the service. If you used any email providers such as Gmail or Outlook, it would be straightforward to switch to ProtonMail. No one will be able to read your messages.
Features
End-to-end encryption by default for all the messages.
Send encrypted messages to users of any email provider.
Self-destructive messages with the configuration of the time period.
A very convenient web interface with a lot of useful features.
Android and iOS mobile apps.
Open-source platform.
Storage
Max attached file size: 25 MB.
Mailbox storage: 500 MB in the free plan, 5 to 20 GB in the paid plans.
Location
All servers are located in Switzerland.
Pricing
Free without ads.
€48 to €288 per year. The more expensive the plan, the more features it provides.
Pros
Full end-to-end encryption.
Free tier.
Mobile apps for Android and iOS.
Cons
Expensive Visionary plan.
Limited cloud storage.
This is another web-based service providing highly reliable and absolutely protected email messaging. It offers the use of a wide range of features and protects their emails using the latest security protocols. At the same time, this is an open-source system, meaning that anyone from the huge community of developers can improve its protocols. The service offers two pricing options: the free one with limited features and storage, and the paid one with a lot of features and flexible configuration. The platform uses a reliable proprietary security protocol based on AES and RSA encryptions and does not store any deleted information.
Features
Works in any modern web browser.
Free tariff plan with a set of necessary features.
No limit to the number of messages per day.
Very cheap paid accounts.
Own domain in the premium plan.
Storage
Max attached file size: 25MB.
Email storage: 1GB.
Location
All the servers are based in Germany.
Pricing
Free without ads.
€12/year Premium plan.
Pros
Very attractive tariff plans.
Absolutely reliable end-to-end encryption.
Supports all modern browsers.
Cons
Outdated mobile app design.
AES-128 encryption only.
Somewhat small storage space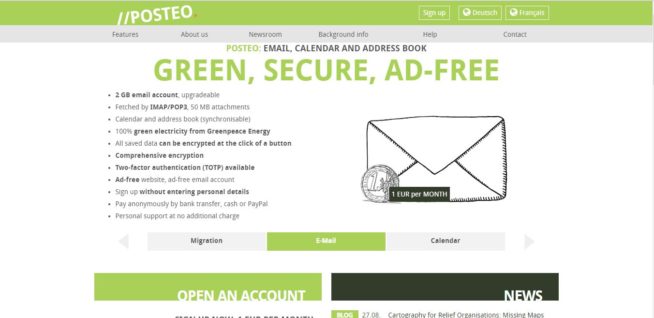 Posteo offers mid-level protection, security, and online privacy. Apart from the email service, the platform also provides a calendar and address book. Posteo completely relies on community support and does not contain ads. The paid plans are really affordable for everyone.
Features
TOTP two-factor authentication.
Remote access via IMAP/POP3.
Calendar and address book synchronization.
Reliable data encryption.
No ads on either the email account or the website.
Easy registration.
A wide range of payment options.
Storage
2GB and over.
The attached file size up to 50MB.
Location
All the servers are based in Germany.
Pricing
€1 per month.
Additional storage: €0.25 EUR per GB monthly.
Pros
AES security protocol.
Environmental friendly email platform.
Cons
This service does not provide end-to-end encryption.
The security level is not as high as the one provided by other competitors.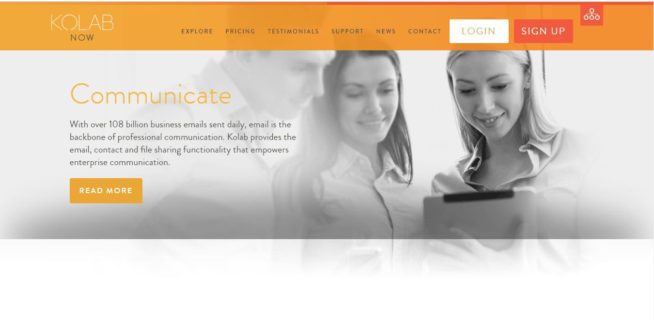 Being an excellent open-source encrypted email platform with servers located in Switzerland, Kolab Now focuses on the corporate segment and offers services for small and medium businesses. All the data is located on the Swiss servers and it really is protected from the government. You can be sure no one will get access to it. Also, the company does not offer end-to-end encryption and other features like some of the best on the market.
Features
Built-in app for taking notes.
Responsive email support.
Calendars and contacts.
Shared folders.
Location
All the servers are located in Switzerland
Pricing
An individual account from CHF 4.41.
Group account from CHF 5.38.
Pros
Swiss location with the highest legislative protection.
Full range of business tools.
Cons
It is mainly a productivity app rather than an encrypted email platform.
Prices are regularly increasing.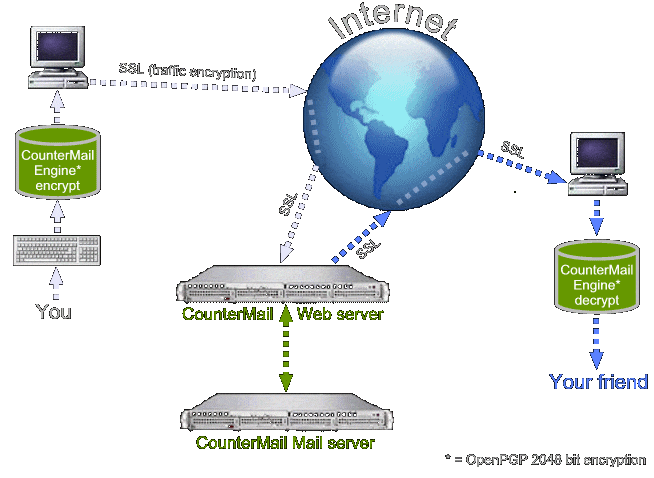 One of the most reliable platforms for encrypted email exchange, this service is based on the OpenPGP protocol with 2048 bit encryption. It provides end-to-end encryption between two users so no one will be able to access and read your emails. Your correspondence will be absolutely safe. Thus, if the main thing you need is security, this is a great solution.
Features
Remote access via IMAP.
A wide range of configurations.
Does not track any personal data.
High-level password protection through the password manager.
Anonymous email headers and email filters.
Available on almost any device.
Storage
The basic storage is 250 megabytes. You can buy additional disk space.
Location
All the servers are located in Sweden.
Pricing
Pros
Optional USB key hard drive.
Diskless servers.
Cons
The website has an outdated interface.
Free plan limited to 7 days.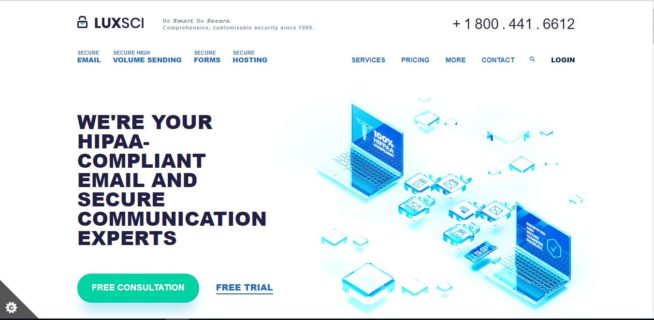 This encrypted email service from the USA focuses on individuals and business users and gives them the full range of services to protect their email communication. It works via desktop and mobile web browsers and provides end-to-end encryption. You will not have to install any applications or clients. The company uses various security protocols to protect your email. With LuxSci, you will be able to protect your email from cybercriminals. As the business segment is their primary target category, the price plans are not so attractive as the ones from other competitors. Personal users will find the service too expensive.
Features
PGP and S/MIME technologies.
End-to-end encryption for every user.
Secure TLS-Only Email Forwarding.
Highly protected logins.
A bunch of security technologies and protocols.
Storage
Attached file size up to 200MB.
Storage from 1GB to 50GB, depending on the pricing plan.
Location
All the servers are located in the USA.
Pricing
A lot of plan offers from $10 monthly.
Pros
Absolute protection.
Great pricing range for the corporate segment.
Cons
For some users, USA-based services are not a good option due to the country's legislation.
1.14 SCRYPTmail (discontinued)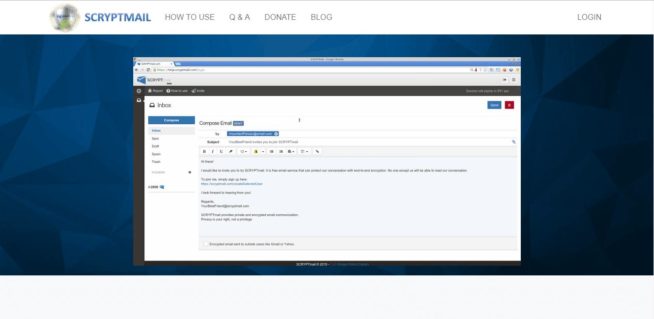 This is a quite popular anonymous email service that is still being developed at the moment. The key point of the service is the user's privacy. The platform developers ensure the users that all the messages are encrypted so reliably that no one, not even the developers, can read them. The security protocol uses very reliable encoding. In addition, it encrypts the email metadata. It will really help to avoid data leaks if the database is compromised. With this solution, hackers will not be able to know who takes part in the conversation. Several years ago, the service was free. Now, you can only sign up for a 7-day trial period and after that, you will have to pay for using the service. All the servers are located in the USA. However, the company plans to expand it to other countries with high privacy protection. Apart from the regular website, you will be able to access the service via the TOR protocol.
Features
Two-factor authorization.
Key exchange via the PGP standard.
Client-side encryption.
The password is encrypted in ANSI.
The system does not store your password but allows you to reset it.
HTTPS connection with a signed certificate.
Location
SCRYPTmail servers are located in the USA.
Pricing
7-day free trial.
$2 or $15 per month
Pros
Affordable plans.
You are able to access it from any email system.
Cons
Still in the development stage.
Only the web version without mobile applications.
2. Winner
In our opinion, the best solution for most users is Protonmail. Here's why:
Flexible pricing plans.
End-to-end encryption.
Great mobile applications.
Service based in Switzerland.
Very popular service overall.
They really care about your privacy and you should give them a try. They also have a free plan you can use to test their service!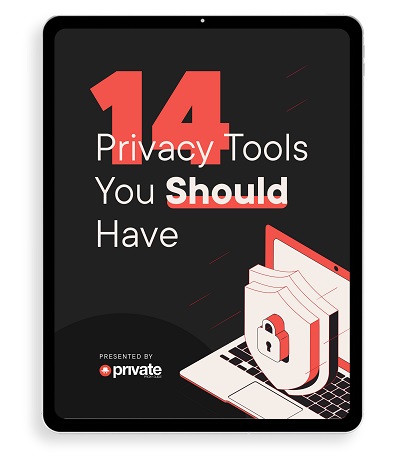 Learn how to stay safe online in this free 34-page eBook.