As cybersecurity threats continue to get more refined, it gets that much more difficult to secure your data on the internet. In its natural state, your information does not have the kind of protection that it needs. That level of vulnerability combined with the various exploits that malicious organizations and individuals can use creates an unfavorable situation for internet users.
If you've searched for "private proxy" at any point in time, you've likely seen MyPrivateProxy (www.myprivateproxy.net) show up. That's unsurprising, considering its top placement in the industry. The MPP Group was founded in 2011, and since then, it has made waves in the proxy provider industry.
With over 220 servers serving its customers' requests, it's no surprise that My Private Proxy has asserted its dominance in the way it has. This tremendous server quantity is coupled with over 500 subnets to choose from and numerous locations across the United States and Europe.
It takes a high quality of infrastructure and software to do what MyPrivateProxy does, yet the service manages to remain as the gold standard. Let's dive into what it offers.
MyPrivateProxy overview:
| | |
| --- | --- |
| Servers: | 29 locations – 21 US & 8 EU |
| Price: | $2.49-$750 |
| Speed: | 2-20 Gbps |
| Money-back: | 3 days |
| Threads: | 100 per proxy operation |
| Payment: | Paypal, 2Checkout |
| Port 25 blocked? | Yes |
| Proxy types: | HTTP & HTTPS |
| Proxy anonymity: | High |
| Authentication: | User/pass & IP |
| Setup: | Instant |
| Support: | Webform |
At its core, MPP is designed to be used for social media and White Hat SEO (such as Twitter-tools and Scrapebox). Therefore, the design works within a search engine's TOS to result in better SERP rankings. That means Xrumer, GSA, and other Black Hat SEO software should never be used with these proxies. Blog or forum spam in any form is prohibited. If you wish to color outside the lines by stepping out of search engine guidelines, MPP is not for you. Nevertheless, there are other proxy providers available if that's the kind of service you need.
Apart from there private and shared proxies, MPP also offers an incredible range of proxy usages, including sneakers, PokémonGO, ticketing, and copping. If you have any special needs, it's recommended that you reach out to the 24/7 support team. The said team consists of trained experts who are very adept at understanding your needs and presenting a solution that fits your use case.
I have no reservations in saying that the service is fast and works well in my experience with the proxies. Note that this comes from using the proxies for scraping tasks. In my opinion, these are ideal datacenter proxies.
Get 10% off on recurring orders by using promo code – "PROXYGUIDE10OFF"
1. How to select proxies
Depending on the chosen service, the configurable options are managed in the shopping cart. For example, if a customer decides to go for Snapchat or Instagram, the plan becomes a social media one. Likewise, selecting Craigslist results in a classified ads plan. Therefore, MPP sells proxies for these websites too. If you want to observe how the cart configurations work, use the dropdown box under the "Usage of Private Proxies" heading and select a service. You also choose the proxy location at the same time in a dropdown on the right-hand side.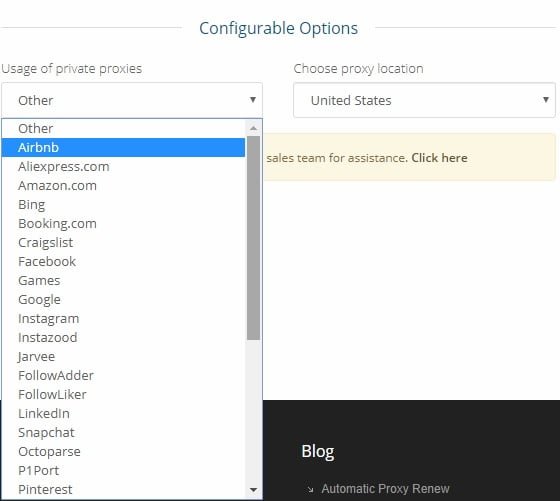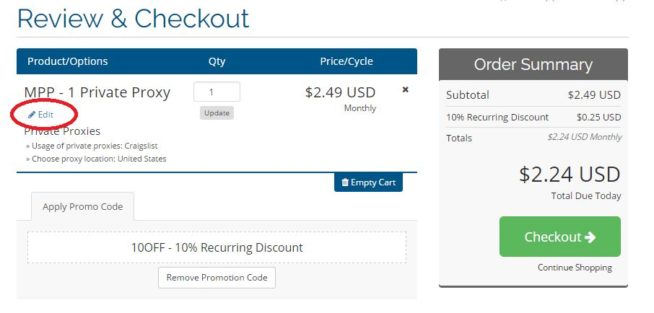 Remember to click edit in the checkout process in order to select server locations and what type of proxies you need.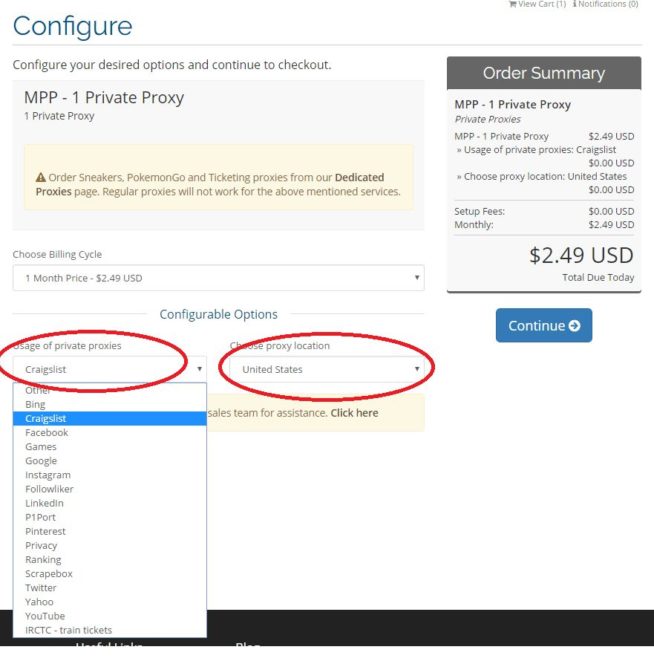 2. Proxy server locations
The USA, Canada, and Europe locations all run on green energy, which is a plus for the environmentally conscious. The USA proxy servers' technical specs are: 32GB ECC RAM, E5-2670v2 processors with 10 2.5 GHz cores, and q network speed of 20 Gbps. Note that The Canadian and European servers have similar specs with varying network speeds. The locations are as follows:
Phoenix
Baltimore
Billings
Glassboro
Santa Cruz
Los Angeles
San Jose
Denver
Washington
Miami
Orlando
Atlanta
Chicago
Boston
Pittsburgh
Charlotte
New Jersey
Las Vegas
New York
Portland
Oklahoma City
Philadelphia
Dallas
Seattle
Toronto
Montreal
Frankfurt
Paris
Stockholm
Amsterdam
London
Newcastle
Munich
Milan
Madrid
Lillie
As you can see, the servers are very widespread, which gives you a nice selection of locations. The specs are also nothing to sleep on, so you can expect fast and efficient service.
3. Customer reviews
Searching around the internet reveals a mixed bag of customer reviews for MyPrivateProxy. Nevertheless, most of them are on the positive side of the spectrum. On Trustpilot, for example, the service has a 3.4 score with 15 reviews. Be that as it may, reviewing some of the negative feedback reveals a pattern of undeserved criticisms for issues, such as language difficulties, purchase misunderstandings, attempting to operate outside of the refund window, not understanding the connection capacity.
Additionally, it's important to point out that MyPrivateProxy responded to both the positive and negative feedback in equal measure. MPP thanked those who shared their positive experiences and sought to clarify information for those who were having a harder time.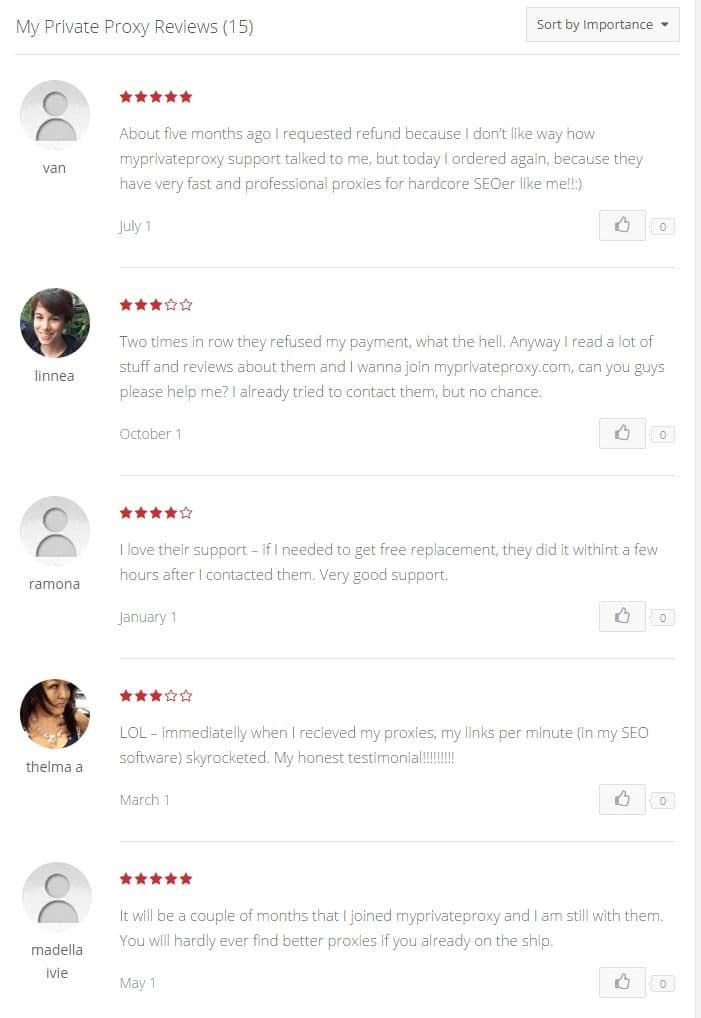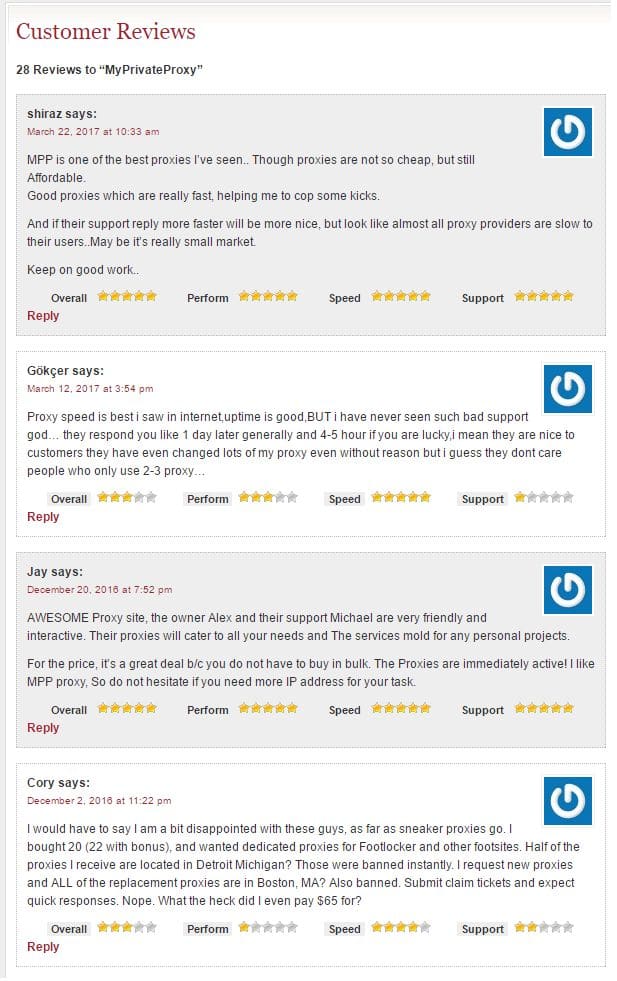 Most people are happy with MPP – especially the speed of the proxies, monthly proxy refresh and on-demand proxy refresh using their API. It is only their support that is a bit slow. You should expect to wait a couple of hours before receiving a reply. Their live chat also doesn't seem to be working so you should open support tickets instead. Other than that, most people like what MMP has to offer. Their refund policy is also good, but remember that it is different depending on what plan you choose. A purchase of "standard" private proxies can be refunded within 3 days. There are no refunds for sneaker proxies and ticketing proxies, but they are guaranteed to work. There are no trials so we suggest that you order their smallest plan if you just want to try them out. They offer PayPal and 2CO as payment options.
Overall, MPP is a very high-quality proxy provider and you can't really good wrong with them if it is the first proxy provider you plan to use.
4. Pros and cons
Pros:
Waiting time is a non-issue, as you can enjoy instant activation after purchasing one of the proxy services.
There is support for username/password and IP authentication. Therefore, it's easier to access the proxies you purchase. If using IP authentication, you can cache your IP addresses, providing an even more streamlined method of access. Username and password authentication is just as smooth as it is on other platforms.
Dedicated proxies, including ticketing, sneakers, copping, Ticketmaster, and PokémonGO, are guaranteed to work.
Bulk purchases yield a discount for customers.
There is a free IP refresh per billing cycle by request.
There's no need to worry about bandwidth restrictions as there are none.
The server configurations that the proxies are run on are optimized for speed.
There are multiple locations and datacenters, which presents more points of access with lower latency.
The beneficial pricing scheme seeks to offer great packages at reasonable prices.
There's a three-day refund policy, which allows you enough time to test the service to see if it's up your alley. If not, you can get a full refund within 72 hours of your purchase.
There's a great customer service offering through the ticketing system on the website.
Cons:
While the ticketing system works well, the live support option is the complete opposite. It does not work at all.
There is a 100 thread per proxy cap present on the service. Note, however, that you shouldn't be running so many threads per proxy in a recommended use case without switching.
There is no trial option, so customers who want to test the service would need to commit to a subscription and cancel within the three-day refund period.
There is no Socks5 protocol present on any of the proxies. The ones available all use HTTP/HTTPS. While HTTPS provides a greater security level than standard HTTP, it does not compare to that of the Socks5 protocol. Additionally, Socks5 poses a greater speed advantage over both HTTP and HTTPS.
5. Final word
Securing data on the internet in the current digital landscape is not the easiest process in the world. So, it's always a breath of fresh air to see a service that allows you to protect your data efficiently. MPP does a tremendous job of providing a reliable proxy service.
Thanks to the efficient server configurations, the location alternatives, and the overall design choices, you get a system that stands as the industry gold standard for security and speed. There is unlimited bandwidth, a plethora of subnets, 99% uptime, and a non-sequential IP configuration.
The service is by no means perfect. Including the Socks5 protocol in the future is one example of a point for improvement. However, as it is, I believe that MyPrivateProxy deserves a first, second, and third look.
Get 10% off on recurring orders by using promo code – "PROXYGUIDE10OFF"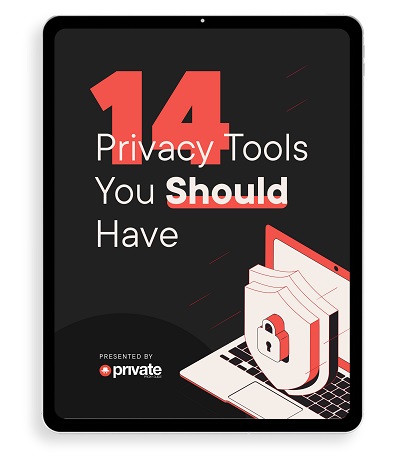 Learn how to stay safe online in this free 34-page eBook.