On the modern Internet, anonymity is becoming increasingly important and more and more people begin to think about what tools they can use to protect themselves.
This is often confusing because not everyone understands the aspects of the existing technologies. Also, there are a lot of them and even hiding the real IP address can be performed by several different methods and tools.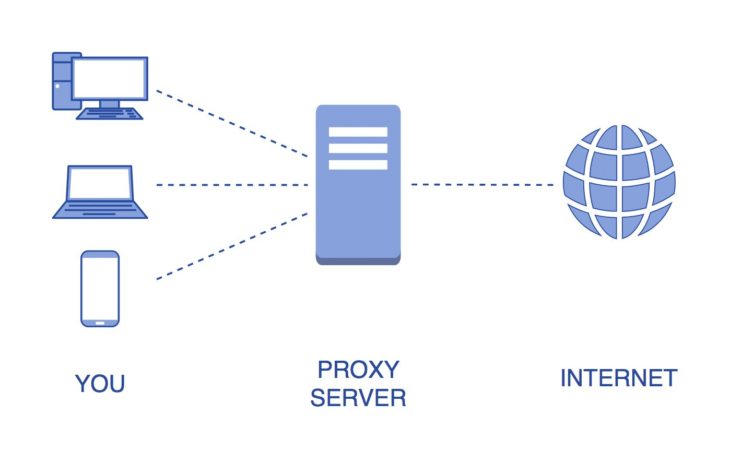 SOCKS5 is one of the most effective tools on the market. This guide will walk you through the basic aspects of the technology and some popular questions about it. Also, we will review the best SOCKS5 proxy providers.
1. Best SOCKS5 proxy providers in September 2023
1.1 Smartproxy – Affordable And Reliable SOCKS5 Proxy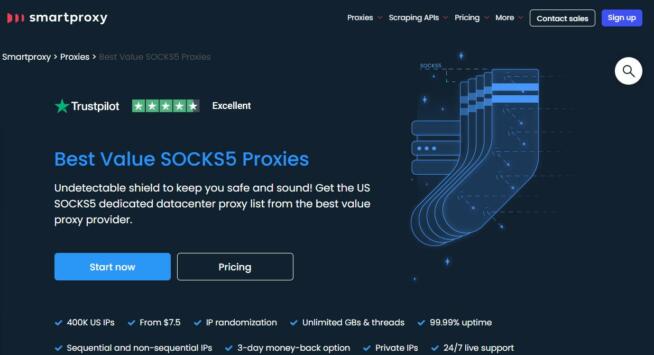 Smartproxy is surely among the largest proxy providers on the planet. Among its offerings, you'll find SOCKS5 proxies, which aren't only affordable but also incredibly reliable. This company offers proxies from $7.5 a month with unlimited bandwidth and 99.99% uptime.
Furthermore, you get additional security features, such as IP randomization and even IP replacement, which guarantee your SOCKS5 proxy will perform well and take care of your security. Smartproxy claims that its SOCKS5 proxies are even faster than VPNs, with better response times.
The company offers servers based in the US and with 0.3 seconds of average response time, you can enjoy both the performance and security of the SOCKS5 proxy. The starting plan, Teeny, costs $7.5 a month and you get 3 IPs with unlimited traffic.
The Main plan is the most expensive one at $320 a month and gives you 200 IPs with unlimited traffic, which ends up being just $1.6/mo per IP. It's good to mention that it allows you to buy sequential and non-sequential SOCKS5 proxies, although the latter are more expensive at $9.38/mo (Teeny plan).
Smartproxy is reliable, fast, and very secure, albeit, the only downside is a small 3-day money-back guarantee. Due to its excellent quality, though, I don't think you'll want to get a refund, as millions of people are satisfied with what Smartproxy has to offer.
Pros
Fast and secure SOCKS5 proxies
3 seconds average response time
Affordable Teeny plan at $7.5/mo
Enterprise plans are available
99% server uptime
24/7 support through live chat
Cons
A very short 3-day money-back guarantee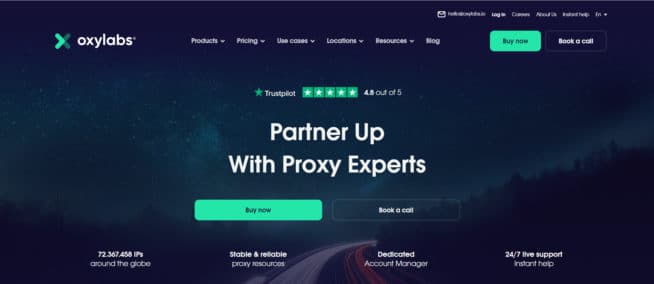 Oxylabs offers excellent high-speed proxy servers designed to quickly parse online resources in real-time. Oxylabs have different types of proxies for different uses, including servers in the data center, address rotation proxies, static resident proxies, and premium SOCKS5 proxies.
The company has more than 2 million dedicated proxies in data centers in more than a hundred locations around the world. Oxylabs also has a large pool of more than 32 million resident proxies that enable city-level targeting and reliable parsing results. Besides, proxy servers have unlimited bandwidth, unlimited simultaneous sessions, and unlimited targeting capabilities.
Price: Oxylabs uses a flexible pricing model with payment for usage, which depends on the location of IP address, target sites, and other parameters:
datacenter proxies — from $1.20/IP
residential proxies — $5.00/GB
next-gen residential proxies — from $6.00/GB
1.3 NordVPN – Best VPN with SOCKS5 Proxy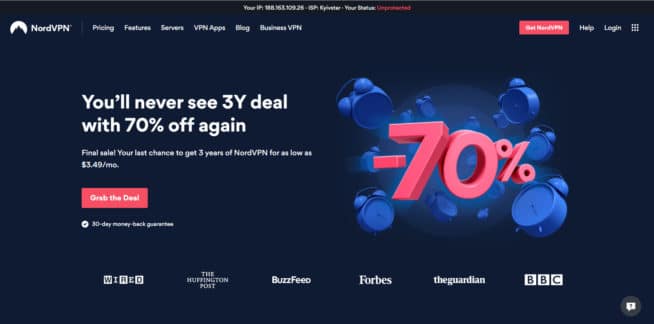 Despite NordVPN being known as a VPN provider, you can use some of their servers as SOCKS5 proxies. The company offers more than 5300 servers in 59 countries, and 76 serves can work in SOCKS5 mode. Go to the Server Picker tool to select the one for your needs. NordVPN supports all modern security protocols, including OpenVPN, PPTP, L2TP, iKEv2/IPsec, SSL, Skylark, etc.
You can use it on 6 devices at the same time on all the popular platforms. The company does not store your logs or any of your data. Additionally, most servers support P2P networks so you will be able to use torrent networks without restrictions. For better privacy, some servers can work with Tor technology.
Price: NordVPN provides flexible pricing. It depends on how long you purchase a subscription:
1 month — $11.95/mo
1 year — $ 6.99/mo
2 years — $ 4.99/mo
3 years — $ 3.49/mo
Annual plans can be refunded within 30 days after the purchase.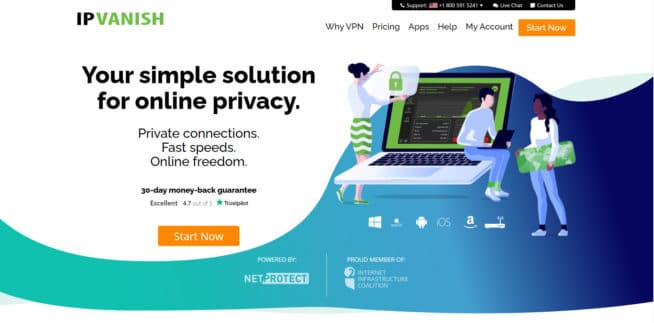 This is another traditional VPN provider that offers SOCKS5 proxies for users. IPVanish provides more than 40,000 shared IPs and more than 1,500 VPN servers in more than 75 locations. You can simultaneously use 5 devices on all the popular desktop and mobile platforms. IPVanish owns a powerful infrastructure which means they do not rely on any third-party services.
They support all modern algorithms and protocols (IKEv2, OpenVPN, and L2TP/IPsec), as well as torrent and streaming platforms. SOCKS5 proxies hide your real IP while using P2P networks and VoIP apps. To start using the SOCKS5 connection, you have to open the Control Panel > SOCKS5 Proxy tab. There, you can generate a separate login and password, as well as the hostname to use in your apps.
Price: There are three plans available:
1 month — $11.99/mo
3 months — $ 8.99/mo
1 year — $6.49/mo
SOCKS5 proxies are available without additional fees for every user.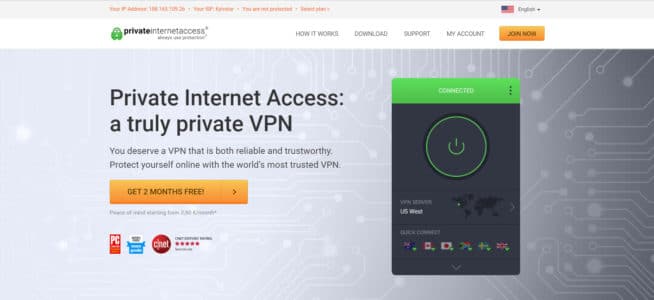 Private Internet Access is a popular and reliable VPN service with more than 2700 servers in 47 countries. You can use it on 10 devices simultaneously. It also supports all modern encryption protocols such as WireGuard, PPTP, OpenVPN, and L2TP/IPsec.
PIA includes an ad blocker that also protects you from trackers and malware. SOCKS5 and the majority of VPN servers support P2P networks. To use the SOCKS5 proxy, enter the Control Panel > Generate PPTP/L2TP/SOCKS Password > Generate Password. Add the credentials to the app you use with proxy.
Price: PIA offers three plans:
Monthly — €9.25/mo
Yearly — €3.10/mo
Two Years — €2.50/mo
Private Internet Access review
1.6 Luminati – SOCKS5 Proxy for Businesses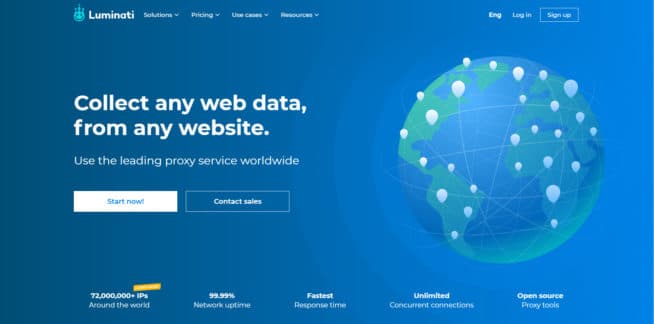 Luminati offers a large network that allows you to collect web data without having to worry about bots being blocked or blacklisted. Luminati has over 35 million resident peer-to-peer IP addresses available in almost every location in the world. Its network consists of proxies in data centers, permanent residential, rotational residential, and mobile proxy servers. You can easily choose any of them. This is great if you need many SOCKS5 proxies for your business.
For each option, you can choose to use shared IP addresses, which can be used by many users, or exclusive IP addresses, which are only for you. Each proxy supports an unlimited number of simultaneous sessions. You can connect to its servers through the API, proxy manager, or Chrome browser extension. Check their learning hub for how to enable SOCKS5 support.
Price: Luminati offers a free trial account to test its services. After that, you can choose any of the paid tariff plans that depend on data volumes and type of proxy:
data center proxies — from $0.40/IP
static residential proxies — from $3.00/GB
rotating residential proxies — from $3.00/GB
mobile residential proxies — from $15.00/GB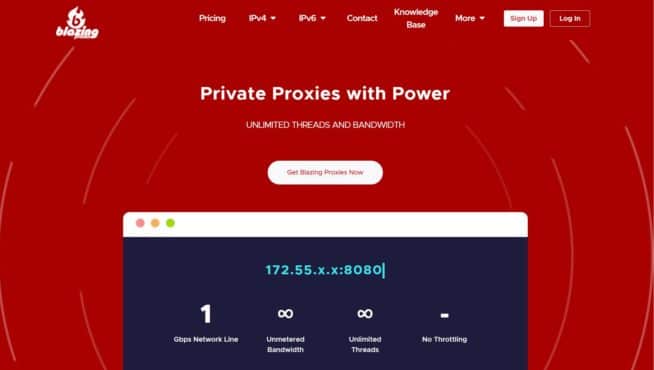 This is another excellent proxy server provider with the ability to change IP addresses. The company offers fast servers for all kinds of online activity.
Blazing SEO provides superior proxies with unlimited streams and bandwidth. All the servers use real network connections of 1 Gbps. The company also offers various servers, including Windows VPS and dedicated servers, which in combination with proxies provide unprecedented speed. Blazing SEO supports proxies in nine countries, including the US, UK, and Japan.
Also, it offers original IPv6 addresses that have not previously been used and multiple subnets. However, the company has no resident IPs, only proxies in their data centers. They all support SOCKS5.
Price: Blazing SEO offers three monthly tariff plans:
a semi-dedicated proxy that is distributed among three users costs from $0.50;
a dedicated proxy that is used by only one person starts from $1.20;
a rotational proxy that frequently changes IP addresses costs from $2.20.
There is a free 2-day trial for each plan.
2. Internet protocols
Let's start at the beginning. The Internet is basically built on three protocols:
Internet Control Message Protocol (ICMP)
Transmission Control Protocol (TCP)
User Datagram Protocol (UDP)
ICMP is a control protocol. This means that it was not designed to port application data, but rather to provide information about the network state.
The best-known example of ICMP in practice is the ping utility. The protocols that are important in our case are TCP and UDP. Both TCP and UDP are transport protocols designed for data transfer. What is the difference between TCP and UDP? TCP virtually guarantees that all sent data reaches its destination in the correct order and performs other optimization and error checks.
In the case of UDP, it is a protocol without establishing a connection. Data that reaches its destination may arrive without an order, or it may not arrive at all. Typically, this type of connection is used for real-time data exchange where data delivery speed is preferable compared to getting the right data. So, where is the SOCKS proxy? Let us first look at what SOCKS is.
3. What is SOCKS?
SOCKS is an Internet protocol that allows one device to send data to another via a third one. In other words, this third device will be called a SOCKS server or SOCKS proxy server.
So, what does a SOCKS proxy server do? It makes a connection to any other server behind the firewall and exchanges network packets between the client and the actual server. Your traffic flows through a proxy server that assigns an arbitrary IP address before it reaches its destination. Technically speaking, SOCKS5 (the latest version) uses proxy servers to form UDP or TCP connections through arbitrary IP addresses.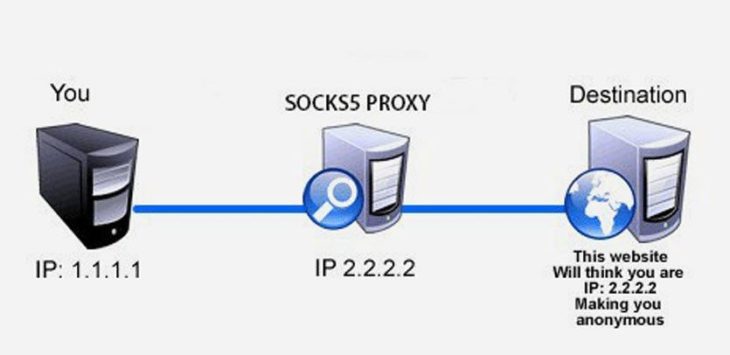 If your IP address is 1.1.1.1 and the traffic is routed through a SOCKS proxy server with an IP address of 2.2.2.2, the destination server (website) will think the request came from the latter.
The website does not see your real IP address. This provides anonymity but does not mean that your traffic is secure. Unlike VPN, proxy servers do not encrypt your traffic — it is still open and anyone can spy on what you do.
4. What is SOCKS5?
SOCKS5 is the latest and the most advanced SOCKS protocol. It provides enhanced security and offers the following three types of authentication methods:
Null authentication — no authentication required to connect to a proxy server;
Authentication by login/password — you need to provide login details to connect to the proxy server;
GSS-API authentication — both you and the server use operating-system-level authentication methods to verify your identity.
SOCKS proxies are usually needed where TCP connections are not allowed and the data can only be accessed via UDP. Unfortunately, in some cases, this connection is usually used for illegal reasons such as streaming.
5. Advantages of SOCKS5
Bypassing website blocking. The most obvious use of SOCKS5 proxies is to hide the real IP address for some purpose, for example, to bypass corporate or government restrictions. For example, if a certain IP address is blacklisted by a site, it will be enough to use a proxy to access it. In some cases, using this method, you can bypass the restrictions imposed by government agencies.
However, there are some limitations — when using DPI (deep packet inspection) technology, traffic will be blocked by the Internet service provider before it reaches the site. In this case, using only a proxy will not help. Keep in mind that some HTTP proxies can only handle web pages, while SOCKS5 ones can handle any type of traffic. Such proxies work at a lower level.
There are no traffic restrictions. Unlike HTTP proxies that can only interpret and handle HTTP and HTTPS web pages, SOCKS5 proxies can handle any traffic. HTTP proxies are high-level proxies usually designed for a particular protocol. This means that you get a better connection speed. HTTP proxies are not as flexible and secure as SOCKS proxies. SOCKS proxies are low-level proxies that can work with any program, protocol, and traffic.
Fast and reliable connections. Unlike previous versions of the technology which used only the TCP protocol, SOCKS5 proxies can use the UDP protocol. It provides reliable connections and efficient operation. The TCP protocol creates a connection between the client and a server, guaranteeing that all packages arrive from one side to another. For easy content transfer, a fixed format is required.
UDP does not focus on whether all packets from the client or server reach the other side and whether they are transmitted in the same order. UDP does not spend time converting data packets to a fixed packet stream. Therefore, with UDP at hand, SOCKS5 can offer higher speed and more reliable connections.
Fewer errors and better performance. Many other proxies overwrite the data packet headers. Because of this, there is a high probability of misdirection or incorrect data designation. SOCKS5 proxies do not overwrite data packet headers, so the error probability is much lower, and therefore, performance is automatically improved. Also, it highly improves your privacy and security because packet headers contain your personal information and can be easily identified.
Better performance on P2P platforms. SOCKS5 is faster than other proxies because they transmit smaller packets of data. Therefore, they provide faster download speeds so many users use them to connect to P2P sharing websites and platforms.
6. Which proxy is better: HTTP or SOCKS?
There are many types of proxies, but the most popular ones are HTTP or SOCKS. They have different characteristics, including indicators of anonymity, how information is transmitted to the user, and other features. To find out which type of proxies is better, take a closer look at the functionality they offer to satisfy the user's needs.
7. HTTP proxies
HTTP is a standard and, at the same time, a common proxy version used in web browsers. It is considered outdated because it can only support an unsecured protocol. This is the main difference between HTTP and SOCKS. The HTTP proxy:
restricts access to web resources, reduces connection speed;
filters data on a web resource;
caches the data, so that it saves a copy of the resource and issues it with the new request, to reduce the load on the channel and speed up the loading speed.
It works quite simply. The browser requests to visit some site, the server takes the required information from the requested resource and passes it to the end-user.
8. SOCKS5 proxies
At present, SOCKS is considered the preferred protocol to transfer data. It was created for programs that do not directly use an intermediate server and has highly improved over the years. It is better to work with the SOCKS server if you need a faster connection. There are several versions of the protocol available. However, SOCKS5 is the latest and recommended one.
The difference between HTTP and SOCKS is that the latter is anonymous by default, as it skips network traffic without making any changes or opening HTTP headers. That's why the server that the user is requesting access to won't know that you use proxy usage and won't get your real IP address. At the same time, the app will establish connections that will look like you work directly with the website.
9. SOCKS5 vs HTTP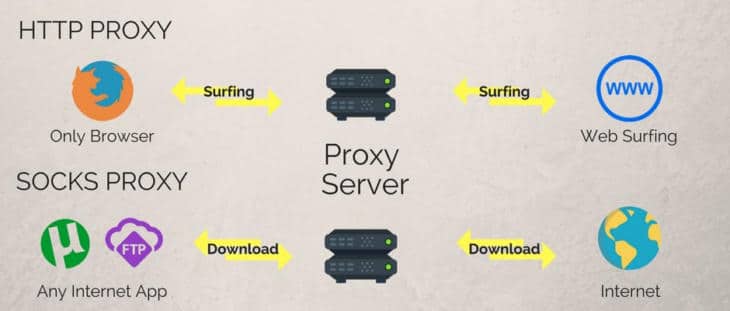 To make the right choice, you should know the difference between HTTP and SOCKS. The main difference is the way you work with large amounts of data. HTTP applies common network traffic processing and transmission schemes:
tunneling, where data and functions of several network protocols are packed into one component;
caching, by creating an intermediate buffer where the data is stored.
At the same time, SOCKS5 processes absolutely all network traffic without sending it to the user. This reduces the number of packets thrown into the external network and reduces the risk of detecting the IP address. They are also used in different ways. The HTTP proxy is used to work with network resources through a browser, while the main purpose of SOCKS is to ensure compatibility with other protocols.
9.1 Comparing different types of proxies
| | | | |
| --- | --- | --- | --- |
| | HTTP | HTTPS | SOCKS5 |
| Pages caching, fast load | yes | yes | yes |
| HTTPS (SSL) connection support | x | yes | yes |
| Completely anonymous protocol | x | x | yes |
10. SOCKS5 vs VPN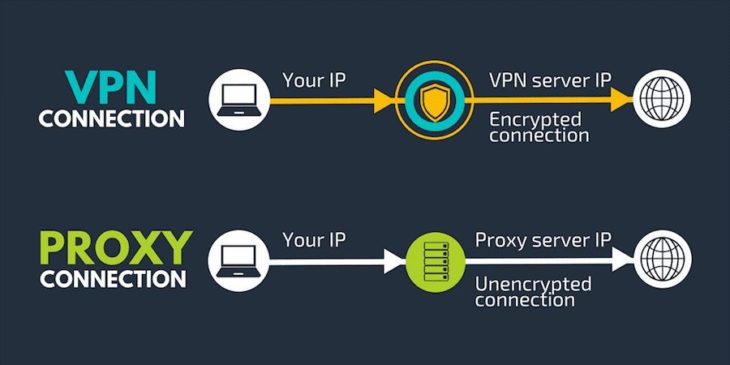 Not all proxy providers write about it, but the main difference when using SOCKS5 and VPN is the level of anonymity each of them can achieve. In the case of a VPN, all transmitted data is encrypted, which is not the case with SOCKS5 proxies. It is important to understand that proxies allow you to hide an IP address and perform a few other tasks (such as bypassing locks), but they are not a privacy tool by nature.
Proxy users can be tracked and their traffic intercepted. However, using a proxy in combination with a VPN allows you to achieve good speed and better protect sensitive information. VPNs provide more stable connections, while proxy connections can drop more frequently. At the same time, when the proxy connection drops, you cannot transfer data. In the case of a VPN, you go on working with your direct connection without protection.
10.1 Will a free VPN work?
You should avoid using free proxies, as well as free VPNs. Here is why:
Poor performance. Free proxies will have lower support, lower configuration parameters, or slower infrastructure.
Privacy issues. If you do not pay for the service, you are not a customer. Free proxies can track user traffic and sell this data to third parties.
The best choice is a first-class proxy that offers the best speed, support, and security.
11. Pros and cons of SOCKS5 proxies
Pros
You can use them to transfer all kinds of traffic, not just web pages.
It provides a great level of anonymity. The proxy will assign you a new IP address and will not disclose your original data.
They provide high performance so you can use SOCKS5 proxies with traffic-intensive applications.
Cons
They do not encrypt your traffic so avoid using them to transfer sensitive data.
Not all applications support them.
They are more expensive than HTTP proxies.
12. Summary
SOCKS5 proxies are a great solution for different kinds of online activity. They allow you to access the restricted resources and hide your real IP address. However, not every provider offers SOCKS5 proxies for your needs.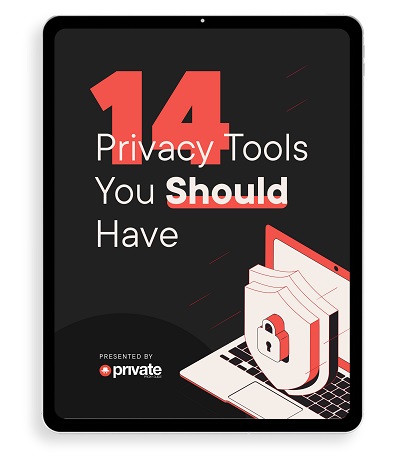 Learn how to stay safe online in this free 34-page eBook.