As we all have powerful mobile phones that can browse the internet at great speeds, chances are that you're most likely doing your online browsing from your bed, using your smartphone. Sometimes, websites you want to visit are off-limits, though, which can be quite frustrating.
From annoying CAPTCHA puzzles to full website blocks, every similar issue can be problematic. Thankfully, with the best mobile proxies, you can unblock any website you want with no issues. In fact, using the best mobile proxies is a great way of making sure you're browsing the web with a greater degree of freedom.
Mobile proxies assign you a new IP address from a huge pool of IPs, which lets you avoid these blocks and access any website you want. Not only that, but proxies are also great if you want to ensure your internet safety and even bypass geo-restrictions on particular websites.
With tons of mobile proxies on the market, finding a decent one comes as a pretty intensive task. However, in today's article, you're going to find out everything there is to know about the best mobile proxies, so if you're in dire need of one, don't go anywhere just yet.
1. Best Mobile Proxies for 2023
My list will consist of proxies with the highest level of quality, so the majority of these choices will be paid. Don't worry, though, as I thought about pricing too, and as such, I selected the relatively affordable proxies, although some of them have higher prices.
The important thing is that these proxies are available for 3G, 4G, LTE, and 5G mobile phones, so regardless of the "G" that you're using, they will work with no problems. Without further ado, my list of the best mobile proxies is below, so let's check it out.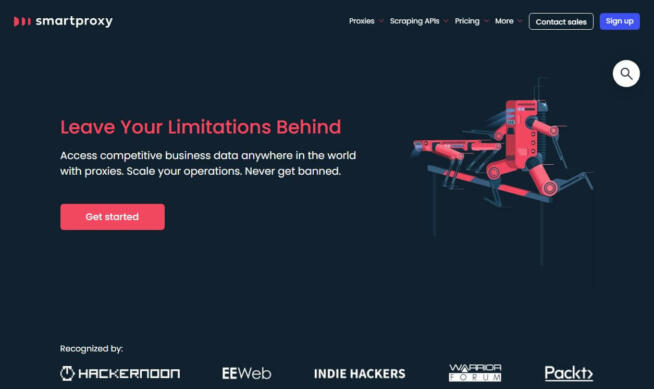 Smartproxy is a company that focuses on providing millions of proxies with great data scraping capabilities. It's a pretty popular choice for users who want a relatively affordable service with 3G, 4G and 5G mobile proxies in nearly 200 worldwide countries.
The great thing about its offerings is that each subscription plan is feature-rich. For example, Smartproxy offers city-level targeting, no limits in terms of concurrent connections, and even an automatic IP rotation that Oxylabs and Bright Data offer.
Moreover, Smartproxy has 3.9M+ IP addresses in the US only, which is great if you need an IP from New York, Chicago, or any other city in this country. Its IP base is humongous and it offers residential IPs in the UK, Germany, Japan, India, Slovakia, Hong Kong, and many other locations.
What's more, Smartproxy offers top-notch browsing extensions for Chrome and Firefox, and its mobile integration is perfect in terms of how fast and intuitive it is. All of its proxies have a 99.99% uptime guarantee and so far, I haven't run into any issues with them.
Another perk regarding Smartproxy is its awesome 24/7 live chat support that will help you with potential issues and questions related to subscription plans. Speaking of which, Smartproxy can be very affordable if you're not a too demanding user. You can find their easy-to-follow documentation here.
If we take it pay-as-you-go plan as an example, it'll cost you $12.5 per gigabyte where you get 1 username/password and 1 whitelisted IP. The Starter plan, for instance, is also a great deal considering that it costs $225 a month ($9/GB), yet, it offers all that an average user will need.
Finally, we should mention its X Browser app that prevents IP bans and CAPTCHA, giving you unique fingerprints for every profile. Compared to some other choices on this list, there are fewer types of proxies to pick from, hence a more affordable price is in place.
Pros
3G, 4G and 5G mobile proxies in nearly 200 countries
No limits on concurrent connections
Automatic IP rotation
Great extensions for Firefox and Chrome
3.9M+ IP addresses in the US and 10M in total
Cons
More powerful plans are expensive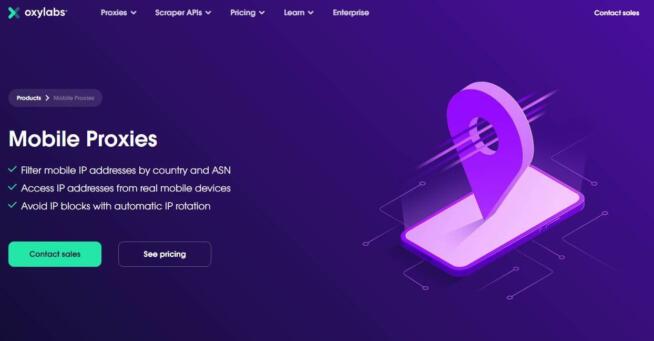 Pay as you go from $30/Gb.
Plans start from $250/month.
20% discount with privateproxy20OFF
Oxylabs is as close as you'll get to the likes of Bright Data. It's a very reliable mobile proxy with millions of different types of IPs on offer. In addition to that, Oxylabs offers many useful features such as Scraper APIs, with other tools like Proxy Rotator and even a dedicated app for Android.
This application looks and functions well and even if you're a newbie, getting around its intuitive interface will not pose a problem. The number of mobile IPs is incredible as well – you get 20M+ of them, along with country-level and ASN targeting.
Oxylabs advertises itself as the most stable mobile proxy service. This is true to an extent because the 99.99% uptime guarantee is upheld all the time. Not to mention that proxy options are excellent and Oxylabs even offers you the ability to use next-gen residential proxies.
Datacenter proxies are here as well and combined with reliable mobile proxies, you can get some amazing results in terms of unblocking restricted websites. In my experience, Oxylabs is extremely efficient at eliminating IP bans and annoying CAPTCHA puzzles.
This means effortless website unblocking on your mobile phone, using 3G or 4G mobile proxies. Much like Bright Data, Oxylabs impose no data limits and supports integration via a single endpoint, assigning only pre-checked mobile proxies to your connection.
Even its Scraper API tools are great as well, as Oxylabs possesses a huge database of information that you can scrape online. Its pricing structure, however, is a bit more complex than Bright Data but I can say that it costs similarly to its rival.
Pros
Dedicated Android application
Proxy Rotator + Scraper API
20M+ mobile proxies
Country-level and ASN targeting
It's great for unblocking sites
No data limits
Cons
It's as expensive as Bright Data
Complex pricing structure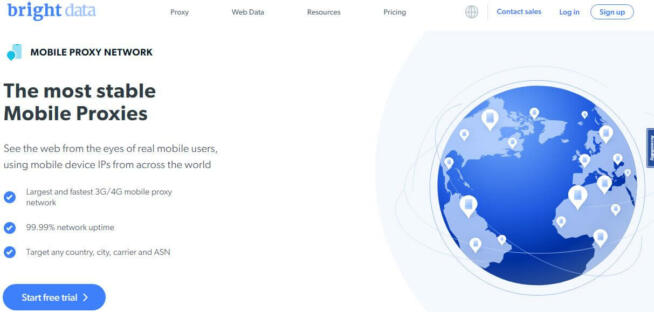 Let's start with the obvious choice. Bright Data, formerly known as Luminati, represents one of the biggest mobile proxies in the world. Not only that, but it has a humongous database of IP addresses and allows you to access any site you want, be it using a mobile phone or your computer.
As we speak, Bright Data offers more than 7.5M IP addresses in pretty much every country. This number increases each day, however, and in a few years, Bright Data will surely have more than 10M IPs. Nevertheless, you have the option of choosing several types of IP addresses.
For example, you can use residential, regular, or shared IPs which can send as many requests as you want. Its interface is relatively simple, although, if you're a beginner, you can get confused with all the options and features that Bright Data offers.
What's more, it offers a web interface, so you don't need to install a dedicated app for your iOS/Android phone. This is a downside for some people but I found that this web interface functions well even on slower mobile devices.
Bright Data has a 99.99% uptime guarantee and it works on 3G, 4G, and 5G networks, making it an excellent choice for pretty much any device. In addition, this proxy service doesn't limit your data usage or traffic, meaning that you can enjoy unlimited browsing and unblocking of blocked websites.
Tools like Web Unlocker, Proxy Manager, and Proxy Browser Extension for Chrome are welcome too. This, in conjunction with mobile, ISP, and data center proxies guarantees that Bright Data will provide a varied, functional, and professional-grade experience to all of its users.
The downside of Bright Data is its price, which is fairly high compared to some of its competitors. The Starter plan will cost you $500 a month, while more advanced plans can go up to $2,000 a month and even more than that. But if you need the absolute best mobile proxy, this is the one to go for.
Pros
5M+ IP addresses around the world
The ability to choose from a few types of proxies
Web-based interface
99% uptime guarantee
It works on 3G, 4G, and 5G networks
Proxy Browser Extension
Cons
It can be very expensive
Slightly confusing interface for beginners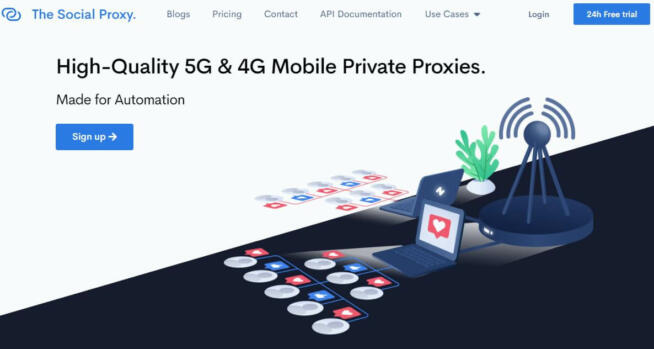 Another popular choice on this list is called The Social Proxy. The Social Proxy offers reliable 4G and 5G mobile proxies, which is great if you're looking for excellent performance and unblocking restricted websites with ease.
At the time of writing, The Social Proxy counts 130 mobile carriers in nearly 50 countries, so you can be sure that you'll always find the location you want. Moreover, The Social Proxy is a dependable choice if you're looking to bypass CAPTCHA and unblock the sites and platforms you want.
That's because it takes advantage of real SIM cards and not ISPs. The good thing is that The Social Proxy always has available proxies in each location, meaning that you can always make a purchase. Its mobile integration is par excellence and the entire interface is controlled via the web browsers.
Despite not having dedicated apps, it still works smoothly regardless of the browser that you're using. When it comes to the locations of proxies, you can buy proxies from the USA, the UK, Austria, Texas, Israel, and Germany.
Prices will vary greatly, with the most expensive proxies being in the USA, New York, that'll cost you more than $125 a month. However, each subscription plan offers advanced features such as enabled API, multi-location license, and IP rotation for increasing your privacy.
Furthermore, The Social Proxy claims to have the highest IP trust score and in its most expensive plans, it provides 5G speeds of 100 to 400 Mbps, which is extremely fast for mobile networks. I like that The Social Proxy has special discounts for bulk purchases, so it's great for businesses as well.
Being in the third spot on this list, The Social Proxy isn't as great as Bright Data or Oxylabs. It lacks certain features like IP authentication and geo-targeting, but it's also cheaper than the two previous choices, so we can't criticize it too much.
Pros
130 mobile carriers in 50 countries
It uses real SIM cards
Great mobile integration
Top-grade speeds and performance
IP rotation with a multi-location license for all plans
Decent discounts for bulk purchases
Cons
No IP authentication
Lacks geo-targeting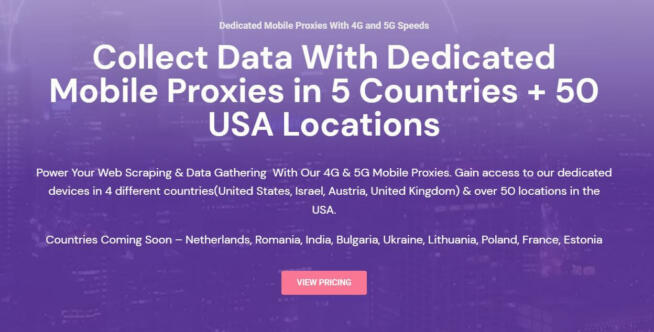 Proxy Empire is a choice of many users who want fast and immediately available 4G and 5G mobile proxies. It offers proxies in 4 countries and 50 USA locations, granting you the ability to get millions of IP addresses using your mobile phone.
Currently, Proxy Empire has proxies in Israel, the UK, the US, and Austria but it'll include more countries like Estonia, Bulgaria, India, and France. What's more, Proxy Empire has unlimited concurrent locations and it promises an uptime of 99.95%, which it delivers, as I didn't notice a single issue with its network.
Similarly to its competitors, Proxy Empire boasts advanced features like IP Rotator, which will automatically rotate your IP address without you doing excessive work. Each subscription plan grants you a dedicated physical device and one mobile carrier per location.
Not only that, but Proxy Empire also provides you with unlimited bandwidth in all plans and you have unlimited IP changes. Compared to, let's say, Oxylbs which has 20 GB to 1+ TB of bandwidth, having no bandwidth limits is definitely a welcome change.
Both 4G and 5G proxies are cheap here. For example, USA 5G mobile proxies start at just $250 a month, while the multi-country package will cost you $125 a month. To that, we should add 170+ countries and global data access that comes in the package you buy.
Proxy Empire offers 24/7 support, a dedicated account manager, and an intuitive web-based app. Keep in mind that Proxy Empire is a relatively new choice, explaining why its prices are competitive. That's why, in essence, it is less trustworthy in eyes of some people, compared to Oxylabs or Bright Data.
So far, however, Proxy Empire showed no signs of being a scam, so you can rest assured it'll serve you well and save you a lot of money in the process.
Pros
Offers both 4G and 5G mobile proxies
A 99.95% uptime guarantee is upheld
Each plan offers a dedicated physical device
Unlimited bandwidth and IP changes
170+ countries are supported
24/7 support with a dedicated account manager
Cons
A lower level of trustworthiness because it's a new company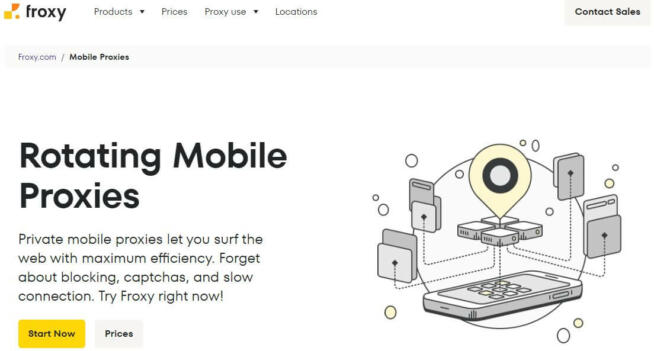 Froxy claims to be the best premium private proxy provider. While that isn't entirely true with the likes of Oxylabs and Bright Data, I can tell you this is still a great choice with 8M+ IP addresses to pick from. When it comes to mobile proxies, the story keeps getting better.
Currently, Froxy offers mobile proxies in 200+ countries, with locations like Russia, the UK, Australia, Turkey, China, the US, Canada, and Denmark on the list. In the US alone, for example, Froxy offers 214,000+ providers, which is great, as this is the most popular proxy location.
Froxy offers 3G, 4G, and LTE mobile proxies, and at the time, 5G proxies aren't available. On the good side, the server uptime is 99.99% and from my experience, the company adheres to this claim strictly. What's also great is the fact that it supports SOCKS and HTTP protocols.
In addition, mobile proxies are rotated automatically but you also get the ability to choose the rotation interval. Froxy also offers dedicated IP addresses, so you'll be the only person that can access them, which grants additional privacy and control over your online activities with a particular IP.
The company offers very flexible subscription plans that start at $90 a month. For example, this Mobile Lite plan at $90 gives you 3 GB of traffic, 200 ports, and 3+ whitelisted IPs. The most expensive $2,000/mo plan called Mobile Enterprise bumps up everything.
It lets you use 100 GB of traffic, 1,000 ports, and 3+ whitelisted IPs. Moreover, Froxy lets you make a custom plan with a custom price, which you can do by contacting its customer support. This is great if you need highly-personalized plans for your business.
Beware that Froxy isn't the best in terms of speeds and performance and it needs some overhaul. That, accompanied by IP authentication that isn't the most reliable will maybe disappoint some more demanding users who are better off with Bright Data.
Pros
3G, 4G, and LTE mobile proxies are available
SOCSK5 and HTTP protocols
8M+ IP addresses
Flexible subscription plans
Dedicated IP addresses
Cons
Speeds and performance could be better
IP authentication isn't very reliable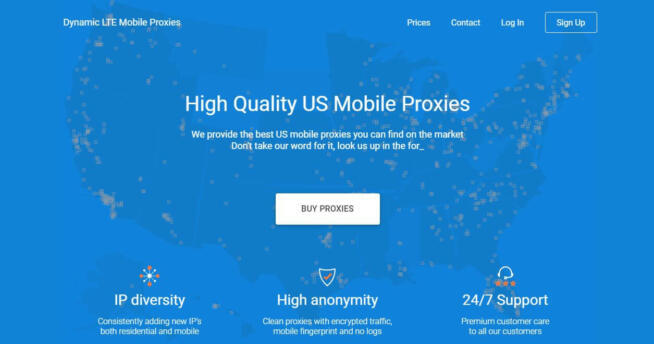 If you want a strictly-mobile proxy provider, look no further than ProxyLTE. Its name is self-explanatory because ProxyLTE offers just LTE mobile proxies based in the United States. It has a pretty simple approach to its subscription plans and it's simple to use, making it a good option for beginners.
For the start, it lets you select the type of proxy you want. HTTPS and SOCKS5 proxies are supported too, but you can choose other parameters like the state, the number of proxies, and the type of connection that you'll use. It can be WiFi, cellular, or both connections.
Each IP address you use with ProxyLTE comes with 256-bit encryption, which results in additional privacy when unblocking websites and browsing the internet. Another thing I like about ProxyLTE is that it offers you the ability to create a custom plan that goes out of the usual price range.
However, to get this plan, you'll have to contact 24/7 customer support and make a deal. Being quite limited in the number of IPs and locations you can get, you can expect ProxyLTE to be a bit more affordable than some of its competitors.
The cheapest plan called Private US starts at $0.05 per proxy per day and it includes features like IP rotation and no restrictions on bandwidth. Interestingly, proxy rotation is done every 30 minutes, which allows you to remain private online and avoid detection from blocked sites.
ProxyLTE offers proxies in all 50 states of the US as well, so if you need specific states or cities inside the US, you can be sure the company is going to have options for you. Even better is the fact that you can buy ProxyLTE plans using crypto, which provides a higher level of anonymity.
The downside is that it offers only mobile proxies that are based only in the US. That, however, might not be a problem for people who want cheap US-based mobile proxies and don't care about other countries and locations.
Pros
Encryption gives you additional privacy
The ability to create custom plans
24/7 customer support
High-speed US-based proxies
No bandwidth restrictions
Cons
Only US-based IPs
No 5G proxies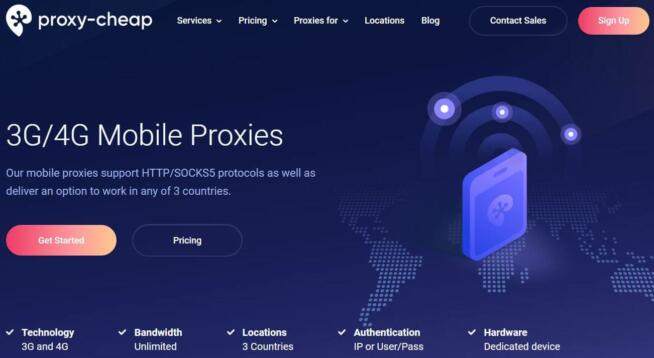 Proxy-Cheap isn't necessarily the cheapest mobile proxy on the list. However, its affordability perfectly complements its quality, given its fast-speed 3G and 4G mobile proxies. The company offers proxies in 11 countries and we're talking about locations in the US and Europe.
Currently, the company boasts 11M+ proxies and has 70,000+ active users. Much like ProxyLTE, its mobile proxies are extremely reliable and you can choose from both HTTP and SOCKS5 proxies with unlimited bandwidth and IP, password, and username authentication.
5G proxies still aren't on the list, but in the near future, I have no doubt Proxy-Cheap will include them. Nevertheless, Proxy-Cheap promises and delivers 99% of uptime, making sure you get stable connections while browsing the internet.
In addition, the company offers instant setup thanks to its Proxy Generator feature that lets you start using it in less than a minute. It's vital to mention that Proxy-Cheap uses proxies from real SIM cards, which is great for avoiding CAPTCHA and gaining access to blocked websites.
I found Proxy-Cheap to be useful for many other purposes aside from getting mobile proxies. You can choose data center proxies as well as residential proxies that come with additional benefits. I just don't like that geo-targeting is quite limited and cheaper plans don't provide very fast performance.
Speaking of cheaper plans, it's also good to mention how affordable this provider is. Namely, the plans start at $50/mo for US mobile proxies, while European proxies cost up to $80 a month. The Enterprise plan is here too and at $500 a month, it's much cheaper than Oxylabs or Bright Data.
Even better is the fact that you get a free trial, which is enough to test out each plan and decide whether or not to keep using it. Just be aware that the refund policy isn't in place, so if you're not satisfied, you can't get your money back.
Pros
Proxies in 11 countries in Europe and the US
Unlimited bandwdith in all plans
Proxy Generator
It's great at eliminating CAPTCHA and unblocking sites
Affordable prices
Cons
Limited geo-targeting
Performance could be better in cheaper plans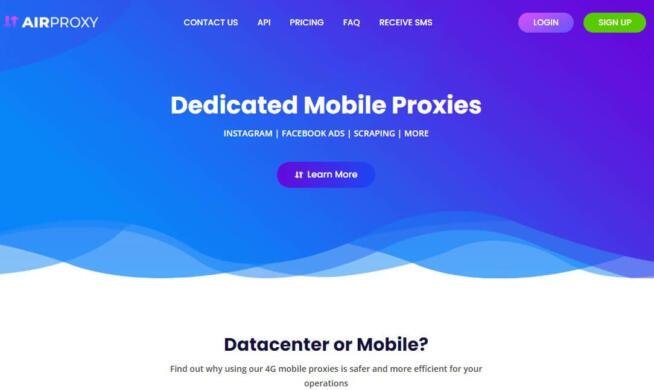 Airproxy is a company dedicated to 4G/LTE mobile proxies, offering undetectable mobile IPs for unblocking sites and accessing everything you want online. The company is based in Italy and it offers legit mobile IP addresses from this country only.
If you don't care about your proxy location, Airproxy is definitely a good solution. Besides, it supports IP rotation via API and it does so automatically, making sure your proxy usage is never detected. Once you connect to Airproxy, you're assigned a dedicated SIM card.
Given that each SIM card connects to a modem, Airproxy gives you exceptional speeds and performance across the board. Moreover, despite offering only Italian proxies, you can choose from several carriers in this country and not just Vodafone where most IPs are registered.
Overall, I found Airproxy to be very user-friendly and decent at unblocking restricted sites. It won't unblock many geo-restricted sites due to its Italy-only location but at least you can access blocked social media sites which is still great for staying up to date with your friends' happenings.
Price-wise, Airproxy is rather straightforward. You have only one subscription plan at 87 Euros a month, which, at the time of writing, is a little over $90 a month. Here, you get unlimited bandwidth, limitless IP rotations with custom rotation time, a dedicated SIM card, and of course – instant delivery.
There's a trial as well, but strangely, Airproxy wants you to buy it. A 3-day trial costs 9.90 Euros (a bit over $10), which, I think, is a bit silly. They could've just offered a 3-day free trial instead, similar to what other best mobile proxies on this list do.
Pros
It supports automatic IP rotation
Great performance
User-friendly web-based interface
It has a simple pricing structure (1 plan at ~$90 a month)
Cons
All proxies are based in Italy
A 3-day trial costs around $10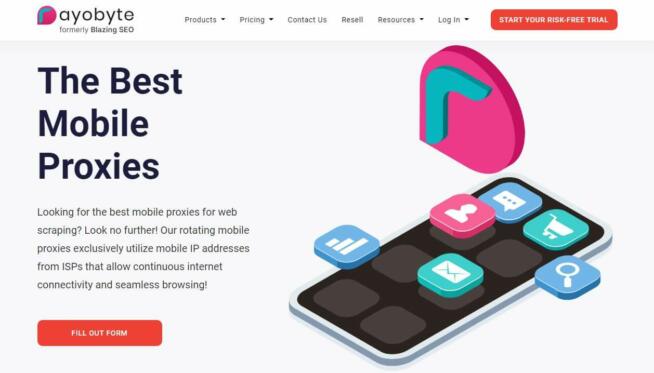 The final best mobile proxy is Rayobyte. Unlike Airproxy, Rayobyte offers other types of proxies, such as residential, data center, and rotating ISP proxies. When it comes to their mobile proxies, we're looking at 4G variants located in the US, which turns out to be an excellent location for this purpose.
Rayobyte is known for its ethical and fair approach to business. For example, it works with ISPs in the US to be able to use their IP addresses without breaching users' privacy. As such, it doesn't have millions upon millions of IPs like Bright Data, instead, you get around 750,000 of them.
By no means this is a small number but keep in mind that IPs are located only in America. On the other side, Rayobyte sports a user-friendly interface, and although it has no dedicated apps, its web-based interface offers lots of options within your hand's reach.
I like that Rayobyte has 24/7 live chat support that's fast to respond, coupled with its risk-free trial of two days. In addition to proxies, Rayobyte offers this Scraping Robot tool which will let you enjoy limitless scraping and gather more important information for your business.
Now, what about pricing? Well, Rayobyte offers 3 straightforward subscription plans, where the cheapest, the Starter plan, will cost you $50 a month with 2 GB of data. The Business plan stands at $300 a month with 15 GB of data, and finally, we have this Enterprise plan.
This plan is $600 a month with 40 GB of data and is great for business users. You'll agree that its cheapest plan is somewhat limited, while better plans aren't that cheap. That, and the fact that its country targeting is pretty limited, holds this proxy back from being higher up on the list.
Pros
4G US-based proxies
750,000 IP addresses
24/7 support through live chat
Scraping Robot
The Starter plan is just $50 a month
Cons
Limited features in cheaper plans
Limited geo-targeting
2. Best Mobile Proxies FAQ
2.1 What is a mobile proxy?
A mobile proxy takes advantage of SIM cards combined with a modem. When you buy a mobile proxy, you're assigned a dedicated SIM which is connected to a dedicated modem that you use to browse the web.
All proxies, including 3G, 4G, LTE, and 5G proxies will assign to you dynamic IP addresses, which means that the IP changes periodically. It can be every few minutes or every 30 minutes, depending on your choice.
When using a mobile proxy and trying to access the site, the site sees this request as if it's s coming from a mobile device, rather than your computer. What's more, the connection is routed through the SIM card you're assigned, so the site that you're visiting sees this connection as cellular.
This, in return, lets you access sites and platforms through this IP address rather than your own. As a result, you can unblock sites that your IP address won't allow you to access.
2.2 Can I get a free mobile proxy?
No. Mobile proxies are premium services so you'll need to pay for them. Some mobile proxy services offer you free trial options or a money-back guarantee, but at the end of the day, paying for a mobile proxy is the only way to use it.
2.3 Are mobile proxies good for Instagram?
Yes, many people use mobile proxies not only for unblocking Instagram but also for something called Instagram automation. Therefore, mobile proxies are great if you're looking to grow your Instagram profile by using an automation tool to automatically post for you.
By frequently changing your IP through a mobile proxy, even if one IP is detected as spam by Instagram, you'll get a new one either way, which allows you to use automation tools without interruption.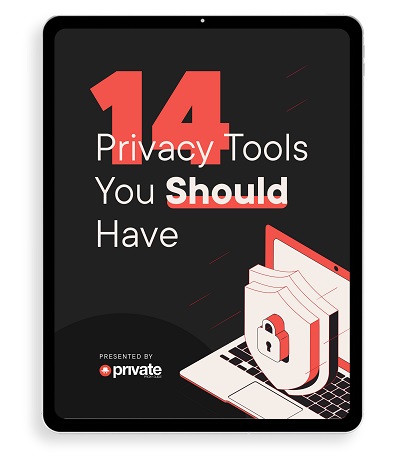 Learn how to stay safe online in this free 34-page eBook.