If you're looking to stay safe and secure online on your Android phone, using a VPN is surely the best solution. A VPN for Android will help you protect your online identity by hiding your original IP address and encrypting your connection with military-grade encryption.
Moreover, a VPN will help you bypass geo-blocks and unblock favorite streaming platforms. From Netflix and BBC iPlayer to HBO and Disney+, you'll be able to enjoy these services no matter your location!
With hundreds of VPNs on the Google Play Store, the question is – what is the best VPN for Android in 2023?
Well, this is the question that we're going to address in today's article. I'm going to give you a few premium solutions followed by their free alternatives.
Also, I will talk about the limitations of free VPNs and answer more questions related to this topic, to help you make the best possible choice.
1. Best Free & Paid Android VPN in October 2023
To give you the best possible Android VPN apps, we will start with the 7 premium providers. To use them, you'll need to get a subscription, which isn't free, although they offer free-to-download apps on the Google Play Store.
1.1 ExpressVPN – Overall Best VPN for Android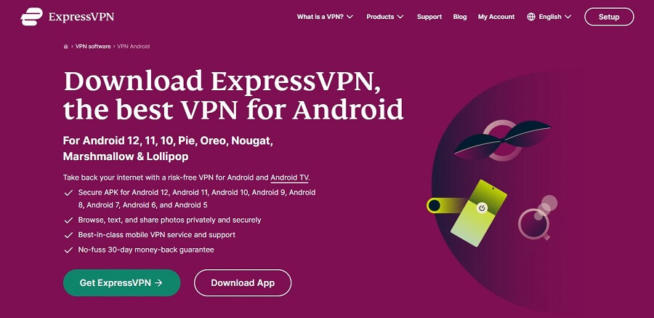 The best VPN for Android is, without a doubt, ExpressVPN. This VPN snatches the top positions on many lists because of its security, reliability, and great performance. On Android, you'll enjoy its 3,000+ servers in 94 countries that serve as a backdrop for other amazing features.
With servers in almost 100 countries, bypassing geo-blocks is a piece of cake. Furthermore, ExpressVPN is excellent at unblocking Netflix libraries, giving you access to BBC iPlayer, Hulu, Disney+, and Hotstar along the way.
Security-wise, you'll hardly find a better choice. I mean, even on Android, it boasts 256-bit AES encryption and a reliable kill switch. We also need to mention useful split tunneling and its Lightway VPN protocol that made its way to Android devices – thankfully!
ExpressVPN is really easy to use on any device. You'll find the server you want in 10 seconds, while the connection time rarely goes above 3 to 5 seconds. To that, we need to add ExpressVPN's no-logs policy.
It's been audited by PwC, which confirms that it doesn't store any compromising logs related to browsing history or IP addresses.
All of this is backed up by its ability to work in China, 5 simultaneous connections, and 24/7 live chat support. Simply put, ExpressVPN is a package full to the brim, with the only prominent downside being pricing.
But hey, under $7 a month, you can get the absolute best Android VPN with a 30-day money-back guarantee – what more do you want?!
Pros
Very fast speeds
3,000+ servers in 94 countries
Works with Netflix and other streaming platforms
Great-looking app for Android
Works in China
24/7 live chat support for quick response
Lightway available on Android
No-logs policy
Cons
1.2 NordVPN – Best VPN for Streaming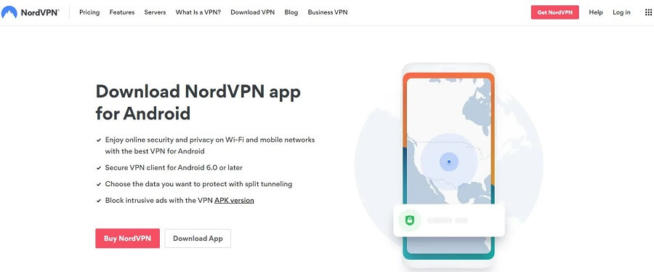 NordVPN is ExpressVPN's fierce rival and rightfully so. It comes with jaw-dropping 5,200 servers in 60+ countries, offering exceptional performance and stability. NordVPN works surprisingly well on Android, with a great-looking app that's equally easy to use.
Apart from that, the VPN is great for those who love watching Netflix or HBO. It works with more than a few Netflix libraries, and thanks to great performance, you can watch movies and shows in 4K without any buffering or stuttering.
Besides, the addition of several types of servers is more than welcome. You can use obfuscated servers for bypassing censorship or enjoy a double layer of encryption from Double VPN servers. Onion Over VPN servers let you browse the dark web anonymously while NordLynx (VPN protocol) safeguards your privacy thanks to NordVPN's valiant work.
Needless to say, features like 256-bit encryption and a kill switch are also here, with the addition of CyberSec, which is a great ad-blocker. Much like ExpressVPN, NordVPN comes with a verified no-logging policy, storing absolutely no logs that could infringe on your privacy.
Android users will be happy with its 6 simultaneous connections, round-the-clock 24/7 support, and applications for all platforms. Oh, and NordVPN is relatively affordable as well. Plus, it gives you a 30-day money-back guarantee for all plans, so you can test it out risk-free.
While it's a bit slower than ExpressVPN, this minor downside is easily swallowed once you get to see how well it works in practice.
Pros
More than 5,200 servers
Double VPN servers for added security
NordLynx VPN protocol
6 simultaneous connections
Zero-logs policy
Native Android support
Cons
Seldom connection issues
Expensive short-term plans
1.3 Surfshark VPN – Best Budget VPN for Android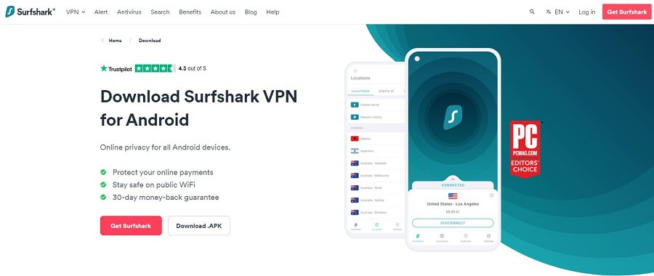 Surfshark offers a stunning Android application that looks and feels modern. However, its highlight is the number of simultaneous connections. By getting its subscription, you can connect unlimited devices with no additional costs, making it an end-all-be-all solution for budget users.
Indeed, Surfshark is really affordable, yet, it gives you 3,200 servers in 65 countries. Impressively, it's great for streaming as well. It works with Netflix and you can watch BBC iPlayer, Disney+, or Hulu on Android with it effortlessly.
Its speeds aren't as great as ExpressVPN's speeds, though. But, you can expect a wide array of security features. Some of them include WireGuard support, bank-grade encryption, IP/DNS leak protection, and a kill switch. Should you pay a bit more on top of your subscription, Surfshark will include a bonus suite.
In this case, you'll even get an antivirus, true incognito mode, and a few other functionalities. Though admittedly, I think that Surfshark is already a great Android VPN even without it. You still get a no-logs policy, which is great, as the VPN will store no compromising logs on its servers.
If you like customizing your app, you'll also like its dark mode for going easy on your eyes. In my opinion, this is the best-looking Android VPN app, which bolsters other great things about Surfshark. One of them is definitely amazing device support that allows you to use it even on an Android TV.
Or perhaps, you're more impressed with the 24/7 support that Surfshark has? Whatever the case may be, you can still enjoy a 30-day money-back guarantee and some of the lowest prices on the VPN market.
Pros
Unlimited simultaneous connections
Military-grade encryption (256-bit AES)
Works with Netflix & BBC iPlayer
Usable on Android TV
Very affordable prices (under $2.5 a month!)
Servers in 65 countries
Cons
Slower speeds
Occasional kill switch issues
1.4 CyberGhost – Safe VPN for Android

Speaking of the lowest prices, CyberGhost is in the same boat as Surfshark. Unlike Surfshark, it gives you 7,700 servers in 91 countries and slightly better performance. This big server network spawned dedicated streaming servers as well that represent one of CyberGhost's best features.
With them, you can unblock Netflix or enjoy a variety of streaming platforms and geo-restricted TV channels. Likewise, CyberGhost is fast enough for all bandwidth-hungry activities. Admittedly, its Android app isn't the prettiest, although it's functional enough and all features are easily accessible.
Some of its security features include an ad-blocker, OpenVPN/WireGuard VPN protocols, and a kill switch. I also like its IP and DNS leak protection, as well as the no-logging policy, which is a byproduct of its privacy-friendly Romanian jurisdictions.
Not to mention CyberGhost's transparency reports that make it one of the most trustworthy VPNs on the market. Being among the best VPNs for Android, you can expect it to work flawlessly.
Apart from Android, you can install it on Windows, macOS, iOS, and Linux, too, with the addition of Smart TV and routers.
You also get 7 simultaneous connections on one account, which is enough even for more demanding users. The downside of CyberGhost is that it doesn't work in censored countries. This is somewhat mitigated by its 24/7 live chat support and a 45-day money-back guarantee for long-term plans.
Pros
7,700 servers in 91 countries
Dedicated streaming servers
WireGuard support
Based in Romania (outside of the 5/9/14 Eyes)
Ad-blocker included
45-day money-back guarantee
Cheap prices
Cons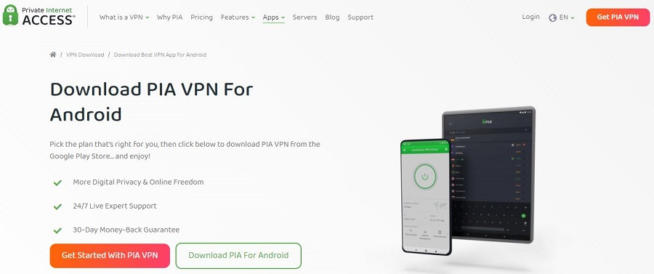 Private Internet Access or PIA is another best Android VPN in 2023. It's very cheap, offers almost 30,000 servers in 75 countries, and has lots of security features. Despite being based in the US, PIA VPN never had any security issues or scandals, as is the case with HMA VPN or Hola VPN.
Thus, if you want a secure provider for Android, PIA should be almost at the top of your list. It goes without saying that it has a native Android app. In this app, you'll find all the important features, from a kill switch and MACE (ad-blocker) to the choice of encryption level (128-bit & 256-bit).
Private Internet Access screams privacy, which is very transparent in its zero-logging policy. Thus, it won't store any unnecessary user logs, granting the maximum level of privacy. On Android, it's reasonably fast, although it's not the greatest choice for streaming.
However, I found it great for browsing the dark web through TOR, unblocking foreign TV channels, and accessing geo-blocked online bookies. Furthermore, it's very easy to use and offers 10 simultaneous connections on a single subscription.
Overall, its device support isn't excellent since it doesn't support some of the rarest devices. That shouldn't be an issue, as you can still install it on both Android and iOS but also Windows/macOS/Linux computers effortlessly.
PIA VPN is even cheaper than CyberGhost and Surfshark. Therefore, make sure you check its prices and claim the cheapest deal with a 30-day money-back guarantee.
Pros
One of the most affordable VPNs
Functional Android app
Solid performance
Nearly 30,000 servers in 75 locations
256-bit AES encryption
10 simultaneous connections
Cons
Not great for streaming
Based in the US
Private Internet Access review
1.6 IPVanish – Android VPN With Many Locations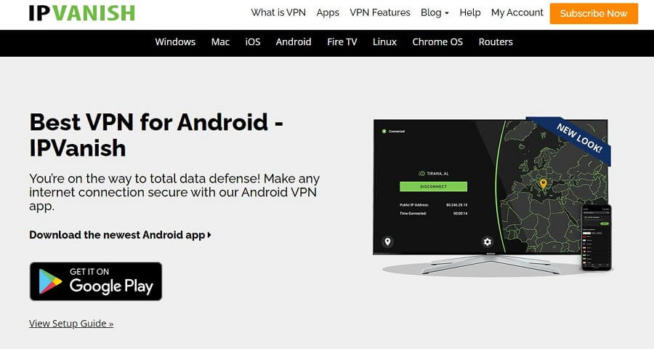 IPVanish is a US-based VPN provider that has great Android support and offers rock-solid security. For the start, it comes with nearly 2,000 servers in a bit over 75 locations. Sure, it doesn't have any dedicated streaming or P2P servers but its server distribution is great.
Despite its US jurisdiction (5 Eyes), IPVanish remains relatively safe and secure. Recently, IPVanish introduced WireGuard to its roster of VPN protocols, but you can also use OpenVPN and IKEv2 if you want. Moreover, it has 256-bit AES encryption and a kill switch that works flawlessly.
In our tests, IPVanish showed no IP and DNS leaks and that's great for privacy-oriented users. What about its privacy policy? Well, IPVanish keeps minimal logs that aren't going to threaten your privacy. After all, no timestamps, DNS queries, or browsing history are stored, so you can rest easy.
Sadly, IPVanish won't be a great VPN for streaming on Android. It can occasionally unblock Netflix US but don't expect it to work with BBC iPlayer or Prime Video efficiently. If anything, you can use it to watch geo-restricted TV channels outside of their countries.
Just recently, IPVanish started offering unlimited simultaneous connections for all plans. However, beware that its 30-day money-back guarantee applies only to the annual plan, so it's better to get it for testing purposes instead.
If your demands aren't too high, I think that IPVanish is a decent choice if you don't mind slower speeds and poor streaming capabilities.
Pros
Decent server distribution
Reliable kill switch
Cheap one-year plan
Zero-logs policy
30-day money-back guarantee
Cons
No advanced features
No-logging policy violation in 2018
Smaller server network
1.7 PrivateVPN– Android VPN With Maximum Security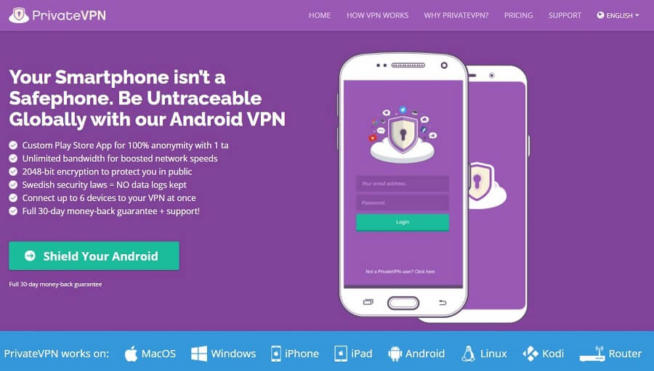 PrivateVPN is the last best VPN for Android on the list. It is by no means a bad choice, as PrivateVPN comes with impeccable security that many users love. PrivateVPN gives you more than 200 servers in 63 countries, which, admittedly, isn't very impressive.
On the flip side, you can enjoy the strongest encryption that will grant the maximum level of security. Important to mention is solid Wi-Fi protection and a reliable kill switch that works well on Android. The VPN even offers split tunneling and you can enjoy IP leak protection as standard.
In terms of jurisdiction, PrivateVPN is based in Sweden, which isn't very privacy-friendly due to its 14 Eyes participation. Despite this issue, it has a crystal-clear no-logs policy which PrivateVPN proved on several occasions.
This makes it extremely trustworthy if you care about keeping your privacy intact. Its Android app is relatively easy to use as well, and you can expect up to 6 simultaneous connections.
Even better, PrivateVPN offers full streaming support. This means that it works with Netflix and other streaming platforms with no issues. Its performance is also great thanks to OpenVPN and IKEv2 support, so bandwidth-hungry activities will be a breeze.
The only downside is the lack of 24/7 support, which isn't a big issue given its cheap pricing. If you check it out, you'll see that its 3-year plan costs just $2 a month and comes with a 30-day money-back guarantee. No doubt, this is one of the least expensive VPNs for Android.
Pros
Great security
Wi-Fi protection
6 simultaneous connections
Works with Netflix
The lowest price is just $2 a month
No-logging policy
Cons
Extremely small server fleet
No 24/7 live chat support
2. Best Free VPN for Android
With the best premium providers for this platform, let's quickly switch over to the best free VPN for Android in 2023. We have 3 choices that are cherry-picked from hundreds of low-quality VPNs on the Google Play Store.
2.1 ProtonVPN – Safest Free VPN for Android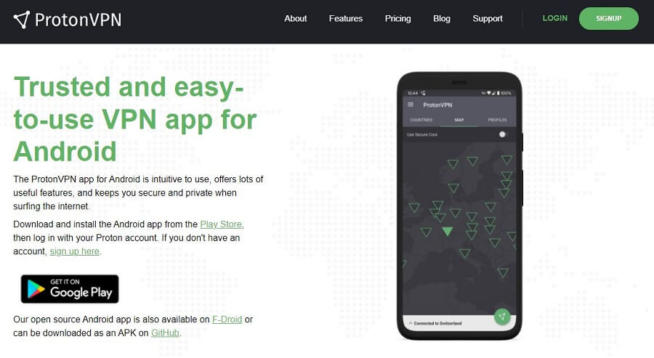 ProtonVPN is the safest free VPN for Android. It does offer a premium plan, although it's a bit more expensive than it should be. However, if you get ProtonVPN for free, you'll be surprised at what you can get from a non-paid provider.
For the start, it has native Android support, meaning that you get a great application for your phone. Second, it offers unlimited bandwidth, giving you the ability to browse the web infinitely. I also like that its security features mostly remain from the paid plans.
That being said, you'll still get 256-bit AES encryption, IP/DNS leak protection, and a kill switch. Surprisingly, even split tunneling is available in the free plan, as well as a so-called VPN Accelerator for boosting your speeds.
ProtonVPN is all about safety and security, which is bolstered through its Swiss jurisdiction. Switzerland has very stern privacy laws, allowing ProtonVPN to proudly boast its no-logs policy verified by SEC Consult. Unfortunately, things take a turn for the worse if you want anything more than security.
Namely, it doesn't work with Netflix and other streaming platforms, which is a huge minus for streaming enthusiasts. Moreover, it's worth noting that speeds are drastically decreased from its free plan. As a result, you'll get noticeably worse performance.
In the free plan, you also get just one simultaneous connection and a bit over 100 servers in 3 countries (the US, Netherlands, and Japan). This is not enough for effectively bypassing geo-blocks, which is actually a typical downside of free VPNs.
Pros
Unlimited bandwidth
WireGuard support
VPN Accelerator
No-logging policy
Cons
Slow speeds
Only 100 servers in 3 locations
Doesn't work with Netflix
P2P is forbidden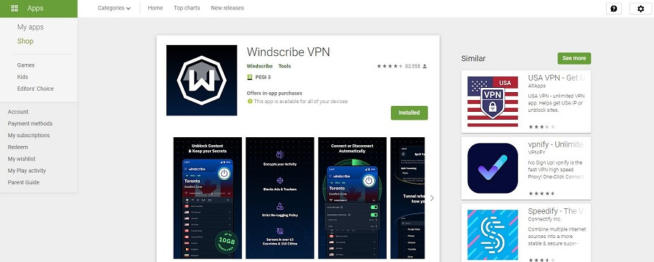 Windscribe is a great VPN for Android that you can download and use for free from the Google Play Store. It's very similar to ProtonVPN in terms of security and privacy. In its Android app, you'll find a lot of features that include bank-grade encryption and a surprisingly good kill switch.
You will like its intuitive app for Android too, allowing you to easily access anything you want. Changing protocols is also possible and Windscribe gives you OpenVPN and IKEv2 in its free plan. Its Canadian jurisdiction isn't going to make you happy, as Canada is a part of the 5 Eyes.
Luckily, Windscribe isn't heavy on logging and stores only minimal logs of its users. With no external audit, we don't have a certification to prove that. Nevertheless, even as a free provider, Windscribe will sometimes work with Netflix and it's great for watching US or UK TV abroad.
Before I talk about its main downside, I'll just mention that it has more than 500 servers in 63 countries, which is pretty impressive. Now, its main downside is a bandwidth cap. It comes with 5 GB out of the box, but if you sign up, you can get 10 GB of monthly data.
This definitely isn't enough even for just browsing the web, let alone streaming or downloading content. Furthermore, Windscribe isn't very fast and you can expect connection issues from time to time.
Its unlimited simultaneous connections are great but if you split 10 GB of data between other devices, you already stretch it too thin. Thus, Windscribe is only good if you use the internet rarely.
Pros
Rock-solid security
Military-grade encryption
Easy-to-use application on Android
Works with Netflix sometimes
Cons
10 GB bandwidth cap
Slow speeds
Canadian jurisdiction (5 Eyes)
Just 500 servers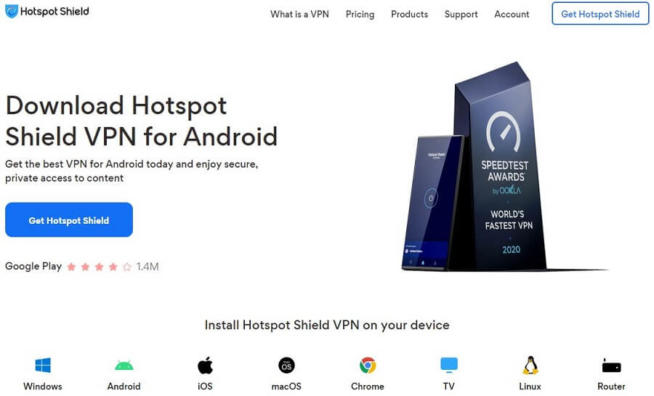 Hotspot Shield is, for me, a too expensive option that's not particularly great. On the other hand, it offers a free plan that's going to be interesting for Android users. Its Android app has all the security features you would expect, apart from a kill switch.
Is that an issue, though? Maybe. But, you should know that it still uses the highest level of encryption accompanied by IP leak protection. Hotspot Shield works well on Android and its application is relatively easy to use.
Furthermore, we need to mention its proprietary Hydra protocol that promises better speeds and connection stability. As a result, Hotspot Shield is a decent choice for unblocking streaming platforms and TV channels outside of their respective countries.
Hotspot Shield VPN does have some issues, however. For example, it offers 500 MB of daily bandwidth and often displays ads on Android, which hinders your browsing experience. Also, it offers just one simultaneous connection, no 24/7 support, and very slow speeds.
This is exacerbated by its parent company AURA, which has questionable logging practices. It stores a bit more information than we would like and it's based in the US, which isn't a privacy-friendly jurisdiction.
Furthermore, we must mention that it offers just one server location in the US. This makes it extremely limiting if bypassing geo-restrictions is your primary goal. But, if you want the best Android VPN that's easy to use and is somewhat decent for streaming US content, Hotspot Shield should do the job.
Pros
Decent security features
Good for unblocking geo-blocked sites (for a free VPN)
The Android app looks nice
Cons
500MB/day bandwidth limit
Very slow speeds
Stores some logs
US jurisdiction
Only one server location (US)
3. How to Install and Use the Best VPN for Android?
Not all of us are tech-savvy and some people simply don't know how to install and use a VPN for Android. Well, we don't blame you, as many people don't even know what a VPN is.
If you've paid attention up until this point, you probably know that. In that case, I will explain to you how to install a VPN on your Android phone because the process is almost the same for every choice on the list.
3.1 Installing a Paid VPN
Did you choose a paid VPN? In that case, you first must visit the website of the provider you want and get a subscription by providing an email and choosing a payment method.
By doing so, you'll purchase a subscription and you'll usually get login credentials through email or directly after the purchase, as is the case with ExpressVPN. These login credentials are used to sign in to the application, after which, you can begin using your subscription.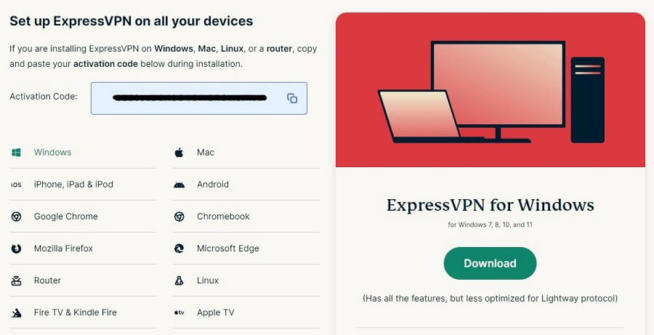 Before doing that, you need to visit Google Play and download the VPN application of the provider you've chosen. Open the application, sign in using the credentials we mentioned, and that's it!
All you have to do now is choose the server location, tap on it to establish a connection, and you can browse the web safely and securely.
Beware that applications of the paid providers are FREE to download, which doesn't mean they can be used without a subscription. Although, some providers like CyberGhost, for example, give you a short free trial on Android.
After that, you'll still need to purchase a subscription to use it.
3.2 Installing a Free VPN
Installing a free VPN is much easier. You don't have to provide payment methods and in many cases, you don't need an account. Once you decided on which VPN you want, just find it on Google Play, download it, and you can use it immediately.
Some free VPNs do require you to make an account, however, but that takes no more than 5 minutes. Windscribe, for example, gives you 10 GB of monthly data if you make an account. Otherwise, you're stuck with 5 GB a month.
But, generally speaking, the installation process is much easier, while using a VPN on Android remains the same regardless of the provider you choose. It always consists of connecting to the server of your choice and encrypting your connection, thus enjoying the many benefits of this service.
4. Limits of Free VPN Providers for Android
When we talked about free VPNs for Android, you noticed a few trends that put them way below their paid counterparts. I prefer premium VPNs, as they're not very expensive and offer significantly more.
Therefore, let's talk about the general downsides of free providers that you should be wary of before using them.
4.1 Slower Speeds
Slower speeds are a typical problem of many free VPNs. Android users will notice this issue when using ProtonVPN, Hotspot Shield, and many other providers of this type. Generally speaking, VPN providers value more their paid users because they bring more revenue.
As such, these users have higher priority, so they get better connection stability and better speeds. This is a way of enticing free users into purchasing a premium plan so that they can enjoy the same benefits. Unlike the next factor, this one is almost always present in free providers.
4.2 Limited Monthly Bandwidth
Limited monthly bandwidth isn't common in every free VPN. ProtonVPN and Hola VPN give you no bandwidth caps, for example. However, ProtonVPN is slow and Hola VPN is both slow and unsafe to use because of the way it works and logging practices.
VPNs like Windscribe, TunnelBear, Hide.me, Hotspot Shield, and many more will limit your monthly bandwidth. In the case of TunnelBear, it's just 500 MB a month, while Hotspot Shield gives you 500 MB a day or approximately 15 GB a month.
In any case, this amount of bandwidth isn't going to be enough for browsing, streaming, and torrenting even for the least demanding users.
4.3 Weaker Security
Security should be the main selling point of VPNs and free providers often fail to deliver. Some of them use weaker encryption and some of them don't offer a kill switch, as is the case with Hotspot Shield. Once again, the best security features are kept for premium users.
As a result, free users don't get the same treatment and thus, risk their online security.
4.4 No Streaming Support
You aren't going to enjoy streaming with a free VPN for Android anytime soon. Not a single free VPN works reliably with Netflix and bypassing geo-blocks is not efficient due to a small server network. Add to that limited bandwidth and slow speeds, and you can see what I'm talking about.
When using a free Android VPN, it's crucial to keep your expectations low. Free VPNs are not good for streaming and torrenting, and if that's a big deal, opt for paid options from the list above.
4.5 Deceptive Logging Practices
Finally, we can't dismiss deceptive logging practices that plague many free VPNs. Hola VPN is the most notorious one and is known for collecting pretty much any bit of information it can get its hands on. Betternet VPN does the same, and to a certain extent, Hotspot Shields joins that party.
To be able to make money, some free VPNs will sell your personal info to third parties as well. That way, they diminish your privacy and put it in the hands of malicious companies looking to profit off of your personal details.
With that said, if you're keen on using a free VPN, the smartest choice is to focus on their security rather than performance or bandwidth, which is, either way, going to be disappointing.
5. Android VPN FAQ
5.1 What is the best VPN for Android in 2023?
The best choice for this platform is ExpressVPN given its features, performance, and security. If its expensive prices bother you, feel free to try CyberGhost or Surfshark as cheaper alternatives.
5.2 Can I watch Netflix with a VPN for Android?
Sure. You just need to connect to the VPN server in the country whose catalog you want to unblock. Once you do that, visit Netflix, and unblock the movie or show you want.
Bear in mind that free VPNs won't work for this purpose, so it's better to go for a paid option.
5.3 Can I use a VPN on other devices, and not just my Android phone?
Yes, you can do that simultaneously, up to a limit imposed by the VPN provider. VPNs usually support platforms like Windows, iOS, macOS, Linux, Smart TV, Firestick TV, routers, and many more.
While the installation process might differ, you can get a tutorial from the VPN provider you've chosen and use a VPN on any device with no issues.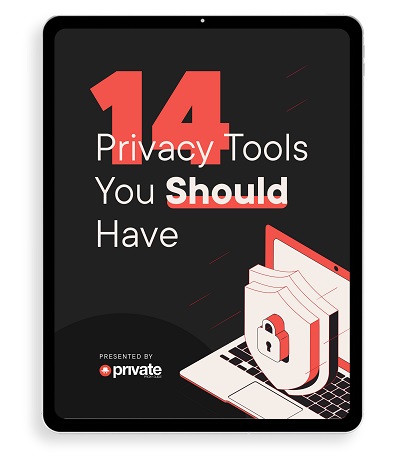 Learn how to stay safe online in this free 34-page eBook.