Here is my quick list of the best free antivirus for Windows 10 in 2023:
AVG
Avast
Avira
Bitdefender
Comodo
McAfee
Windows Security
Antivirus is an important piece of software on your computer that protects it from malicious programs and prevents the loss of confidential information.
There are many such programs on the market, which differ in both how effective they are and how much they cost. However, you don't always have to pay for a good antivirus — you can use one of the free options.
The purpose of this article is to tell you more about the main criteria of how to select a modern antivirus program and to show you the pros and cons of the most popular free products. These are also considered the best free antivirus software on Reddit and Quora.
1. Best Free Windows 10 Antivirus Software in December 2023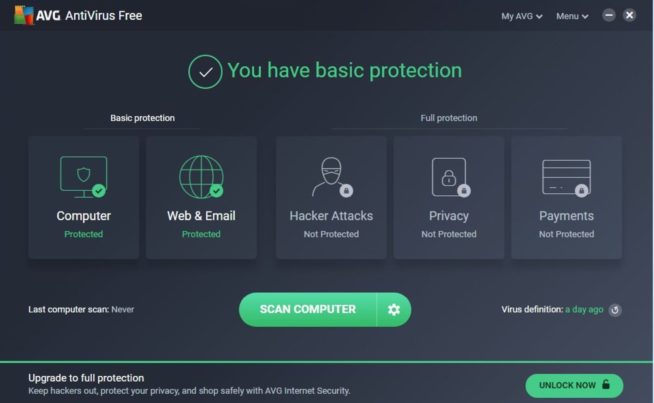 AVG Anti-Virus Free is a popular antivirus. Its main feature is a deep integration into the system. It automatically scans files and programs when they are launched, thus avoiding infections by viruses, trojans, and spyware. Also, AVG provides the user with a customizable scanner. With this function, you can control both the process of checking your computer for infected files and the process of their treatment. The new version of AVG has a fully updated, pleasant-looking interface with user-friendly menus.
AVG Anti-Virus Free boasts excellent system protection and relatively low consumption of system resources. Unlike the paid version, which, of course, contains more tools and functions, the free version works much more stable, while receiving the same technical support in the form of updates. The app performance is amazing, and the email scanner will save you from having to install specialized applications, as it perfectly copes with it. A new unique feature — Link Scanner – allows the user to use the antivirus to scan the site without accessing it, which can be very convenient. AVG Anti-Virus Free is the "default" choice for more than 5 million users worldwide.
AVG Anti-Virus Free Features
A smart computer scan based on Windows, permanently active anti-rootkit, antispyware, automatically tracks all open files.
Link Protection — checks the security of links in real-time, blocking the potentially dangerous ones.
Resident Shield — proactive protection against malicious software.
Email scanner — email scanner guarding sensitive data.
PC Analyzer — a tool for scanning equipment for errors that slow down the work, optimizes the computer performance.
Identity protection — administrator protection, other users will not be able to change the settings.
File Shredder — permanently delete files without the ability to recover them.
Pros
Wide functionality for its class.
Low system requirements.
Simple interface, concise design.
Ability to scan the PC with one click.
High-speed system disk scanning.
Malicious files quarantine feature.
Protects your computer in real-time.
Timely and frequent automatic update of the antivirus databases;
In addition to the version for Microsoft Windows, you can install a good, powerful antivirus for free on your Android and Mac OS devices under one account.
Cons
An embarrassing installation process on an infected machine — malware often blocks the process.
Regular offers to buy the paid version, although the AVG antivirus program is supplied for free.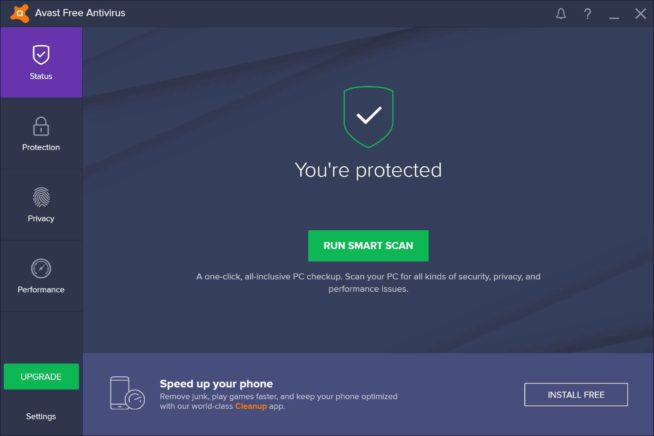 Avast Free Antivirus is an excellent free antivirus that has been recognized by millions of users around the world due to its reliable protection against trojans and viruses in real-time. The latest version of Avast boasts an updated intuitive interface, several unique features (AutoSandbox, Intelligent Scanner, etc.), improved speed and, most importantly, one of the broadest virus bases in the world (it is updated daily).
Avast Free Antivirus provides the user with a new AutoSandbox feature, which allows the automatization of the process of placing suspicious files in the sandbox. Once in the sandbox, you can make a full file analysis and, if necessary, cure it. This feature allows you to save a large percentage of files from instant erasure, to avoid system errors associated with deleting important system files, and so on. The application handles objects neater than analogs!
Also, the new version of Avast includes a built-in remote support feature. A user can connect to another user's computer (only with permission) and provide him with technical support or assistance, which is quite convenient since it eliminates the need to have a customized program on the computer for remote access. In general, Avast Free Antivirus is an excellent choice for the average user, providing him/her with everything needed to keep the system clean.
Avast Free Antivirus 2021 features
Home Network Security protects all devices connected to your home network.
The file system screen monitors and "cleans" all processes that run on your computer in real-time.
Intelligent scanning monitors traffic and prevents spyware.
Ensures email protection against receiving and sending malware in attachments.
The browser cleaning feature will prevent you from annoying search engines and inconvenient control panel changing the default browser settings. Moreover, now you don't have to worry about the browsing log — Avast Antivirus will regularly and efficiently clean it.
Software updater — checks and installs updates for free programs in automatic mode.
Game mode — antivirus notifications will temporarily turn off, and the load on the system will decrease until you finish playing.
Pros
"Light" and undemanding program that provides comprehensive protection.
No hidden payments — even the latest version of Avast Free Antivirus is available for free.
Regular updates of virus databases.
Scans everything that is downloaded to your computer from email clients, social networks, or just through a browser.
Quick scanning for viruses, scanning archives.
Powerful antivirus does not slow down the computer or laptop.
A convenient interface in many languages, desktop
It provides safe surfing on the Internet.
Vulnerability detection, available on your other devices.
Protects against network attacks, protects your mailbox from password interception.
The new version guarantees the safe conduct of banking operations.
Ability to create a rescue disk to scan the HDD for suspicious activity if the system does not boot.
Cons
The Avast Free Antivirus app sometimes accuses good software of being viruses. That is, it rings a false alarm.
Antivirus does not block by default pop-up windows in the browser (advertising).
To activate the trial version, it asks you to log in using your account.
The Avast Antivirus Pro, Avast! Endpoint Protection Suite Software provides more options.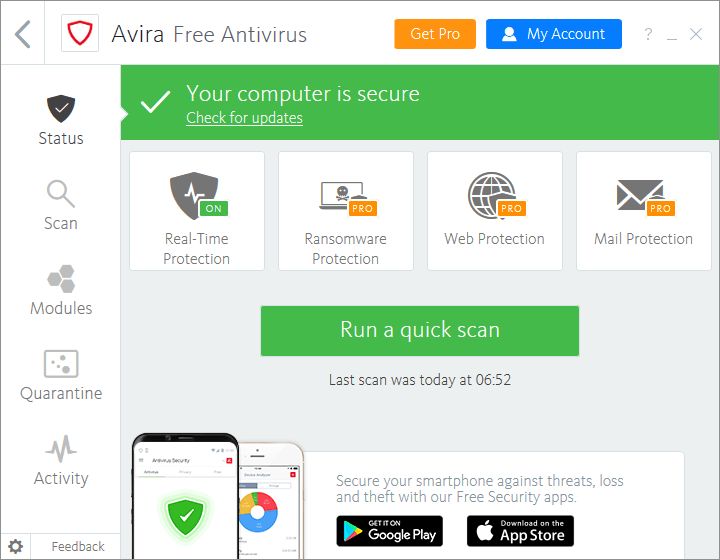 Avira Free Antivirus is a simple antivirus that boasts fairly effective protection against viruses, trojans, and adware. Its main advantage over competitors is the use of cloud technology, which allows you to protect your computer from the newest and most recent threats. The antivirus itself provides only basic protection against threats but this can be expanded with special plug-in modules that can be downloaded absolutely free of charge from the official website. Thus, each user can "build" a personal and unique security system.
Avira Antivirus Free comes bundled with the Virus Guard module, which automatically scans the files that the user opens, which increases the security level of the system. To ensure security in Wi-Fi networks, you can also activate the Avira Phantom VPN protection component, which is necessary in order to protect your PC against phishing sites and external threats. In general, Avira is one of the best solutions for combating the so-called "polymorphic" viruses that can emulate normal programs.
You can also install an e-mail scanning module and protection from spam and dialer programs. In other words, Avira is a good antivirus that is ready to reliably protect your computer for a long time, no matter what you do.
Avira Free Antivirus Features
Virus Guard module — your computer protection against worms, viruses, trojans, and spyware in real-time.
Avira SafeSearch Plus — a cloud technology for analyzing potentially dangerous URLs that prevents visiting malicious sites.
Powerful free antivirus contains anti-rootkit and high-level antispyware.
Heuristic files analysis allows you to identify malicious code before integrating it into the system.
System Speedup — improving performance, expanding the free space on the hard drive of a home computer.
Easy to configure parental controls, protection of personal data from erasing.
Pros
Easy to learn intuitive user interface.
High-quality real-time protection against the advertising content of rootkits, phishing, and malicious websites.
Scans files uploaded while browsing social networks.
A large number of scan settings for all components.
Ability to block unknown programs to protect personal data while connected to the Internet.
Automatic updates of virus databases, providing timely blocking of new threats.
Low system requirements. The antivirus solution does not load the PC, requiring little computer resources.
The free version is perfect for home use.
Supports any version of Windows and Mac OS.
Suitable for all popular file systems.
You can download the antivirus tool for Android and iOS mobile devices.
Cons
Frequent false positives.
No web antivirus – only Avira Browser Safety protection components.
To implement full PC protection, the Avira Antivirus developer offers users to visit the official site and buy the Internet Security version, which undermines the credibility of a good free version.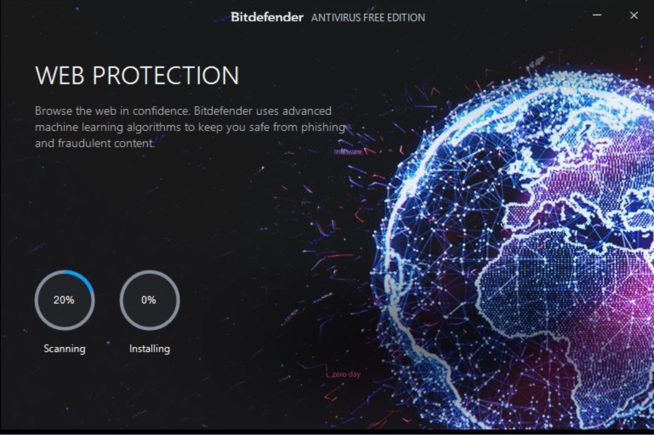 Bitdefender Antivirus Free Edition is a free version of the popular Bitdefender antivirus. Although it has slightly lost some of its features, it can still compete with the leaders on the antivirus software market, as it easily catches all existing viruses. The free version includes a modern scanner with a calendar module which makes it possible to schedule system checks, a quarantine module to monitor suspicious files, a scan log, and a huge virus database, which currently contains about 500,000 signatures.
There is an opinion that the free version will never provide the same quality as the paid antivirus programs, and Bitdefender easily breaks down all such stereotypes. Bitdefender Antivirus Free Edition is ideal for home use, as it does not burden the system with unnecessary processes while providing a high level of protection. Unlike many other antiviruses, Bitdefender does not annoy you with constant pop-up windows and does not require user participation in its work.
A huge database of viruses provides the highest level of protection, and an intuitive interface allows it to be used even by users who have never used any antivirus programs before. Try this wonderful antivirus in action and make sure that it is one of the best representatives on the market!
Bitdefender Antivirus Free Edition Features
Active Virus Control — antivirus scanner performs a real-time threat scan in automatic mode.
Available scanner scheduler to check the hard disk on a schedule and in manual mode.
Virus Shield — blocking sites with fraudulent and phishing content, fighting against dealers and spies, and offering resistance to virus attacks.
You can use one account for desktop and mobile devices (Bitdefender Mobile Security).
Support for older versions of an operating system like Windows XP, 7, 8.
Automatic update of the virus signature databases.
Parental control with fine-tuning action.
Pros
Active virus control in the free version of the product.
Easy-to-use software interface.
Bitdefender Safepay — a built-in isolated browser for secure email checking and surfing.
Protection of the main system files, previously compromised, according to the developer database.
The automatic update module downloads the latest version of the antivirus through the official website.
Functional quarantine, event log.
Cons
A free version of Bitdefender Antivirus performs only a comprehensive scanning.
High system requirements — use too many computer resources (RAM and processor).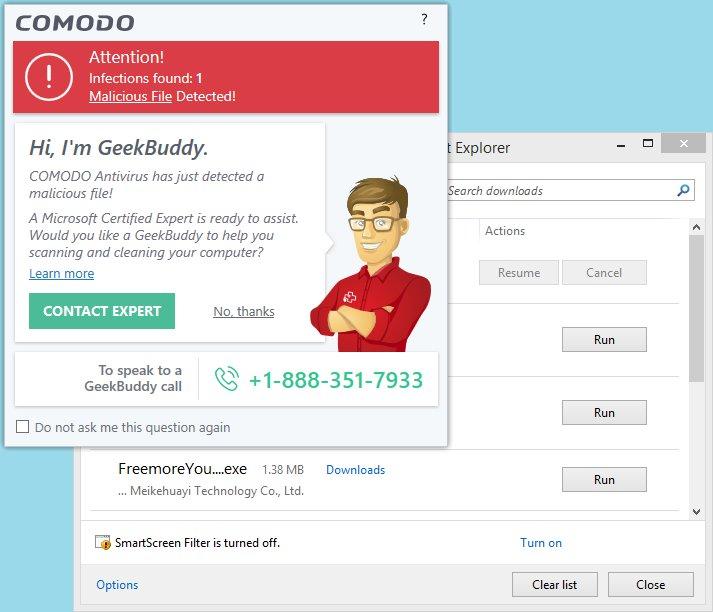 Comodo Antivirus is a powerful free antivirus software for the comprehensive protection of your computer against viruses, trojans, hacker attacks, and other malicious software. Thanks to the advanced heuristic analysis of files, Comodo copes with the identification of infected files, allowing them to cure faster than they harm the system. Installing the antivirus is even easier than using it — during the installation, you will be asked to choose a lot of settings to make it easier to work with the program after installation.
Comodo Antivirus is perfect for both novice and advanced users, as it successfully combines a rich toolkit, convenient settings for automating processes and has a nice interface. The latest Comodo engine virtually almost does not load the system after the launch, and also reduces the time of scanning a computer for threats which traditionally takes a long time. As a result, we have a greatly customized antivirus that will faithfully serve us for many years.
Comodo Antivirus Features
Monitoring processes in real-time.
Scanning System.
Mail antivirus.
Proactive protection.
Pros
Simple interface.
Localization in many languages.
Provides reliable protection for your computer.
Cons
Blocks some useful programs.
1.6 Windows Security
If you use Windows 10, you already have a built-in antivirus, as well as additional protection modules, such as the SmartScreen filter, firewall, and user account control.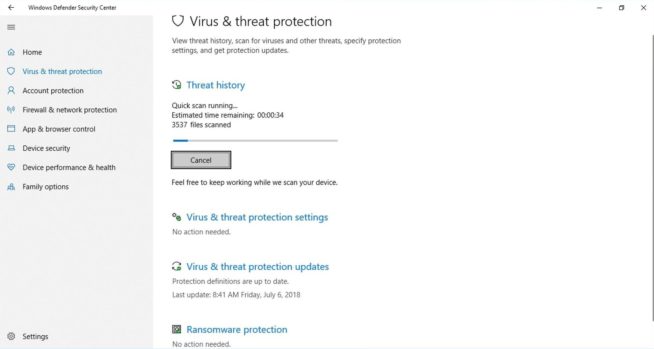 Core components of Windows Security
Virus and threat protection — this section will show which antivirus is used for protection. This can be Windows Security or any third-party antivirus. Also, this section will display the results of the scan performed by the Windows Defender and a link to launch a third-party antivirus solution.
Account protection — allows you to manage account security and log in. You can configure the Windows Hello service to set a PIN or biometric authorization (face recognition, fingerprint recognition) for a faster and safer login. Also available is the Dynamic Blocking feature.
Device performance and health — this section will display information about the status of Windows updates, drivers, battery life, and storage capacity. Also, the Refresh Windows option will be available for performing a clean installation of Windows 10 with saving personal files and some system settings. This function will be required in case of problems of performance or stability.
Firewall and network protection — this section provides Windows Firewall configuration information and links to troubleshoot network connectivity issues.
Device security — offers overall security status as well as the management of advanced security features for your device. The available functions and options (such as Core Insulation) will depend on the hardware configuration of the specific device.
App and browser control — here, users can configure the SmartScreen Filter for applications and browsers in order to protect themselves from malicious sites and downloads.
Family options — Windows 10 has a set of parental control tools, and this section presents the information about their performance. Parents will be able to set computer usage limits, control the purchases of games and applications, as well as view the status and security status of a PC.
Many people ask whether the integrated Windows 10 antivirus is sufficient and how good it is. Although there might have been some problems with it several years ago, in 2019, the situation changed. If in the previous year, the Windows Defender and Microsoft Security Essentials tests showed below-average virus and malware detection rates, the tests now demonstrate the maximum level of protection on Windows 10. Does this mean that now you can turn down third-party antiviruses?
There is no clear answer. It will definitely be a great solution if you:
Do not disable User Account Control in Windows, and perhaps do not even work under the Administrator account and understand why sometimes account control asks you to confirm actions and what the risks the confirmation may involve.
Enable displaying the file extensions in the system and can easily distinguish an image file from the executable file, and the image file icon on the computer, flash drive or in the email.
Check the downloaded program files in Virus Total, and if they are packaged in RAR, unpack and double-check.
Do not download hacked programs and games, especially those where the installation instructions begin with "disable your antivirus." Do not disable it.
Pros
It provides quite good protection without affecting at all the operation of the system.
Cons
2. What should an antivirus include?
According to Symantec, about 400 thousand dangerous programs hit the Internet every day. Worms, Trojans, spyware, blockers, viruses, exploits, and other types of such programs can not only affect the operation of your device but also subordinate it in order to solve their fraudulent schemes. To reduce the risk of such problems, the developers of antivirus programs put a lot of effort in creating reliable protection for your computers. For this purpose, they use various approaches to protect your computer from online attacks. All the products provide a similar set of features. What are some of them?
A good antivirus is required to provide the following functions:
The antivirus monitor should constantly (in real-time) scan all those files, folders, and disks you are working with at any given time.
The antivirus must contain a module that constantly monitors that the program code is not damaged.
The antivirus program should have a scanner to check suspicious folders on your computer and detect the virus in time before any damage has been done.
The antivirus should provide the ability to constantly update the virus databases: as they say, hackers are not asleep — new, more advanced, dangerous, and insidious viruses are constantly added to the well-known and familiar ones on the Web, and therefore your antivirus program must constantly replenish its knowledge base. The more often the database is updated, the better. Ideally, the virus database should be updated daily, automatically downloading updates from the remote server.
It is highly desirable to have a special module that can create rescue boot drives: by booting from such a drive, you can check the system in a clean environment.
For additional protection against network attacks, some antiviruses use a firewall.
And, finally, the more intuitive the interface of the antivirus is, the simpler it is to install and configure. Ideally, the interface must clean and very easy to use.
What other aspects should you keep in mind?
Many people are worried about how much the antivirus will affect the performance of their computers. Of course, any antivirus will use some system resources like HDD, memory, etc. As a result, they will slow down your PC. However, this will not make a big difference if you use a modern computer with a powerful processor, enough amount of RAM, and a high-speed SSD.
Not every antivirus software provides good results. Some of them are more efficient while others are less. If you care about your data protection, there are a lot of independent tests available online. Read them carefully and choose the most reliable solution.
In order to make the right choice, remember your computer's capabilities. Before installing antivirus software, you should carefully examine the system requirements that the developer specifies and relate to the capabilities of your computer like the processor, RAM, and the version of Windows you are using.
3. Using your antivirus efficiently
Do not ignore the first scanning. When you install the software, it will ask you to make a full check. Do not ignore this, even if it takes several hours.
Scan your computer periodically. Many antiviruses can do it automatically or have a schedule option. This will help you to detect any threats in time.
Check archives before unpacking. Most viruses are packed into ZIP or RAR archives so it is a reasonable step to check them before unpacking.
Check the internal drives, especially if it is not your own drive. This is a very easy way to infect your computer.
Do not ignore the antivirus notifications. Pay attention to them as they can save your information and nerves.
Regularly update the antivirus database. All the modern software updates them automatically but if you do not have a permanent Internet connection, do not forget to check the updates manually.
Update the antivirus software regularly.
Never install more than one antivirus software at the same time. You can however install antivirus software and a malware scanner or firewall at the same time.
4. Conclusion
Antivirus software cannot be considered to offer 100% protection to your PC against external threats. Yes, they are becoming more powerful and reliable every year. However, you need to understand that intruders will always be one step ahead. Therefore, along with antivirus programs, it is necessary to use system backup solutions. Another disadvantage of using antiviruses is the heavy load on the processor and RAM. Of course, you can set the time for checking the file system when it does not interfere with everyday tasks on the PC.
Also, remember that an attentive user is the best antivirus protection of the computer. If you plan to use a free antivirus, then go for AVG Antivirus since it has the most benefits and least problems.
Below are our recommended paid alternatives.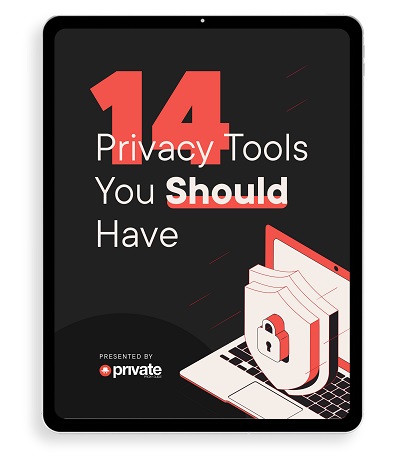 Learn how to stay safe online in this free 34-page eBook.