Android users have been nagging iOS users over the limitations imposed by Apple when it comes to security, considering it a huge disadvantage, from the dawn of time. But are those limitations really a disadvantage? From the perspective of Apple fans, they are not, and for good reason. After all, it's because of them that Apple's iOS devices are unlikely to get infected by malware compared to other operating systems.
That said, iPhones and other iOS devices aren't completely immune, as they're still prone to the dangers of malicious websites, web trackers, annoying ads, local snoopers, and everything in between. For the average user, all of that can be super dangerous, which is why the best iOS antivirus apps exist. Although not all antivirus apps deliver on their promises, we took the liberty of researching the market and finding the best ones out there. So, without further ado, here are the best antivirus apps for iPhone and other iOS devices!
List of the best Antivirus for iPhone & iOS in 2023
1. Norton Security for iOS – Best Antivirus for iPhone & iOS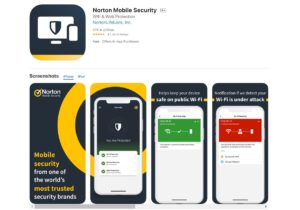 If you're the kind of user that really cares about the user interface of the apps you use, you'll certainly love what Norton has to offer in its iOS app. The app's dashboard looks super clean and organized, making it effortless to use and easy to love.
There's more to this app than meets the eye, though, as you get all the features you'd expect from a premium antivirus app for iPhone and iOS. For instance, the Norton Security app for iOS offers robust Wi-Fi Security, which makes sure any network has a clean reputation before letting your device connect to it. Not only that but, once you're connected, it also scans the network for malicious hardware trying to break the encryption. Should anything look suspicious, the app alerts the user and blocks the connection immediately.
The app also prevents any unsafe or malicious website from being loaded in your device's browser. That's done through the Web Protection feature, which compares any website you're about to access to Norton 360's anti-phishing database. The last piece of Norton's Mobile Security is the Device Security feature, which lets you know if your OS needs an update. As you know, security updates are critical for iOS devices, so make sure to make use of this feature. As with the rest of the review batch, Norton's Mobile Security app has a free tier as well as a paid one, which costs only $14.99 yearly, making it one of the most affordable pieces of software in this category.
2. McAfee Mobile Security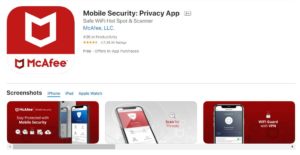 McAfee is the kind of app that goes the extra mile to keep your device protected all the time, which is why it tops our list. So, how does the app do that? First, there's the Threat Scan feature, which scans Wi-Fi hotspots wherever you go to detect unsecured ones. It also alerts the user whenever their device is out of date, which is a huge plus, as security updates are critical for iOS devices.
McAfee also offers a Media Vault, which hides the user's private media files, such as photos and videos, in a locked vault. The vault can be accessed using a PIN code, Touch ID, or Face ID. That's yet another convenient feature as it protects you from prying eyes. The Find Phone feature is yet another handy feature – one that compliments Apple's Find My Device feature. The app uses a GPS tracker to locate your iPhone or iOS device with precision. Should your Apple phone or tablet run out of battery, the software saves its location to increase the chances of finding the device. So, not only will you be able to find your phone if it ever gets stolen, but it would also come in handy if you lose your device around the house.
Finally, there's the CaptureCam feature. Basically, if someone enters your PIN incorrectly, McAfee's CaptureCam will take a silent photo using the front camera and send it to you along with the device's location via email. Of course, you also get all the necessary features you'd find in any good antivirus app for iOS, including safe web alerts, contacts backup, phishing protection, etc. The good news? All of that only costs 29.99 bucks per year, which is a fair price to pay for such an advanced, multi-layered level of protection.
3. Avira Mobile Security

Avira is yet another impressive piece of software – one that's feature-packed, secure, and affordable. When it comes to privacy protection, this is an iOS antivirus that blows its competitors out of the water.
One of Avira's top features is its secure VPN, which makes sure all of the user's data goes through a secure connection. To make their VPN even safer, Avira has a no-log policy in place. That means that the company doesn't store any logs on its servers, so you needn't worry about your privacy when using this app's VPN. Furthermore, Avira's Antivirus for iOS offers robust Web Protection that identifies and blocks malware, phishing, and fraud attempts. That makes it super easy for you to take care of your banking and other web activities safely using your mobile device.
Avira's Identity Safeguard is yet another handy feature that scans your email against a database of compromised emails to notify you if your address has ever been leaked before. You can even use the app to scan the emails of your contacts so that you can let them know if their credentials have been compromised. Just like McAfee, Avira's Antivirus for iPhone and iOS also has an anti-theft feature called Avira Connect, which allows you to track your phone's location and trigger a loud alarm when you need to find it.
The Call Blocker feature is just the cherry on top, as it lets you blacklist spamming contacts, thus protecting your privacy even further. Put all of that together, and you've got yourself a versatile suite that uses multiple layers to protect you from all kinds of dangers that can affect your iOS device.
As for the pricing, Avira's basic iOS app is free of charge, but you can get a helluva lot of premium features if you subscribe to one of the paid plans:
Identity & Web Protection, which costs $5.49
Ultimate Security – Pro + VPN, which costs $22.99
4. BitDefender Mobile Security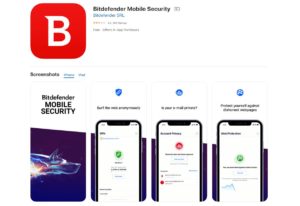 Bitdefender is another well-known company in the internet and security software scene, and its iOS app reflects everything the brand is known for, from advanced features to affordable prices. The Bitdefender app for iOS devices runs smoothly in the background without eating up too many resources. It also doesn't send annoying notifications and pop-ups, which makes the user experience superior.
One of the app's top functionalities is the anti-theft feature, which allows you to lock and wipe your device clean remotely if it ever gets stolen. That way, no one will be able to access tour private media files and documents. The app will also look for vulnerabilities whenever you validate your email address and will let you know if the need arises for your password to be changed.
Finally, there's the Account Privacy feature. That, along with the built-in VPN, will ensure that your browsing is private and safe all the time and prevent any data leakage from happening. The basic version of this Antivirus is free, but you can enjoy the premium features mentioned above by getting one of Bitdefender's paid plans:
Web Protection Plan, which costs $1.49 per month or $14.99 per year
Premium VPN plan, which costs $6.99 per month or $39.99 per year
Get BitDefender Mobile Security
5. Trend Micro Mobile Security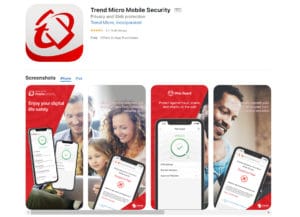 iOS devices don't need an antivirus in the traditional sense of the word, as they're well protected as is. Still, many online threats can affect your iDevice, and Trend Micro Mobile Security is the kind of app that can protect you from all of them.
One of Trend's unique features is Social Network Privacy, which scans the settings of your social media accounts, such as Facebook and Twitter, to notify you of any potential privacy concerns. Just like the other apps on our list, Trend offers built-in filtering, which blocks malicious websites on Safari and other browsers. There's also an integrated ad and tracker blocker, which not only protects your privacy when you're browsing the web but also cuts down on data usage.
If you want an even tighter level of protection, you ought to check Trend Micro's Safe Surfing, a secure browser that has a private surfing mode as well as other handy features, like its reading mode. You also get all of your usual security features, such as Wi-Fi scanning, anti-theft protection, and everything in between! You may be thinking, "all of that must be super expensive!" Well, it is not, as the service only costs $4.99 per month or $19.99 per year.
Get Trend Micro Mobile Security
6. Avast Security and Privacy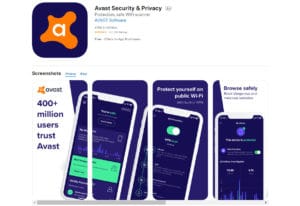 No one can deny that Avast is one of the tech giants in the desktop security and anti-malware protection scene. Thankfully, its mobile apps offer the same level of protection and trust.
The Avast Security and Privacy app for iOS protects your device through several features. For starters, not only will you get real-time protection and scanning, but you'll also enjoy hands-free security as the app blocks unsafe Wi-Fi networks as well as malicious and dangerous websites. It doesn't stop there, though, as the Avast antivirus for iOS also makes sure you're using the optimum security settings on your device and checks whether your software is up to date or not.
Should you decide to upgrade to the paid version for $4.99 per month or $19.99 per year, you'll get other premium options, such as the Photo Vault, Online Identity Checker, VPN, and many others! So, given all of that, you may be wondering why Avast is ranked this low on the list. Well, for instance, the app misses some important features, such as theft protection and alarm, as well as parental control. Moreover, Avast has some sketchy data protection practices that many users don't support. Other than that, this app is pretty solid, and we totally recommend checking it out.
Get Avast Security and Privacy
7. Lookout Mobile Security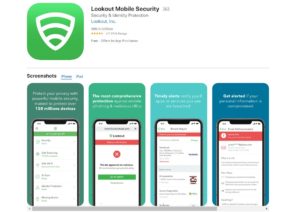 Lookout is another complete security suite that, besides offering all of the usual security features found in other antivirus apps, provides unmatched anti-theft protection.
Lookout's Premium Plus package offers an impressive Identity Theft Insurance, which covers up to $1M of your expenses should you fall victim to identity theft. Those expenses include lost wages, refiling for credit, legal fees, etc. The anti-theft protection doesn't end there, though, as the app has plenty of other tools designed for the same purpose. For instance, there's a loud alarm that works even if your iDevice is on silent. You can also display a custom message on the lock screen, which may increase your chances of getting your device back.
Although you get a lot of security tools for free, you can get even more features, such as social media monitoring, lost wallet recovery, and data breach alerts, by opting for the Premium plan, which costs $2.99/month, or the Premium Plus package, which costs $9.99/month.
8. F-Secure SAFE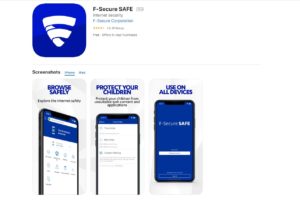 F-Secure SAFE's known for plenty of features, but what sets it apart is its custom browser, which offers various ways to keep you safe while surfing the web.
First of all, the browser offers web filtering, which blocks dangerous sites to reduce the chances of your device getting any malware. Granted, most malicious files cannot infect your iDevice, but should you connect it to any other device, such as your computer, such files can be dangerous. F-Secure's SAFE browser also checks each website to visit to make sure it's on the trusted list for banking or online shopping, thus reducing the chances of fraudulent activities and making your online banking safer.
Moreover, if you're a parent, you'll certainly appreciate SAFE's parental control system, which filters the device's web traffic by category, enforces safe search, and allows you to impose surfing time limits. Keep in mind that such limitations only concern the SAFE browser itself, and they cannot be applied to other apps on the device. As for F-Secure SAFE's theft protection features, the app does offer some basic ones, including a device tracker as well as an alarm. Other than that, there isn't much to write home about in this department.
F-Secure SAFE costs $13.99 per year for one device and $54.99 per year for up to three devices.
9. Fyde Mobile Security & Access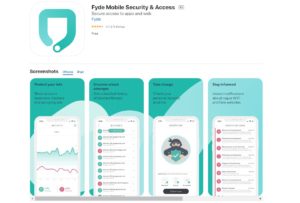 Fyde Mobile Security & Access is not an antivirus per se, but rather a security app designed to protect your identity as well as your privacy, and who wouldn't want such protection in this day and age?
The app is easy to install, set up, and use. Once it's up and running, you can forget about it as it will scan for rogue Wi-Fi networks and phishing websites in the background. The good news here is that the app functions without going heavy on your device's resources, which means that it won't drain your battery as other antivirus apps would.
Although the app itself collects no data, you can choose to send anonymous reports of any attack you get to the Fyde community to help them improve the service even further. Sure, this app doesn't offer the level of protection similar apps offer, but it does deliver on what it promises, and it's free of charge, so why not give it a try?
Get Fyde Mobile Security & Access
Here's why you need an antivirus for iPhone and iOS
Compared to other mobile operating systems, such as Android, iOS is pretty much immune to traditional hacking attempts, all thanks to Apple's built-in security features. That said, the user is still prone to a helluva lot of threats and dangers, such as phishing sites, privacy concerns, compromised credentials, outdated software, unsafe Wi-Fi networks, local snoopers, and many more.
That's where antivirus apps for iOS come in to compliment the built-in security features and offer all-around protection. So, to answer your question, although antivirus apps aren't mandatory for iOS devices, they can come in handy and add some extra layers of protection in a lot of situations and scenarios.
Best Antivirus for iPhone and iOS – Frequently Asked Questions
Will my iOS antivirus scan my files for viruses?
No, antiviruses for iPhone and iOS cannot scan your files for viruses because of the limitations imposed by Apple's security system for their phone operating system. That said, such pieces of software still do their job of protecting the user's data through other features, such as VPN, safe browsing, data leak alerts, etc.
Will an antivirus let me know if my iPhone has been hacked?
As mentioned above, an antivirus cannot scan your iPhone's files for viruses, so, technically, it cannot tell if you've been hacked or not. That said, you'll still get warned through other signs, such as credential leak alerts and Wi+-Fi scanning.
There are many free antiviruses for iPhone and iOS, so why should I get a paid one?
Free iOS antiviruses do offer a certain level of protection, but only when you pay will you get advanced security features, such as VPN, and get rid of annoying ads and limited functionality.
Will my iOS antivirus drain my device's battery?
iOS antiviruses constantly in the background, which means that they will drain your iPhone's battery just like any similar piece of software would. That said, several security apps use minimal resources to preserve your battery, which is the case for Norton, McAfee, and Fyde.
Verdict
However secure they may be, iOS devices are still prone to online threats, especially those that are due to the user's misunderstanding. That's why it's always a good idea to have an antivirus app in place, specifically one of our aforementioned recommendations.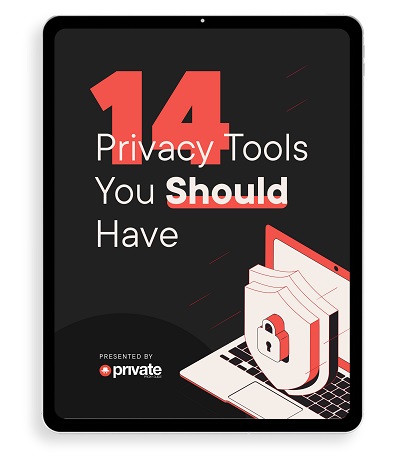 Learn how to stay safe online in this free 34-page eBook.