Crypto trading is one of the most popular ways of earning passive income to supplement your daily job. However, to be able to trade crypto efficiently, you need some of the best cryptocurrency apps. So what exactly is a cryptocurrency app, you may ask?
Well, a good crypto app will let you trade crypto easily with low fees, as well as provide a myriad of payment methods to be able to convert real money to crypto and vice versa. Needless to say, crypto apps are great for following trends on the market in real time.
This way, you can stay in touch with prices and set custom alerts to get notifications of important changes. Simply put, if you're thinking about entering the complex blockchain market, having some of the best cryptocurrency apps is imperative.
But then, this brings another question – what are the absolute best apps for crypto trading? And the answer is simple – just keep reading and you'll find out more about our opinion.
1. Best Cryptocurrency Apps: Easy, Safe, and Low-Free Trading!
If you take a look at the market of these apps, you'll see that there are thousands of them. As there are many crypto trading sites, each of these sites has its app, resulting in an overcrowded market. And while we can't test all of them, as it would take ages, we tested a good chunk of these apps.
After our thorough analysis and comparison, we concluded that the best crypto apps include:
My favorite app for trading and managing crypto is Binance. Binance has a very intuitive interface that lets you invest and stake different cryptocurrencies to your liking. At the moment, this application supports more than 350 types of crypto, which is simply amazing.
This means that you can trade, exchange, and manage not only the most popular currencies but also those "in the background" that has huge potential. Moreover, Binance's app is available for all platforms – you can use it on desktop platforms but also iOS and Android.
In terms of fees, they're pretty low, I'd say. Purchase and trading fees will range from 0.02% to 0.1%, although that will increase to up to 4.5% if you're using your debit card. If you're working with a bigger amount of crypto, you can also use wire transfer.
Here, you get a $15 flat fee, which applies even to a large sum of crypto. Binance will also support P2P trading and you can buy NFTs if you want. All of these transfers and purchases are secured via end-to-end encryption to make sure things don't go south.
Needless to say, the app sports all the features of the site, so if you're on a phone, let's say, you'll never have to visit the site to perform your activities. The downside? Well, Binance isn't heavy on shortcomings but there's one I'd like to point out to American users.
Binance has a special version of the app for the US market – an inferior version, mind you. Thus, if you live in the US, chances are Binance won't be your best choice due to certain limitations. But if you live anywhere outside the US, this is an amazing crypto app.
Pros
350 cryptocurrencies
Available for desktop, iOS, and Android
It supports P2P trading and NFTs
A great choice of trading types
Advanced features for more experienced users
Cons
Users in the US don't enjoy the full experience
Higher fees for debit cards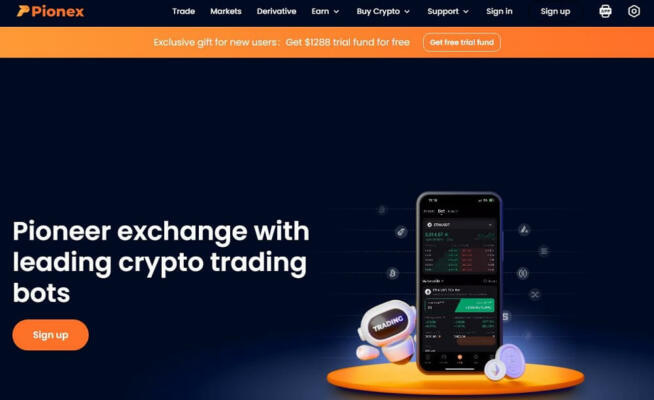 Pionex is one of the oldest crypto apps known for extremely low trading fees, ease of use, and lots of trading possibilities. While you can trade crypto on your own if you consider yourself an expert, Pionex offers an option to get a bot and engage in automatic trading.
Out of the box, it offers 16 trading bots that you get for free, with some advanced features reserved for premium users. Some of them include the arbitrage bot, DCA bot, infinity grid bot, and ethereum moon bot for adding a variety to the selection.
If we compare Pionex to Binance in terms of fees, we can see that Pionex is a bit better. Namely, you get a flat fee of 0.05% for all transactions, which is excellent for those trading a lot of cryptos daily. Pionex lets you buy crypto as well and you can do that by using a credit card only.
Nevertheless, this app works on all devices and platforms, and most importantly, you can find it on Google Play and Apple Store if you're into trading on the fly. In addition, Pionex is known for reliable customer support through live chat that will fix any issues in no time.
Although, during my long-term use, I had no particular issues with it. The only downside is that Pionex doesn't give you the ability to create a demo account, so if you want to try anything trading-related, you must make an account before starting.
Pros
Automatic crypto trading
16 trading bots that work flawlessly
05% fees for all transactions
Reliable customer support through live chat
Cons
No ability to create a demo account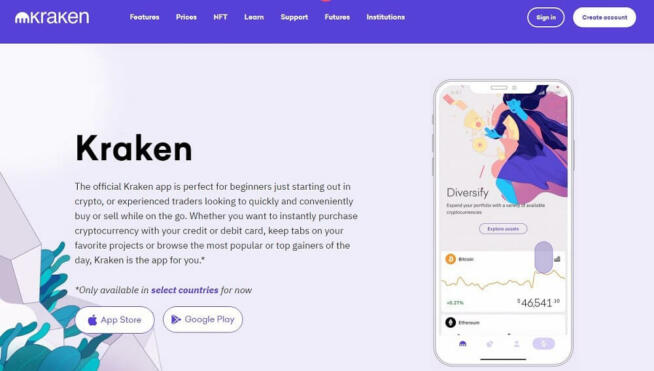 Some of you know Kraken as a gigantic sea monster, and while the platform with the same name isn't a monster, it's surely gigantic. Kraken is a beautiful-looking trading platform that offers apps for all platforms, allowing you to enjoy crypto trading on a myriad of systems.
In my long-term use, I found it to be extremely reliable given its reputation built on low fees, excellent security, and ease of use. Kraken offers you the ability to have full control over your trading but also includes some options like margin trading, staking, and future trading.
Speaking of trading, I should touch on its fees that are, once again, pretty low. In some cases, they can be 0% and go up to 0.26% which isn't that high. Kraken supports around 200 cryptocurrencies in total and you can find anything from BTC and ETH to SHIB, DAI, DOT, and others.
I like that you can easily buy or sell the desired crypto by using a dedicated button next to each entry. Additionally, Kraken gives you insightful information about every crypto once you click on it, allowing you to learn more about your potential investment.
The platform tracks prices in real-time as well and you can buy crypto using a variety of real-world currencies such as EUR, USD, AUD, CAD, GBP, and many more. My only complaint is that Kraken has a Pro version of the app, which has lower fees compared to its "standard" app.
Pros
One of the most reliable crypto apps
Up to 0.26% fees for all payment methods
200 cryptocurrencies that you can trade
Excessive information about crypto assets
Cons
The Pro version of the app has lower fees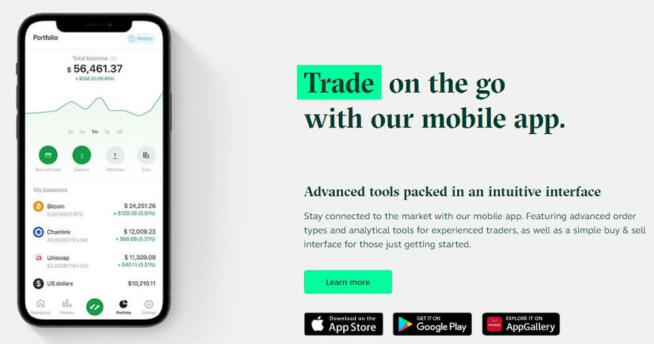 Bitstamp came out the same year as Kraken, in 2011, which makes it among the oldest platforms on the list. Its apps can be installed on all platforms and it's characterized by a very intuitive interface that lets you trade more than 50 cryptocurrencies.
Granted, it's not the most versatile in this regard but it offers plenty of trading options. For example, apart from crypto trading in the real world, you can buy or trade MANA, which is Decentraland crypto in Metaverse. Or if you're interested, you can buy/trade NFTs and gaming crypto as well.
Much like Kraken, Bitstamp has two versions of the app. One is a "normal" app for the majority of traders and then there's the Pro version that offers more features and lower fees. Now that I mentioned it, its fee structure is a bit complex so it needs a bit of time to be explained.
In short, the minimal fees are 0.5% and they can go up to 5% if you're using a credit card. Overall, Bitstamp is very useful for all levels of traders. You can track crypto in real time, see trading history, and sort the assets by their performance for easier investments.
I should also mention the ability to place multiple orders at the same time, which makes things easier for professional traders. However, professional traders will miss out on leverage trading and with only 50 assets, some of you won't be satisfied, especially knowing that Binance offers 350 of them.
Pros
Intuitive interface in the app
The ability to buy Decentraland crypto (MANA)
Tracking crypto in real-time
You can place multiple orders simultaneously
It supports NFTs
Cons
Only 50 cryptocurrencies
Complex fee structure
No leverage trading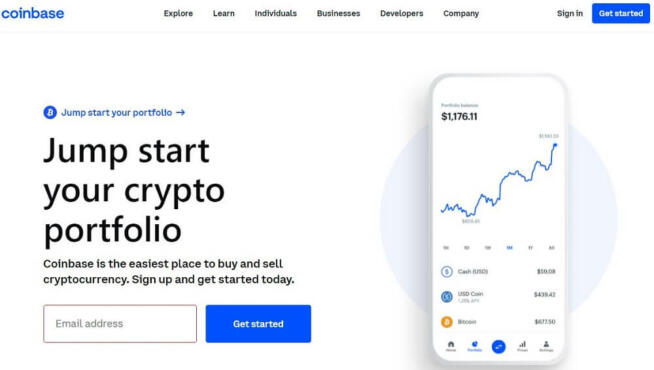 Coinbase is among the most popular solutions for trading crypto in a variety of ways. It has one of the oldest platforms along with greatly-optimized iOS, Android, and desktop apps. Apart from buying and selling crypto, you can engage in staking, sending, receiving, and investing.
In total, the platform supports around 100 assets which isn't great, but it's much more than the 50 we saw on Bitstamp. Coinbase is mostly known for its liquidity, which overshadows its relatively high fees. Thanks to great liquidity, price slippage is never going to happen and that's important due to the market's ever-changing nature.
The app's interface is done well, too, and it displays relevant info next to each cryptocurrency. You can see its price, chart, volume, supply, and market cap. I even like the ability to see Losers, which are crypto losing on their value that you can either avoid or buy in the hope their value will rise.
Coinbase's fees aren't the lowest. They can go from 0.99% to up to $200 for very large transactions and different payment methods. If you're using PayPal, they won't go above 1%, which is why I recommend using it for purchasing and withdrawing crypto.
The main difference compared to other apps is that Coinbase offers something for institutional investors. Indeed, business users get proper support here, making Coinbase a bit more versatile. That is if you don't mind its higher fees and a somewhat smaller number of available assets.
Pros
It supports receiving, sending, staking, and investing
Great liquidity
Lots of insightful information about crypto assets
Great for institutional investors
Cons
Relatively high fees
A smaller number of assets (100)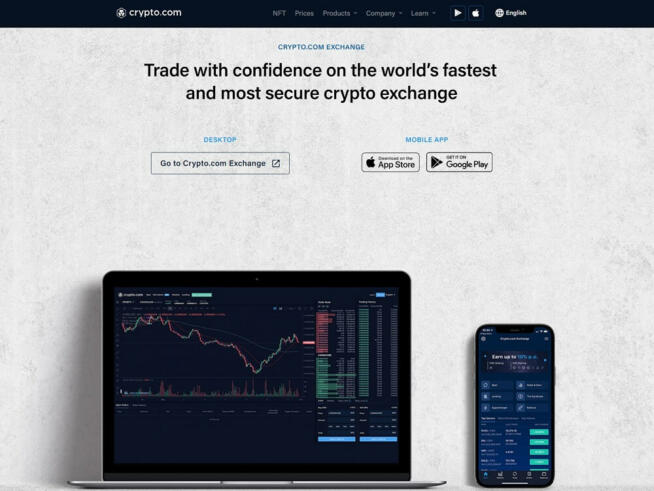 If you're looking for the best cryptocurrency app that has lots of assets, here's Crypto.com. With over 250 assets in the form of crypto and NFTs, you can expand your investment portfolio and open up possibilities for new earnings.
Crypto.com offers a web version that is mainly used by desktop users while iOS and Android users are honored with a full-fledged app that works flawlessly. Its desktop app isn't the best on the list but it's serviceable enough for trading, investing, buying, and selling crypto.
Here, you'll be able to find all the relevant information about each asset, starting with price, 24h change, market cap, and even a comprehensive 7D chart. I especially like its real-time price comparison with 50 ms core latency, as well as top-grade security for safe and secure transactions.
Crypto.com boasts relatively low fees. They have something called maker and taker fees. Maker fees are 0.4% on average, while taker fees are 0.1%, which is still considerably low. We also like Crypto.com's DeFi support, which perfectly complements this feature-rich crypto app.
To be honest, there aren't many downsides here, aside from its slow-to-respond customer support that many users find infuriating. Oh, and as said, its desktop app isn't the most intuitive compared to other picks on the list, so if you're a newbie, you'll need some time to get accustomed to it.
Pros
More than 250 assets including NFTs
Great Android and iOS apps
Real-time price comparison
Low fees
Cons
Poor customer support
Not the most intuitive desktop client
CoinSmart is a perfect cryptocurrency app if you're a beginner and you're not exactly sure how your trading is gonna go. It's a platform that lets you make a free account that you can use to buy or trade crypto with moderately advanced features.
I like CoinSmart for its laid-back approach and beautifully animated interface. It allows you to buy crypto using SEPA, Interac, VISA, and Wire Transfer, albeit, it doesn't support PayPal, which I find inconvenient. But what about the number of assets?
Well, you get just 16 currencies in total, with no possibility to buy NFTs or other digital assets. On the good side, account verification is rather simple and trading crypto can be done with stop-loss fiat. CoinSmart guarantees fast deposits and a Custodian wallet.
Also, there are some limits in terms of transfers. For example, you can transfer a minimum of $100 with a credit card and the fees vary from 0.2% to 0.4%, although they can go up to 6% for credit card transfers – a bit higher if you ask me.
CoinSmart is available for iOS and Android, while desktop users get to enjoy its web version. That's not a problem given its ease of use and smooth workflow that never ceases to amaze. If you don't mind transfer limits and the lack of PayPal or any advanced features, CoinSmart is more than good.
However, if you're an advanced user, I recommend Binance, Pionex, or Kraken.
Pros
Great-looking interface
Wire Transfer, VISA, Interac, and SEPA transfers
Simple account verification
A custodian wallet is available
Cons
Higher fees for credit card transfers
Not many advanced features
No support for PayPal
NAGA understands that very few people actually know what they're doing in the crypto trading world. As such, it developed its app with the ability to copy someone else's trading tactics and engage in auto-trading for the best possible results.
This app lets you apply experts' trading tactics by using the leaderboard where you can see other traders and their profits. You can then choose the most profitable one and go with it. Of course, if you want to carve your own path, you can do it by trading, selling, and buying crypto on your own.
Besides, you can take advantage of more than 40 cryptocurrencies, along with stocks, forex, and ETFs. In total, NAGA counts 950+ options for diversifying your trading portfolio. What's more, I like that NAGA doesn't limit your trading volume, so you can go all in if you want.
Although it doesn't support PayPal, you can still enjoy transfers with VISA, Sofort, Skrill, and your bank account. In terms of fees, the structure isn't straightforward but on average, you can expect a $5 fee if you're an active user.
However, NAGA has something called an "inactivity fee" where you'll get charged $20 if you're inactive. Also, it offers just iOS and Android apps with no desktop app. Finally, it won't be available in the UK, Canada, and a few other countries, so think about it before using it.
Pros
It lets you copy experts' trading tactics
950+ trading options
No limits on the trading volume
A $5 flat fee for active users
Cons
Inactivity fee of $20
It's not available in the UK and Canada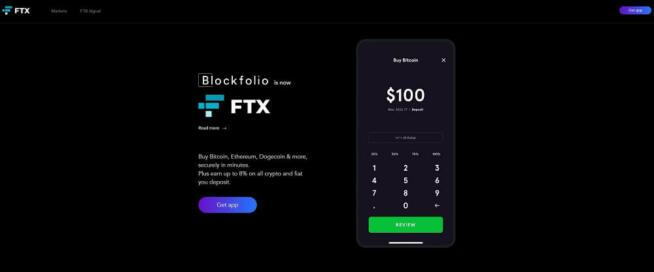 Blockfolio is my favorite pick on the list if we're talking about the app and its aesthetics. Although it has apps only for Android and iOS, I like its dark theme that lingers in every part of the app, preserving your eyes while you engage in day-to-day crypto activities.
It's fairly simple and offers you the ability to see the market and follow more than 10,000 cryptocurrencies. Once you tap on the currency you want, you can see general information about it as well as the chart displaying highs and slows, along with the market cap and circulating supply.
In addition, its application is completely free and trading has no fees. Yes – you've heard that right, there are NO fees when trading crypto, and you're actually paid as you trade crypto on the site. Blockfolio has no advanced features like Pionex or Binance.
Here, you either buy or sell crypto and that's pretty much it. However, it allows you to import data from other crypto trading platforms, and given the amount of information you get, Blockfolio is definitely a useful companion for safe and low-risk trading.
Pros
Gain insight into more than 10,000 cryptocurrencies
Trading with NO fees
Users are paid as they trade on Blockfolio
The ability to import data from third-party crypto platforms
Cons
Very limited trading features
No desktop app
2. Best Cryptocurrency Apps FAQ
2.1 Is trading crypto going to bring me profit?
The answer to this question depends solely on how well you know the market, your trading skills, and of course – luck. People who invest randomly and don't what they're doing will surely suffer from major financial losses, especially if we talk about big investments.
However, if you choose one of the best cryptocurrency apps and you apply certain strategies for a smart investment, chances are that you're going to be profitable. In this case, the profit you're going to get also depends on how much you're willing to invest.
But generally speaking, if you're using an app with low fees and great liquidity, you shouldn't have any issues.
2.2 Can I get cryptocurrencies for free?
Getting cryptocurrencies for free is pretty much an impossible task. Much like real-world currencies, you have to earn or buy crypto to own them. Some crypto trading platforms, however, offer you the ability to get a small amount of crypto by referring friends to the platform.
This is an insignificant amount, though, so don't expect to get crypto for free and become rich – that can be achieved by consistent, years-long trading.
2.3 What can I do if I don't know how to trade crypto?
In that case, you can go for a trading bot. All you have to do is choose the type of bot and let it trade for you. You can do that on Pionex, for example, but many other apps and platforms offer this possibility as well.
Or you can go a completely different route. Instead of trading, you can invest money in a mining rig and start mining. Although, this is a declining trend and we can't recommend it in favor of trading.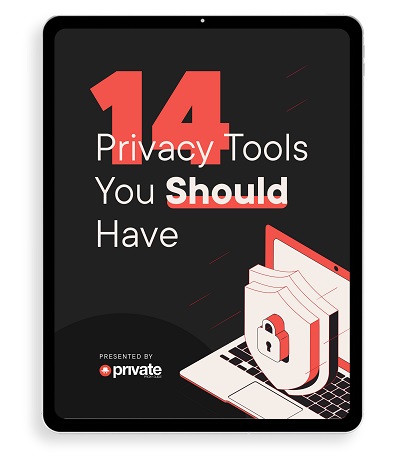 Learn how to stay safe online in this free 34-page eBook.