Bitcoin or cryptocurrency, in general, is beneficial for many users who want full control of their funds. Therefore, a crypto wallet is an essential piece of tech – be it hardware or software-based – that will allow you to safely and securely store bitcoin and other cryptocurrencies.
Taking a look online, you'll see dozens of the best Bitcoin wallets, and while all of them are good to an extent, not every wallet is going to satisfy your needs. Some are more beginner-friendly, some are more advanced, and some hardware wallets are very expensive.
For a long time, I've researched and tested multiple Bitcoin wallets and I decided to write this article to give you a clear overview of the best Bitcoin wallets you can use today. Needless to say, we'll talk about both hardware and software wallets, making sure we cover all types of them.
1. Best Bitcoin Wallets in December 2023
Before going deeper into the subject matter, I want to give you a quick disclaimer. The Bitcoin wallets you see below are mostly going to be both paid and free offerings. Hardware wallets are, of course, paid, while some desktop/mobile wallets can be used for free.
With the list below, I'm sure you'll be able to pick the one you need (or like) and be satisfied with your choice. Here's my list of the best Bitcoin wallets in different categories.
1.1 Best Desktop & Mobile Bitcoin Wallets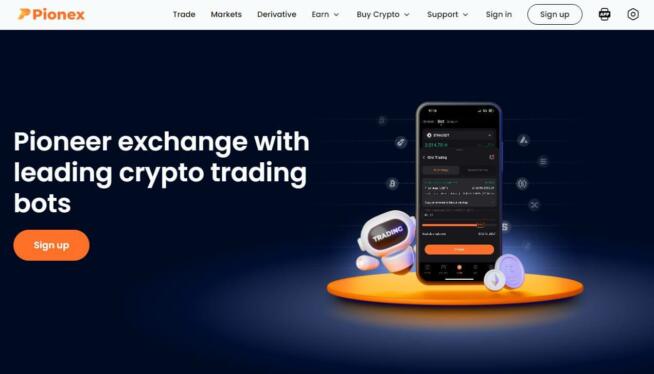 Pionex is a popular crypto trading bot that does a tremendous job for beginners and those who'd like to experience this blockchain world. Its special bots require no special knowledge of you, and even if you're a complete dummy, you can still use it to earn some crypto income.
However, Pionex is much more than that. It can be used as a reliable crypto storage where you can store not only Bitcoin but all other tokens and coins you trade. Moreover, Pionex is available as a web version on computers but if you prefer mobile apps, you can download it for iOS and Android.
Its apps look professional, yet elegant, and they allow you to store crypto effortlessly. Since this is also a trading platform, you can analyze each token and decide whether or not to buy or sell. Currently, Pionex supports dozens of them, ranging from popular to less popular ones.
Another important factor is its small deposit/withdrawal requirements. For example, if you want to deposit Bitcoin to Pionex, the lower limit is just 0.0001 BTC, which is around $2 at the time of writing. Pionex is completely free, of course, and creating a new account takes no more than a minute.
Bitcoin can be bought using your credit card and I like its customizable interface that lets you change between two themes – light and dark. Pionex uses 256-bit AES encryption to secure all your transactions, and with very low fees, you can rest assured you'll lose very little.
What I found lacking is support for fiat currencies which isn't available, as well as complex crypto trading diagrams that some users might find overwhelming. These are very small annoyances, however, and shouldn't in any way ruin the overall experience.
Pros
Easy account creation
Includes several crypto trading bots
Safe and secure Bitcoin wallet
Customizable interface
Very low trading fees
Low deposit/withdrawal limits and requirements
Cons
No fiat currencies
Some parts of the interface can be overwhelming for newcomers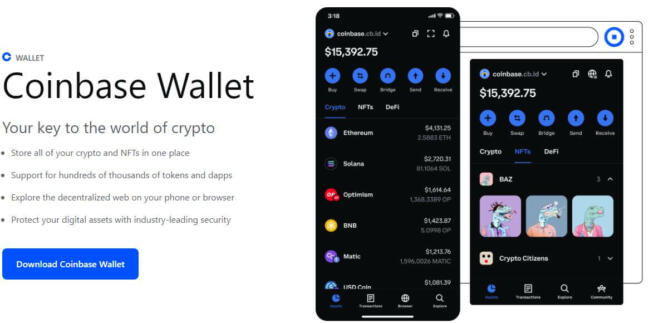 If you know a thing or two about crypto trading or crypto in general, you've most likely stumbled upon Coinbase Wallet. Coinbase Wallet is one of my favorite choices here as it's extremely easy to use and set up, making it a great option for beginners and enthusiasts.
Despite looking intuitive and simple, Coinbase Wallet is very complex, supporting 5,500+ digital assets, which aren't limited only to crypto. Instead, you can trade NFTs in 90+ countries and expand your NFT collection with little to no effort.
Security-wise, Coinbase Wallet uses bank-grade 256-bit encryption and it has additional features for protecting your accounts, such as 2FA and multi-signature. With them, you can be sure no hacker or snooper is going to be able to breach your account.
Of course, this wallet has full support for Bitcoin, but other supported assets include ERC-20, Litecoin, Dogecoin, ETH, Ripple, and many other coins. Vital to mention is that Coinbase Wallet can work in conjunction with Coinbase Exchange and you can use both of them with a single account.
However, you can also use Coinbase Wallet without an Exchange wallet with a private key that you can store on your device. Speaking of devices, Coinbase Wallet can be installed on iOS and Android, with a browser extension that's available only for Chrome.
On a good note, Coinbase Wallet supports biometric authentication using your fingerprint sensor or FaceID (iOS), so you can be sure no one can access the wallet even if the phone is stolen. Except if, of course, someone cuts your finger or head and uses it to access the wallet.
But let's not go into the extreme side of things…
Pros
Friendly to beginners and those who never used it
5,500+ digital assets and currencies are supported
NFT support is robust
Multi-signature and 2FA for account protection
It's non-custodial and doesn't store your private keys
Biometric authentication on iOS and Android
Cons
It doesn't have a dedicated desktop application
The Chrome extension could be improved
Exodus (iOS, Android, Windows, macOS, Chrome, Brave)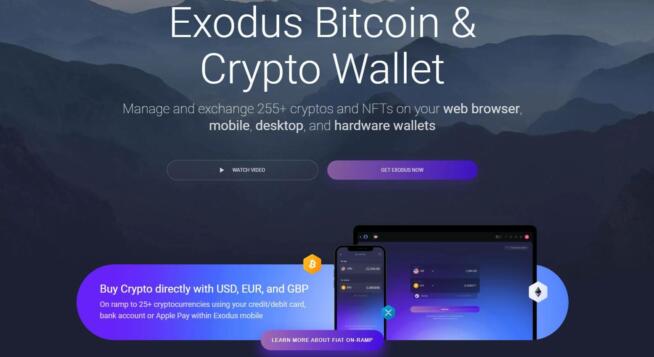 Undoubtedly, one of my favorite Bitcoin wallets is Exodus. It sounds like a thrash metal band from the 80s but we're talking about a highly-secure software wallet for both desktop and mobile platforms. Unlike Coinbase Wallet, Exodus works on iOS/Android plus Windows and macOS systems.
In addition, Exodus can be downloaded as a great extension for Chrome and Brave, letting you use it through your browser, without downloading its app. Either way, Exodus supports 255+ assets, from Bitcoin and Ethereum to Monero, Litecoin, and other relevant tokens.
Digital assets are on the list as well, and the app has a built-in exchange function that lets you buy and trade crypto easily. The interface of its desktop/mobile apps is something to behold. It looks stunning and has a beautiful color scheme that many users will adore.
A good addition is the ability to buy Bitcoin with Apple Pay, with the addition of NFTs that you can also work with. Exodus updates the wallet frequently to patch up potential security weaknesses and its transactions are fast for those who don't like waiting.
That's because the app isn't downloading complete blockchains, which allows the transactions to be realized much more quickly. While the app offers an exchange function, it has relatively high fees and the app itself doesn't have 2FA or support for multi-signature.
You'll agree that these features increase your security, and without them, it's more prone to breaches than, let's say Coinbase Wallet or other physical wallets. The good thing is that Exodus is free and fairly simple to set up, plus it has 24/7 support and compatibility with physical wallets from Trezor.
Pros
Apps for iOS, Android, Windows, and macOS
Excellent browser extension for Brave and Chrome
255+ supported cryptocurrencies and digital assets
Built-in exchange function
You can buy Bitcoin using Apple Pay
Fast transactions
Cons
No features like multi-signature and 2FA
The exchange function doesn't have the lowest fees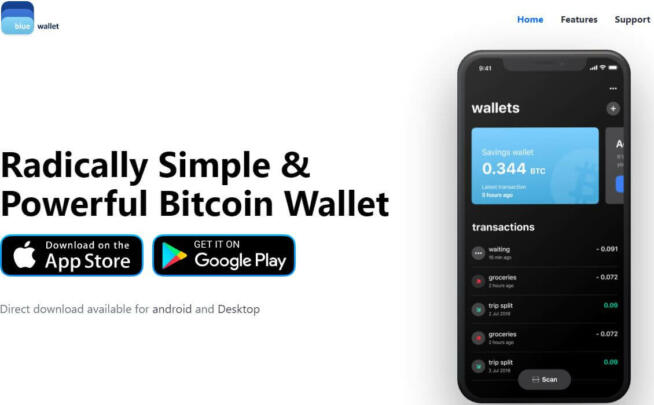 If you're doing Bitcoin transactions using your iOS or Android phone, BlueWallet is a solid solution. It's a mobile-only Bitcoin wallet that lets you enjoy the modern interface with easy-to-access functions and settings that are welcoming newcomers and beginners.
Keep in mind that this is a Bitcoin-only wallet, so it's made for those who just want to trade and work with this token. As such, it's refined and streamlined, all while offering a good set of features. For example, you can use both lightning and on-chain transactions which I found convenient.
You can even open a Lightning wallet if you want, along with the ability to import wallets and create watch-only wallets. A unique feature of BlueWallet is Plausible Deniability, which creates multiple fake storages with a different passwords in case you're forced to give out this information to someone.
BlueWallet is pretty fast in terms of transaction speeds and even lets you perform so-called batch transactions. Furthermore, BlueWallet supports Tor connections, which adds a layer of anonymity for each transaction, especially P2P transactions when using the Lightning wallet.
If you want, you can also use this wallet in offline mode in case you have no internet access. Other notable features include multi-layer encryption, PSBT support, and HD (Hierarchical Deterministic) key wallets that use the BIP32 transfer protocol for the highest level of security.
The only notable downside is that BlueWallet has no two-factor authentication and lacks desktop apps or browser extensions. However, its mobile apps are among the best out there, so we can forgive the lack of desktop apps somewhat.
Pros
It's great for inexperienced users
Supports on-chain and lightning transactions
The Plausible Deniability feature is useful for avoiding account breaching
Support for Tor connections
HD key wallets with the BIP32 transfer protocol
Cons
Two-factor authentication isn't available
No desktop apps and browser extensions
Binance, a well-known trading platform, came up with a top-grade Bitcoin wallet in the form of Trust Wallet. Trust Wallet features a good-looking interface in its apps for Android and iOS, but also a useful Chrome extension that you can use on your PC.
Being among the best mobile Bitcoin wallets, Trust Wallet has support for 4.5M+ tokens and coins, including NFTs, 40+ blockchains, and other digital assets. No doubt, this app is better even than some desktop wallets, which makes its place on the list more than justified.
As said, Trust Wallet is linked to Binance, but that doesn't need to be a bad thing. The app is non-custodial, meaning that you don't need a Binance account and that the app keeps no information on your private keys, leaving them in your hands instead.
Trust Wallet allows for easy crypto purchases as well, and you can buy NFTs directly from the app. There's something called Web3 browser, and this function lets you access a variety of decentralized apps based on a blockchain, such as games and other apps.
Moreover, its origin from Binance has its merits. For example, you can buy pretty much any token you like within the app by using Binance DEX. The fees might not be the lowest, but the possibility is there. On the bad side of things, Binance is known for some issues in the United States.
With severe limitations in terms of features and cryptocurrencies in the US, people living in this country can face some issues with Trust Wallet if they plan on connecting it with Binance Exchange. Other than that, this is one of the best Bitcoin wallets for 2023 that I highly recommend.
Pros
It's backed by Binance, a popular crypto-exchange platform
Great-looking applications for Android and iOS
5M+ tokens, coins, and NFTs are supported
It offers 40+ blockchains
The inclusion of the Web3 browser is welcome
It's non-custodial
Cons
Binance is limited in features in the US, which could affect the app
Exchange fees could be lower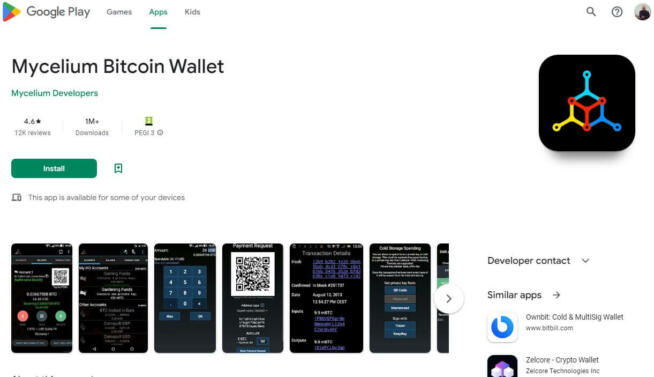 If you've been spending some time crypto trading, chances are you've heard about Mycelium. Mycelium is almost as old as the crypto era itself, and with a long-lasting presence on the market, it perfected its formula to become one of the best Bitcoin wallets in 2023.
Unfortunately, Mycelium offers no desktop apps, instead, you can install it only on iOS and Android. However, its mobile apps look great and they're functional enough for selling, sending, or receiving Bitcoin and other cryptocurrencies.
Now that I mentioned it, it has no support for hundreds or thousands of digital assets like Trust Wallet. Instead, you're looking at ERC-20 tokens, Bitcoin, and a few others. The good thing is that you can buy cryptocurrencies within the app with fiat currency for added versatility.
Much like Coinbase Wallet, Mycelium is non-custodial so you're the one keeping your PIN and private key safe. Also, Mycelium is an open-source wallet, which means other users can get its source code and apply various improvements, which is useful due to its strong community.
Mycelium supports multiple account types and has rock-solid security for keeping your transactions safe. I don't like its customer support which isn't available 24/7, making it easy to be stuck in the loop of waiting for a response from the support team.
If you need a Bitcoin wallet that's relatively simple to use and doesn't have the most advanced functionalities or support for hundreds of assets, this is the one to go for. At least it has a great reputation and is the oldest wallet on this list, so you can be sure its reliability is on the highest level.
Pros
One of the oldest Bitcoin wallets established in 2008
Functional and intuitive applications
You can buy crypto using fiat currency
Fully open-source
Supports multiple account types
Cons
Limited crypto support compared to its competitors
Lackluster customer support
1.2 Best Hardware Bitcoin Wallets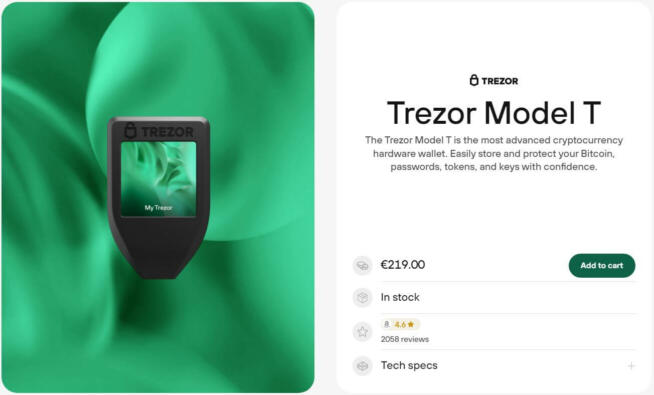 Let's kick off this list with a well-known Bitcoin wallet known as Trezor Model T. Trezor Model One was a colossal success for the company, but with the release of Model T, a more expensive choice ($249), users could enjoy new features and functionalities in the same small factor.
Aside from Bitcoin, Trezor Model T supports nearly 1,400 cryptocurrencies, which is an outstanding number for more advanced users. This wallet transfers your crypto effortlessly, using the most secure BIP32 protocol with HD key creation.
The device itself is very robust, yet, it offers an intuitive touchscreen where you can enter your PIN and control other important information. Trezor Model T offers an application that can connect to the device and it works on Linux, macOS, Windows, and Android.
I'm sad that iOS support isn't here, but if you have a computer, using this app will be a breeze. Another important thing to mention is that Trezor Model T is highly-secure, offering the two-factor authentication option when making crypto transactions.
This will ensure that no hackers or snoopers hijack and steal your crypto even if you accidentally lose Trezor Model T or it gets stolen. Moreover, Trezor Model T allows you to complete multiple transactions simultaneously, where each transaction has an EAL5+ level of penetration protection.
Arguably, Trezor Model T isn't the simples Bitcoin wallet to set up and it isn't the best choice for beginners. However, if you trade crypto daily and you're an expert who knows what he's doing, Trezor Model T, although very expensive, will make this investment worthy.
Pros
Small, yet durable form factor
It supports more than 1,400 cryptocurrencies and digital assets
BIP32 security protocol
Its dedicated app works on Android, Windows, macOS, and Linux
Two-factor authentication
Supports multiple simultaneous transactions
EAL5+ level of penetration protection
Cons
Complex setup
No app for iOS
Not the best choice for beginners – suitable for advanced users only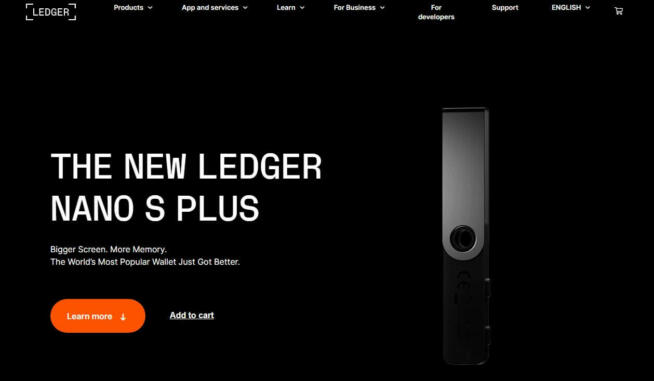 Ledger Nano S Plus enjoys huge popularity among users who want premium Bitcoin wallets at a not-so-expensive price. This wallet looks stunningly good and its small form factor is great for carrying it around in your pocket, either in your jeans or the inside pocket of a jacket.
Its price is surprisingly cheap and it'll cost you around $79 depending on the country. However, as a successor to Nano S, Nano S Plus offers more features, one of which is an easy setup and simple interface that allows even beginners to use it.
Needless to say, it supports Bitcoin, but you get support for around 5,500 digital assets and cryptocurrencies like Litecon, Ethereum, and other popular and less popular currencies. Furthermore, you get 3 blank seed recovery sheets and the ability to sync it with other dedicated desktop apps.
Speaking of which, this app is called Ledger Live and allows you to control every aspect of your physical wallet. You can even use it to make transactions that are secured with two chips – STM32F042 and T31H320, ensuring that none of your transactions can be intercepted.
Another thing to mention is that, like Model T, Nano S Plus uses CC EAL5+ security against penetrations and it supports up to 100 crypto wallets at the same time. For more control over Nano S Plus, Ledger offers even mobile apps for iOS and Android, which function the same as your desktop app.
In addition, the setup process is rather simple. You'll need to connect it to your PC using a USB-C cable, receive a private key/recovery phrase, and install the Ledger Live app. From there, you can start using the wallet with no issues and enjoy all of its amazing benefits.
Just beware that Nano S Plus' small form factor isn't the sturdiest and compared to Model T, it's less durable. Thus, make sure you handle this Bitcoin wallet with care!
Pros
Very cheap price at just $79
5,500+ digital assets are supported, including Bitcoin
STM32F042 and T31H320 security chips
Support for 100 crypto wallets at the same time
3 blank seed recovery sheets
Apps for iOS, Android, and Windows
Cons
Not the best build quality
Its mobile apps aren't the most intuitive compared to desktop apps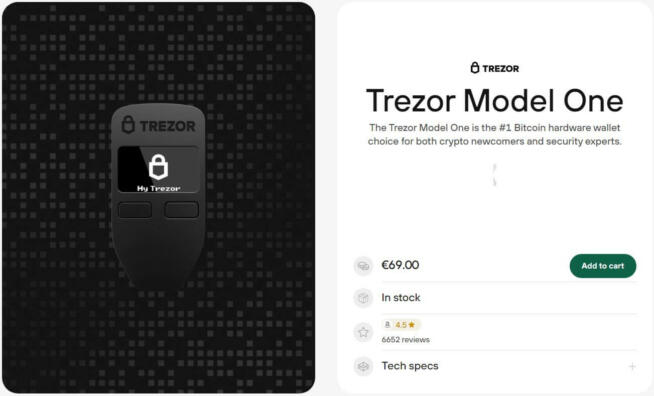 Trezor Model One is a precursor to Model T and despite being its older brother, it still packs a punch in 2023. Model One was released in 2013, yet, it uses cutting-edge security features to make your transactions untraceable by hackers or other malicious entities.
For the start, the transfer protocol is BIP32, which works in conjunction with the BIP39 protocol used to back up and generate deterministic keys. Moreover, Model One offers support for more than 1,000 digital assets and cryptocurrencies, offering a small, yet clear display for easier control.
Through this display, you can make transactions, although this isn't a touchscreen, so you get two physical buttons to work with. Furthermore, Trezor Model One is extremely affordable at $79 and it comes in three colors – black, grey, and white, which is great from a customization standpoint.
Much like Model T, Trezor Model One can be connected to a desktop/mobile app for OSX, Windows, Android, and Linux, with no iOS support. What I also like is the ability to integrate third-party wallets, which is great if you have more than one Bitcoin wallets you'd like to use.
Additionally, Model One supports offline transactions and has multi-signature support which adds to overall security. Not to mention its CC EAL5+ penetration protection, thanks to which, it's highly unlikely that you'll encounter any breaches.
Although, it's worth noting that Trezor had a few incidents of security breaches in the past and that's something to be aware of when purchasing Trezor's physical Bitcoin wallets. In 2023, however, Trezor wallets proved to be dependable companions for both beginners and experienced traders.
Pros
One of the most reliable and renowned Bitcoin wallets
BIP32 and BIP39 protocols for safe transactions and HD keys backup
Affordable price ($79)
Three color variants are available (black, grey, and white)
CC EAL5+ penetration protection
Third-party wallets are supported
Cons
A few security breaches in the past
It doesn't have a touchscreen display
SafePal S1 isn't as popular as Model T or Nano S Plus. However, that's not to say it's not excellent especially knowing that Binance backed the development of this wallet. At first, it's not aesthetically pleasing as the previous three models on this list.
However, its robust and rugged design is surely going to matter when thinking about buying it. SafePal S1 is a relatively new physical wallet developed in 2021, and with the price of $49.99 at the time of writing this article, it's more affordable than most of its competitors.
For this amount of money, you get support for Bitcoin, as well as other coins like Ethereum, Binance Coin, and many others. Moreover, the device has extensive Coin Management settings where you can add your favorite coins using the dedicated SafePal App.
This app works on mobile platforms like iOS and Android, but you can also install it in the form of a browser extension for Chrome, Firefox, and Edge. At the time, a full-fledged desktop app isn't available, which is a bit of a shame.
Still, SafePal S1 supports around 60 coins – significantly less than other models here, but still enough for beginners who aren't looking for advanced features. This hardware wallet has a 1.3-inch IPS screen with physical buttons and even a camera for added versatility.
It has no Bluetooth/Wi-Fi connections either, which prevents hackers from breaching its system. Besides, it uses a well-known EAL5+ protocol for breach protection, along with features like a random number generator and a self-destruct mechanism if the device gets compromised.
All of this makes SafePal S1 an amazing hardware Bitcoin wallet for users with moderate to high expectations.
Pros
Rugged and robust design with a high level of quality
Costs just $49.99 (at the time of writing this guide)
The SafePal app is intuitive and easy to use
A great-looking 1.3-inch IPS screen
The camera is included
Great Coin Management settings
Cons
Only 60 cryptocurrencies are supported
Its design is uninspiring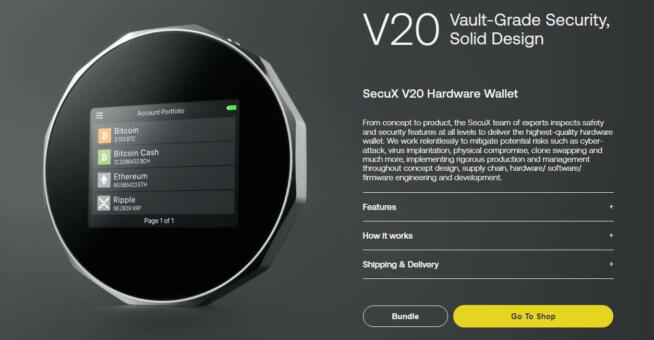 If you ask me what is my favorite Bitcoin wallet design-wise, I'll tell you it's SecuX V20. This wallet looks amazing and has this dodecagonal shape with a circular glossy part where the 2.8-inch touchscreen lies. It's not too large either, so it can easily fit in your pocket and travel with you wherever you go.
This futuristic design has its price, and at the time, you'll need to pay $139 to get it. However, that's not a problem having in mind security features like CC EAL5+ protocol with tamper-proof sealing labels. V20 supports Bitcoin along with 1,000+ coins, NFTs, and tokens.
As such, it'll ensure advanced and effortless trading due to how simple it is to use. Its setup, on the other hand, requires a bit of effort, but once you pass that, you can enjoy up to 500 accounts and multi-platform support for its dedicated web interface.
That's right – you don't need to have a dedicated app because you can connect to SecuX V20 via a web interface on the website using Bluetooth or USB. From there, you can manage your transactions and tinker with settings to make the most out of the device.
SecuX V20 uses 24 recovery words and a 25th-word passphrase, with security protocols like BIP32 and BIP39 to maximize your security. PIN protection is implemented too and there's a dynamic keypad that prevents fingerprint tracing if your device gets compromised.
The only downside is its price, which is higher than Trezor Model One and Nano S Plus. Yet, these two models are better than SecuX V20 which simply isn't as popular and won't be recognized by less experienced crypto traders.
Pros
Unique and practical design for carrying around
1,000+ coins, tokens, and NFTs are supported
Up to 500 accounts
It uses a web interface instead of an application
24 recovery words + 25th word passphrase
Dynamic keypad prevents fingerprint tracing
Cons
Quite expensive ($139)
The setup process could be simpler
2. Best Bitcoin Wallets FAQ
2.1 What is better, digital or physical Bitcoin wallets?
A physical Bitcoin wallet is better than a digital wallet since it's more secure and you have full control of it. However, physical wallets require you to purchase them and their price can vary from around $50 to $200+ if you want a high-quality product.
Digital wallets are easier to breach and track, which makes them a less secure option. However, reliable digital wallets like Coinbase Wallet or Trust Wallet have a great track record security-wise, so you can use them to safely and securely make Bitcoin transactions.
Although, you should always keep in mind that even a cheaper hardware wallet is going to give you more benefits than a digital wallet. It's more secure to store private keys on a physical wallet, but it also puts you in full control over your crypto, plus, it's portable and you don't need an internet connection to use it.
2.2 Are Bitcoin wallets free?
Yes, they're free if we're talking about digital wallets like Coinbase Wallet, Mycelium, and others. Physical wallets are always going to be paid for because they require resources to be built. As for digital Bitcoin wallets, they're free in every aspect from account creation to applications.
2.3 What are the best Bitcoin wallets for beginners and inexperienced users?
If you've never used a Bitcoin wallet, you'll need something simple and effective. Physical wallets are a lot harder to set up and require a bit of knowledge to be used. That's why, if you're a beginner, it's better to choose a software wallet like Coinbase Wallet or Exodus.
I found these two the best choices in terms of ease of use that I'm sure, a lot of you beginners will appreciate.
2.4 What are hot and cold storage wallets?
Hot and cold storage wallets are just names for digital and physical wallets respectively. An example of a hot storage wallet would be Exodus while the cold storage wallet is Trezor Model T, SafePal S1, and other solutions from the "Hardware Bitcoin Wallets" category.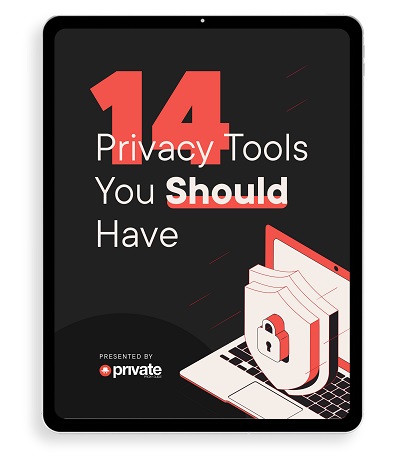 Learn how to stay safe online in this free 34-page eBook.