iPhones are capable of taking some of the best photos and videos on the market right now (I mean, have you looked at the features of the iPhone 12 Pro's camera?)
The problem is because those photos and videos are of great quality and resolution, they're usually really big in size. In other words, it doesn't take that long to fill up the internal storage of an iPhone, even one with hundreds of gigs of storage.
Unfortunately, not a single iPhone model has expandable storage, which might prove very problematic over time.
Enter cloud storage solutions.
Not to be confused with online backup, cloud storage does not create a copy of everything that's stored on your phone. Instead, it saves whatever precious files you have on a provider's server without taking any space on your iPhone itself.
In order to provide you with what I consider to be the best cloud storage apps for iPhone, iPad, and anything iOS, I went out of my way and tested a few using my personal driver, an iPad Pro (as you know, most iOS apps work perfectly well on both iPhone and iPad devices). The result is a top seven list of the best cloud storage apps.
1. Best Cloud Storage Apps for iPhone in 2023
1.1 pCloud – Best Cloud Storage App for iPhone & iOS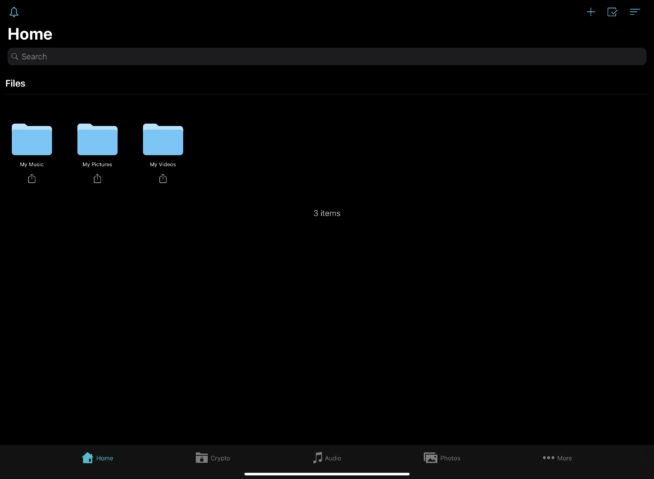 Once the new kid in the block, pCloud has quickly managed to build a name for itself in the cloud storage world.
Features
pCloud works seamlessly with iOS features, from sharing files through AirDrop to printing using AirPrint. It also has some state-of-the-art security features embedded into its app. pCloud makes five different copies of each and every one of your files on its servers for extra security. They also offer pCloud Crypto, which you can get by paying an additional monthly fee. The app also integrates well with iPhone security features like FaceID and TouchID.
Furthermore, the app boasts "instant file synchronization," which is a fancy term for being able to match files in real-time across your iPhones, iPads, and Macs.
In regard to uploading files, you get to choose between automatic upload or manual upload. I would personally recommend that you go with automatic upload since it will make your life much easier. However, manual upload does have its perks too.
Privacy
The people behind the app are based in Switzerland, where privacy laws are very strict. In other words, you won't have to worry about anyone sniffing on your precious, personal data.
Pricing
This app's free plan offers 2GB of storage and up to 50GB of download link traffic per month.
Next up is the Premium plan, which comes with 500GB of storage for $47.88 yearly or $175 as a one-time payment.
Then there is Premium Plus, which provides you with a whopping 2TB of storage for $95.88 a year or $350 one-time.
There's also pCloud encryption, which is an optional service that costs $47.88 per year or $125 as a one-time payment, which is essential to have if you really care about your privacy.
Pros
Excellent backup and security features
Deep integration with iOS apps
All the plans can be purchased as a one-time deal
Guaranteed privacy
Cons
Extra features, such as pCloud encryption, cost extra
The free plan only offers 2GB of storage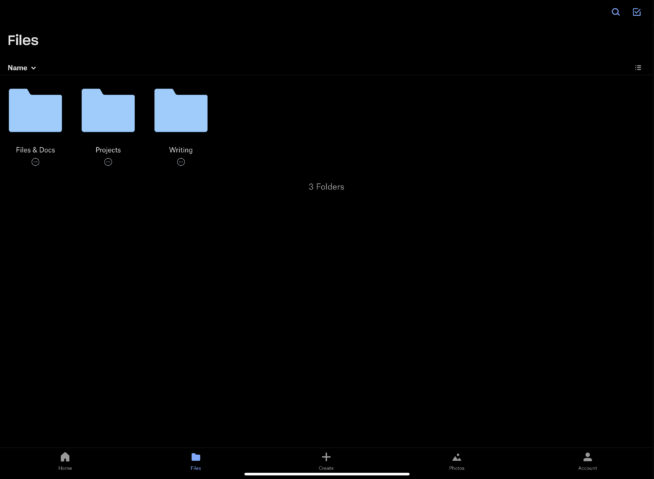 Launched all the way back in 2008, Dropbox is one of the first and best cloud storage providers out there. However, their veteran-like status doesn't mean that they are perfect. For instance, they do lag behind other providers when it comes to security.
Features
Still, their age has its benefits. For one, over the years, they managed to seamlessly integrate with iOS. You can manually upload your photos and files or have them automatically uploaded by turning on the "camera uploads" feature. Dropbox does recommend that you have your location services on when using this feature to avoid any unwanted delays or drops.
The app also works well with AirDrop, AirPrint, and TouchID. It also integrated well with the Files app, offering you many of the same functions that you would find when using the Dropbox app itself.
One of the downsides of the app, however, is the fact that you can't edit certain file types using the Dropbox folder. For instance, if you have a Word document downloaded on your iPhone, clicking the pencil and paper icon to edit it will prompt you with an advertisement to use the Microsoft Office app.
Pricing
Dropbox's basic plan comes with just 2GB of free storage with the ability to gain an additional 500MB for each person you refer with a cap of 16 extra gigs.
There are two paid plans:
Dropbox Plus, which offers 2TB for $11.99 a month ($9.99/month if paid yearly)
Dropbox Professional, which offers 3TB for double the price at $19.99 a month (or $199 per year)
Paid users can get their hands on an extra 1GB for each referral with a bonus cap of 32GB.
Pros
Seamless integration with third-party apps, including Files
Comes with useful apps, such as Document Scanner
Great tools that provide collaborative capacity
Cons
Slightly costlier than other cloud storage services
No zero-knowledge encryption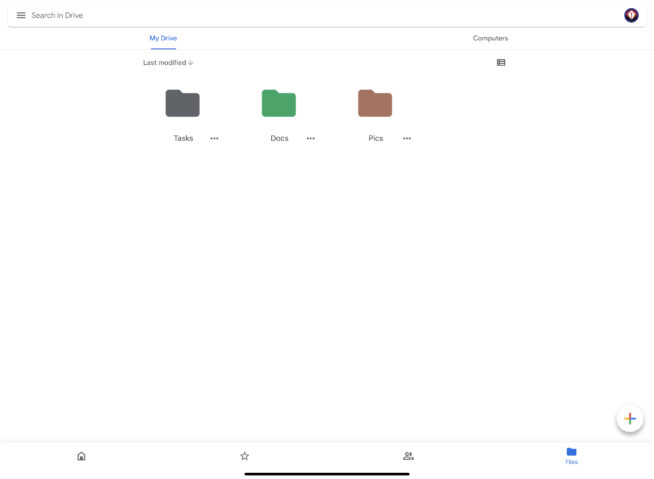 First things first, let's get the elephant out of the room. Google and Apple are fierce competitors. However, that doesn't stop Google Drive from being a worthy option for iPhone owners.
Features
The best thing about Drive is that it works seamlessly with G Suite apps such as Gmail or Google Docs. But it has a somewhat serious problem, and that is privacy and security.
Additionally, you can edit and view all different kinds of files, and if you were to upload any of them to someone else's folder, it would obviously take space out of their Drive storage.
You can choose between 3 different ways in which others can view your file: view, edit, and comment. "View" only allows others to see the file, "Edit" gives them the ability to revise the file as well as its sharing options, and "Comment" is exactly like "View," only this time you get a thread attached to the file for people to post messages.
As for file saving, you get the option of manual or automatic uploading of files.
Privacy
Unlike some options that I'll mention here, Google is based in the U.S., where cloud storage privacy laws aren't that strict, so if that's one of your main concerns, which it should be, then stay away from Drive.
Pricing
The free version of the app gives you 15GB, something that is unprecedented in the market. But there is a catch, and those 15GB are shared by all the Google apps.
You can upgrade your storage through a Google One subscription, comes in three flavors:
Basic, which costs $1.99 per month or $19.99 per year for 100GB of storage space.
Standard, which costs $2.99 per month or $29.99 per year for 200GB of storage space.
Premium, which costs $9.99 per month or $99.99 per year for 2TB of storage space.
Pros
Integrates flawlessly with Google Apps
The free plan includes 15GB of free storage
You can get Family Sharing through Google One
Cons
Privacy concerns
No zero-knowledge encryption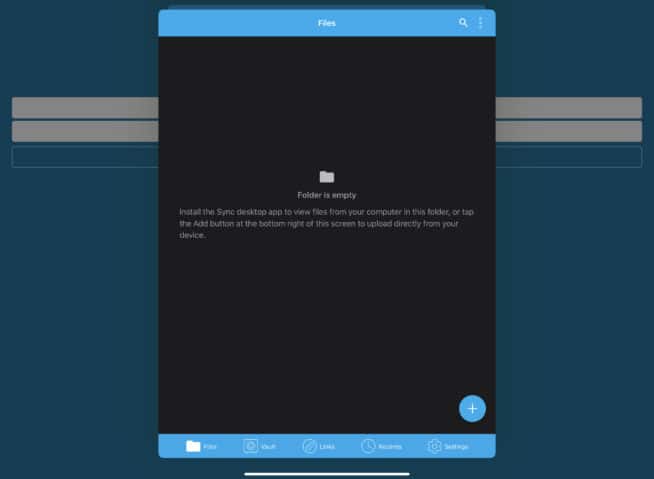 Apple is famous for producing products that offer a simple, easy-to-learn experience with top-notch security. Sync.com is exactly the same, making it a natural choice for iPhone owners who are looking for a cloud storage app.
Your files are accessible from any Apple device from your Mac to your iPhone, iPad, and iPod Touch. What really stands out about Sync.com is its security features. In my opinion, it is the best app out there security-wise.
Features
Unlike Mac's web panel, the iPhone app has all your files on demand. In other words, it'll only take a few seconds to load an image or video from the app, and it won't take any extra space in the process. You obviously get the option to automatically upload your files to your Sync.com account.
Additionally, sharing files with Sync.com is an easy and seamless process, and you get to control how others access them with a flick of a switch. The higher-tier plans of Sync.com also allow you to send share links with expiration dates of your choosing for extra security.
Pricing
Sync.com offers three plans for personal use:
Personal Free, the free tier, offers 5GB of storage and comes with a 30-day history.
Personal Mini, which costs $60 per year, offers 200GB of storage and comes with a 60-day history.
Pro Solo, which costs $96 per year, offers 2TB of storage and comes with a 180-day history.
Both the Personal Mini and Pro Solo plans come with a bunch of advanced features, such as account rewind and advanced sharing controls. And if you want to get the bang for your buck, you ought to opt for the Pro Solo plan.
Pros
Fast upload speeds
Plenty of sharing options
Excellent encryption and security features
Cons
Compared to the other apps, the paid plans are a bit expensive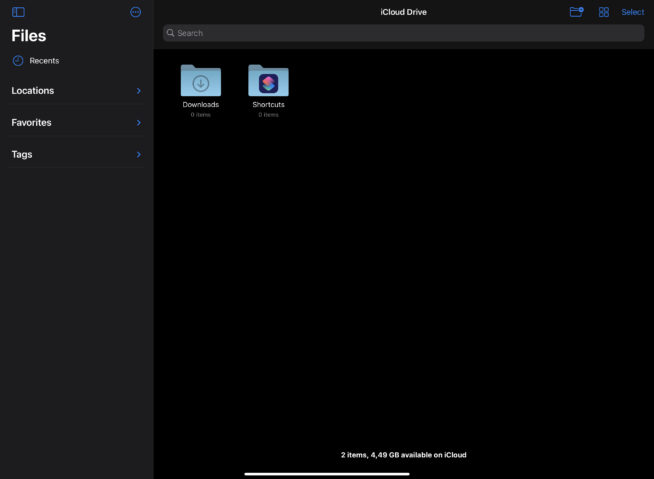 iCloud is apple's proprietary cloud storage service, so it comes as no surprise how well it functions with other products such as your Mac or iPad or other Apple software like Numbers, Pages, Notes, etc.
Features
In case it's not obvious for you yet, the main benefit of iCloud is how it can seamlessly sync with all of Apple's apps. For instance, you can drop anything into your iCloud Drive folder on a Mac, and you'll immediately find it on all your Apple devices.
However, if you rely on non-Mac computers or use a non-iOS mobile device on top of your iPhone, then you'll quickly notice iCloud's limitations. You can access a full suite of features is iCloud.com, but they're all very mediocre.
A somewhat recent addition to iCloud is folder sharing, which allows you to easily share your files with friends and coworkers.
Pricing
Apple only provides 5GB of free iCloud storage, which is decent for documents but very pretty inadequate for the high-quality photos and videos that your iPhone will take.
You can get 50GB for $0.99 a month, 200GB for $2.99, or 2TB for $9.99 a month. The latter two allow you to enable family sharing, which means that you'll all count against the same data limit without being able to see each other's stuff.
Pros
Works seamlessly on all Apple devices
Great integration with Apple apps
Competitive pricing
Cons
Doesn't play well with non-Apple devices, such as those using Windows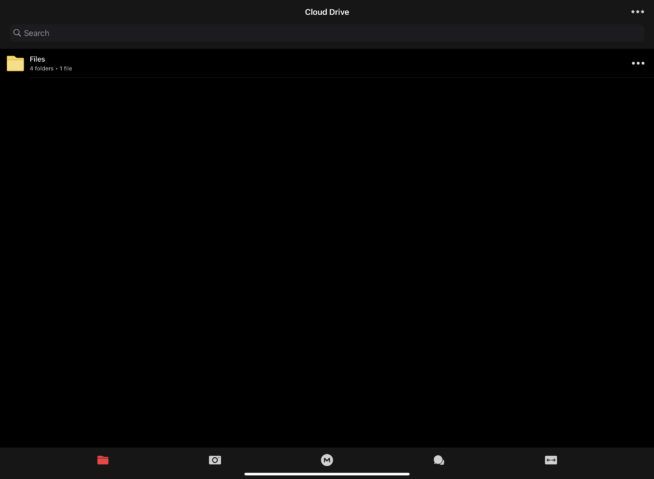 Mega is the go-to app if you're looking to have your files stored in a highly-secure server with end-to-end encryption.
Features
The company claims that all of your files are encrypted before they reach the cloud servers. This extra-tight security means that if you want to reset your password, for instance, the company won't help you in any shape or form. In other words, make sure to not forget your Mega account password once you set it up.
The iPhone app allows you to quickly upload and sync all kinds of files, from photos to videos to documents. You also get to access the other files that you might have uploaded from your computer. Sharing your files with your contacts is also super easy and very secure.
Pricing
A free Mega account will get you 50GB of storage for free. Premium options include:
PRO LITE, which costs €4.99 per month for 400GB of storage.
PRO I, which costs €9.99 per month for 2TB of storage.
PRO II, which costs €19.99 per month for 8TB of storage.
PRO III, which costs €29.99 per month for 16TB of storage.
Pros
Zero-knowledge encryption
Flexible plans that suit every need
Link passwords
Cons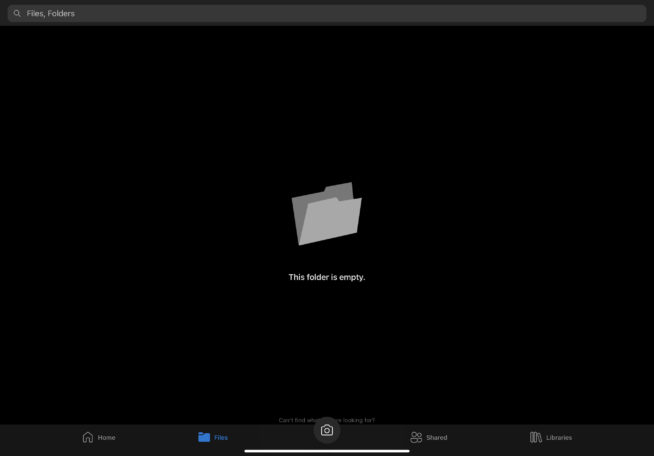 If you're an iPhone user who prefers PC over Mac, then OneDrive is the cloud storage app for you. It works very similarly to Google Drive and is available on just about every platform out there. The app comes preinstalled on Windows 10 devices, so if you're looking to keep all of your iPhone data in sync with your computer, there isn't much you have to set up besides logging into the same account on both devices.
Features
If someone were to edit a file that you shared, OneDrive would send your real-time notifications. You also get a PDF annotation feature on the iOS app, which lets you draw on, highlight, or sign any PDF file on your Apple device.
OneDrive automatically tags your uploaded photos based on visuals, so it'll be easier to distinguish between them later on.
Pricing
You get 5GB for free or pay $1.99 a month for 50GB, $6.99 a month for 1TB bundled with Office 365 Personal, or $9.99 a month for 6TB bundled with Office 365 Home. You get two months for free if you commit to a yearly plan.
Pros
Beautiful and intuitive user interface
Integrates perfectly with other Microsoft apps
Great family plan
Cons
Privacy concerns
No zero-knowledge encryption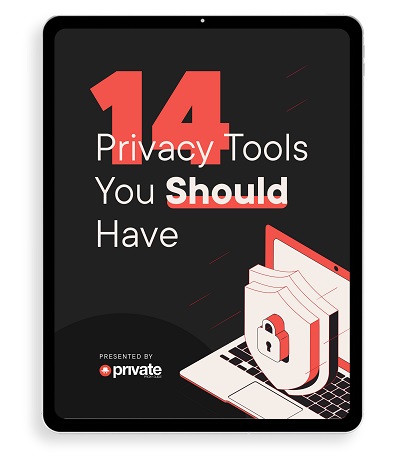 Learn how to stay safe online in this free 34-page eBook.