Back in the day, people had to carry around flash drives to share files with others. Then came the age of cloud storage, which totally revolutionized the way we managed and shared our files. One of the first companies that jumped on this trend was Dropbox, so it should come as no surprise that their name rings a bell for almost anyone who uses the internet nowadays.
Not only did Dropbox allow people to share their files via the cloud, but it also enabled them to back up important data and access it from any device they wanted at any time. All it takes is a quick sign-in, and the rest is easy.
Although Dropbox is a great platform, it won't be our focus today. Instead, we are going to discuss the best Dropbox alternatives out there.
1. Best Dropbox Alternatives in March 2023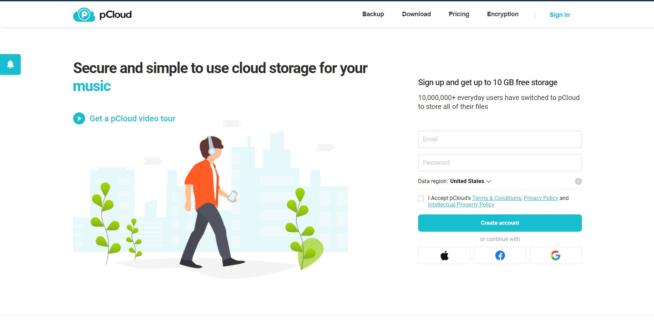 Pros
Solid Security
No limit on file size
Password protection
Easy to access
Great value for money
Integrated media player
Cons
It doesn't have document integration
Zero-knowledge encryption will cost you extra
First on our list of the best Dropbox alternatives is pCloud, a service that we love mainly due to its great security and the other additional features that it comes with. For instance, we appreciate the integration of a media player which lets you stream media files from your cloud storage without any delay.
As for security, pCloud relies on AES 256-bit encryption to encrypt your files at rest, as well as the TLS protocol to protect them when in transit. Unfortunately, however, pCloud's zero-knowledge encryption is free of charge, unlike Sync.com, for example. In case you want to add it, you will have to subscribe to pCloud Crypto, which will set you back $3.99 per month.
Sync and Virtual Drive
pCloud uses sync in its most basic form, but it also boasts a feature called pCloud Drive. This feature allows you to access data stored in pCloud without having to download it on your computer. In other words, you can access files in your virtual drive without even being connected to an internet connection.
Uploading files to pCloud is also quicker than usual, thanks to their implementation of block-level file transfers.
Sharing
In order to share the files you have on pCloud, you would need to generate a link and then either send it directly to people on social media or via email. You can add an extra layer of security to your file shares via a password and an expiration date. Similar to Dropbox. However, you would have to be subscribed to a premium plan to access these features.
Pricing
pCloud's free plan gives users 10GB of storage. However, 7 of those ten free gigabytes are only added after you complete a number of different tasks. These include referring three friends to the service, downloading proprietary apps, and activating automatic uploads.
As for the paid plans, pCloud offers the Premium 500GB plan for $4.99 a month as well as a Premium 2TB plan for just $8 per month through an annual subscription. Looking at these prices, it should come as no surprise that most people opt for the latter plan since you get an additional 1500 GB of storage for just $3 extra.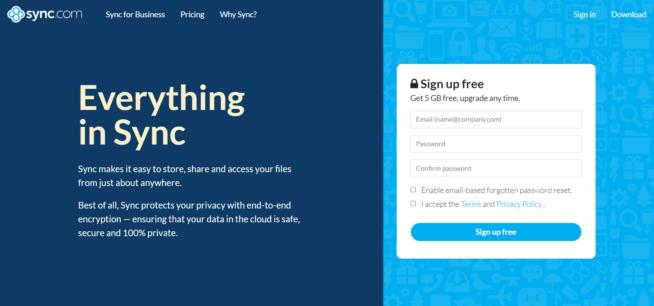 Pros
Can send data to non-Sync.com users
Encrypted and centralized storage
Great technical support
Great security and privacy
Supports long-term versioning of files
Competitive prices
Cons
It doesn't support monthly billing
Sync is slower than other cloud providers
UI is a bit glitchy
Besides its solid security and privacy, Sync.com boasts all the features that one would expect from a cloud service. Uploading files is as easy as doing it on Dropbox, you just place them in a dedicated sync folder, and the rest is history. Moreover, file-sharing can have an expiration date attached to it, a limited number of downloads, and more.
Privacy
The fact that Sync.com is Canada-based means that the service adheres to more consumer-friendly privacy laws. In other words, your files are definitely safe from intelligence agencies, unlike Dropbox, which is based in the US and is probably accessible for the NSA and the likes.
Security
Sync.com's security is solid, and it features free-of-charge zero-knowledge encryption, a fancy expression for you having exclusive access to your data. Additionally, Sync.com relies on the TLS protocol, which protects files currently in transit from threats, such as man-in-the-middle attacks. It also features AES 256-bit encryption to protect your files.
Pricing
Once you sign up on Sync.com, you get 5GB of free storage, unlike Dropbox's 2GB. You can also rely on the referral program to get more gigabytes. You get an additional gigabyte for each friend you invite with a limit of 25GB. One great thing about this referral program is the fact that the friends you invite over also get an extra gigabyte too.
As for the plans offered by Sync.com, you can get the Solo Basic plan which offers 2TB of storage for 8$ per month, which you will obviously pay through an annual subscription. The larger plan of Sync.com, Solo Professional, offers 6TB for $20 per month (that's $240 per year). Just to put things into perspective, Dropbox's largest personal plan is only 2TB of storage.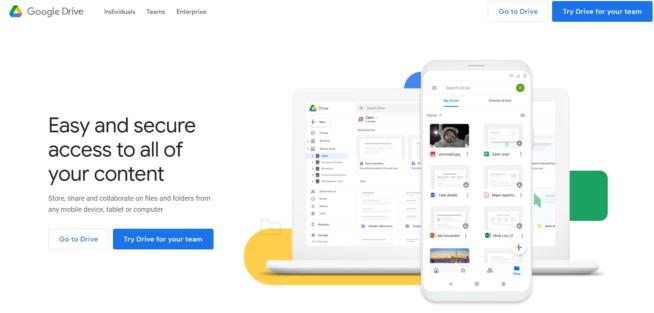 Pros
Great cross-platform experience
Upload, save, and backup files in real-time
Third-party apps integration
Cons
Questionable privacy
Kind of expensive
Similar to the case of Dropbox, it is hard to come across someone who hasn't heard of Google Drive. Yes, the word Google has become synonymous with searching online, but Google has been at the frontier of innovation in a lot of other domains, including cloud storage.
Productivity
Google Drive's Productivity features include Keep, Calendar, and much more. And on top of the plethora of proprietary apps that Google Drive supports, there is also room for numerous third-party apps.
Sadly, however, Google Drive's file-sharing features are a tad bit lacking, but the basics are there, at least. You can share files directly via Gmail or through a link with an expiration date and permissions (the person accessing the files can view, comment, or edit the files).
Privacy and Security
Google Drive relies on the AES 128-Bit encryption to protect your files while in storage and the TLS protocol to protect them in transit. The people over at Google do not deny that they scan the content you upload to Drive. They claim that they do it to provide quick search results, spam and malware detection, and advertising.
Pricing
Once you sign up for free on Google Drive, you get 15GB of free storage, which is a good amount in comparison to other providers. Besides that, you can choose from six different paid plans if you want more storage.
The first plan gets you 100GB for $1.99 a month, while the second one doubles that to 200GB for $2.99 a month. If you want more than that, we recommend the 2TB plan, which will cost you $9.99 a month or just $99.9 if you pay the yearly fee. Pricing-wise, this plan is identical to Dropbox's. However, you get an Android VPN and the ability to add family members to the plan for free.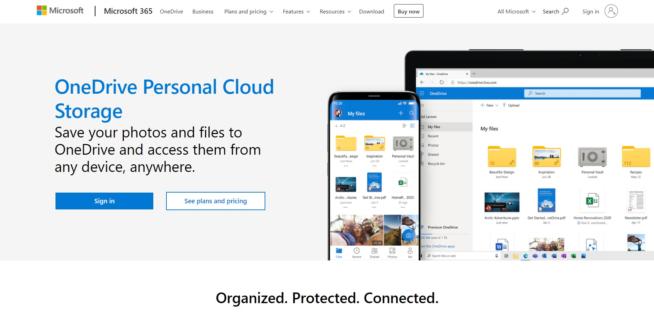 Pros
Personal Vault protection
Can scan and store documents
Native integration with Office 365 software (Word, Excel, PowerPoint, etc.)
Block-level sync
Quite affordable
Cons
No zero-knowledge encryption
The fact that Microsoft, out of all people, is behind OneDrive is already enough of a selling point for many out there. Still, it's not just about the name. OneDrive does come with a plethora of features that you will probably appreciate.
MS Office Integration
OneDrive comes with a note-taking app and has native integration with most Microsoft apps and Office Online. If you regularly use Office 365, there are only a few cloud storage options out there that are as well integrated as OneDrive.
Sync
Microsoft OneDrive relies on the standard sync model that Dropbox also uses. In other words, you can't sync specific folders if you wish to do so. Instead, you can only pick and choose from a list of common folders. Yes, OneDrive does come with selective sync, but it is not as good as Dropbox's smart sync, for example.
Still, OneDrive does feature block-level sync at least, meaning that its transfers are super fast.
Sharing
The file-sharing features of OneDrive are quite good. For instance, you have the option of sharing files via links, email, or social media, as well as attaching password protection and expiry dates to them.
Security
Sadly, OneDrive, like Dropbox, does not come with zero-knowledge encryption even if you want to pay for it. As for regular file encryption, OneDrive utilizes AES 256-Bit encryption to encrypt every file and relies on the TL protocol to prevent any potential attacks on files in transit.
Pricing
While the basic (free) plan of OneDrive only offers 5GB of storage, the three premium plans blow DropBox and other providers out of the water pricing-wise.
For starters, the regular 100GB plan is only $1.99 per month. Then there is the Microsoft 365 Personal plan which guarantees you 1TB of storage for $6.99 per month or just $69.99 per year. But it gets better. The Office 365 Home plan offers users 6TB of storage for up to six different users at once for only $9.99 a month or $99.99 a year.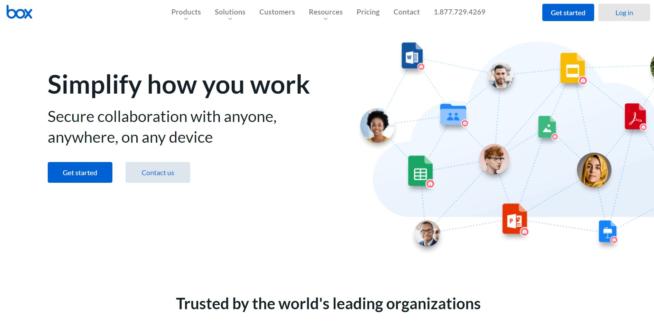 Pros
Top-notch security
Third-party app integrations
Supports Microsoft Office apps and Google Workspace
Files can be password-protected
Cons
Zero-knowledge encryption comes with a fee
Quite expensive
Next up on our list of the best Dropbox alternatives is Box, a cloud storage service that is tailored for businesses and enterprises. It comes with a number of great features, most of which we see in Dropbox, but with a heftier price tag.
Business-oriented Features
Unlike the other services on our list of the best Dropbox alternatives, Box is mainly aimed at businesses and enterprises. Sure, it does the job just fine as a personal cloud storage service but its business-related features are what make it stand out from the competition. These features include a note-taking app and a built-in task manager. Of course, the latter doesn't compete with project management services, but it's still a good addition to the arsenal.
Integration
Box supports a huge number of app integrations which further solidifies its business-tailored model. For instance, if your company relies on a lot of documents, then you will definitely appreciate the native integration with Google Workspace and Office 365.
Pricing
Sadly, Box's focus on businesses is reflected in its pricing. It is quite expensive in comparison to other options. Still, if you go for anything other than the Starter plan, you will get your hands on unlimited file storage for $20 per month per user. That can be dropped down to $15 if you decide to pay annually.
However, if the main reason as to why you are currently reading our article is the somewhat expensive pricing of Dropbox, then Box is definitely not for you.
2. What Makes Dropbox Good?
So, now that we have gone through our list of the best Dropbox alternatives, we are going to go back to point zero and discuss why Dropbox is so popular.
2.1 Ease of Use
It is pretty much fair to call Dropbox the OG of cloud storage providers. They kind of created the template for how a cloud storage service should function and look. And even though Dropbox has evolved a lot over the years, it still is quite easy to use.
For starters, signing up on the platform is very quick and straightforward. You just enter your name, email address, and password, and then you will be immediately prompted to download Dropbox on your computer.
Once the software is successfully installed, a Dropbox folder will appear in your favorites tray. Paid users of the service can right-click the folder and activate Smart Sync, which means that your files will become exclusively online, basically freeing up space on your hard drive in the process.
2.2 Sync
As we have mentioned before, Dropbox is one of the pioneers of the common sync model. This basically refers to the sync folder, which in itself functions like any other folder but with a twist. It is synchronized to the cloud, and anything you have in there will be easily accessible to you through that folder.
Dropbox has a huge improvement of the standard sync model in store for you, though, known as smart sync. It basically allows you to interact with your files without syncing them to your computer. The downside to this is obviously the fact that you can't access those files if you aren't connected to the internet.
This feature is great for users who have devices with limited storage space. There are other providers that have attempted to replicate this feature, some more successful than others. pCloud, for example, sets up your sync folder on a virtual drive that doesn't take any space from your hard drive, even if you open and edit the files.
2.3 Sharing
Dropbox has a wide variety of content-sharing features. For instance, you can generate shared links of files or send them instantly via email. Like many other cloud storage providers, Dropbox allows you to attach password protection to your share links as well as an expiry date. There is also the option of completely disabling downloads or only granting access to users of your own choosing.
On an important note, though, all of these content control features are exclusive to the Professional plan, which sadly isn't the cheapest out of the bunch. There is a dedicated page for files that you have shared with others, as well as people who can share their files with you. There is also an option of "file request," which, as the name suggests, allows you to ask others to share files with you.
If your Dropbox is full of files and you want to search through them, you can simply perform a full-text search. Moreover, the Dropbox mobile app allows you to scan documents and upload them to the cloud as .jpeg or .pdf files.
2.4 Speed
Speed is an important factor when you are using a cloud storage service. Fortunately for you, Dropbox does not disappoint in this department. They have some of the fastest upload and download speeds in the market. And in addition to being super quick, the speeds of Dropbox are also very consistent.
Additionally, Dropbox relies on block-level transfer to quickly update files that you have edited. As the name suggests, this works by chopping down files into smaller chunks and only syncing the edited parts of the file. And as we have shown above on our list of the best Dropbox alternatives, only a few other providers have this feature, namely pCloud and OneDrive.
3. What's Not So Good About Dropbox?
The mere fact that we have written a whole article about the best Dropbox alternatives out there implies a few things that might be wrong with Dropbox, which is partially true. Numerous cloud storage providers excel in departments where Dropbox fails, and we are going to go through said failures right now.
3.1 Privacy
Dropbox's privacy is questionable. For instance, they have been very much involved with the US National Security Agency (NSA)'s PRISM project, a program that was designed to locate terrorists through heavy online surveillance
Moreover, Dropbox can and will block certain files from being uploaded to the cloud in adherence to the US Digital Millennium Copyright Act. In other words, you probably won't get away with sharing Shrek 3 with your friend. Users of cloud storage providers with zero-knowledge file-sharing won't have an issue with this, though.
Lastly, the privacy of Dropbox is further weakened due to its heavy integration with third-party apps. In order for such integration to work properly, Dropbox needs to freely share its data with companies such as Microsoft and Google.
3.2 Security
Dropbox has had a rough history when it comes to security. One infamous example is the 2012 breach which led to the theft of emails and passwords of over 68 million users of Dropbox. What's worse about this attack is the fact that Dropbox only revealed the real extent of the hack four years later, in 2016, when people's stolen accounts were being sold online.
According to them, however, they have tried their best to tighten security and have since changed their password hashing algorithms in order to prevent another 2012 leak.
Dropbox relies on AES 256-bit encryption and the TLS protocol for files in transit for file protection.
3.3 Pricing
Unlike some of the other services that we have mentioned in our list of the best Dropbox alternatives, you only get 2GB of storage once you sign up to Dropbox for free.
The premium plans aren't any better either, and they are quite expensive and not that flexible. For starters, the platform's cheapest plan is Plus, which costs $9.99 per month or $99.99 per year for 2 Terabytes of storage. The other plan is Professional, which gets you the same amount of storage but for a whopping $19.99 per month or $199 a year but with some extra features.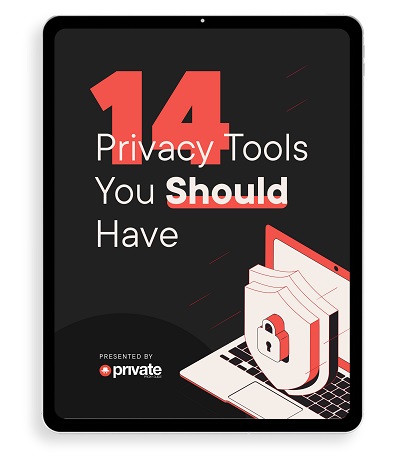 Learn how to stay safe online in this free 34-page eBook.