With online security decreasing each day, staying clear of malicious websites becomes harder. Phishing attempts, malware, and viruses are only some of the things that come as a result. Thankfully, people can refer to DNS filtering solutions to make sure these things stay out of the way.
By using DNS filtering tools, users can prevent themselves from accessing malicious websites. In addition, this tool will let you block out suspicious IP addresses that might do you harm. This way, you ensure safe and secure internet access for your home, family, or business.
However, there are dozens of DNS filtering solutions online, which makes choosing a good one a tad harder. For that very reason, we did all the research for you, so we can confidently talk about the best DNS filtering solutions.
1. Best DNS Filtering Solutions 2022 – Our Top 10 Choices
So, with our introduction out of the way, let's see what exactly are the best DNS filtering solutions for 2022. We prepared 10 choices for business and home users, so I suggest you stay around – it's going to be an interesting read!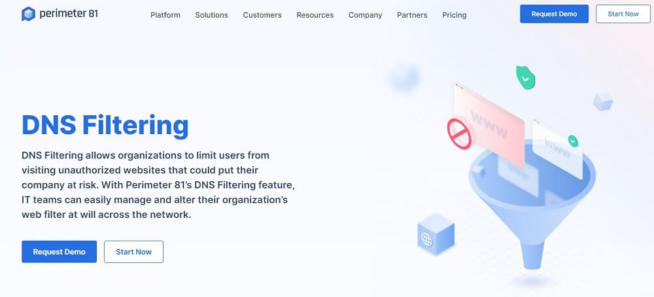 Perimeter 81 is a well-known company in the world of cybersecurity. While it's great for both home and business use, we found that it's much more suitable for businesses of all sizes. So, what can Perimeter 81 DNS Filtering do for you?
Well, for the start, it lets you prevent your employees from visiting dangerous and suspicious websites. It's easy to set up, and within a few minutes, you can filter those websites for safe and secure internet access. Mind you, you can do so with both domains and IP addresses to make sure you have everything under control.
Apart from blacklisting dangerous sites, Perimeter 81 allows you to whitelist them. This way, your employees will have a clear picture of which websites are allowed in your company. What I especially like is the ability to block websites according to their categories.
Perimeter 81 offers categories like social networks, shopping, adult, gambling, and other types of websites. None of which your employees should access while working. Needless to say, Perimeter 81 will also provide malware protection through DNS filtering.
By blocking out dangerous sites, your network is bound to be safer, with no intrusions by malicious software. Finally, I should mention pricing where Perimeter 81 impressed us. For as low as $12 a month per user, the company will include DNS Filtering, adding protection to your network.
Best of all, there's a 30-day money-back guarantee, so if you don't find it attractive, you can get a full refund with no quibble.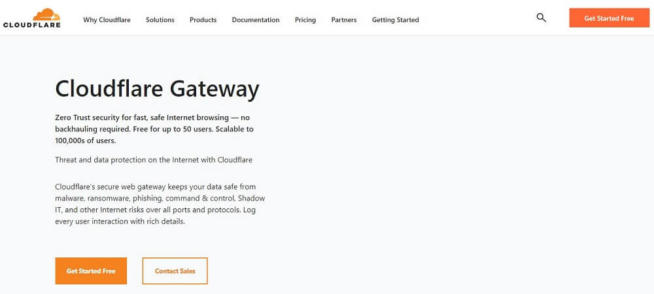 If you're into online security even a tiny bit, you've heard about Cloudflare Gateway. This DNS filtering tool has all you need for 100% protection against dangerous sites and malware. The great thing about it is that it never compromises your performance – it works in the background, keeping things in check.
Needless to say, Cloudflare Gateway is easy to use, allowing you to filter websites through several categories. You can block adult or shopping sites but also choose which types of files are going to get through the network. Super convenient!
Speaking of which, you can prevent your employees from downloading or uploading files. This is useful for keeping unwanted software out of your network. Protection can also be policy-based, which makes things easier. Once you set up the policy, Cloudflare Gateway will do its job without your control.
Moreover, blocking sites is possible through DNS, URL, or an IP address. You can then create custom lists, whitelist certain sites, and prevent your employees from accessing sub-domains. I found this to work pretty well, and in 100% of the cases, it successfully blocked access to the sites I wanted.
With the ability to block apps, malware, and website domains, Cloudflare Gateway is a complete solution for the impeccable security of your business network. If you opt for its Business plan, Cloudflare Gateway will cost you $200 a month, which isn't all that expensive.
Here, you also get 24/7 support, but no money-back guarantee, which is quite surprising. Thankfully, there's a free plan that lets you test it out before shelling out your hard-earned money.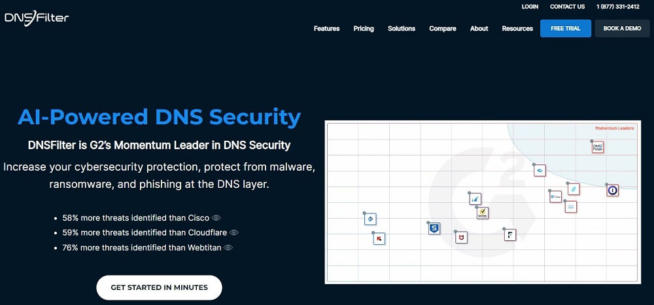 DNSFilter is an interesting DNS filtering solution for businesses. It's not very expensive, yet it offers edge-to-edge protection against malicious websites and malware. Moreover, it's cloud-based, so it won't impact your network performance, as it works remotely.
Thus, it's great for businesses of all types and sizes. Even schools use DNSFilter to prevent students from visiting inappropriate or dangerous sites. Not to mention DNSFilter's AI that works flawlessly in detecting and eliminating potential threats.
Administrators can create custom lists of blocked sites or refer to policy-based protection. Furthermore, DNSFilter allows for blocking sites via categories like adult, streaming, or even messaging services. This makes it convenient to block access to a bulk of websites in a few minutes.
Being a cloud-based solution, DNSFilter offers 30+ servers on 6 continents. They claim to have a 100% uptime, which is actually true in practice. This guarantees 24/7/365 protection with no margin for error. We should also mention its user-friendly interface that's easy to get into even for beginners.
Setting it up lasts no more than 15 minutes, after which, your employees or students will get the protection they need. Arguably, this is a very affordable solution that starts at a measly $0.9 a month per user.
If you upgrade to the Pro or Enterprise plan, DNSFilter will expand its protection to iOS and Android devices, but also allow for per-user policies. There is also a 14-day free trial for testing it out risk-free. What more do you want?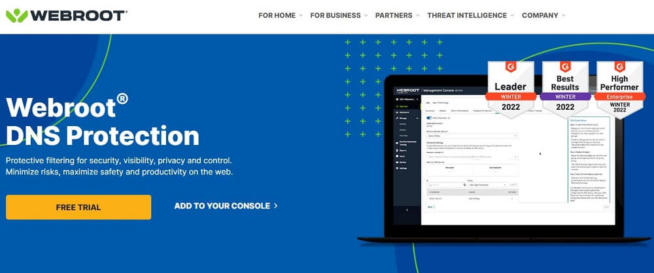 Much like DNSFilter, Webroot is extremely easy to use and takes a few minutes to set up. It's no wonder why it's one of the best DNS filtering solutions in 2022. Users who decide on Webroot can expect exceptional blocking capabilities that cover policy-based rules.
With these policies in place, blocking malware and dangerous websites is a breeze. Besides, this is a cloud-based solution, so you can expect no performance hit. I like how simple it is to enforce website blocks in several ways.
For example, there are more than 80 types of pre-built policies that can apply to the URL/DNS/IP of the website but also to certain devices and groups of employees. Webroot's vision expands to the future, and as such, it supports IPv6, which is the new generation of the internet protocol.
As a cloud solution, it's easily scalable, allowing you to protect employees outside of the workspace. For example, protection can be applied to public Wi-Fi through the same policies, granting the maximum level of security.
Unlike DNSFilter, it offers servers in 16 locations worldwide, which is a bit better for overall performance. And, if you didn't know, it's based on the Google Cloud Platform, which adds to the stability and better protection across the board.
Sadly, you won't get pricing on the website but there's a free trial for testing it out.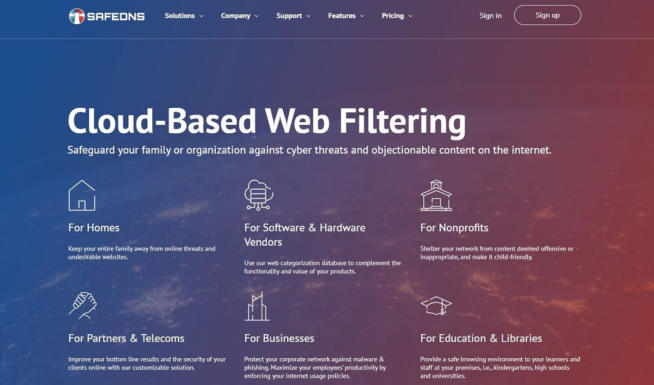 Budget-oriented users are surely going to like SafeDNS. It's an affordable DNS filtering solution for businesses with protection for both the workplace and public Wi-Fi hotspots. Sure, it allows for categorization to make protection more efficient but I found it useful even without that.
It has a super-smart AI permeated by machine learning for easy, smooth, and automatic workflow. This means that SafeDNS can automatically detect malware and dangerous sites, thus, blocking them out instantaneously. If you're short on time, this will be a God-sent feature!
However, if you don't want to rely on its AI, SafeDNS gives you a great alternative. With more than 60 categories, you can block adult, gambling, shopping, social media, and many other types of sites in a minute. So far, SafeDNS showed nearly 100% efficiency in blocking them.
I especially like the ability to block particular content on sites. For instance, you can block banners, videos, pop-ups, ads, etc, etc. With millions of websites in its database, SafeDNS has almost the entire world wide web covered, granting impenetrable security.
I said that SafeDNS is very affordable and I really mean it. It starts at $150 a year for up to 10 users and goes up to $600 a year for up to 50 users. Additionally, there's a 15-day money-back guarantee, so you can test it out without losing any money.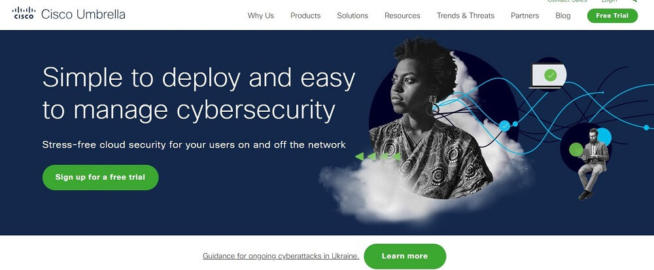 Lastly, we have Cisco Umbrella. This DNS filtering solution isn't anything to write home about, but it's pretty good for the price. After all, it has a huge database of millions of websites split into almost 90 categories for easier categorization and blocking.
I like its ability to employ policy-based blocking but also set custom policies for particular users. This lets you allow access to certain sites only for some users who really need them and block access for other users that won't find these sites beneficial.
At school or the workplace, Cisco Umbrella lets you block Google sites, which includes even YouTube. However, you can allow YouTube and similar sites to teachers in schools so that they can show and demonstrate the content related to the topic of the class.
Needless to say, Cisco Umbrella is a cloud-based solution that makes its setup much simpler. Once you set it up, you can use it via the web-based UI which is quite simple. It also supports bulk uploads, so you can enforce all your policies and restrictions quickly.
All in all, it's a highly customizable, flexible, and adaptive DNS filtering solution. My only gripe with it is that it doesn't display the pricing on the site, so you need to request a quote. On the other side, you can request a free trial and test it of your own accord.
2. Home DNS Filtering Solutions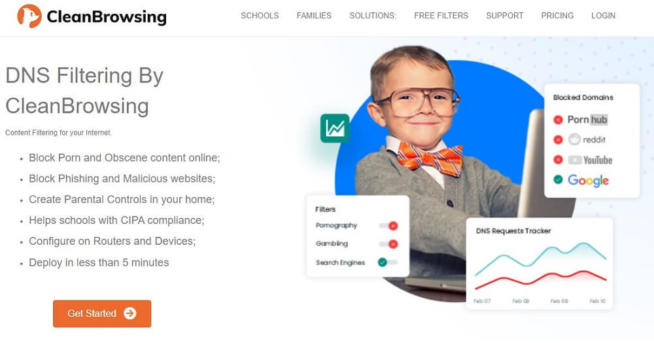 The focus of this article was the best business DNS filtering solutions. However, if you want to protect your network at home, you might want to take a look at some of these solutions, starting with CleanBrowsing.
CleanBrowsing is a full-fledged DNS filtering tool for kids and those who feel that way. Once implemented, it can efficiently block access to adult, gambling, or malicious sites in general. In addition, it blocks malware and other unwanted software, keeping things safe and secure.
Moreover, it's based on DNS and this means no software download. It's easily set up by changing your DNS to the one from CleanBrowsing, after which, you're good to go. Since it's a home solution, CleanBrowsing offers a free plan which many users will find sufficient.
It blocks adult sites and prevents ransomware and phishing attempts. In our tests, it proved to be extremely reliable and for an average-sized family, it's more than enough. However, its cheapest plan will cost you $59.99 a year and it covers 25 devices.
Here, you can enjoy advanced functionalities such as 19+ custom filters, adding device profiles, and the ability to see what is happening in your network. For a home solution, that's actually pretty decent – at $5 a month, you get all-around network protection. Sounds fair if you ask me!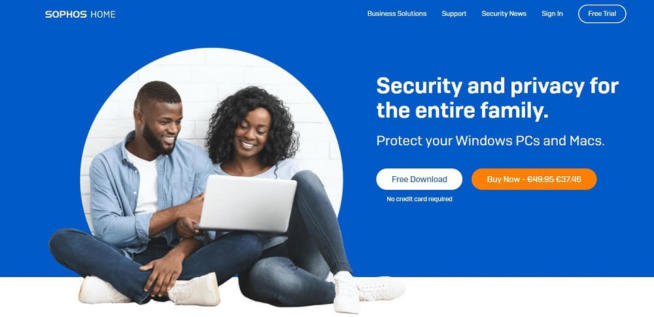 Sophos is yet another welcome addition to this list. It has a special DNS filtering tool called Sophos Home that does exactly what you expect from it. Being a home solution, once again, Sophos Home comes in a variety of plans, including the free one which you can use forever.
Unlike the other solutions on the list, it needs to be installed, although it supports only Windows and macOS. In our test, it showed impressive performance, being able to block malicious sites, ransomware, and phishing attempts.
Not to mention that Sophos home provides protection against viruses and utilizes an AI to automatically get rid of potential threats. I also like that Sophos Home encrypts your keystrokes, which is a unique feature. By doing so, hackers can't see what you're typing, so they can't steal your important passwords.
For a home DNS filtering tool, parental control is of the utmost importance. Hence, Sophos Home lets you filter out adult or gambling content and sites, giving your children a clean, child-friendly internet space. The testament to its user-friendliness is that it offers a free plan AND a 30-day money-back guarantee.
That is if you want to buy it. Speaking of that, it's much cheaper than CleanBrowsing with the price of around $40 a year. Should you decide to buy it, you'll get support for more devices and some advanced features that you don't have on the free plan.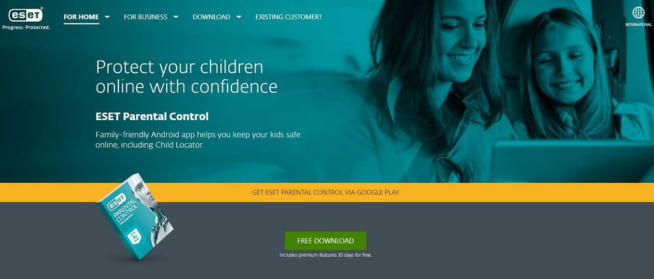 If the name ESET sounds familiar, that is because it's known for its NOD32 antivirus. However, ESET Parental control is something else, and as its name implies, it's a great DNS filtering solution for homes with children.
Since children spend their time on mobile devices as well, ESET Parental Control supports mobile platforms in addition to computers. This allows you to fully protect the home network and prevent unauthorized access to adult content or gambling sites.
It automatically blocks adult content and even limits screen time. You don't want your children damaging their eyes, right? Moreover, I like its ability to track your children's behavior, so you can see if they're doing anything suspicious online.
Tracking the phone location is also a useful feature. With it, you'll never lose track of your children, thus, making sure he/she gets home safely. While not as feature-rich as some other solutions, ESET Parental Control is extremely useful for kids and their (online) safety.
Of course, more advanced features are locked behind the paywall, but at least, it costs around $50 a year, which translates to $4 or so a month. And there's a 30-day free trial, in addition, so you don't risk losing money if you want to test it.

Net Nanny is the last pick on this list but it's by no means the worst. It's a simplistic tool that uses its reliable AI for protection against malware, suspicious, and dangerous websites. Similar to ESET Parental Control, Net Nanny's focus is protecting the home network and its kids from various online threats.
It's not cloud-based, of course, so you need to download an application to use it. However, its device support is par excellence, allowing you to use it on Kindle, Windows, iOS, macOS, and Android. Our tests of Net Nanny showed decent performance, as it easily blocked suspicious sites and adult content.
Thanks to its AI, adult content is blocked automatically, and you can even limit screen time for your kids. Moreover, the app allows you to whitelist certain sites that your kids can visit freely. If you have a bit more trust, you can ditch that in favor of the ability to monitor his/her online activities.
That way, you can see if a kid searches for adult content and immediately block such websites. The good thing is that you can block websites not only by their URL but also by IP and DNS. This will make sure that your kid never tricks the app and gain access to a malicious site despite the firewall.
Net Nanny isn't free and it starts at $39.99 a year for one desktop. The best deal, however, is the one at $54.99 a year where you can protect 5 devices, including Mac, PC & Mobile.
3. Benefits of DNS Filtering
Business and home users can benefit from a quality DNS filtering service in many ways. Here are the main benefits of the best DNS filtering services of today:
3.1 Online Threat Protection
For businesses, eliminating the possibility of cyberattacks is a must for preserving vital information. Sadly, companies are often victims of DDoS attacks, ransomware, malware, phishing, botnets, and many other types of cyberattacks.
What's more, they're very dangerous and can result in either losing important information or ruining the company's reputation, which can drive away existing and potential clients. For that reason, business owners often decide on a high-quality DNS filtering tool, such as Perimeter 81, for example.
With it, you can drive away all sorts of online threats and block malware-ridden websites to prevent potential intrusions.
3.2 Home-Based Employee Protection
In recent times, working from home gained a lot of popularity due to the COVID pandemic. However, this made the issue of online security much more prevalent, especially when it comes to the connection with the online workspace.
The good thing is that users can get a home DNS filtering solution and apply the same level of protection. This way, hackers and other malicious online entities can't do you harm, allowing you to use the internet safely and securely.
3.3 Wi-Fi Protection
Wi-Fi networks are an easy target even for an amateur hacker. These networks are often unprotected even in business environments where employees are connected during their work time. Without the necessary protection, anyone can hack into the network and harm your company's privacy.
But, if you use a DNS filtering tool, that is virtually impossible. That is because it protects every type of network, be it wired or Wi-Fi. That way, you can visit the internet safely with no risk of malware, phishing attacks, or cyberattacks in general.
4. Conclusion
With everything said, you now know what is DNS filtering, its benefits, and the best DNS filtering software in 2022. Although we focused mostly on business solutions, we made sure to include home solutions for people working from home or those looking to protect kids from the dangerous side of the online world.
Now, it's up to you to choose the solution most suited for your needs. The most expensive one isn't always the best, though, and Perimeter 81 is a prime example of that. But, whatever your choice is, you'll surely get the required protection with no compromises.
After all, this is what DNS filtering is for.