An average person checks emails 15 times a day, and the frequency keeps on increasing as work from home becomes a norm.
Sending out countless emails and receiving them simultaneously is usual in a professional setting. Setting up multiple filters, rules, and signatures can be daunting.
Managing multiple email accounts is hectic in a browser. You can try email clients, making it incredibly easy to handle emails and collaborate with teams as the primary mode of communication.
Verdict
Email clients make your life easy in handling incoming and outgoing messages—especially when dealing with multiple email accounts and team members.
You can start with the free email client Thunderbird, available for numerous platforms. Premium options on Windows offer Mailbird, which has some exciting features.
On the Mac side of things, the Mailspring and Airmail pretty much define the email client space for the platform.
| | | | | |
| --- | --- | --- | --- | --- |
| Email Client | Price (per user) | Encryption | Add-ons/Plugins | Cloud Support |
| Thunderbird | Free | OpenPGP | Yes | No |
| Mail by Windows | Free | Only TLS | No | Yes |
| Mailbird | $39/year | None | Yes | No |
| eM Client | $49/lifetime | PGP | No | Yes |
| Spike | Free; $5/mo. | AES-256 | No | Yes |
| Spark | Free; $6.9/mo. | None | No | No |
| Mailspring | Free; $8/mo. | OpenPGP | Yes | No |
| Airmail App | $9.99/year | None | Yes | No |
| Canary Mail | Free; $3/mo. | PGP | No | No |
| Loop | 8£/mo. | PGP | No | Yes |
1. Best Email Clients for Windows in October 2023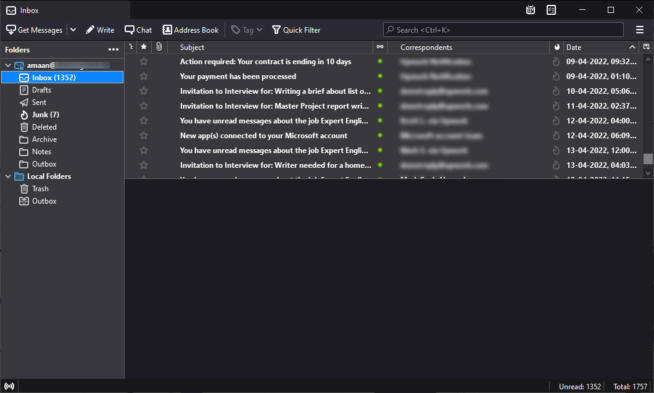 We start with an open-source and free email client by Mozilla, offering an easy solution for managing your emails. The installation is easy, and on the launch screen, we get the option to log in using an existing email account or create a new one using the two options provided.
Features
The attachment reminder tool looks for word or any document format attachment in the body of the message. It reminds the user to attach one before hitting send when none is found in the email.
Quickly filter your emails using the quick filter toolbar. Start typing in words, and the quick filter bar will instantly show you results from all the messages on your account. Along with that, filter messages by date, tags, and people in your address book. It also offers an option to save a filter for future use.
Add new capabilities using the Add-ons manager, which lets you add add-ons directly to Thunderbird. Find the best ones based on ratings, reviews, and downloads.
Manage multiple email accounts using Smart Folders which combine inbox, Sent, or Archive folders in one place. See all the folders of an email in one place instead of going through multiple tabs.
Pros
Open-source and free to use with no ads on the app
Reliable add-ons for adding extra capability
Tabbed emails for managing multiple accounts
Seamless search interface to filter emails
Cons
No Cloud support
Limited theme options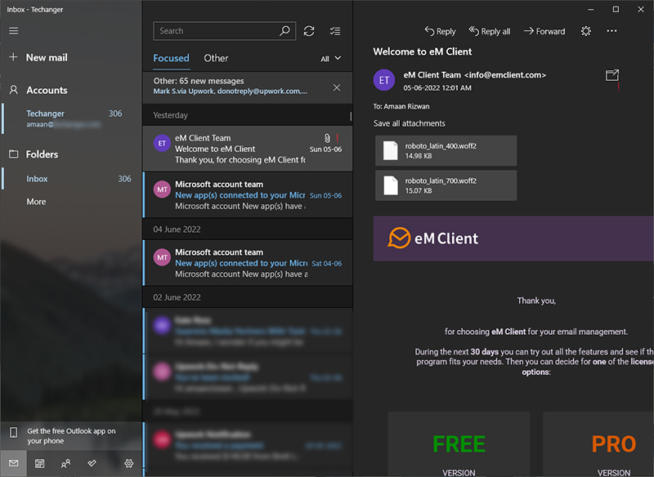 Formerly Windows mail, the email client is included in Vista and later versions of Windows. It is considered the successor to the Outlook express bundled with Internet Explorer. It has the presets configuration for Office 365, Yahoo, Outlook mail, and other Exchange Server, and IMAP accounts can still be added.
Features
When you add multiple email accounts, you need a few of them regularly. Access them quickly by pinning them to the Start menu. Enable Live Tiles, and you can see when new emails land in the inbox without opening the app.
Sometimes you receive important work emails that need to be referenced in the future. Save those emails using the in-built option that lets you access them when not connected to the Internet. Click on the three parallel dots and select the Save As an option, selecting a location where you want to save the email.
Search emails containing different languages with the Find by Sound Like Open an email in a language other than English and then start typing phonetically in the search box. The app will search for similar sounding words and display results.
If you use multiple emails for work and personal purposes, link all the email inboxes together to create one unified inbox. Choose which emails to include, and you have yourself an inbox receiving mail from multiple email addresses.
Pros
Included with Windows 10 as an in-built application
Effortless integration with Windows
Preset server information of all major email providers
Sync emails with the phone app
Cons
Basic grammar checks for emails
Lackluster junk mail filter
Mailbird is a powerhouse of utilities apart from being an email client for the Windows platform. The level of customization offered here, along with comprehensive app integration support, makes it an easy choice for heavy users. A personal plan will cost you $39/year, with an option for a free trial without needing payment details.
Features
Increase your email reading productivity with the speed reading Fly through lengthy emails using the speed read mode, which shows you a bunch of words at a time in a flashcard manner. You can set the reading speed between 100 to 1000 Words Per Minute (WPM). An average person can read anywhere between 150 to 250 WPM, which can be increased by practicing speed reading.
Set custom sounds for different email actions and features to feel at a place like your former email client. Choose either from the library of suggestions or upload your audio file.
Integrate all your favorite and most used apps with Mailbird for using it on a unified platform. Facebook, WhatsApp, Slack, WeChat, Dropbox, Evernote, Twitter, etc. Seamlessly use them together and build a universal communication platform.
Are you dealing with multiple contacts across different emails? Unify them under a single contact list and categorize them for using them anywhere without searching for duplicates. Merge, link, or drag and drop contacts amongst other features to take your contact management to the next level.
Pros
Powerful integration with third-party apps to bring all communication under one roof
Useful speed reading feature to get through many emails in a short period
Custom notification sounds for every action
17 different languages supported on the app
Cons
Fundamental login error with Microsoft accounts for a few users
No email filters support
Now we have an email client for Windows and Mac, offering an empowering blend of features. Stay on top of all your emails with the zero inbox policy. The initial setup is the easiest, with a wide variety of themes and one-click import from other email clients.
Features
Sending incomplete emails by mistake is commonplace. Wondering if there are things to attach, words to add, and the wrong recipient. Add an automatic fail-safe to recall a sent message before it's too late. Use the Undo Send to recall an email and send it to drag. Make the left-out changes before finally sending it. Set the delay in sending email between 1 to 10 minutes.
Send encrypted messages and ensure maximum privacy across the communication channel with the PGP encryption, which can be set without any difficulty. Use the eM Keybook to upload your private keys and synchronize with the receipt keys. They can also be found through keys.openpgp.org and ProtonMail.
eM offers impressive productivity tools compatibility with Office 365, Google Workspace, Outlook, Exchange, macOS server, Zoom, Webex, MS Teams, and many more applications.
Emails are not enough for instant communication; take it a notch up with the chat service available for integration with Jabber, Hangouts, and any other XMP-supported clients. The chat also supports file transfer to exchange data without instantly interrupting the flow of communication.
Pros
Robust encryption for private emails and communication
Recall email messages within 10 seconds to avoid sending out wrong messages
Reliable chat service with file transfer support
Advanced calendar with notification reminders
Cons
Not available for smartphones
Limited email accounts on the free plan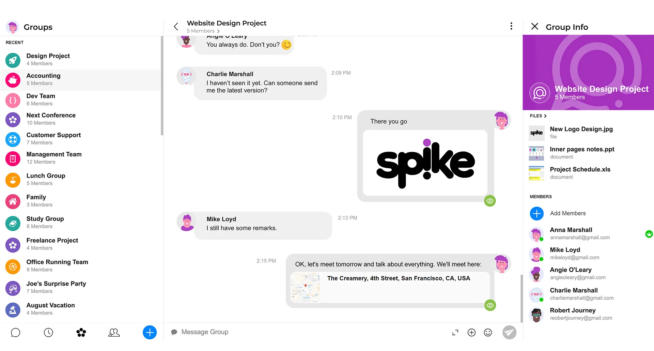 Spike is an all-rounder email client available for multiple platforms and a web-only app that can be accessed from the browser. No need to install any software while accessing it from a public computer. They offer a free version with fewer features, sufficient to get started for personal usage.
Features
If you receive dozens of emails a day and miss out on the important ones as they get lost, then priority inbox is here to help you. Spike's intelligent inbox highlights important emails which require immediate attention and puts aside all the clutter. All the other emails are available in the other
A versatile note-taking app that promotes live collaboration and integration with other aspects of the Spike email client. Take or access notes while chatting with people, and collaborate on the pad. Allow comments, and suggestions, store files and manage tasks.
Record and share voice messages from notes, emails, or group chats. Take your communication to the impersonal level with voice notes that save typing time. Tap, talk and then send the message you want to share quickly with others without worrying about typos, structure, or tone.
Video call your contacts from the Spike client without requiring a third-party application. Add up to 10 participants in a video call without any duration restriction.
Pros
Smart inbox that manages the emails in priority for you
Feature-rich note-taking app with collaboration
Task reminder with integrated notification on the client
Built-in video chat for the contacts
Cons
Limited theme options
No encryption messages option
2. Best Email Clients for Mac 2023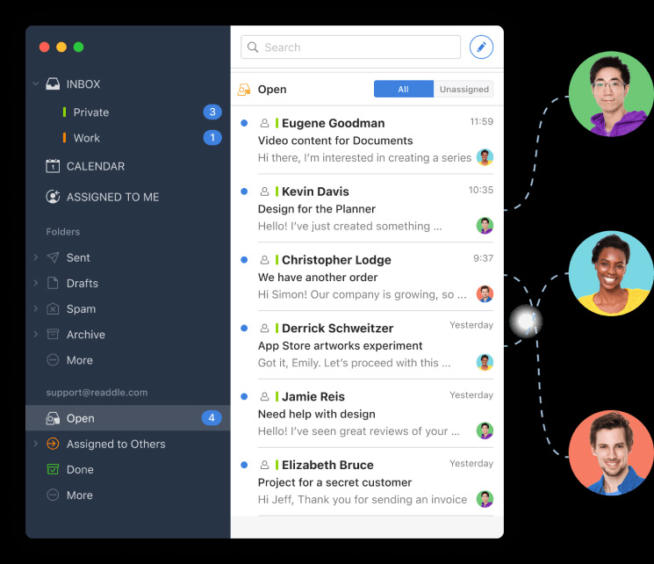 Moving onto the Apple ecosystem, we have a dependable email client for Mac. The clutter-free and feature-rich app make you fall in love with emails again. It is available for macOS, iOS, and iPadOS, offering seamless email management across the devices on the platform.
Features
When you receive an email from a client and forward it to the concerned teammate, there is a specific need to add comments without requiring CC or BCC. Discuss certain emails with teammates and keep everyone in the loop. Even attach documents and files to the comments for sharing with others.
Get smart notifications on the device from your known contacts, and the rest will silently appear in the notification bar. Focus on what's important and requires your immediate attention.
Compose crucial emails together with others using the real-time collaboration compose editor. Also, share email templates with the team members to send out a unified response.
Want to send an email at the end of the day or early morning? Use the Send Later feature to send out an email at a later time when it is most likely to be read.
Pros
Collaborative email composing for sending unified responses
Get reminded to follow up on priority emails
Smart notifications for urgent emails
Swipe left or right to get the best email signature
Cons
First time integration takes time
Some of the themes require polishing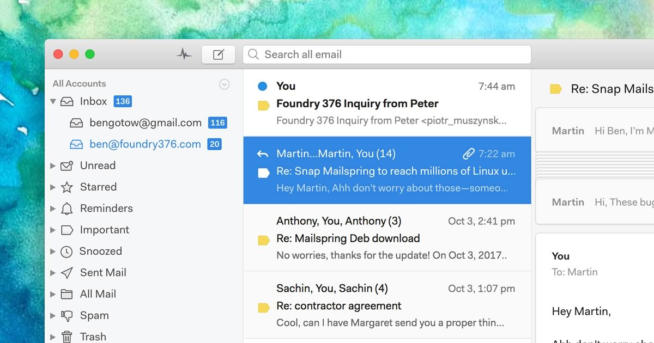 Mailspring is amongst the best free email apps for macOS. It offers a broad range of features that simplify your workflow involving emails. There is a pro version, which provides some useful features on its flat $8/month plan.
Features
Touch and gesture support for touch-screen monitors and displays. Slide left and right to use different features without a mouse and keyboard.
Get notified as soon as the receiver opens your emails. Activity tracking monitors the email being read, and you can instantly follow up with another email.
Try out multiple layouts and themes to match your desktop or mood. Let the email client blend with your OS theme and prevent it from being an eyesore.
Are you sending links in the email? Find out when they are clicked to ascertain if they are generating interest. Powered by Zendesk, take advantage of the comprehensive link tracking data that helps you understand user behavior.
Pros
Translate emails written in English to Russian, Spanish, Simplified Chinese, French, and Germany while composing a draft
Track links attached to the email for actionable insights
RSVP an event initiation message without opening the email
Advanced gesture support for touch displays
Cons
Limited features in the free version
No Chat feature for contacts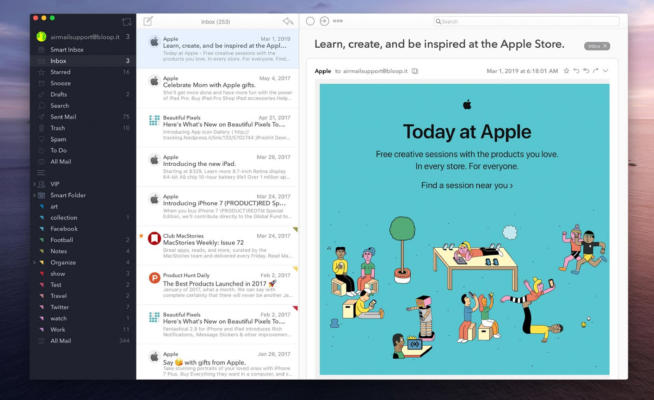 Winner of the 2017 Apple Design award, Airmail takes the basics from the Apple mail app and adds a flair of modernity to the mix. It is individually designed for macOS, iOS, and watchOS, keeping in mind the cross-device usage for effortless email management.
Features
Take advantage of the snooze button when you don't want to deal with new emails. They will not land in the inbox either until you want them to be. Keep the emails out until you are ready to deal with them again.
Schedule emails for the perfect moment by sending them later at a specified time. Send the emails per the recipient's timezone; whether they are in Australia, Russia, or China, the emails land fresh in their box first thing in the morning.
Airmail supports Touch Bar on your Macbook. Customize and add actions to the bar, providing more shortcuts for dealing with emails.
Use AppleScript support to automate certain actions for sending emails on specific triggers with custom scripts
Pros
A vast library of plugins for adding additional capabilities to the email client
Set different color tones on the app for other email accounts
Store emails offline in local accounts without connecting to a server
Use privacy mode to process all data locally
Cons
No chat support for users
No cloud support apart from iCloud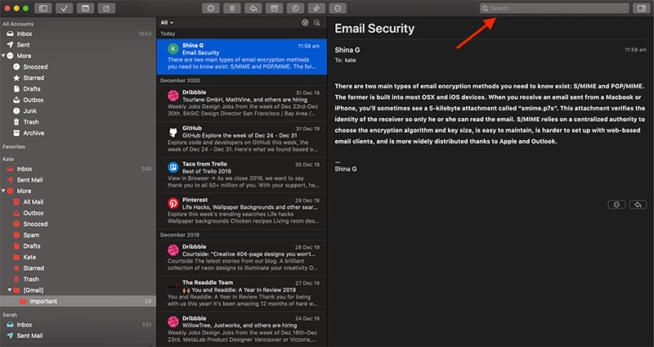 Canary Mail is an email app for users who prioritize privacy and security above other features. We get PGP encryption from Canary's client-side, requiring the same app on the receiver's end. Users can also advance encryption options using their private PGP keys.
Features
Securely send secret codes and passwords over the email using the SecureSend option encrypts files and sensitive information. Flick a button, and the secure option will be enabled. You can also set expiry or revoke emails after they are sent to don't remain indefinitely at the recipient's end.
Pin essential emails to the inbox and refer to them at a later time when required—no need to scrape through the inbox looking for a specific mail.
Data Loss Prevention (DLP) for top-tier plan users who will not have to worry about losing their important emails and data to a server or breach issues.
Unscribne from spam emails with a 1-click unsubscribe button that does that hectic task for you without leaving the email client.
Pros
Single Sign-On and Directory sync to the cloud
SecureSend for encryption of sensitive information in the email
Custom alerts for specific emails
Read receipts for sent emails
Cons
No collaboration email composing
Underwhelming spam filters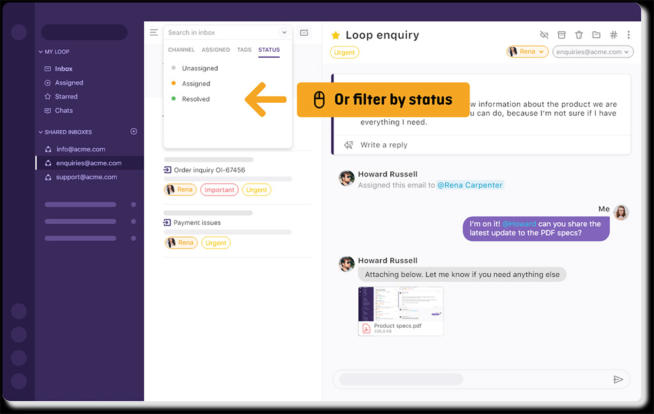 Unlock the team potential with the shared inbox that makes it easy for the team to work in collaboration and deliver higher efficiency. Use the powerful automation engine to delegate low-grade work, also fit in Loop, the in-built communication tool to get things done. They offer a free trial, post which the starter plan starts at 8£/user/month.
Features
Are you receiving too many emails at your end? Delegate them by assigning them manually to others. Cater to conversations better with more control over who handles an individual thread.
Set up automated reports which provide insights into the productive sides and the gaps in the team. Analyze and remedy the problems by breaking down the data into actionable insights. The reports can be customized according to the preferences.
Avoid sending multiple replies by mistake with the collision detection system in place. It flags the outgoing messages when multiple copies containing the exact text are sent out.
Set up team-wide automated rules for the shared inbox and define how the incoming emails are treated. Let them land in different folders and be assigned to individual team members depending on the nature of the message.
Pros
Respond faster with the ready-made templates
Set up automation for handling all the workflows
Snooze a particular conversation for a specific period
Automation for setting custom inbox rules
Cons
No cloud synchronization
No individual inboxes
3. FAQ
3.1 Are free email clients reliable?
Free email clients such as Thunderbird, Mail by Windows, Spike, and Canary mail are popular amongst the freeware community. You can check their forums and reviews online before installing either of them.
3.2 Which is the best email client for teams?
eM client and Loop offer comprehensive team-based features for collaborative email-based communication. Custom scripts and automation are supported to assist in streamlining the conversation channels.
3.3 How to transfer my old email client to the new one?
All the good email clients have an import option for transferring data from one client to the other. Don't remove your old email client before moving everything to the new client.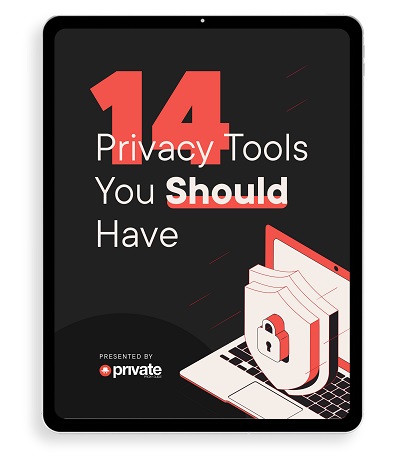 Learn how to stay safe online in this free 34-page eBook.