Torrents; an invention that changed the way we share files online forever. It's so incredible that we cannot imagine life without them anymore. How else can we get movies, songs, and books that aren't available anywhere else?
In our opinion, the best torrent client for Mac is uTorrent because it is easy to use and configure to have it run just as you like.
Our complete list of the best torrent clients for Mac 2023:
uTorrent
Transmission
WebTorrent
BitTorrent
Vuze
Deluge
qBitTorrent
The problem is, if you have a Mac device, installing a quality torrent client can be tricky. Thankfully, we're here to help. Below, you'll find a manually compiled list of the best 7 torrent clients for Mac, each of which is easy to use, reliable, and allows you to download files from Peer-to-peer networks in lightspeed.
NOTE: You should use a VPN to encrypt your traffic while using any of these torrent clients. See our list of recommended VPN services for torrenting.
Top 7 best torrent clients for Mac 2023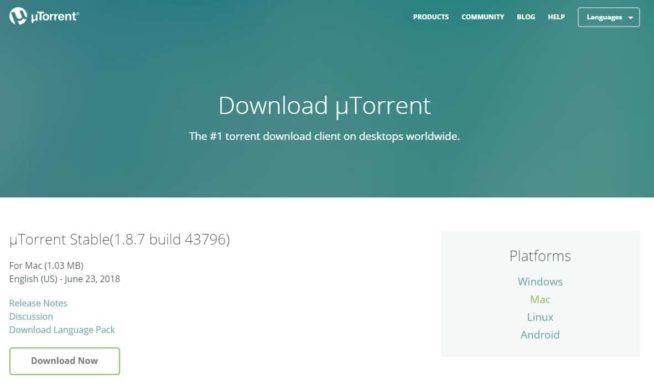 uTorrent is one of the most popular and widely-used clients for both Mac and Windows, as well as other operating systems. It is lightweight, powerful, fast, and feature-rich. Among its outstanding features, we name:
Port forwarding
Lightweight installer
Download scheduling
Support for encrypted files
Resume stopped downloads
Remote control via mobile apps
It can download files in sequential order
Can be portable by installing it on a USB stick
What we dig about uTorrent is its ability to restrict the speed the moment you start using bandwidth-heavy applications on your PC, thus allowing you to enjoy a fast connection even when you have several downloads in the background. Besides, with this client, you can efficiently manage your torrents using automation, scripting, remote control, and other features.
uTorrent is a fast and reliable torrent client that's more than enough to give you an outstanding P2P experience on your Mac. Whether you want to stream videos, listen to new music, or read mainstream books, this client got you covered, no matter which OS you're using. Just launch your download and let uTorrent do its magic.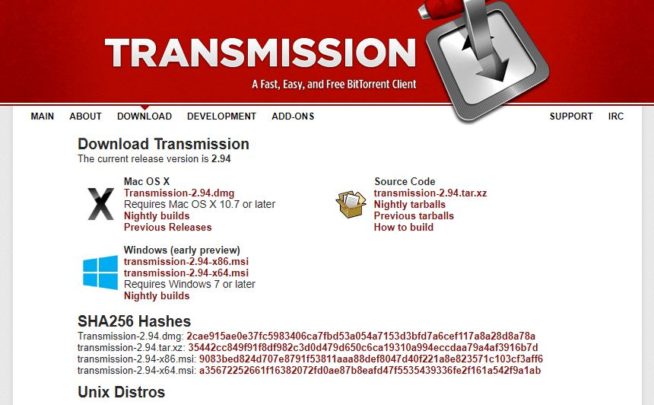 If you're looking for a torrent app with a beautiful, simple design that resembles that of Mac OS in general, Transmission is the one. It's a fast, lightweight, and incredibly simple Torrent client. Transmission is also widely used on Linux boxes, OS X machines, Raspberry Pis, etc. When you download files using Transmission, it runs quietly in the background, making it perfect for servers, as you don't have to use UI to use it.
Transmission is a feature-packed client, with the most notable characteristics being:
Can be managed remotely
Port forwarding, download scheduling, and encryption
Lightweight, both the installer and after the installation
Can be used to find local systems that are connected to yours
What we like about Transmission is the fact that it goes easy on your RAM, thus allowing you to have a normal Mac usage even when it's running. Transmission harmonically combines smoothness and beauty to allow you to easily download torrents while enjoying a lightweight Mac usage. We highly recommend it if you care about the UI design.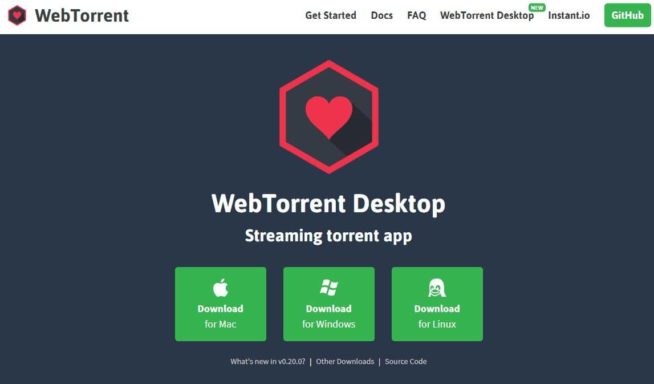 WebTorrent Desktop for Mac is the best when it comes to streaming. The most amazing thing about it is that it allows you to watch your files as it continues to finish downloading, for that it's the perfect client if you cannot wait to watch that new movie of yours.
You can also connect it to WebTorrent and BitTorrent peers, allowing you to have a wide variety of computers for a faster download.
Some of its highlight features include:
Excellent user experience
Light and fast as it's bloat-free,
Open source, with Chromecast and AirPlay support
For those who love streaming music, movies, and audiobooks, with WebTorrent Desktop for Mac, you only need to grab your popcorn and start watching right away. You don't have to wait for your file to download fully.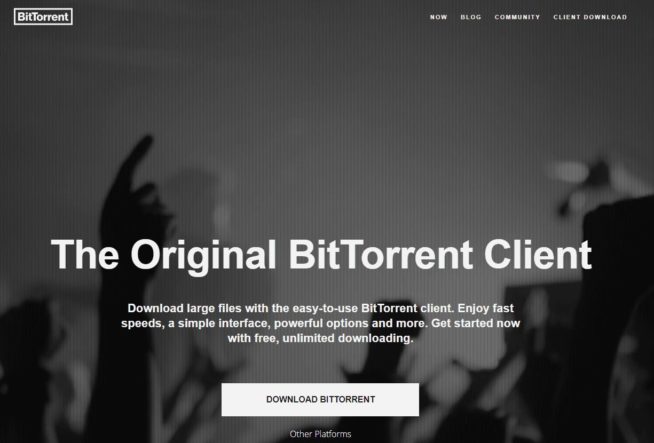 BitTorrent is what comes to mind when you hear the word torrent, as it's the original P2P client and one of the most popular ones. What we like about BitTorrent is the fact that it's newbie-friendly, meaning that you don't need prior knowledge, nor to be a tech-savvy in order to start your torrenting experience. You can transform its interface into a simple UI with only basic tools, so you can quickly get a grasp of everything. Its versatility allows you to add other options and keep track of all your downloads.
Some of its excellent features include:
Lightweight
Good speed overall
Straightforward interface
Beginner-friendly and comes in multiple languages
It allows you to search for Torrents directly from the software
BitTorrent is the epitome of torrent clients. It's a popular app in this category thanks to its various features, and it's an excellent choice for both pros and beginners.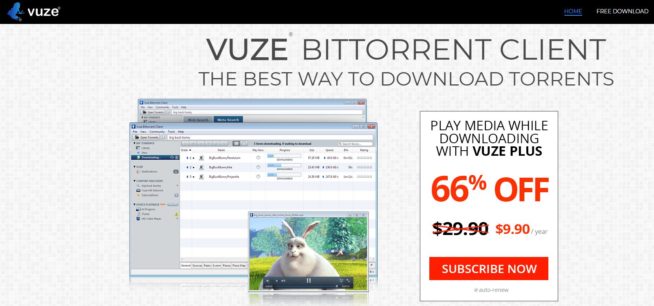 Vuze is a bit complicated for new users. However, it offers almost everything you require to download and find torrents directly from the software thanks to its Built-In torrent search.When looking for a file, just type the name, hash or tag, and it will give you a long list of the available options. Once you find what you're looking for, click on download, and it'll automatically start fetching the file for you.
What's impressive about Vuze as a torrent client is that it has a plethora of features, including
You can playback your files in formats such as QuickTime, AVI, and XVID on any connected device
Support for all modern protocols, including PEX, DHT, and Magnet URLs among others
You can automatically download your favorite torrents with the subscription option
It has a Web Remote that enables you to manage all downloads remotely
If you're too lazy to open your web browser and look for torrents yourself, Vuze is what you need. Its built-in search feature allows it to be among our favorite torrent clients, especially that you can enable the subscription option in order to download files that are similar to your favorite torrents automatically.

If you're familiar with Linux Genome, you'll feel at home while using Deluge. This torrent client is one of the first that were' introduced in the P2P technology, and it rivals big names like BitTorrent and uTorrent. It's also cross-platform and can be used on a variety of devices, including those running on Mac OS X.
The only inconvenience with Deluge is that it's not user-friendly, as using it can be a hassle for new users considering its complicated interface. Don't worry though, as you'll get used to it quite quickly if you use torrents frequently.
Deluge has many features, including:
Cross-platform
Small footprint
Bandwidth scheduling
Versatility as it can support third-party plugins
Remote management through a web-based interface
Password protection and proxy support for optimum security
If you take pride in your title as the tech nerd, you'll have much fun with Deluge, especially that it has three interfaces to choose from, which are desktop, browser, and command line, thus giving you countless tweaking opportunities.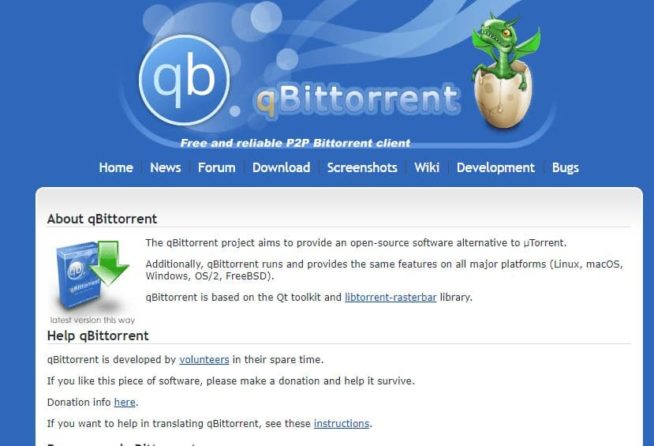 Although being a feature-packed torrent client, qBitTorrent comes last on our list because it's mainly designed for advanced users who know their way around complicated features, especially those who like to play around with a significant number of torrent files. This client has a large toolbar located at the top that shows the standard set of controls, and a detailed sidebar that enables you to organize torrents the way you wish.
There is also another toolbar at the bottom that you can use to perform other advanced operations.
Among the fantastic features of qBitTorrent, we find:
It's lightweight
Well-polished interface
Supports port forwarding and IP filtering
You can configure it to send emails after finishing downloading
Advanced search functions that allow you to search for files according to their categories
qBitTorrent is a rather obscure program, simple to operate if you have some experience with feature-rich programs, it's perfectly functional, and easy on the eyes thanks to its simple yet beautiful interface.
Are Torrents Illegal?
A common misconception nowadays is that torrents are illegal. We assure you, they aren't. Peer-to-peer networks aren't illegal in themselves, as they're nothing but a channel through which files can be shared online. But what's not allowed though is sharing hacked and copyrighted content through P2P connections.
If you're still not convinced or want an extra step to ensure complete encryption and anonymity while using torrents, we strongly suggest getting a VPN client to hide your IP and protect your identity. Our recommendation for such software is NordVPN, which is a well-known client that has been around for years. NordVPN is the best VPN app to protect your private data from hackers. It allows you to enjoy universal connectivity along with super-high-speed and secure access to streaming censored content, websites, and social networks.
What's even better is that NordVPN is a cross-platform software that you can use on Windows, Mac, Android, and iOS. Once you install your VPN client, you'll be ready to start your torrenting endeavor in the safest manner. Why not check out our list of the best torrent sites?
Final Thoughts on Torrent Clients for Mac
Choosing the wrong torrent client can do more harm than good, especially that a wrong step in this field can lead to adverse consequences. If it's your first time around P2P connections, make sure to go through our list of the best torrent clients for Mac, each of which was thoroughly tested before including it in our recommendations. Do not forget to get a VPN client along with your torrent app for the best protection.
VPN Service


www.nordvpn.com
NordVPN
Review
Price: $11.95 $3.71/month
Servers: 5500+ in 59 countries
Simultaneous connections: 6
Jurisdiction: Panama
Payment: PayPal, AmazonPay, Crypto, Google Pay, Klarna
Torrenting: OK
Unblocks US Netflix: Yes
Dedicated IP: $70/yr
TrustPilot Score: 4,7/5
Money-back: 30 days
Extra: Double VPN, Obfuscated servers
Visit NordVPN »


www.expressvpn.com
ExpressVPN
Review
Price: $12.95 $8.32/month
Servers: 3300+ in 94 countries
Simultaneous connections: 5
Jurisdiction: British Virgin Islands
Payment: PayPal, Crypto, AliPay, Klarna,
Torrenting: OK
Unblocks US Netflix: Yes
Dedicated IP: Not provided
TrustPilot Score: 4,7/5
Money-back: 30 days
Visit ExpressVPN »


www.cyberghostvpn.com
CyberGhost
Review
Price: $11.99 $2.25/month
Servers: 6600+ in 89 coutrines
Simultaneous connections: 7
Jurisdiction: Romania
Payment: PayPal, Crypto
Torrenting: OK
Unblocks US Netflix: Yes
Dedicated IP: $51/yr
TrustPilot Score: 4,8/5
Money-back: 45 days
Visit CyberGhost »


www.surfshark.com
Surfshark
Price: $11.95 $2.49/month
Servers: 3200+ in 65 coutrines
Simultaneous connections: Unlimited
Jurisdiction: British Virgin Islands
Payment: PayPal, Crypto, Google Pay, Amazon Pay
Torrenting: OK
Unblocks US Netflix: Yes
Dedicated IP: Not provided
TrustPilot Score: 4,3/5
Money-back: 30 days
Visit Surfshark »


www.purevpn.com
PureVPN
Review
Price: $9.60 $3.33/month
Servers: 6500+ in 140 coutrines
Simultaneous connections: 10
Jurisdiction: Hong Kong
Payment: PayPal, Credit Cards
Torrenting: OK
Unblocks US Netflix: Yes
Dedicated IP: $35.88/yr
TrustPilot Score: 4,7/5
Money-back: 31 days
Visit PureVPN »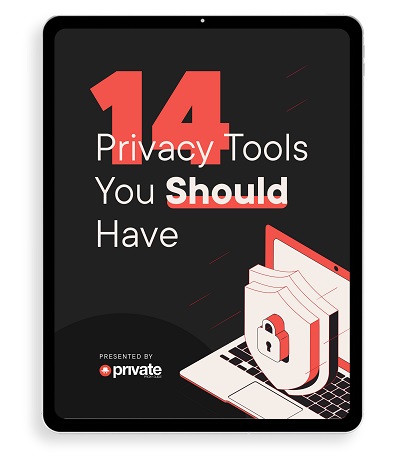 Learn how to stay safe online in this free 34-page eBook.