You should responsibly care about the personal data you store on your MacBook or iMac.
It seems that everyone knows this, but there are cases every day when important documents or photos from the last vacation suddenly disappear from users' devices.
You can delete them accidentally, the disk can be damaged, or due to the system failure — there can be many reasons. And in such a case, you just need to have a tool on your computer to recover the necessary information.
In this post, we will tell you about the reasons why users can lose their data on Mac computers. It will help you to prevent these situations. Moreover, we will review the best data recovery software for macOS.
1. Best data recovery software for Mac in 2023
– Best free data recovery software for macOS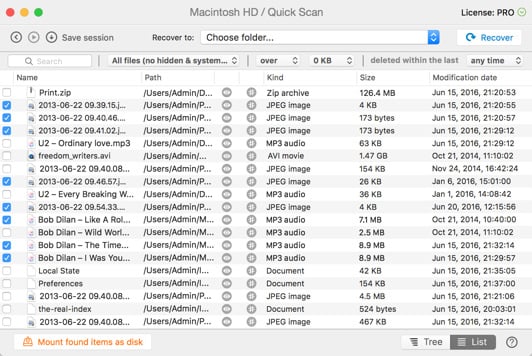 Pricing: Basic — free, Pro — $89, Enterprise — $399.
Disk Drill Basic is a free version of Disk Drill. This application, in addition to the preview of the recovered files, contains many additional features, such as Recovery Vault and Guaranteed Recovery, which make it one of the best Mac data recovery apps.
Recovery Vault is essentially an extra layer to the Recycle Bin folder that stores the link to the deleted data. Guaranteed Recovery is a background service that stores a copy of each file sent to a folder specified by the user.
Both utilities significantly reduce the chance of losing important data.
Disk Drill can run on internal and external hard drives, USB flash drives, SSD drives, and many other devices that can be connected to your Mac, including iOS and Android devices.
Its latest version has an extensive database of file signatures and uses very efficient scanning algorithms.
In addition, this application also offers the ability to create a disk image, allowing the user to work with the cloned device/partition version without compromising the original source.
The user interface is very intuitive, and the Pro version includes an efficient support service and the ability to purchase a lifetime update that covers all future versions.
In general, Disk Drill is a great application and will suit both ordinary, professional and corporate users. Again, the update is really worth the money spent on it.
Pros
user-friendly and intuitive interface — you do not need any special knowledge to use it;
the files are previewed before recovery;
has special features to prevent data loss in the future.
Cons
the application requires too much time to scan the hard drive;
some features are quite complicated for the beginner.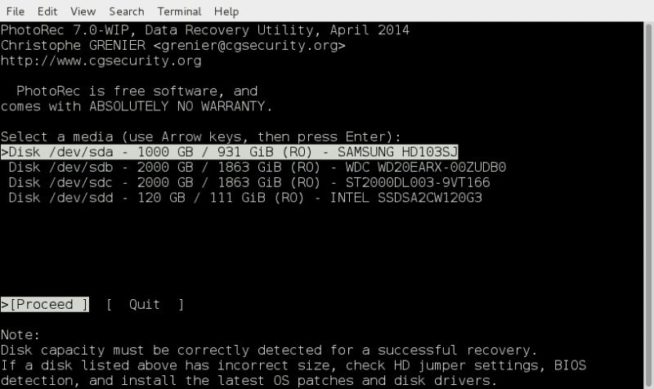 Pricing: free
PhotoRec is not the most powerful free data recovery tool for macOS, but it has the advantage of being delivered under the open source license. This means that users can access not only the application but also its source code.
Besides macOS, PhotoRec supports almost all the existing operating systems. It allows you to recover the most common file formats, such as JPEG images, MP3 audio files, OpenDocument and Microsoft Office files, PDF documents, HTML pages, and ZIP archives.
Files can be recovered from various devices, such as memory cards of digital cameras, USB flash drives, hard drives, and CD-ROM. This free Mac file recovery application uses powerful technology known as file-cutting. And this method consists of two stages.
First, it searches for a data block or cluster size. If the file system is not damaged, this value is obtained from the superblock (ext2/ext3/ext4) or the boot record of the volume (FAT, NTFS).
If this is not possible, the application checks every sector of the device and, using the first ten found files, calculates the size of a block or cluster.
Second, the application reads the device, block by block or cluster by cluster, verifies the different file signatures available in the application database, thus collecting and restoring the available files.
In general, it is a good tool if you need to restore some personal info without using a professional application.
Pros
absolutely free to use without any limits and restrictions;
the ability to restore a lot of file types and formats.
Cons
the command-line interface can be tricky for inexperienced users;
the developers do not provide any customer support.
– Best paid data recovery software for macOS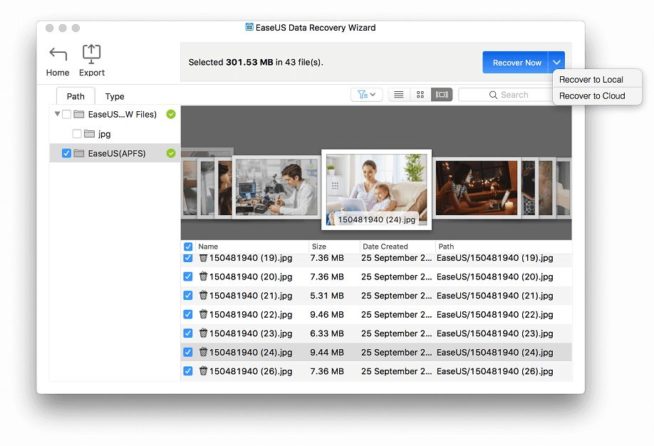 Pricing: Pro — $89.95, with bootable media — $129.90, Technician — $299.
EaseUS Data Recovery Wizard is one of the best data recovery software for macOS. The developer has released three different versions: free, professional, and unlimited versions. The free version allows you to recover a maximum of 2 GB of data.
This free data recovery application for macOS can recover data from Mac laptops, desktops, hard drives, USB drives, SD cards, digital camera memory cards, etc.
It runs on internal drives supporting the HFS, as well as FAT/FAT32 file systems used in USB flash drives and external hard drives that can be connected to an Apple computer. This application recovers file formats that are used in images, videos, music, and document files.
Designed to recover accidentally deleted files or files lost due to formatting a disk, it also covers cases of data corruption due to a power failure or device removal without shutting it down first.
In summary, we can say that this free data recovery tool is a handy application for accidentally and unintendedly file deletions.
Pros
the application supports all the data drives and devices;
support of the different file systems.
Cons
limited free version;
limited performance while restoring the media files.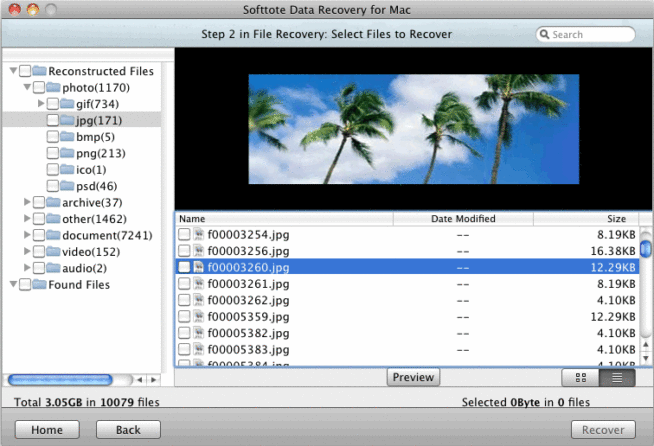 Pricing: free or Pro version for $69.99.
The main advantage of this free data recovery software for macOS has the advantage over most competitors: it provides the product without any restrictions and includes free technical support.
Softtote can recover lost files from internal and external hard drives. File types include Canon, Fuji, Nikon, and the most common Kodak image files.
It works on devices with NTFS, HFS/HFS+, HFS Wrapper, and FAT file systems. The application has the ability to view such details as the size of the image and the date of its creation. It also provides the ability to select files for recovery.
In short, the Softtote application may be included in the list of the best Mac data recovery software and, although it is not well known, it deserves to be tried in case of accidental file loss.
Pros
free to use;
free technical support;
supports a lot of file formats and file systems.
Cons
not the best performance.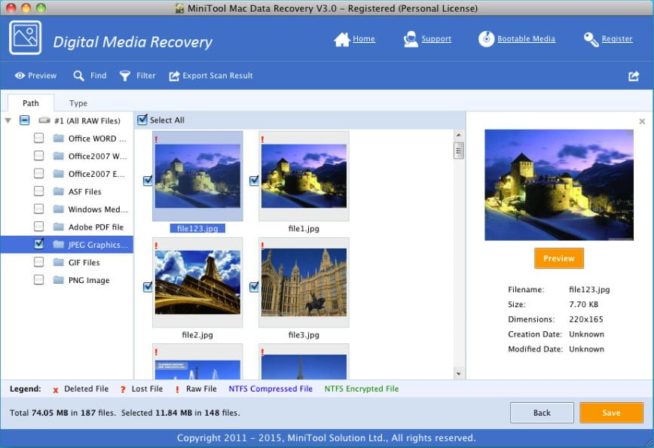 Pricing: Personal — $79, Commercial — $199, Enterprise — $399, Technical — $499.
This data recovery software for macOS has a version for personal use that you can use for free on only one computer and with a maximum recovery capacity of up to 1GB. They also offer personal, commercial, enterprise and technical versions.
MiniTool allows you to recover photos, music, video, email, documents, and other types of data from Mac computers or other widely used storage devices. The free version is supported by email only.
This data recovery software for Mac works in four different modes. The first, "Cancel Deletion," can be used to quickly recover lost data due to accidental deletion.
The second, "Recovering a damaged partition," recovers lost data from existing partitions. The third, "Recovering a lost partition," recovers lost data from lost or deleted partitions.
And finally, the "Restore from digital media" mode restores multimedia files from portable storage devices.
Pros
a wide set of features;
The ability to use the app for free.
Cons
the very limited free version
low performance while recovering the media files.
2. Ways of losing data on your Mac
2.1 Ignoring the backup
The best way to protect your data is to make regular data backups. Especially, when you're going to perform some specific actions with your system.
At the same time, even experienced users make errors by saving the data to the same physical disk or raid array, or to another drive that is in the same place, without checking the backup archives.
Sometimes, the archives are damaged and unsuitable for deployment. Data backup will immediately help avoid more than half of all the cases of data loss.
2.2 Errors when using utilities
Attempting to recover corrupted or lost data using the software designed for this is not a bad idea. However, the use of such software is possible only in the case when the memory drive is not damaged.
Otherwise, you can only make it worse or lose data forever. Disastrous uses of utilities also include:
running a disk testing utility on a working disk
attempts to expand or merge logical partitions or convert file systems.
2.3 Sudden operating system freezing
Previously, it was a huge problem, now the programs themselves, after a system failure restores the last saved version of the document.
Despite the fact that macOS is a very stable operating system, sometimes it can freeze and lose unsaved data. In this case, user data, files on the disk, as a rule, remain secure.
2.4 The actions of intruders
Hacker attacks are not the most common way to lose your data — not everyone faces it: first, you need, nevertheless, to interest hackers.
The most frequent cause of such an attack is hacking into a chief accountant's computer with a bank client, transferring all the money from the company accounts, then erasing or encrypting the media.
2.5 Viruses
Viruses can either start deleting your files one by one or simply destroy the hard drive file system. The list of tips to avoid this situation is quite clear:
do not open unfamiliar links, even sent by friends
carefully check the address of any email containing links
do not visit suspicious websites.
2.6 Physical damage
The hard drive can be damaged for various reasons. You can drop the laptop, pour something, overheat, freeze, or come up with a more ingenious way to destroy it. Here are some of the most common:
drowning a laptop in the bath or the sea
pouring drinks on it
overheating disk while walking in high-temperature conditions
Anyway, only a specialist will be able to recover information from a damaged drive, since it is almost impossible to recover the disc mechanics at home.
2.7 Power failure
This is one of the common causes of data loss: if you turn off abruptly, the hard disk heads do not have time to park, which causes scratches or damage to the disk — as a result, unsaved files are lost, and those that were previously saved can be damaged.
It is not uncommon that the entire computer fails with a sudden increase in the voltage in the power supply network. The hardware usually burns out in cases of power surges — the hard drive electronics, the raid controller of the array, and the controller of the flash drive.
You can use UPS to prevent data loss in this way. This can happen with older Mac computers that use the traditional hard disk drives. However, modern computers are more protected from this. For example, they use SSD drives. But in any case, you must be careful.
3. Criteria for selecting apps to recover data on macOS
There are a lot of applications to restore lost data on your Mac. Most of them are quite similar and provide a similar mechanism. So, it is not so easy to choose the right one.
Here is the list of features you should consider when choosing a data recovery software:
3.1 Security
The software you're going to use must not contain any malicious code. Moreover, it must work in read-only mode while scanning the disk drive.
3.2 How easy it is to use
You must not require any specific knowledge to use this kind of apps. Ideally, it must provide the necessary result in a few clicks.
3.3 What kind of data it can recover
An ideal application must recover images, videos, audio, photos, documents, and any other files in different formats.
3.4 Supported kinds of storage devices.
In most cases, the user stores the files on the internal system hard drive. All the new Mac computers use SSD drives, while the older ones still use the traditional HDD.
The ideal software must support both types of these storage devices. Moreover, files on the external drive or USB stick can be lost, and a good recovery software must have the enabling technology to restore the data on these kinds of drives.
3.5 Search results preview
Before the recovery process, good software must provide a preview of the found results. This will help you to choose the files you want to restore or avoid those that you do not need anymore.
3.6 Working speed
Depending on the size of the lost data you have to restore, it can take up to several days. Of course, the faster the app works, the better it is for you, and the faster will the application save a lot of your precious time.
3.7 Supported versions of macOS
Most modern Mac computers use the latest operating system. However, there are some older ones that do not support the latest updates. The software must support both the latest and the previous versions of the operating system.
4. What to keep in mind when using data recovery software
To protect your data and ensure a safe data recovery from your storage device, do not forget to follow these simple rules:
If something wrong happened, stop working on your MacBook or iMac immediately. It will prevent the creation of new versions of the documents. When you stop working, the new documents will not overwrite the previous versions. So, you will be able to restore them easily.
Avoid installing new software on the failed drive. If you really need to install something, make sure the disk drive you're going to use is working well and secure.
Be ready that possibly you will not be able to restore the deleted files. There is a number of reasons including file corruption, encryption, SSD with TRIM support, etc. In this case, not every software will help you.
5. Conclusion
We just reviewed the most effective solutions to restore data on your Apple computer. There are both free and paid options among them. And we're pretty sure you will be able to solve your problems with the above reviewed methods.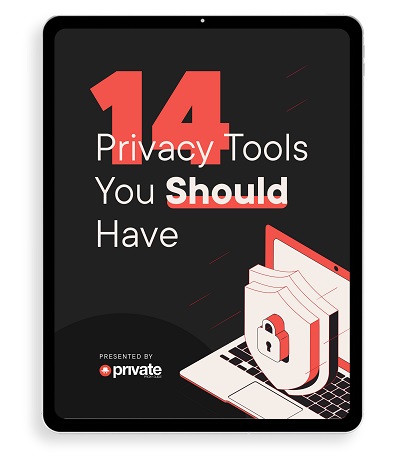 Learn how to stay safe online in this free 34-page eBook.