In this review, we will look at the best Android data recovery software for PC (Windows 10) that can help you with recovering files and data from a phone or tablet connected via MTP.
1. Best Android data recovery software for PC & Mac in 2023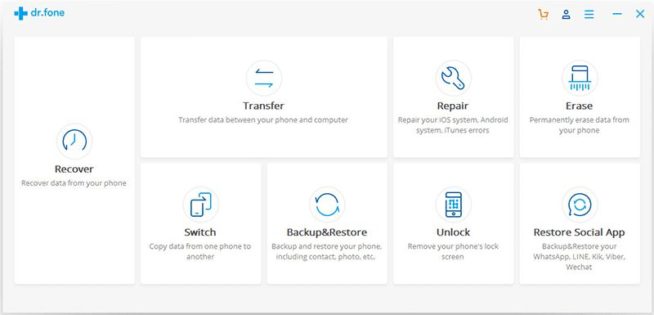 Pricing: 1-year license — $39.95 for 1-5 devices, $63.92 for 6-10 devices, $399 for unlimited devices; lifetime license — $49.95 for 1-5 devices, $79.92 for 6-10 devices; custom license for a personal number of devices and PCs.
Wondershare Dr. Fone for Android is a very practical application to recover lost files from your Android device. No matter what files you need to restore (images, contacts, messages or ringtones), you always have a good chance to do so with this utility. It doesn't matter if your data was deleted by mistake or lost after an update, you can always use the app to try to recover these files from your device. The application is compatible with more than 6,000 devices.
Key features:
Scans and restores SMS, contacts, photos, and videos
Automatically scans devices after connecting to a computer.
Having recovered the messages, it exports them to HTML for easy reading and printing.
Recovers deleted contacts, including names, numbers, e-mail addresses, and exports them to HTML and CSV.
Recovers images and videos from the internal SD card.
Reviews, backs-up, and re-synchronizes data on your computer.
After scanning, the existing and deleted data are separated by different colors.
Reviews and backs up data from a device to a computer.
USB debugging included.
Online data synchronization between the phone and PC.
Pros
Recovery of music files, videos, and photos
The backup data and files feature.
Regular software updates.
Ability to recover previously deleted contacts, text messages and even voice notes.
The new version of the application is compatible with modern Windows and Mac OS.
Fast scanning of internal memory and SD card.
Any option can be opened in a new window for greater convenience.
Cons
Need to root your device, something that is not always possible.
Expensive pricing.
Wondershare Dr. Fone for Android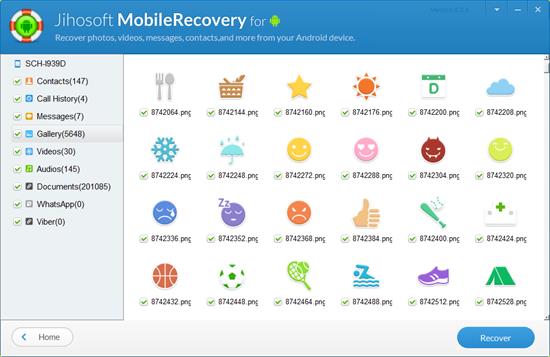 Pricing: Personal Edition — 1 device, 1 PC — $49.95, Family Edition — 5 devices, 5 PCs — $99.9; lifetime licenses in both cases.
Jihosoft Android Phone Recovery is a really great and powerful software to recover the lost data on Android smartphones and tablets. One of its best features is that you will be able to restore the files both from the SD card and the internal storage. The application provides a user-friendly interface and a great performance. You will be able to restore absolutely everything: videos, pictures, messages, contacts, calls, and notes.
Key features:
Restore any lost data on your Android device.
The application will be able to restore the data, no matter how you lost it, be it a hard reset, virus attack, incorrect system updates, and many others.
Supports a wide range of Android devices from a lot of manufacturers that run on Android 2.1 and later.
Pros
An easy and lightweight tool and intuitive
You do not need any deep technical knowledge to get a successful result.
Cons
The software requires root rights on your Android devices. For some users, this can be quite difficult, and in some cases, it is just impossible.
The software will not restore anything from damaged or broken devices.
Not the best result with a bricked phone
Jihosoft Android Phone Recovery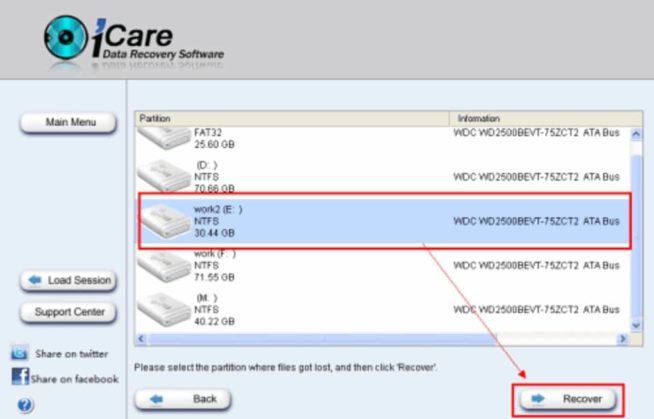 Pricing: Free; pro version from $69.99.
iCare Data Recovery is a file recovery software that scans disks to find hidden or lost files. The software can check hard drives, external devices, and other storage systems to recover any files that may have been lost or overwritten. Files can then be safely moved to a new folder or deleted as needed. With a variety of supported files and focused on clarity, iCare Data Recovery is designed to simplify the entire file recovery process as much as possible.
The scan is started with one click and the results are clearly marked. A number of files, from images to video, are restored in the same way, which means that no additional knowledge is required. iCare Data Recovery works as an alternative to costly data recovery services. Everything is explained simply, the interface is immediately available, and the scanning is performed fairly quickly. While more experienced users can simplify work a little, this is an excellent option for occasional use to troubleshoot emergency storage.
Key features:
Recovers deleted files after damages to the media and their boot sectors.
Ability to restore the missing file after system failures and virus attacks.
Scans files on a memory card, USB and flash drive.
Powerful search system for deleted HDD partitions.
Supports common file systems.
Pros
The latest version of Data Recovery Software is optimized for Windows 7, 8, and 10.
Works with archives, documents, and multimedia files.
You can recover files from formatted hard drives.
Pleasant interface design, simple to work with.
You get detailed information about the memory drive.
Cons
Deep Scan mode takes a lot of time.
The paid version is quite expensive.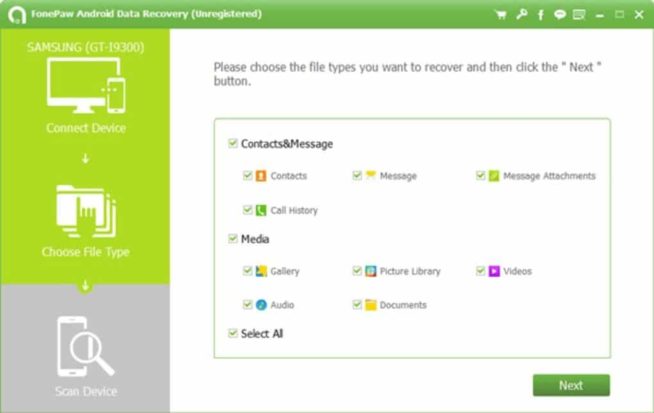 Pricing: $76.90 per 1 PC.
FonePaw Android Data Recovery is a program that allows you to recover existing and deleted data from smartphones running Android OS from 2.1 to 6.0. The universal tool will allow you to recover lost files on your Android device for free. It works on Windows 7/10.
This English-language utility works on the Windows platform and with most smartphones released under the following brands: Google, Sony, Motorola, Samsung, HTC, LG, ZTE, Huawei, Asus, Acer, etc. The application has a user-friendly interface with a pleasant and intuitive navigation. In order to start using the program, you should follow the link below and download it to your computer. Next, using the tips, install it on your PC and open it. Connect your device to the computer and wait until it is initialized in the program interface. Once that is done, you can get to work.
Key features:
Restores the images, contacts, messages, including information recorded on a SIM-card or in the internal memory.
Restores all deleted SMS, MMS or WhatsApp messages, including multimedia attachments.
Restores all deleted images ever saved on the phone.
Restores all deleted audio and video files that were on the device.
It is possible to restore and save all phone calls in an HTML file, with names and phone numbers and the duration of the call.
Offers the recovery of the following types of documents: HTML, ZIP, RAR, Word, Excel, PPT, PDF.
If you use the WhatsApp application, you can recover all personal and group messages.
Pros
Simple interface, intuitive menu.
Great performance, efficient results.
Restoring all file types and formats.
Cons
Expensive pricing.
Not effective on damaged devices.
2. What to do in order to not lose your data
Back up, back up, and back up again. Almost all the data that is on your mobile device can and should be copied to the cloud storage. A cloud service is almost always free, safe, and automatic. For example:
Google Mail backs up your emails.
Google Contacts backs up your contacts.
Google Photos backs up photos, videos, and screenshots.
Google Music backs up music.
Google Office Suite backs up documents, spreadsheets, and presentations.
Universal storage like Google Drive, Dropbox, OneDrive and others back up everything.
Take any type of data — there is for sure an easy and convenient way to store it safely. Use it and take care of your valuable information.
3. What type of files are most often deleted on Android devices?
3.1 Photos and videos
There are gigabytes of data constantly circulating on the phone. The most popular file types are photos and videos. These files are stored in the Android Gallery and come from different places: downloaded files from instant messengers (WhatsApp, Viber, Skype) and social media apps (Facebook Messenger, Instagram) and photos and video clips taken with the phone camera.
Most often, photos and videos can be erased for the following reasons:
Incorrect formatting.
The memory card is no longer detected (read errors).
Failed to copy/transfer files from a memory card to the internal memory or vice versa.
The worst thing is that as a result of one error hundreds of files can disappear. It is not always easy to see among hundreds of other images that some files were deleted. The later you decide to restore them on Android device, the fewer chances of a successful result you have.
3.2 Contacts & messages
Along with media files, you can lose your contacts, phone numbers, and messages. This can happen for the following reasons:
hard reset
unsuccessfully flashed the phone without taking care of the backup
turned off sync on your phone or lost access to your Google Account
Modern devices almost never store this information on the SIM card. In most cases, they use the internal memory of the phone or tablet. Accordingly, you will need special software to restore contacts and messages.
3.3 Other data
This may include messages from instant messengers and files downloaded from the internet, documents, application files. There is a great chance to also lose them from your device.
4. How to recover data on an SD card
It's simple. To get started, download and install a good data recovery utility on your computer. This could be the extremely popular Recuva, open source TestDisk or its fork PhotoRec, as well as any other similar programs. Then, connect the SD card to your computer as a regular USB flash drive and run a scan on it using the installed utility. Save the restored data and finally backup it along with other valuable files to the cloud.
5. How to recover data from the internal memory of the mobile device
Unfortunately, the vast majority of modern smartphones connect to a computer using a special protocol, that is, not like a regular USB flash drive. Accordingly, all the above utilities are useless. There are special programs for data recovery on Android and they are mostly shareware. This means that you can, without paying a penny, install the utility, scan the mobile device and see what was recovered. But in order to pull out and save the restored data, you have to buy a license.
On the one hand, such an approach can be called honest. The user does not buy a pig in a poke but gives the money only after he is convinced that the utility is working. On the other hand, for some people, it is still difficult to pay money for a single operation. In any case, the data loss is sometimes the user's fault and paying for software is an excellent motivator to start backing up the important data you don't want to lose.
The utilities for recovering the data from the internal memory of an Android device work about the same.
First, you install a client on the computer.
Then, you connect a smartphone or tablet to the computer via USB.
After that, just follow the instructions exactly and you will surely succeed.
The only difficulty may be the lack of utility support for a specific mobile device model. That is why you first need to test the program in a free mode and only then buy a license.
6. Conclusion
To summarize, we can reassure everyone: you can restore deleted files. But do not forget that the highest probability of getting your files back is to restore immediately after deletion. Deleted files free up physical storage space, but file data is stored inside the memory. As you download new files from the Internet, they are written to the disk, and the information about the deleted files is completely destroyed. Once that happens, no special programs will be able to help.
We hope the article helped you not to get in an unpleasant situation. However, if this suddenly happens, get everything back safe and sound since you now know about the best Android data recovery software for PC and how to use it.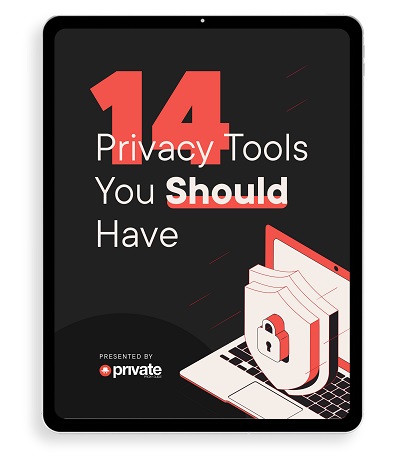 Learn how to stay safe online in this free 34-page eBook.