Writing high-quality content that's also engaging and interesting to read isn't an easy feat. I can tell you that as a writer with years of experience. To write an engaging article, you don't always need perfect grammar but rather creativity and making sometimes complex subjects much more approachable.
Some people simply aren't "built" to be writers and those people are looking to get some help from the best AI writing software. AI writing software functions by using an AI (artificial intelligence) which is your writing assistant and helps you write articles, blog posts, social media posts, and so forth.
Don't be fooled by fake promises that AI writing software can completely replace you. While AI can be developed to great heights, in 2023, it's pretty hard to replace a human when it comes to writing engaging content with potential humor and slang that make articles feel "alive."
In short, the best AI writing software is here to optimize your work and make your final product look much better in the eyes of readers. The good news is that there are TONS of AI writing tools and today, we'll take a look at the 10 of them that can be great companions for your writing endeavors.
1. Best AI Writing Software in June 2023
As said, the list will consist of the 10 best AI writing tools for different purposes. Not all tools are built the same and they differ in capabilities, compatibility, and even pricing. Most of the choices on the list offer premium plans and to be honest, they're the only way of maximizing your writing potential.
But if you just want a bit of wind in the back and you don't need advanced features, know that the majority of these tools offer a free plan, so you don't need to spend a fortune to use them. Without further ado, let's check the best AI writing software together.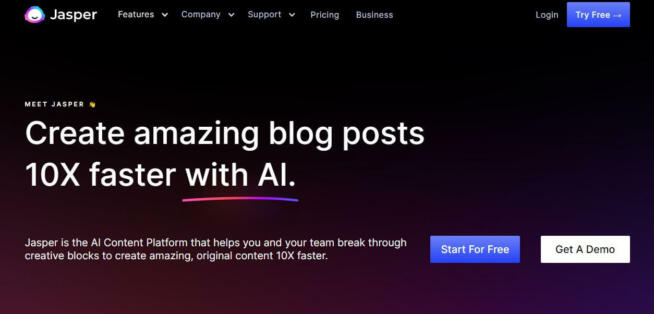 When talking about the most popular AI writing tools, I think Jasper AI takes the win. Believe me – Jasper AI isn't popular for no reason. In fact, it's one of the most reliable, feature-rich, and quality software of this type used by millions of users around the globe.
Jasper AI is capable of helping you create quality articles for any purpose, be it your social media or websites. With more than 50 templates and writing tools, you'll have no shortage of content you can turn into an engaging article.
Unlike some specialized AI writing software, Jasper AI lets you choose your templates easily. Once you click on, for example, website content, you can choose the subject and fill in a few more important bits of information. From here, Jasper AI does everything for you.
It will generate new content based on the subject and do so with 0 plagiarism. What's more, Jasper AI is pretty quick, and depending on the content you need, you're looking at 5-20 minutes waiting time, during which, you can get a tea, watch a YouTube video, or take a power nap while Jasper AI works.
One of the most impressive things is that Jasper AI can generate content in multiple languages! Aside from English and French, you can write unique articles in Estonian, Russian, Greek, German, Polish, and many other languages on its list.
Moreover, this software has a pretty intuitive interface that requires no previous knowledge. With the ability to include 3rd party integrations, it can become even more powerful. For example, I often use it with Grammarly as well as a few SEO tools to maximize my optimization.
Price-wise, Jasper AI isn't a free AI writing tool but it does offer a free trial for 10,000 words, after which, you'll have to choose a plan. The Starter plan starts at $24/mo for 20,000 words, where you get up to 5 users, email support, 29+ languages, and even a solid Chrome extension.
The most popular plan – and my recommendation – is the Boss Mode. It costs $49 a month for 50,000 words and gives you live chat support and more advanced features. The Business plan is a custom-made plan and its pricing requires you to contact Jasper AI directly.
Pros
50+ templates and writing tools
No plagiarism
It can create new content in 5-20 minutes
Intuitive interface
SEO-optimized articles
Grammarly Integration
29+ languages
Cons
No fact-checking of collected information
Long-form content creation requires the Boss Mode plan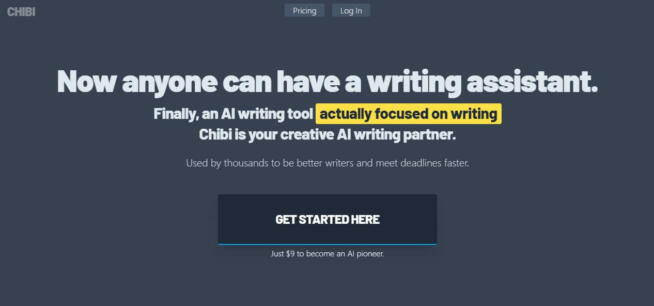 Chibi AI might not be as popular as Jasper AI but to be honest, its popularity doesn't affect its quality. This software is known for some cheap and flexible plans that pretty much anyone can afford. Not only that, but it's also feature-rich and allows for crafting some of your finest work just by using its AI.
Its features include the ability to expand, shorten, rewrite, and even change the tone of the already-written article. If you don't have a written article, you can make Chibi AI do that for you by giving it some rules and guidelines on what it should and shouldn't do.
In doing so, Chibi AI will generate a bespoke article that you'll be ready to publish right away. Furthermore, Chibi AI offers several templates to choose from and all of the templates are fully customizable, allowing you to make everything according to your taste.
To make things simpler, the tool includes the ability to write down notes while waiting for the article to be generated. Speaking of waiting, I found Chibi AI to be relatively fast, and although a bit slower than Jasper AI, generating longer articles won't take more than 20 minutes on average.
Overall, I think the only downside of Chibi AI is that it isn't as intuitive as Jasper AI. However, that shouldn't be an issue, as the app offers lots of shortcuts and personalization options that'll be pretty easy to utilize once you're used to it.
Also, its pricing is one of the best things about it. You can get a so-called Pioneer plan that allows for 10,000 words a month at just $9 a month! This plan gives you unlimited documents/templates, premium tools, and exclusive access to new features.
However, if you need more its plan for 50,000 words/mo costs just $29 a month and gives you an additional feature called full-text document search which I found very useful. Finally, there's this Einstein Unlimited plan with unlimited words, which is great for professional writers.
It costs $89 a month, which isn't extremely cheap, but because you get UNLIMITED words, this is actually quite a good price.
Pros
Rewriting, shortening, and expanding articles
Flexible subscription plans
Versatile templates
Affordable Pioneer plan at $9 a month
Unlimited documents and templates in each plan
Cons
It's not the most user-friendly solution
It's more for advanced users rather than beginners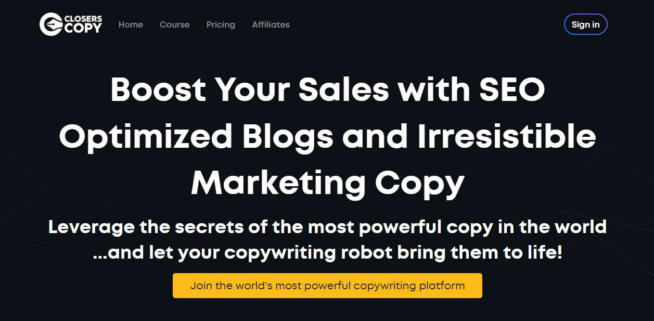 Closerscopy is one of the best AI writing software solutions for a wide variety of customers. It can be a good choice for individuals and freelancers but also for teams and companies whose focus is on delivering engaging, interesting, quality, and SEO-optimized articles.
This solution can help you write articles for pretty much any purpose. You can craft social media articles, blog posts, presentations, and even books if you're more ambitious. The tool isn't very user-friendly, and due to the sheer volume of features and functionalities, it's made for more experienced users.
Closerscopy offers more than 700 workflows and marketing frameworks, allowing you to fully customize your articles. Each subscription plan also offers SEO Audit and SEO Planner, along with all possible frameworks, making sure you get every tool that the company has.
Moreover, it's worth mentioning that Closerscopy is so versatile that it supports more than 120 languages! This is great if you have a website that you want to translate into multiple languages and cover multiple markets at the same time.
In this case, Closerscopy will do everything for you and write engaging articles for each language effortlessly. Best of all is that Closerscopy is a cloud-based solution so you don't need to install a dedicated app on your PC or mobile phone.
Actually, it works even on iOS/Android thanks to a cloud-based interface, which is great for crafting new articles on the fly. Its pricing structure is rather simple and it starts at $49.99 a month for its Power plan. Its Superpower plan, however, seems to be the most popular one.
It offers unlimited AI writing, unlimited SEO audits, and unlimited updates, along with 3 seats and other aforementioned features. At $79.99 a month, it's not the cheapest but saying that it's very expensive would be a lie. Is Closerscopy worth your money? Yes, absolutely!
Pros
It can craft all types of content (social media, blog posts, …)
More than 700 workflows and frameworks
120+ languages
It's a cloud-based solution that requires no installation
Simple pricing structure
Cons
It could be a bit cheaper
iOS/Android implementation could be better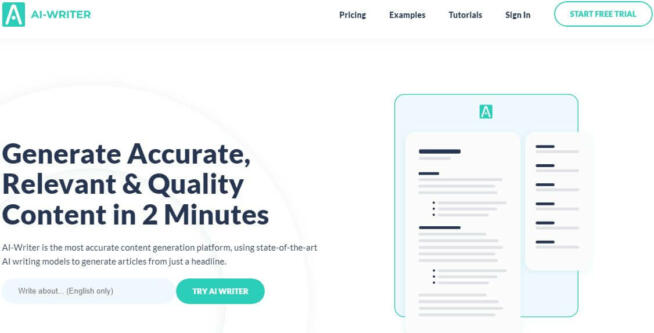 AI Writer follows a different path compared to Closerscopy. It's a rather simple AI writing tool for creating and improving articles in the way you want. The company claims it can craft new articles in just 2 minutes thanks to its smart and efficient AI.
While that's not necessarily true for longer articles, AI Writer won't disappoint you with its speed and performance. What's more, the entire experience is hassle-free as it can write articles just by getting a topic and a few instructions.
Let's say you want to write about a new iPhone. All you need to do is give the name of the subject, provide a few keywords, and let AI Writer do the job for you. Another option is to import the article you've already written and make significant improvements.
The tool will then optimize your article, shorten the sentences where needed, and make everything more readable and engaging. Not to mention that AI Writer creates SEO-optimized content too, so you don't need to use tools like SEMrush to make sure your articles have good optimization.
I found that AI Writer is excellent at avoiding plagiarism, and so far, my articles were pretty much 100% unique with it. Other than that, AI Writer can discover topics and subtopics, let you access API, and even publish articles to WordPress for you – what a deal!
All of this comes at an affordable price that starts at $29 a month for up to 40 articles. The price for up to 150 articles is $59, and if you need up to 1,000 articles a month, the price is eyewatering $375 a month – pretty expensive!
However, keep in mind that AI Writer offers a free trial and you get the same features in each plan, with the only difference being the number of articles you can generate/edit each month.
Pros
It can create new articles in 2 minutes
Great for getting ideas for new topics
It produces SEO-optimized content
The ability to import already-written articles
It offers a free trial
Cons
The price for 1,000 articles a month is expensive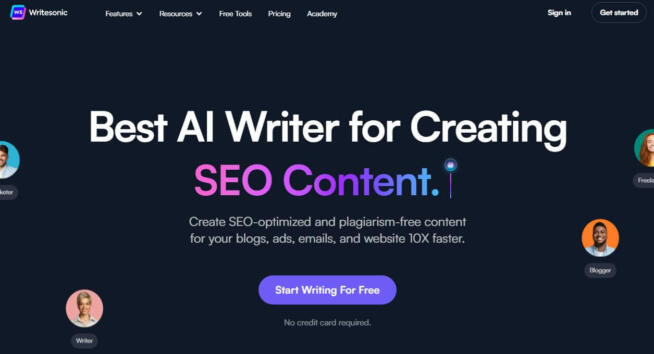 Writersonic offers a plethora of useful tools and functionalities as one of the best AI writing software. Yes, there's a completely free plan that you can use without spending any money, plus a myriad of free tools such as Blog Ideas, AI Art Generator, Quora Answers, and many others.
Now, in terms of writing and generating new content, Writesonic is good enough if you aren't too demanding. It supports content creation in more than 25 languages and you can write articles for social media posts, marketing campaigns, emails, and much more.
In fact, Writesonic offers more than 70 templates to choose from, which is excellent if you need to cover a wide variety of topics for different websites and companies. Its AI is one of the newest on the market, and since it's based on GPT-3 released in 2020, you can expect great performance.
Writesonic has a somewhat complex pricing structure. At first, you have 3 plans to choose from but each plan gives you something different and you can even choose the writing quality from premium, good, average, and economy, which also dictates the price.
By default, Writesonic sets the writing quality to good, and here, you get a free trial of 6,250 words with features like a landing page generator, Zapier integration, Sonic Editor, and 1-click WordPress exports. Mind you, this plan is for just 1 user so it's more suitable for freelancers.
Second, you have a Long-form plan that starts at $12.67 a month for 47,500 words, which is also for one user. However, there are more features here, such as bulk processing, Surfer SEO integration, priority support, and Complete Article Writer for creating articles from scratch.
This long-form plan can be bought for up to 5M words and 10 users but the price is somewhat devilish at $666 a month (pun intended). Overall, it's a great choice for moderately demanding users that look for a quality AI writing tool with not many 3rd party integrations and a somewhat affordable price.
Pros
It offers a 100% free plan
70+ templates with 25+ languages
GPT-3 based AI for the best performance
Zapier Integration
Supports bulk processing in some plans
Cons
More 3rd party integrations would improve it a lot
It can cost up to $666 a month, which isn't affordable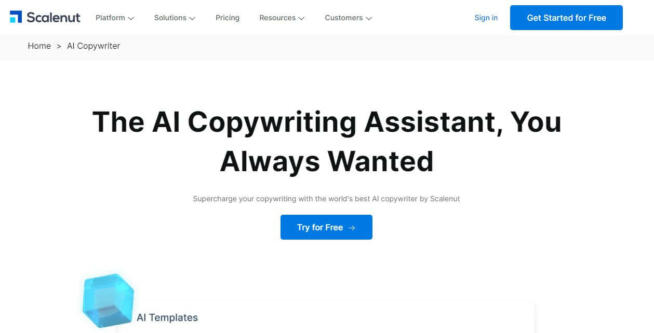 Scalenut is an awesome AI writing solution for freelancers and professional writers. It's a platform for creating content based on AI, which also helps you discover new topics and subtopics, as well as SEO-optimize your content for the highest level of engagement.
We can say Scalenut is an affordable choice and offers quite a lot for the money. For the start, it offers a free trial that requires you to make a free account, during which, you can test how well Scalenut works for you. And I can tell you – even in its free trial, Scalenut flexes its muscles fully.
It offers 40+ AI tools, SEO reports, and the ability to create new articles from scratch quickly. What's more, Scalnut isn't limited to a single type of content. That's why it's great for books, email campaigns, blog posts, and even Facebook posts that are free of plagiarism.
In addition, its SEO Assistant lets you craft even longer articles and blog posts, and in conjunction with its AI Writer, you can get new content ideas to keep your site afloat. The initial plan starts at $12 a month at the time of writing and it's called Individual.
This plan lets you write up to 100,000 AI words with 5 SEO reports and 24/7 live chat and email support. The plan called Growth is the most popular one and it costs just $32 a month. However, you get unlimited AI words, 30 SEO reports, and more advanced features like Cruise Mode and Instruct.
This plan also allows you to tweak additional AI settings to personalize your articles, plus SERP facts, paraphrasing, and collaboration features for those working in teams. Speaking of teams, Scalenut has a Pro plan that costs just $60 a month, which is extremely affordable for this kind of plan.
Besides, Scalenut is used by companies like Oyo, Amazon, Adobe, and Nvidia, so we have no doubts it'll satisfy your needs perfectly
Pros
A solid choice for freelancers and individuals
Powerful free trial with 40+ AI tools
It starts at just $12 a month
Advanced features like SERP facts, Paraphrasing, and collaboration
Cons
Templates aren't customizable
The quality of generated content isn't the best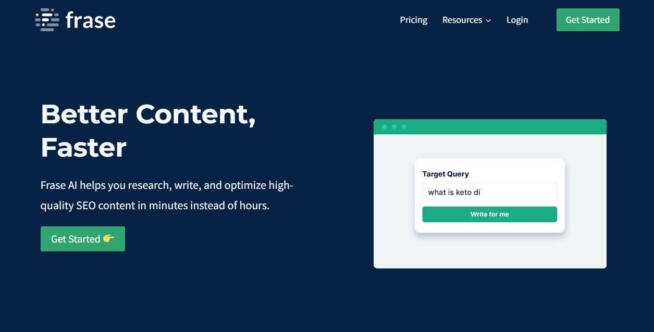 Frase.io is a well-known AI writing tool trusted by more than 30,000 companies and businesses. I like that the company takes a zero-bullshit approach and offers an intuitive web-based interface and a website that will get you started with the product in a matter of minutes.
Once you get Frase.io, you can enjoy one of the best AI writing experiences out there. Its AI-based algorithm is here not only to create new content from scratch but also to give you new content ideas, research capabilities, and SEO optimization to increase your engagement and ranking.
Furthermore, Frase.io has decent collaboration capabilities and if you opt for more expensive plans, even larger teams can benefit from it. The AI SEO copywriting functionality works really well and depending on the length of the article, you'll wait for a few minutes for it to be done.
Additionally, Frase.io offers a boatload of frameworks and templates that you can customize to your accord. These templates can be used to write new articles or export existing articles, improve them, and optimize them for uploading on your website.
The pricing structure is, thank God, straightforward, and the entire roster starts at just $14.99 a month. This plan is called Solo and lets you optimize/write 4 articles a month with 20,000 AI-generated characters and only one user per account.
However, the Basic plan is a big leap in price and at $49.99 a month, it offers the optimization/creation of 30 articles and 20,000 characters each month. Teams will most likely choose this Team plan at $114.99 a month, though.
It's a plan that allows for 3 user seats which you can expand by paying $25 per seat on top of that. In this case, you can write/optimize unlimited articles and generate 20,000 AI characters each month. I don't like that, to generate unlimited AI characters, you'll need to pay for a $35 add-on, however.
Pros
It's used by more than 30,000 businesses
Writes new articles from scratch
AI SEO copywriting function
Lots of customizable templates
Cons
Unlimited AI-generated characters cost an additional $35 a month
All plans are limited to just 20,000 AI-generated characters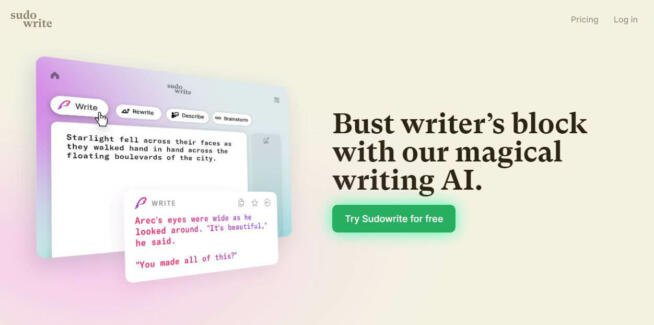 Sudowrite is yet another straightforward, simple-to-use AI writing software. It's made for people who want a decent solution for generating new content, rewriting content, or brainstorming new ideas for blog posts, social media posts, and content creation, in general.
This AI writer is extremely user-friendly, offering a web-based interface that's more than welcoming for beginners and newbies. It's not a very advanced tool but I found it good enough for complementing my writing skills and making sure my articles are well-optimized.
Of course, Sudowrite lets you edit pre-existing documents and even rewrite them to your desires. If you've written something and you don't like the tone and sounds of it, you can command it to rewrite the entire article and see if you like it.
Moreover, Sudowrite can even generate free-verse poems if you want. With the Describe function, you can also go deeper into the subject matter and add more details. You can try Surowrite for free if you want, but generally speaking, this isn't a free service.
Its plans start at $10 a month for 30,000 AI-generated words each month. This plan is good for blog posts, essays, and short stories. The Professional plan is very affordable too, and at $20 per month, you get 90,000 words at the moment, which is surely enough for freelancers and people alike.
Finally, there's this Max plan at $100 per month that offers up to 300,000 AI-generated words each month and it's for people/companies generating a lot of digital content. As said, this is a somewhat basic AI writing solution, so it's not as great as Jasper AI or Chibi AI if you need advanced tools.
Pros
It's good for brainstorming new content ideas
User-friendly interface
It can generate free-verse poems
The ability to rewrite entire articles and change their tone
Cons
Basic AI writing tools are not great for advanced users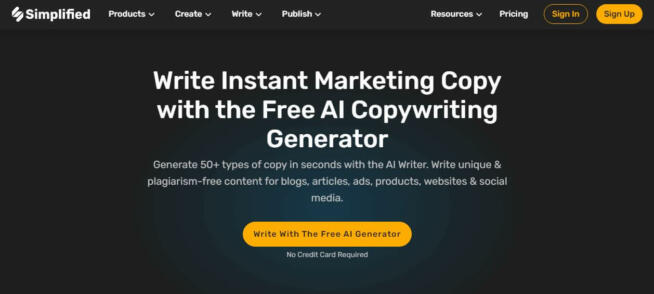 Simplified AI comes with a 100% free plan that you can use by making an account on the site. Unlike the platforms that are strictly focused on AI writing, Simplified AI is here to make the entire content creation process simpler.
You'll be able to improve not only your writing but also create new templates, edit videos, and gain access to millions of absolutely free stock photos. In addition, Simplified AI relies on its smart algorithm to do everything for you, allowing you to create new content without too much hassle.
Premium plans will give you premium templates and even the ability to upload custom fonts. When it comes to content writing, the free plan offers 3,000 words per month which isn't that much, but you get 50 AI templates and 25+ supported languages.
Simplified AI is more for teams rather than individuals. Thus, its cheapest plan is called Small Team and offers significantly more features at $18 (for up to 5 members). For instance, you get 25,000 words per month along with built-in Grammarly support and real-time collaboration.
The Growth plan, the most expensive one, costs $75 a month for 5 members but you get everything the company has to offer. This includes 250,000 words per month, free flow mode, the ability to build custom templates, and even a plagiarism checker to make sure your content is unique.
My only complaint is lackluster customer support, which tends to take a while to respond to your questions. And the fact that its free plan is fairly limited in terms of AI-generated words surely doesn't help it that much.
Pros
It offers general content creation tools aside from AI writing
You can use it for free forever
50 AI templates and 25+ languages
The cheapest $18/mo plan is affordable
Cons
Subpar customer support
Limited free plan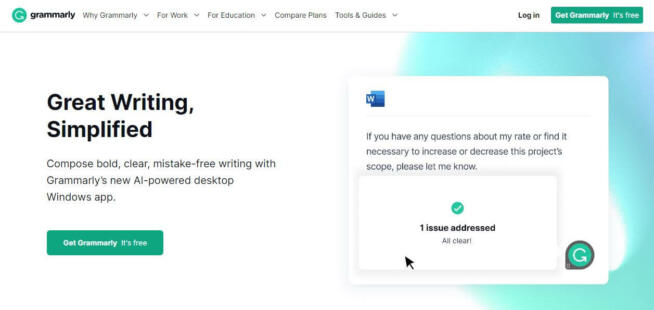 The last entry on this list will be Grammarly and I won't talk too much about it because, if you're a writer, you're most likely using it. While not an AI writer per se, Grammarly is a solid AI-based writing assistant that can help you bring your A-game to the table.
Despite its name, it isn't great only for making sure your grammar is up to par. Instead, its AI-driven algorithm will determine your tone, formality, intent, domain, and target audience, and rate your written articles accordingly.
In addition, you can write new articles using Grammarly and get suggestions and potential improvements in real time. This will allow you to fix your sentences and change the tone to adapt to a particular reader's group without doing too much work.
Grammarly can edit entire sentences and remove unnecessary words to make the article more readable. Even its free plan will sprinkle in some advanced suggestions from time to time, letting you get a glimpse of what its premium version can do.
Its Premium plan starts at $12 a month for the annual plan and there's a Business plan at $45 per month for 3 members, which you can bump up to 150 members at $1,800+ per month. Paid plans even offer plagiarism detection, making sure your content is unique and ready to be published on the site.
Pros
One of the best AI writing assistants
Suggest improvements in real-time
Its free version is enough for basic writing improvements
Cons
It can't generate new articles using an AI
Somewhat expensive prices
2. FAQ
2.1 Are free AI writing tools any good?
They're good up to a certain point, which is usually when you hit the limit of the maximum allowed words per month. If you write occasionally and you don't produce a lot of written content, you can get away with a free plan.
But if you're a professional writer with the need for high-quality and pristine written content, chances are that you'll get more benefits from a paid plan. Feel free to get a free trial from some of our choices above and see if they do the job for you.
2.2 Can the best AI writing software write entire articles for me?
Yes, it can! But should it? Absolutely NO. You should never rely on an AI to do writing for you and if you're a total newbie or you aren't a skilled writer, using an AI writing tool isn't recommended. As said, an AI writing tool should be your assistant and not the tool you depend on.
You can use it to generate new content ideas, optimize your articles, and rewrite, simplify, and organize a few things. Sure, the AI can craft some great articles for you but I found it much better as an optimization tool for my blog posts and longer articles.
2.3 Will AI writing software replace human intelligence at some point?
Many writers are afraid of AI writing tools and their ability to replace them soon. However, that most likely isn't going to happen because an AI is an AI and it's vastly different from human intelligence, which can't be replaced easily in this field of work.
AI-based tools will replace humans in more "mundane" and "binary" processes, which already happened, but writing is a pretty complex process. Thus, we doubt that even the best AI writing software can fully replace humans when it comes to writing and creating new content.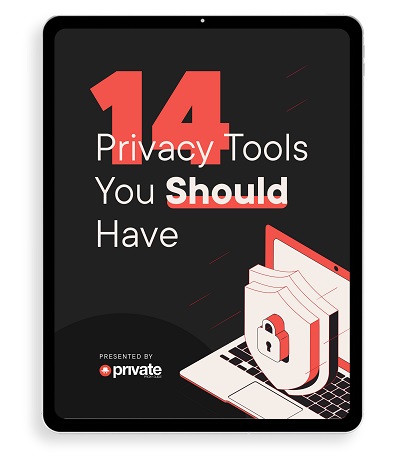 Learn how to stay safe online in this free 34-page eBook.