If you've been on the internet for any amount of time, then you've probably encountered an ad about NordVPN, whether it's a sponsored video on YouTube, an ad on a social media platform, an article, or any other form, VPNs, in general, are seeing a surge in popularity.
Amidst the litany of VPNs on offer, NordVPN is among the most well-known and trusted ones. However, this article is not going to talk about this VPN. Instead, we're going to talk about NordPass (www.nordpass.com), which is a password manager and comes from the same people behind NordVPN.
So, does this service live up to the Nord name?
1. NordPass Review Verdict
NordPass is one of the most robust password managers you can find on the market. We have been impressed by what we've seen from it. If you're looking for a simple and robust password manager for personal use, NordPass is an excellent choice for you. The features it has on offer are more than enough to keep you safe and protected.
Pros
Can import data easily
Includes 2FA (two-factor authentication)
Generous free plan
Black box architecture that protects data.
Compatibility with multiple platforms.
Cons
Limited organizational options
Auto-fill works with credit cards, secure notes, and passwords only.
Has no enterprise or team-oriented features
2. What We Like About NordPass
2.1 Excellent UI and UX
A common theme across NordPass is simplicity and elegance. It's easy on the eyes and makes navigating between the different parts of the app a breeze. It's among the most polished experiences you can find on the market right now.
What makes this an important thing is the fact that having a simple UI makes the app much easier to use and very accessible regardless of the knowledge level of the user.
While we're on the subject of simplicity, NordPass has made sure to make the signup and setup process very simple. Nothing ruins a first impression more than having to go through a convoluted, unintuitive, and complicated setup process just to start using something, and the people behind NordPass know this well.
To sign up, all you have to do is select the plan you want, then make the payment using one of the many available payment methods (including Credit Card, PayPal, Ali Pay, Google Pay, and others).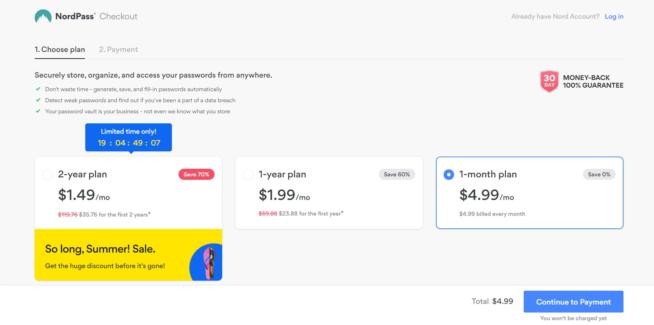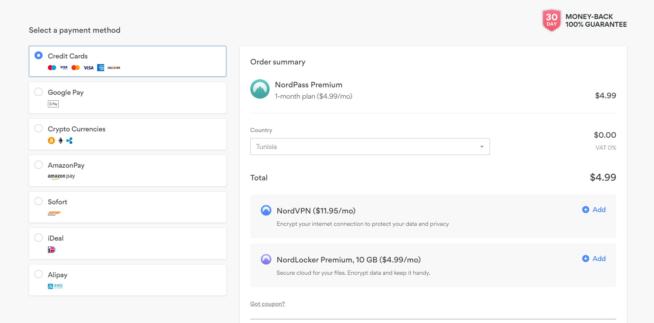 After logging in to one of NordPass's apps, you'll be asked to enter your master password (it's not the same as the password you used when creating a Nord account). Be extra careful when creating the master password because NordPass has excellent encryption. We'll discuss that in detail later on.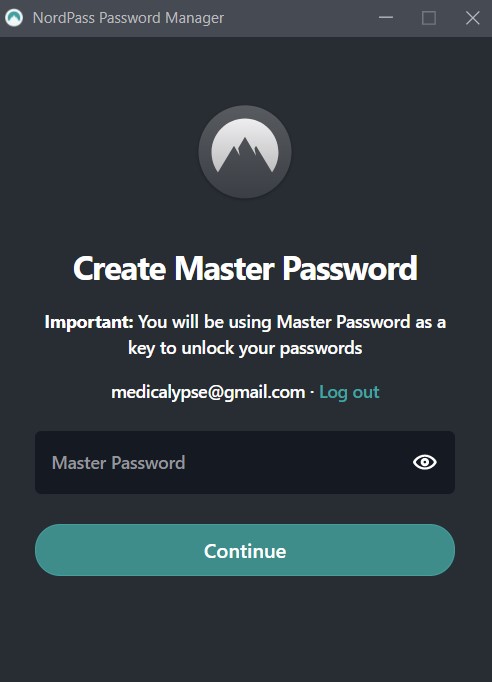 Once the software is up and running, it does a great job of not being intrusive, working discreetly in the background.
Now, although creating a NordPass account is easy as pie, canceling auto-renewal is a tedious process. More on that later.
We can't stress enough just how pleasant it is to use NordPass. It's effortless. It doesn't feel like you're fighting with the software. Instead, you can get what you need quickly and with little to no hassle.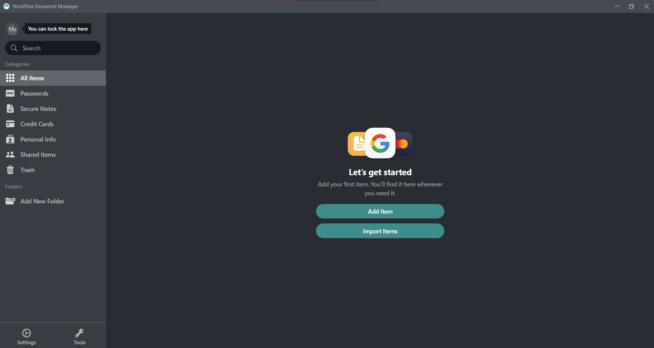 NordPass is filled to the brim with useful features that are easy to use, such as customizing the generated passwords to your liking, including which characters it would contain alongside its length.
Naturally, with an intuitive app such as this, the account management section is just as simple as the rest of the app. All of the information you need is displayed straightforwardly. However, as with everything, there's always room for improvement. In this case, having more elaborate organizational tools such as tags for data groupings would be great since NordPass has already added a folder system recently.
2.2 Next-Level Security
Given how the same people behind NordPass have been offering a robust VPN for years, you can expect excellent security from this fine piece of software.
For instance, NordPass has a zero-knowledge approach alongside end-to-end encryption for data syncing and password backup. What this means is that you're the only one who can see your data. Not even the team behind NordPass has visibility.
With that said, since you're the only one who can see it, you'll have to remember your master password and the backup recovery code. Otherwise, you're going to have to start again from scratch since no one can help you recover them in case they're lost.
If you're curious about the encryption method being used, it's called XChaCha20, which is a highly respected algorithm. Even tech giants such as Google and Cloudflare use it. XChaCha20 is even considered a more future-proof solution when compared to the AES-256 encryption algorithm, which is the current gold standard in the encryption world.
Aside from a robust encryption algorithm NordPass also allows biometric security to be added if it's supported. This way, you can have two-factor authentication for both your NordPass account and the accounts for which you're storing passwords.
2.3 Data Breach Scanner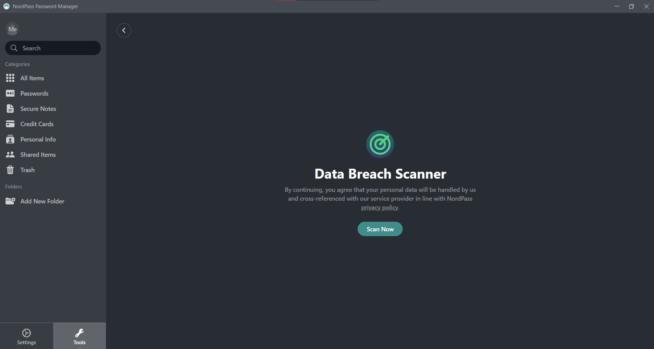 In the recent NordPass updates, there were two new and critical security features added. The first one is an actionable password health report, and the second one is a Data Breach Scanner.
With that said, these features are exclusive to premium users. If you're subscribed to the premium plan, all you need to do to access these features is to click the Tools icon on the bottom of the app.
The first feature, which is Password Health, is straightforward. What it does is scan all of your passwords in search of any weak ones, and then it alerts you if it finds any, and you can change them.
However, you shouldn't change the password directly on NordPass. Instead, go to the associated website in the notification popup, and NordPass will record the new password when you log in next time.
As for the second feature, the Data Breach Scanner, it scours the internet looking for any of your accounts or credit cards that have cropped up in the search. If it finds any data breaches affecting your accounts, it will let you know, and you'll be able to know all the details about the breach, such as the date, the compromised data, and the site description.
These new features are handy and can help you protect your data by identifying potential vulnerabilities and compromised information. With that said, you'll have to manually run these features each time.
2.4 A Multitude of Specialized Features
Aside from the features we just mentioned, NordPass also offers a plethora of other great features such as:
Password Checker
If you're not sure about the strength of your password, you can use this feature to determine the strength of your existing passwords. You'll also be informed if there's any room for improvement.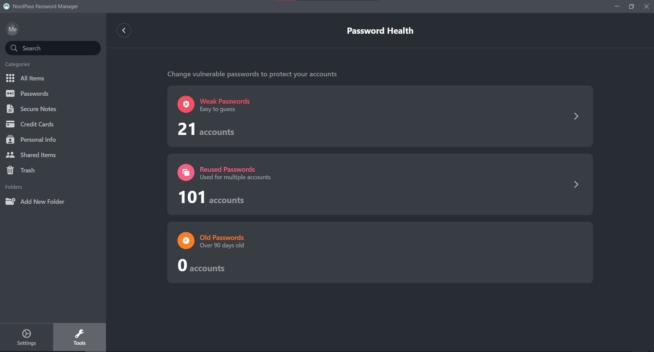 As you can see, out of the 122 passwords I imported, 101 are reused and 21 are weak. It's time to generate some new passwords using NordPass's own password generator.
Password Generator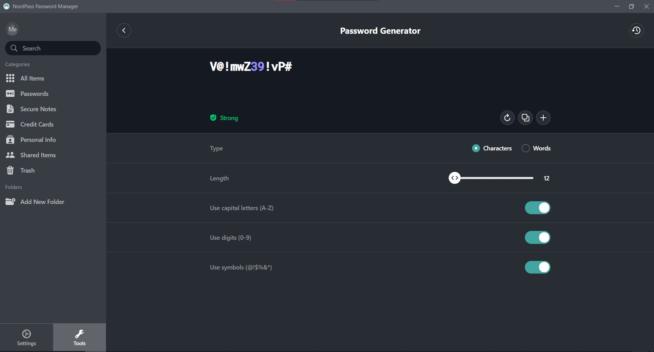 If you're having trouble coming up with a strong password and just want the app to do it for you, you can use the built-in password generator to generate passwords of up to 60 characters in length.
The default setting is 12 characters, which is more than enough for a strong password. However, being able to increase it to 60 puts it above most other apps on the market.
OCR Scanning
Suppose you have to scan sensitive documents with minimal risk. In that case, NordPass allows you to do that and store those documents in the vault using OCR technology, which stands for Optical Character Recognition.
What OCR does is discern text in photos and documents then convert them to digital files.
Unfortunately, as of right now, only mobile users can use OCR scanning
Biometric Authorization
Nordpass offers biometric authorization, which can drastically improve the security of your account.
You can opt for a fingerprint scan, voice scan, or even a face scan.
Password Sharing
If you need to send passwords to other users with minimal risk, NordPass also allows you to do that. The tool makes it easy to send passwords directly to another user's vault, giving them access to them.
2.6 Great Sharing Capabilities
As we mentioned before, NordPass allows you to share your passwords with other users. With that said, the sharing feature is only accessible to premium users. However, as a premium user, you can share with anyone. Unfortunately, you can't share folders as of the time of writing this.
When sharing an item with someone, you can either give them full rights (aka the ability to edit sensitive info) or limited rights (aka read-only permission).
NordPass has recently added a new feature, Trusted Contacts, for paid users. What this does is help you share and confirm encrypted messages with a contact. The purpose of this feature is to reduce the risk of falling victim to man-in-the-middle attacks.
If you want to add trusted contacts, go to the advanced section while on the settings tab, and you'll be able to set the trusted contact list from there.
2.7 Generous Free Tier
What sets NordPass aside from other free password managers is how generous it is. For starters, there is no limit to how many passwords you can store. This means that you'll never be forced to upgrade because you have run out of space.
With that said, the free plan only allows you to use it on one device at a time. This means if you're usually switching between multiple devices, you might find yourself more inclined to opt for the premium plan.
However, the free version does at least sync your passwords across all your devices, which makes it more convenient. You'll also be able to keep credit card details and secure notes.
All in all, NordPass offers some of the best free plans you can find when it comes to password managers, and we highly recommend it no matter which plan you choose.
2.8 Many Support Options
Unlike most other services where the help center is anything but helpful, NordPass offers many useful guides and functions to help you find the information you need.
However, if you still can't find the information you're looking for in the guide, you can contact support@nordpass.com, and someone will answer you and help you resolve any issues you might have with NordPass. There's also a live chat option that you can access directly from their support website.
3. What We Don't Like About NordPass
3.1 No Options for Organization
We mentioned in one of the earlier sections that there is a noticeable lack of organizational features in NordPass. While this is by no means a deal-breaker, it is still a missed opportunity to make things more convenient by being able to sort passwords by name, last usage date.
It would have been even better to have categories by which you can sort data. As it stands right now, you have to manually search for whatever website you want to find the password for.
NordPass has recently added a folder system, which is a great feature, but there's still room for improvement in regards to organization. Having better options for organization is certainly preferable, but even though they're not present, that doesn't make NordPass bad in any way.
3.2 No Real Team-Oriented Features
As of the time of writing, NordPass offer no team or enterprise plans
3.3 No Password Inheritance
Another feature that's sorely missing from NordPass is password inheritance which would allow the user to share their logins with some trusted contacts in case you would no longer be able to use your account. There's also the possibility to add a certain delay period until the trusted contacts would be able to access those passwords.
3.4 NordPass Makes It Tedious to Cancel Your Subscription
Say you subscribed to NordPass's monthly plan but didn't like the app after a week, and you wanted to cancel. Well, that's where using NordPass becomes frustrating.
Here are the steps you need to take to cancel auto-renewal:
First, you need to head to the subscription tab under the billing section.
Next, you have to click on "Cancel Auto-Renewal." Seems straightforward enough, huh?
Well, then NordPass will make it seem like you're going to die if you take any extra step. So, you have to click on "Cancel Auto-Renewal" again.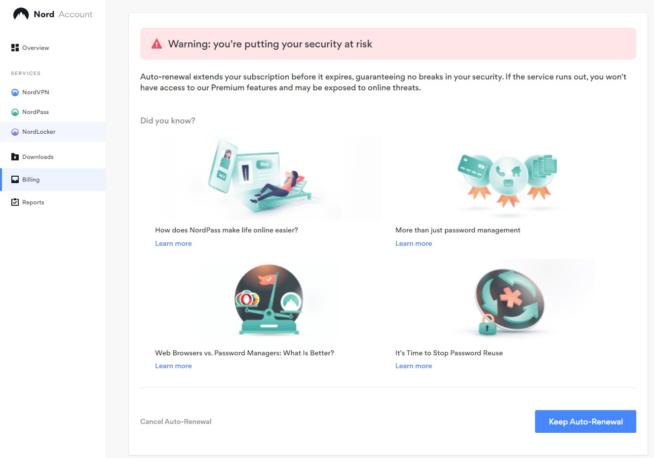 Oh, you're not scared? Let's try another tactic, then. Did you know that NordPass offers a lot of benefits? Yes, you need to click on "Cancel Auto-Renewal" again.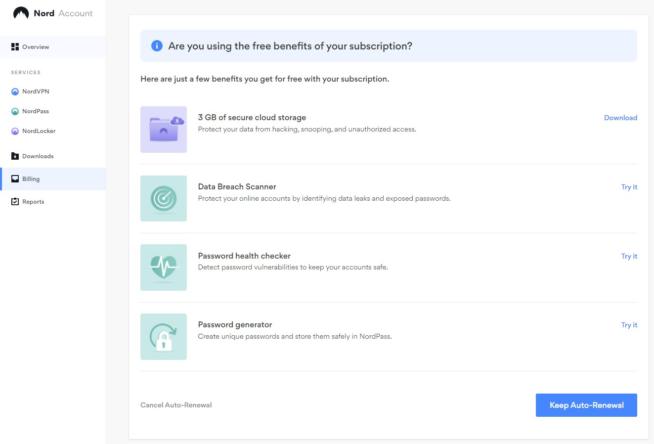 That's not all. Now, you have to help the team understand why you're canceling. So – you guessed it – you have to click on "Cancel Auto-Renewal" again.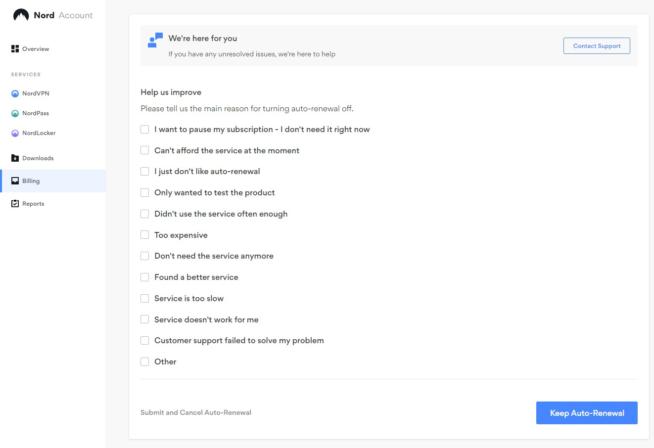 You thought you're done? Nope. The final step is to click on a link that was sent to your email.


Only after taking all of those steps will auto-renewal be canceled.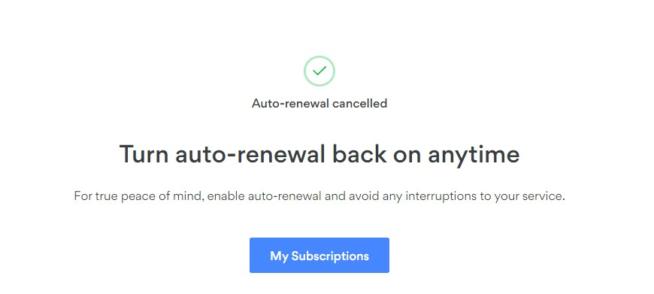 Yes, as you can see, the team behind NordPass really wants you to keep using the tool, which is why they've made sure that the plan canceling process is as tedious as possible.
4. How Much Does It Cost?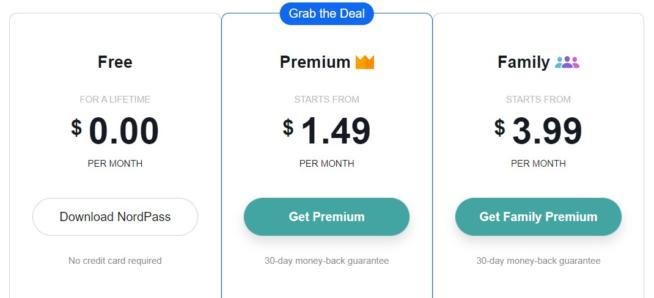 NordPass offers a multitude of plans, among which is the free plan, which, as the name implies, is free of charge. Moreover, there's a Premium plan with three different terms.
Lastly, there's a family plan which is a bundle of 5 independent Premium plans. Let us go over these plans one by one.
4.1 Free Plan
NordPass' Free plan is a great plan with some limitations to incentivize users to upgrade to Premium. Here are the limitations of the free plan:
When using the free plan, you can only have one session at a time. If you're using NordPass on your phone and desktop, then you're only able to log in to one device at a time.
As a free user, you can't share passwords with other users, but you can still receive passwords.
You don't have access to Trusted Contacts
4.2 Premium price plans
When upgrading to the Premium plan, you gain the following benefits:
You can use NordPass on six simultaneously.
You can share your passwords with other users
You gain access to Trusted Contacts
When it comes to the price, the Premium plan costs $2.49 a month if you choose to sign up for two years.
If you decide to opt for a 1-month plan, it will run you $4.99. This is indeed expensive when you compare it with other competitors, which are more mature and are packed with more features.
With that said, opting for longer subscriptions is the way to go if you want better prices. For instance, by getting a 1-year subscription, the monthly cost will drop to $3.99.
Opting for the 2-year plan is the best option since the cost will drop down to $2.49.
4.3 Family plans
The family plan is a bundle of 5 Premium subscriptions sold together at a lower cost. What makes it a great plan is the fact that you'll be able to get five separate 1-year premium subscriptions for less than the price of 2 separate ones.
4.4 NordPass Business
If you want to get NordPass for your business, there's a business plan you can opt for, which, alongside the regular Premium benefits, offers a dedicated account manager along with 24/7 customer support.
NordPass is also compliant with HIPAA and GDPR, so it can help you meet those requirements by keeping your passwords, sensitive data, and credentials safe.
5. NordPass FAQ
Do I really need a password manager?
Having a password manager is becoming more of a necessity since threats are constantly emerging, and we're entrusting more of our private information on the internet. Having to manage multiple accounts and make sure all of them have strong passwords can quickly become a difficult task, and you might find yourself going through a lot of trouble just to log in to your accounts.
This is where having a password manager becomes especially handy. Having all your login credentials in one place being encrypted and protected is so important. No longer would keeping track of your different accounts be an issue.
There's also the fact that a password manager can also help you detect any data breaches or compromises in your passwords which can help you proactively protect yourself.
Is NordPass free?
The short answer is yes. NordPass offers a very tempting and generous free plan, especially when you compare it with other free password managers that would limit how many passwords you can store, for example.
That isn't the case for NordPass, as you can store as many passwords you like, and the only limitations are that you can't have more than one active session at a time, along with no sharing and Trusted Contacts.
Can NordPass import from Dashlane or any other password manager?
As of right now, you can export data from Dashlane, Keeper, 1Password, KeePass, BitWarden, and other password managers into NordPass. This feature is only available on the desktop version.
Did NordPass go through an independent audit?
Yes. NordPass underwent an independent audit by Cure53 in 2020.
These audits are an excellent way of identifying vulnerabilities that hackers could use. This is proof that the application is secured.
Is NordPass included with NordVPN?
No, as of right now, NordPass Premium doesn't come with NordVPN. There is no special bundle or offer that allows you to get both at a reduced cost.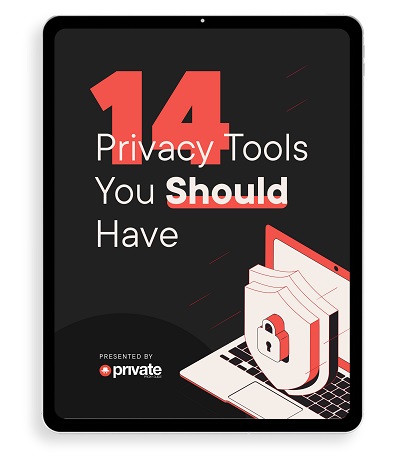 Learn how to stay safe online in this free 34-page eBook.