Are you looking for the best password managers in the world?
Well, LastPass (www.lastpass.com) and Dashlane (www.dashlane.com) are your best options without a doubt, and for good reason. Each one of them possesses a bunch of pros and cons, as you'd expect out of any software. But it's essential to keep in mind that no other password manager comes close to these two. They both come with excellent features, reasonable prices, and great usability.
What we want to do today is conduct a small experiment. We want to pit LastPass and Dashlane against each other to firmly conclude which of these two would come on top.
Before we choose the winner, we'll go through several factors that you should consider, including ease of use, support, security, pricing, and features.
Dashlane vs LastPass: Verdict
Our little experiment included a total of eight rounds. They were mostly in favor of Dashlane, which won four out of eight. As you can conclude, the two services are pretty much at the same level of quality. Even though Dashlane is a bit more expensive, it does offer a better list of features and more robust security when compared to LastPass. And that is why it is the winner today.
1. Dashlane vs LastPass: User experience
If it's not easy to use, then what's the point of using it? That saying goes for any piece of software, and in particular, password managers. The good news is, both Dashlane and LastPass are super user-friendly. They're even quite similar in the initial process of their setup. Here's how it's done: You download either the mobile app or the desktop app on your device and create an account. You set up a master password, and that's it, you're done.
Data syncing starts within seconds from completing the setup. A browser extension is also available for accessing the password vault easily, and you can access both LastPass and Dashlane through their web interfaces.
1.1 Let's now begin with analyzing LastPass.
When it comes to the user interface, it's well-defined and pretty clean. There's a sidebar on the left part of the screen for navigating to the different functions of the software. It might look a bit crowded since LastPass is full of various features.
As for the rest of the space, it is all a white blank with a red "+" icon on the lower right corner. For saving a password, you have to click the "+" icon, fill in the needed details, press "Save,' and you're good to go. Aside from the password-related functionalities, LastPass can be used as a "digital wallet" that can store numerous different details such as your driving license, passports, insurance cards, online identities, addresses, secure notes, credit cards, and so on.
For an ordinary user, there's an abundance of things to use, and you won't find this variety with any tool other than LastPass.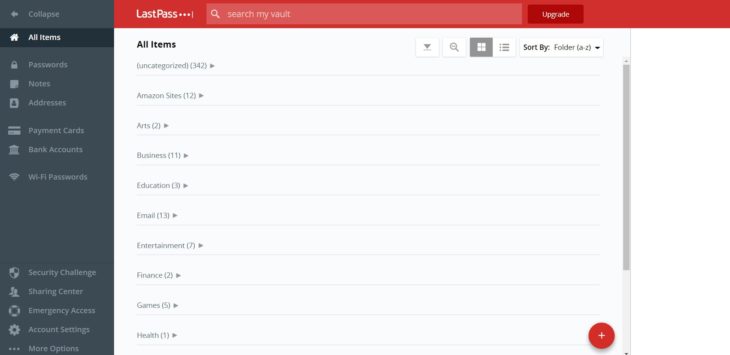 1.2 On the other hand, Dashlane features one of the prettiest user interfaces.
The layout is very similar to that of LastPass. It's got a sidebar on the left for navigation, and the rest of the screen is nothing but empty white. For a novice, Dahslane would seem more appealing out of the two, since the sidebar isn't as busy and overwhelming as that of LastPass. Anything that you wish to do can be accomplished with a couple of clicks.
Taking the example of saving the credentials, all you have to do is click the green "Add New" button and then add the details in the corresponding window. Can't get any simpler than that. But the drawback of Dashlane is the fact that it can't store the variety of information that LastPass allows for. All you can save in Dashlane are the addresses, notes, cards, and, of course, passwords.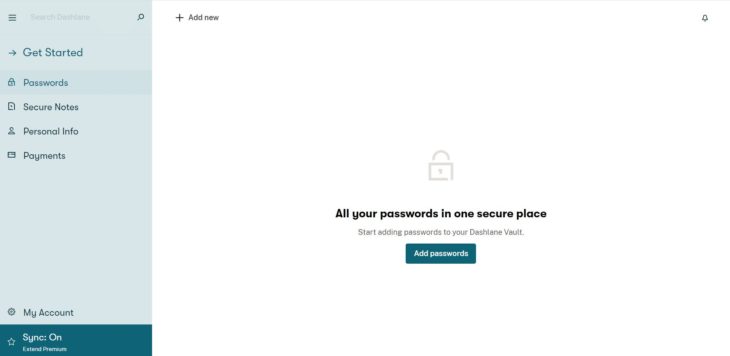 Dashlane vs LastPass – Winner: Draw
2. Dashlane vs LastPass: Security
It goes without saying that security is the most critical feature when it comes to a password manager. As you can expect, both LastPass and Dashlane are pretty reliable in this department, with two-factor authentication features and security alerts.
Let's begin with Dashlane. It's got a zero-knowledge model and AES-256 encryption. A hash of the master password is generated by Argon2d and used for authentication purposes. But, Dashlane goes the extra step when compared to the usual password manager.
When you use Dashlane through a new device, Dashlane will automatically create a device key that's generated out of specific software and hardware specifications. It's not related to your master password, and it was proven to be so strong that even a 2016 MIT study has shown that it's almost impossible to crack.
When it comes to LastPass, it's not as unique as Dashlane, but it still goes the extra mile to keep your data secure. It also utilizes a zero-knowledge model and AES-256 encryption. One hundred thousand rounds of PBKDF2 are used on the master password to create an authentication hash. The resulting hash is used to generate an authentication key that is matched against the database of LastPass.
You must know that the master password is never used or sent outside of the computer. A has of a hash is used to achieve the authentication process. This provides you with two-layer protection. But it doesn't end there with LastPass, unfortunately.
2.1 The LastPass hack
Back in 2015, LastPass was the subject of a data breach. This caused a large number of encrypted user vaults to leave the servers. Data was unfortunately stolen, but no real information was compromised. Thanks to the zero-knowledge model and the encryption, hackers only got away with a lot of incomprehensible nonsense.
From a particular perspective, the breach can be seen as a testament to the level of security that LastPass offers. But we can't just excuse it for the hack itself because of this. The competition is quite close between LastPass and Dashlane when it comes to security. But the fact that LastPass has been breached and Dashlane has not, gives the win to the former in this round.
Dashlane vs LastPass – Winner: Dashlane
3. Dashlane vs LastPass: Password sharing and audit report
Storing data and encrypting it is a walk in the park for all password managers. The real edge comes from the pieces of software's ability to dig through your database of passwords and highlight the weak bunch from the rest.
Additionally, there might be a number of occasions where you'll have to share notes, passwords, and other information of a sensitive nature with your colleagues, friends, or family members. But when it comes to sharing, not all password managers allow you to do so. Dashlane and LastPass are, fortunately, two password managers that allow you to share data and highlight weak passwords quite well.
When it comes to LastPass, what you have to do is create a shared folder and include all the information you want to share inside of it.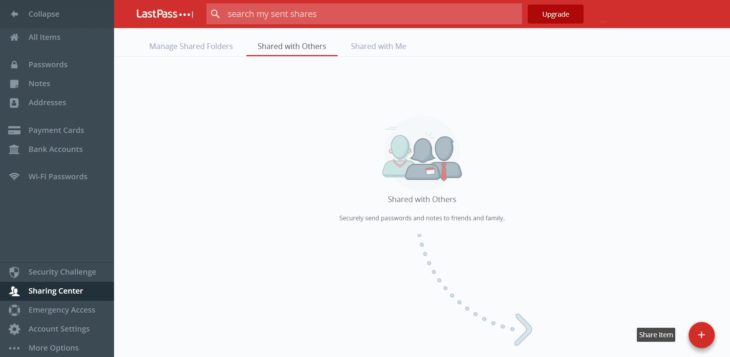 If you're a premium user, you can add as many users as you want to that shared folder. The audit report of LastPass is also quite accurate and comprehensive as well. It allows you to find the weak passwords, the old ones, and the duplicates. It can also let you know how many two-factor authentication credentials you have. Beyond that, LastPass gives you an evaluation of your master password out of 100. That lets you know whether your master password is good enough to be used or should it maybe be enhanced thanks to the LastPass password changer.
It's not just a throwaway evaluation process either, as most passwords can't make it over the 50% mark. So don't have any doubts concerning the output you get from the audit report.
In comparison, Dashlane keeps things rather easy and simple. It allows you to share passwords directly through emails instead of a shared folder. All you have to do is select the password that will be shared, type in the email of the user you want to share it with, and that's all. It's quite simple.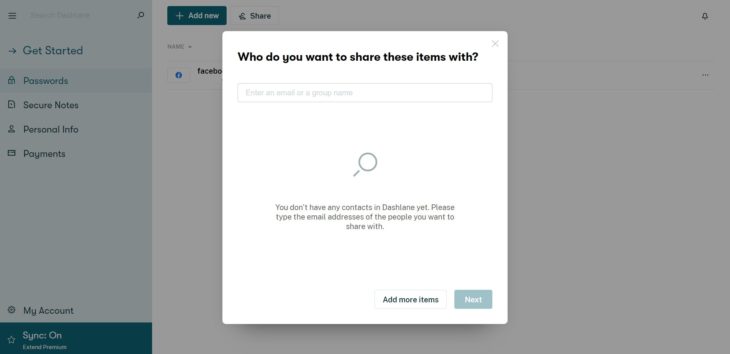 Just like LastPass, you receive a list of weak and duplicate passwords as well as an overall score of the vault through the audit report. But it doesn't end there with Dashlane; it also goes the extra mile by searching the dark web to make sure that your social media accounts and email haven't been compromised. This means that Dashlane's audit report is more thorough than that of LastPass.
As for the evaluation process, the two apps are neck to neck.
Dashlane vs LastPass – Winner: Dashlane
4. Dashlane vs LastPass: Autofill feature
Autofill is beautifully presented when using a browser with both Dashlane and LastPass. We've tried working on Firefox and chrome, and from our experience, we rarely had any problems with either app. But putting that aside, each one of them has its own upsides and drawbacks concerning autofill.
When it comes to Dashlane, you get more control using the browser. The extension allows you to choose the degree to which you get autofill, whether it'd be with forms, login info, both, or neither. It also allows you to specify whether you want the autofill feature to work on a whole website or just on a specific page of a given domain. This puts you in control of how autofill reacts to your data input.
Now, as for LastPass, you won't get the same flexibility offered by Dashlane. It shows you the relevant logins for the website you're browsing and all the items that you can possibly fill. While autofill works flawlessly, LastPass' field recognition presents some issues. For example, it doesn't seem to detect credit card entry fields correctly at all times.
This means that your stored card may not show up in the extension. But aside from that, LastPass does come with local autofill. A premium subscription grants you the Autofill for Apps feature. This feature allows you to take the services you get on the browser to the desktop. And yes, it is a great feature, but Dashlane has its own local app. That, coupled with the flexibility of the browser extension, gives the edge in this round to Dashlane.
Dashlane vs LastPass – Winner: Draw
5. Dashlane vs LastPass: Compatibility and requirements
5.1 Dashlane compatibility
The browser extension of Dashlane is available across the most notable browsers, i.e., Chrome, Safari, Edge, and Firefox. Keep in mind that you will, by default, require the windows (Windows 7 or above) or Mac (Sierra or above) apps to have access to the browser extensions. That being said, you can use the extension on Edge, Firefox, and Chrome without the need for the PC app when you go to the extension options and switch to Standalone mode.
The standalone mode also allows you to use the Dashlane extension on both Linux machines and Chromebooks, even though Dashlane does not officially support them. The Dashlane apps are on Android (Android 6 Marshmallow and higher) and iOS (iOS 12.2 and higher).
5.2 LastPass compatibility
LastPass's browser extension is only compatible with the latest two versions of Chrome, Edge, Edge Legacy, Firefox, Opera, and Safari. To use the extensions, you'll have to own a PC with Windows 8.1 or higher, the latest major MacOS versions, Chrome OS or Linux. For Windows 8.1 or above, you get to use the LastPass applications. As for Mac, you'll need one with one of the two latest releases of macOS, along with a 64-bit CPU. As for the mobile app of LastPass, it is available on iOS 11 or higher and Android 5 Lollipop or higher.
Dashlane vs LastPass – Winner: Draw
6. Dashlane vs LastPass: Support
For a password manager, Dashlane undoubtedly has some of the best support we got to experience. It is unusual seeing how most cases of support for similar tools turn out to be disappointing. Besides the user-friendly knowledge base, you can also get help via live chat and email. Email support is available every day of the week. As for live chat, it's available from 9 am to 6 pm, Monday to Friday.
English is the primary language for Dashlane's support. But you can also find French and German email support on the weekdays. The good news is you don't have to use the support that often. You can find an answer to almost any question or issue you may have in the detailed knowledge base.
Compared to Dashlane, LastPass does not offer the same level of detail when it comes to its support. The knowledge base that you get contains the fundamentals of the service, and it does not include any significant detail about troubleshooting. You'll find a way to reach out to LastPass if you run into a problem, but it'll take some effort.
To contact LastPass, you'll have to use the knowledgebase. You'll find a "contact support" button at the end of each article instead of an email address dedicated to support. But seeing how troubleshooting isn't thoroughly detailed, it would have been better to have a clearer contact route. There's also a support forum that can be used to post any issue you may face. But we must keep in mind that LastPass offers customer support to the user whether they're paying or not. But that's not enough to make us forget that Dashlane provides a better support service. It allows you to either search for your own answer or reach out to the dedicated support team. Either way, this is a win for Dashlane.
Dashlane vs LastPass – Winner: Dashlane
7. Dashlane vs LastPass: Pricing
You might expect Dashlane to be a little bit expensive compared to other password managers, and you're right. While it offers a free tier, it's not really recommended. Let's take a look at Dashlane's offers plan in the United States (prices vary depending on the country).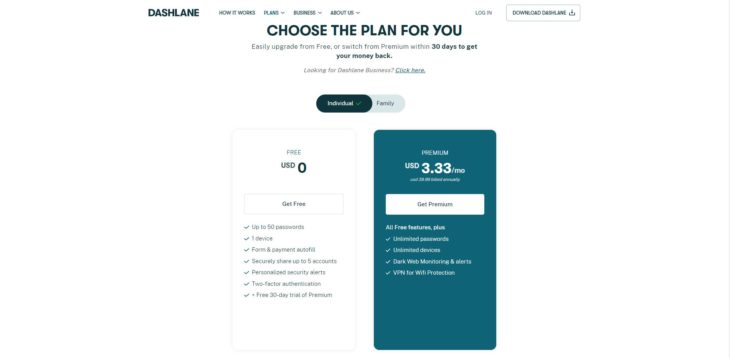 Free Dashlane plan – $0/month: The free plan gives you storage space for up to 50 passwords, but you're limited to using one device only. If you can use the app with these limitations without any issues, then go ahead and choose it. Otherwise, we can't recommend it. Most people use more than one device and can stack up to more than 50 passwords. Plus, you won't have the dark web monitoring and VPN plan with the free subscription.
Premium Dashlane plan – $3.33/month when billed annually: This is the most popular plan among users. Besides giving you an unlimited number of passwords and devices, you get all the Dashlane features mentioned in our analysis and comparison with LastPass. The only thing you don't get is credit monitoring and identity theft insurance. That said, you do get the basic VPN. Before committing to this service, you can make use of the free 30-day trial to test the waters first.
Dashlane does not offer a family plan, which is a bummer. But if you're looking for this feature, then you'll find it with LastPass and 1Password.
LastPass is more of the usual kind of mainstream password manager when it comes to pricing. The free plan actually offers features that are substantial enough to consider. Here are the details: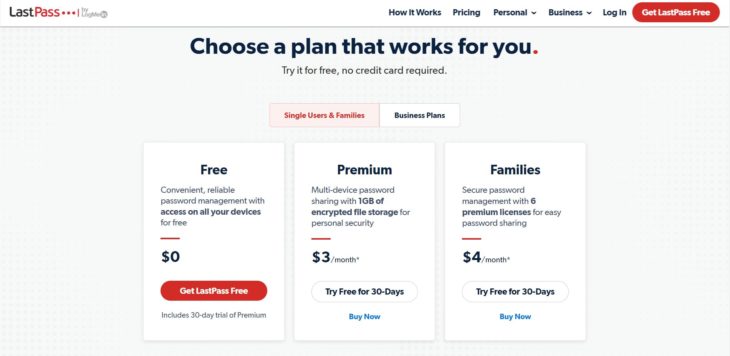 Free LastPass plan – $0/month: The free plan comes with all the fundamental features that you'd look for in a password manager. The good thing is you're not restricted by a limit on the number of passwords or the devices you can use. If you're new to the world of password managers and want to get a clear idea about what it's all about, we recommend this plan for you. It's hard to pass on, considering that it also offers a 30-day Premium trial.
Premium LastPass plan – $3/month Besides all the features of the Free plan, the Premium plan adds priority support, additional storage space, two-factor authentication, emergency access, and one-to-many sharing. If you want the most out of a password manager, this is the plan to opt for.
Family LastPass plan – $4/month/6 users: To anyone looking to protect the online freedom of their loved ones, LastPass provides the Family plan, which comes with all the premium features as well as covering up to six subscriptions to the service.
LastPass and Dashlane offer a business plan each, both starting at $4/month for one user. We won't discuss the details of the business plans of these apps, but you can go to the official Lastpass and Dashlane websites for further information.
Dashlane vs LastPass – Winner: Draw
8. Dashlane vs LastPass on Reddit
Before committing to any online service, it's essential to take a look at what users are saying online. We're turning to TrustPilot for this round. On TrustPilot, Dashlane has an excellent score of 4.3 stars out of 2,714 reviews, with most users praising the different aspects of the service, from the fast support to the smooth user experience.
LastPass's score, on the other hand, is alarming, as it only has 1.9 stars out of 117 reviews. Many users are complaining about poor support and buggy experience. Granted, the review counts are worlds apart, but the poor score that LastPass has is still pretty concerning.
Dashlane vs LastPass – Winner: Dashlane