In the sea of torrent clients, uTorrent is undoubtedly the most popular one. That also leads to you probably not hearing about many other clients due to how prominently used it is. Using it, however, does require some basic knowledge about internet security and torrent downloading, which is why a lot of beginners have a plethora of questions on is uTorrent safe to use in the first place.
In this comprehensive and detailed guide, you will learn everything you need to know about uTorrent and its safety. You'll also read about tips and tricks on using uTorrent and whether you can use it legally or not.
Continue reading through this article, especially if you don't know what uTorrent or torrenting is in practice. Luckily, in this article, you'll learn something new, or refresh your knowledge if you're looking for ways to use uTorrent safely.
1. What is uTorrent?
uTorrent, also known as μTorrent is a torrenting client developed by BitTorrent, Inc, now known as RainBerry, Inc, based in the USA. Being its proprietary adware, uTorrent is used by BitTorrent as its main adware for sharing files online painlessly. There are a lot of torrenting clients that are based on BitTorrent.
Still, uTorrent remains the most popular and reliable one, which is why a lot of beginners in this field don't want to risk it and get on mastering file sharing and streaming through uTorrent.
What sets uTorrent above other torrent clients is the emphasis on service delivery without overly consuming the system. That means that, unlike some other file-sharing programs, uTorrent won't take over the processing power and memory of your computer. Instead, it will deliver flawless performance like that of much more premium torrent clients without compromising your system resources.
BitTorrent oversees the development and regular updates of uTorrent, which uses the peer-to-peer protocol.
Now that we explained what uTorrent is, let's take a look and explain what torrenting as a practice is, as many people get it mixed up. Torrenting doesn't only refer to piracy and illegal actions online. It's worth mentioning that torrenting allows users to upload and download different types of files using the BitTorrent network.
What makes downloading and uploading files with uTorrent so special is that you don't have to use the central server and clog the network. Instead, torrenting is a process that allows you to download bits of files from other devices in the network that also downloaded or uploaded the file.
It's a two-way process, which means that different users can upload different files using the uTorrent client and others are invited to download them. uTorrent has been around for more than 15 years, although torrent as a file format has only been introduced in 2011.
In the past, users were downloading torrented files from one source, but thanks to the power of decentralization, P2P sharing changed, which allows users to share one file with thousands of other devices and users.
2. Is uTorrent Safe?
The simplest answer is yes and no. Why? It all depends on how informed you're and whether you use additional tools to ensure the protection from malicious software while ensuring your privacy is safe with both antivirus and a VPN.
Even though uTorrent will make it convenient for a lot of people to share different files, especially those larger ones, given it's more efficient to download from a torrent than from the direct server, there are some security flaws and a history of malicious intent that would make uTorrent a not so safe option.
uTorrent being a fast, efficient, lightweight client and packed with numerous useful features can easily attract a lot of people to start using it without any protection like VPN or anti-malware software. A lot of people are nearly certain that the virus will avoid them and that getting your security and privacy compromised is rare.
Unfortunately, that's not the case, especially thanks to automation and AI being more frequently used in incorporating malware and other threats. So, if you're new to torrenting and don't know much about malware and viruses, the answer is no – uTorrent is not safe. Here's why.
Although uTorrent is used by millions, now and then there are privacy and security flaws that make headlines and discourage users from using uTorrent to download torrents. One of such scandals happened in 2015 when the developers added a crypto miner to the uTorrent update.
Crypto miner, like its name suggests, allows for the mining of cryptocurrencies using your computer resources. Without users' consent, the crypto miner would be added to users' machines and used to mine bitcoin and other cryptocurrencies.
When the news turned into a scandal and made headlines, developers removed the crypto miner with a new update. In 2014 a similar scandal happened when Google Chrome blocked the downloading of uTorrent as it was believed to contain malware. Although it turned out to be a false positive blocking, it discouraged many users from downloading torrents, which led to them picking a new torrent client.
Another issue with uTorrent's safety aspect is that it comes with a lot of preinstalled bloatware and ads which, while harmless, could lead innocent users to some phishing sites or even make them a ransomware victim.
That being said, it's important to educate yourself on the risks of using uTorrent, even if that risk is minimal for the vast majority of educated torrent users. Many of these risks can be easily overcome, either by being more careful of what you're downloading or using third-party security and privacy software such as Antivirus or VPN software.
3. Safety Risks of Using uTorrent to Download Torrents
As we discussed above, there were some security scandals connected to BitTorrent's uTorrent client that is used by millions of users. Although these scandals made some people switch to some other torrent clients, a lot of users still download torrents using uTorrent clients.
Using uTorrent is easy, convenient, and mostly safe for people who are educated about the risks that come with it. In the further paragraphs, we'll list the risks that can come with using uTorrent. Continue reading!
3.1 Your IP Address Is Visible
One of the primary problems of sharing files and downloading them using uTorrent is that your IP address is visible to other seeders and leechers. You can see the IP addresses of other people who are downloading or uploading the file.
While this may not be necessarily dangerous, hackers could easily take advantage of your IP address, as well as other IP addresses available in the field. With your IP address, they can see your location and easily grab other information about you. More importantly, with your IP address being visible to them, they can easily perform a cyberattack and expose you to a security threat.
3.2 Malware
We established that uTorrent is safe to use as software, if you're cautious. However, the files you're downloading are never 100% safe. Some people use uTorrent to download copyrighted and illegal files from the internet.
While those files are illegal and you can face legal troubles for sharing them, there's a chance that they're packed with malware and trojans that can pose risks on other files on your computer and the overall system.
Some torrent files are picked by antiviruses as false positives and are not malware, but it's still advised to avoid downloading from fishy websites, especially if you're downloading illegal files or software.
The uTorrent can't recognize malware in a torrent, but when you choose to download some files, you can choose what content of the torrent you'll download. You can always untick some suspicious .exe files if you're worried they'll compromise your system.
3.3 Bloatware
When installing or updating uTorrent on your computer, there's a chance that you'll stumble upon an offer to download an extra antivirus, or some other software that doesn't serve any important purpose. Furthermore, such programs can slow down your PC and jeopardize your system performance. Be careful when going through installation info, so you don't end up with extra unnecessary bloatware.
3.4 Ads
Ads are usually not a cause of concern, as long as you don't click on them. In the case of uTorrent, the unindexed ads that appear on the screen are merely inconvenient. However, if you click them, they can take you to some unindexed website with malicious intents. Make sure not to download anything from those sites, and steer clear of potential phishing tricks and fraudulent activity.
3.5 Legal Troubles
As mentioned earlier, while uTorrent is a legal software made by a known company the torrents that you may find across the internet may not be legal. Sharing illegal and copyrighted files, games, and software is known as piracy and is regulated by law across the world.
Depending on your country's law system, downloading pirated content may or may not be punishable by law. There are numerous ways to bypass these laws, but if you want your conscience to stay clean, avoid downloading illegal content.
4. How to Use uTorrent Safely?
We highlighted some security concerns tied to the use of uTorrent. If you want to avoid those concerns, here is a list of tips on how to use uTorrent safely.
4.1 Use an Antivirus Software
Using antivirus software is recommended regardless of whether you share torrents or not. In the case of torrenting, oftentimes people stumble across torrents that are packed with malicious files. Of course, you can always untick the files you think are potentially dangerous, but not everyone thinks of that.
Antivirus software will either quarantine or delete files in a torrent that they find suspicious. That way, you'll be protected from small .exe files that can wreak havoc on your system. Keeping your antivirus software up to date will take care of Trojans, ransomware, and other types of malware.
However, it's worth mentioning that some antivirus and antimalware software will detect uTorrent as malicious software. That's why you should only download the client from the official website.
4.2 Invest in a VPN
A VPN goes hand in hand with using torrenting software. It's a subscription-based service that allows you to hide your IP address, keeping your internet activity private, not only from hackers but also from ISP and your government. They protect your data and allow you to connect to one of the thousands of servers to protect your anonymity.
Remember how we mentioned that your IP address is visible to others sharing your torrent? This allows you to hide it. Many reliable VPN providers provide military-grade encryption services, so nothing you do online is revealed to third-party entities.
The best part of having a VPN is that they come with ad blockers that can hide the unindexed ads on the torrent client, which will protect you from threats hidden in the ads. Keep in mind that you shouldn't use a free VPN service because they are unreliable and may sell your data to analytical companies. Stick to premium services such as NordVPN and ExpressVPN.
VPN Service


www.nordvpn.com
NordVPN
Review
Price: $11.95 $3.71/month
Servers: 5500+ in 59 countries
Simultaneous connections: 6
Jurisdiction: Panama
Payment: PayPal, AmazonPay, Crypto, Google Pay, Klarna
Torrenting: OK
Unblocks US Netflix: Yes
Dedicated IP: $70/yr
TrustPilot Score: 4,7/5
Money-back: 30 days
Extra: Double VPN, Obfuscated servers
Visit NordVPN »


www.expressvpn.com
ExpressVPN
Review
Price: $12.95 $8.32/month
Servers: 3300+ in 94 countries
Simultaneous connections: 5
Jurisdiction: British Virgin Islands
Payment: PayPal, Crypto, AliPay, Klarna,
Torrenting: OK
Unblocks US Netflix: Yes
Dedicated IP: Not provided
TrustPilot Score: 4,7/5
Money-back: 30 days
Visit ExpressVPN »


www.cyberghostvpn.com
CyberGhost
Review
Price: $11.99 $2.25/month
Servers: 6600+ in 89 coutrines
Simultaneous connections: 7
Jurisdiction: Romania
Payment: PayPal, Crypto
Torrenting: OK
Unblocks US Netflix: Yes
Dedicated IP: $51/yr
TrustPilot Score: 4,8/5
Money-back: 45 days
Visit CyberGhost »


www.surfshark.com
Surfshark
Price: $11.95 $2.49/month
Servers: 3200+ in 65 coutrines
Simultaneous connections: Unlimited
Jurisdiction: British Virgin Islands
Payment: PayPal, Crypto, Google Pay, Amazon Pay
Torrenting: OK
Unblocks US Netflix: Yes
Dedicated IP: Not provided
TrustPilot Score: 4,3/5
Money-back: 30 days
Visit Surfshark »


www.purevpn.com
PureVPN
Review
Price: $9.60 $3.33/month
Servers: 6500+ in 140 coutrines
Simultaneous connections: 10
Jurisdiction: Hong Kong
Payment: PayPal, Credit Cards
Torrenting: OK
Unblocks US Netflix: Yes
Dedicated IP: $35.88/yr
TrustPilot Score: 4,7/5
Money-back: 31 days
Visit PureVPN »
4.3 Disable Ads on uTorrent
Even though the ads on uTorrent are annoying, it's possible to disable them. All you have to do is:
Step 1: Go to Options and then click Preferences. Go to the Advanced tab.
Step 2: Find the following options:
show_notorrents_node
enable_pulse
left_rail_offer_enabled
sponsored_torrent_offer_enabled
content_offer_autoexec
Step 3: After you found those options, change them to False.
Step 4: Click OK.
You successfully managed to disable ads! Now you won't have to worry about clicking them accidentally.
5. Frequently Asked Questions About uTorrent
There are a lot of questions about uTorrent on the web. We tried to answer some of them to make your use of them more convenient.
5.1 Is uTorrent Illegal?
uTorrent is not illegal. It's developed and managed by Rainberry, Inc, which was formerly known as BitTorrent, Inc. It's perfectly legal, as long as it's used for downloading legal software and files. Piracy, however, is illegal and shouldn't be practiced.
5.2 Can You Be Tracked When Using uTorrent?
Unfortunately, the answer is yes. Your IP address is visible to other people who are downloading and seeding the torrent at the same time as you. Luckily, you can overcome this with a VPN that successfully makes you anonymous even while torrenting.
6. Final Words
uTorrent is among the most popular torrenting clients, used by millions of people per day. However, due to some shady actions by the developers, many people are questioning its safety. Generally speaking, uTorrent is not safe to use for someone who knows absolutely nothing about online security and privacy.
Luckily, there are some measures that you can take to share and download torrent files without risking your data and resources. Being educated on different threats that lurk online and avoiding downloading copyrighted and illegal content will make using uTorrent much more convenient and safer.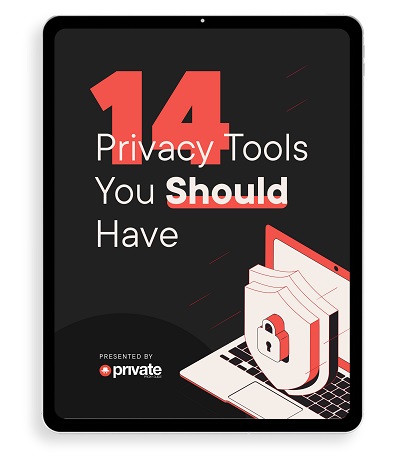 Learn how to stay safe online in this free 34-page eBook.