What do you feel when you see thousands of Instagram accounts with millions of followers? Do you want to gain the same popularity? Now, you can get more likes and comments from real people, get more followers and more attention.
Growth Hacking is a new trend that captures all industries and companies. There are a lot of Instagram growth tools online, and Kicksta (kicksta.co) is among the best ones.
With Kicksta, you will get thousands of real Instagram followers. Instagrammers can continue to develop their page and successfully communicate with their audience. It's easy to promote your content!
1.1 What is Kicksta?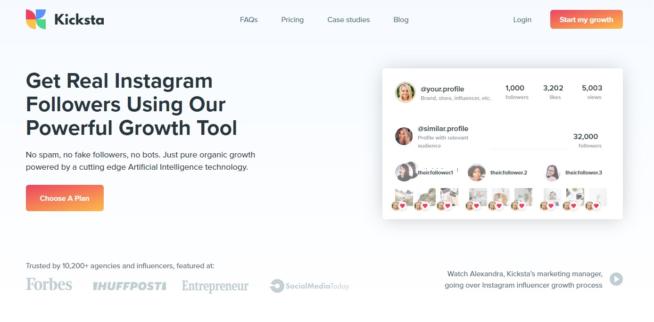 Kicksta is an automated organic growth tool designed to attract real followers and boost overall Instagram engagement. And more Instagram followers mean better social influence: brands and influencers with a high following and high engagement are seen as legitimate industry leaders.
With Kicksta's "Like Method", customers can expect to gain real followers that will quickly drive their business to grow. Using this tool, many influencers and entrepreneurs will watch this organic growth lead to new customers, more contracts, paid partnerships, and an overall increase in sales.
Key Features:
Kicksta provides Instagram users with a platform that helps them grow their audience, regardless if it's a personal or business page.
With Kicksta, you can get up to 10 times better growth compared to any other social media platform.
Kicksta is the perfect way to boost your Instagram brand growth effortlessly. Thousands of digital marketing agencies and influencers use the platform for organic reach and growth.
Kicksta allows you to automatically interact with your followers by "Like" messages from people who follow profiles like yours. All you must do is keep adding the appropriate accounts to reach the maximum result.
1.2 How Kicksta works
Once signed up, Kicksta customers start their Instagram growth by choosing targeted Instagram accounts similar to theirs. Once the target accounts are set up, the service will like 1 or 2 photos from each subscriber of those target accounts. The idea is that when users see that someone liked their posts, they open their Instagram page and follow them back.
Since Kicksta targets similar accounts, those followers are much more likely to visit your Instagram and follow you. The service likes 30,000 photos per month, making it one of the most effective tools to grow reach organically. As Kicksta interacts organically with real followers, it promotes natural and authentic growth.
1.3 How to start working with Kicksta?
Step 1: Select the plan
To start using Kicksta, you first must select the plan: Standard or Premium. Each package guarantees real growth for customers and offers specific filters and features. The Premium plan offers VIP email and live chat support, as well as some enhanced options.
In addition to the Premium features, the Kicksta Boost Plan also includes the Boost Plan which guarantees real followers and some additional services.
Next, you will need to enter your email and bank card credentials. Unfortunately, a bank card is the only available payment method. If you have a coupon, apply it here.
The service will charge you the monthly subscription and you will be able to go to the next step.
Step 2: Set up an account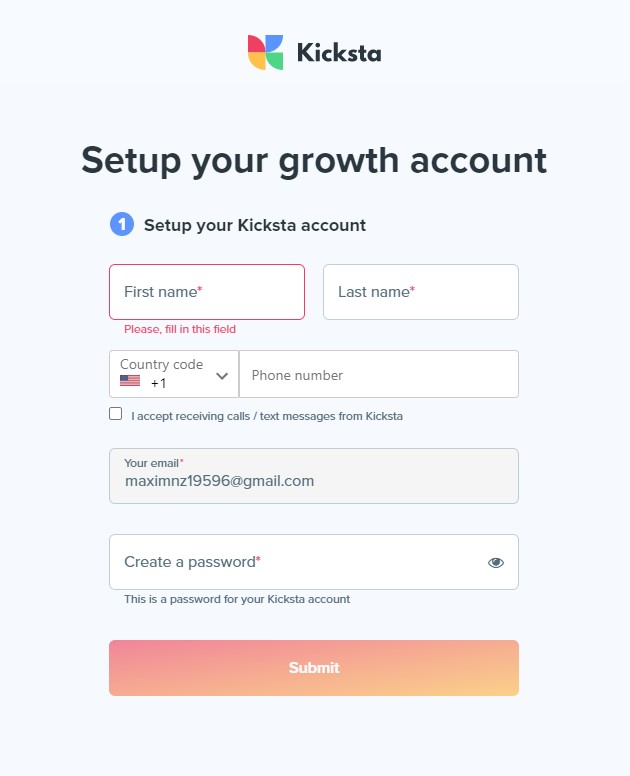 In this section, the platform will ask you to add your first and last names, email address, and create a password. In addition, if you want to receive calls and text messages from Kicksta, you can add your phone number.
Step 3: Connect your Instagram account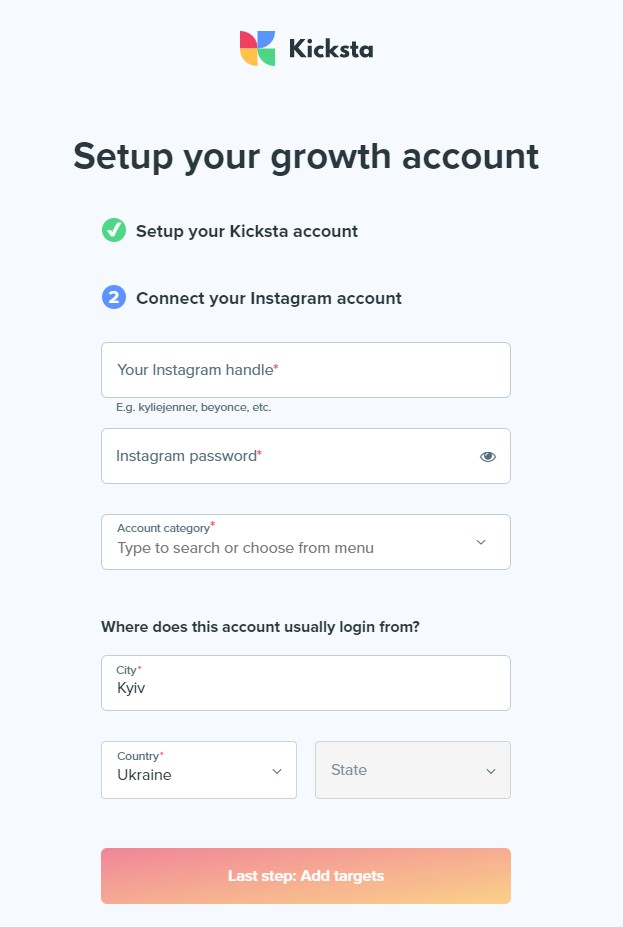 Next, connect the Instagram account you are going to promote. Add your login and password, and then select an account category.
There are a lot of available categories. If you do not see your category in the drop-down menu, start typing its name and select the full name from the suggested variants.
Also, add the city and country from where you usually log in to your Instagram.
Step 4: Setup targets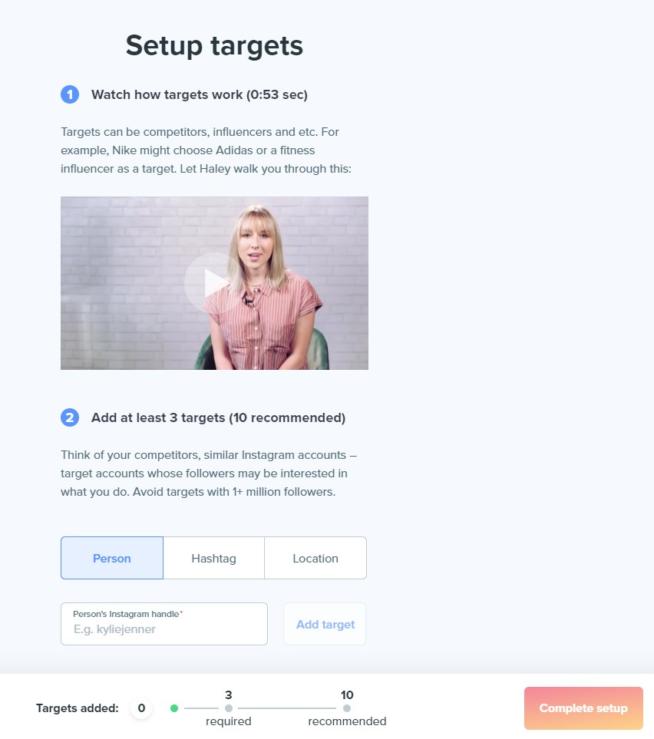 To take full advantage of Kicksta, add the correct target accounts, the most appropriate hashtags, or locations to attract the right subscribers. This seems to be the most difficult step. Why? The system often doesn't accept the accounts, locations, or hashtags you enter.
For the most effective results, choose targeted accounts with several thousand followers. Kicksta will use its automatic likes method to organically grab the attention of its followers.
Besides choosing the target accounts, choose hashtags that are relevant to your content and brand. They must be popular enough for other people. These hashtags will make your content easily accessible to other Instagrammers, influencers, and brands.
Not sure which accounts or hashtags to target? Check out the Kicksta FAQ page, your account manager, and video resources. This information will point you to the best accounts that will bring you the most followers.
Kicksta will provide you with reports showing the top-performing and least-performing accounts, making it easy to determine which accounts to delete and which type of accounts to target next.
Moreover, Kicksta has a hashtag generator. Enter any keyword in the free Kicksta hashtag generator, submit your email address, and you'll get a list of generated hashtags.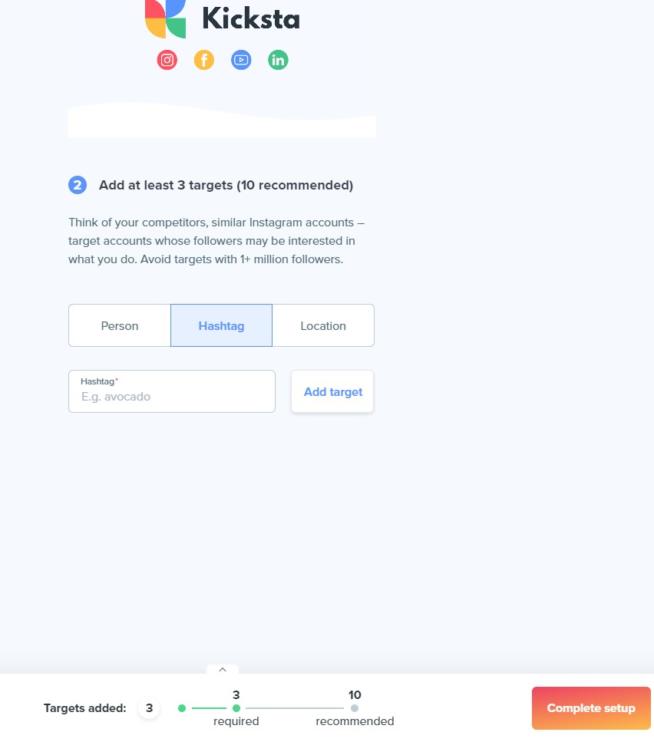 You must add at least three targets, otherwise, the system will not let you complete the setup.
Step 5: Complete the setup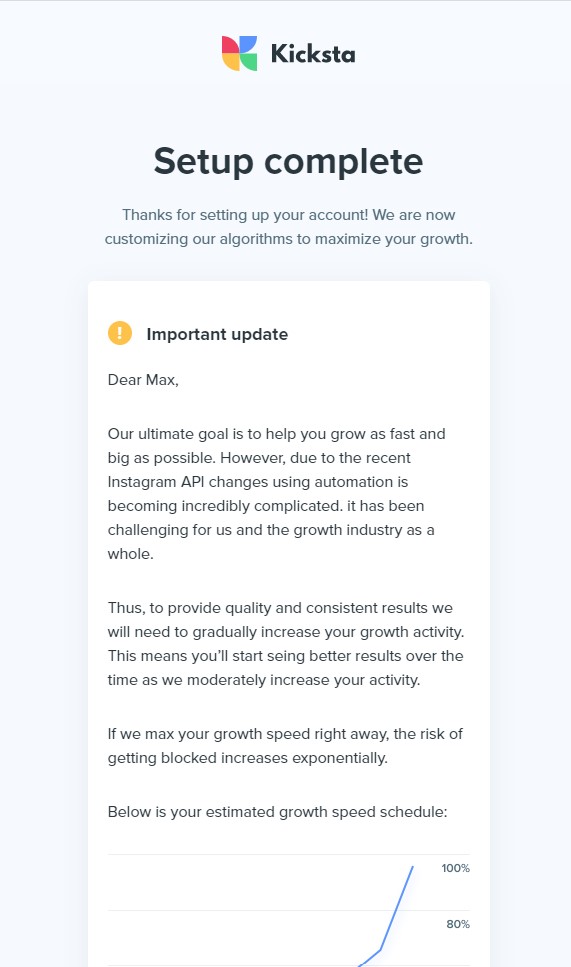 Once the system accepts all your targets, check the box that you read and agree with the terms and conditions. Now, you'll see the dashboard with all the info about your account and reports.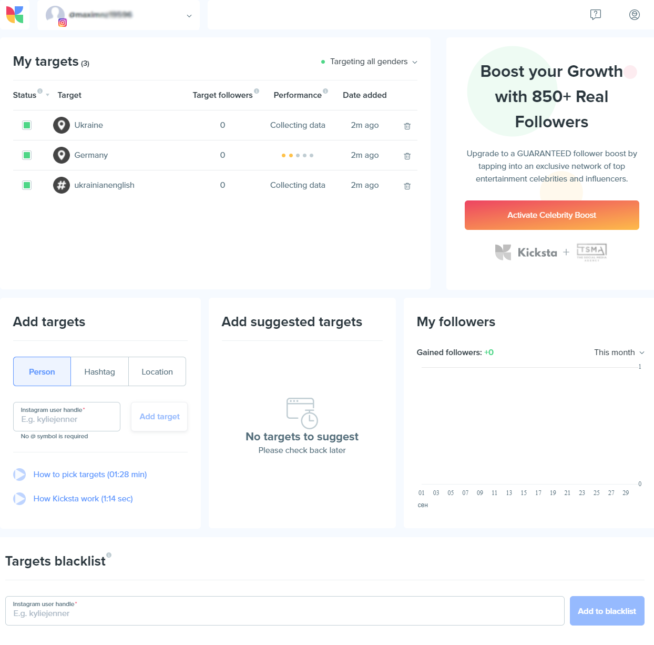 1.4 Kicksta Filters and Features
There are a lot of features and smart filters Kicksta customers can use to maximize their growth potential and better choose the type of subscribers to follow. Likewise, customers do not need to worry about automated direct messages or comments.

As you grow your Instagram organically with Kicksta, you'll have access to smart filters. While Kicksta's advanced filtering methods differ depending on the plan you choose, each package offers powerful features that make it easy to use the service.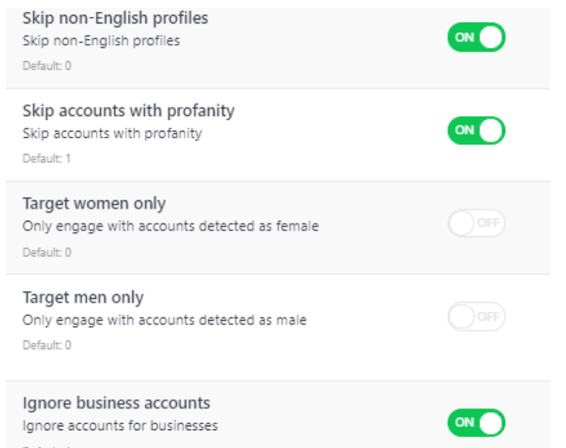 You can use the following filters to filter out spam and Instagram accounts:
Ignore personal accounts
Ignore suspicious accounts (accounts with strange subscriber ratios)
Ignore inactive accounts (accounts without posts in the last 90 days)
Ignore new accounts (accounts that are only a few months old)
Also, there are some advanced filters:
Gender filter
Profanity
Blacklist filter
Business account filters
Foreign language filter
Kicksta imitates human behavior, and it looks like a human interacts with the platform. With up to 1,500 interactions per day, you'll find out that the platform easily increases your engagement and organic tracking.
1.5 Reports and Analytics
Another important feature is the reporting capabilities. Their detailed analytics help the customers to follow trends and determine which goals and features are most effective.
Kicksta uses high-level statistics and customized targeting reports to show your Instagram growth details. These metrics are in the Kicksta Subscriber Count section, which displays the total number of new subscribers.
The daily statistics section displays the net subscriber count.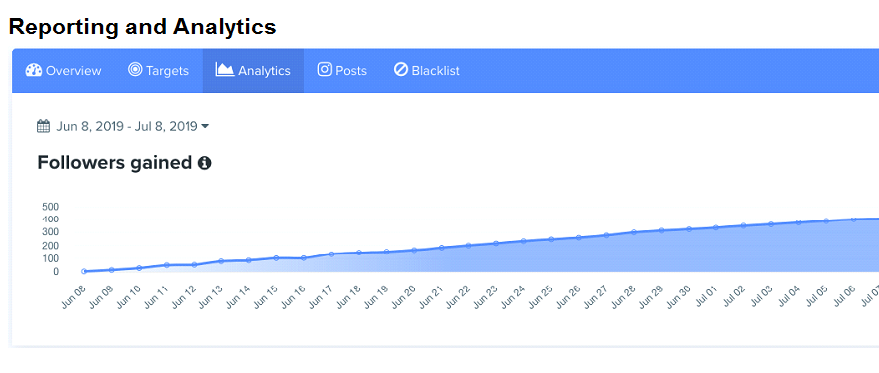 With these detailed statistics, customers can analyze their growth and determine which individual target account performance is the best. That will let them better understand their goals and remove accounts with low performance.
Additionally, Kicksta customers can use the Recent Posts section to track likes and comments on recent posts, as well as view statistics related to their engagement rate. These metrics help to identify the most successful posts by revealing the type of content you should reproduce to experience the same type of engagement with future posts.
1.6 Kicksta Customer Support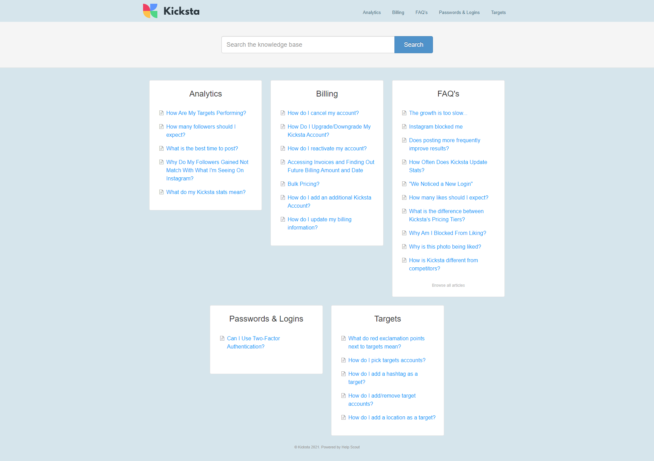 Kicksta customers have access to 24/7 customer support via email or live chat. Customers with a professional plan can use the Kicksta manager when setting new goals and working to optimize growth.
Customers who have any further questions can also view detailed FAQs about Kicksta, as well as watch video guides that give answers to common questions about using the platform.
However, this support is far from being operative. The live chat is hard to reach out of business hours. Also, when you contact them during those hours, you will still most likely have to wait for hours for a response.
2. Kicksta FAQ
2.1 Is Kicksta indeed safe and effective?
Yes, it is safe to use Kicksta. However, if you feel that Instagram limits your account, stop using it.
2.2 Will you get banned?
Kicksta helps you to get more real Instagram followers, and they target people based on interests. So, you will not get banned.
2.3 Does Kicksta offer any guarantees?
Yes, they offer a 14-day money-back guarantee. You can contact the support team, and they will help you to get your money back.
2.4 Will Kicksta work in my industry?
Yes, it will work because their process is the same for every niche.
2.5 How many followers should I expect using Kicksta?
Kicksta does not guarantee the number of subscribers or likes, as every account is different, and results may vary. Don't forget to publish high-quality content on your Instagram page.
2.6 Can I get 100 Instagram followers?
You can do this if your niche is trending, and people enjoy following your account. Again, it depends on the content you post to your Instagram account.
2.7 Can I close my Kicksta account at any time?
Yes, you can close your Kicksta account.
2.8 Does Kicksta offer discount coupons?
Yes, Kicksta offers a discount on their plans, and you can save up to 60% if you opt for their premium plan.
3. Conclusion – Is Kicksta Worth Using?
Kicksta is one of the most successful organic growth tools for Instagram. Brands, influencers, and entrepreneurs will benefit from its efforts to grow the number of Instagram followers.
In a world where everyone is out for attention, Kicksta offers the perfect solution. Nowadays, it is becoming increasingly difficult to find followers interested in your posts. Kicksta helps to change the situation.
The best thing about this service is that it never posts or sends direct messages. It guarantees that your accounts won't get flagged by the Instagram spam filters.
After looking at all the features, filters, and statistics of real Kicksta customers, it's clear that this Instagram growth tool is a legitimate way to boost your social media platform efforts.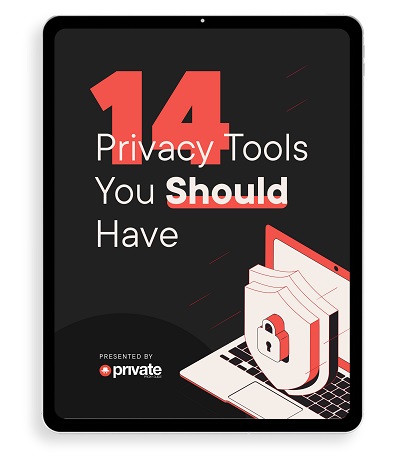 Learn how to stay safe online in this free 34-page eBook.