The topic of cyber security got all the more popular with the constant increase of online threats. When discussing this topic, people are aware of the names like ExpressVPN and NordVPN. After all, these two are deemed the best VPNs on the market.
However, many freshly-baked providers are looking to take their piece of the pie. One of them is iTop VPN, which, I'm sure, you don't know a lot about. Yet, this VPN is known to a small group of people for its focus on security and privacy, but also tons of dependable VPN servers.
Besides, iTop is a company that offers many other security-oriented apps that include a password manager, data protector, and even a private browser. But how good is their iTop VPN, you might ask? Well, that's what I aim to answer in this iTop VPN review for 2023.
1. Verdict
For those in a hurry, let me quickly mention my findings in this iTop VPN review. iTop VPN is a surprisingly good VPN provider, offering no bandwdith limits, solid speeds, and rock-solid security. Its applications on desktop and mobile devices look beautiful and are easy to use.
While iTop VPN lacks the device support of more popular VPNs, it has many other features to balance things out. For one, it works with Netflix US and comes with specialty servers for P2P, streaming, social media, and gaming.
Moreover, iTopVPN offers a free plan as well, although it's a bit limited in terms of the server park and bandwdith. Still, the VPN comes with an ad-blocker as a bonus functionality and offers flexible subscription plans to adapt to users on a budget.
For the price, iTop VPN represents a decent choice for moderately demanding VPN users. That especially rings true for long-term plans that come with incredibly cheap prices!
| | |
| --- | --- |
| Jurisdiction | Hong Kong |
| Simultaneous connections | 5 |
| Free trial | No free trial; the free plan included (700 MB daily + 16 servers) |
| Supported VPN protocols | OpenVPN (TCP and UDP) & HTTPS |
| Logs policy | No logs |
| Price | $59.99 ($1.66/mo) for a 3-year plan |
| Money-back guarantee | 30-day money-back guarantee |
| Customer support | Email |
| Works with Netflix? | Yes |
| Allows torrenting? | Yes |
| Servers | 1,800+ servers in 100+ locations |
Pros
Easy-to-use applications
Specialty servers for streaming, downloading, social media, and gaming
Reliable ad-blocker
Affordable prices
Military-grade encryption
OpenVPN support
Free plan included
Cons
Based in Hong Kong
No 24/7 live chat support
Device support could be better
2. What I Liked About iTop VPN?
2.1 Desktop App
Starting off this iTop VPN review, I must address its desktop app first. Besides, most likely, you're going to start by using it and I'm sure it'll be a pleasant surprise. The desktop client looks like this: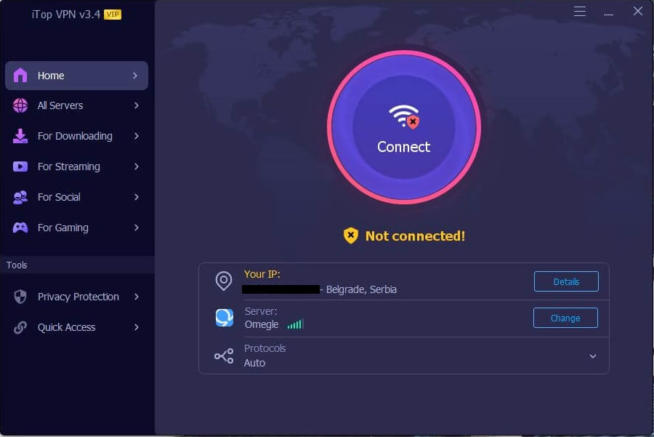 As you can see, it sports a modern look with a big connection button in the middle and additional settings on the left side. The specialty and normal servers that I'll talk about later are easily accessible, and with one click, you can connect to a server for streaming, gaming, or anything else.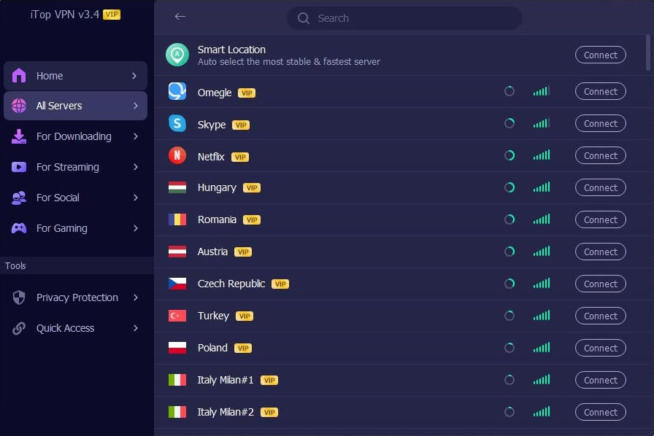 Underneath the server list, you'll find the Privacy Protection suite. Once again, I'll describe it in a minute, but one feature I really like is called Quick Access. By clicking on it, iTop VPN opens up a menu that lets you quickly connect to a server for specific actions.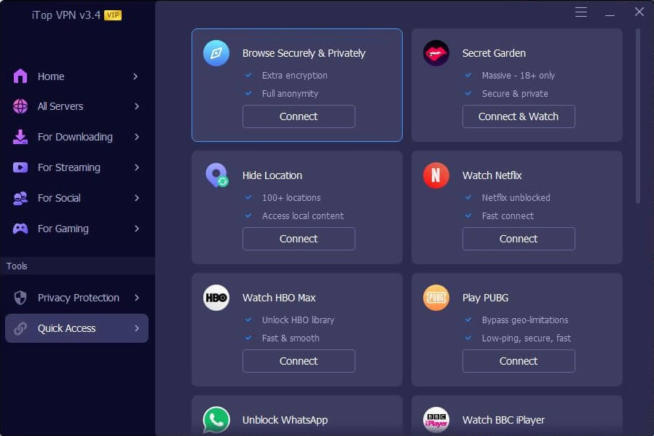 For example, if you want to play PUBG, you just click on Connect underneath that sub-menu and iTop VPN will do the rest.
Accessing Settings is easy. In the top-right corner of the screen, you'll see three horizontal lines. By clicking on them, you'll get the option called Settings, so click on it, and you'll be able to change how the app behaves or choose from one of the protocols.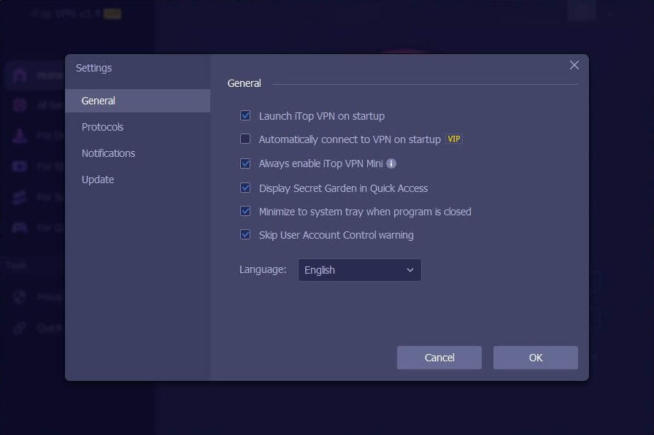 Mind you, the app has LOTS of behavioral options which I really like. Not to mention many language options, making it easy to adapt the app to your language. Not all languages are there, though, but I'm sure you'll find something for you if English isn't your forte.
2.2. Mobile App
When it comes to mobile platforms, iTop VPN supports both iOS and Android platforms. I use iOS and so far, I had no issues with the VPN in terms of performance, bugs, glitches, and whatnot. How does the app look? I'd say pretty good – take a look.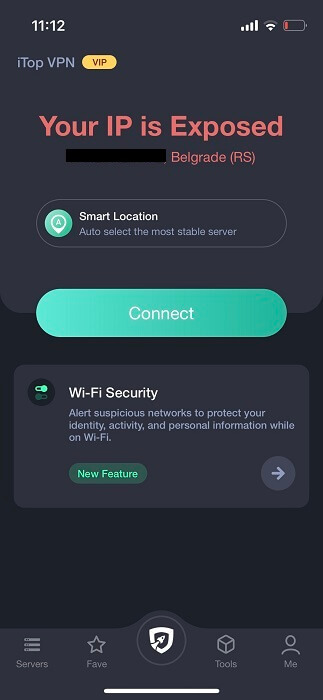 The app is a bit different than its desktop counterpart. However, it's all really simple, with a connection button on the home screen and the server list that you can open by tapping on Servers in the bottom-left corner of the screen.
Needless to say, tapping once on the server of your choice will connect you to that server, and thankfully, iTop VPN does that part flawlessly in terms of connection speeds.
Moving on, the server list is comprised of servers for different purposes. On iOS, I got gaming servers as well, which, as a passionate gamer, I do appreciate. Although, there's a group of servers called "Others" where you can find those for streaming and social media.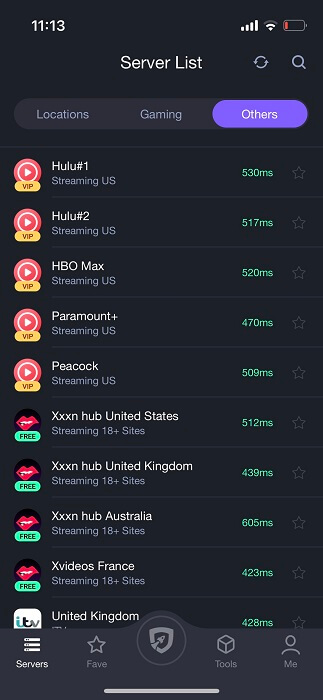 By tapping on Tools, you can access additional features.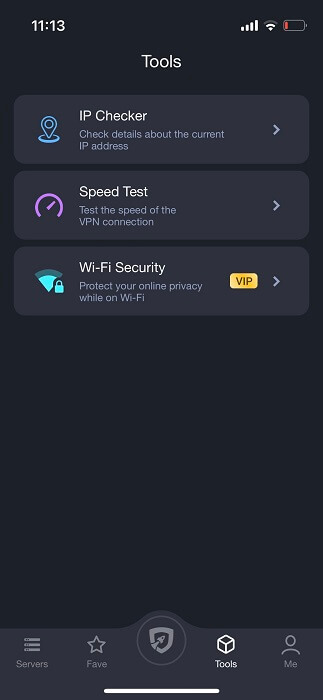 Some of them include an IP checker, Speed Test, and Wi-Fi Security – nothing too fancy. By tapping on Me and choosing More Settings, you can change the protocol as well!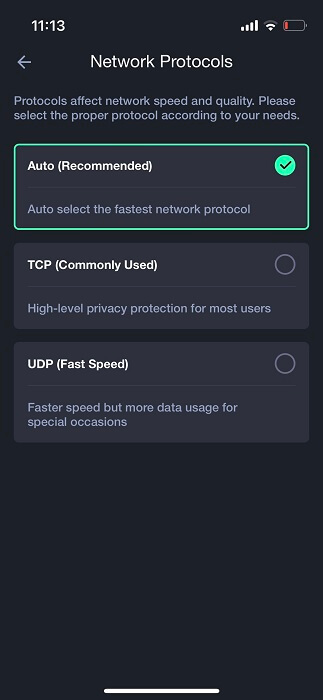 But, as you can see, iTop VPN uses only OpenVPN on iOS, so you can switch from TCP and UDP.
2.3 Specialty Servers
In this iTop VPN review, I'll need to address these specialty servers. Besides, you get lots of them and they've proven to be very beneficial to me and my way of using the internet.
Downloading/P2P Servers
As a testament to its P2P-friendliness, iTop VPN offers servers for downloading i.e. P2P. This is very useful for downloading torrents safely and securely and should be used any time you do so. I don't like that there are just 6 server locations here, by the way.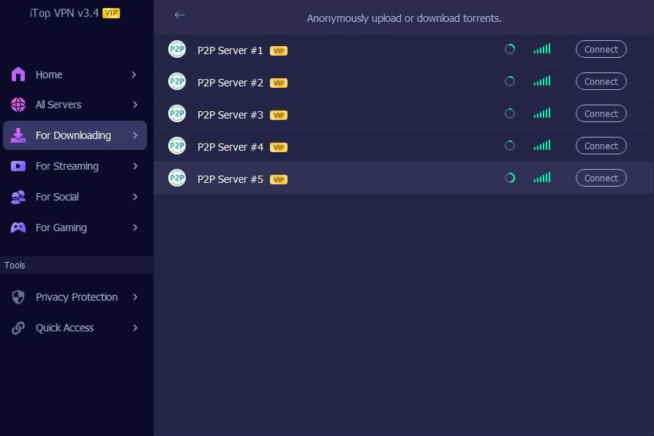 This means that you might not be able to find a server close to you, thus, failing to maximize your torrenting performance.
Streaming Servers
On the other hand, there are tons of streaming servers here – some of which I didn't expect to find. For instance, there are servers for watching porn and they're based in the US, the UK, Australia, and France.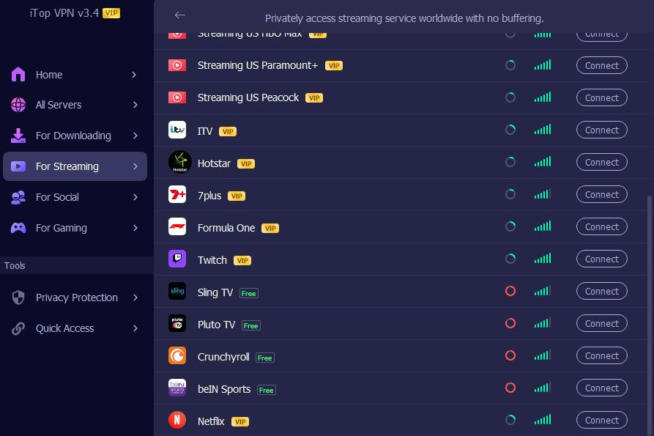 Additionally, iTop VPN has servers for Netflix, ITV, Hotstar, Pluto TV, Sling TV, Hulu, Disney+, Crunchyroll, and many more services.
Social Media Servers
Looking to stay safe on social media? Well, iTop VPN has a solution for that. Apart from servers for Facebook, WhatsApp, Twitter, Instagram, and TikTok, it offers some unusual servers.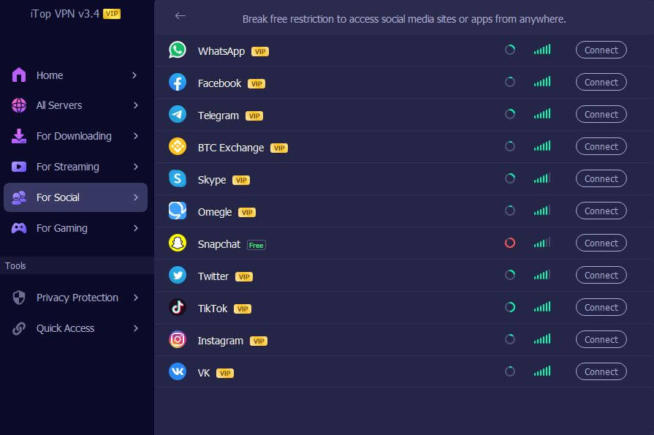 For example, I tested its BTC Exchange server that functioned well and there's a server for Omegle. Although, given Omegle's stringent anti-VPN measures, I thought it won't work, only to be surprised by the opposite result.
Gaming Servers
Finally, there are gaming servers as well. They're split not only into locations they're located but also the games they're built for. On the list, you'll find Minecraft, CSGO, Elyon, WoT, PUBG, Roblox, and other popular titles.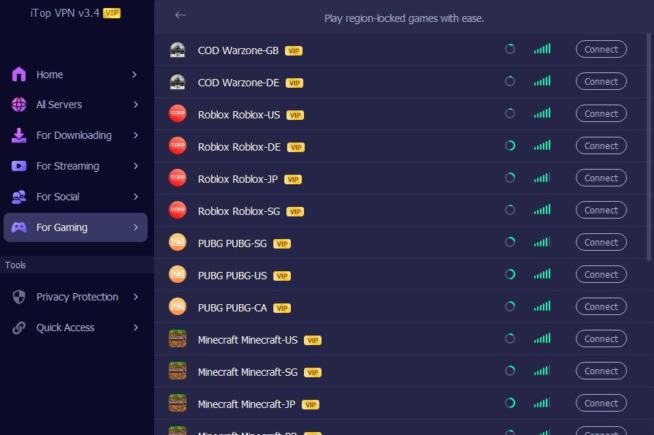 If your gaming voyages never take you outside of the mainstream borders, I think you'll be pretty pleased with these servers.
2.4 Privacy Protection
The Privacy Protection suite is another great thing about iTop VPN. It's a fancy name for standard and not-so-standard VPN features that greatly add to its overall quality.
In this menu, iTop VPN will offer Security Reinforce, a feature that automatically fixes your computer's weaknesses. Then, you also have the option to clean your browser of privacy-exposing items or configure your IP address.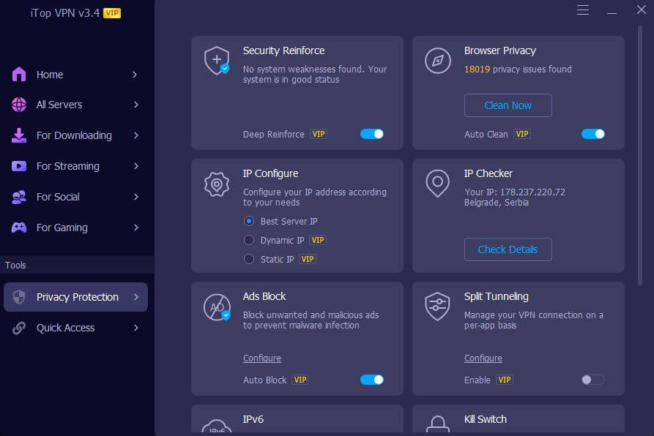 A useful IP Checker feature is here as well, with the addition of an ad-blocker, split tunneling, and an automatic kill switch that works like a charm. Needless to say, DNS protection is here, and by default, it's enabled, which I recommend keeping that way.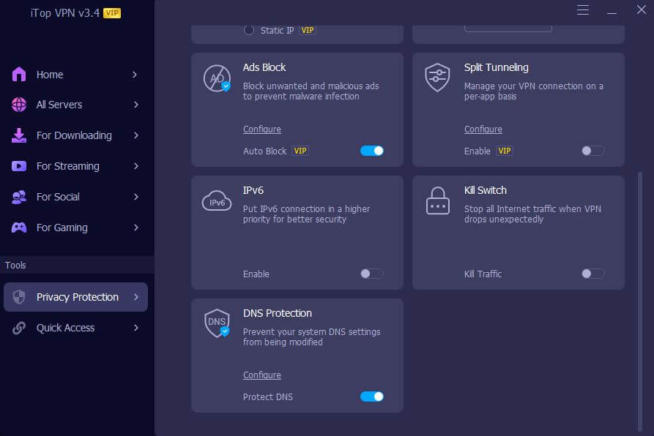 If you want, you can put the IPv6 connection in a higher priority and make iTop VPN more secure.
Overall, I'd say that this Security Reinforce feature is my favorite of all of these. I mean, it found more than 50 weaknesses and with one click, I managed to fix them all. Some of them require you to reboot your PC, after which, the noticeable changes will take effect.
2.5 No-Logs Policy
iTop VPN's privacy policy is short and to the point. Luckily, we're talking about a no-logs policy, which means that your privacy is intact while using iTop VPN. Take a look at a few things here.
As you can see, iTop VPN won't track your original IP, traffic destination, browsing history, DNS queries, or transferred data. Moreover, the amount of data it stores is minimal.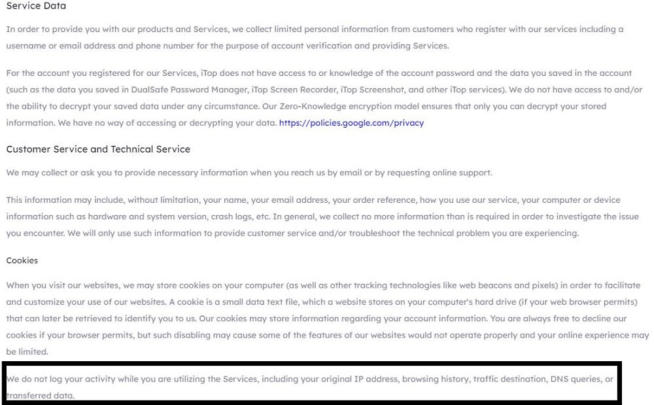 Here, we're talking about necessary information such as billing info and account-related information for the subscription to work properly. However, what I don't like is that the third-party tools that iTop VPN uses come from Google and Microsoft.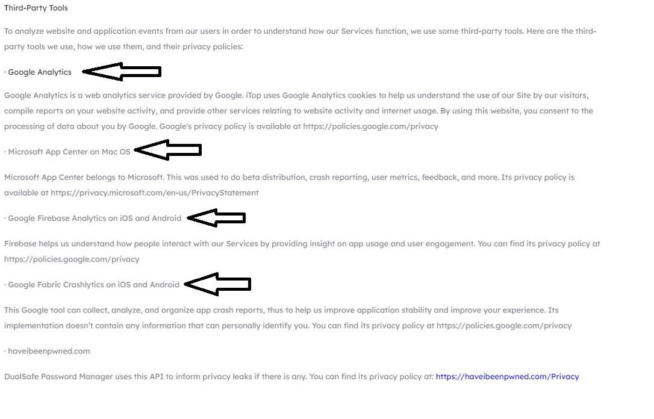 To be precise, Google Analytics cookies invoke my suspicions, as Google isn't exactly your privacy-friendly companion, as it claims to be. Also, I'd like to see a 3rd party audit on this no-logs policy, but given that iTop VPN had no issues with leaking information, I think it's safe to say that it stores no logs.
2.6 Affordable Pricing for Long-Term Plans
Another thing I like is just how affordable iTop VPN is. Compared to ExpressVPN or NordVPN, for example, its prices for long-term plans are pretty low.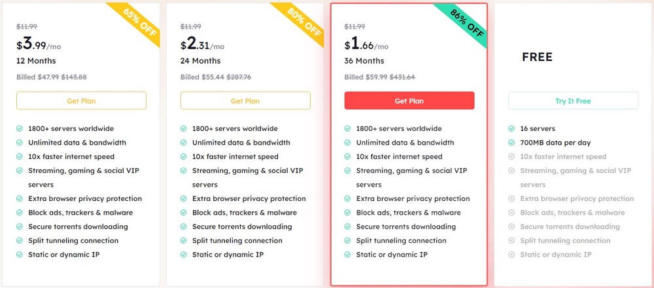 The cheapest, 3-year plan is priced at just $1.66 a month and compared to CyberGhost, let's say, it costs approximately a dollar less a month. Translated into a 3-year subscription and you save around $36 upfront, which isn't negligible.
Free Plan
Don't forget about iTop VPN's free plan, though. The VPN can be used for free forever and all you have to do is download its app to your PC/phone. Best of all, it requires no login, so you can use it without providing any personal info.
While it's good that it's there, the free plan is limited to 700 MB of data per day and just 16 servers. However, at least you can test it out for a few days this way and determine whether or not you want to purchase it.
2.7 No IP & DNS Leaks Detected
To make sure iTop VPN is really secure, I felt the need to do a few IP and DNS leak tests. For this iTop VPN review, I used this website called ipleak.net. This site will show you both IP and DNS addresses, making it easy to see if there are any unwanted leaks.
Test 1: Without VPN – Default
The first test is pretty simple. I'm showing you my real location without using a VPN so that you can see where my IP is based and what the leaked DNS addresses look like. This is how it looks without VPN protection.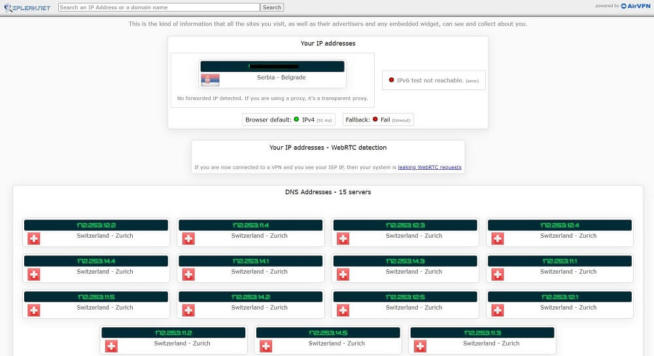 Test 2: New York City, USA – With VPN
Once I connected to a VPN server in New York, I visited ipleak.net again to check out the results. As anticipated, iTop VPN showed no IP or DNS leaks, providing great results as such.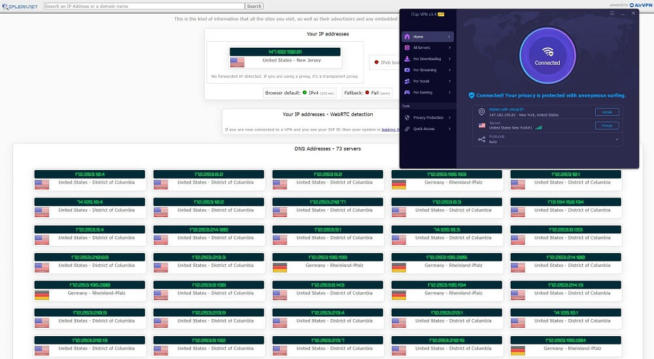 Test 3: London, UK – With VPN
I could say the same story about the server in London. As you can see, my IP address is really based in London and no DNS addresses were leaked in the process.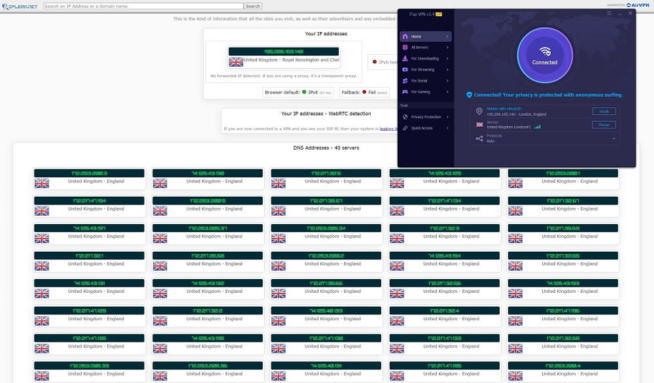 Test 4: Frankfurt, Germany – With VPN
What about Germany? Well, iTop VPN's German servers proved to be excellent in this case. Once connected to one of them, I had no issues keeping my IP and DNS addresses fully concealed.
Test 5: Sao Paulo, Brazil – With VPN
For the last test, I used a server in Sao Paulo, Brazil where the VPN showed no IP or DNS leaks – as I expected it to be. So overall, we can say that iTop VPN performs well when it comes to overall security and privacy, which, for a less popular VPN, is a pretty impressive statement.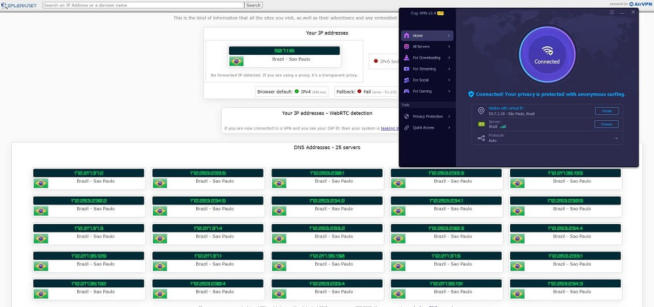 2.8 Solid Performance
Unlike some other cheap providers, iTop VPN offers what I can call decent performance. I said decent because it's not going to reinvent the wheel. However, saying it's very slow would be a lie and we don't deal with lies here.
Before showing you my test results, let's take a look at my PC specs and internet speeds:
| | |
| --- | --- |
| Internet Speed | 200 Mbps Download, 100 Mbps Upload |
| LAN Chipset | Realtek 8111H |
| Processor | AMD Ryzen 5 3600 |
| Browser | Google Chrome and Mozilla Firefox |
To conduct my tests, I used the website speedtest.net and all tests were done 3 times a day – in the morning, the afternoon, and evening. That way, I made sure to cover all parts of the day, which gave me accurate results and the real-world level of performance that iTop VPN provides.
Beware that I tested 7 locations, including my own, so let's take a look at the results:
| | |
| --- | --- |
| City | Speed (Download, Upload) |
| Serbia (Host Region) | 186 Mbps, 82 Mbps |
| Germany | 179 Mbps, 80 Mbps |
| USA | 120 Mbps, 46 Mbps |
| France | 168 Mbps, 59 Mbps |
| United Kingdom | 153 Mbps, 51 Mbps |
| Japan | 53 Mbps, 12 Mbps |
| Brazil | 45 Mbps, 16 Mbps |
2.9 Works With Netflix
The last thing I liked in my iTop VPN review was streaming performance. After conducting my usual tests on Netflix, BBC iPlayer, and Hotstar, I concluded that all 3 platforms work flawlessly.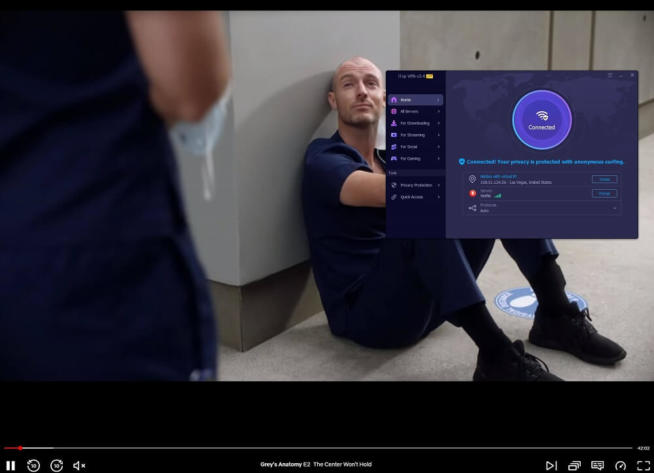 As you can see in the screenshot, Netflix US worked flawlessly, for example, and I could watch Grey's Anatomy with no issues. Bear in mind that this show is available in the US and Canada only, and with my location in Eastern Europe, I could still watch it with no issues – props to iTop VPN for that.
3. What I Did Not Like About iTop VPN?
3.1 No Live Chat Support
Having in mind this is a premium VPN, it was a bit disappointing that it doesn't have 24/7 live chat support. Its email support isn't the best and you shouldn't expect blazing-fast answers, which further makes the overall experience a bit lacking.
3.2 Average Device Support
Device support in iTop VPN is surprisingly basic. I mean, you can use it on standard platforms like Windows, macOS, iOS, and Android. On the flip side, it doesn't support Firestick TV or even Linux, which I found quite baffling.

Not to mention that there's no router support in place and the VPN has just 5 simultaneous connections. Although, having in mind its cheap price, expecting something more isn't too realistic – isn't it?
3.3 Based in Hong Kong
Despite its no-logs policy, I don't like iTop VPN's jurisdiction – Hong Kong. Hong Kong, while not a part of the mainland, is still a part of China. And if you know about Tencent and other Chinese data-collection and spying companies, you know that basing a VPN in China is not a good idea.
We can't say for sure that iTop VPN is going to collect and give out your personal info to the Chinese authorities. However, you should keep in mind the mainland's growing influence on Hong Kong which can interfere with privacy laws in this region.
3.4 No WireGuard Protocol
WireGuard is a protocol that you can find on many modern VPNs be it its vanilla version or its derivatives. While I still like OpenVPN, I think that WireGuard is much more future-proof. With better speeds and more stable performance, I'd like to see this protocol in iTop VPN.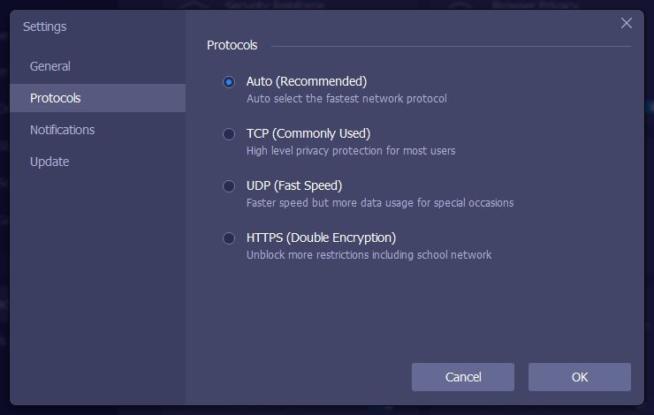 For now, though, I think it's highly unlikely that we'll see that change.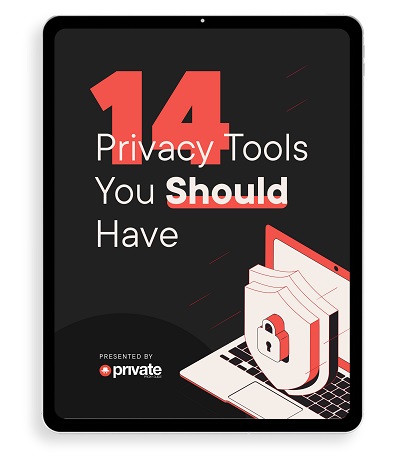 Learn how to stay safe online in this free 34-page eBook.