Having a VPN installed on your device will ensure a safe and secure internet experience. However, when talking about really good VPNs, not many of them are crossing the line of excellence. While some are known for storing a ridiculous amount of user info, some are simply not secure enough.
Today, we're going to talk about a very interesting VPN called VPN Unlimited. Coming from a cyber security giant Keepsolid, VPN Unlimited promises impeccable security, great performance, and a few tidbits like unlimited streaming and torrenting.
In today's VPN Unlimited review, we'll see if that rings true. To do so, we're going to examine its apps, performance, privacy policy, and everything else, thus, making sure we give you the right conclusion. Therefore, let's see if VPN Unlimited is a good choice.
1. Verdict
If you're in a rush, let me give you a brief overview of VPN Unlimited. Keepsolid did a good job with its VPN Unlimited solution, offering unlimited bandwidth, beautiful-looking VPN apps, and tons of security features. Not to mention its great device support.
Thanks to it, you'll be able to install VPN Unlimited on all your devices and protect up to 5 of them at the same time. We also like features like a kill switch, and DNS Firewall, but also dedicated P2P servers for safe and secure torrenting.
This, accompanied by reliable and round-the-clock 24/7 live chat support makes Keepsolid VPN Unlimited a great solution for secure online adventures. However, bear in mind that its performance is average, and I had trouble unblocking US Netflix.
But given its overall quality, that shouldn't be a big deal. Especially if we factor in its dirt-cheap lifetime VPN plan!
| | |
| --- | --- |
| Jurisdiction | US (New York) |
| Simultaneous connections | 5 |
| Free trial | 7-day free trial for mobile users (Free, limited version is present) |
| Supported VPN Protocols | WireGuard, IKEv2, OpenVPN, Keepsolid Wise (UDP, TCP, and TLS) |
| Logs policy | No logs |
| Price | From $99.99 for a 3-year plan (plus $99.99 for a lifetime plan) |
| Money-back guarantee | 30-day money-back guarantee |
| Customer support | 24/7 live chat + email |
| Works with Netflix? | No |
| Allows torrenting? | Yes |
| Servers | 500+ servers in 80+ locations |
Pros
Intuitive applications
Router support
Rock-solid security
256-bit encryption
P2P/streaming servers
Support for WireGuard
24/7 live chat support
A Lifetime subscription plan
Cons
Unable to unblock US Netflix
Speeds could get an overhaul
Smaller server park
1.1 The Lifetime Plan of VPN Unlimited: Is It Worth the Price?
VPN Unlimited is one of the rare VPNs with a so-called "Lifetime" plan. This Lifetime plan costs $99.99 at the time of writing this review and it's a one-time payment. Once you pay for it, you get to use the VPN forever or as long as it exists.
Bear in mind that you get all of its features, including unlimited bandwidth, simultaneous connections, and rock-solid security in this case. For the price, I think that the "Lifetime" plan is indeed worth it. Especially when you compare it to a 3-year plan that costs the same over the 3 years.
2. What I Liked About VPN Unlimited?
2.1 Desktop App
Starting off this VPN Unlimited review, I must praise its desktop application. It's available for Windows and Mac and is the definition of sheer simplicity. The home screen consists of a world map, with a huge connection button and the server list that you can open below.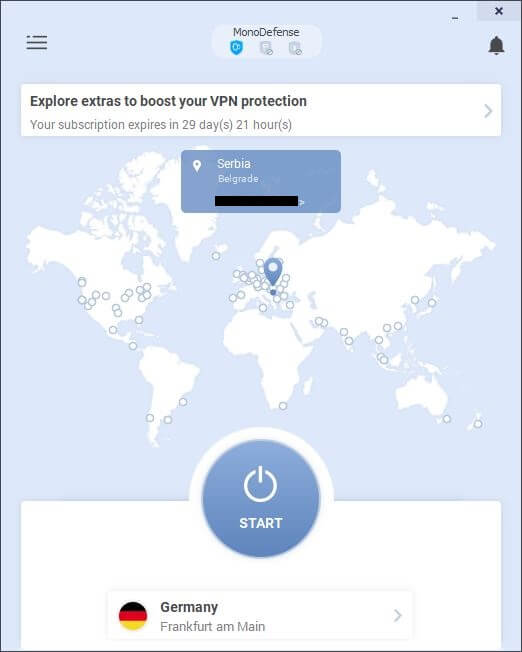 Moreover, the server list is well organized, making it easy to select a server. You have your normal servers by default, but if you click on Streaming or Torrent, you can get dedicated servers for these activities.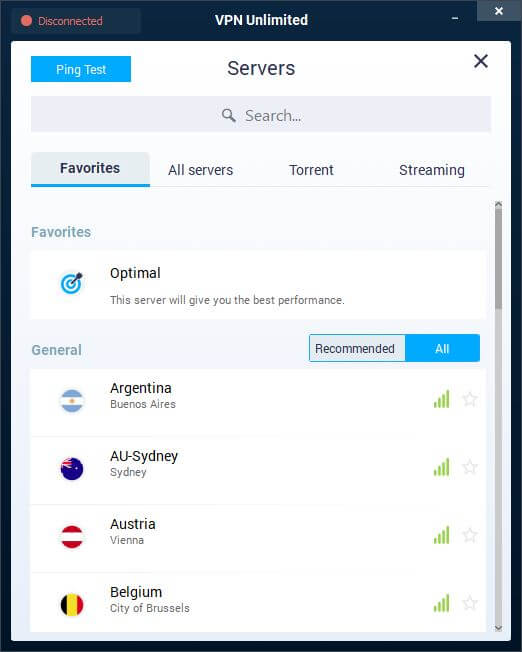 One praise goes to streaming servers. They're named after the platforms they unblock, so if you want to watch Hotstar, you just click once on that server, and you're ready. Not only that but the VPN also lets you visit the site directly from the app by using the blue icon on the right, making everything easy.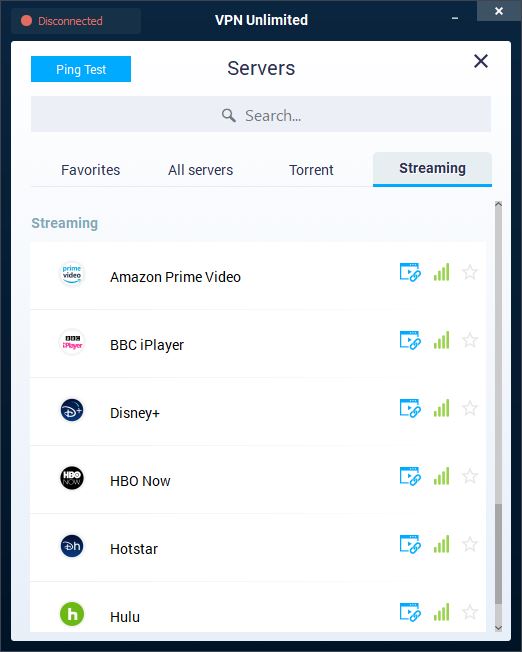 Opening additional options is done in the top-left corner of the screen. From there, you can find additional features in the Settings sub-menu or even contact Keepsolid by clicking on Support. Mind you, this is done directly from the app, which is super convenient!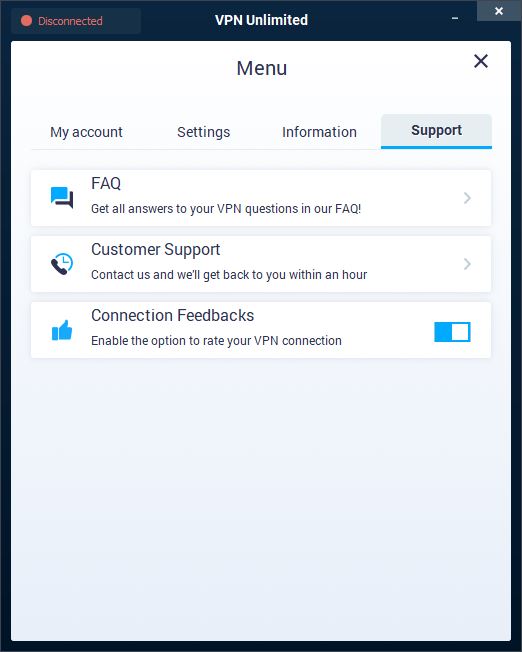 Since I mentioned convenience, I noticed that you can also switch between sub-menus using your mouse wheel. Once again, VPN Unlimited is all about simplicity and ease of use, making using a pure enjoyment, rather than a chore, as it's sometimes the case with other VPNs.
2.2 Mobile App
Much to my surprise, the mobile app of VPN Unlimited looks even better. On my iPhone, I had no issues using it, especially when talking about the free version. However, I signed in to my premium account through the Settings menu in no time.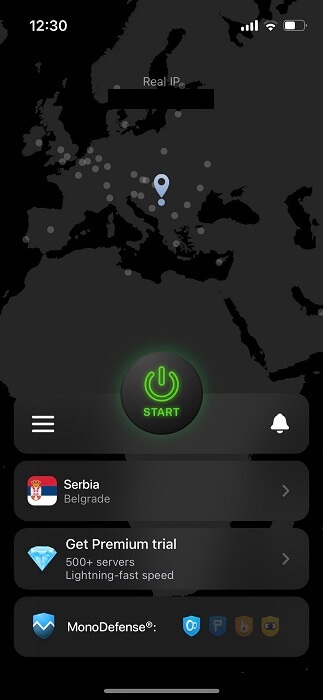 The mobile app sports a different look, though. You get this dark world map and you open the server list right below the green connection button. On mobile devices, VPN Unlimited offers only Streaming servers because you sure ain't going to do torrenting on your phone.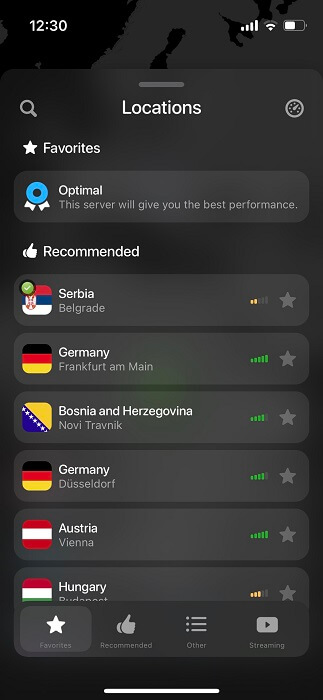 Nevertheless, you can connect to the server of your choice by clicking once on it – very simple. Now, the Settings menu is located left of the connection button, and here, you'll notice a similar layout. VPN Unlimited offers the same number of protocols and supports WireGuard on iOS which I really like.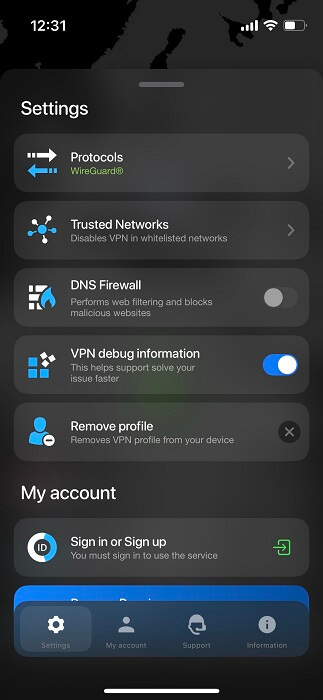 Below, you have Trusted Networks, DNS Firewall, and other features from the desktop version. This version also lets you customize your sign-in options. On Android, you can use your fingerprint to sign in, while on iOS, I had no issues using my Face ID to sign in to the app.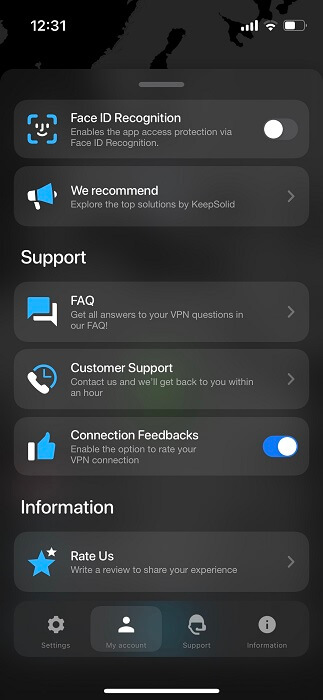 Finally, I should mention the ability to contact customer support within the app. Even on your phone, you can open support tickets and look for much-needed solutions. Also, I'll say that I had NO bugs or any issues with the app, so I'm pleasantly surprised with the experience I've had so far.
2.3 Router Support
Unlike some more expensive VPNs, VPN Unlimited's router support is phenomenal. It offers step-by-step guides on setting it up on a variety of routers. Some of the supported models include Asus, DD-WRT, OpenWrt, TP-Link, Padavan, Xiaomi Mi Router 3, and more.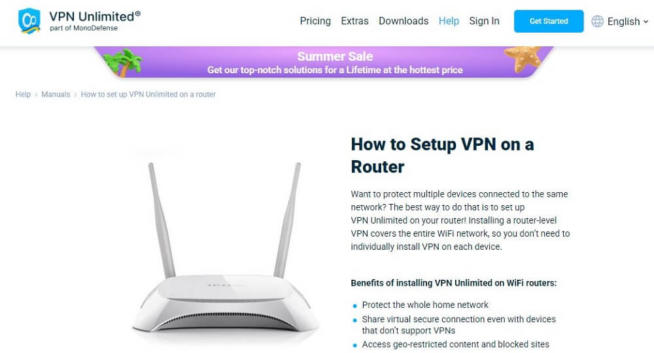 What's more, the VPN can automatically generate router configurations. Thus, once you choose your model, just enter these configurations in the router settings, restart your router, and it'll be ready to use. Undoubtedly, among the simplest router setups, I've seen.
2.4 A Huge Selection of Protocols (WireGuard Included)
Apart from traditional OpenVPN, Keepsolid VPN Unlimited supports WireGuard, which I appreciate. Besides, this is currently the fastest protocol that provides a substantial boost over OpenVPN. There are several variations of the proprietary protocol called Keepsolid Wise.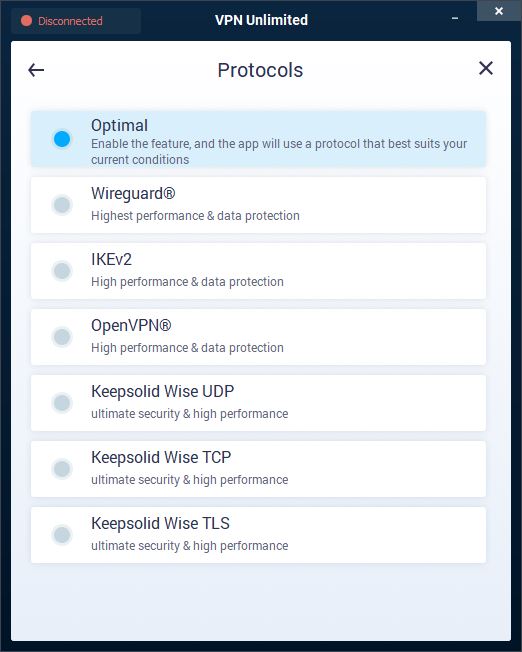 In the company's words, UDP, TCP, and TLS variants should give you ultimate security and high performance. However, this protocol is based on OpenVPN rather than WireGuard, so it's still not faster or better-performing than WireGuard.
2.5 DNS Firewall
DNS Firewall is a useful feature adding to overall security. It doesn't work in the app but rather on the websites. By clicking on it, you're transferred to the site, where you can customize your block list according to the type of websites, but also create a custom list.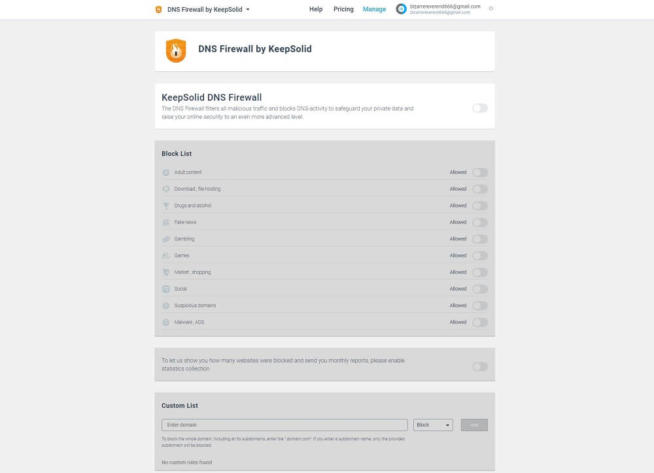 Overall, DNS Firewall is a great addition for blocking out malicious websites or parental control. By forbidding certain sites, you can ensure that you browse the web safely, with no unwanted content appearing even accidentally.
2.6 Kill Switch
A kill switch will engage if you lose a connection to the VPN server by disabling your internet connection. This way, it prevents potential IP and DNS leaks that could compromise your online privacy. In VPN Unlimited, it works a bit differently – similar to NordVPN.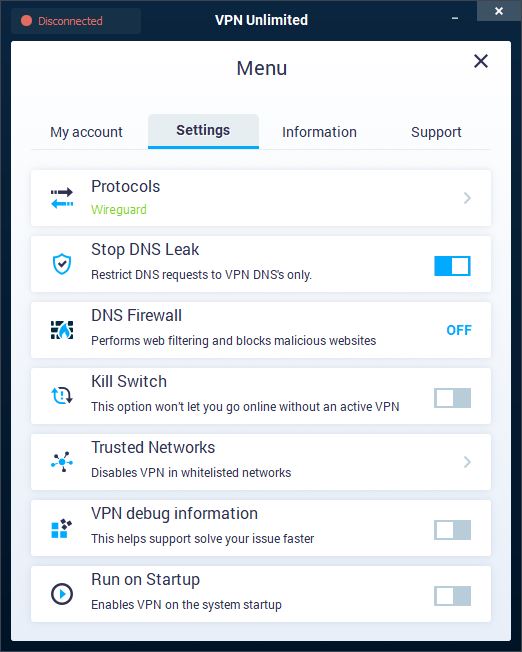 Enabling it will immediately disable your internet access when you're not connected to a VPN server. This means that, if you enable it, you MUST be connected to one of VPN Unlimited's servers to be able to use the internet properly.
If you don't intend on using a VPN always, I suggest disabling it to avoid unwanted issues.
2.7 P2P Servers
Interested in torrenting? Well, you might want to take note of VPN Unlimited's torrenting servers. While it offers only 4 locations, I found them convenient for enjoying safe and secure torrenting using uTorrent.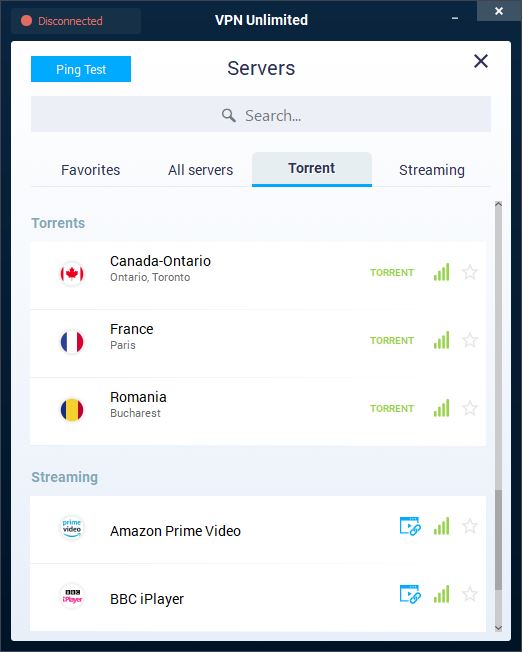 Currently, there are torrenting servers in Ontario, Toronto, Paris, and Bucharest. To get the most out of them, I suggest picking the location closest to your real location. If you're from Europe, Paris or Bucharest should do the job, while Canadians are much better off with Toronto or Ontario.
2.8 24/7 Live Chat Support
24/7 live chat support in VPN Unlimited is helpful and responsive. I had no issues getting answers to basic questions, as the customer support agent responded in pretty much 10 to 20 seconds. Bear in mind that support works SEVEN days a week 24 hours a day.
This means that you can get help pretty much any time so that you can keep using the VPN with no interruptions. Email support is on the slower side but on average, they take a few hours to respond, which isn't bad for this type of support.
Besides, email support is used for more serious issues which shouldn't occur while using VPN Unlimited.
2.9 No IP & DNS Leaks
For a VPN to be safe and secure, it must fulfill one crucial condition and that is to have NO IP and DNS leaks. We tested VPN Unlimited thoroughly using the website called ipleak.net.
Test 1: Without VPN – Default
Without using a VPN, logically, my IP and DNS addresses are already exposed, which you can see below. This means that my IP and DNS are fully leaked and I have no protection from a VPN.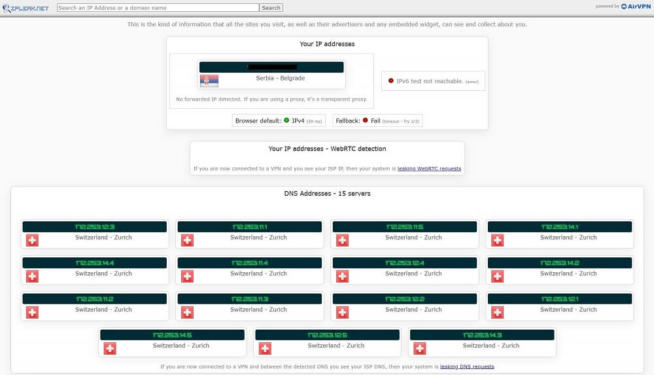 Test 2: New York City, USA – With VPN
After connecting to a VPN server in New York, where Keepsolid is based, I saw no IP and DNS leaks. Instead, both IP and DNS addresses are from the US, indicating that my real addresses are concealed.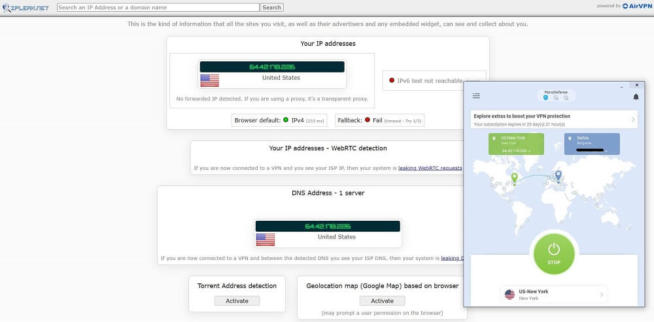 Test 3: Coventry, UK – With VPN
The same could be said about the server in the UK, Coventry. As you can see, there are NO leaks whatsoever.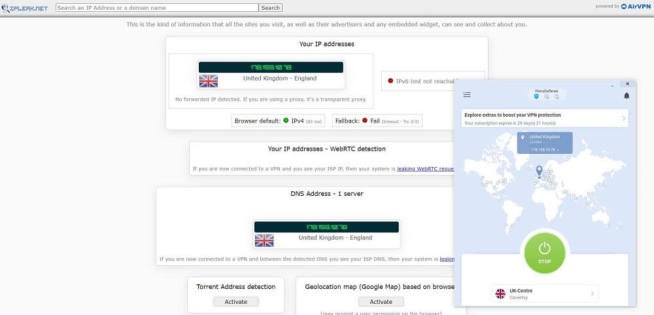 Test 4: Frankfurt, Germany – With VPN
We have the same story in a different location – this time, Germany, Frankfurt. Once again, absolutely no IP and DNS leaks.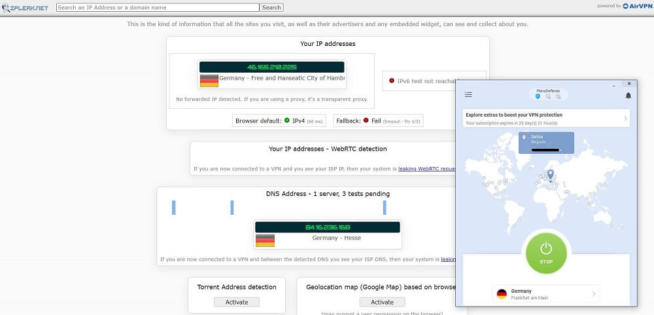 Test 5: Sao Paulo, Brazil – With VPN
Finally, using the Brazilian server yields the same great results. Our VPN Unlimited review proved that no IP and DNS leaks will plague your connection, which indicates its safety and security perfectly.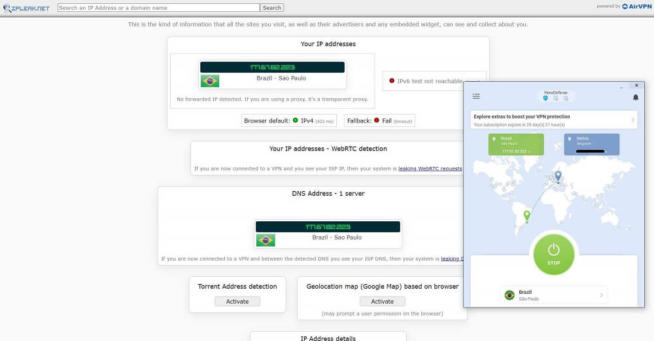 2.10 It Stores No Logs
The last thing I like about VPN Unlimited is its crystal-clear no-logs policy. It takes a no-bullshit approach to its privacy policy, so it won't smother you with loads of unnecessary information. Instead, things are pretty clear.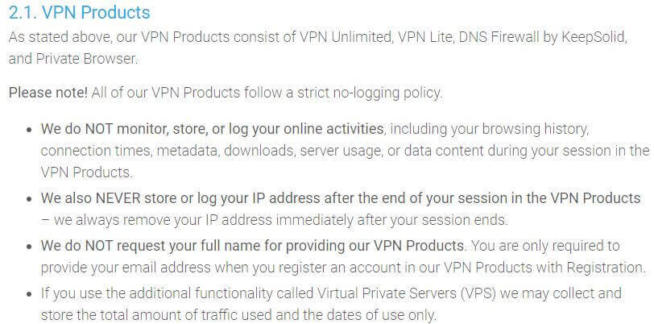 VPN Unlimited stores NO information about your online activities, browsing history, server usage, IP addresses, full name, and connection timestamps. All of this makes it impossible for the company to track you, and as such, it guarantees your anonymity online.
While I'd appreciate a 3rd party audit, so far, VPN Unlimited had no issues with leaking user-related information to the public eye. Unlike PureVPN, HMA, and a few other providers that, despite no-logs policies, still ended up working against their users.
3. What I Did Not Like About VPN Unlimited?
3.1 It Doesn't Work With Netflix
Earlier in my VPN Unlimited review, I mentioned dedicated streaming servers. It's all great until you test them and see subpar results. Needless to say, the VPN won't work with Netflix, and while I managed to use it with BBC iPlayer and Hotstar with ease, I couldn't unblock any of the other popular streaming services.
3.2 Average Performance
When it comes to performance, VPN Unlimited isn't gonna win any medals. At least not gold or silver ones. Still, I found it to be a tad slower than I'd like, especially when using server locations that are very far from me.
To make the test more comprehensive, I listed my PC configuration and internet speed below:
| | |
| --- | --- |
| Internet Speed | 200 Mbps Download, 100 Mbps Upload |
| LAN Chipset | Realtek 8111H |
| Processor | AMD Ryzen 5 3600 |
| Browser | Google Chrome and Mozilla Firefox |
All speed tests you see below are done 3 times a day (speedtest.net) to make sure we get a good representation of how fast or slow the VPN is. I did tests in the morning, in the afternoon, and finally, in the evening, when the servers are usually the most loaded.
As you can see, I also used 7 server locations from different parts of the world, including my own, so I compiled the average results into a comprehensive table.
| | |
| --- | --- |
| City | Speed (Download, Upload) |
| Serbia (Host Region) | 178 Mbps, 64 Mbps |
| Germany | 151 Mbps, 55 Mbps |
| USA | 99 Mbps, 37 Mbps |
| France | 156 Mbps, 53 Mbps |
| United Kingdom | 138 Mbps, 39 Mbps |
| Japan | 67 Mbps, 15 Mbps |
| Brazil | 52 Mbps, 12 Mbps |
3.3 Small Server Fleet
Keepsolid VPN Unlimited has just 500 or so servers in 80+ locations.

Compared to its rivals that offer thousands of servers at your disposal, going back to VPN Unlimited feels like a significant downside. Compared to ExpressVPN which offers 3,000+ servers in 94 countries, the difference is huge.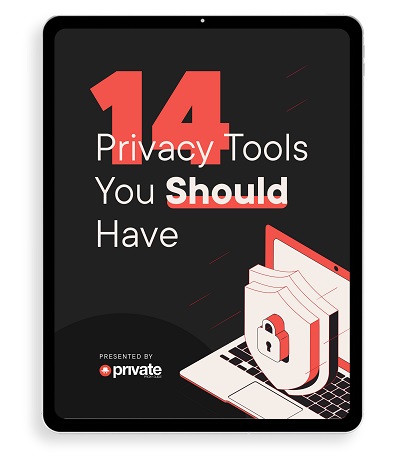 Learn how to stay safe online in this free 34-page eBook.