Since their inception, traditional routers saw a massive increase in efficiency and WiFi range. That especially rings true with gaming routers with multiple antennas and high speeds that spread the WiFi signal properly even in larger homes.
However, even these routers have their limits when compared to mesh WiFi routers (systems) that currently represent the best solution for your home. A mesh WiFi system consists of two or more routers spread throughout your home, for the best possible signal and connectivity.
Moreover, mesh WiFi systems drastically increase the signal range, allowing you to connect afar without any issues. No doubt, they're significantly better than your standard, single router. So what are the best mesh WiFi systems if you're looking for a crucial upgrade?
Well, that's exactly what I'll answer today, as we go over my favorite choices and review them. Needless to say, leaving now is the last thing I recommend doing.
1. Best Mesh WiFi Systems in June 2023
With our introduction out of the way, I just want to clarify one thing. More expensive mesh WiFi systems are usually packed with more features and better performance, so they're also better choices overall.
However, I made sure to include both expensive and affordable choices, dividing them into price-range categories, to make it easier for you to make your choice. That said, here's my list of the best mesh WiFi systems for 2023:
1.1 Mesh WiFi Systems Over $600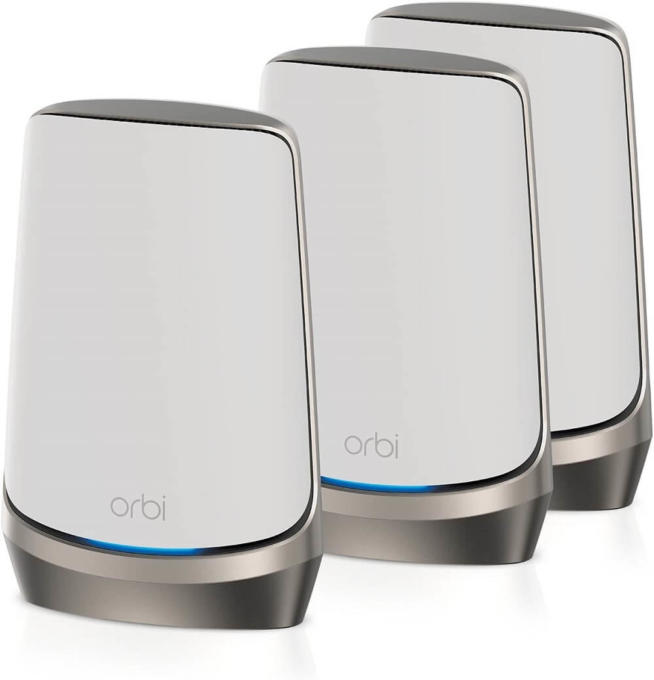 Netgear Orbi 6E is an absolute beast of a mesh WiFi system, capable of delivering stunning performance, LOTS of ground coverage, and a beautiful design that even the most demanding users will appreciate. 6E supports WiFi 6E, as its name implies, which is the latest WiFi standard as we speak.
Moreover, while it costs a whopping $1,500, it's certainly not suitable for anyone. For example, it effectively covers 9,000 square feet of space, which is the size of 8 big houses. Its speeds are impressive, too, with 6.0 GHz quad-band, 2.4GHz + 2x 5Ghz WiFi.
Additionally, Netgear Orbi 6E supports 200 simultaneous connections, which is great for medium-sized or large companies. RBKE693 comes in a bundle of 3 WiFi routers as well, so they won't take up too much space, yet, they'll provide more than enough performance and connection stability.
Apart from that, Netgear includes some in-house features that make this mesh WiFi system even better. One of them is NETGEAR Armor, powered by Bitdefender, which grants protection against viruses, malware, and other cyber attacks – very useful!
All in all, with crazy-fast speeds, great design, and excellent connectivity, saying anything bad about Orbi RBKE963 would be a travesty. Perhaps, I could only complain about its mind-boggling price, but hey – a good mesh WiFi system is always expensive, no matter how tough this pill is to swallow.
Pros
9,000 sqft coverage
Supports WiFi 6E
NETGEAR Armor
Excellent speeds
Beautiful design
Cons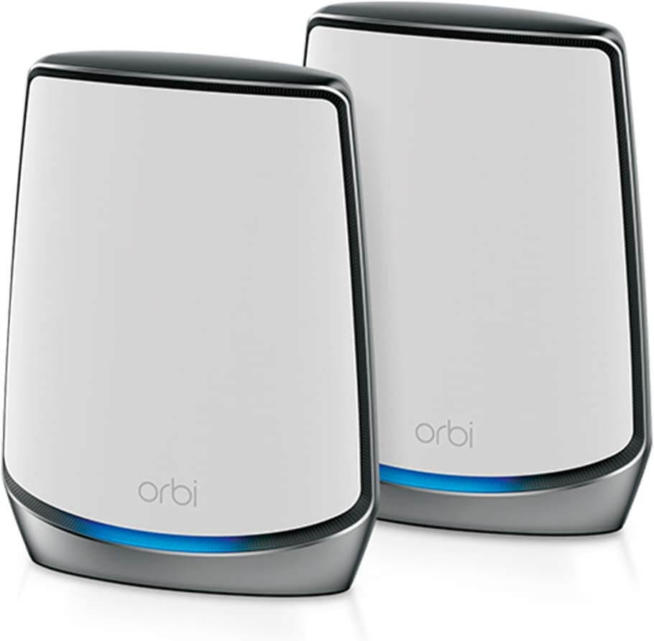 Another great mesh WiFi system from Netgear is Orbi WiFi 6. As its name implies, its WiFi 6 support is the highlight of the router system, having 8 antennas, 8 LAN ports, and 1 WAN port for above-average connectivity.
Orbi WiFi 6 looks pretty much identical to its more-than-twice-as-expensive brother, but costing around $601, it's surely inferior. Nevertheless, Orbi WiFi 6 is more than fast, covering 5,000 square feet, which you can expand by 2,500 square feet if you purchase a separately-sold satellite.
In my test, Orbi WiFi 6 gave me a pretty strong WiFi signal no matter the number of walls and/or ceilings between me and the system. In doing so, I managed to get a maximum throughput of around 880 Mbps, which is a tad slower than the claimed 883.6 Mbps throughput.
To spice everything up, Netgear added some bonus features to complement the router's security. Once again, you get malware/virus protection with NETGEAR Armor, plus the Orbi app where you can monitor or configure your mesh system additionally.
Beware that this model is limited to WiFi 6, so it won't support a fast WiFi 6E solution like its more expensive brother. Thus, if you're very demanding and you want the latest and greatest WiFi speeds, paying more is your only option.
Pros
8 antennas
5,000 square feet coverage
6 Mbps throughput
Virus and malware protection
WAN port is very fast
Cons
1.2 Mesh WiFi Systems Over $300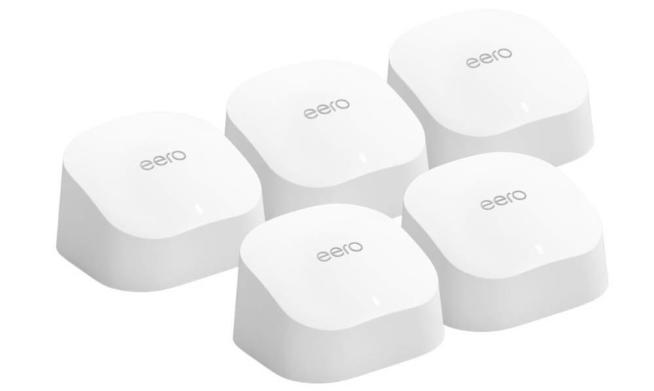 Amazon Eero 6 comes at just below $380, and for the price, you most likely won't find a better mesh WiFi system. The best value is this package consisting of three routers and two extenders, which makes for 5 routers in total – great for ensuring top-grade coverage.
Speaking of coverage, the whole system covers around 5,000 square feet of space with WiFi 6, which should provide decent performance. Unlike the more expensive options, Eero 6 has 4 antennas and with a peak throughput of 342 Mbps, it's a lot slower than the previous two solutions.
However, at this price range, you won't be looking for a, let's say, professional mesh WiFi system. Thus, Eero 6 is great for not-so-demanding users that want a nice-looking, yet reliable WiFi companion. On that note, Eero 6 looks stunning and its minimalistic design won't make you ashamed of showing it off.
Furthermore, it has 2 1Gbps LAN ports with the well-known 802.11ac WiFi standard. Amazon Eero 6 gives you a smartphone app in addition, making it easy to configure the router system without even touching it. Not to mention that it works with Amazon Alexa.
As such, Eero 6 allows for voice commands, giving you full control over its workflow. Overall, it's a great choice for users on a limited budget, as long as you don't plan on buying additional security features which cost a bit more than I'd like.
Pros
5,000 square feet coverage is impressive for the price
Very good design
Dedicated smartphone app
Works with Amazon Alexa
Easy setup
Cons
Security features are paid additionally
Speeds could be improved a bit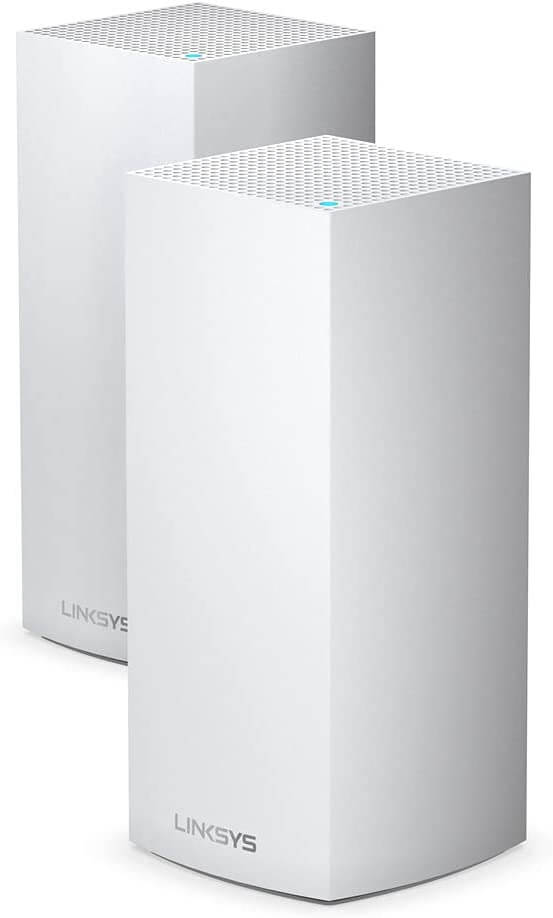 Coming at around $334, Linksys Velop AX4200 is a decent solution for people who don't want to spend too much money on a reliable mesh WiFi router. For this price, you get 2 routers that support WiFi 6, with 8 antennas that ensure constant and non-interrupted coverage.
Speaking of which, each router gives you roughly 2,600 square feet of coverage, and two of them combined bump it up to 5,200 square feet. Additionally, Velop AX4200 sports 6 LAN and 2 WAN ports in total, with a great router throughput of around 507 Mbps.
This makes Velop AX4200 extremely fast for the price, beating the even more expensive Amazon Eero 6. What I also like is the inclusion of a single USB 3.0 port per router. You can use it to power up small devices or connect USB-driven LED light sources if that's what you like.
Design-wise, Velop AX4200 is a relatively small rectangular router that stands upright, looking like a computer speaker. In my opinion, it looks sleek and elegant, and because it's not too large, you can easily blend it with the rest of your house.
If you don't mind a bit complicated setup and the lack of security features, I'm sure you won't think twice when buying it.
Pros
507 Mbps throughput
USB 3.0 port is a nice addition
The minimalistic design allows for space saving
Covers 5,200+ square feet (2 routers)
Very fast speeds
Cons
Setup can be complex for beginners
Could benefit from more features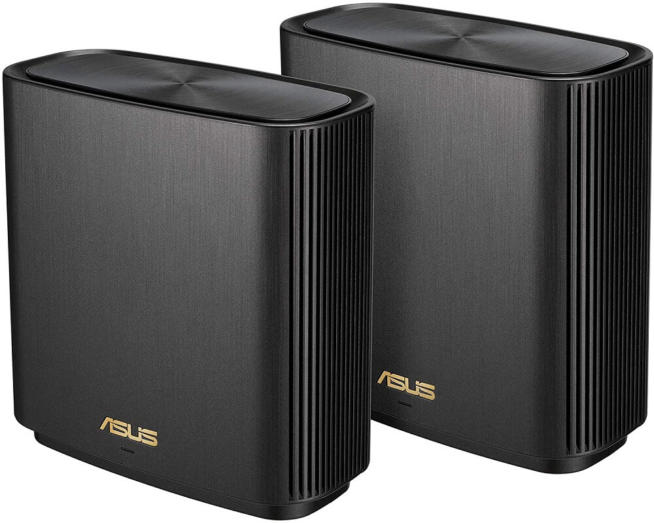 Asus ZenWiFi AX XT8 won't reinvent the wheel in a sub-$400 mesh WiFi systems segment. However, it has everything you need if you're not too nit-picky and demanding. This is a mesh system for medium-sized homes, with a 2-piece package that provides 5,500 square feet coverage.
It has a total of 6 antennas underneath the hood, with 3 Gbps LAN ports and one fast WAN 2.5 GBps port in addition. While its coverage isn't the best around, its 700 Mbps router throughput results in an excellent performance that "flirts" with the high-end segment.
Asus won't be Asus if it weren't for additional features. Thus, you can enjoy malware protection out of the box, with features like AiMesh, parental control, lifetime internet security, and a huge 2-year warranty, in case any problems occur.
Granted, ZenWiFi AX XT8 isn't perfect, so you can expect longer connection times and its bulky, blocky design to be its weaknesses.
Pros
3 Gbps LAN ports are very fast
6 antennas
700 Mbps throughput
Lifetime internet security
2-year warranty
Cons
Connection times are a bit longer
Uninspiring, bulky design
1.3 Mesh WiFi Systems Under $300

Google Nest is an awesome, cute, little device that comes in a pack of 3 and costs just around $235. Definitely not expensive, considering its ease of use, somewhat decent performance, and its Google Assistant for additional features.
Compared to more expensive solutions, Google Nest WiFi's range is all but long. It covers about 1,600 square feet, with dual-band WiFi technology (2.4 GHz and 5 GHz). Google Nest WiFi offers 4 antennas and 2 LAN ports with Gigabit speeds.
Additionally, the highest throughput I managed to get is around 650 Mbps, which isn't bad considering the cheap price. With small speakers built-in, each Google Nest WiFi router can receive voice commands, allowing you to control it effortlessly.
Beamforming technology is here as well, and it can send a targeted WiFi signal to the device you want, providing a stable and reliable connection. Google Nest has a 2-piece version too, but this 3-piece version is much better, yet, it won't cost you a hard-earned fortune.
Pros
Dual-band WiFi technology
650 Mbps throughput
Voice commands are supported
Affordable pricing
Cons
1,600 square feet coverage isn't impressive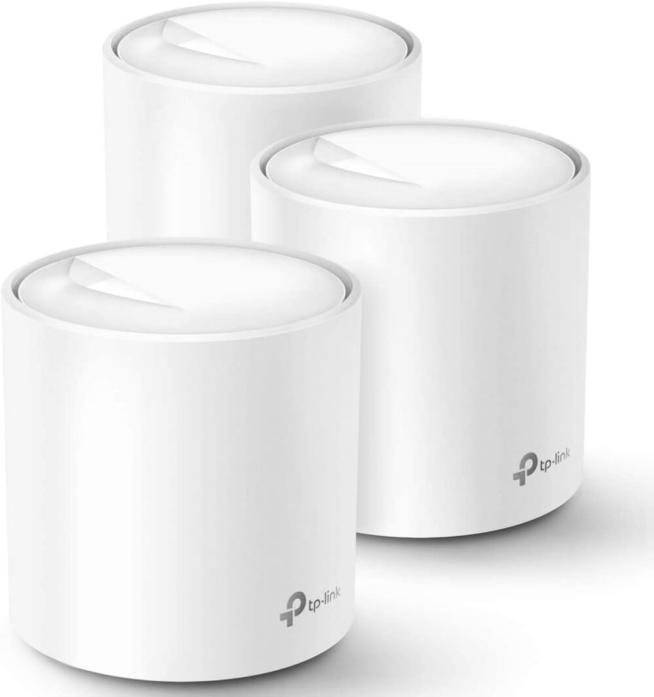 TP-Link Deco X20 is yet another dream come true for minimalists. It's a cylinder-shaped, white device that looks awesome and packs some amazing features for the price. When you think about it, $180 isn't that much for a mesh WiFi system of 3 routers and 4 antennas.
Besides, it offers 1 WAN and 1 LAN port with Gigabit speeds, with WiFi 6 support, making this mesh WiFi router even more impressive. Moreover, it has a dual-band design, so the maximum throughput varies from 574 Mbps on 2.4 GHz and a whopping 1,200 Mbps on 5 GHz.
TP-Link even includes a dedicated application for its Deco routers, so the entire management process can be done through it. Security features are here as well, so you get a lifetime TP-Link HomeCare subscription with virus/malware protection as standard.
TP-Link Deco X20 uses WPA3 encryption to secure your connection and supports 150 connections simultaneously. Its 5,800 square feet coverage is also impressive, so you won't have any issues using it in mid-size homes.
Unfortunately, it isn't very customizable and works well only in a 3-piece configuration. Going below that will drastically reduce the connection quality, making other options not worth it.
Pros
Cheap price for a 3-piece mesh WiFi system
1,200 Mbps throughput on a 5 GHz mode
Dedicated Deco app
WPA3 encryption
150 simultaneous connections
Cons
Going below 3 routers significantly reduces performance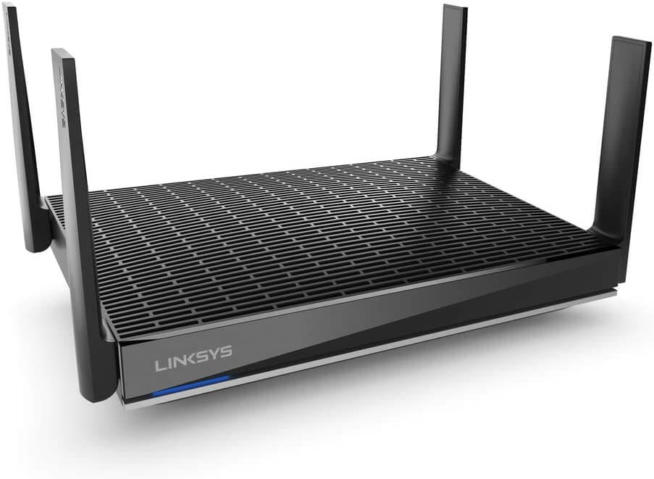 Lastly, we have Linksys Max-Stream MR9600, a single mesh router that's incredibly good. At $280, you can say it's not very expensive, giving you access to WiFi 6, with a dual-band design. In total, MR9600 has 4 antennas, boasting 4 LAN ports and 1 WAN port with Gigabit speeds.
Additionally, Linksys Max-Stream looks somewhat sleek and elegant, while still retaining a classic router design. This isn't a bad thing, though, especially considering its maximum throughput of around 820 Mbps. The good thing is that it also has a 3.0 USB port.
This is a tiny addition but it'll make difference in the absence of USB ports. Given its size that isn't very small, my complaint is that Max Stream MR9600 doesn't include more ports and larger coverage. I mean, for a pretty bulky router, 3,000 square feet sound all but impressive.
However, its performance isn't very bad, to start with, so you'll still enjoy fast and stable connections in a smaller household. Coupled with easy setup, 6.0 Gbps speeds, and support for 40 devices simultaneously, I can't say Max Stream MR9600 isn't worth the money.
Pros
WiFi 6 support is rare at this price range
820 Mbps throughput
4 LAN + 1 WAN port with Gigabyte speeds
Easy setup and configuration
Cons
It could benefit from more ports
A large size with 4 antennas isn't ideal for smaller spaces and desks
2. FAQ
2.1 Traditional or mesh WiFi routers – which one is better?
Mesh WiFi routers are way better, but also way more expensive in some cases. They offer more simultaneous connections and better WiFi coverage, making them great for larger homes and long-distance connections.
2.2 How many devices can I connect to a mesh router?
You can connect from 40 to 200+ devices easily, depending on the router system you choose. Compared to a maximum of 32 connections on a traditional router, mesh routers are much more flexible.
2.3 Is WiFi 6 much faster than WiFi 5?
Yes, WiFi 6 is the newest WiFi standard, boasting a 40% increase in speeds over the previous generation. WiFi 6E, however, is a minor upgrade over WiFi 6 and it, as well, provides a substantial speed increase compared to WiFi 6 over shorter distances.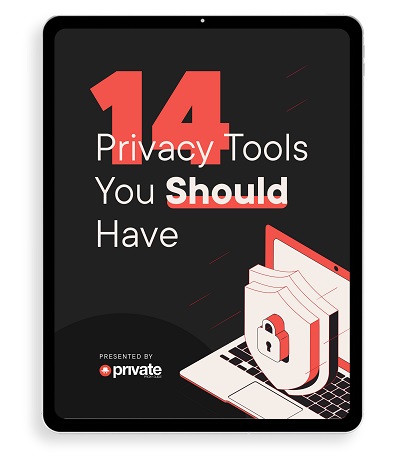 Learn how to stay safe online in this free 34-page eBook.