WiFi networks are notorious for annoying fluctuations in terms of signal strength but also stability and speeds. One day, you'll find it easy to establish a connection, while another day, something may feel off and your WiFi won't work as well as it did.
To make sure you get the best possible experience, it's always good to go for some of the best WiFi analyzers. A WiFi analyzer app is here to analyze and optimize your WiFi network for the best performance. Think of it as a diagnostic tool.
The best WiFi analyzer will scan your network's channels and in some cases, give you a heat map of signal distribution in your workplace or house, showing you where the signal is the strongest. Combined with problem-solving capabilities, a WiFi analyzer is an essential tool for stable WiFi networks.
There are LOTS of them on the market, to be honest, and we had to spend a substantial amount of time testing them all. We did it after days of testing and now, we're willing to give you our expert opinion about the subject.
1. Best WiFi Analyzers in October 2023
You should know that WiFi analyzers are available for different platforms and not just for your Windows PC. In fact, the apps that I'll present have multi-platform support, allowing you to use them on iOS, Android, Windows, macOS, and Linux.
Not all apps will support all systems, but you get the idea. Many of these apps are paid, although I'll include some free options for non-demanding users. With that out of the way, here's the list: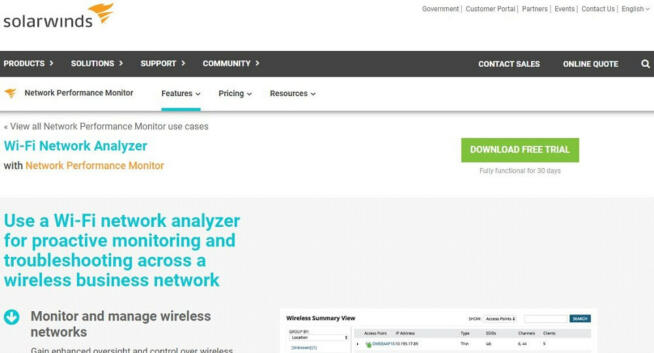 Let's unwrap my list of the best WiFi analyzers with Solarwinds. This is a WiFi analyzer for Windows, boasting tons of useful features for the most demanding users. It offers a 30-day free trial as well, but the software itself isn't free to use, so keep that in mind.
Solarwinds WiFi Analyzer is a part of the company's Network Performance Monitor tool which covers and monitors all your networks. The interface is intuitive, as you get all the required information about your access points, IP addresses, SSIDs, and channels.
Moreover, Solarwinds is very efficient at scanning your network equipment and detecting possible malfunctions. With performance charts and in-depth analysis, you can quickly find what's causing the problem and fix it right away.
Perhaps the best feature in Solarwindws is auto-discovery. As soon as you boot up the app, it'll automatically discover new networks and devices and scan them for potential problems. As such, it effectively maintains your network and keeps it healthy all the time.
And if you need a heat map for your house or company, don't worry – Solarwinds WiFi analyzer will draw one for you! With it, finding the best WiFi spot will be a breeze and you can even utilize it to place additional routers for improving the overall signal strength.
Granted, this application isn't for beginners and is very feature-rich. Beginners won't even know the meaning of its features sometimes, which steepens the learning curve and makes it more complicated to use. If you're an experienced network administrator, it's a dream come true – trust me!
As for its pricing… well, you'll have to contact the company to get a quota, as it's not available on the site.
Pros
Offers a 30-day free trial
It monitors access points, SSID, IP, and channels
Auto-detection of new devices and networks
It scans your equipment for potential malfunctions
The ability to draw a heat map
Performance monitoring charts
Cons
Very complicated for beginners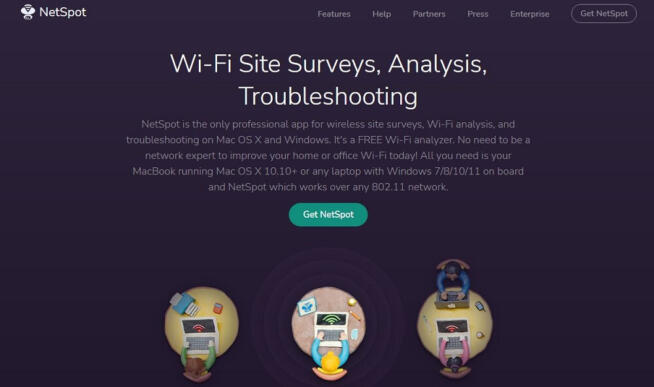 NetSpot is a versatile WiFi analyzer that you can use on Windows, macOS, and Android. It even offers a free version, where you get a WiFi site survey, network planning, and troubleshooting simple problems – not bad, huh?
The paid version, however, is superior, and depending on the plan you choose, you can get up to 10 users and a commercial license if you own a business. Nevertheless, NetSpot is known for its comprehensive heat map that lets you see your signal strength in an instant.
NetSpot's interface relies on graphics and colors a lot, which makes it more intuitive. It has the auto-discovery feature, so you don't have to add networks and network equipment manually. Running the app is enough to get relevant information about connectivity and performance.
This app shows you information about the channels, security, BSSID, SSID, and other data you'll find useful. This data can then be gathered and turned into a CSV report that you can use by yourself or share with other network administrators if you're in a corporate environment.
While not as feature-rich as Solarwinds WiFi Analyzer, NetSpot is, I think, a perfect balance of simplicity and complexity. By the way, its pricing is based on licenses, so we're talking about a one-time payment. The cheapest, single-use license will cost you $49 and you get 50 data points per zone.
The Pro version covers 50 zones and 500 data points per zone, where you also get 12+ visualizations for $149. Finally, the Enterprise version costs $499 and is made for 10 users with unlimited zones and data points and 10 free technician licenses.
Pros
Heat map for monitoring WiFi signal strength
Information about BSSID, SSID, and channels
The ability to turn information into CSV reports
Network planning and troubleshooting
The Enterprise version is available
Cons
Not the cheapest price
The free version could be more feature-rich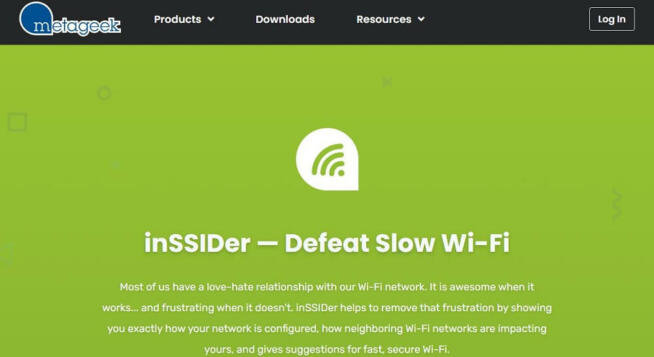 By default, InSSIDer is a free WiFi analyzer with simple scanning and analytics tool that I found pretty effective. Besides, this is among the oldest apps on the market, with a rich history of reliability and satisfaction of thousands of Windows and Mac users.
MetaGeek, the company behind this app, made sure it's very simple to use. Upon booting the app, it'll scan your WiFi channel width along with maximum bandwidth, signal strength, and security. For me, these are the most important aspects of every WiFi network.
InSSIDer isn't as boring as it may sound. For example, I like its ability to scan for other WiFi networks of your neighbors and show you their effect on your WiFi's signal and maximum performance. Mind you, everything is done in real-time, so you get a full picture of the performance at any moment.
InSSIDer can also draw beautiful graphs that give you a clear overview of performance and signal strength. MetaGeek offers a premium version of InSSIDer as well, which offers more features compared to the free version, albeit you'll need to request the price from MetaGeek for additional info.
Overall, InSSIDer is easy to use, it works on both Mac and Windows, and is great for showing you basic information about your WiFi network. However, it has no advanced features for enterprises, which means it's great only for home or small business users.
Pros
Very reliable WiFi Analyzer for Windows and Mac
Automatic WiFi scanning and analysis
You can see neighboring WiFi networks and their effect on your WiFi
Lots of comprehensive graphs for more insights
Offers a free version
Cons
No advanced features for enterprises
It doesn't show the price for the premium plan on the site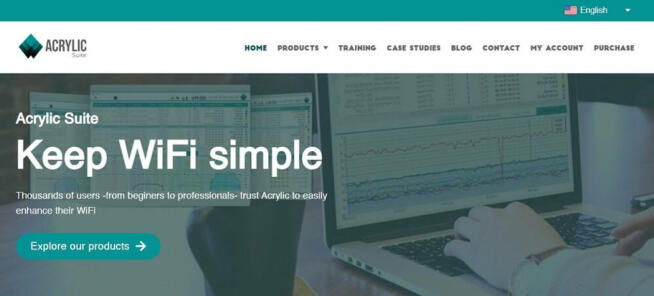 Acrylic Wi-Fi is another worthy addition to the list, boasting an impressive set of tools for complete WiFi analysis and troubleshooting. It scans your WiFi channels, coverage, performance, and security, making sure you can get the most out of it.
Much like NetSpot or Solarwinds, it's fully capable of drawing a heat map of your WiFi's signal, giving you a complete image of the signal strength. Additionally, Acrylic Wi-Fi can locate hidden networks in its monitor mode, as well as display metrics like your vendor, MAC address, and RSSI.
Acrylic Wi-Fi is compatible with a wide array of network equipment and supports the 802.11/a/b/g/n/ac standards. What's more, Acrylic Wi-Fi will give you information about the best channels which you can use to get better speeds and stronger signals.
Acrylic Wi-Fi is a free tool but its free version isn't that feature-rich. Its paid version, on the other hand, offers all the aforementioned features but it's a bit expensive. For example, a monthly license costs $129 a month, with the 1-year license being $879 per year.
The company allows you to get a Perpetual license, which will cost you an eye-watering $2,199 as a one-time payment. To be honest, it's far from the realm of affordability, and considering its Windows-only support, I don't think the perpetual license is worth it.
Pros
It analyzes WiFi performance, channels, and security
The ability to detect hidden networks
It supports even the newest network equipment
Great for troubleshooting WiFi issues
Cons
Very expensive premium license
Supports only Windows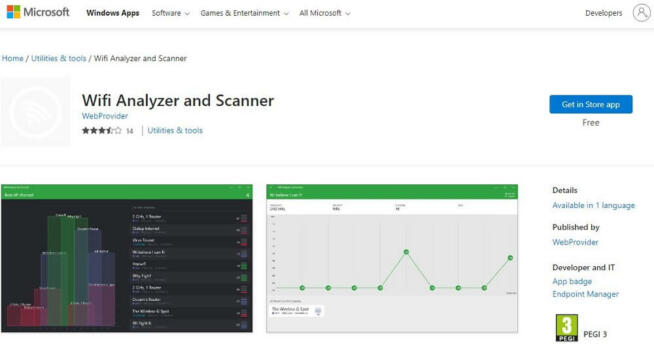 Coming straight from the Windows woodworks, WiFi Analyzer and Scanner is a simple-to-use application that you can find on Windows Store. The app is completely free, although there's a premium version that costs a measly $3 per month – much cheaper than Acrylic Wi-Fi!
To be honest, WiFi Analyzer and Scanner isn't very impressive feature-wise. Its focus is on home users and a beautiful GUI that will show you basic metrics, along with other WiFi networks in range. In addition, you can see your network frequency, channels, security, and MAC address.
The signal strength graph is particularly interesting, grouping all available networks in one place, and showing you all of them on the same graph. This allows you to compare the signal strength of multiple networks and determine the best one in terms of performance.
As said, there's a premium version of the app as well. It's a bit more extended, offering a "beep" signal for each network issue. This version allows you to connect to a WiFi of your choice plus control the signal strength and distribute it in different places manually.
Judging by its features, you can see its prowess when it comes to home use. However, don't expect it to display advanced metrics, fix complex WiFi problems, or be great for business use. You'll still have to use Solarwinds or NetSpot for these purposes.
Pros
It's 100% free, with a cheap premium version
Impressive-looking GUI for basic metrics
You can compare the signal strength of different networks
Alerts for network issues
Allows you to control the signal distribution
Cons
Not suitable for business users
Can't detect hidden networks
If you're a Mac user, WiFi Explorer is the best choice along with the aforementioned NetSpot. The app looks a bit complex at first, but once you take a second look, you'll notice that it isn't very hard to get into. For the start, the app supports automatic network detection.
Once you fire it up, you'll get a list of all networks along with information about the vendor, BSSID, channels, band, security, and maximum rate. WiFi Explorer supports comprehensive graphs where you can see the signal strength of 5 GHz and 2.4 GHz channels, along with the origin of the signal.
The app offers a heat map that it can draw for you as you're moving across your home or workspace. It's not the best heat map, though, as it only measures the signal strength as you go, so you don't get a traditional overview of the signal distribution across the space you're in.
Being a premium app, WiFi Explorer does include a few advanced tidbits. For example, you can see information like signal-to-noise ratio, which will help you determine if your network is reaching its full potential. What about hidden networks?
Well, the macOS system itself isn't giving enough information to WiFi Explorer to be able to find them. And that, at least for me, is the only noticeable downside of this app. If you don't mind its initially complex interface, WiFi Explorer is going to give you a lot if you stick with it in the long run.
And lest we forget that it's FREE to use, with an inexpensive premium version. It's simply a one-time payment of $129.99 for the Pro version and you get to use it eternally – awesome!
Pros
Automatic network detection
It supports 5 GHz and 2.4 GHz signals
A heat map is useful for inspecting signal strength
Signal-to-noise ratio information
Cheap premium plan
Cons
Works only on Mac
Can be confusing initially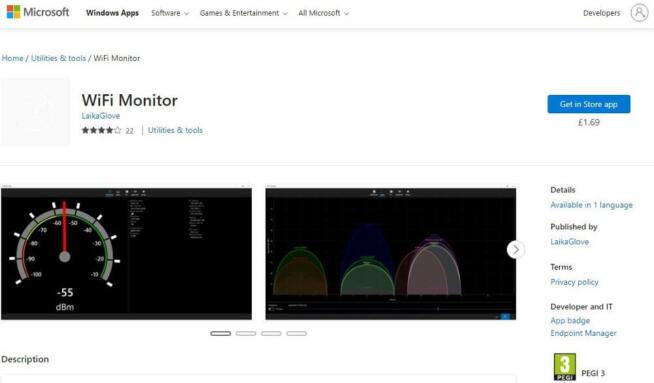 WiFi Monitor is a simplistic WiFi analyzer solution available for Windows and Android. It's free to use and downloading it will take merely a few seconds. As a lightweight app, don't expect it to pack tons of features like WiFi Explorer or NetSpot.
However, it's pretty useful in terms of getting information thanks to colorful and insightful graphs that the app relies on. WiFi Monitor offers four categories – Strength, Networks, Connection, and Channels. In the Channels tab, you can see the channel distribution of the WiFi network.
The Strength tab shows you the signal strength by using a colorful graph for easier understanding. In the Networks tab, you can see all WiFi networks in your surroundings, except for hidden networks that the app can't detect.
In the Connection tab, you can see additional info like SSID, RSSI, and manufacturer info. Users can also take advantage of a speed test that will test your upload/download speed and ping. A good addition is the ability to directly connect to a WiFi network through the app, so you don't have to visit your Settings menu on Windows or Android.
WiFi Monitor strikes a good balance of basic and somewhat advanced functions, although features like a heat map, alerts, and other professional metrics aren't available. After all, this is a free WiFi analyzer, so don't expect miracles.
Pros
Four categories of parameters
Speed test determines your WiFi performance
You can connect to a WiFi network directly
Very simple to use
Cons
No ability to detect hidden networks
It doesn't work on iOS
No heat map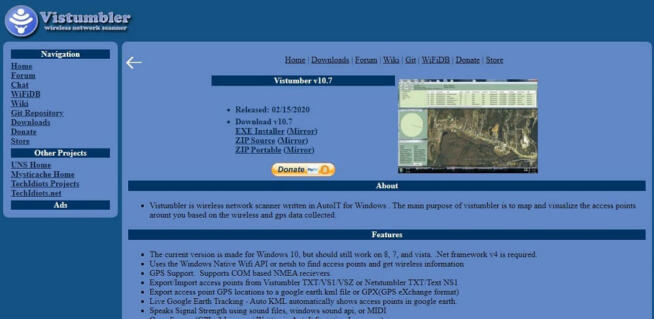 Vitstumber takes a different approach to the WiFi analyzer formula. While its free nature isn't revolutionary, its ability to detect nearby WiFi networks and gather information on them is quite good, especially with the inclusion of GPS functionality.
This app makes it easy to find new WiFi networks by monitoring and tracking moving signals in your vicinity. Once you find a network, you can see basic information about it, which will help you determine whether or not it's a viable choice.
Vitsbumbler lets you enable the GPS feature, too, so if you're using it on your laptop, for example, you can find WiFi networks based on locations. Then, Vitstumbler will generate a comprehensive WiFi network map, showing you security, signal strength, and network name for each entry.
Granted, the app won't provide noticeable benefits for home users and is designed for people who are often on the move to find reliable WiFi connections. Given its complex interface, beginners will find it a bit confusing, too, so it's not for everyone.
At least it's completely free and you can try it out without paying a dime.
Pros
Great for finding WiFi networks in different locations
Includes a GPS functionality
It can generate a WiFi network map
Cons
Not the best for home users
Very complex interface
OpenSignal is a mobile WiFi analyzer that you can get on Android and iOS for free. It's here to measure and display your WiFi signal strength and coverage, which it plots on a world map. The app is fairly simple to use and isn't very feature-rich as a strictly-mobile solution.
However, it offers basic testing tools, such as speed/latency tests plus parameters like the time with no signal and signal strength history. Mind you, it can monitor not only your WiFi signal and its other parameters but also your mobile signal, which adds to its versatility.
I also like its ability to detect cellular networks. The app can detect everything from 2G to 5G signals and measure their connection speeds. Not to mention that it's completely free, it doesn't offer a premium version and doesn't annoy you with ads and pop-ups inside the app.
It, however, has a few downsides, such as the lack of a desktop app, no advanced features, and a sometimes clunky interface.
Pros
Free on iOS and Android
WiFi signal coverage and strength plotted on a world map
The ability to detect cellular networks (2G to 5G)
Cons
It doesn't have a desktop app
The interface could use an overhaul
Advanced features are non-existent
2. Best WiFi Analyzers FAQ
2.1 What can a WiFi analyzer do for me?
A WiFi analyzer is here to analyze all nearby WiFi networks, gather the required information, and fix the potential issues, all intending to optimize your WiFi performance.
WiFi Analyzers can detect interfering connections, improve WiFi security, and allow you to use the best channel for optimal performance and speed. Some WiFi analyzers can even display hidden networks and plot heat maps where you can see the places where the signal is the strongest.
If you're struggling to establish a stable connection and you have problems with performance, the best WiFi analyzer can help you remedy these issues.
2.2 What is the difference between 2.4 GHz and 5 GHz frequency?
When talking about wireless signals, we usually hear numbers like 2.4 GHz and 5 GHz. They signify the frequency that the network is using and they're very different in terms of coverage and speeds. For example, 2.4 GHz has larger coverage with slower speeds.
On the contrary, 5 GHz covers a significantly smaller area while giving you faster speeds and performance.
2.3 How do I fix a weak WiFi signal?
If you suffer from a weak WiFi signal, you can use one of the best WiFi analyzers to fix this issue. They'll show you where the issue lies so that you can optimize the performance and get the best possible signal for day-to-day use.
And if you can't afford one, you can try some conventional solutions instead. For instance, you can place your router closer to your device, get a signal booster, buy a better router with more antennas (an expensive option), change a WiFi channel, etc, etc.
For me, though, it's always better to first analyze the entire network and network equipment and then apply the fixes that the WiFi analyzer recommends instead of fixing the problem blindly.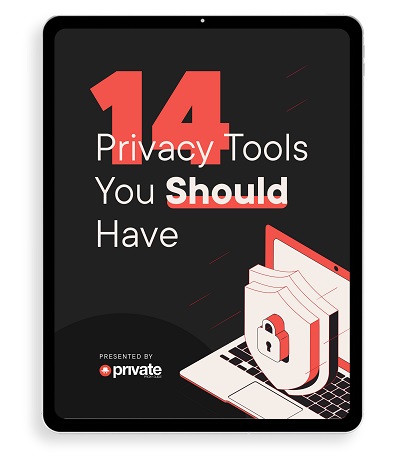 Learn how to stay safe online in this free 34-page eBook.