Data is growing at an exponential rate in the business space. You can start the whole debate on whether it is better to store it locally or in the cloud. From a business and security point of view, cloud storage is almost always better. Managing your storage is expensive, time-consuming, and has a fair share of risks involved.
The collaborative projects are done in a shared workspace, reports, client database, and more. Everything is online, accessed remotely by the different stakeholders. And the features such as versioning, instant storage scaling, inline editing, and app integration are some things on the top of our house for cloud storage. Move your valuable data to a more centralized location with decked-up security. Focus freely on the work and let the service take care of everything else, providing you with hassle-free cloud storage.
A lot of business cloud storage providers offer a personalized bouquet of features, catering to businesses of various domains. We have researched dozens of them and compiled a list of seven of the best business cloud storage available in the market.
1. Best Business Cloud Storage 2023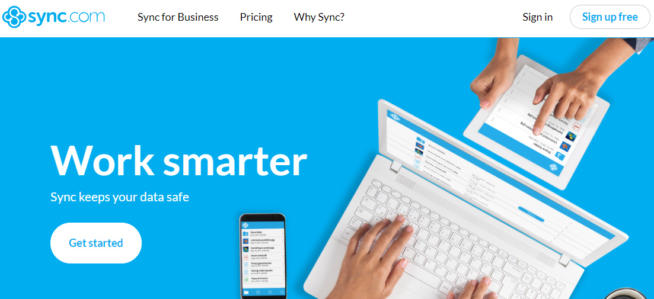 Server Locations: Canada
Best for – Businesses that require solid and robust security laced cloud storage
Sync.com is a popular choice for personal cloud storage, apart from the big 4 of the industry. Similarly, for businesses, they step up with their offerings and provide a wide range of features to make it convenient and hassle-free for work. There is a free account with 5 GB and basic features, minus the team features, to get you started. We cannot have a Business account demo, but there is a 30-day money-back guarantee to test out the features.
Immediately after signing up, you can head to the control panel and see your cloud storage dashboard. Option to install desktop and smartphone apps also appear, which you obviously can do later. Drag and drop files, folders to start trying out the cloud service.
Pros
Instantly share files and folders with co-workers, employees through secure links. Set a password on seeing the file, the expiration date for the files to disappear, and email notifications every time someone accesses it. Link receivers can also upload files without requiring a Sync account or an email.
Advanced collaboration and sharing features allow you to share things with multiple users across different platforms. Set granular user permissions to read, access and edit. That is not all; detailed activity logs provide insights into how users interface with your file and folders.
Wide-format support for Microsoft Office, Visio, along with Adobe Photoshop, PDFs, and more. Instantly view them on the cloud itself without requiring downloading. For keeping privacy, you can also restrict the download of documents which are being previewed.
Rollback old files which got infected with malware and advance. Restore delete files with a click and get the original file back. Apart from that, free up your space using the Vault-only storage, where the files are stored only on the cloud.
Global data privacy compliance helps you stay worry-free about the data. HIPAA PHI compliance is done on Sync.com with accountability. On top of that, the UK, EU/UK GDPR, and Canada compliance are built-in with no fingerprints to worry about.
Multi-user administration to add/remove user accounts for employees of your team. Reset passwords, logins of users on their request. Also, monitor usage patterns and keep an eye on the activity logs.
Data theft has become a rampant problem online. Infamous cloud hacks of Apple, Microsoft, and others have not helped the cause either. Sync for business uses automatic failover-based SSD storage with multiple copies of the data at SSAE-16 type 2 certified data locations.
Cons
Speed is slower than competitors due to the several security and privacy measures in place.
The desktop application lacks the modern touch and could use a refresh.
No network drive for computers that could appear as a local drive. Many cloud storages offer that. It helps integrate with the local storage and adds to the convenient quotient.
Expensive plans given the number of users offered. Major players do not put a restriction on users in their team plans.
| | | |
| --- | --- | --- |
| Plan | Pro Teams Standard | Pro Teams Unlimited |
| Price(Annually)/month | $5/user | $15/user |
| Storage | 1 TB | Unlimited |
| File History and Recovery | 180 days | 365 Days |
| Custom Branding | No | Yes |
| HIPAA compliance | Yes | Yes |
| On-demand business hour phone support | No | Yes |
| Data transfer | Unlimited | Unlimited |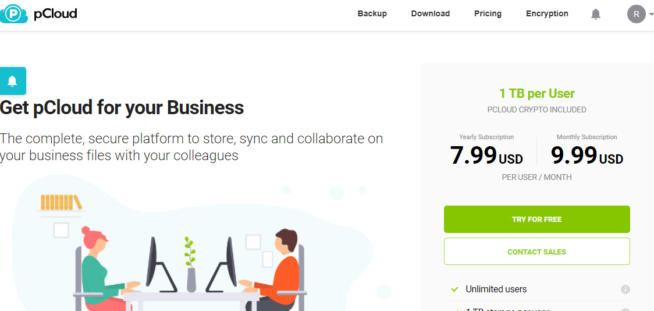 Server Locations: Dallas, USA, and Luxembourg, EU
Best for – For businesses who want reliable cloud storage with a one-time payment
No need to create an account as you can sign in using Google, Facebook, or AppleID. Similarly, creating an account takes under a minute on pCloud, where you get the option to choose between US or EU datacenter. Business users can take advantage of the 30-day free trial. You will need to enter your payment details to avail of it, as it will be charged if you continue to use it after the trial period.
Once logged in, you will land in the file manager, where all the files and folders can be stored. There will be a brief first-time introduction tutorial to get you accustomed to the user interface. On top of that, we also get a tutorial document by pCloud to help you get around the service.
Pros
Inventory databases, projection reports, invoices, and more often run into several GBs in size for larger businesses. Uploading the same to the cloud as individual files often finds no takers due to upload size restrictions. pCloud doesn't hold you back here, allowing files of any size to be uploaded concerning the available bandwidth.
An enterprise has a different set of teams, consisting of accounting, HR, legal, marketing, and so on. Purchase a storage plan and organize various groups in teams and provide them with group permissions. Assign individual access levels as per requirements.
Make changes to your files without worrying about losing the older versions. The revisions feature allows users to view file edit history and restore previous versions when necessary. Up to 30 days of file revisions are kept across all paid plans.
In addition to revisions, the pCloud rewind helps you go back in time and see all the last 30 days' revisions. Restore the versions that deem necessary. Similarly, the Extended File History records all the changes to all your files for 365 days.
Import your data from other cloud storage with the seamless transfer by just clicking a button. It will be transferred within a couple of minutes, depending upon the size of the data.
Host static HTML sites with embedded images on your cloud through the Public cloud. Save money on server/hosting and deploy your websites right away. Furthermore, upload files and folders directly through the Public cloud link.
Put custom branding of your business when sharing files, folders with your clients. Add your logo, cover image, personalized message.
Cons
Extra charges for advanced data encryption (military grade).
Lack of Internal document editors like Google Drive and Microsoft OneDrive.
Web interface lacks the punch of a right-click contextual menu.
The iOS app needs polish, and some internal features are not consistent. For instance, word documents fail to preview on the app.
| | |
| --- | --- |
| Plan | Pro Teams Standard |
| Price | $7.99/user/month(annually); $9.99/user/month(monthly) |
| Storage | 1 TB per user |
| Trash Day History | 180 days |
| Custom Branding | No |
| Activity Monitoring | Yes |
| Team & access levels | Yes |
| Customer Support | Priority |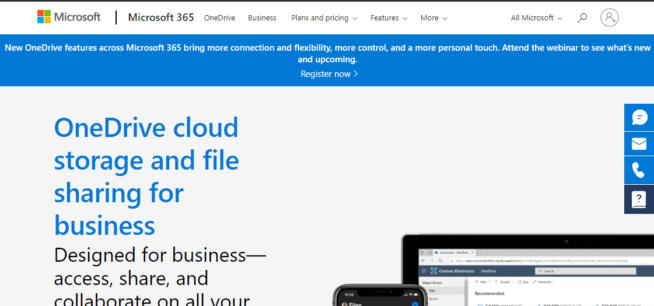 Server Locations: All Over the World
Best for – For large businesses with an ecosystem of collaboration tools that aide the work
Microsoft clawed back its business-based services with the tremendous success of Azure. Integration of OneDrive with Windows helped the storage gain market. Sign in using your Microsoft account, using any email or Hotmail, outlook, and live from the company itself.
Logging in directly to OneDrive will land you in the home dashboard of your cloud storage with 5 GB of free storage. Instead of that, head to the plans page for business storage and select one plan. It will guide you in creating a new account with your business email.
Pros
Real-time collaboration using the Microsoft Office tools (included with Microsoft 365 Business Standard plan). Co-author different documents on Microsoft Word, Excel, and PowerPoint.
Files On-Demand, available on PC, lets you see the files as a regular folder on your computer. You can see the list, but they will not take up space on the local storage. The files and folders will get downloaded when you try to access them.
Integrating with Outlook, Microsoft provides modern attachments. They appear just like email attachments but are centralized stored on the OneDrive. Additionally, you can set sharing permissions for these attachments – View and Edit by anyone, organization, and recipients.
Microsoft Teams, a powerful collaborative and communication platform, included with MS 365 Business Basic plan and above. Shift your entire communication structure without paying any extra, bringing in value for money.
Use eDiscovery for scourging through your entire data in Microsoft products to be searchable from a single place. Search for content, search results, conversation threads, analytics, and more. They offer three levels of eDiscovery – Content search, Core, Advanced.
OneDrive offers detailed reporting and auditing for the files stored on the cloud. The Microsoft 365 admin provides centralized reporting for cloud services, including OneDrive. View total files, deletions, changes, and overall account activity. Gain further insights by exploring the data in a compiled form on Power BI, with graphs, charts, and custom reports.
Rely on your custom encryption keys to be used on Azure Key Vault. By default, the encryption is natively done using BitLocker. In events where you lose your key, it can be found in the Recycle bin for a period of 90 days (or based on your configuration).
Cons
Starter plans lack integration options
Desktop app necessary for offline storage access
Non-Outlook users face issues in seeing the modern attachments
Syncing causes duplication of files with different extensions at times.
Plan
OneDrive

For Business

(Plan 1)

OneDrive

For Business

(Plan 2)

Microsoft 365 Business

Basic

Microsoft 365 Business

Standard

Price per month (annual)
$5/user
$10/user
$5/user
$12.5/user
Storage
1 TB per user
Unlimited
1 TB per user
1 TB per user
Microsoft Teams
No
No
Yes
Yes
Upload File Size Up To
100 GB
100 GB
100 GB
100 GB
Anywhere Access
Yes
Yes
Yes
Yes
Advance Data Loss Prevention
No
Yes
Yes
Yes
Microsoft Office Integration
No
No
Yes
Yes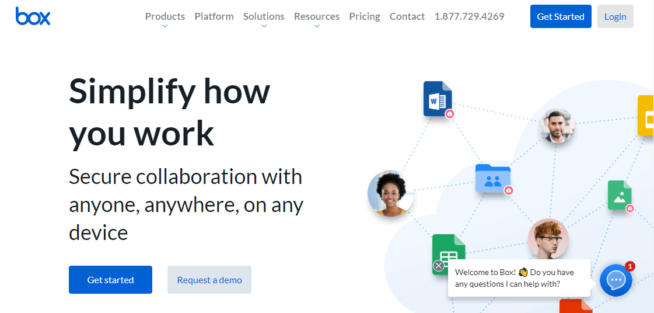 Server Locations: California and Las Vegas, Australia, Europe, Asia
Best for – For businesses who want enterprise-centric services
Box has been enterprise-centric right from the start. They do offer a free account for personal use, which offers 10 GB of space. At the same time, the business plan offers unlimited space with only a difference in upload file size.
You can either register a new account or log in using a Google account. There is a two-week money-back, but the payment information will need to be entered.
Pros
Take advantage of the enterprise-grade security with Box Shield. It will automatically classify sensitive data. Box also scans the data uploaded, shared, edited, previewed, and even when downloaded. This helps prevent advanced malware attacks.
Upload a file and then encrypt it with the Box key that is powered by the AWS Key management service. There is support rotation of KeySafe keys.
Most of the business storage services put a limit at 1 TB per user. That is not the case here with Box, which offers unlimited space with no restrictions. There is, however, a limit on the size of files that can be uploaded, which varies according to the plan.
Box complies with all the leading regulations such as FINRA, GXPA, and GDPR, amongst others.
Seamless integration with thousands of third-party apps. For instance, office suites such as Office 365, Google Docs, or Slack; everything is under one umbrella. The lines of business apps like Salesforce and Oracle Netsuite integrate within minutes.
Take advantage of the Box APIs for integrating other systems and content into a unified platform collaborative work. Quickly deploy content apps using SDKs, developer tools.
Create workflows for your team in minutes using the Box Relay. Automate collaborative workflows using premade custom templates for departmental and standard use.
Cons
Expensive compared to competitors
Ambiguity on final file changes made simultaneously by two users
Buggy app for Mac
In-built Box notes need improvements and polishing
| | | | |
| --- | --- | --- | --- |
| Plan | Business | Business Plus | Enterprise |
| Price per month (annual) | $15/user | $25/user | $35/user |
| Storage | Unlimited | Unlimited | Unlimited |
| Microsoft Teams | No | No | Yes |
| Upload File Size Up To | 5 GB | 15 GB | 50 GB |
| Additional app integration | 1 | 10 | 1500+ |
| HIPAA/FedRAMP compliance | No | Yes | Yes |
| Version history | 50 | 50 | 100 |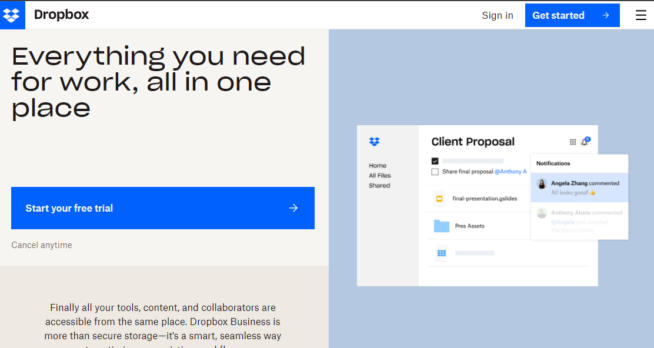 Server Locations: All over the world
Best for – For businesses with flexible storage needs that needs to be scaled down when necessary
Dropbox is a part of the big four of cloud storage. With over half a million business customers, the online cloud leader makes all the right noises without the bells and whistles to make up for the hype.
No credit card or other payment information is needed to be filled for using the 30-day trial. All you need is email verification, and the trial is fired up immediately. Alternatively, you can also log in using a Google account.
Pros
Optimize your team's workflow and soar the productivity straight to the moon. Over 30,000 connected apps will help you save time for individual integrations.
Like Google Keep, OneNote, and Evernote, amongst others, use Dropbox Paper for real-time collaboration with other team members. This comes with admin controls that allow you to keep it organized and structured.
Send files of 100 GB in size to any recipient, whether they are Dropbox users or not. Deliver them instantly using a shared link or a special folder of your choice.
You have lost a device with Dropbox signed in. No worries there, as remote swipe can clean the files from the device remotely within a matter of minutes.
Suppose you are editing a document that is stored on the cloud. Enable File Locking to lock it down so that others in collaborative mode cannot make changes until you are finished.
Have multi-tied admin roles assigned to different team members., each one having a different set of permissions.
Create custom brand sharing with your logo, company name, and background image. Provide a professional branding touch while sending files to clients, users.
Cons
Notifications cannot be customized
Synchronization across devices is slower on occasions
Poor spell check feature on the Box paper
Buggy file preview on the app
| | | |
| --- | --- | --- |
| Plan | Business | Enterprise |
| Price per month (annual) | $12.50/user | $20/user |
| Storage | 3 TB | Unlimited |
| Users | 3+ | 3+ |
| Upload File Size Up To | 5 GB | 50 GB |
| File Recovery and version history | 180 days | 180 days |
| Admin device approvals | No | Yes |
| File Transfer Size | Up to 2 GB | Up to 100 GB |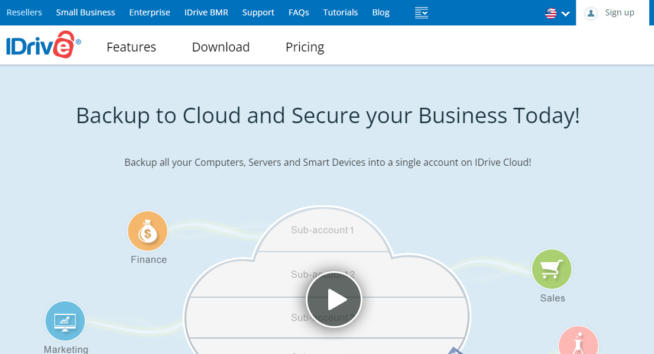 Server Locations: Calabasas, USA
Best for – For small businesses and enterprises with specific cloud storage needs
iDrive is not always on the news or has the biggest user base yapping about on the forums. The service quality, catering to niche enterprise clients does help it grow from strength to strength.
You can request a 30-days enterprise trial by filling up the form, and a representation will follow up regarding that. Soon after registering for the first time, you will be prompted to select encryption – Personal and Default.
Pros
Uploading and backing up all the office's sensitive files can be a daunting task, especially when stored on hard disks. iDrive provides the service which sends temporary drives to backup all your files, which you need to ship back for uploading to the cloud.
Backup your entire Windows and Linux servers directly to the cloud with ease. It can also include SQL, Sharepoint, VMware, Hyper-V, Office 365, and others at no additional costs.
Deploy the iDrive's Thin client on a device with limited GUI for faster operations. Manage all the operations through the centralized dashboard. Remotely install iDrive clients on multiple computers and control them from the web interface.
The data is secured using the 256-bit AES encryption during transfer and storage. Lace it up with your private encryption to further enhance security.
Extensive compliance with major federal and legal regulations like HIPAA, SOX, GLBA, SEC/FINRA. This helps provide the assurance of data privacy and integrity.
Perform a sector-level backup and clone the entire hard drive. Use it in the event of disasters to restore it to another storage.
All the data is archived and never lost until you manually delete or run the "Archive cleanup" to erase data from the computer as well.
Cons
Very basic sharing options
Encrypted hard disks cannot be fully backed up
Slower syncing speed
Lack of unlimited backups option
| | | |
| --- | --- | --- |
| Plan | Team | Business |
| Price per month (annual) | $74.62 | $74.62 |
| Storage | 5 TB | 250 GB |
| Users | 5 | Unlimited |
| Upload File Size Up To | 10 GB | 10 GB |
| File Recovery and version history | 30 days | 30 days |
| Server Cloud backup | No | Yes |
| Backup external drives and NAS devices | Yes | Yes |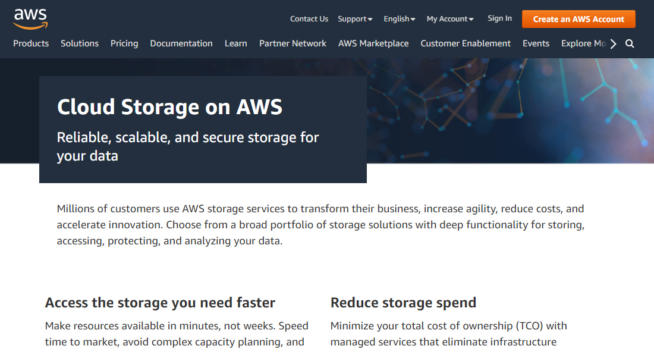 Server Locations: All over the world
Best for – For large businesses with scalable needs that cannot be catered by other cloud storage services
Saving the industry leader for last, we have Amazon Web Servers that provide servers for other business cloud services such as Dropbox, Box, amongst others. Large businesses and enterprises can rely on AWS without a second thought.
They offer up to 12 months of trial with a sizable number of features. The trial consists of monthly offers, GBs used, and more. You can start with the Amazon S3 tier, consisting of 5 GB storage, or go all out with the AWS Storage Gateway of 100 GB, which offers hybrid cloud storage.
Pros
Gather new insights on your data by running big data analytics, artificial intelligence (AI), machine learning (ML), high-performance computing(HPC), along with media processing.
Fully managed cloud infrastructure for scaling and managing the servers. Eliminate all the time-consuming backend tasks and focus on your business, letting AWS take care of things.
AWS Key Management Service (KMS) is used for the encryption of data in transmission and storage. Create your own cryptogenic encryption keys and manage them from a centralized admin panel. That's not all; keep logs of your encryption key usage using the AWS CloudTrail.
The data is secured using the 256-bit AES encryption during transfer and storage. Lace it up with your private encryption to further enhance security.
AWS lets you pay only for what you use through its scalable solutions. There are no minimum commitment fees or pay in advance.
Unmatched durability is offered with Amazon S3 Glacier and S3 Glacier Deep Archive with 99.999999999% durability. All your data is automatically distributed across three availability zones within an AWS region.
Unrestricted free trials of the cloud service for a period of up to a year, which any other competitor cannot match.
Cons
Priority technical support requires a monthly subscription of their customer support plan
The steep learning curve for beginners
The user interface needs a rehaul
Region-specific pricing
Plan
S3 Standard
S3 Glacier
Price
First 50TB/month: $0.023 per GB

Next 450 TB / Month:$0.022 per GB

$0.004 per GB
Versioning
Yes
No
Host Static Website content
Yes
No
Data Retrieval in milliseconds
Yes
No
Expense
Relatively high
Relatively low
Integrated AI, ML tools
Yes
Yes
Scalability
Faster
Slower
2. Checklist for selecting the Right Cloud Storage for Your Business
2.1 Ascertain Your Budget
Decide on how much you can afford to spend on cloud storage. You can do this by multiplying the number of employees and team members who will require user accounts.
Virtually all the business cloud storage services charge based on consumers on the standard plans. You go higher, and the per-user charge blurs out.
2.1 Storage Space
How much storage does your enterprise require, and the amount do you expect to clock in the two quarters? Add the current requirements plus projections for the next year to arrive at a figure that would cover you.
Annual plans often help save money, and having a rough number of space requirements can help avail the savings.
2.3 Will Server Location Impact the business?
The data privacy and access laws vary in different parts of the world. Your sensitive data stored in a cloud server located in an unfavorable region can be a cause of concern. Protect it by choosing a storage provider whose servers are located in areas where data laws promote individual digital liberties.
2.4 Zip it with Encryption
Security of your data is of apex importance. There can be no room for error and compromise in this area. Look for services with strong encryption practices during transmission and storage.
2.5 Edit and View Files on the Cloud
Decent support should be there for a wide range of file formats. They should be easily viewable and provide basic editing so that you don't have to download them every time for minor changes.
2.6 Strong Collaboration Tools
A team working on a project requires collaborative tools for an efficient and seamless workflow. Sharing files with various privacy options, along with the opportunity to edit files in real-time together.
3. Business Cloud Storage FAQ
3.1 Which is the easiest to manage cloud storage for business?
Easy is a relative word, but you can get started with Dropbox and pCloud. They are designed keeping in mind users with different levels of experience in managing business cloud storage.
3.2 Are cloud storage more secure than physical drives?
Physical drives are prone to theft and hard disk failures. On the other hand, cloud storage is stored on RAID, consisting of multiple copies of your data. Their security is ensured by enterprise-grade encryption.
3.3 Shall I rely on free plans instead of paying for cloud storage?
All the business cloud storage provides a personal plan with a limited set of features and space. Besides that, most of the business tools are not available, which could further enhance your productivity.
3.4 Can I transfer from my current cloud storage to another one?
Absolutely. Virtually all the business cloud storage provides seamless import of data from other storage services. All you need to do is log into, give permission and sit back as the data is transferred.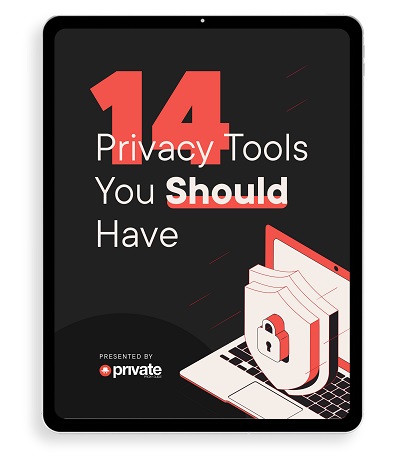 Learn how to stay safe online in this free 34-page eBook.