Keeping your social media account active and posting often is essential for acquiring more followers and advertising your service. With today's way of living, which is fast, and sometimes chaotic, not all of us have enough time to post frequently each day.
However, the best free Instagram post schedulers are here for that very reason. These applications allow you to schedule Instagram posts in advance, allowing you to make several posts when you're free and schedule them for publication in the next following days and weeks.
Moreover, these applications will optimize your posts, add hashtags, and even give you some suggestions on the best time to post. As a result, I find them extremely useful for maintaining my online presence and staying consistent with posts on Instagram.
Today, I'll give you a few best free Instagram post scheduler apps which you can use for the exact same purposes.
1. Best Free Instagram Post Schedulers – Our Favorite Options
Before divulging my list of the best Instagram post schedulers, I just want to give you one small disclaimer. The options that you'll see below are mostly free and they can be used for free forever. However, some options rely on a free trial.
Essentially, it means they're not 100% free but you can start with them for free and pay down the road if you want. After all, the majority of Instagram schedulers are paid programs, so finding ones that are non-paid AND good is very hard.
Without further ado, let's kick off this list and see what options you have.
Combin is maybe not the best Instagram post scheduler out there, but it's the best free choice you can get. I found this service very easy to use, offering some great features. For the start, it offers two services on the site. One is Scheduler and the other one is called Growth.
Growth is here for growing your Instagram audience, while Scheduler will let you schedule posts in advance. Scheduling posts is followed by other functionalities, such as the ability to add hashtags and even tag multiple accounts in each post.
Moreover, it's vital to state that Combin lets you fully automatize your posts, no matter the type of post we're talking about. If it's a photo, you can resize it to your accord and upload posts and stories in bulk, letting you schedule all your posts weeks in advance.
Overall, Combin is a great Instagram post scheduler even for more demanding users. With it, you can plan your posts, organize your Instagram account, and make sure everything goes well with your online presence and activity, for maximizing engagement with your followers.
As said, Combin is completely free and it has a lifetime free plan with some great features. This plan gets 25 search results for users, hashtags, and locations, along with 2 simultaneous searches. You can also perform 20 follow/unfollow actions and use advanced sorting and filters.
Sadly, this free plan doesn't display advanced statistics and I don't like that you don't get AI filters by parameters such as bio, gender, and language. Something like this is available in the next plan, which is called Personal, and costs just above $16.
This plan also gives you 1,000 search results for locations, hashtags, and users, along with unlimited simultaneous searches. Bear in mind that Combin offers a Business plan at $30 as well, but if you're after a free solution, you most likely won't care about that.
Pros
Growth and Scheduler features are completely free
It allows you to schedule Instagram posts weeks in advance
25 search results for hashtags, locations, and users in the free plan
It helps you plan and organize your Instagram account
2 simultaneous searches
Cons
No bio, language, and gender AI-assisted filters in the free plan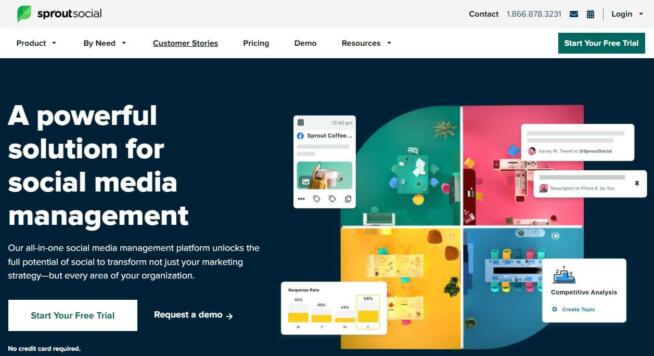 Sprout Social is among the largest social media management platforms, and might I add – one of the best. The reason I put it on the last spot is that it's not free, instead, you get a 30-day free trial, which is still enough to consider it free, at least for a particular period.
Social Sprout lets you schedule any type of Instagram post and stay in touch with your engagement thanks to advanced metrics. Furthermore, its analytics allow you to find the posts with the most engagement, which can serve as the inspiration for newer posts.
I like that Sprout Social supports numerous social media sites and allows you to monitor and manage your profiles in a single, easy-to-use interface. Social Sprout works with Pinterest, Twitter, Facebook, and LinkedIn, all of which are a great addition to Instagram.
This app allows you to add hashtags and fully customize your posts before publishing them. In addition, its reports can be exported in the form of CSV data or PDF reports, which lets you analyze them and improve your posts for better engagement.
Sprout Social is extremely powerful and the features I mentioned aren't even the tip of the iceberg. This service offers much more, but you'll need to pay for it after the trial period ends. Unfortunately, it's extremely expensive compared to other choices on the list.
Starting with the standard plan at $249 a month, Sprout Social includes advanced features that will boost your Instagram profile significantly. More expensive plans are here, and the Advanced plan costs $499 a month. This makes Sprout Social suitable for more advanced users rather than beginners.
Pros
One of the most advanced Instagram post schedulers
Supports many social media channels
CSV and PDF reports can be exported
It offers a 30-day free trial
Cons
Extremely expensive subscription plans (start at $249 a month)
Not suitable for beginners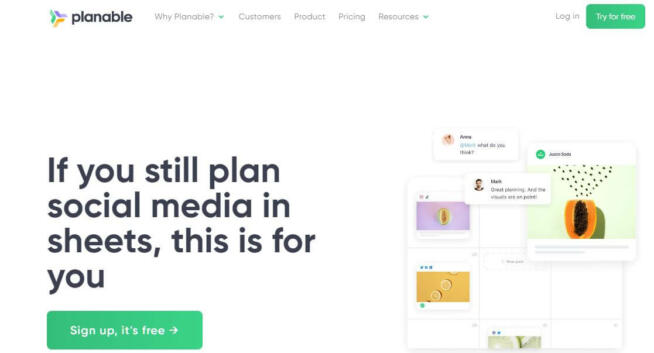 Planable is a big and robust tool for boosting your social media engagement and making it easy to reach greater heights. Much like Combin, it allows you to plan and schedule your posts, but aside from Instagram, it also works on platforms like TikTok, YouTube, Facebook, and many others.
Planable offers an intuitive web-based interface where you can plan and schedule posts using a comprehensive calendar. From here, you can schedule posts not only on certain days but also at certain times, to make sure you hit the right time.
Furthermore, bulk post scheduling is supported, and you can use keywords and hashtags to make them reach more people. Planable supports all types of posts, so you can include images, videos, and even Instagram stories and post them at the time you want.
Since Planable supports multiple social media outlets, it's important to mention that it can schedule posts simultaneously on multiple networks. This means that you can schedule one post to appear on Facebook, Instagram, and LinkedIn at the same time, for example.
By default, Planable isn't a free solution, but the good thing is that you can get started with it for free. Simply visit its website, make an account, and start enjoying its features. Before you ask – a credit card isn't required and the sign-up process is completely FREE of charge!
However, the main downside is that the free plan will work with up to 50 total posts, after which, you'll have to go with at least the Basic plan. Fortunately, it costs just $11 per user and offers unlimited posts, so even this paid plan is a good deal.
Pros
Supports TikTok, Facebook, YouTube, Instagram, and other social media sites
Bulk scheduling is supported
Simultaneous scheduling across multiple channels
It offers a lifetime free plan
Doesn't require a credit card for free registration
Cons
The free plan is limited to only 50 posts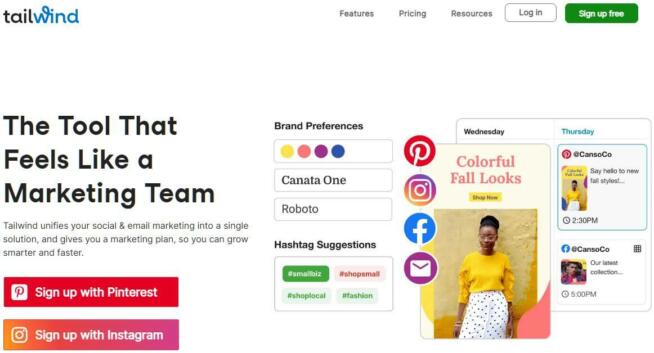 Another popular free Instagram post scheduler is Tailwind. Tailwind isn't as feature-rich as Combin and Planable, but it's awesome nonetheless. For one, it's really free, so the setup process consists mainly of signing up for the service and setting different parameters for post-scheduling.
On Instagram, you can use Tailwind to schedule all kinds of posts, from photos and videos to reels, stories, and others. Tailwind lets you easily create pins and even personalize them, which is great for adding your touch to every post.
The solution is based on a web-based application that sports a clean interface in the form of a calendar. This allows you to schedule Instagram posts way in advance and stay consistent on Instagram while doing something else in the real world.
When scheduling a post, Tailwind offers a great option to find hashtags automatically for you. You just need to make a post in Tailwind and its Hashtag Finder option will automatically splurge a few hashtags under your photo, which will boost your engagement and popularity.
Tailwind works with numerous social media sites, which is great if Instagram isn't your only medium. I found that it works with Facebook and Pinterest too, so if these websites ring the bell, you might be very interested in what this service has to offer.
Much like all other services on this list, Tailwind offers paid plans as well, in addition to the forever free plan I talked about Its cheapest plan is called Pro and it starts at $12.99 a month, offering a boatload of features and functionalities for more ambitious users.
You get 100 posts a month, advanced analytics, unlimited email contacts, and so much more. However, if you're interested in getting even more, there's the Max plan at $39.99/mo, allowing you to enjoy unlimited post designs and posts, and up to 3 Instagram/Facebook/Pinterest accounts.
Pros
It can schedule all types of Instagram posts
A clean, web-based interface
It allows you to create personalized pins
Works with Pinterest and Facebook
Cons
Not many social media sites are supported (Instagram, Pinterest, and Facebook only)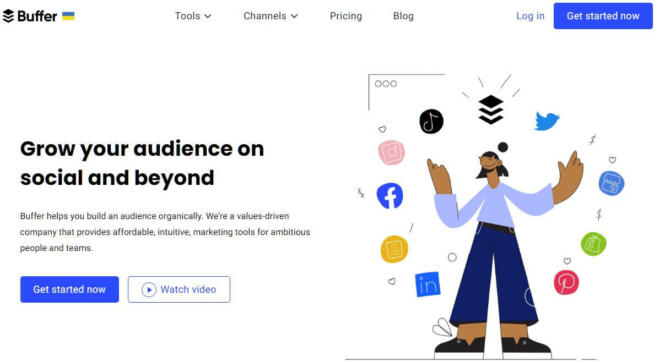 Buffer isn't the most popular free Instagram scheduler around, but it's a pretty good one if you're not too demanding. This service offers both free and paid plans but if you don't want to spend any money, I found its free offering to be more than decent.
As you can expect from it, scheduling posts is easy here, and the service supports bulk scheduling and publishing, letting you stay on top of your game for an extended period. Planning and preparing your posts is also a big deal here, which helps you organize your profile for maximum engagement.
Buffer offers you a comprehensive calendar view, which makes the interface a whole lot simpler. From here, you can choose the exact time and date to post, which is further backed by the ability to schedule ANY form of post – be it a simple photo or an Instagram story, carousel, or reel.
This service doesn't support only Instagram, though. If you want to move to other channels, you can schedule posts on Facebook, Shopify, TikTok, LinkedIn, Pinterest, and many other websites and platforms. All of this applies even to its free plan!
I like that Buffer gives you feedback regarding your posts. You can, therefore, see advanced metrics to keep track of the engagement with your followers. Even preset schedules are available here, so you can use them whenever you want when scheduling a post.
All in all, Buffer offers one of the best free plans here, and the cheapest premium plan called Essentials starts at only $5 a month. The Team plan is $10 a month per channel, and for those with 10+ social channels, you get the Agency plan at $100 per channel.
If you don't mind spending $5 a month, I actually recommend this Essentials plan because it gives you a LOT more compared to its free plan. And if you can't afford it, I have no doubts its free plan will satisfy at least some of your needs.
Pros
It helps you plan and prepare your posts in advance
Great calendar view makes it very easy to use
Advanced metrics for better engagement
Preset schedules are available
Cheap premium prices that start at just $5/mo
Cons
Features like advanced metrics and unlimited posts are locked behind a paywall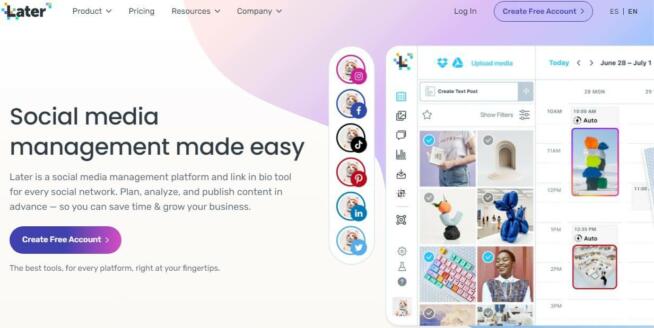 Later is a pretty good name for an awesome free service to schedule your Instagram posts. Besides, you can leave all your posts for Later – pun intended – and let the service publish them at the exact time you want. Being on the 5th spot on the list, you'd think Later is subpar and far from being great.
However, this is a premium Instagram scheduler where you can get started for free by making a free account. From here, posting all types of posts is easy, as you can utilize its simple interface to schedule a post, story, reel, or carousel to your accord.
Later is here not only to schedule posts for you but also to plan them. You can use its powerful tools for adding hashtags and checking in-depth analytics to see your engagement. This applies to all of the supported channels where Later shines.
Aside from Instagram, you can use Later on platforms like Twitter, LinkedIn, Pinterest, Facebook, and others. These platforms, in conjunction with Instagram, will surely make your online presence stronger and more noticeable.
One thing I really like about it is the mobile app. Unlike many other free Instagram post schedulers, Later offers dedicated iOS/Android apps which you can download for free! This means you can schedule posts and plan everything on the fly, which makes life much easier.
Later lets you make a free account, as said, but you can use it for free only for 14 days. After that, you'll need to get a premium plan which will cost you $18 a month if we're talking about a Started plan. However, this Starter plan is really good and offers 30 posts per social profile.
In addition, you get collaboration tools, limited analytics for up to 3 months of data, and other great features. The best-value plan is called Growth but at $40 a month, it's a bit more expensive. Either way, the 14-day free trial is great if you need a quick Instagram boost and schedule some posts in advance.
Pros
In-depth analytics and metrics
You can use it to add hashtags and personalize your posts
There's a dedicated app for iOS/Android
It works with LinkedIn and Facebook
Cons
You can use it for free only for 14 days
2. Free Instagram Schedulers FAQ
2.1 Are free Instagram schedulers worth it?
The best free Instagram post schedulers are worth it if you don't have the time on your hands to upload each post manually. They will allow you to schedule posts way in advance so that you have peace of mind for days and even weeks.
Also, free Instagram schedulers, in particular, are a bit limited in features compared to premium options. Still, I think they do a good enough job of scheduling and personalizing your posts if you're a busy person and don't have that much time to do everything on your own.
2.2 Can I schedule my posts directly in the Instagram app?
Yes, Instagram allows you to schedule your posts but you don't get all the advanced features of the best Instagram schedulers. I think it's better to take advantage of a free Instagram scheduler if you want to fully take control of your posts and get all the greatest customization options.
2.3 What is the best time to schedule Instagram posts?
The best time to schedule Instagram posts depends on your followers. You should examine your followers and see when they're active the most. This can be done by checking when they're publishing posts, stories, reels, and carousels.
From here, simply take note of their active hours and schedule your posts accordingly to get the best engagement.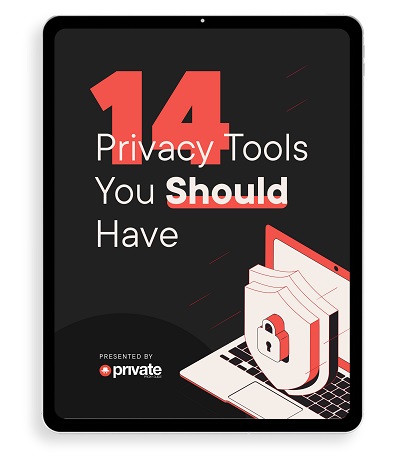 Learn how to stay safe online in this free 34-page eBook.