It's not usual to hear about virus attacks on Linux computers. It's generally accepted that Linux is much more secure than Windows and viruses for Linux simply do not exist.
However, just by using this operating system, you are not automatically protected against viruses and malware. Even if you use the system properly, in many cases, antivirus software can play a significant role in protecting your confidential files. Moreover, today we hear about more and more attacks targeted at Linux devices.
The number of viruses is gradually growing. So, using an antivirus solution is not so bad idea, especially when your business uses Linux. One attack can highly influence your productivity and destroy business processes. Let's see why you should use antivirus for Linux and which are the best products.
1. Do you really need an antivirus for Linux?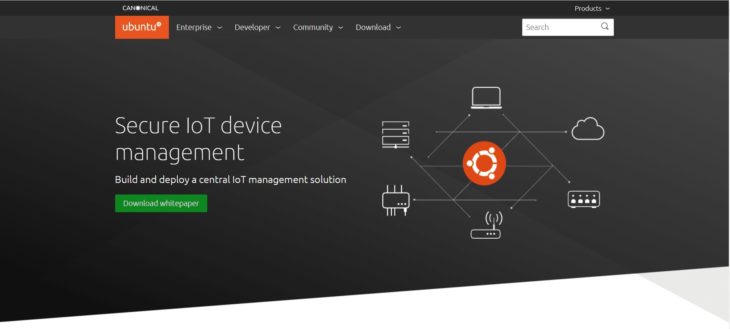 Linux is considered to be a reliable operating system because it is less vulnerable than Windows. Most user PCs run on Windows, so the number of viruses and malware developed for this platform is far greater than for others. However, this doesn't mean that Linux doesn't need protection from viruses.
There are several reasons to consider installing an antivirus app on your Linux computer:
The chances of unauthorized access to your PC. If your device is permanently connected to the Internet, hackers can steal information from it.
Trojans that mask themselves as browser extensions or useful apps. You can catch them when visiting suspicious resources. The apps will send spam from an infected computer.
A Linux PC cannot be infected by viruses for Windows. However, it can spread viruses to other devices.
Spy bots can monitor and copy personal data from a computer.
If you use two operating systems on your device, you can scan files of the second operating system while running Linux.
To perform certain actions, you need superuser rights. So, if you like to run most tasks under root, the antivirus will protect your system from a crash.
Your PC runs as a server — in this case, you can infect other devices in your network, especially if these are Windows computers.
2. What to expect from Linux antivirus?
By using the antivirus for Linux, you can expect the following features:
Protection against phishing. Many resources steal personal information from users by using fake sites. Good antiviruses can detect such resources and block access to them.
Control the files on the server. Often, antiviruses are used to monitor the status of the server and the files on it.
Detecting and removing viruses for Windows and macOS if you use dual boot. To prevent Linux from being an incubator and distributor of viruses, antiviruses for Linux can clean the device of threats for other operating systems as well.
Now, let's review the best antivirus apps for Ubuntu. Why Ubuntu? Because this is the most popular Linux distributive. Most apps are compatible with Ubuntu and Ubuntu-based distributives first.
3. Best antivirus for Linux in 2022

Website: www.eset.com/home/antivirus-linux/
When developing a product for Linux, most antivirus companies focus on business solutions. Fortunately, there is an excellent antivirus solution for home Linux users — ESET NOD32 Antivirus for Linux. The software is extremely easy to set up and use, so it is the most convenient antivirus solution for private users.
Despite ESET not being the most popular brand on the market, it has millions of users around the world. It regularly takes the highest positions in various independent tests. The ESET antivirus engine uses ThreatSense.NET, a timely detection system. The technology continuously collects data on new malware behavior from ESET users and then informs the entire ESET network, allowing you to stay one step ahead of any new threats.
Like most home antivirus programs for Linux, ESET NOD32 Antivirus for Linux does not offer a lot of advanced features. This is obvious when compared to Windows products which often include secure VPN connection and identity-theft protection services. However, it is still exceptionally good for everyone.
Basic features
Antivirus and Antispyware modules — utilities that monitor not only standard viruses, but also utilities that collect personal information.
Device control. The antivirus monitors all the connected drives and checks them for dangerous applications. It will help you not to spread viruses for other operating systems from your infected Linux computer.
Antiphishing module (protection against fake sites that steal personal data). This is a useful tool for those who are not very attentive to the resources they visit and frequently access unprotected and fake sites.
Minimal impact on the system resources.
Pros
Reliable real-time protection against all types of malware with the ThreatSense.NET timely detection system.
The interface is lightweight, intuitive, and easy to use.
A wide range of scanning settings — you can easily configure them according to your needs.
Affordable pricing, 30-days trial to test the product before purchase.
Cons
Few features apart from anti-virus scanning — no network security or privacy tools.
No email gateway (provided by most antivirus programs for Linux).
No free version — to use it, you must get a subscription.
ESET NOD32 Antivirus for Linux provides excellent protection against malware with a simple and intuitive user interface. This makes it an excellent choice if you are new to Linux and want reliable antivirus protection without extra features.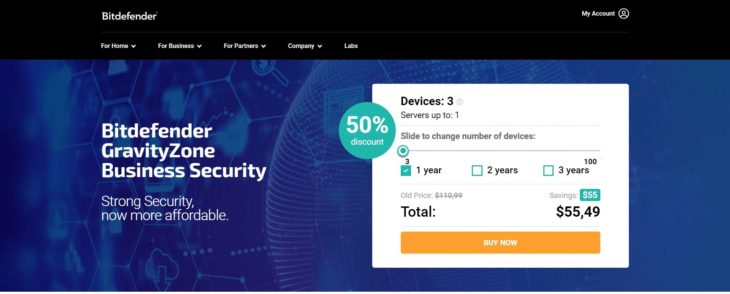 Website: www.bitdefender.com/business/smb-products/business-security.html
This antivirus product is a leader in business anti-malware protection. It can protect up to 100 workstations, including those running Linux. Once Bitdefender is installed, you can run a vulnerability assessment to check the security of your network and the correct configuration of all computers.
The Bitdefender Anti-Virus kernel is the best in threat detection on the market at the moment. For example, Bitdefender's patented Process Inspector can detect bodiless malware, an increasingly common cybersecurity threat. A bodiless virus penetrates directly into the application memory area without downloading any malicious files. Instead of scanning for malicious files, the Process Inspector makes excellent use of machine learning to detect and block suspicious processes in all applications running in your network.
Basic features
Powerful protection against threats of any type.
Archive scanning.
Desktop integration.
Threat quarantine.
The ability to control from the command line.
Pros
Flexible plans for small and medium businesses.
A vulnerability assessment allows you to manage the security of every workstation in your network.
One of the best anti-malware technologies in the world.
Bodiless malware protection with patented Process Inspector technology.
Cons
Covers only up to 100 workstations (larger companies should consider Bitdefender Enterprise Security).
Slightly more expensive than other antiviruses for Linux.
Bitdefender GravityZone Business Security protects your business with advanced cybersecurity technology. It gives IT administrators full control over the security of all workstations and protects against emerging threats such as bodiless malware.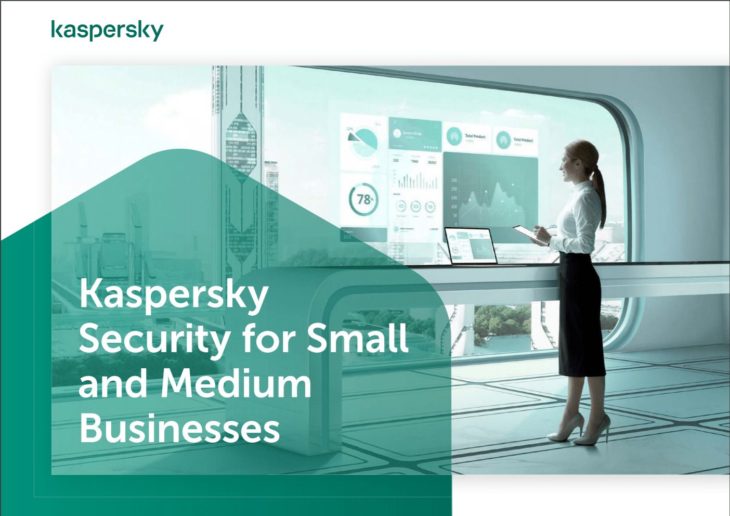 Website: www.kaspersky.com/small-to-medium-business-security/endpoint-linux
Kaspersky offers excellent cybersecurity protection if you need endpoint protection in a hybrid IT environment where some computers run on Linux and others on Windows or macOS. The Kaspersky software for Linux easily integrates with its products on other platforms.
Administrators can work centrally — remotely set tasks, set up scans, and manage security policies. For Linux servers, Kaspersky Endpoint Security provides reliable protection against extortionist attacks. It uses anti-cryptor technology to continuously scan saved files, detects and blocks unauthorized encryption as a possible ransomware attack at an early stage. You can install Kaspersky remotely on Linux, Windows, and macOS workstations without having to manually configure or even reboot your computer. This allows you to protect every workstation in your company and prevent data leaks and virus attacks.
Basic features
Kaspersky Internet Security can be easily deployed on the server-side without the graphical interface, just with the command line. To update the database and work with the antivirus, you do not need to rebuild the system kernel and update many distribution components.
The antivirus supports a lot of effective commands to interact with the program from the console, to configure group tasks and policies. It supports importing and exporting settings for fast deployment of antivirus software on many devices.
It also gives you full control over your network screen. You can manage incoming and outgoing connections from a single console.
If the antivirus detects any strange behavior on the server, it will automatically notify the administrator by e-mail. Furthermore, it records all changes on the computer in a log that can be analyzed afterward.
Pros
The remote centralized management of multiple devices on any operating system.
High-end protection against ransomware.
Flexible pricing.
Cons
Email and web gateway protection not available in the Advanced and Select packages.
Additional IT skills are required for Endpoint Security packages — you will need to hire a system administrator.
Kaspersky Endpoint Security for Linux will help you manage cybersecurity for your entire business. Kaspersky will be an excellent choice if you use devices with different operating systems. Moreover, it offers excellent protection against ransomware which will protect your servers from this, particularly dangerous threat.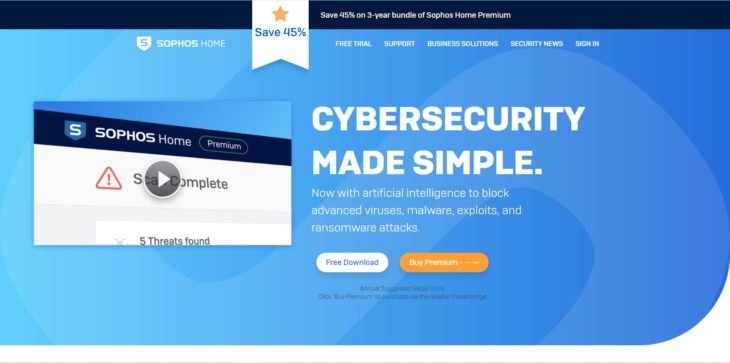 Website: www.sophos.com/en-us/products/free-tools/sophos-antivirus-for-linux.aspx
Sophos protects against all types of malware. You can use the product for free on one device. If you need some additional options like centralized management of multiple workstations and technical support, you will need to upgrade your subscription to the paid option.
Sophos Antivirus for Linux is a cross-platform solution and protects not only your Linux system but other workstations, no matter what operating system they use. If you work on a Linux file server, the antivirus app will prevent infecting the devices using other operating systems.
Basic features
Sophos detects malware using advanced heuristic analysis — before accessing your system, the app runs the suspicious files either on an isolated virtual machine or decompiled so that Sophos can analyze their code.
The Antivirus engine effectively detects and cleans viruses, trojans, and other malware. In addition to sophisticated detection based on advanced heuristics, the app uses Live Protection to search for suspicious files in real-time through Sophos Labs.
Sophos Antivirus for Linux is easy to install and use and runs in the background. The app is updated regularly, and the updates are small — usually 50 KB or less — so you won't even notice when the program is updated.
The app includes detailed scanning settings. For example, you can add certain directories and files to the exception list — this will improve the system's performance and reduce scanning time.
Sophos Antivirus provides precompiled support for a wide range of Linux distributions and cores. Do you have a custom build of Linux? Not a problem. Sophos also supports customized Linux distributions and kernels.
Pros
Detects malicious software designed to attack all operating systems.
Advanced heuristic analysis protects against malicious programs that are not in the virus databases.
Lightweight and efficient.
Free of charge on one device.
Cons
The support team responds to your emails after a very long time — it can take days to get a reply from them.
You must pay extra for the option of centralized security management and extended support.
Sophos Antivirus for Linux provides a convenient user interface and advanced threat detection, which is free to use on one device. If you are using Linux for a file server, it is crucial to protect your workstations from malware. By detecting all types of malware passing through your server, Sophos protects every device on your network, no matter what operating system they use.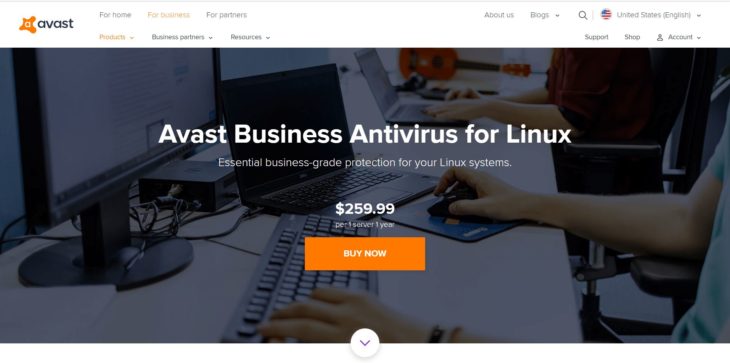 Website: www.avast.com/business/products/antivirus-for-linux
This is a complete security solution for Linux servers which consists of several components that provide reliable and complete protection of your infrastructure. A real-time file scanner checks all files at the monitored connection points.
The app supports protection for Samba servers and NFS. The scanner is based on Fanotify technology which provides a high level of protection for your server. Since Avast File Server Security only protects files on the servers themselves, it does not connect to workstations, as well as does not affect or reduce the network performance.
The command-line utility enables on-demand anti-virus scanning and integrates with mail servers using AMaViS. The database update script checks and downloads the latest VPS version every hour. Besides, the scanning service connects to the Avast cloud and receives the latest virus signature updates as soon as they are released.
Basic features
Real-time protection.
Scan on demand.
Core Protection.
Network protection.
File Server Protection.
Regular updates.
Ability to run from the command line.
Full integration with system batch managers. There is no need to constantly download the latest version of antivirus from the official website and unpack the downloaded files.
The convenient syntax for displaying information about viruses when scanning in the terminal.
CommunityIQ system. This is a database of malicious programs, which is built with the help of antivirus users. If there is some threat to one computer, the information about it is automatically sent to all Avast servers.
Pros
Support for both 32-bit and 64-bit systems.
Support for various distributions such as Red Hat, Debian, and Ubuntu.
Malware detection capability on dual boot devices, simultaneously for two operating systems.
Cons
Quite expensive, non-flexible pricing.
Avast Business Antivirus for Linux is a great solution for businesses of any type and size. It provides a high level of security and protection against any kind of online and offline threats.
4. FAQ
Do I need an antivirus for my Linux computer?
Yes, Linux needs antivirus protection like any operating system. Some time ago, Linux was very safe. However, nowadays, there are already hundreds of threats specifically designed for Linux. As this operating system grows in popularity, it becomes increasingly important to protect your Linux device. So, a good antivirus will guarantee your cybersecurity.
Can I use an antivirus on my Linux Ubuntu home device?
Yes, many companies provide a good Linux antivirus for home users. For example, you can use ESET NOD32 and Sophos Antivirus on your home computer.
How can I protect my Linux servers and computers in the office?
You can use any Linux antivirus to protect your enterprise computers and servers.
What is the best antivirus for Linux Ubuntu?
For home Ubuntu users, we recommend ESET NOD32 for Linux. It is a powerful, convenient, and regularly updated antivirus for this system. For Ubuntu business users, we recommend Bitdefender GravityZone Business Security. It is an ideal solution to provide centralized control and security for the Ubuntu workstation network.
5. Conclusion
Despite Linux being by default a much more secure operating system compared to Windows, using an antivirus is recommended to protect all your data, especially if you use Ubuntu on your primary computer. We reviewed five of the best antiviruses for Linux — we hope you can choose the most appropriate solution for your needs.