Usenet is undoubtedly the oldest online network you can find out there, and although there are many social media apps now, there's still something unique about Usenet that any of the other platforms has. Younger people reading this may not know how this platform works, but it's not so far from social media platforms such as Reddit.
Using Usenet is safe for everyone, but as it happens with many other online platforms, you are always at risk of getting hacked or letting malware into your computer. Apart from that, since Usenet servers are old, connecting to them from non-optimized internet connections can be tiring.
Therefore, the best you can do if you want to start using Usenet is to get a VPN. Virtual private network services not only help you stay on the most optimal internet connection settings for your device but also hide your IP address from hackers and people trying to access your personal information.
However, not all VPNs work the same, and most of them offer different features, so you should only download VPNs that offer you everything you need to improve your Usenet experience.
Dive into this page to know the five best VPNs for Usenet in 2022!
1. Best VPN for Usenet 2022
As we mentioned before, you should only go for the top-market options when looking for a VPN. It's worth noting all the VPNs on this list are paid VPNs, so you won't be able to use them for free.
This is not bad since most free VPNs are either scams or not enough to protect you from any virtual threat.
With that being said, here are the five best Usenet VPNs you can find online:
1.1 NordVPN – Usenet VPN With Best Speed And Security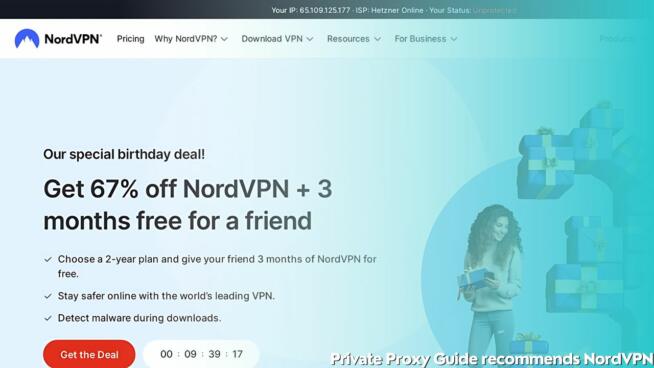 One of the main issues about using Usenet is that, since it's one of the most private ways of communicating online, many hackers use it to get to newcomers that may not know a lot about how this platform works.
Thus, you need a VPN that keeps you safe from malware or anyone trying to get into your computer from Usenet. NordVPN is perfect for the job since it offers the best speed-security features balance on the market.
What we mean by that is you get a fair number of security features to keep your computer from getting hacked while optimizing your internet connection to make using Usenet easier.
NordVPN's Threat Protection Feature even protects you when the VPN is not active. Additionally, this feature allows you to browse faster and safer for you without tracking your internet activity or keeping logs of what you do.
1.2 ExpressVPN – Fastest VPN for Usenet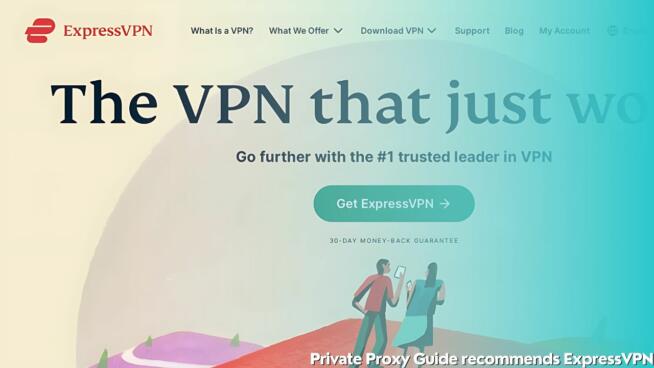 ExpressVPN and NordVPN are the best virtual private network service providers you can find out there, and most tier lists have them as first and second place. Regardless of that, both VPNs focus on different things since, while NordVPN offers you overall decent speed and security features, ExpressVPN does its best to be the fastest VPN on the market.
This VPN does this by offering you access to more than 3,000 optimized servers across 94 countries. If you don't know which country or server to pick, the VPN's smart location feature will take you to the best server for your current location.
Unlike many VPNs online, ExpressVPN doesn't have any kind of bandwidth restriction. Using this VPN will also protect you from any cyber-attacks you may receive from Usenet, so you don't have to worry about that.
Why do you want a VPN that makes your internet connection better? Because Usenet servers may not be as good and fast as the ones social media apps have now.
1.3 CyberGhost – Safe VPN for Usenet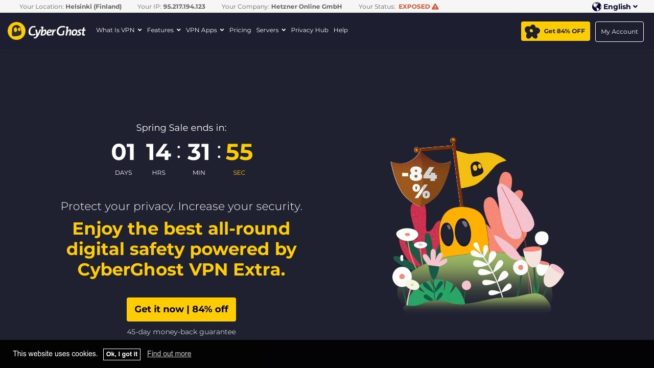 Like ExpressVPN focuses on being the fastest VPN on the market, CyberGhost tries to make your browsing experience the safest it can be.
Having a VPN that offers you excellent security features is what you need if you want to access Usenet since that allows you to forget about malware or any cyber-attack you could suffer from while getting into any of the newsgroups. On top of that, CyberGhost is one of the most affordable VPNs on the list, so it's ideal for people working on a budget.
CyberGhost protects you with 256-bit encryption and a SHA256 authentication system, which are some of the most advanced features you can find regarding virtual security measures.
However, if you don't like how this VPN works, you can always take your money back thanks to its 45-day money-back guarantee.
1.4 ZenMate VPN – Best Usenet VPN for Protecting Several Devices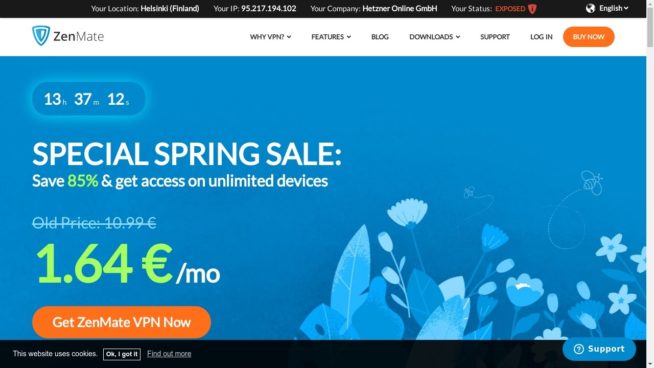 While many VPNs limit the number of devices you can protect with the same account to make you pay for a better and more expensive plan, ZenMate VPN allows you to protect all the devices you want for a reasonable fee.
Let's say you want a VPN for Usenet but can't use it for your smartphone. You would need to pay for another VPN to protect your smartphone from hackers, or you would have to download a free VPN that offers fewer features than the one you already paid for. Thankfully, you don't have to worry about that with ZenMate.
Apart from that, this VPN features a kill switch that cuts down your internet activity if something happens to the VPN, which is a safety net for any kind of virtual emergency.
1.5 HideMyAss VPN – Best Usenet VPN

For Unblocking Content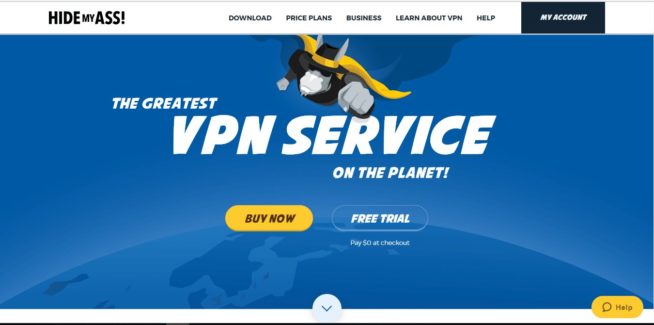 Hide My Ass is the last VPN on the list, and it's an ideal pick for you if you want to access any blocked or geo-restricted content online. Privacy features are also amazing with this VPN, so you can browse everything you want without worrying about people looking at what you are doing.
Using HMA can make your Usenet experience easier and free of any blocked content, and since there are newsgroups on Usenet from everywhere in the world, you are buying a ticket to get into all of them.
HMA is also useful for accessing geo-restricted content from platforms such as Spotify and Netflix, so you won't longer miss your favorite shows or sports matches as long as you use this VPN. This service is available on desktop devices, smartphones, Apple TVs, and even modern videogame consoles such as a PlayStation 5.
2. Wrapping Up
Accessing Usenet after all the time it's been on is for sure one of the most interesting things you can do today since it can also show you how things worked back in the day when there weren't things such as Twitter or Reddit.
Regardless of that, you should only use Usenet if you are being protected by one of the VPNs on this list, so pick the one you like best and start browsing newsgroups!
3. FAQ
We understand if you have questions about VPNs or Usenet in general. Regardless of that, people tend to have the same questions after learning about this discussion platform and how VPNs can enhance it, so read some of the most frequently asked questions about the matter to see if you find the answer you are looking for:
3.1 Is Usenet Still Active?
Although many may not believe this, Usenet is still active, and it's now one oldest online communities there are worldwide. However, the process to get it is a bit different from the one to sign up for average social media platforms.
If you want to check Usenet, you need to pay for a Usenet provider that allows you to browse all the newsgroups there are now. Take into account that this discussion group works on a binary and text-filed basis, so you should research a bit about how it works before getting into it.
Why would someone use Usenet? Because it offers more privacy and anonymity than any other discussion group or forum online. Usenet is an excellent option for people who don't like internet people knowing things about them.
3.2 Will VPNs Make My Usenet Experience Slower?
Many people have the misconception that using VPNs will always make your internet connection slower, and while that's something that happens with some VPNs, it doesn't happen with all of them. Some VPNs can even help you optimize your internet connection settings.
This happens with VPNs such as ExpressVPN that take your internet connection through the best servers available and optimize your connection settings to make you enjoy the full amount of benefits your internet provider can give you. Nonetheless, you may ask yourself why VPNs make your internet connection slower.
Well, this happens because some VPNs not only use low-quality services but also overcomplicate the process to get data from your internet network to your internet provider. Therefore, everything depends on how that specific VPN works and what it does to optimize your internet speed or accomplish what it claims to do.
3.3 Is Using VPNs Illegal?
Using VPNs is completely legal in the United States, so you can freely use them without worrying about getting in trouble with the police or breaking any law. When you use a VPN, you are just trying to make your browsing experience safer since VPNs are privacy tools, and there's nothing wrong with that.
VPN Service


www.nordvpn.com
NordVPN
Review
Price: $11.95 $3.71/month
Servers: 5500+ in 59 countries
Simultaneous connections: 6
Jurisdiction: Panama
Payment: PayPal, AmazonPay, Crypto, Google Pay, Klarna
Torrenting: OK
Unblocks US Netflix: Yes
Dedicated IP: $70/yr
TrustPilot Score: 4,7/5
Money-back: 30 days
Extra: Double VPN, Obfuscated servers
Visit NordVPN »


www.expressvpn.com
ExpressVPN
Review
Price: $12.95 $8.32/month
Servers: 3300+ in 94 countries
Simultaneous connections: 5
Jurisdiction: British Virgin Islands
Payment: PayPal, Crypto, AliPay, Klarna,
Torrenting: OK
Unblocks US Netflix: Yes
Dedicated IP: Not provided
TrustPilot Score: 4,7/5
Money-back: 30 days
Visit ExpressVPN »


www.cyberghostvpn.com
CyberGhost
Review
Price: $11.99 $2.25/month
Servers: 6600+ in 89 coutrines
Simultaneous connections: 7
Jurisdiction: Romania
Payment: PayPal, Crypto
Torrenting: OK
Unblocks US Netflix: Yes
Dedicated IP: $51/yr
TrustPilot Score: 4,8/5
Money-back: 45 days
Visit CyberGhost »


www.surfshark.com
Surfshark
Price: $11.95 $2.49/month
Servers: 3200+ in 65 coutrines
Simultaneous connections: Unlimited
Jurisdiction: British Virgin Islands
Payment: PayPal, Crypto, Google Pay, Amazon Pay
Torrenting: OK
Unblocks US Netflix: Yes
Dedicated IP: Not provided
TrustPilot Score: 4,3/5
Money-back: 30 days
Visit Surfshark »


www.purevpn.com
PureVPN
Review
Price: $9.60 $3.33/month
Servers: 6500+ in 140 coutrines
Simultaneous connections: 10
Jurisdiction: Hong Kong
Payment: PayPal, Credit Cards
Torrenting: OK
Unblocks US Netflix: Yes
Dedicated IP: $35.88/yr
TrustPilot Score: 4,7/5
Money-back: 31 days
Visit PureVPN »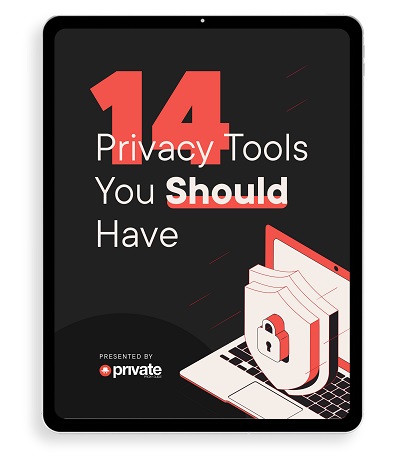 Learn how to stay safe online in this free 34-page eBook.