Firewalls are very important for protecting your system against various threats – be it offline or online. While firewalls are crucial for every system, they can easily become obsolete if hackers learn new tricks to bypass them. That's why implementing your own firewall is very complex without previous experience.
However, as we speak, a very popular option is getting a firewall as a service, often referred to as FWaaS. Here, you won't implement the firewall directly but you'll rather pay for it in the form of a subscription. This way, you don't have to worry about maintenance, which is often the hardest part.
With dozens of FWaas providers on the market, it's increasingly hard to choose the quality one. Thus, our mission today is to give you the best firewall service providers that are proven and tested by our team. Without further ado, let's delve deeper into this very important subject.
1. Best Firewall Service Providers 2023 – Top 10 FWaaS Providers
To make sure we give you the best possible firewall service providers in 2023, we made a list of the top 10 choices. We tested them out thoroughly and thanks to their vast possibilities, we can guarantee their quality.
| | | | | | |
| --- | --- | --- | --- | --- | --- |
| Name | Starting Price | Free Trial | VPN Included | Best suited for | Customer support |
| Perimeter 81 | $8 | Yes | Yes | Large companies | 24/7 live chat |
| Zscaler Cloud Firewall | Contact | No | No | Virtual offices | Email |
| CrowdStrike Falcon Firewall Management | $8.99 | Yes | No | Large companies | 24/7 live chat |
| Fortinet SASE | Contact | Yes | | Small & large companies | 24/7 live chat, phone, email |
| Sophos Firewall | Contact | Yes | No | Home use & large businesses | 24/7 live chat |
| SecurityHQ Managed Firewall | Contact | Yes | No | Individuals & smaller businesses | Email |
| Cato Networks SASE | Contact | Yes | No | Large companies | 24/7 live chat |
| Palo Alto Networks SASE | Contact | No | No | Large & enterprise-level companies | 24/7 live chat |
| Barracuda MSP CloudGen Firewall | Contact | Yes | Yes | Large & small companies | Email & phone |
| Secucloud FWaaS | Contact | No | Yes | Larger companies | Phone |
Wondering which FWaaS solutions we recommend? The list is below: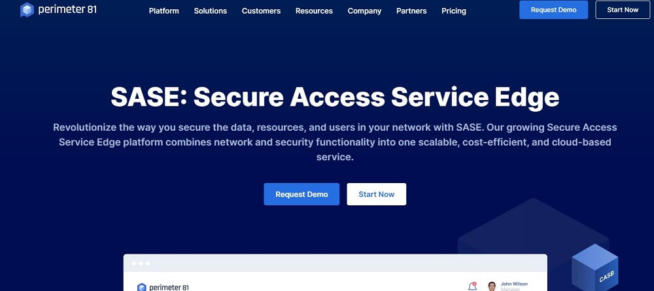 You're probably not surprised to see Perimeter 81 at the top of the list. This FWaaS provider is very powerful in a way that it lets you focus on multiple networks, rather than a single network like most firewalls do. Perimeter 81 is, therefore, a great solution for large companies with lots of resources.
What about smaller businesses? Well, surprisingly, Perimeter 81 didn't forget about them, and with the starting price of just $8 a month, it's really affordable. This plan allows for a minimum of 5 users and offers pretty much every feature you need for the highest level of security.
Moreover, you won't have any hidden expenses with Perimeter 81. Installation fees aren't present and you can easily cancel the subscription whenever you want. Unlimited network tunnels are available on all plans too, and if you want to expand your workforce, you can just increase the number of users.
Our experience showed that Perimeter 81 is a great all-around solution for 360-degree protection. You can protect all your websites with one subscription that groups them and assigns one public IP for the entire group. That way, you get additional security for all sites simultaneously effortlessly.
If you go for more expensive plans, Perimeter 81 includes an always-on VPN, WireGuard protocol, and DNS filtering, which drastically strengthens the security you get. With split tunneling and Private DNS, Perimeter 81 is a pinnacle of FWaaS providers that doesn't have any specific downsides.
It's surely not free but the good thing is that it offers affordable prices. Also, it's worth noting that there's a free demo that lets you test Perimeter 81 before you purchase it, while all plans are covered by a 30-day money-back guarantee.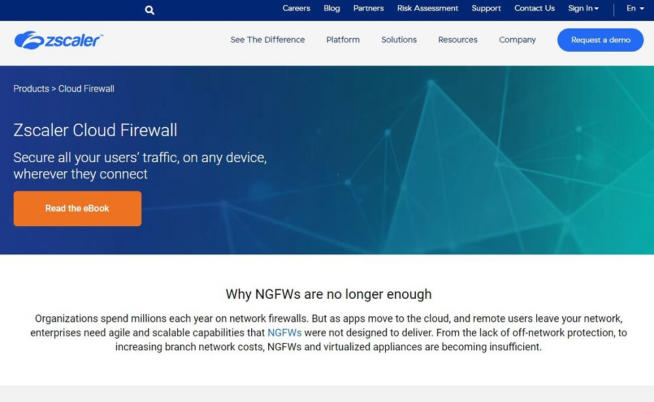 Zscaler Cloud Firewall developed its FWaaS solution for virtual offices, and so far, it proved to be very valuable. Instead of sitting in a crammed office with 10, 20, or 30 workers, you can use Cloud Firewall to connect to a virtual office and access your workspace remotely, even from your home.
In that case, how does Zscaler Cloud Firewall protect the system? Well, as you can guess, it's not a traditional firewall that you employ on your computer. It's quite the opposite. Cloud Firewall protects the connection to your workspace by scanning every bit of traffic.
As a result, Zscaler Cloud Firewall is not very resource-taxing. In return, this means that it doesn't have an impact on your device, so you can get the maximum performance for higher workloads. Moreover, this FWaaS solution is great for those working from home and not just for large businesses.
It offers a relatively cheap Business plan that offers URL filtering, full SSL inspection, and data loss prevention. More expensive plans are for larger businesses and admittedly, they're not the cheapest. However, I think that's not a problem given how well Cloud Firewall performs.
If we were to dumb it down, we could say it functions similarly to a VPN, as both of these tools protect your connection. Albeit, this tool won't protect your privacy but just use its security suite to guard you against hackers and malicious programs online.
Sadly, you won't get a free trial from Zscaler Cloud Firewall and its pricing isn't available openly on the website. For that reason, you'll need to request the pricing on the site by providing some of your personal information.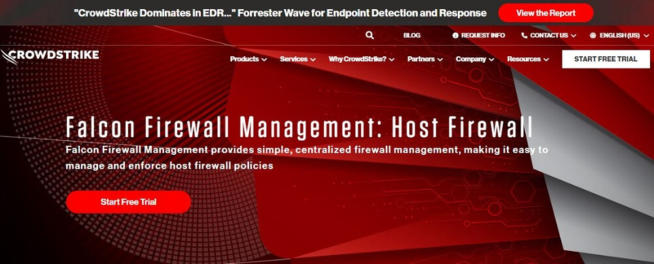 CrowdStrike offers dozens of cybersecurity products, including its reliable FWaaS solution. Right off the bat, you'll notice that this choice is better suited for large and enterprise-level companies, offering full endpoint security and protection.
Thanks to that, Falcon Firewall Management can provide possibly the highest level of protection for your system. It's very easy to use as well, and apart from its cloud version, it also requires you to install a client on the device you want to protect.
This client ensures that you get end-to-end protection against various forms of threats. However, I also like that you can access its dashboard from any browser remotely, which is great if the system administrator isn't near the protected system.
Being a Management tool, it also allows you to create new policies. These policies can apply to the entire system or separately for each machine. It's worth mentioning that this tool isn't resource-taxing, despite taking advantage of a client on the users' machine.
In other words, it won't slow down your device, so you can keep working at the same pace. CrowdStrike's managed firewall solution also means that every update and maintenance work is done by the company itself, so the administrators can cross their legs on the table and enjoy – most of the time.
The pricing of Falcon Firewall Management starts at $8.99 a month which isn't too expensive. You also have the Enterprise plan at $15.99 which adds threat hunting and endpoint detection & response. Elite and Complete plans are the best solutions, albeit, they cost a lot more.
CrowdStrike Falcon Firewall Management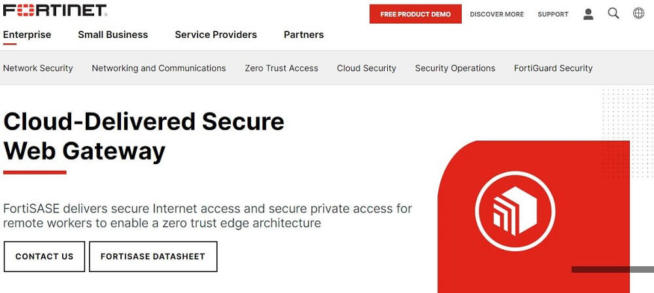 Fortinet has been around for more than two decades, offering 360-degree protection for different systems. The company supports both small and large businesses, which applies to its SASE (Secure Access Service Edge) solution.
Just to make it clear, this is not an FWaaS-only package and its cloud firewall protection is accompanied by other tools. For example, this package has DNS protection, letting you fend off malicious programs and domains in real-time.
We also like its intrusion prevention feature. It scans the entire network of your business for suspicious activities and hackers trying to break into the network. Given that we're talking about a cloud firewall solution, Fortinet SASE will be extremely gentle on your resources.
All the protection is distributed via a cloud, so all the protected devices can enjoy maximum performance. Apart from its SASE package, Fortinet offers a so-called Next-Generation Firewall solution that bumps up the performance and security.
However, we think that the SASE solution is very good given its feature-rich nature. On top of that, Fortinet offers a free trial for the product, so if you're in doubt, you can always test it out and see how well it works for you.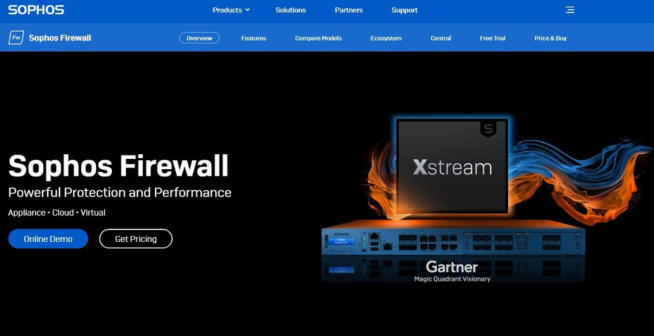 Sophos is one of the oldest companies on the list, dating back to 1985. While the company focused on its antivirus and encryption at the start, later on, it build a rock-solid firewall solution for medium-sized and large businesses but also for home use.
The firewall is, once again, cloud-based which means that your resources won't take a hit. However, the highlight is impenetrable TLS encryption that offers the highest possible level of security. If you decide on Sophos Firewall, you'll also get a deep packet inspection, which scans the network thoroughly to prevent any suspicious acts or software.
I find Sophos Firewall extremely easy to use too, with a highly-polished interface. Here, you can see how smoothly everything works thanks to Xstream processors. To strengthen its security, even more, Sophos includes a VPN that can protect all devices in the network.
This will ensure that everything you do remains anonymous and known only to the company members. Given Sophos' reliable 24/7 customer support, it's surprising how well the system updates and maintenance are done, with administrators having to do pretty much nothing.
Furthermore, there's a free trial as well, which lets you test out its premium offering for a certain period. Its XG Firewall for home use is completely free, by the way, but if you want to find the pricing for the premium plans, you'll need to contact Sophos directly.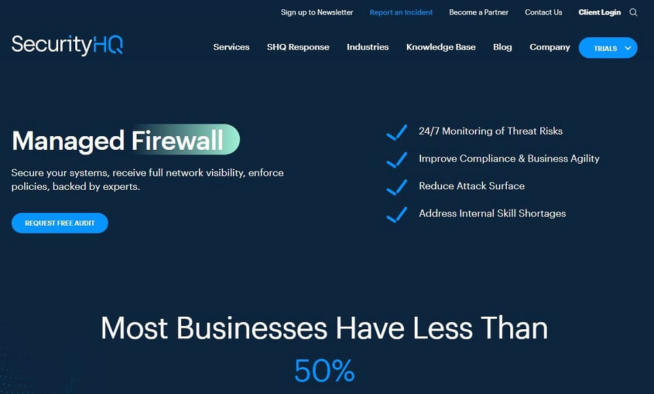 SecurityHQ offers a really good FWaaS product for not so tech-savvy companies and users. Namely, we're talking about a fully-managed firewall service, meaning that maintenance is done by the company itself. Thanks to the company, the network administrators won't have a very hard task.
This firewall solution is mainly aimed at individual users or smaller companies that don't have a sky-high budget. Also, we should mention that, despite its overall affordable pricing, SecurityHQ still offers 24/7 threat monitoring, which is crucial for maintaining the level of security all the time.
While not as feature-rich as Perimeter 81, you still get firewall optimization and automated threat containment. This means that Security HQ Managed Firewall will remove any threats and react to them in real-time without you having to do anything.
The newcomers will also like its simplistic, yet, comprehensive interface. SecurityHQ Managed Firewall is very easy to use, with all options stationed on the left side of the screen. Apart from its graphical interface, the company offers several security standards that include CIP, NERC, SOX, HIPAA, and PCI DSS.
Last but not least, we should mention some free stuff that SecurityHQ offers. You can get a one-time free managed firewall audit along with a free trial on its Managed Firewall solution. The pricing, however, isn't available on the website, so you'll have to request it from the support team.

Much like Fortinet, Cato Networks offers a SASE solution that offers similar features, one of which is FWaaS. As such, we should clarify that this solution is aimed at more advanced users and a bit larger companies. With this suite, you'll enjoy full firewall protection thanks to many useful tools.
Most notably, Cato Networks SASE comes with obligatory WAN optimization as well as the DNS. To make things better, Cato Networks' cloud-based solution is based on multiple worldwide servers, rather than on a single one, making for a more reliable experience.
As said, we're talking about a bundle, so you can expect more useful features. I really like their antivirus that works flawlessly but also their managed systems for threat detection and intrusion prevention. With them, getting rid of potential threats in real-time will be a breeze.
Especially useful is the deep packet inspection which is often used in strong firewalls, like The Great Firewall of China. Simply put, it scans every bit of inbound and outbound traffic for potential threats. Given that this is a managed system, you get the benefit of an easier administration job.
I mean, you don't have to upgrade and maintain the system, as Cato Networks will do it for you. In that case, you don't have to pay expensive IT specialists to do the job, although you might have one if you have a large company.
Nevertheless, this is a great solution for big workloads and lots of websites and networks. As you can expect, its pricing isn't available on the website and you can get it per request. The free trial, on the other hand, is here, and you can apply for it via your email.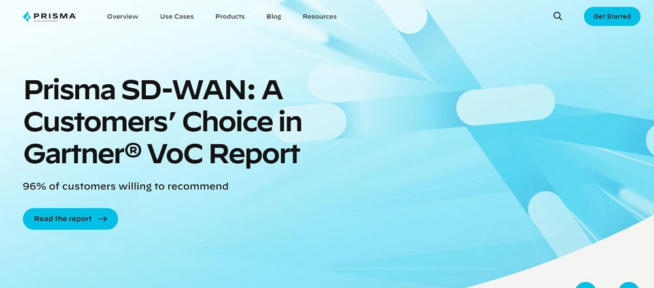 Palo Alto Networks is yet another verified and dependable cybersecurity company. Much like the other few choices on the list, it offers a SASE solution that consists of many useful features. And of course, it's cloud-based, which has many advantages.
This FWaaS provider offers a Next-Generation Firewall that offers the highest level of threat protection. Despite that, Palo Alto Networks SASE is great for both large companies and smaller businesses looking to amp up their firewall protection.
With SD-WAN and WAN optimization but also a reliable FWaaS, you can expect Palo Alto Networks SASE to deliver its A-game. It's really easy to use as well, despite being feature-rich, and since it's a cloud solution, your resource will rarely if ever get a hit.
We also must mention its Zero Trust Network Access (ZTNA). It's a package that adds a layer of encryption and real-time threat detection for the highest level of security. Data loss prevention is here too and its Cloud Secure Web Gateway enhances your protection thanks to machine learning.
All in all, this is among the best firewall service providers thanks to its reliability and exceptional protection capabilities. After all, it has a 45% reduction in data breach risk and more than 2,500 enterprises under its protection.
Unfortunately, its price isn't available on the website and so far, Palo Alto Networks doesn't offer a free trial. On the brighter side, 24/7 live chat support is here, so you can get in touch and get the required information.
1.9 Barracuda MSP CloudGen Firewall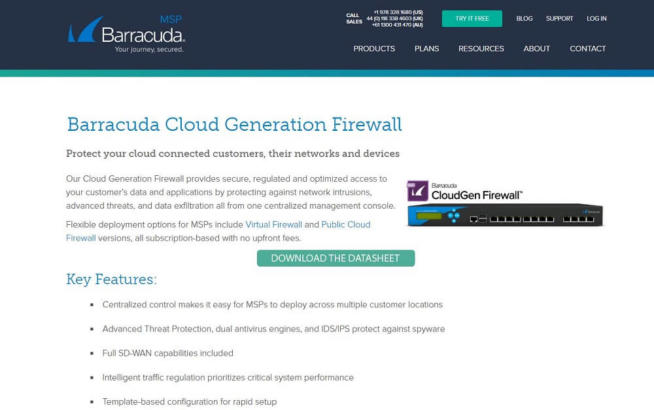 Barracuda MSP CloudGen Firewall comes with a lot of promises that make it an attractive option. To be honest, Barracuda MSP mostly delivers on them, especially when we talk about the quality of the firewall and not taxing your resources too much.
As its name implies, this is a cloud-based product that offers a fully-customizable firewall. This means that you can tweak different security settings or add policies that can apply to the entire system, without the need to update them separately.
Furthermore, CloudGen Firewall works in real-time when detecting and eliminating threats. The good thing here is that you get notifications for each action, giving you insight into how well the firewall works.
Not to mention SD-WAN capabilities and centralized control, making it easy to control the firewall remotely. Speaking of control, Barracuda MSP takes full responsibility for updating and maintaining the firewall system, meaning that we're talking about the managed firewall provider.
It does offer a free trial but also several subscription plans, all of which include the aforementioned features, plus a VPN and mobile support. While the plans are visible on the site, to get their pricing, you're gonna need to contact good, old customer support by filling in the support ticket.
Barracuda MSP CloudGen Firewall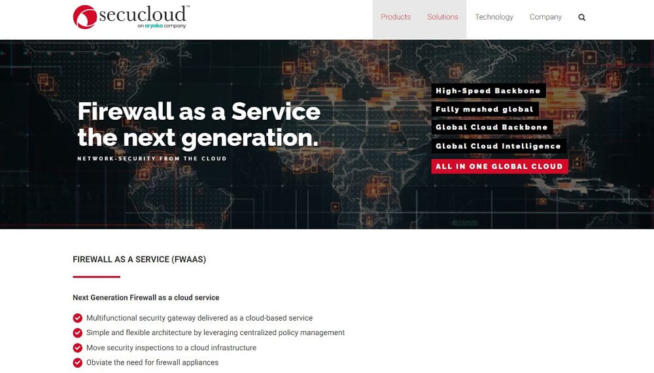 The last best firewall service provider is Secucloud FWaaS. As the name says, this is a pure FWaaS solution. However, it adds a bit of its own twist to it thanks to machine learning that helps with threat detection and removal, similar to next-gen systems of today.
In our experience, Secucloud FWaaS is very efficient and can, in most cases, even identify false alerts. Besides, it's very easy to set up and maintain because pretty much the entire workflow relies on the machine learning process to provide protection.
Once again, it's cloud-based so despite the complex way of work, it isn't going to go hard on your computer resources. In its dashboard, you'll also find the Global Cloud Intelligence feature. Through it, Secucloud FWaaS can access the comprehensive lists of malicious files and addresses of hackers.
Given its real-time 24/7 update interval, Secucloud will remain up to date with the newest and most dangerous online threats. It's also vital to mention that Secucloud FWaaS works as a proxy service, meaning that the internet traffic flows through its encrypted network.
However, the connection between you, as a user, and Secucloud's system is protected by its Virtual Private Network. As a result, you completely anonymize your information, all while the firewall does its job at keeping malware, viruses, and other online threats at bay.
The service doesn't offer a free trial, though, and you can find its pricing only if you contact the customer support team.
2. What Is a Firewall?
With the list of the best firewall service providers in 2023 out of the way, let's talk about what exactly is a firewall.
People know that the word firewall usually means protection against some form of online threats. It is often used in the IT sector and this tool is a staple of online security for complex systems. If you think better, even Windows has a firewall built-in, which guarantees almost 100% protection against threats.
While Windows computers often utilize antivirus and anti-malware software, firewalls are somewhat different. Thinks of a firewall like security at the front of the entrance of a particular building. Their task is to filter out the potential threats and eliminate them if they start creating problems.
In the same fashion, firewalls reside at the very entrance of the company's network, serving as the first (and usually the last) line of defense. They are here to eliminate viruses, malware, and other types of online threats so that they don't endanger the company's network.
Firewalls are also customizable and they can come as both hardware and software. The solutions we talked about are in the software form and they support various customization options. This means that they can react only to certain threats and even employ machine learning for added functionality.
Firewall technology changed a lot over the years and today, we have more advanced but also more reliable systems.
2.1 And How Does a Firewall Work?
The way the firewall is going to work mainly depends on the type of firewall we're talking about. Luckily, we're going to talk about some of the most popular ones in a few minutes but generally speaking, firewalls have the task of protecting your network or group of networks.
Once you put the firewall in place, it scans inbound traffic for potential threats. This is done via the firewall's malware/virus database, which, during the traffic scan, is used to see if any familiar threats are found. Of course, this is just a basic explanation, as there are more advanced systems involved.
For example, some firewalls can use machine learning to adapt to new threats, which are then put into the database for further notice. Also, firewalls can detect if the inbound traffic is coming from an IP address that is a mismatch with that traffic's originating location.
That's why firewalls are so widely used – because they offer complete protection for systems with frequent updates, making them more reliable than any other solution.
3. Should I Use Cloud-Based Firewalls?
Cloud-based firewalls are the topic of today's discussion. For those who didn't read carefully, Firewall-as-a-Service or FWaaS is exactly the cloud-based firewall solution.
The point of this type of firewall is to eliminate the need for physically running the firewall in your company's data center. Instead, the required protection is distributed online, which eliminates the load on the company's resources, thus avoiding slowdowns in resource-demanding tasks.
For those wondering, cloud-based firewalls have no specific downsides except for a smaller degree of customizability. After all, these solutions come with pre-made plans available for purchase. On the brighter side, they offer all the security you need at a relatively affordable price.
Furthermore, FWaaS providers often include additional tools to bolster your protection. Some of them include a Virtual Private Network and antivirus, which makes your connection anonymous. As for the downtime, usually, it's non-existent.
On rare occasions, providers will schedule the downtime in advance, which is sometimes necessary to apply the updates. But, as said, downtimes are very rare and the protection level is very high, making this type of firewall extremely reliable.
Should you use cloud-based firewalls then? Well, it depends on your needs. These solutions are often great for larger companies with several sites that need protection. However, they can be utilized by small businesses too especially if we talk about affordable solutions like Zscaler Cloud Firewall, for example.
4. What Is a Next-Generation Firewall (NGFW)?
Next-Generation firewalls or NGFW raise the level of protection significantly. Unlike traditional firewalls, they include deep packet inspection, which helps inspect the content of each inbound data packet. Besides, thanks to their advanced technology, they can even automatically detect malicious apps.
NGFW solutions allow you to use them on the app level. Thus, in your system, you can select how your employees will use the apps and which apps they can use. You can then forbid VoIP calls but allow them to share files, or perhaps, prohibit the use of P2P apps like Vuze or uTorrent.
One of the most important features of NGFW is machine learning. They follow the behavior of each inbound data packet to determine if it's malicious or benign. Additionally, they can even decrypt encrypted packets and read their content, which makes NGFW much more secure.
Are NGFW solutions more secure than cloud-based ones? Sure!
On the other side, they're very expensive, making them not suitable for users on a budget or small companies. Still, it's vital to mention that they're compliant with pretty much every standard and offer far more features than any other firewall type.
Therefore, if you need maximum protection and you don't care about blazing-fast performance, which isn't the focus here, NGFW providers are your best choice.
5. Popular Types of Firewalls Explained
Before concluding this discussion, we shall explain a few popular types of firewalls and see how efficient they are.
5.1 Traditional Firewalls
Traditional firewalls are the cheapest option, yet, in 2023, they're not as great as they were before. Simply put, they'll efficiently prevent malicious traffic from entering your network as long they're correctly set up.
You can set them up to deny or allow traffic coming from particular IPs and ports, with no ability to protect the network from web-based attacks. The worst thing, however, is that an incorrect setup will most likely lead to a breach, which you want to avoid at all costs.
All in all, while not the most reliable option, it's relatively easy to get it up and running and it won't cost you a fortune to implement. However, make sure you set it up correctly to avoid potential problems and hacker attacks.
5.2 Container Firewalls
As its name implies, a container firewall has the ability to isolate application stakes, services, and workloads in a container. Once it does so, the firewall applies the settings you put in place to these containerized apps similar to traditional firewalls.
Needless to say, container firewalls can also protect the traffic outside the container, albeit, they don't provide the highest possible level of security. That is because we're talking about a newer type of firewall that didn't have the time to mature and become as reliable as NGFW.
The good thing is that it's easy to set up and configure, especially if you need extra protection for certain applications.
5.3 Database Firewalls
We should also talk about database firewalls. Logically, they protect databases from online-based attacks, and as such, they reside right in front of the database or group of databases. Their protection level is very high, as they can efficiently detect and eliminate database-aimed threats.
This is extremely valuable with companies that have confidential information not meant for sharing. Usually, companies use it to protect information regarding prototypes and yet-to-come projects that people outside the company shouldn't know about.
What's more, hackers often target databases because, many times, this information can be sold to the highest bidder for revenue. That's where a database firewall comes in and does its job. Just be careful to update it frequently and have in mind that they offer almost no protection against zero-day threats.
6. Conclusion
With everything said, I think you now have a clear picture of what the best firewall provider is. While Perimeter 81 is the most popular option, you might want to take a look at the other choices depending on your needs.
All of these providers offer pretty much the maximum level of protection, and while some of them are more expensive, you can be sure that their security is rock-solid. Now, you can go ahead, test some of them via a free trial, and make a rational decision.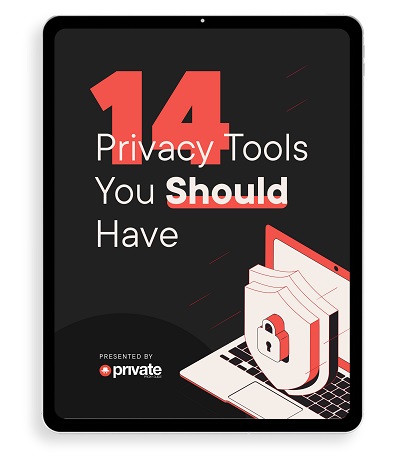 Learn how to stay safe online in this free 34-page eBook.