Icarus is a new and exciting survival game that has gained a lot of popularity among gamers since its release in November 2021. As a multiplayer game, Icarus allows players to work together to survive on an alien planet, gathering resources and crafting equipment while avoiding deadly creatures and harsh weather conditions. With its immersive gameplay and stunning graphics, Icarus has quickly become a favorite among gamers around the world.
If you're interested in hosting an Icarus game server for yourself and your friends or looking for a more advanced and feature-rich server for your community, choosing the right hosting provider is crucial. With the right hosting provider, you can enjoy fast and reliable server performance, high uptime, and seamless multiplayer gameplay.
Whether you're a beginner or an experienced gamer, this article will provide you with all the information you need to choose the best Icarus server hosting provider for your needs.
| | | | | |
| --- | --- | --- | --- | --- |
| Hosting Provider | Server Specifications | Customer Support | Control Panel | Pricing Plans |
| | Intel Xeon Processors with NVMe SSDs | Live Chat, Email | Default, and Custom | $10.80/mo. |
| | 3rd Gen Intel Xeon Processors with NVMe SSDs | Live Chat, Email, and Forum(Board) | Default with customization options | $12.99/mo. |
| | Intel Xeon Processors with NVMe SSDs | Live Chat, Email, and Phone | Custom Panel | $5.28/mo. |
| | Start at AMD Ryzen 5600x with 60 GB RAID | Live Chat, Email, and Phone | Dedicated Custom Panel | $10.00/mo. |
| | AMD Ryzen 9 with Gen 4.0 NVMe SSD | Live Chat, Email, and Discord | Dedicated Custom Panel | $12.00/mo. |
| | Starts at Intel i9 13th Gen | Live Chat, Email | Standard User-friendly panel | $7.23/mo. |
| | Intel Xeon Processors with NVMe SSDs | Live Chat, Email | Dedicated Custom Panel | $12.99/mo. |
| | Starts at Intel i9 13th Gen | Live Chat, Email | Streamline Control Panel | $7.50/mo. |
| | Starts at Intel i7 13th Gen | Live Chat, Email and Phone (add-on premium support) | Custom Control Panel | $10.50/mo. |
| | Intel XeonPlatinum 8268 | Live Chat via tickets | Custom Control Panel | $10.44/mo. |
1. Best Icarus Server Providers 2023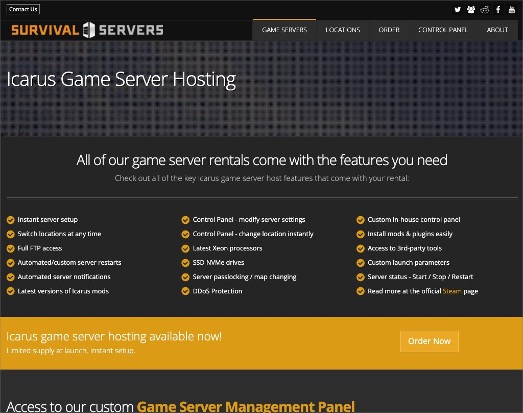 Icarus hosting servers from Survival Servers are known for their competence and features. You get many features you can rely on for a seamless gaming experience. Furthermore, since it is one of the new games the company has started services for, you get the best infrastructure. For instance, the servers use NVMe SSD storage, Intel Xeon processors, and the latest versions of Icarus mods.
Other great features include instant server set-up, seamless location switching, built-in DDoS protection, access to third-party tools, and a customized control panel. You also get custom control over the Icarus server. For instance, you can easily install mods and plugins and get on-time notifications.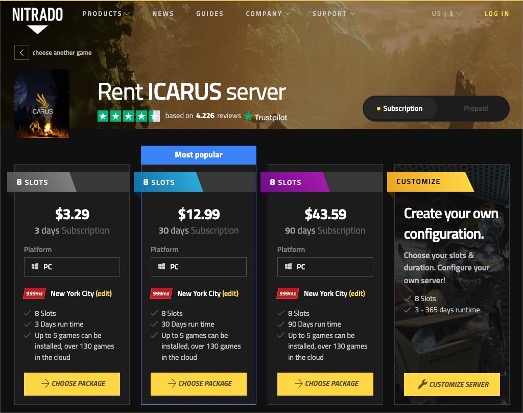 Nitrado Servers is another option if you want a seamless server experience for Icarus gaming. Probably the best part about the services from Nitrado Servers is that you can choose a plan according to the resources you need. For instance, when you start with the basic plan, you will get eight slots, three days of run time, and the ability to install up to five games.
However, as you go higher, you can expect more days of runtime, and there is an option to customize what you get. As you can guess, Nitrado Servers has ensured maximum flexibility and reliability in all plans. For instance, you can rely on daily backups and DDoS protection. The management controls are also great when installing mods and plugins.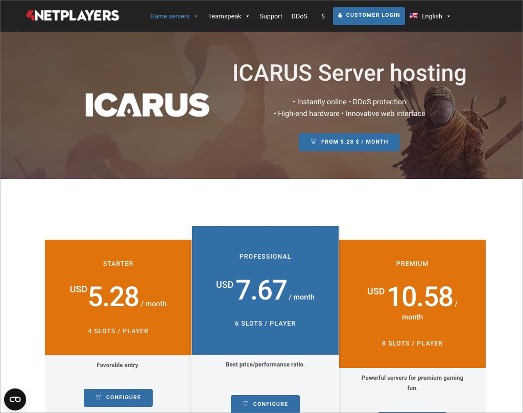 If you are looking for the best Icarus servers on the web, you will also come across 4NetPlayers. The game servers from the company are known for their high-quality resources. Like many other service providers in this industry, you can choose between multiple plans based on the number of slots and the gaming. Still, there is an additional space for customization when you configure the server.
There are a few additional features you can count on when you get a server from 4NetPlayers. For instance, instant set-up from the company means you can start playing in a few minutes. You can also pay using many payment methods, including PayPal and credit cards. We have also found that the control panel and interface from 4NetPlayers are as intuitive as possible.
4Netplayers also offers a custom control panel for easy server management, one-click installation of mods and plugins, and automatic backups.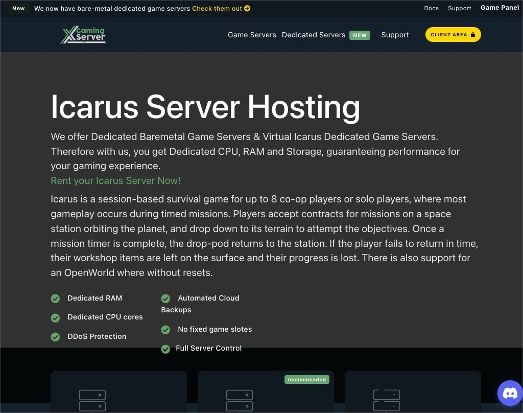 Are you looking for dedicated resources in your Icarus server? If so, you may want to check out the Icarus gaming servers from XGamingServer. The company has been noted for providing dedicated RAM, CPU, and storage options on all plans. And, as far as these plans are concerned, you can start with something and get it configured based on your custom needs.
The services from XGamingServer check all the boxes you expect. For instance, automated cloud backups make sure that you can avoid anxiety. Similarly, you get more options to control the servers because you get dedicated resources. By the way, you can also configure bare metal game servers if you want one of them to run Icarus.
Their hosting plans come with a user-friendly control panel that allows for easy server management, as well as one-click installation of mods and plugins, making it simple for users to customize their Icarus server to their liking. Additionally, automatic backups are included to ensure that users' game data and progress are safe and secure.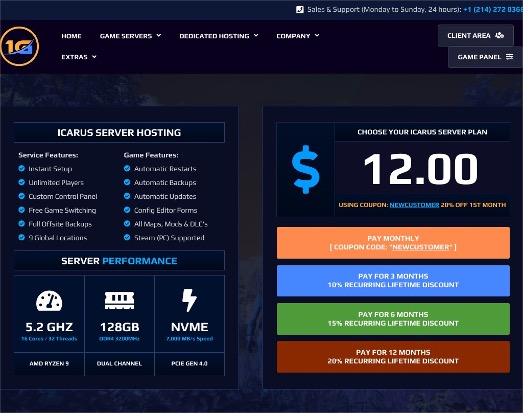 1GServerHost is another option you cannot go wrong about while choosing a competent server to play your favorite Icarus mods. One thing we love about the company is that it is upfront about what you get. It goes to the extent of specifying the processors of the server. For instance, all servers are powered by AMD Ryzen Series 9 processor and have up to 128GB of RAM.
Similarly, NVMe SSD storage from 1GServerHost offers speeds up to 7,000MB per second. In addition to the core server options, you get service features like free game switching, offsite backups, and support for accommodating unlimited players. As far as running Icarus is concerned, you can stay confident about the gameplay thanks to automatic backups, updates, and the support for mods and DLCs.
If you could not guess from the name, Low.ms is a service that focuses on providing web servers with best-in-class speed and ping. Therefore, these servers are the perfect option to run a multiplayer session of Icarus with your friends or the public. Users also love the 24*7 support from the company for its responsiveness and reliability.
Notably, you can choose between multiple data centers based on your location. The hosting company has 11 server locations across the United States, Europe, and Asia & Oceania. Compared to the other game server providers in the sector, Low.ms uses a powerful control panel, which opens up an impressive bunch of customization options.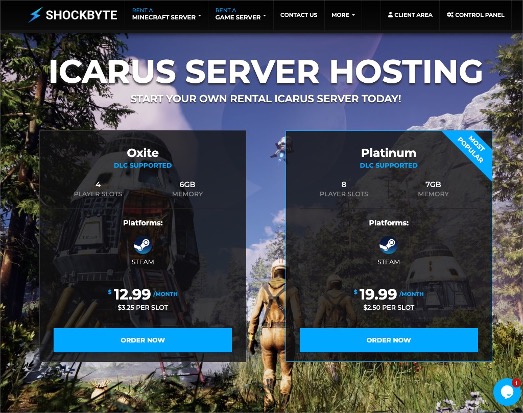 If you are looking for something more customizable where you can run the popular survival game, you must check out the game server renting options from ShockByte. The hosting company is confident enough to offer 100% uptime, which is impressive. You also get full FTP access, a server console, automated updates, and a fantastic collection of locations.
Shockbyte also has a robust knowledge base with detailed articles and tutorials on how to set up and manage Icarus servers. They offer various pricing plans with different slot options, allowing users to select a plan that fits their budget and requirements.
However, it does not mean that ShockByte is not suitable for beginners. The 24*7 support services from ShockByte can be pretty helpful if you get stuck. On the bright side, you also have the option to upgrade or downgrade plans based on your requirements. We also found it significant that the service provider tells you how much it would cost for a single slot in the server.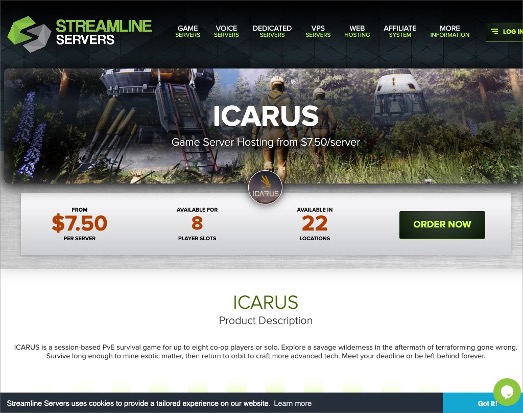 If you are looking for the best yet cheaper Icarus servers, you should look at what Streamline Servers can offer. The first thing we noticed is that the servers provide so much value compared to other options in the market. For instance, even with the basic plan, you can choose between 22 locations. But, of course, the number is not the only thing that matters here.
In addition to an intuitive control panel, Streamline Servers also offers modding options. So, you can use Mod Manager to install and manage add-ons. Customer reviews also praise the company for ensuring low-ping systems across platforms. Last, you can use multiple ways, including cryptocurrency, when paying for these servers.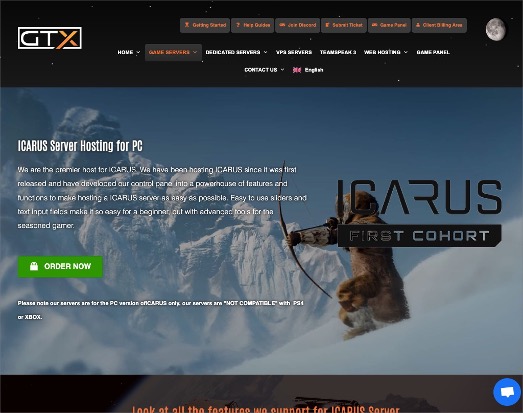 GTX Gaming is one of the pioneers in Icarus server hosting in that the company has been renting out gaming servers since Icarus was first released. Therefore, you can expect everything right from the makers. In addition, they go to the extent of offering a 24-hour refund option in case you are unhappy with what you get. The opportunity to switch Icarus with other games is also great if you have just started exploring.
As far as the services go, you have nothing to worry about. We are talking about DDoS protection, worldwide coverage, FTP support, and more. In addition, if you want to receive donations during gameplay, you can set up the system using the GTX account. So, as you make your way into the world playing Icarus, you have options to rely on.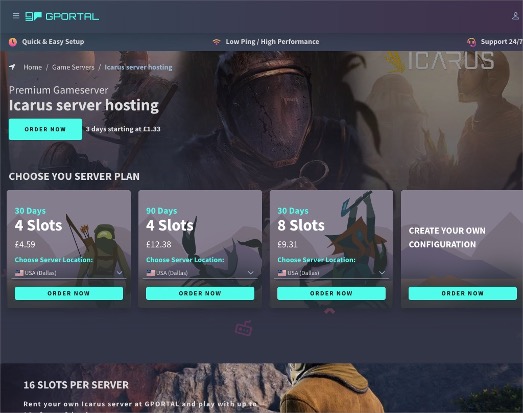 Even though we put it in the 10th position, you can stay confident using the Icarus game server rentals from G-Portal.com. It is one of the companies focusing on high-performance yet low-ping servers and offering them at reasonable rates. Furthermore, you can choose the servers based on the number of days and the slots you would like.
It is also one of the fewer options for switching between games without complexities. As you would expect, servers from G-Portal.com are designed to be directly online and offer maximum protection from DDoS attacks. In addition, because the company has been active in the industry for years, you can expect the best support for Icarus mods and add-ons.
2. FAQ
2.1 What is Icarus?
Icarus is a survival game developed by RocketWerkz and published by Daybreak Games in 2021. The game is set on a distant, alien planet where players must explore, gather resources, and craft equipment to survive. The game is named after the mythological figure of Icarus, as players must be careful not to overreach in their exploration and risk being overwhelmed by the dangers of the planet.
In "Icarus," players take on the role of a Prospector, a member of a group of space explorers who are sent to the planet to mine valuable resources. Players must navigate the planet's various biomes, which are filled with dangerous creatures, harsh weather conditions, and other hazards. Players can gather resources like wood, minerals, and animal hides to craft tools, weapons, and structures to aid in their survival.
2.2 Why Do You Need an Icarus Game Server?
If you want to play "Icarus" with friends or other players online, you will need an Icarus game server. A game server is a dedicated server that hosts the game and allows multiple players to connect and play together in real time. Here are some reasons why you might need an Icarus game server:
Custom game settings: With a dedicated game server, you can customize the game settings to your liking. For example, you can adjust the difficulty level, the number of players, and other gameplay elements to create a unique gaming experience.
Stable and reliable hosting: A dedicated game server offers stable and reliable hosting, ensuring that your game runs smoothly without lag or connection issues.
Full control: With your own game server, you have full control over the server settings, including who can join and what rules they must follow. This allows you to create a safe and welcoming gaming environment for you and your friends.
2.3 How much RAM does a game server need?
The amount of RAM that a game server needs depends on several factors, such as the game being hosted, the number of players, and the desired performance level. In general, the more players that are connected to the server, the more RAM is required to handle the load.
For most games, a dedicated server with 8GB of RAM should be sufficient for hosting up to 10 players. However, for larger games with more players, such as open-world games or multiplayer shooters, 16GB or more of RAM may be necessary to ensure smooth gameplay and prevent lag.
2.4 Can I host an Icarus Server on my own computer?
Yes, you can host an Icarus Server on your own computer, but this is generally not recommended as it can be slow and unstable, and it can also put your computer at risk.
2.5 Do I need technical knowledge to use an Icarus Server hosting provider?
While some technical knowledge can be helpful, most Icarus Server hosting providers offer easy-to-use management tools and support to help you set up and manage your server without needing advanced technical knowledge.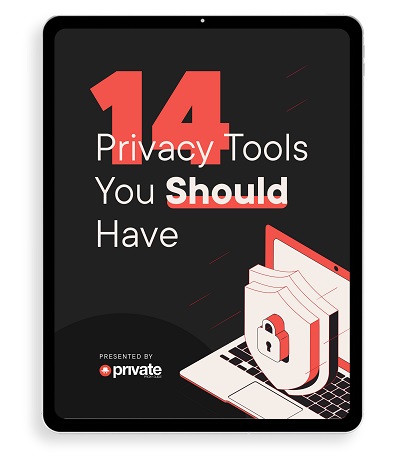 Learn how to stay safe online in this free 34-page eBook.