The gaming arena is filled to the brim with fast-paced multiplayer FPS games. Battle Royale mode has become the norm across games, with the many established video games adding it through a backchannel update.
Minecraft stands apart in this regard, carving its niche in the segment. Joining vanilla servers and those with modpack overkills will ruin your game time after a hectic day.
Why not rent your own Minecraft server from decent hosting and run it the way you want? Invite your friends over and start building a niche community with shared interests and goals of the game. Build things with the utmost mojo, without worrying about bans, unruly admins, and abrupt server shutdowns, wiping your progress. We have compiled a list of the best Minecraft server hosting to host your very own server without requiring technical expertise in most cases.
1. Best Minecraft Server Hosting in June 2023
Hosting
Price
(Starting at)
Player Slots
RAM
Trial
Nodecraft
$9.98/month
Unlimited
2 GB
Yes
Apex Hosting
$7.49 first month($9.99 from second month)
Unlimited
2 GB
No
Shockbyte
$2.50/month
8+
1 GB
No
Scalacube
$2.50/month
10
768 MB
Free plan
Sparked Host
$1/month
Unlimited
1 GB
Yes
GG Servers
$3/month
Unlimited
1 GB
Yes
Vultr
$2.5/month
Unlimited
512 MB
Yes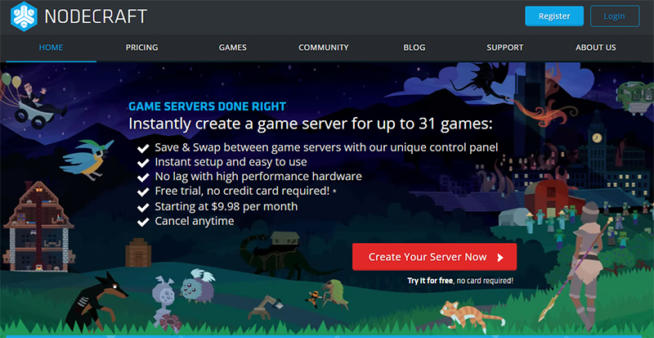 RAM: 2 to 8 GB
Player Slots: Unlimited
SSD: 10 to 40 GB
Nodecraft is all about going the extra mile. You get unlimited player slots, coupled with a free trial that does not require a credit card. Login through Twitch, Discord, or create an account on the site.
The purchase of a Minecraft server is as easy as it can get. Select the game, and pick a server bot(plan). You are good to go. Once you have purchased a package, it's time to enter the Nodepanel 2.
Unlike other hosting providers, Nodecraft relies on its own control panel. Nodepanel 2 is a next-generation hosting control panel that can be used through a mobile browser, apart from the app. Run multiple instances without a sweat and swap games without worrying about downtime for regular players. Several hundred modpacks such as Spigot, SkyFactor5, and Farming valley, amongst others, are available through the panel, which can be installed within a couple of minutes.
There is no branding of any kind on the server. Set your own name, description, and images. That meme banner you had designed for the server, and a funny server name can finally find their place here.
Pricing
Get your server running for $9.98/month for 2 GB of RAM with unlimited player slots. There is a 10 GB SSD storage coupled with 20 GB backup space.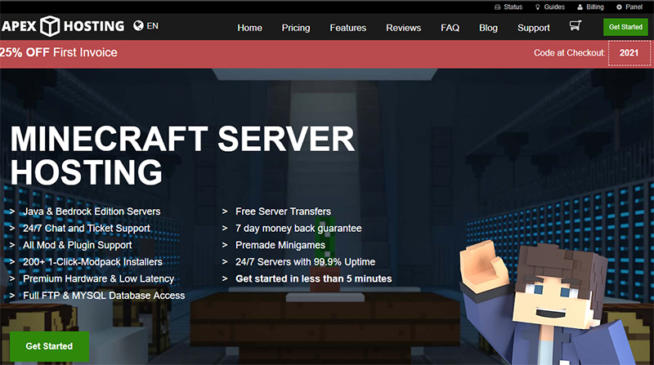 RAM: 2 to 15 GB
Player Slots: Unlimited
SSD: No Limit
How often do you see a hosting designed especially for Minecraft? The answer is seldom. Apex hosting supports only a handful of games apart from Minecraft. Both Java and Bedrock editions are supported; therefore, you can throw lag out of the window.
Your old pals have connected over the messages, and an impromptu Minecraft game party plan has been made. The only thing remaining is a good server, which is generally a tedious task, to begin with. Apex hosting is here to change that by providing you with a server up and running within 5 minutes of making the purchase. Select a plan, choose the correct game version, finalize the server location and then make payment. You will instantly get an email with the IP and password of your server; which friends can join.
After that, the control panel is customized to aid beginners, and other users won't don't want to dive into the technicalities of things. Manage everything from either the web or mobile browser interface. From there, reserve a free custom domain yourserver.apexmc.co, which can be shared with friends to join the game.
Minigames and mods are at your disposal, available to be deployed right away. An extensive library of plugins is ready to be installed from the database.
Pricing
The pricing for the first month starts at $7.99($9.99/month from the second month onwards) with 2 GB of RAM and a few modpacks. You can go higher up as players count and server load goes up.
When you have large communities that house regulars on the server, consider checking out the EX series plan with a Ryzen 5800x CPU and 15 GBs of RAM.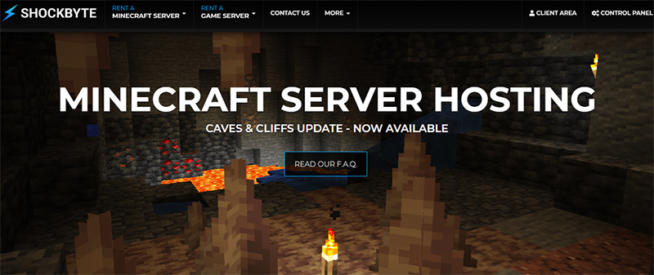 RAM: 2 to 16 GB
Player Slots: 8 to Unlimited
SSD: No Limit
Hosting can be an expensive deal, especially when you are a school or college student. Barely surviving on the pocket money leaves no room for a server to play a good session of Minecraft, minus the unfair admins and moderators.
Shockbyte is all about providing the most affordable Minecraft servers, starting at $2.5, giving basic features, which feels enough for starters and to have a good time with your clan, friends.
Set different servers with distinct mods and let players swiftly switch between them using BungeeCord. It binds the software together to make it seamless for players to jump between other servers.
Swerving into management, we have Multicraft, the world's most popular control panel for the game. It offers a wide range of controls and features without feeling overwhelming to users of varied experience levels.
Moving to the backend, the hosting offers unlimited bandwidth, storage, and automatic backups. On top of that, protect your server from cyber-attacks with in-built DDoS protection.
This may come as a surprise, with Shockbyte offering 100% guaranteed uptime through SLA benchmarks. Any time of the day, you have your server ready to play.
Pricing
Their USP is affordability, starting at $2.50/month, offering 1 GB of RAM, along with 8+ slots. The start plan is pretty basic, offering standard SSD storage with a limited number of server locations. However, it is enough to get the ball rolling. You can always upgrade the slots and other metrics by subscribing to a higher plan.
In any case, if you are unsatisfied with the service, there is 72 hours refund no-questions-asked window to rely upon.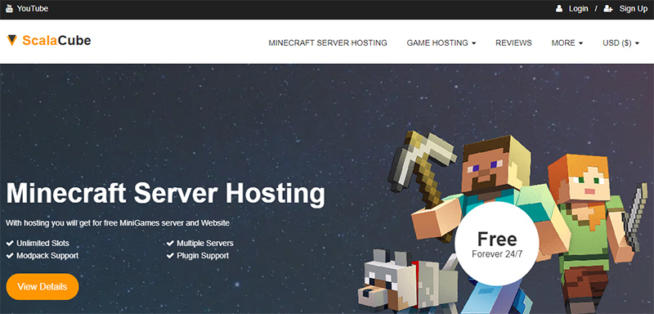 RAM: 3 to 32 GB
Player Slots: 10 to 600
SSD: No Limit
Suppose you don't have the budget right now for your own Minecraft; no problem for ScalaCube. They offer a free plan with 3 GB of RAM, a single server, and player slots shared with the pool. No hidden fees or charges are involved here. You can, of course, opt for optional paid services such as automatic backup, Minecraft launcher by paying a one-time fee.
On the other hand, with paid plans, the RAM and SSD storage space increase as you pay more. The game server instances remain unlimited across the premium plans. Their Minecraft PE(Bedrock) plans are comparatively more expensive, which makes sense for the configuration they are offering, which is virtually double.
To get you started, the first month is offered a 50% discount at $2.5. The proceeding months have the regular price applicable. Once subscribed, get access to a 1000 modpacks library.
A custom domain can be added for your server, which will set you back by $25 on an annual basis. The subdomains and IP addresses with the port are free. Their standalone IP address also costs extra.
This may come as a surprise, Shockbyte offers 100% guaranteed uptime through SLA benchmarks. Any time of the day, you have your server ready to play.
Pricing
Like mentioned before, there is a free plan which you can use to get an idea about things around her. When you are ready for a paid plan, the first month is 50% off, irrespective of the plans. It starts at $2.50 with 768 MB of RAM with ten-player slots. After the month is over, it comes to the regular price of $5 from the second month.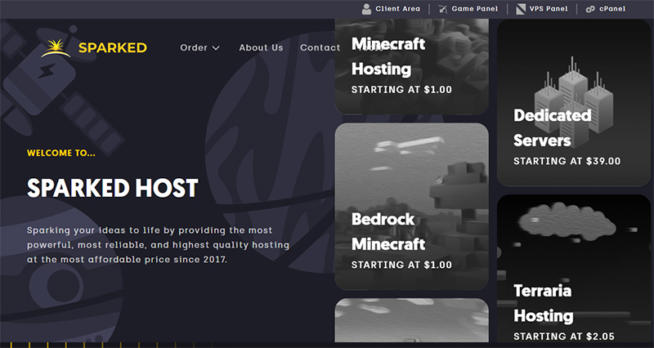 RAM: 512 MB to 16 GB
Player Slots: Unlimited
SSD: 50 GB
Earlier, Shockbyte impressed us with their two-and-a-half-dollar plan but Sparked host is here to push the envelope. You can start with a $1/month plan, which offers 1 GB RAM, along with 50 GB SSD storage, which is shared across all the plans.
You can install up to 30 modpacks on a budget server. Going any further can compromise performance. They have different segments of plans, offering additional hardware while minute increments in price levels.
The budget plan uses Dual Xeon E5-269 or equivalent with DDR3 RAM, which is ideal for a small audience to get things started. Similarly, the enterprise segment has AMD Ryzen 7 3700x or equivalent with DDR4 RAM, suitable established communities, and users with a bunch of game modifications.
And when you want peak performance at the absolute best level, go with Extreme plans. They use Intel Corei9-10900K or equivalent, along with DD4 RAM. The price for this segment starts at $2/month with 512 RAM—the RAM doubles with charges.
Powered by the Apollo control panel, there is no restriction on player slots across the plans. You can create sub-users for providing access to different members of the team.
Their support has garnered glowingly positive reviews, owing to the live chat and dedicated email support. Drop them a message, any time of the day and you will receive reply within minutes.
Pricing
There is a free trial for 24 hours which can be available before subscribing to the plan. The cheapest plan in the Budget segment is for $1/month with 1 GB of RAM. Enterprise plans start at $1.5/month with 512 RAM. In the end, the Extreme plans start at $2/month with 512 RAM and 250GB NVME SSD-based storage.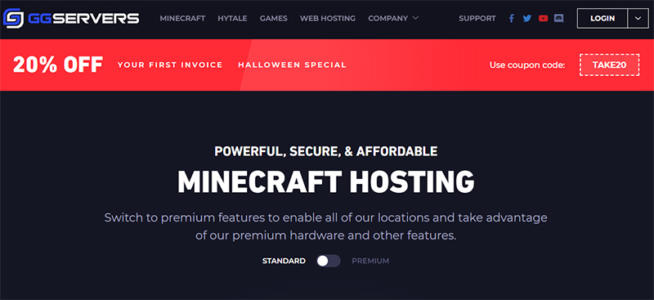 RAM: 1 GB to 12 GB
Player Slots: 12 to Unlimited
SSD: Unlimited
Packed with powerful configuration, GGservers offers to host a wide range of games and websites. Their processors consist of 4 GHz for a standard plan and 5 GHz on the premium level.
This is coupled with unmetered standard SOFT RAID 1 hard disk and NVMe SSD-based storage, providing blazing fast operations over regular hard disks. Make every second count with the low latency that helps in fighting creepers in different Biomes.
GGservers offer two types of plans – Standard and Premium. The former has limited features and server location choice, while the latter has everything that the server has to offer. The price doubles when you choose a premium plan, offering the same number of slots and RAM.
As a beginner myself in the technicalities, installing plugins and mods just goes over my head. This is where GGserver really shines, by providing 1-click installation for mods such as Optifine, WAILA, Chisel 2. And plugin packs such as Luckperms, VivaVersion, etc.
Pricing
Let's talk about the greens here. Both their Standard and Premium segments start with the Stone plan, which starts at $3/month with 1 GB of RAM. You get 12 player slots. Similarly, when you go Premium, the prices double up. The perks for paying more include NVMe storage, a higher frequency CPU, plus access to all nine server locations. On top of that, there is no limit on the player slots.
RAM: 512 MB to 96 GB
Player Slots: Flexible
SSD: 10 to 1600 GB
Vultr means enterprise-grade, reliable, and ready-to-deploy servers. The infrastructure cloud offers high-performance computing instances for Minecraft. We get a plethora of options in servers – Cloud Compute for powerful computer instances, Bare Metal for fully automated dedicated servers with zero virtualization layer, Dedicated Cloud with an exclusive cloud server san any neighbor.
Your regular hosting might have hit a dead end, and the server could be down. That shouldn't stop you from having a pleasant time with your pals. Deploy a Minecraft server in 60 seconds and get back to finding rubies in no time. On the other hand, you can always install your custom operating systems, ideal for the Minecraft instance you have in mind. Install any operating system with no restrictions.
Deploy servers from any of the 19 locations across the world. Manage your instances from a customized, easy-to-use control panel that is incredibly accessible. That is not all; they use their robust API to manage the server instances remotely.
Pricing
Here we can go by the hourly or go with the standard monthly rate, whichever feels more value for money. Their most basic plan starts at $2.5, with 1 CPU and 512 MB RAM. The storage is a 10 GB standard SSD, with IPv6 and the IPv4 is not available by default.
2. Minecraft Server Hosting FAQ
2.1 What to keep in mind while choosing a Minecraft Server Hosting?
There are a plethora of factors to keep in mind while making decisions about the Minecraft server:
RAM (Memory) – There is never too much RAM. The more, the merrier is followed here. Having a large amount of RAM lets your server have more server instances and handle all the plugins and mods with ease.
Latency – Latency means response time for your server. Here the location of your server is crucial. It also affects the speed of data transfer when you are planning a server targeting worldwide players.
Processor – Processing power is a key factor in determining the general playability and scalability of the servers. Low-powered CPUs will often result in a server with lag when the player account or additional plugins are activated.
Storage – Anything below SSD is a no-go. Normal hard disks provide a meager read-write speed in a few hundred megabytes on the RAID. Most of the Minecraft server hosting offers typical SSDs on their standard plan. You go higher up the pay ladder, and NVMe storage is served on the platter. The M.2 based storage is always better in every aspect.
Installation support – Generally, Minecraft is provided as ready to use with a version of the client installed. Installing plugins and modpacks on some hostings can be a hectic task. If you are an absolute beginner, go with the services that offer a 1-click setup of the programs.
2.2 Which OS is better for the server – Linux or Windows?
Most server hostings provide the front-end with a control panel, keeping things tidy on the backend. On occasions where you take complete control of the server from scratch, the choice of IOS comes into play.
Linux or Windows depends on how manageable the server is for you. Both have their pros and cons. Install the one which you have experience managing.
2.3 Are free Minecraft server hosting a good option?
Let me be honest for a second. There is no free dinner anywhere. The free hosting services offer a basic server with charges for every plugin, a feature that completely defeats the purpose. Their performance is limited and often depends on the processing shared pool. Wish from the shooting start that other servers in your pool do not draw much of the resources.
In any case, if you're just starting and want to learn the basics of servers, then it might not be a bad idea. Some premium hostings also offer a free plan to get you a hang of things around.
2.4 Which are the best Minecraft Texture packs for my server?
Texture packs are essentially mods that transform the looks of every element of the game—ranging from trees, animals to skies, characters, and more. There are several thousands of texture packs available for catering to different tastes and preferences.
Generally, they are installed by users, but you can put them straight on the server. They help you stand out and provide a distinct theme to the server. Some of the top texture packs are as follows:
Faithful texture pack
Anemoi texture pack
Retrones
Jolicraft
GoodVibes
Synthwave V2
2.5 Dedicated vs. Non-Dedicated IP – Which one is better?
A dedicated IP is always better as it is reserved for you alone. Port number is not required for accessing the server. A user can type in the IP server and will be connected to your server.
That's not the case with non-dedicated, where many servers share one IP. The differentiating thing is the port number which is affixed after the IP.
For instance, Dedicated IP = 163.249.180.15, Non-Dedicated IP= 163.249.180.15:2075
2.6 Which Minecraft version should I install?
The Java edition has been around for a long time, relying on the LevelDB format. The release of the Bedrock edition brought the game to the masses in a true sense. You can multiplayer with players of PC, Mobile, and console. Plus, it is more stable and easier to hop into. There is a marketplace as well for add-ons and skin packs to enhance your gaming experience.
2.7 What are the benefits of running your own Minecraft server?
Starting your server may seem like a momentous task, to begin with. However, the benefits outweigh the drawbacks by a distance:
Build your community with players who have similar interests and passions regarding Minecraft. Bring in your friends and create a close-knit community to have a good time. Find new players in your region, conduct game parties, and share your passion for the game.
Run the server like you want, without the interference of overpowering mods and admins. Set the rules based on your philosophy and create a fun environment for yourself and other players.
Monetize the server to earn a few extra bucks. Running a Minecraft server costs money, and you can offset it by creating revenue inflows. Set up items shop, merchandise, and moderator post for a fee.
2.8 How many GBs of RAM is needed to run a Minecraft server?
You can get the ball rolling with a minimum of 1 GB for a regular server. It can easily host 4-10 players. Anything until 20 will require 2 GB at a bare minimum. The server optimization also plays a key role here, which also varies on different hostings.
New cloud servers with the option to set up from scratch are the best option if you know your stuff. The only thing holding you back here is that you need expertise in the technical know-how or hire someone to set it up for you.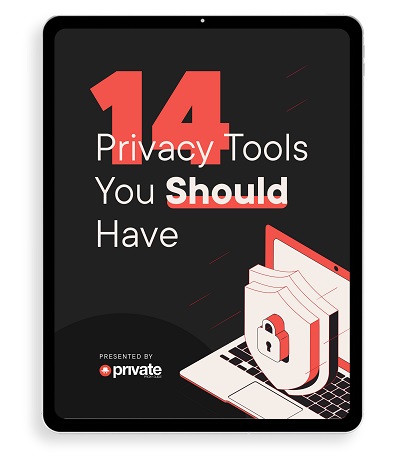 Learn how to stay safe online in this free 34-page eBook.