The online open-world survivor genre has been increasingly popular in recent years. When you know you'll be resurrected on another side of the planet and have to guide your avatar properly while holding down 'W' for 15 minutes, a digital death is much more terrifying.
Now you're a bare-knuckled, unarmed character who must sprint over miles of open ground to rejoin your buddies. The excitement and motivation of survival and the sorrow and misery of dying to grow more real.
Valheim is the most recent edition in the survival genre. This post can be very useful if you search for the best Valheim Server Hosting. It's a gorgeous game like Ark, Minecraft, or Rust, and if you want to get the most out of it, you'll need to find a proper server.
1. What is Valheim?
Valheim is the most current survival sandbox online game to emerge from IronGate Ab, a development firm based in Sweden, a country in Northern Europe. It has made the charts of the best-selling on Steam with up to 500,000 simultaneous players. Other similar games, such as Ark Survival Evolved, have built massive networks around its Survival sandbox continuous play, and Valheim- Survival Game is the next up because of its simplicity and ease of entry, leaving more advanced games like Ark in the dust.
In simple terms, it's an early access internet game that functions well, unlike other initial access web games. Valheim hasn't invented anything new in terms of game technology, but it avoids difficult game mechanics that elevates the game's value among players/internet gaming enthusiasts.
2. Why is it necessary to rent a server for Valheim?
When purchasing a Valheim server hosting service, you have two options: self-hosting on a devoted computer network or hiring a service such as those listed on this page. The second option is far more useful than the first; self-hosting on a computer system can cost roughly the same as leasing one, but leasing a server appears to be far more useful for specific requirements and usability.
You may get a superb Valheim server hosting service for yourself for only $12.99 per month and have it hosted and accessible 24 hours a day, seven days a week, with various features/benefits and avoid the hassles of self-hosting. You will notice a decrease in lag since the best gaming server hosting providers have massive GBPS server interconnections at their server data centers, which results in significant lag reductions. This is typically a shared server hosting environment, but it is effective.
3. Advantages of Valheim server hosting
Valheim caters primarily to players/gamers who value spending time constructing personal areas or a common vision with friends/family. Stick with Counter-Strike /Call of Duty if you want fast action.
The following are some of the benefits of playing gaming on your own domain controller:
Excellent command: Nothing compares to acting like a boss. Instead of putting up other people's rules, restrictions, and wants, you can customize and run your own game server. Your maps, mods, and rules regularly appear superior to others' maps, mods, and rules.
Improved Experience: Establishing and launching your private server on your own computer system has never been easier. The fundamental difficulty is that most home computers cannot handle the extra CPU, memory, storage, and input/output demands required to run a perfect gaming server. Finally, it triggers internet gamers' most dreadful nightmare, which is lagging. Also, you can begin your own event of the internet game to play ahead of time.
This is the case in which the benefits of paying for an online gaming server from a reputable web-hosting platform pique someone's interest. Playing web-based games on a robust server managed by a reputable service provider gives you the ability and power to play with individuals you truly want to play with continually.
We have produced a list of what we believe are the top Valheim server hosting network operators currently accessible.
4. Best Valheim Server Hosting 2022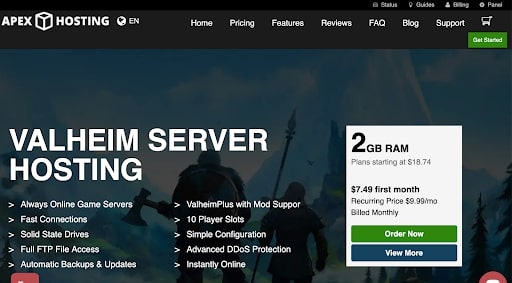 Apex hosting is another hosting provider that made the list of finest Valheim server hosting providers since it offers people nearly immediate set-up and 24/7 assistance. Aside from the advantages mentioned above, this hosting provider goes the extra mile by offering a customer-friendly panel that allows users to access their mobile admin dashboard.
Outstanding Features
This top Valheim server hosting package contains features like One-Click Modpack, DDoS Protection, 24/7 Assistance, Ultra-Low Latencies, Instant Setup, etc.
On the plus side, it includes features such as a free subdomain, much-needed automated backups, and a rather comprehensive panel that will be useful when using the platform.
Pricing
The domain name is the only thing you get for complimentary with this hosting platform, and unlike other best Valheim host server providers, the cost isn't based on a 'per slot' model.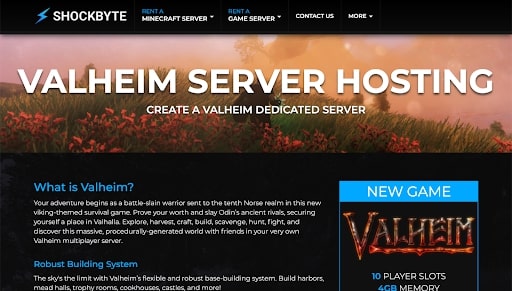 DDoS protection, high speed, and other important characteristics are all included in the top Valheim server hosting services, all of which Shockbyte, as a hosting service, offers. This service is ideal for people who love technology; it provides a plethora of benefits and features that appeal to those who value the technical aspects of life and additional benefits that other web hosts may lack.
Outstanding Features
One of the most important features of this web host is the server's global location; with so many servers located worldwide, it's even easier to find a solid connection.
It also offers DDoS protection, protecting you from malicious hackers and attackers.
Pricing
Shockbyte's cost starts at $2.50, which isn't a bad deal considering the variety of options you have for several services the service offers.
ScalaCube is one of the top Valheim server hosting providers since its server is thoroughly vetted and secured with DDoS protection. It is also very easy to use because it has a simple interface, and if you have any problems, customer support is available to assist you. Aside from all of the fantastic features, you also get to be the boss when personalizing how your game mechanisms work; you may do so without any restrictions.
Outstanding Features
Scalacube, as one of the best Valheim server hosting solutions accessible, offers characteristics such as lag-free servers and the convenience with which you may use the service; you don't need to be an expert in using this server.
Pricing
The monthly fees start at $14 for ten-player slots. You may easily test their top Valheim server hosting free service to see what you receive without using your credit card.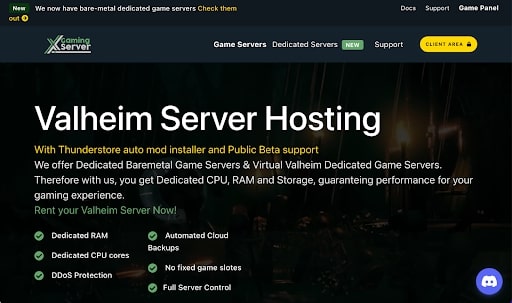 The XGamingServer is one of the greatest Valheim server hosting services; it offers a variety of features that gamers will like and virtual dedicated gaming servers with all of the necessary plans.
This is a one-of-a-kind server hosting platform that offers gamers the finest gaming experience possible, including smooth-running games with far more quality and even high FPS. Even better, this solution defends your server from DDoS attacks again without compromising overall performance.
Outstanding Features
This hosting service's main feature is cloud backup, but it also offers additional features, including a file manager that you can launch with a single click.
Other features of XGamingServer include AMD Ryzen 7 CPUs and Intel i7 7700K and a 1Gbps network interface capable of running any game.
Pricing
This is a paid server; therefore, one of its features is an $8 per month package that ensures great speed for Valheim and all of its other gameplay requirements.
Bisect hosting is one of the top Valheim server hosting services available; it includes several premium features and allows you to play a lag-free game with all of your buddies.
There are numerous benefits to choosing Bisect hosting, and it gets much better, and you get these benefits at a low cost. Bisect Hosting also guarantees a simple and quick setup.
Outstanding Features
One of the primary advantages that makes this one of the finest Valheim server hosting services available in the daily backups it gives, so you don't have to worry about missing everything. If something goes awry, you can easily restore any lost data.
Pricing
Pricing for 4 GB RAM starts at $12.99 a month, with additional options such as a 50 GB NVMe SSD and infinite slots available.
This is another excellent Valheim server hosting service that will provide you with optimal speed and allow you to navigate your server using their user-friendly management panel.
This hosting platform comes with a slew of fantastic features geared toward giving you the best possible experience, whether it's in terms of gaming or getting your money's worth in general.
Outstanding Features
With this web host, you can get started right away, and there's no maximum RAM limit to think about.
Valheim Plus Mod Support, comprehensive FTP Access, Chat Support, Discord, Email & Tickets, and NexusMods are just a few of the features.
Pricing
The cost of this service is reasonable, and you can obtain a trial version with a 15% discount for three months and a 25% discount for six months. If you aren't impressed with their services after 24 hours, you can request a refund. 1GServerHost begins at $14/month with optional add-ons.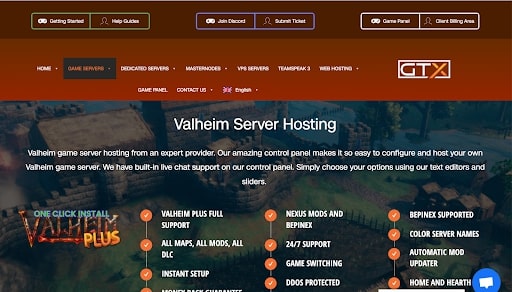 This hosting provider offers a wide range of products and services to individuals looking for the best Valheim server hosting. This service comes with a fully built-up Valheim configuration, so users won't have to go through the trouble of setting it up.
It includes features such as rocket plugin, MySQL database support, steam workshop support, and many others that will be valuable to anyone using the hosting platform.
Outstanding Features
This service's incredible control panel is one of its most appealing features. This service's control panel outperforms that of other hosting providers since it has a built-in file browser for uploading and downloading server files.
You can also obtain access to a function that lets you execute backups and restores with just one click.
Pricing
The cost of this top Valheim server hosting service is comparable to that of other hosting platforms; you can start with a basic plan and progress to more suited ones.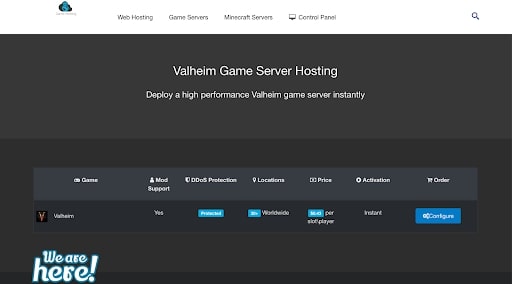 This is one of the top Valheim server hosting services since it offers outstanding performance, allowing you to host your game without experiencing any latency or slowness.
You could also communicate with gamers from all across the world, enhancing your multiplayer Valheim play experience. You can only get the best out of your gaming environment with the support of this hosting platform.
Outstanding Features
This subscription provides features such as Live Support through email, ticket, or chat, as well as Instant Setup, randomly generated map compatibility, SSD/NVMe Storage, and more.
Pricing
AA Game Host's cost is determined by the number of units purchased and the available payment choices, determined by the best option for you and your Valheim server.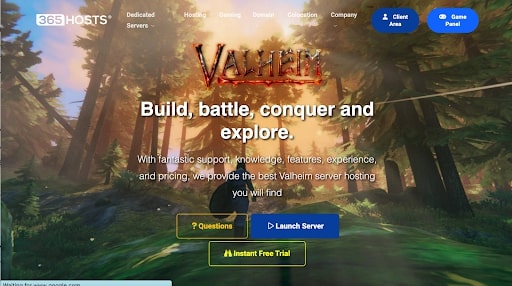 This is another fantastic Valheim server hosting service; it features a control panel known as the Customized Pterodactyl Panel, and it is available in Europe and the United States.
Outstanding Features
This service's characteristics include being extremely inexpensive and having an excellent live support team.
It comes with an easy-to-use and customizable game server panel and high-quality service at a cheap price.
Pricing
This Valheim server hosting service offers a price plan that starts at $0.58 per slot, a minimum limit of ten seats, and a free trial.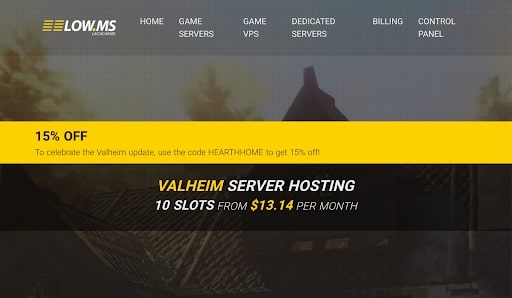 This server hosting provider is an excellent choice because it has ties to Valheim and works with the Valheim developers, ensuring that you get the most out of hosting Valheim web servers on the platforms. You can play with several people on the internet and even communities using it, and it has a quick setup, so you don't have to wait long to start playing your game.
Outstanding Features
One of the most important features of this service is its five-day refund policy, which means that if you're not happy with the services given, you may receive your money back within five days.
Other important advantages include one-click set-up and automated mod upgrading, and a customer support team that is available 24/7.
Pricing
This hosting service starts at $1.37 per slot, and there are roughly ten slots in total; thus, your monthly payment will be determined by the slots you choose.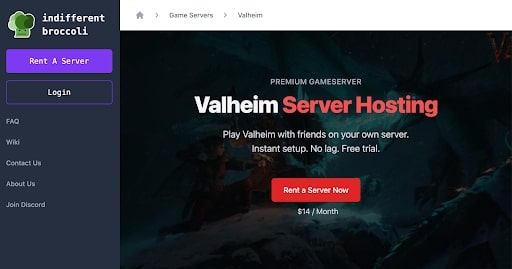 Acquiring the greatest Valheim server hosting service requires getting the best brands, which is why indifferent broccoli is on the list. You receive the best services with this hosting platform. This hosting platform includes almost everything you'll need to play your game with friends, whether it's a fun-filled game with no lag or the best and most essential features you could ever ask for.
Outstanding Features
This hosting service's most notable features include, but are not limited to, 24-hour customer assistance and quick response times.
You might also highlight another benefit, such as the fact that no coding is required and FTP access is available.
Pricing
With this hosting service, you receive a 2-day free trial and must pay 1.40USD each slot after that. You do, however, have a seven-day refund policy if you don't like the services.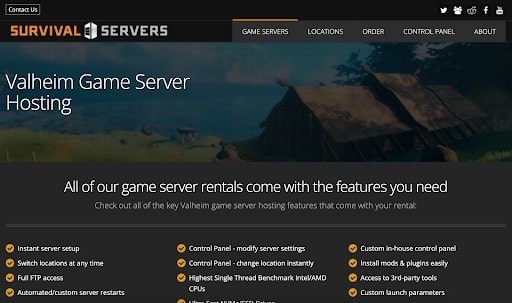 Because of the specialized Valheim game server it provides, Survival Servers is yet another game hosting platform that is likely to be among the best Valheim server hosting services. It also includes all of the capabilities you could need to dive into one of the most enjoyable gaming experiences possible; it has many features to brag about. It also gives one of the best performances.
Outstanding Features
As one of the finest Valheim server hosting services, Survival Servers offer vital features like high-performance nodes, Valheim plus, and infinite resources in terms of cores and memory, among others.
Pricing
This hosting service costs around 1.40 USD per slot, and it's worth noting that the minimum amount of slots is around thirty.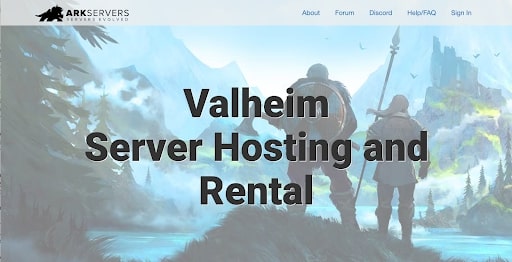 When it comes to hosting, you want to make the best decision possible for yourself, which is why ArkServers has got a mention. It is one of the top hosting options available, with additional benefits such as a free domain. This software comes out on top when it comes to the best Valheim host server because of its quickness and even faster set-up time when you want to join and play your Valheim game.
Outstanding Features
You receive an easy and immediate set-up with ArkServers; it will take you only a minute or two to set it up, and if you have any problems, you can contact the customer service team.
Pricing
When it comes to cost, one thing is certain: you will get your money refunded after a day if you are not happy, and you will also receive an eight-hour free trial.
5. Conclusion
Video games like Valheim are becoming increasingly popular because they can be played by anyone around the globe who has access to the internet. Choose a good Valheim server hosting service, like the ones we listed in this article, to play it at high speed without pauses or frequent lags.