Shared hosting is a type of hosting where you share the server resources with other users. Multiple websites are hosted on a single server, which means its resources are split between the sites. This explains why shared hosting is one of the cheapest options.
However, if you're looking for hosting for your business website and you want to squeeze out as many resources as possible, the best dedicated server hosting is for you. As its name implies, the advantage of dedicated hosting is that each server hosts one site.
In other words, you get full control over the server's resources, which lets you unlock the server's full potential in terms of RAM, storage, CPU power, and everything else. While dedicated server hosting is more expensive, it offers much more for demanding users.
And today, we're here to talk about the best dedicated server hosting providers in 2023 to make your choice easier.
1. Best Dedicated Server Hosting in December 2023
Before we start, I just want to highlight a few things. The first thing is that all 6 hosting solutions are tested by our team, so we're recommending the providers we used and can guarantee are credible. These solutions will, however, vary in price and offer.
To make sure we include a broad range of dedicated server hosting solutions, we decided to go with 6 choices, each offering different combinations of resources. In the end, it will be up to you to pick one depending on your needs, which may be lower or higher.
Let's take a look at these 6 best dedicated server hosting providers, review them, and highlight their pros and cons.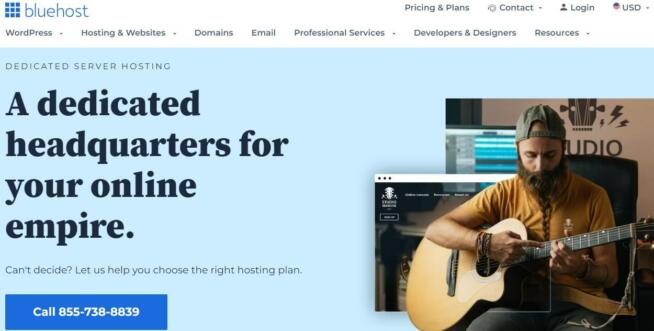 My favorite dedicated server hosting is Bluehost and I've been enjoying it for years now. What makes Bluehost special is not only that it's relatively affordable but also the fact that it offers straightforward subscription plans with no additional complications.
The company is all about flexibility and the ability to upgrade your plans. Thus, if you go for a dedicated hosting plan, you can also go for another VPS shared hosting plan using the same account if you want. The resources you get here are exceptional and the starting plan already shows that.
At the time of writing this guide, the Standard plan starts at $79.99 a month and comes with a 4-core CPU that works at 2.3 GHz with a 3 MB cache. Then, you get 4 GB of fast-speed RAM with RAID-level 2×500 GB storage. But what about bandwidth?
Well, Bluehost packs 5 TB of bandwidth on the cheapest subscription, allowing you to maximize your performance for an affordable monthly price. What's more, there are great additions like one free domain, 3 dedicated IP addresses, and up to 5 cPanel accounts!
I find it amazing that the Premium – the most expensive plan – costs just $120 a month! This plan gives you a 4-core CPU with 8 threads and a 3.3 GHz frequency. With 16 GB of RAM and 2 TB or RAID-level storage, you get some serious performance for the most demanding users.
Bluehost gives you 15 TB of bandwdith in this case, as well as 5 dedicated IPs and 50 cPanel accounts. All plans come with an exceptional 30-day money-back guarantee and 24/7 live chat support that's one of the best in the business.
For more advanced users, it's vital to mention that Bluehost offers full root access, which lets you fully customize the server and install any software you want. The only downside is that Bluehost offers unmanaged dedicated hosting, so you need to have a bit of experience to run your server.
Pros
Affordable prices ($79.99/mo)
Up to 15 TB of bandwidth
30-day money-back guarantee
24/7 live chat support
Full root access
Cons
Only 1 IP per account
Unmanaged dedicated hosting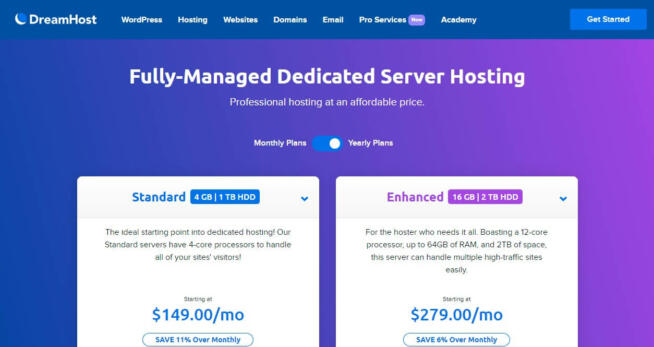 Moving on, we have Dreamhost which offers cheap shared hosting but a bit more expensive dedicated server hosting. On the flip side, we're talking about a fully-managed dedicated hosting solution that isn't shy when it comes to providing loads of resources and awesome features.
Dreamhost promises 100% uptime along with robust performance, fast speeds, and stability that extends to all subscription plans. Moreover, you get full shell and root access that lets you control every aspect of the server, which is backed up by unlimited bandwdith – another great thing.
The company offers only US-based data centers which might annoy some people. However, you get two types of subscription plans – Standard & Enhanced, which are customizable according to the number of resources you need.
The Standard plan costs $149/mo and provides an Intel Xeon 4-core 8-thread CPU, 4 GB of RAM, 1 TB HDD space, RAID 1 storage, DDoS protection, and much more. The Enhanced plan starts at a whopping $279/mo with the same processor but with 12 cores and 24 threads.
This one also bumps up the RAM to 16 GB and your storage to 2 TB HDD. Keep in mind that both plans use Ubuntu as the operating system, so using Windows is impossible. These plans can be customized, as said, and you can get more resources.
Thus, the most expensive Standard 16 plan offers 16 GB of RAM while the most expensive Enhanced SSD 64 plan offers 64 GB of RAM with 240 GB SSD storage at a huge $379/mo. I don't like that Dreamhost doesn't offer refunds or a money-back guarantee, though.
But on the other hand, you get fully-managed servers, with cPanel support and the ability to choose from SSD or HDD storage. Due to the aforementioned downsides, Dreamhost takes the second spot on the list, being just a tad less awesome than Bluehost.
Pros
Excellent performance across all plans
100% server uptime
Fast SSD storage
DDoS protection
Fully-managed servers
Cons
Only US-based servers
No money-back guarantee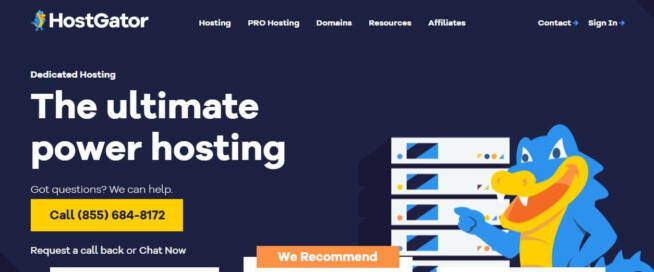 When you think about website hosting, you most likely have HostGator in mind. This popular solution offers tons of hosting options, and aside from shared, VPS, and WordPress, its dedicated hosting plans saw a massive increase in popularity over time.
Granted, it's not the fastest choice on the market but its subscription plans come with plenty of valuable features you'll look forward to. Let's start with its data centers. They're based across several locations in the US, so it's great if you're a resident of this country.
Second, the provider offers either semi-managed or fully-managed solutions, in which case, Hostgator will do the necessary updates and maintenance on your server. At least you have the option to choose, which is always welcome.
Now, in terms of plans, the cheapest one starts at $89.98 and it's called Value Server. It gives you the Intel Xeon-D CPU with 4 cores and 8 threads, along with 8 GB of RAM and 1 TB HDD storage. There's also unmetered bandwdith and the ability to choose from Linux or Windows operating systems.
Each plan boasts advanced DDoS protection and scheduled, and manual backups. In addition, all plans come with 3 dedicated IP addresses, while Bluehost offers just 1 dedicated IP per account, for example. Needless to say, full root access is here and there's unlimited support for MySQL.
While the Value Server plan is a great value, I can't help but recommend its Enterprise Server plan. At $140 a month, it provides the same CPU but with 8 cores and 16 threads, plus 30 GB of RAM, 1 TB SSD, and of course – unmetered bandwdith.
This is a serious firepower that is more than enough to blitz through all the complex tasks and shows impressive performance. Don't forget HostGator's 24/7 premium live chat support that'll fix all the potential issues in no time. It's a shame we don't get a money-back guarantee, though…
Pros
Semi-managed and fully-managed solutions
The starting plan offers 8 GB of RAM
Scheduled & manual backups
24/7 premium live chat support
Linux and Windows OS
Cons
No unmanaged options
It doesn't have a refund policy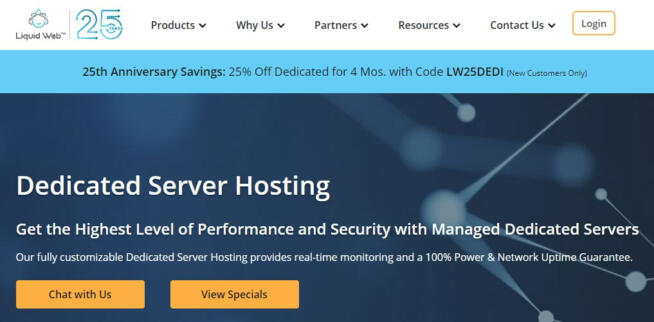 Compared to HostGator or Bluehost, Liquid Web isn't a very prominent choice. However, this provider shows impressive performance, 100% uptime, and great overall stability, which makes it a solid option for people looking for the best dedicated server hosting in 2023.
Liquid Web Hosting comes with reliable 24/7 support, offering three awesome subscription plans. All plans support Windows and Linux, with Plesk, InterWorx, and cPanel support. While Plesk uses Windows, cPanel and InterWorx take advantage of the Linux OS.
In addition, the provider offers multi-level DDoS protection coupled with fast SSD storage, high-frequency RAM, and built-in backup drives. In fact, Liquid Web has off-server backups, which allow you to efficiently back up your data without fear of losing it.
Liquid Web Hosting isn't the cheapest on the list but for the starting price of $99 a month, you do get a lot. Its Intel Xeon 1230 v5 processor is here, with 4 cores and 3.6 GHz frequency. Then, you get a whopping 16 GB of RAM in this cheapest plan, plus 250 GB SSD RAID storage.
The backup drive is 1 TB SATA and you can enjoy 5 TB outbound bandwidth. Obviously, unlimited bandwidth isn't here but this is balanced by huge storage, a strong CPU, and a lot of RAM. The most expensive plan will cost you $189 a month and it bumps up almost everything.
The CPU of choice here is a Dual Intel Xeon E5-2620 v3 with 12 cores @ 2.4 GHz and 32 GB of RAM. The plan also increases your SSD storage to 500 GB while the rest of the parameters stay the same. I wish you could get more bandwidth for the price but that, sadly, isn't the case.
On the good side, Liquid Web Hosting's standard features for all plans include IPMI access, Cloudflare CDFN, and one dedicated IP address per plan. Once again, there's no refund policy, so keep that in mind before shelling out your money on this one.
Pros
Multi-level DDoS protection
Off-server backups
SSD RAID storage in all plans
100% uptime for excellent stability
Cons
More expensive plans give you "only" 5 TB of bandwidth
One thing I always disliked about InMotion is its complex pricing structure. Indeed, you have A LOT of options to choose from here and that's great if you're picky when it comes to dedicated hosting plans. InMotion is highly customizable and lets you choose from managed Bare Metal subscriptions.
Bare Metal subscriptions are obviously cheaper but this means that you and your admins will have to manage the server, which is recommended if you have some experience. InMotion offers 99.99% uptime and it supports only Linux – not Windows – which is important to mention.
The starting Bare Metal plan called Aspire is relatively cheap, however. At $69.99 a month for the 1-year plan, you can get 16 GB DDR3 RAM, 1 TB SSD storage, and the powerful Intel Xeon E3-1246 vs CPU with 4 cores and 8 threads. There's 10 TB of bandwidth a month with 1 dedicated IP and servers in LA and CA.
InMotion's security suite is included in all plans, so you get free SSL, DDoS protection, automatic backups, and hack & malware protection, making this one of the best options in terms of security. Another plan I like is called CC-1000 which costs $400 a month.
This plan gives you 192 GB DDR4 RAM with 2×1 TB NVMe SSD and an Intel Xeon Silver 4212 CPU with 12 cores and 24 threads. With 20 dedicated IPs, 1 Gbps unmetered bandwdith, and a choice of a data center, this plan is one of the best choices if you're seeking bombastic performance at under $500/mo.
Unlike many other options on the list, InMotion has a 30-day money-back guarantee, letting you test out its plans and get a refund if you're dissatisfied. This is something you'll appreciate if you're not sure you'll use it in the long run.
Pros
Bare Metal and managed dedicated hosting
It starts at $69.99 and offers at least 16 GB of RAM
30-day money-back guarantee
Cons
Only Linux is supported
A very confusing and complex pricing structure

A2 Hosting is my last choice for today, and it, as well, offers some customizable plans with lots of quality features. Starting with root-level access, you'll be able to take full advantage of your server and customize it to your accord without too much effort.
Each plan comes with free SSL, free migrations, and a 30-day money-back guarantee, which not many services will offer. A2 Hosting offers managed and unmanaged dedicated server hosting, which, of course, differs in pricing and the features you get.
Unlike many services with strictly US-based data centers, A2 Hosting offers servers in Europe and Asia as well, making it great for users in these regions. Now, in terms of pricing, if you're looking at unmanaged dedicated hosting, it starts at $105.99 a month, which is by no means cheap.
The plan isn't skimping on resources, so you get 6 TB transfers, Intel Xeon E-2224 4.6 GHz Turbo CPU, 16 GB DDR4 RAM, and 2×1 TB of SSD storage. More expensive plans even utilize AMD Rome 2nd GETN EPYC CPUs and you can get up to 32 GB of RAM and 10 TB transfer speeds.
Managed dedicated hosting plans are much more expensive, starting at $155.99 a month with pretty much the same features. But since we're talking about managed solutions, A2 Hosting will take on the maintenance of your server and update it frequently.
Thanks to 99.99% server uptime, excellent speeds, and powerful CPUs with NVMe storage, A2 Hosting is incredibly reliable, alas a bit more expensive than some of its competitors. Don't forget that you also have a 30-day refund period here, whereas, many other providers won't give you this commodity.
Pros
Offers data centers in the US, Europe, and Asia
6 TB transfer speed in the starting plan
The option to choose managed or unmanaged subscription plans
Cons
It's not the most affordable option
2. FAQ
Yes, it is better because you get all the server resources for yourself and you're not obligated to share them with other sites. In terms of pricing, dedicated hosting is more expensive, so it's worse if you're on a budget and you don't have the money to pay for it.
Of course, dedicated hosting isn't mandatory in every scenario and if you have a small site that needs no special resources to function properly, you don't have to go for dedicated hosting.
2.2 Should I choose managed or unmanaged dedicated hosting?
This depends on your experience. If you're an experienced administrator and you think you can manage your server, update it, and take care of its security, unmanaged solutions are cheaper and most likely a better option for you.
But if you're not confident in your admin skills and you'd like to let professionals take care of the server for you, managed dedicated hosting is better. You'll pay more in this case but you ensure top-notch stability, rock-solid security, and proper maintenance by the provider.
2.3 What should I look for in the best dedicated hosting solution?
You should look for resources that you're going to get. This is the main criterion when choosing the best dedicated server hosting in 2023. The more resources you have, the better, especially if your demands are higher.
Generally speaking, we're talking about resources like CPU, RAM, storage (SSD/HDD, capacity, speed), and bandwidth. These are going to dictate the level of performance you're going to get and you should choose the plan that allows your site to perform at optimal levels.
Don't get the most expensive plan just for the sake of it if you're not going to utilize it fully. You'll just end up losing money while your website would perform the same with fewer computing resources.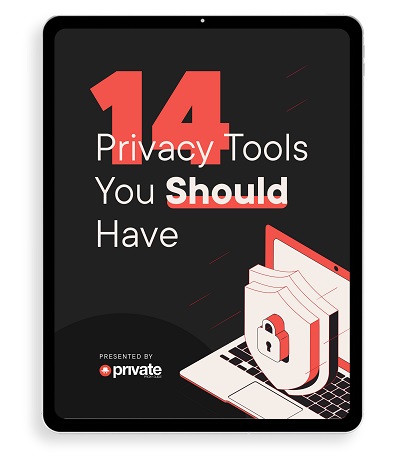 Learn how to stay safe online in this free 34-page eBook.