Celo VPN is a service with small server infrastructure which supports all the popular platforms and devices. However, there are standalone apps only for Windows and Mac computers. All other devices will require manual configuration via the OpenVPN protocol. There are more things to discover in this updated Celo VPN review.
The company is located in Australia, a country that is part of the 5-eyes alliance. What does this mean for you, as a VPN user? The Australian legislation may require the company to share your personal data upon government request. Theoretically, your data is not completely safe as it can be easily accessed and shared with 3rd parties. At the same time, Celo VPN has a zero logs policy so they have no data to share. Not much is said about Celo VPN on Reddit or Quora except threads with a few outdated discount coupons.
Among other features, we would like to highlight the following:
variety of accepted payment methods;
10 days refund guarantee;
support of all modern security protocols to protect your connection;
DDoS attacks protection;
affordable pricing;
6 simultaneous connections;
support via live chat during business hours;
unlocks most streaming platforms;
torrent support.
Celo Privacy policy
The privacy policy is clear and concise and you will be able to understand everything without any efforts. Despite being under Australian jurisdiction, the company does not log your activity. So, you can feel safe to visit any websites and stream any videos. Even if the government requests any information, the company will have nothing to share. Moreover, they provide information on how they protect the data they store.
What data do they store? According to them, they keep your email address to send you newsletters, process orders and respond to support requests via email or online chat. Very few people have access to this data. Also, it is reliably encrypted and can be accessed only via a secure SSH connection. Some time ago, they used to store payment information to process transactions. However, at the moment, the transactions are processed by 3rd party providers like PayPal and others.
Celo VPN also uses cookie files on the official website to provide a better experience for the visitors but they do not have any third parties modules like Google AdSense and others. As you can see, the privacy policy is quite standard and typical for most VPN providers. The company does not provide any specific options and, at the same time, reliably protects your personal information.
---
Celo Registration, payment, and prices
The service provides very affordable pricing, with the most expensive plan being only $7.00 per month. You are able to choose from 4 plans:
1 month – $7/mo;
3 months – $6/mo;
6 months – $5.83/mo;
1 year – $5.50/mo.
The only difference between the plans is the subscription period. At the same time, there is not much difference between the 1-month and 1-year plans. Most companies provide greater discounts of up to 70% for longer subscription periods. At the same time, in most cases, the 1-month plan is not less than $10 per month – here, it is just $7. With each plan, you get the full set of available features, including the security ones.
The registration is very easy. It requires just a few simple steps.
Go to the Pricing page on their website, select the plan you want, and click on the Sign Up Now button. We will take a one-month subscription for the test.
Fill in your personal information to identify you as a user. These include your first and last name (it can be anything, you don't have to enter your real name), email address, password, as well as username. If you are going to use credit cards, you will have to select the country, city, address, and ZIP code. Do not forget to tick the preferred payment method. You are able to pay with PayPal, Payza, bank cards, and a variety of cryptocurrencies. To tell the truth, very few VPN providers support so many cryptocurrencies. We chose PayPal as it is very easy to use and does not require to enter a lot of information.
Fill in the personal information to identify you as a user. These include your first and last name (it can be anything, you don't have to enter your real name), email address, password, as well as username. If you are going to use credit cards, you will have to select the country, city, address, and ZIP code. Do not forget to tick the preferred payment method. You are able to pay with PayPal, Payza, bank cards, and a variety of cryptocurrencies. To tell the truth, very few VPN providers support so many cryptocurrencies. We chose PayPal as it is very easy to use and does not require to enter a lot of information.
Right after you confirm the payment in your PayPal account, you will get an information email with the login information and links to the guides how to set up and configure Celo VPN on your devices. You will also be able to access the client area.
---
Celo Apps
Celo VPN can work almost on any platform and device including computers, mobile devices, routers, Fire TV sticks, and NAS devices. However, it provides standalone applications only for PC platforms: Windows, Mac OS, and Linux. This is the easiest way to use the service.
For all others devices – Android, iOS, routers, and NAS – you will have to set up the connection manually using the OpenVPN configurations. There are clear installation guides with screenshots which will help you to set up the connection even if you are an inexperienced user. At the same time, it will scary for a lot of mobile users who will probably prefer the services of standalone mobile apps. We installed and tested the Windows application. Let's see how it works.
Celo for Windows
We must admit that it is not easy to get the installation file. There is no dedicated Downloads page. You have to open the Support page, then click on the Downloads section and then click a few more times in order to get the file. Quite complicated.
The app interface is also quite complicated. On the start screen, you are able to see the encryption and protocol, your current IP address, as well as the preferred location. To change the location, you have to select the protocol first and then the country. There is a very interesting Jump feature which allows selecting a random location.
In the Settings tab, you're able to apply basic configurations like automatic launch on the system startup, automatic connection, reconnection when the connection drops, change the primary and secondary DNS, port, and encryption. We cannot say the application is very easy to use and some features are not intuitively understood.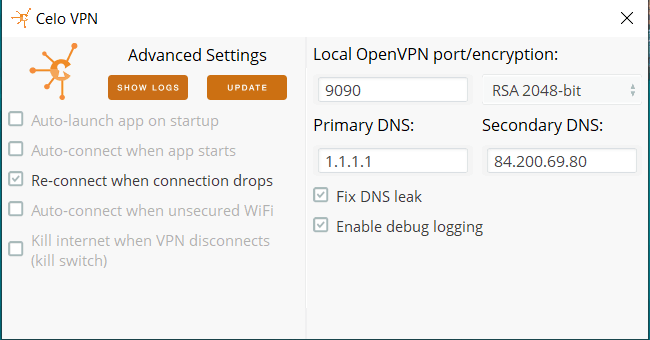 Don't forget that the Windows app works only with the Open VPN protocol. To work with WireGuard, IKEv2, Shadowsocks, and SOCKS5 Proxies, you will have to manually apply the settings.
In addition, you're able to manage the application via the context menu. Here, you can change the location, connect to the faster server, check the status, access the settings, contact support, and report bugs.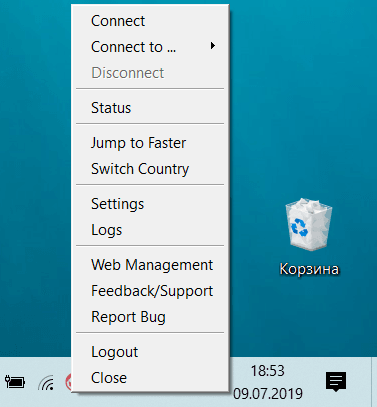 The application did not work stable in the beginning. We had to read some guides to make it work properly. Maybe you will not face any troubles but be ready for that.
---
Celo Client area
Here, you can see all the basic information about your account and subscriptions. In addition, you're able to manage subscriptions and access knowledge base, as well as to open a ticket to the support team.
---
Celo Features
---
Celo Servers
The server infrastructure is very small, including only 15 locations in 10 countries. However, all the servers are located in the most popular regions. For many users, they will cover all the needs. Interestingly, while many providers constantly increase their number of servers, Celo VPN closed some of them.
---
Celo Speed test
To check the connection speed, we used Speedtest by Ookla and connected to several locations.
As you can see, most servers provide great connection speed. Of course, the speed significantly drops in most cases but what you have is enough for all tasks, even streaming content in at least Full HD. The connection is stable and there are no disconnections.
---
Celo Security and encryption
Celo VPN supports all the modern protocols: OpenVPN, SSTP, L2TP/IPSec, IKEv2 SSH, ShadowSocks, Socks5, as well as RSA-2048 encryption. RSA-2018 is far from being an industry standard and the most reliable one. However, it is still quite good, fast, and provides great protection.
OpenVPN is the only protocol supported by PC clients for Windows, Mac, and Linux. All other ones are supported only with manual configuration. Another important feature of any VPN is protection against various leaks. We checked whether the connection of Celo VPN is secure and provides good anonymity.
The results are not the best. The vast majority of servers were detected as anonymizers. It is not good at all, as many services block access to various anonymizers. However, they do not leak vital data like IP addresses or DNS.
---
Celo for Torrents and streaming services
Celo VPN provides peer-to-peer networks support which is also known as torrents, however, not on every server. You can find the list of servers here but keep in mind that it is not complete. We tried to download the Linux Mint distributive via the German server. The download speed was stably high, with no significant drops. Next, we tested the most popular streaming services. Here are the results:
BBC iPlayer – unsuccessful
ITV Hub – successful
CBC – successful
ZDF – successful
Canal+ – successful
Fox TV – successful
Netflix – successful on US Stream server
In general, we can say that Celo VPN is a good VPN to use for most streaming platforms.
---
Celo Access in censored areas
There are countries which actively fight against VPNs. The most known example is China. Their Great Firewall makes it almost impossible to use traditional VPNs. What about Celo VPN? Will it work there?
They do not guarantee it 100%, as China constantly improves the level of their defense. However, there is a great chance for it to work as this service provides an obfuscated SSH tunnel to be available everywhere. In addition, they offer using Shadowsocks proxies which, according to them, will work 100%. At the same time, keep in mind that this is just a proxy – unlike VPN, it does not provide encryption of your traffic.
---
Celo Support
Celo VPN provides support via an online form and online chat, as well as has quite a good knowledge base.  It is quite logical to expect to get a professional assistance 24/7 but it seems Celo VPN is available only during the working hours in Australian time zone.
We sent a message in during European working hours and got a reply after almost 12 hours – it's a terrible result. They have a live chat widget on their official website. Unfortunately, it was always offline when we tried to contact them. We checked several times at different times of the day but always with no success. It seems that they just avoid the online chat.
The best way to open a ticket is to open the help center from the client area. You will have to enter the subject of the message, select department, and priority. Also, you will be able to add some sensitive data and images that will help to solve your issue faster.
What about the help center in general? It includes Getting Started, Downloads, Guides, Server List and Details, and Troubleshooting sections. In these sections, you are able to find detailed instructions on how to start using Celo VPN on different devices, get the applications and open VPN profiles, learn the information about their servers, and find the solutions to most popular problems. The most frequent questions are answered in the FAQ section.
---
Celo Refund
The company promises to give you a full refund without any questions within 10 days. We requested a refund and they canceled our subscription after a few hours and we got our money back after a few days.
To request a refund, in the client area, click on your services, select the active one, and click on the Request Cancellation button. Then you can write the reason why you want to cancel and send the request. The support team will process it and refund your money within 24 hours.
---
Celo Pros and cons
Pros:
Attractive pricing.
Strong encryption.
A variety of available options.
Zero logs policy.
Good connection speed.
A bunch of supported payment methods.
Refund guarantee within 10 days.
Kill Switch.
Cons:
Small server infrastructure.
Apps are available only for PC platforms.
Quite complicated PC client.
Slow technical support.
Australian jurisdiction.
Does not unblock all streaming platforms.
---
Conclusion
Celo VPN is a great choice if you use the VPN mostly on computers and feel comfortable to configure the connection manually on other devices. It has a lot of great security features and in that respect, it does not differ much from the competitors. However, if you do not like its Australian jurisdiction, the small server infrastructure or to apply manual settings, Celo VPN is not for you.