PandaPow VPN (www.pandapow.io) is a Hong Kong-based service that provides a variety of servers in different locations, clear privacy policy, standalone applications for most popular platforms, as well as the ability to use geo-restricted resources.
Is PandaPow any good? Is it worth its price? What are its strong and weak points? We will check all these aspects in this updated PandaPow VPN review.
Verdict
If you are looking for a VPN just to access geo-restricted and blocked websites and applications, PandaPow is quite a good option. It's not very expensive, quite efficient, and in most cases reliable.
If you feel paranoid about your privacy, the service is not for you. It leaks your DNS, the privacy policy raises some questions, and the connection is not as secure as claimed.
Pros and cons
Pros:
Good encryption protocols.
Applications for all the popular operating systems.
Refund
Guaranteed to work in China.
Unblocks most streaming platforms including Netflix.
Quite good speeds.
Variety of available payment methods.
Cons:
DNS leaks.
Some servers may be unavailable.
Some servers do not change IP and DNS.
Very slow technical support, the claimed 24/7 chat support missing.
VPN Service

www.nordvpn.com
NordVPN
Review
Price: $11.95 $3.71/month Servers: 5500+ in 59 countries Simultaneous connections: 6 Jurisdiction: Panama Payment: PayPal, AmazonPay, Crypto, Google Pay, Klarna Torrenting: OK Unblocks US Netflix: Yes Dedicated IP: $70/yr TrustPilot Score: 4,7/5 Money-back: 30 days Extra: Double VPN, Obfuscated servers Visit NordVPN »

www.expressvpn.com
ExpressVPN
Review
Price: $12.95 $8.32/month Servers: 3300+ in 94 countries Simultaneous connections: 5 Jurisdiction: British Virgin Islands Payment: PayPal, Crypto, AliPay, Klarna, Torrenting: OK Unblocks US Netflix: Yes Dedicated IP: Not provided TrustPilot Score: 4,7/5 Money-back: 30 days Visit ExpressVPN »

www.cyberghostvpn.com
CyberGhost
Review
Price: $11.99 $2.25/month Servers: 6600+ in 89 coutrines Simultaneous connections: 7 Jurisdiction: Romania Payment: PayPal, Crypto Torrenting: OK Unblocks US Netflix: Yes Dedicated IP: $51/yr TrustPilot Score: 4,8/5 Money-back: 45 days Visit CyberGhost »

www.surfshark.com
Surfshark
Price: $11.95 $2.49/month Servers: 3200+ in 65 coutrines Simultaneous connections: Unlimited Jurisdiction: British Virgin Islands Payment: PayPal, Crypto, Google Pay, Amazon Pay Torrenting: OK Unblocks US Netflix: Yes Dedicated IP: Not provided TrustPilot Score: 4,3/5 Money-back: 30 days Visit Surfshark »

www.purevpn.com
PureVPN
Review
Price: $9.60 $3.33/month Servers: 6500+ in 140 coutrines Simultaneous connections: 10 Jurisdiction: Hong Kong Payment: PayPal, Credit Cards Torrenting: OK Unblocks US Netflix: Yes Dedicated IP: $35.88/yr TrustPilot Score: 4,7/5 Money-back: 31 days Visit PureVPN »
Overview
PandaPow VPN is located in Hong Kong and works under its jurisdiction. It provides all the necessary features for an average VPN user. You will get more than 120 servers in 16 countries, quite affordable prices, average connection speeds, up to 3 simultaneous connections, as well as applications for Windows, Mac OS, iOS, and Android.
You will be able to use a variety of payment methods to get a subscription, including the anonymous Bitcoin option. The company promises to not keep any personal information about you and to reliably protect and not share any data they still store. If you do not intend to use the VPN for any unlawful actions, you can be at ease about your privacy.
PandaPow unblocks many streaming services. So, you will be able to see your favorite movies and shows no matter where you are. At the same time, it works in a pretty unstable way with highly protected platforms such as Netflix, Hulu or Amazon Prime.
In addition, if you do not like how it works, you can request a refund within 7 days after purchase. They have a designated button for this in the client area, so, you won't have to contact human support to ask and explain why you do not like their service.
Features:
Hong Kong jurisdiction.
Applications for all the popular operating systems and platforms.
Average connection speed.
Affordable prices and a variety of supported payment methods.
Full refund within 7 days after purchase.
Ability to unblock most streaming services.
Torrent support.
Clear privacy policy.
---
Privacy policy
As mentioned earlier, PandaPow works under the jurisdiction of Hong Kong. Despite being located very close to China, they care much about their privacy and do not belong to 5-eyes, 9-eyes, or 14-eyes alliances. This means that there is no law that forces companies to disclose any personal data of their users, something that is a good sign for privacy lovers.
However what about their privacy policy? It's quite clear and transparent but, at the same time, it still raises some questions. They require some personal information like name or email to set up the services. They also do not share your data with third parties with commercial purposes and promise not to store personal data like your email address.
However, they say they may provide your personal data to third parties if it is required to conform with a legal requirement, comply with a legal process, or protect and defend their rights and property. How will they be able to provide the data if they do not store anything? Still a big question.
Additionally, they store information like IP address, session time and duration, the used amount of traffic, and connection speed. This information is needed to provide the best service possible. At the same time, they do not store data like visited websites, chats, online calls, activity logs, etc.
Can PandaPow VPN be trusted? If you are looking at the service's privacy policy, it still raises a set of questions. Although, we must admit that they fairly describe everything on their website and it's up to you whether to trust them or not.
---
Registration, payment, and prices
The pricing is quite affordable and, compared to other VPNs, is average. They have 3 plans which are different in duration. You are able to get a subscription for 1 month, 3 months, or 12 months. At the same time, the price will not differ much. The most expensive plan, the 1-month one costs $9 monthly while the cheapest, the 12-month one works out at $7 monthly.
$9 for a monthly plan is a good price as there are a lot of competitors who charge between $10 to $15. But $7/mo for a yearly plan is a lot — there the companies who charge as little as $3-$5 per month. In addition, PandaPow allows only 3 simultaneous connections. This number is very low nowadays, 5-6 devices would be much better.
All the features are available in every plan, no matter what subscription duration you get. If you don't like how it works, you can request a refund within a week.
Moreover, they provide a great affiliate program. You will have to add some code to your website and get a commission for new customers.
The procedure of registration is very easy. It takes several simple steps and not more than 5 minutes of your time.
First, you have to select the pricing plan and click Order Now. It will lead you to the authorization page where you have to create a new account or log in to an existing one. For the test, we signed up for a one-month subscription. As we don't have an account, we selected the first option.
Enter your email, name, and password. You can leave the password empty and get a generated password. Click on Sign up button to go on to the payment page.
Next, select the desired payment method. You are able to choose credit cards, PayPal, eCheck, PayPal bank transfer, Bitcoin, WeChat Pay. PandaPow does not process your payment transactions. For that, they use the 2Checkout, AliPay, UnionPay, and Coinbase processing platforms. We selected PayPal, as it is the most convenient tool.
Even before we fully completed the registration, we received the support account email. Using your email address, you will be able to contact the support team and access the help resources.
Having completed the payment, we received a notification of the order confirmation and an email about the account activation.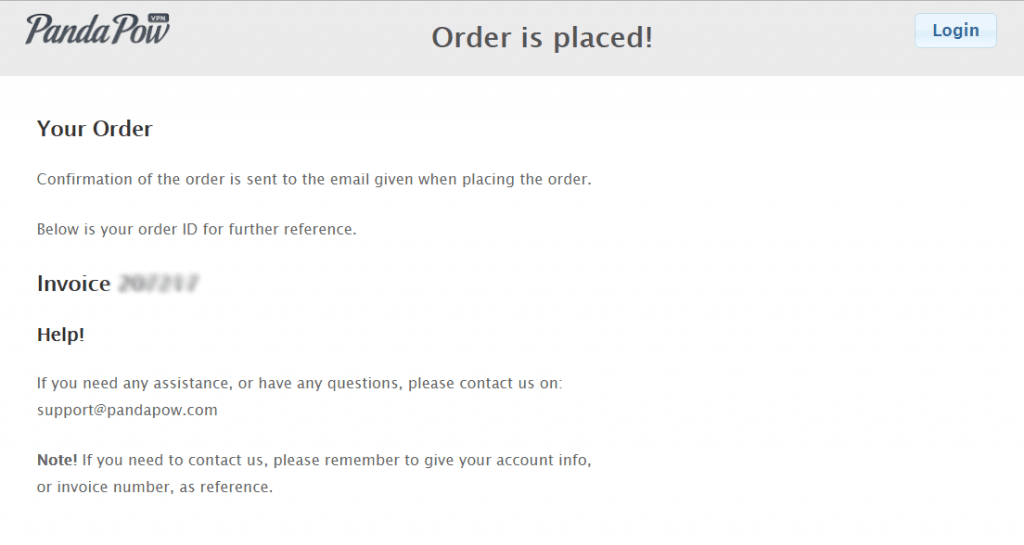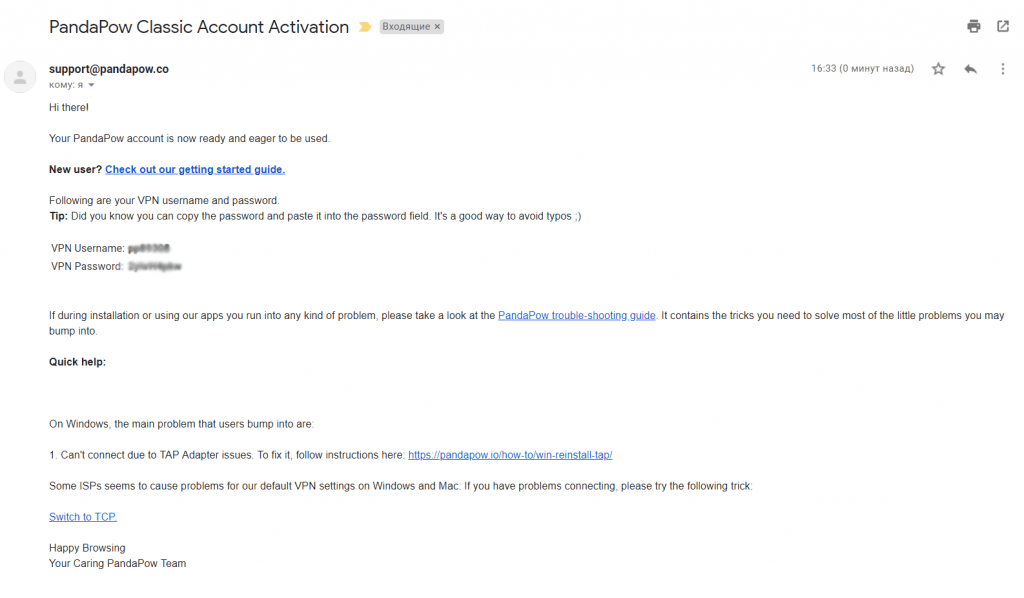 That's all — now, you can log in to client area to manage your account and subscription.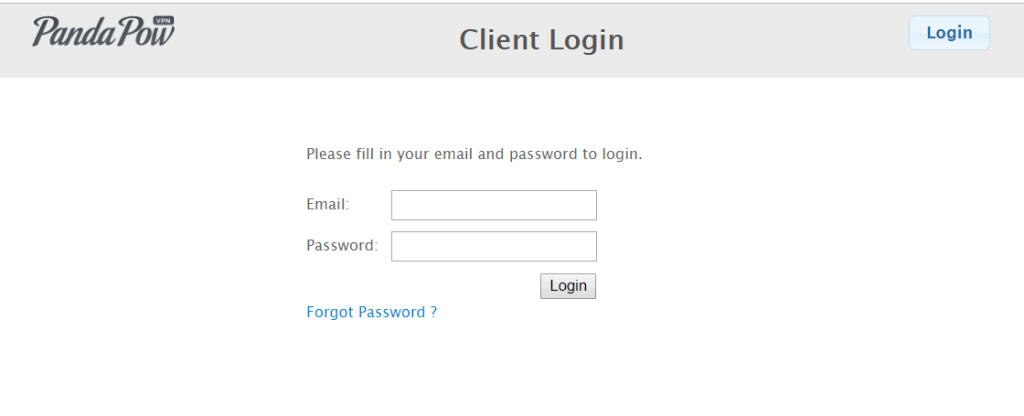 Apps
PandaPow provides applications for Windows, Mac OS, Android, and iOS. They are quite simple and easy to use. In most cases, they work quite stable on all devices.
For the test, we reviewed the apps for Windows and Android. Now, it's time to look at them closer.
Windows
You can get the installation file on the dedicated Downloads page on the official website. It is lightweight, the file size is less than 2 megabytes.
After installation, you have to enter your username and password. Keep in mind that it is not your email. You must receive your credentials in the email about your account activation. Right after this, the application will ask whether you are in China. If you click yes, they will apply additional settings that will let you bypass the Chinese Great Firewall.
Also, the application will offer to select the preferable server. We didn't understand why this is required but that's what we have. Anyway, you're able to change it in the app menu at any moment.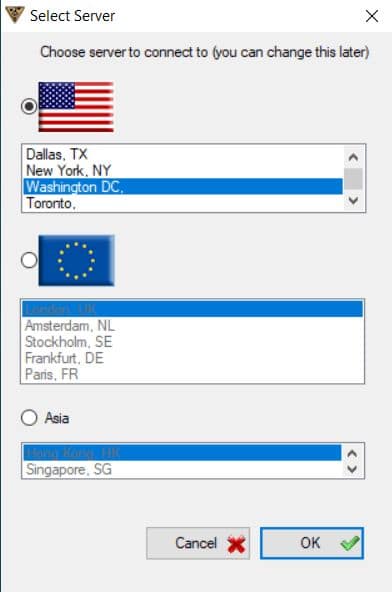 On the start screen, we have the Connect and Help buttons. Also, you can access the connection log, as well as change the server and location, and open the application menu. The interface is not very convenient and attractive but the app performs the expected tasks almost perfectly.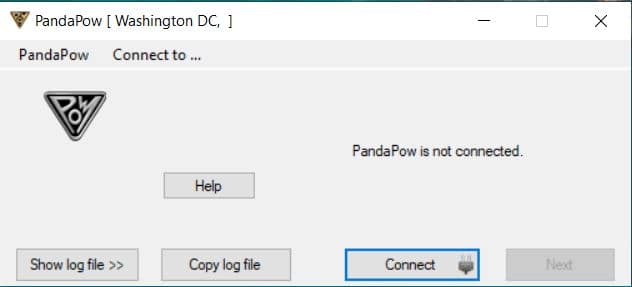 In the general settings, there is an option to keep the connection, start with Windows, and connect at the start. They are the most basic features.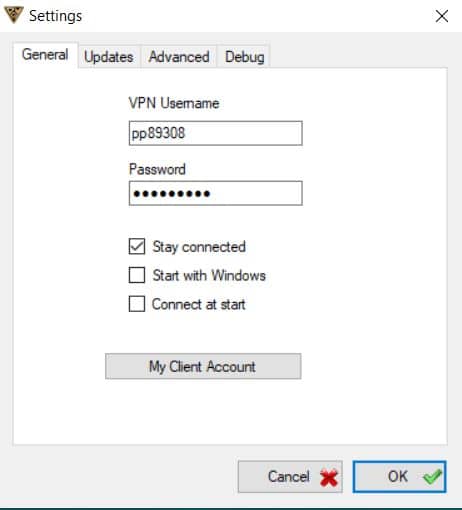 In other tabs, you are able to configure the connection (change the protocol, configure the timeout, etc.) and fix some connection issues.
To select the required location, click on the respective button and choose the city or server in the drop-down list. If you choose a city, the application will select the random server to connect to.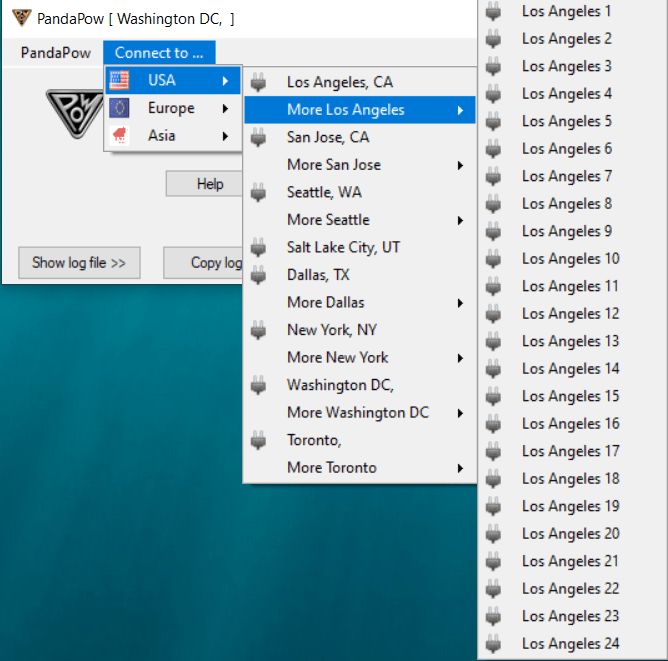 When you're connected to PandaPow, you will see that the respective message and the server you are connected to.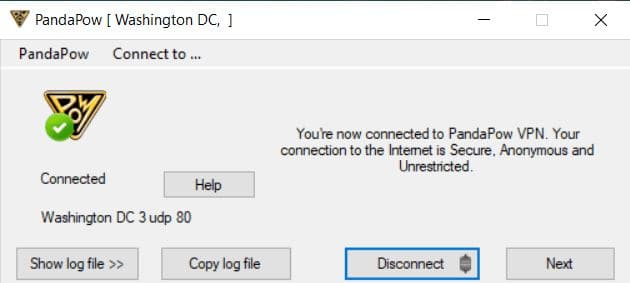 Also, you are able to access all app features via the context menu.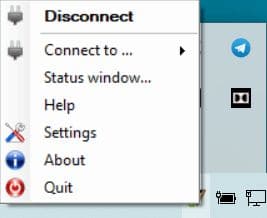 Android
The Android app is available in the Play Store and, like the Windows one, it is also lightweight. Having entered the login and password, you will see the start screen. Here you are able to turn the connection on or off, select the location, access the connection log, and test the servers.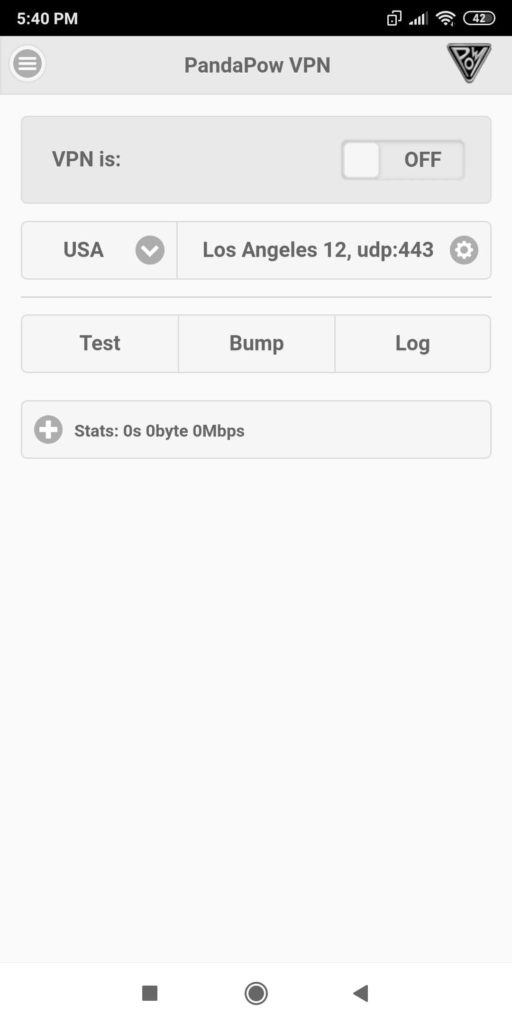 In the app menu, you can check the account information and apply some settings. In the VPN settings, you are able to change the port and protocol as well as the default server. In the account info, you will see the expiry date of your subscription, account type and status, building type, and username.
When you are connected, you'll see the connection speed and duration, as well as the amount of traffic.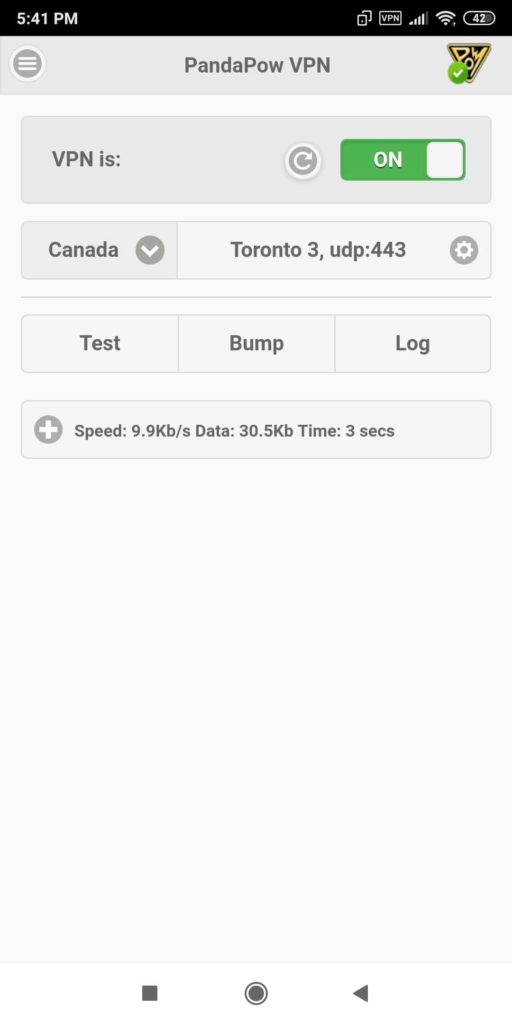 ---
Client area
In the client area, you will get basic information about your account and subscription, as well as manage them with a few clicks. Of course, it could be much more informative but it is not the worst option.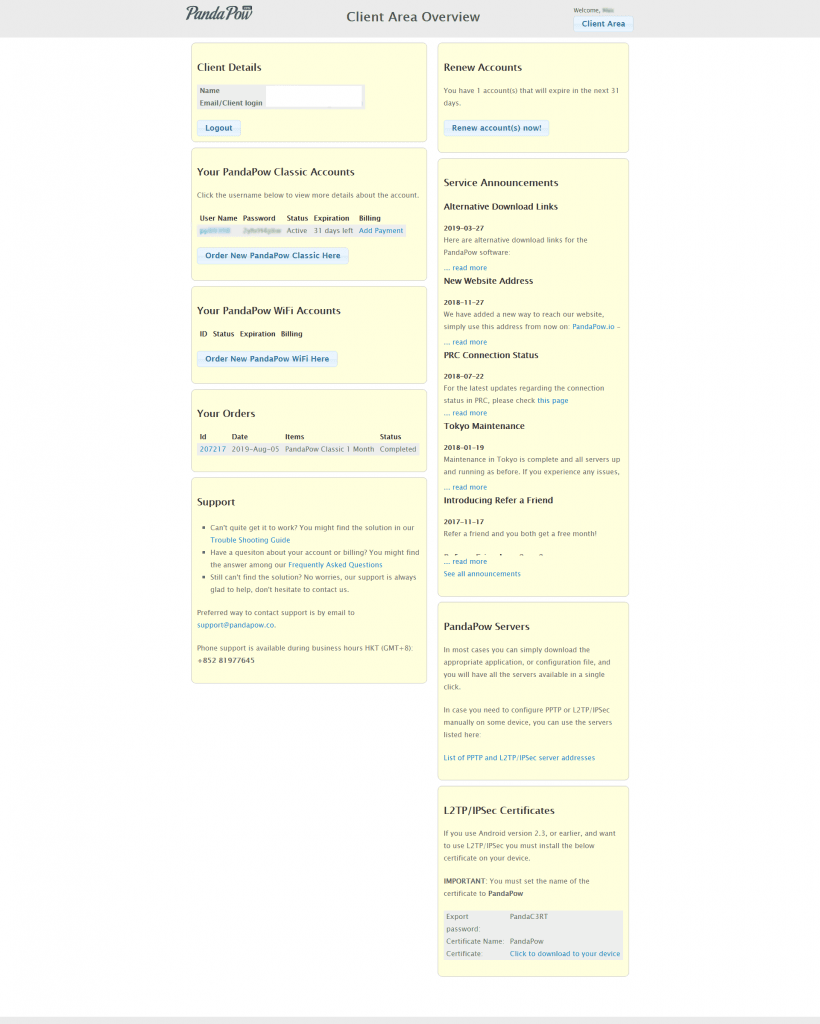 ---
Features
PandaPow does not provide any specific VPN features that are traditional for many advanced services. For example, you will not find a kill switch or split tunneling feature here. Yes, it will protect your wireless or cable connection, but if the connection drops, your data will be under threat.
The only additional feature that is worth considering is PandaPow Wi-Fi. This is a branded Wi-Fi router with PandaPow settings. It will protect both cable or mobile connection as it has both Ethernet and USB ports. You will be able to share the protected Wi-Fi to all your devices.
You will not have to make any additional configurations. Just connect to PandaPow network and protect your data.
---
Servers
PandaPow has a network of more than 120 servers in 16 locations: USA, Canada, Australia, the UK, the Netherlands, Sweden, Russia, Germany, France, Italy, Hong Kong, India, Japan, Singapore, South Korea, and Thailand. You are able to select any location no matter where you are.
However, not all the servers were stable and some of them were not available at all. In some locations, we had to select multiple servers to make the connection work.
---
Speed test
As the connection speed is a vital component of any VPN, we tested how fast is PandaPow.
First, we checked the connection without VPN: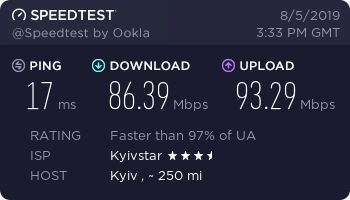 Then, we checked several locations on different continents:
London, UK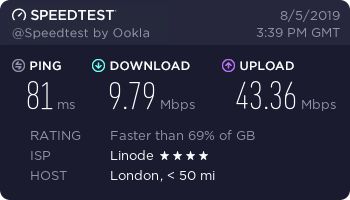 Stockholm, SE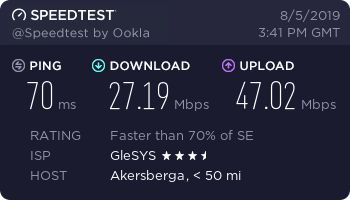 Frankfurt, DE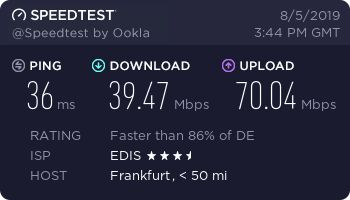 Paris, FR
Hong Kong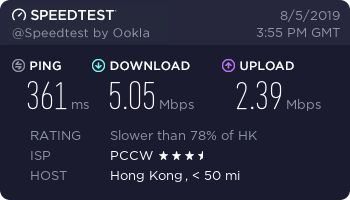 Singapore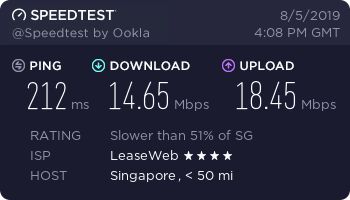 Sydney, AU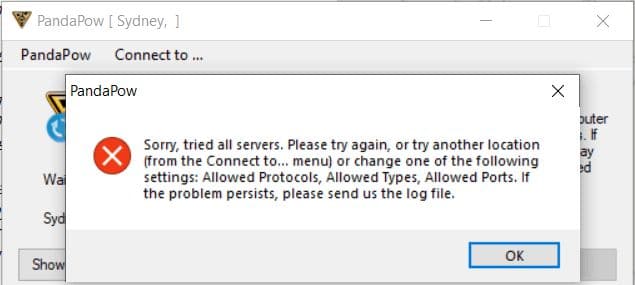 Toronto, CA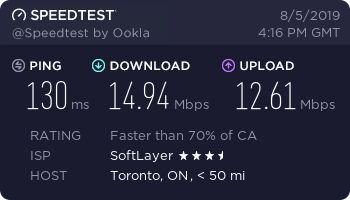 Los Angeles, US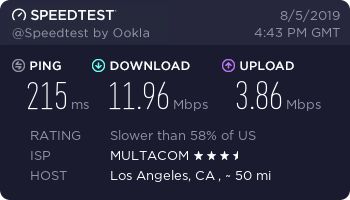 Salt Lake City, US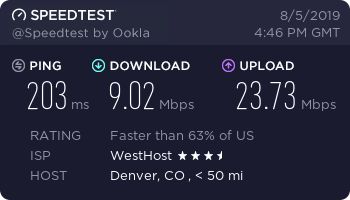 Despite a significant speed drop, it is still quite high to use the Internet comfortably. We didn't notice any freezes even when watching full HD content.
---
Security and encryption
PandaPow offers 256-bit encryption with 2048-bit authentication. In addition, any user will benefit from PPTP, OpenVPN (TCP and UDP), L2TP and IPsec protocols. Despite some security features are not available, available technologies well reliably protect your traffic and connection in general.
We also checked whether their protection is enough to prevent IP and DNS leaks. We used whoer.net for our tests.
Here are the results.
London, UK

Stockholm, SE

Frankfurt, DE

Paris, FR

Hong Kong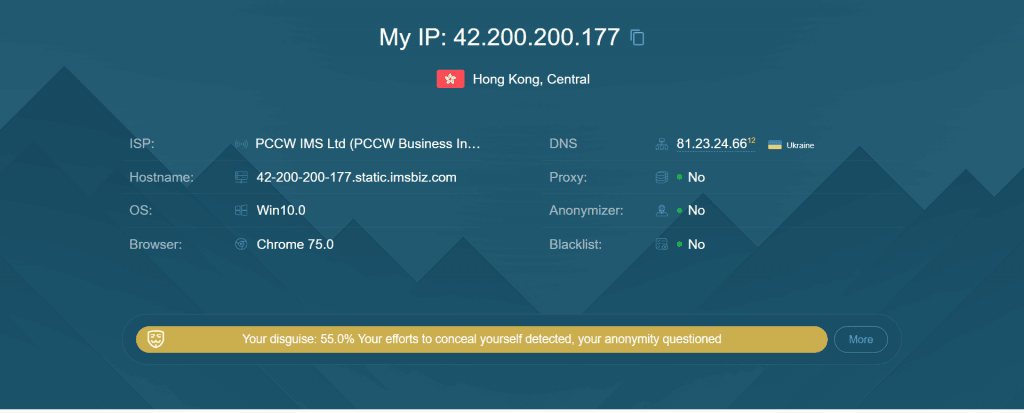 Singapore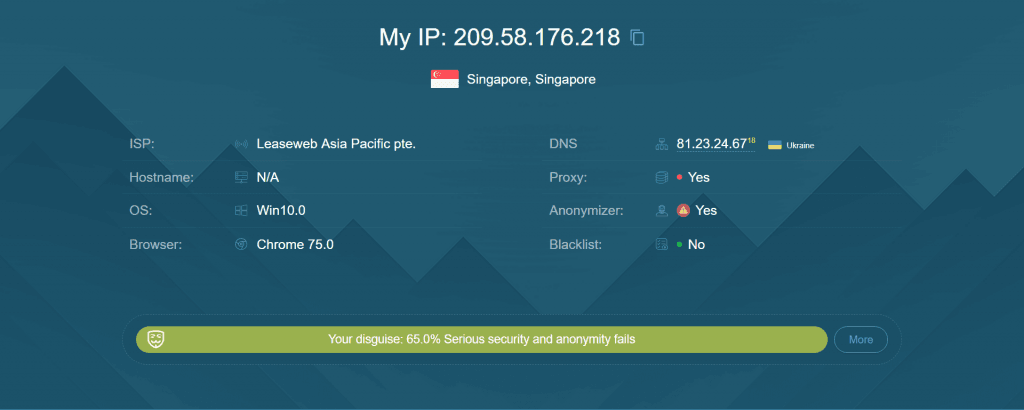 Sydney, AU
Could not connect
Toronto, CA

Los Angeles, US

Salt Lake City, US

Most servers leaked DNS — we saw the DNS of our own provider. Some servers in Los Angeles did not change the IP and DNS at all. What is the conclusion? PandaPow connection is not as secure as the company claims.
---
Torrents and streaming services
P2P networks and streaming platforms are the most popular reason why people use a VPN. Until recently, PandaPow did not support torrents. Now, everything is okay.
We connected to the server in Amsterdam and downloaded the Linux Mint distributive. The download speed was up to 25 Mbps. It's much slower than with direct connection but not such a bad result.
Next, we tried to use PandaPow with several streaming platforms. Here are the results:
BBC iPlayer — not successful
ITV Hub — not successful in the video library, successful in the Watch Live section
CBC Canada — successful
Fox TV — successful
Netflix US — highly depends on the server, most locations do not unblock; we were successful with one of the Los Angeles servers.
Hulu — successful but not with every server.
In general, PandaPow demonstrates an average result.
---
Access in censored areas
Not every VPN works stably in strictly restricted countries like China. However, PandaPow is one of those who will work in China correctly. The guys from technical support advised installing the application before going to the country.
In addition, if you're going to use the app in China, confirm the request before installation. The program will apply additional configurations specifically for the users in this country.
---
Support
If you need any help, the support is available in different ways: troubleshooting guide, FAQ page, how-to guides, Getting Started Guide, email, 24/7 online chat, and even phone line which is available in working hours in Hong Kong time zone. At least, their official website claims that. What do we actually have?
The website contains some useful articles. They answer the most popular questions, provide basic troubleshooting guide, as well as helps to configure the connection on different platforms and devices. What about human support?
This is not available 24/7. It also seems that the online chat is not available at all. You can use the contact widget available on every page to send them your question. They promise to reply as soon as possible. We asked whether the app will work in China and the best way to use it there.
We got a reply in almost 18 hours. That is a terrible result for a service that claims to provide 24/7 support.
---
Refund
The refund is available within 7 days after the purchase. You can request it without additional conditions.
In the client area, find the active accounts section and click on the one you want to refund.
On the account details page, click on the Request Refund button.
Confirm the refund confirmation in a popup window.
If everything went well, you will see that notification that the request was sent to the support team. They promise to confirm it within 24 hours.

It took us several days to get our money back.