Are you looking for a fast and reliable VPN service to bypass local restrictions or protect your data online? Then you should take a look at OVPN* — the Sweden-based service with OK server infrastructure and zero-logs policy. Here is a detailed OVPN review. They also have mostly positive user reviews on Reddit.
* I recieved a free demo account from OVPN for testing purposes.
1. Overview of OVPN
OVPN is a small VPN provider that was founded in 2014 in Sweden. Of course, they are under Swedish jurisdiction. Currently, OVPN has 83 servers in 21 locations in 14 countries. Despite its current small infrastructure, the guys regularly increase it and provide new servers and new locations. They also promise to unlock most streaming services, especially in the countries where they are present. OVPN can work on most existing operating systems and devices including quite rare ones. However, be ready to apply manually configurations on some devices.
As for pricing, it is not the lowest but it is still quite competitive. You are able to get a subscription using your bank card, PayPal, Bitcoin, and even cash (you will have to get money from an ATM). If you don't like how the service works, you can request a refund within 10 days. They promise to give your money back without any questions.
Features:
Swedish jurisdiction.
Affordable pricing, moneyback guarantee within 10 days.
Growing server infrastructure.
Variety of available payment methods.
Working with many streaming platforms.
P2P networks support.
Works on almost any existing device and operating system.
2. The OVPN privacy policy
There are few VPN providers that do not fool or lie to their clients about keeping their privacy. OVPN is one of them. The company has a clear zero-logs policy. What does this mean for you?
OVPN does not log any actions of their clients when they connect to the servers, which includes traffic, timestamps, DNS requests, IP addresses, MAC addresses and used bandwidth. Thus, they do not know who is connected to their service, what they do or when they do it. This is something very useful for every user who cares about privacy.
What about court orders? Hypothetically, if the court orders OVPN to provide information about their customers, they have no information or logs to provide. In other words, they just have nothing to share. Moreover, all payment information is processed by a third party, so the company has virtually zero real information about you.
3. Subscription plans for OVPN
It is very easy to start using the service. Just create an account and make a payment using your preferred method. The homepage includes all the necessary information about the plans and available payment methods.
To start the procedure of registration, click on the Get Started button. Here, you will see the available plans in three currencies: Euro, Swedish Krona, and US Dollar.
Select a convenient plan for you. The price depends on the selected duration: 1 month, 6 months, and 12 months. The 1-month plan is the most expensive, while the 12-month one is the cheapest. The longer the subscription is made for, the higher the discount you get. Another interesting feature: the final discount depends on the currency. For example, if you select USD, you get a 24% discount for a 6-months plan, and 36% in 12-months, while with EUR, the discount is 17% and 30% respectively. However, if you choose SEK, it is 34% and 45% — in many cases, purchasing the service in Swedish Krona is more profitable even with currency conversion than paying for it in Euro or Dollar.
Having selected the plan, create your account. Create the username and password and add your valid email address. You will get a confirmation email later.
Next, select the payment method you prefer. You can use all popular bank cards, PayPal, Bitcoin or even cash. If you select Bitcoin, you are able to remain absolutely anonymous.
One of the most interesting options is the ability to use cash for purchasing an account. For that, you have to put your money in an envelope along with the code you get on the registration page and send it to the given address. If you live somewhere in the European Union or other close countries, it can be a great alternative instead of traditional payment methods. The weakest point of this method is that it can take quite long until the letter reaches the destination point.
When you complete the registration and payment, you get a confirmation email and are able to access the personal dashboard.
4. Install and setup OVPN apps
OVPN is able to work on almost any existing device, including desktop computers, mobile devices, routers, and NAS devices. However, the standalone applications are available just for Windows, Mac OS, and Ubuntu. For all other devices, there are detailed instructions on how to apply the manual configuration. If you do everything correctly, it will take not more than several minutes to configure a connection.
As we use a Windows computer, we tested the application for this operating system.
4.1 Windows
After the purchase, you can download the software for your PC. The software is very easy to use and works smoothly even on weak devices.
Right after installation, you have to enter your login and password that you created during the registration process. Once you are logged in, you will be redirected to the server selection screen.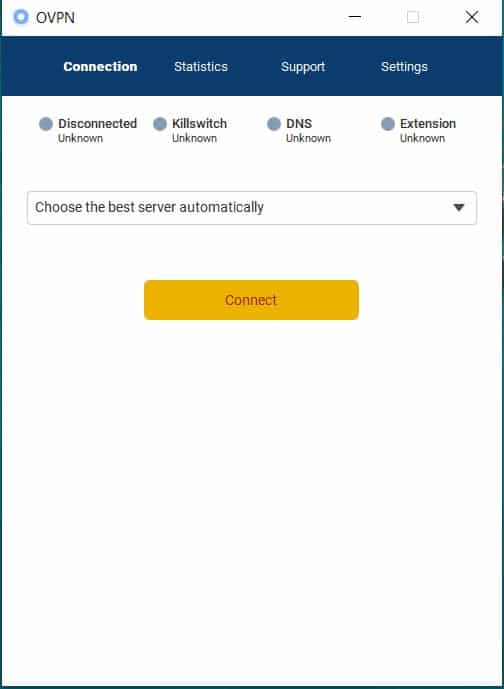 In total, there are four tabs: Connection, Statistics, Support, and Settings. The default tab is the Connection one. Here, you are able to connect to a server in several ways:
choose the best server automatically;
choose the best server in a specific country;
choose the server manually.
In the first case, the application will select the best server in a random country. In the second case, it will connect you to the best server in the country you choose. If you want to select a specific server, the application will display the current load and ping. This is really a wonderful feature —very few VPNs provide it right in the app.
After the connection is established, you will see the current statistics. If you want to check the statistics for the last 60 minutes and 24 hours, open the next tab where you can see download and upload charts.
If you have any questions or issues, you are able to contact the technical support right in the application. Just go to the Support tab, type your message and click the Send message button.
In the Settings tab, users can configure the software according to their own preferences. There are several functions you can play with:
Kill switch — alarm button. When you disconnect your device from the VPN connection, all your Internet traffic will be blocked.
DNS leaks — OVPN will make sure that your ISP does not spy on you via DNS.
DNScrypt — the OVPN service will allow you to use the DNScrypt together with the DNS servers operated by OVPN. We recommend that you use the DNScrypt because it will prevent your DNS calls from third parties attacks.
IPv6 — if you want your data to go through the IPv6 tunnel, then this feature is for you. Just make sure that your device supports IPv6 before you activate it.
4.2 Chrome add-on
In addition to the software, there is a browser extension to block ads and tracking. The Force feature allows you to visit sites only with a VPN connection. Finally, unlike other ad blockers that skip Google ads, the OVPN browser extension blocks all ads. With this feature, you can surf the web faster and save you bandwidth if your connection is slow or limited.
5. OVPN Dashboard
The dashboard is quite simple. It provides basic information and links to applications, extensions, and additional services. It will provide a link for the application for your device (in our case it is Windows). It will also check the connection status and let you run DNS and WebRTC tests.
In the Account section, you can order a Vilfo router, static IPv4 address with all ports open, Multihop add-on, or open the ports. Also, you may invite your friends by sharing the link with them. In the top corner, you are able to access the Profile, Security, and Billing section to change additional settings.
Thus, you are able to change your current email, activate/deactivate IPv6, unlock streaming services, enable/disable data compression, change the account password, as well as get additional add-ons, configure payment methods and automatic subscription renewal.
6. Features
Kill Switch
When you surf the Internet or transfer important information via a VPN and it gets disconnected for any reason, your direct connection will also be blocked. The feature helps to protect you from potential online threats.
DNScrypt
The DNS servers operated by OVPN will encrypt all your DNS queries and protect them from third-party attacks.
Vilfo router
This is a pre-configured router that will protect all your devices, control your network, bypass local restrictions, as well as provide safe browsing. This is something you can buy if you need a router.
Static IPv4 address
By default, every user is connected to the shared IP address, meaning that several people use the same IP. However, in some cases, you may need a static address. With the special add-on, you get a dedicated IP in a location you choose.
Multihop
This additional service will direct your traffic through several datacenters. It provides better security, as the second server which connects you with the target resource, does not see your real IP.
7. Servers
Currently, the OVPN network counts 83 servers in 21 locations in 14 countries. They are mostly located in Northern and Western Europe, and North America. However, there are a few servers in Australia and Singapore. Therefore, the service is perfect for users from these regions. Unfortunately, the company has a difficult task to attract customers from other parts of the world, as there may be delays due to the lack of servers nearby.
The network is not the smallest. There are other companies that provide a lot fewer datacenters. The company guarantees 99.5% uptime. Usually, it is 100%. They even provide real-time monitoring of every server on a dedicated page.
8. Speed test
High connection speed via a VPN is vital for every user. We tested the connection speed in several locations in different parts of the world.
First, we checked the direct speed. With 100 Mbps given by our provider, we had over 94 Mbps:
Now, let's see the speed via different OVPN servers:
Stockholm, Sweden
Zurich, Switzerland
Madrid, Spain
London, UK
Toronto, Canada
Miami, USA
Dallas, USA
Los Angeles, USA
Sydney, Australia
Singapore
As we are located in Europe, all European servers are very fast. The connection speed didn't reduce significantly. At the same time, the American, Australian, and Singaporean servers are quite fast too.
9. Security and encryption
Security is the most important parameter for any VPN service. OVPN is also a great choice for those who care about security.
They support the most popular protocol: OpenVPN. You are not able to use anything else, however, OpenVPN provides a secure connection and, at the same time, does not impact the speed. The VPN tunnel is encrypted with AES-256-GCM together with Diffie‑Hellman and Perfect Forward Secrecy (DHE) using an RSA key with a 4096-bit key — this will give you enough privacy while surfing online. The company provides more security details on their website:
In addition, if you have privacy concerns and need an additional level of encryption, you can always order a Multihop feature for $5 a month and encrypt your traffic twice through two different datacenters. Keep in mind, though, that this will dramatically reduce your browsing or streaming speed.
OVPN also provides a high level of physical security. The company has its own infrastructure and the servers are locked in isolated racks. They work without hard drives, the operating system and all processes run in RAM. They also do not support any keyboard, physical console or USB access.
We checked how secure the VPN connection is by using the same servers and locations we used in a speed test. Here are the results.
Stockholm, Sweden
Zurich, Switzerland
Madrid, Spain
London, UK
Toronto, Canada
Miami, USA
Dallas, USA
Los Angeles, USA
Sydney, Australia
Singapore
In all cases, the connection was secure. It did not leak our real IP address, DNS and WebRTC.
10. Netflix, torrenting and streaming with OVPN
OVPN allows torrenting and is a great choice for it. We checked how this feature works. For that, we downloaded the Linux Mint distributive from the official website. The download speed was almost as high as with the direct connection. The company also promises to unlock all the popular streaming services in the countries where their servers are located. We tested some popular ones:
Netflix US — does work;
CBC Canada — works properly;
BBC iPlayer — does work;
ABC Australia —works with low quality, constant buffering;
ZDF Germany — works properly;
Canal+ France — works properly.
OVPN is a good choice for streaming. but some popular platforms can be slow and this has to do with the distance to the server.
11. Censored areas
There is no secret that some countries have strict online censorship and do their best to block all unauthorized VPNs. China is the best example. So, the company can't give any guarantees that the service will work in mainland China. At the same time, other users have reported that the servers in Singapore work in China. So, if you want to connect to OVPN servers from China, Singapore one over TCP 443 is your best solution.
12. Support
To help you to solve all possible issues, OVPN provides detailed guides on how to configure the connection on any device, the FAQ page, as well as the human support by email and live chat. The FAQ page answers all the most popular questions about how the service works. In most cases, you will not need to contact human support.
However, if you need that, leave a message on the support page or try to contact them via live chat. We asked whether the app works in China and got a reply within 40 minutes. The operator was helpful and provided a meaningful response.
13. Refund
If you do not like how OVPN works, you are able to request a refund within 10 days after the first time purchase. As the company operates under Swedish law, they have the right not to refund the renewed purchases. You have to contact the support team by email or via live chat. They usually process your request within a day. If you used Bitcoin for payment, you will be refunded the equivalent amount. If you sent cash, you should personally visit their office or wait a long time before they mail it back.
14. OVPN Pros and cons
Pros
Servers in popular locations.
High connection speed.
Clear refund and privacy policy.
Complete anonymity.
Ping information in the software
Cons
Somewhat expensive
No mobile applications.
Few servers to choose from compared to other providers
15. Final verdict
OVPN is a good solution for those who are going to use it for secure browsing and torrenting. It is also quite good for streaming. The only downside is that they don't have that many servers compared to bigger providers with thousands of servers, but the servers they do have are really fast. In general, I can recommend this service to anyone looking for a solid all-around VPN-service.
VPN Service

www.nordvpn.com
NordVPN
Review
Price: $11.95 $3.71/month Servers: 5500+ in 59 countries Simultaneous connections: 6 Jurisdiction: Panama Payment: PayPal, AmazonPay, Crypto, Google Pay, Klarna Torrenting: OK Unblocks US Netflix: Yes Dedicated IP: $70/yr TrustPilot Score: 4,7/5 Money-back: 30 days Extra: Double VPN, Obfuscated servers Visit NordVPN »

www.expressvpn.com
ExpressVPN
Review
Price: $12.95 $8.32/month Servers: 3300+ in 94 countries Simultaneous connections: 5 Jurisdiction: British Virgin Islands Payment: PayPal, Crypto, AliPay, Klarna, Torrenting: OK Unblocks US Netflix: Yes Dedicated IP: Not provided TrustPilot Score: 4,7/5 Money-back: 30 days Visit ExpressVPN »

www.cyberghostvpn.com
CyberGhost
Review
Price: $11.99 $2.25/month Servers: 6600+ in 89 coutrines Simultaneous connections: 7 Jurisdiction: Romania Payment: PayPal, Crypto Torrenting: OK Unblocks US Netflix: Yes Dedicated IP: $51/yr TrustPilot Score: 4,8/5 Money-back: 45 days Visit CyberGhost »

www.surfshark.com
Surfshark
Price: $11.95 $2.49/month Servers: 3200+ in 65 coutrines Simultaneous connections: Unlimited Jurisdiction: British Virgin Islands Payment: PayPal, Crypto, Google Pay, Amazon Pay Torrenting: OK Unblocks US Netflix: Yes Dedicated IP: Not provided TrustPilot Score: 4,3/5 Money-back: 30 days Visit Surfshark »

www.purevpn.com
PureVPN
Review
Price: $9.60 $3.33/month Servers: 6500+ in 140 coutrines Simultaneous connections: 10 Jurisdiction: Hong Kong Payment: PayPal, Credit Cards Torrenting: OK Unblocks US Netflix: Yes Dedicated IP: $35.88/yr TrustPilot Score: 4,7/5 Money-back: 31 days Visit PureVPN »
We are sorry that this post was not useful for you!
Let us improve this post!
Tell us how we can improve this post?