When thinking about proxies, people usually have cheap and low-quality ones in mind. However, Bright Data is anything but. It's a company established in 2014 in Israel under the name Luminati Networks, only to switch to Bright Data a few years after.
Simply put, it is THE largest proxy service, offering all types of proxies in all countries, continents, and cities around the globe. Furthermore, Bright Data has proxies from both ISPs and user devices, allowing you to easily choose the one for your needs.
We can safely say that Bright Data is ranked as the best and most powerful proxy in the world. However, nothing's perfect, so it does have its disadvantages as well. I recommend staying with me and reading my full, in-depth Bright Data review.
I will talk about its features, ease of use, types of proxies, and everything else you need to know about it. No doubt, you'll have enough material to be able to decide on whether or not to purchase it.
1. Bright Data Review in 2022 – Verdict
After my Bright Data review, I concluded that this is one of the best proxies I used recently. It's a good example of a robust, large, and reliable proxy that takes pride in its complexity, yet, has an overwhelming number of features and functionalities for the most demanding users.
With over 72 million IP addresses and features like Web Unlocker, Data Collector, and Custom API, Bright Data is surely on top of its game. It's fast, it's secure, and offers flexible subscription plans that let you tailor the experience to your needs and financial possibilities.
Undoubtedly, it has among the largest databases of information, making it easy to scrap data online and collect the information you need. However, as it's not perfect, we should mention its initially complex interface and somewhat expensive pricing – despite its flexibility.
Its email support could also be better, but 24/7 live chat support does its job perfectly. Do we recommend Bright data after this review? If you need an advanced proxy with very few compromises and you don't care too much about the price – absolutely!
Pros
72M+ different IPs (residential, datacenter, ISP, mobile)
Web Unlocker is great for bypassing restrictions
Data Collect works well for data scrapping
Custom API
Flexible pricing with the "Pay as you go" plan
Chrome extension
Guaranteed 99.99% uptime for all proxies
Proxy Manager adds flexibility
24/7 live chat support
Cons
Some plans are very expensive
Intimidating interface for beginners
Slow email support
2. Bright Data – Features
In terms of features, we have a lot to talk about, so let's not waste time and get to the subject immediately.
2.1 Huge Proxy Network
Being a premium proxy service, Bright Data counts millions of IP addresses around the globe. To be precise, we're talking about 72 million IP addresses in 195 countries, out of which, you can find 7 million IP addresses from data centers.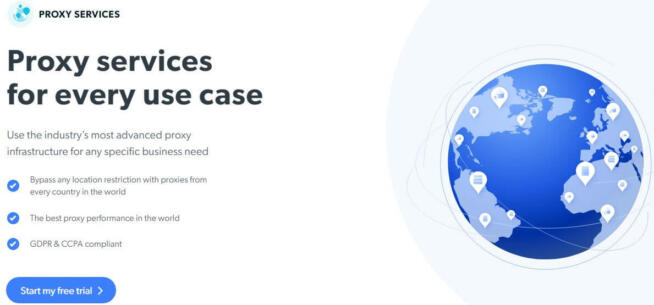 Of course, we're talking about shared and dedicated IP addresses, but also IP addresses from mobile phones and ISPs, with 7 million and 600,000 of them respectively. Undoubtedly, this is among the largest proxy networks, boasting an enormous potential for the most demanding users.
Even better is the fact that the company introduces 5 million new IPs each month, gradually increasing its already humongous proxy network.
2.2 Web Unlocker
Web Unlocker is another interesting feature for data scrapping. Apart from Web Unlocker, Bright Data offers Data Collector, which I'll talk about soon in this Bright Data review. Nevertheless, this tool is great for bypassing restrictions on many websites mainly through captchas.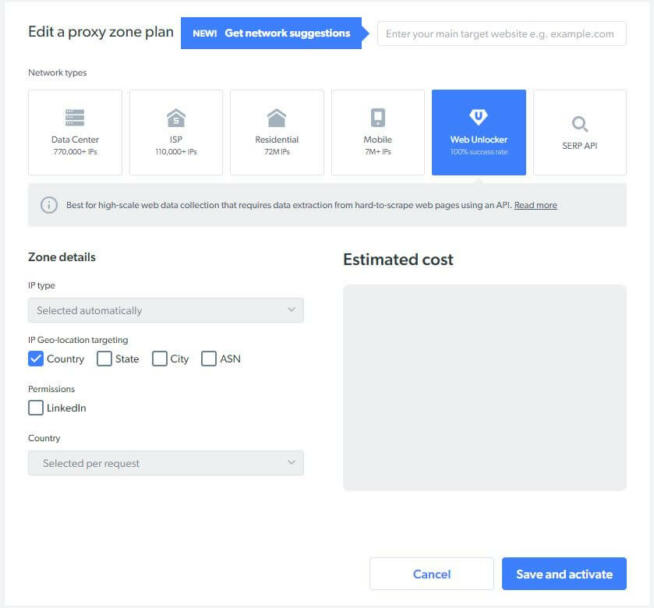 Once you enable it, it can easily solve any captcha and let you access the site you want for efficient data scrapping. It does so by limiting the requests per IP address, which can also let you bypass captchas completely, as the IP your traffic is coming from isn't deemed suspicious.
In addition, Web Unlocker is capable of tricking websites. It can imitate real users and devices that the server of the site "expects" to see. And the best thing is that it's very easy to use. You just type in the site you want, make a proxy request, and Bright Data will scrap the data you need.
Mind you, this process lasts less than two minutes, thanks to Bright Data's excellent overall performance. Of course, Web Unlocker works for bypassing all types of blocks and restrictions, and not strictly captcha, making it far more usable.
2.3 Several Types of Proxies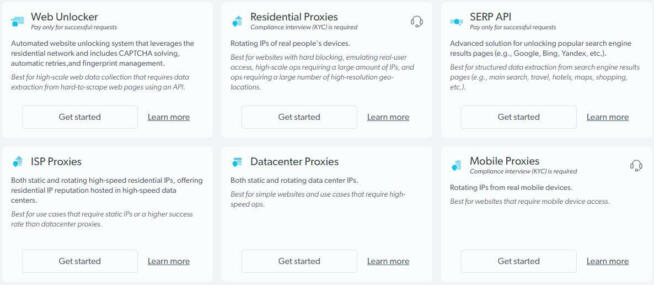 The selection of proxies you get is downright impressive. Bright Data offers residential, ISP, data center, and mobile proxies, along with SERP API aimed toward search engines.
Datacenter Proxies
Bright Data offers more than 1,6 million residential proxies with 99.99% uptime and global coverage. I found its datacenter proxies to be quite reliable, especially when using IPs from the US and the UK. Bright Data promises a success rate of 99% but it's a bit lower actually.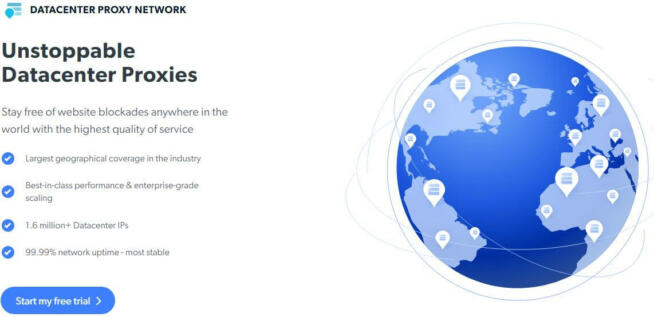 In my experience, the success rate of 85% isn't that bad considering a 2-second response time that follows. For example, I found that requests for Amazon and Facebook worked really well, with Indeed and Craigslist having far less success.
Residential Proxies
Residential proxies are useful if you want to get around heavy blocking. These proxies come from real devices, and as such, when accessing the site you want, it shouldn't be suspicious, granting you access in the process.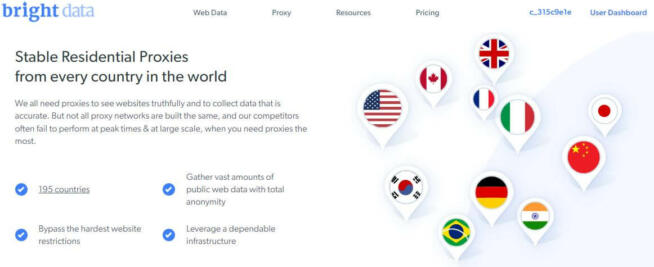 Here, Bright Data gives you more than 70 million IPs and you can go for ANY country or city. To be honest, residential proxies sport a huge pool size and request success is far higher than that of datacenter proxies.
The promised success rate of 99.99% is pretty much accurate, with a response time of below one second, which is pretty impressive.
ISP Proxies
If you need fast speeds and reliable connections, you can use ISP proxies. Bright Data promises a higher level of success here, although that applies to static ISP IP addresses, as shared addresses tend to send more requests simultaneously.

Once again, you can target different cities and countries, but not as many since you get 110,000+ IPs. However, Bright Data shows great performance here with a nearly 99.99% success rate and response time of above 1s.
Mobile Proxies
Websites that favor mobile access can be unblocked with mobile proxies. With 7 million rotating mobile IPs, Bright Data is pretty efficient. Furthermore, it supports country, city, and ASN targeting, making the process of finding the location you want easier.

Mobile proxies are extremely successful, with a success rate of around 99% on popular sites like Yahoo, Facebook, AliExpress, Google, and many others. Their response time is a bit higher though, at well above 5 seconds, they're not the fastest solution.
SERP API
Last but not least, you get SERP API which will help you unblock popular search engine results pages. By that, I mean search engines like Google, Yandex, Bing, DuckDuckGo, and many others. It's not a type of proxy per se, but it's useful for data extractions.

You can search for data regarding any type, such as shopping, travel, hotels, and many more.
2.4 Data Collector
Data Collector is one of the most useful features of Bright Data. It's so advanced, yet so simple to use, that you won't even need to know a speck of coding. That's because, for good or bad, Bright Data has all the information you'll ever need directly on its servers.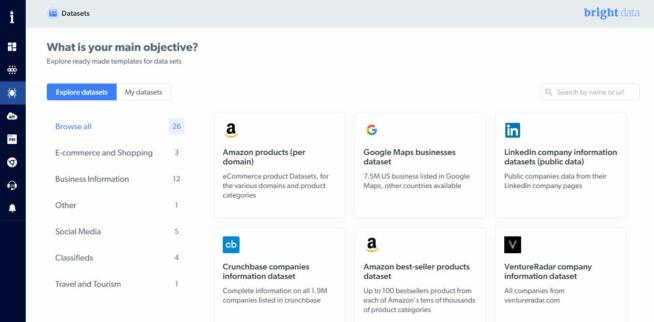 How does it work then? Well, you simply choose the website you want to scrape and decide whether or not you want real-time or scheduler scrapping. Then, you select the format of the data you want to receive, choose where you want your data to be sent, and you're good to go!
For instance, you can choose a CSV format to be sent to you every Monday and Friday if you don't want real-time scrapping.
In any case, Bright Data will honor you with all types of information from sites like Instagram, Twitter, Amazon, Booking, etc, etc. For instance, you can find product data on Amazon or detailed profile information on Instagram – it's really useful!
2.5 API & Integrations
If you want to fully customize Bright Data, you might be interested in Bright Data API and integrations. For one, you can set up a custom API for different purposes, such as Web Unlocker, SERP API, Data Collector, Browser Integration, and Mobile Integration.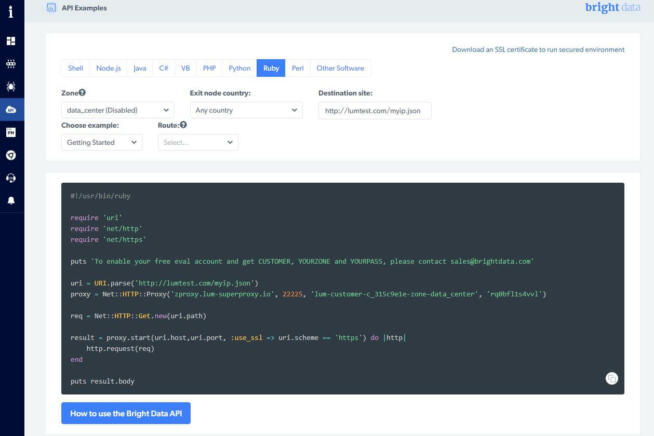 The first three require a bit of coding knowledge, as Bright Data offers codes in Shell, VB, C#, Python, Perl, and other languages. With them, you can fully customize the aforementioned functions and integrate them into your project.
I like how easy it is to integrate Bright Data into your browser or mobile phone. It supports both iOS and Android and the processes for both platforms are extremely easy. As for browsers, you can use Chrome (Windows & Mac), Edge, Firefox, and Safari.
2.6 Proxy Manager
Another interesting feature is Proxy Manager. It's basically an open-source solution that lets you fully manage your proxy networks. Unlike the web version of Bright Data, this is an application that you can install on Windows, Linux, and macOS, so it's a bit more accessible.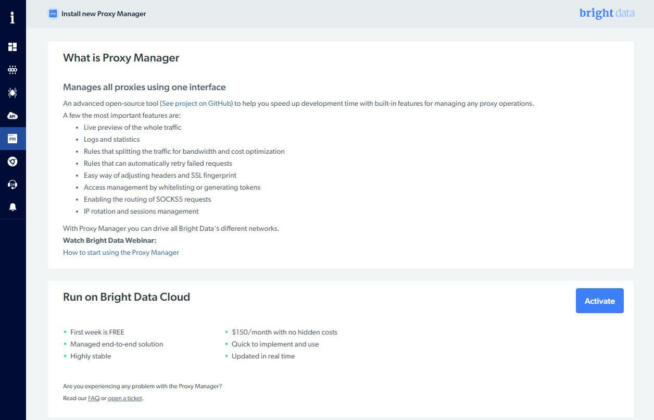 However, it adds features like SOCKS5 routing, SSL decryption, and a set of new rules that you can apply to your proxies. I also like its IP rotation and real-time preview of the whole traffic, which makes everything more intuitive and laid out.
Proxy Manager's feature-richness is undeniable, so it's more catered toward experienced users. Beginners will have a hard time with it given how complex it is, making it more useful for those who really know what they're doing.
2.7 Chrome Extension
In this Bright Data review, I'll quickly mention its Chrome extension. It's easy to use, as it's a cut-down version of the full-fledged app. This is a good thing, though, because it can still change your IP to another location and bypass website restrictions.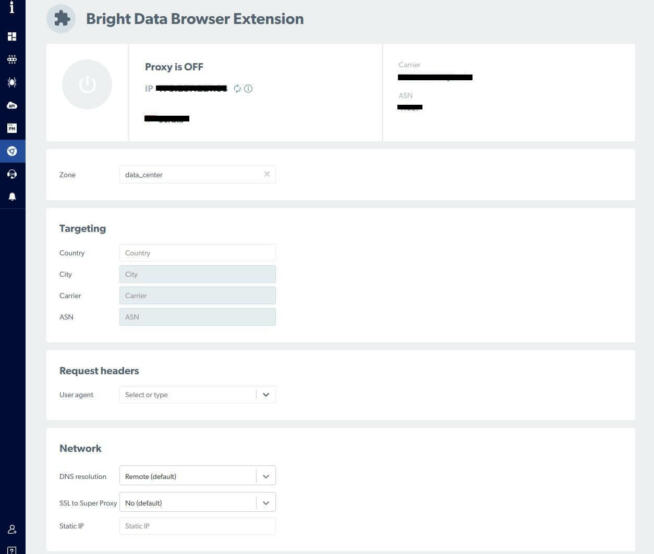 Bear in mind that it's functional if you want to bypass blocks and enjoy the restricted content. For scrapping data and collecting information, the full-fledged app is much better.
3. How to Sign Up for Bright Data?
Signing up for Bright Data is a piece of cake. Once you visit the site, you'll need to create an account by clicking on the Sign-Up button. In doing so, Bright Data will transfer you to the dashboard, which you can immediately use.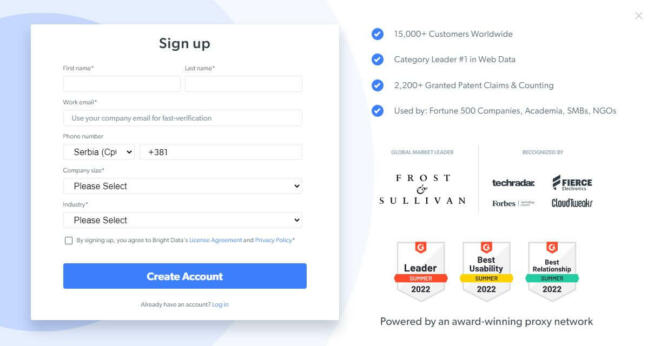 However, certain features are locked behind the KYC process, in which you'll need to verify your identity. This is fairly simple and involves some of your personal information, like your full name and address. You'll also need to provide a valid credit card or PayPal, upon which, you'll be charged $1.
After that, Bright Data will give you $5 in return and let you use all of its features.
4. Ease of Use
Bright Data isn't particularly easy to use, especially if you used low-tier proxies. Nothing is simple at first and the interface is littered with statistics, meters, and sometimes strange phrases. For example, the company has a name "Zone" for settings regarding the proxy type you selected.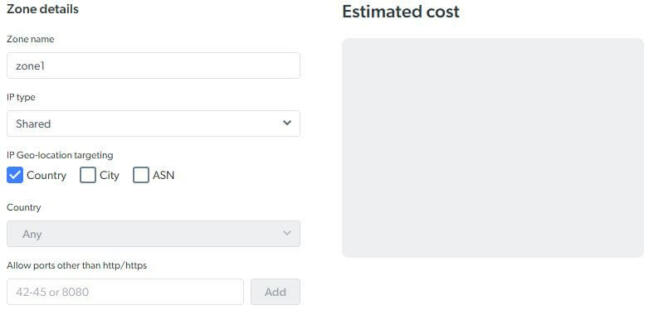 However, after using Bright Data for a while, I figured it's not as bad as some say it is. I like that all tools and settings on the left are clearly displayed and each menu gives you a good overview of what certain features can do.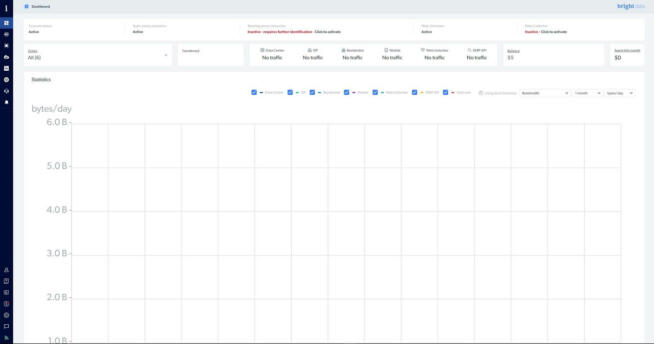 For instance, in API and Integrations, you have clear steps on how to use Bright Data on mobile platforms and browsers. And if you click on Proxies, you have all types of proxies visibly laid out. The home screen Dashboard gives you all the necessary data, too.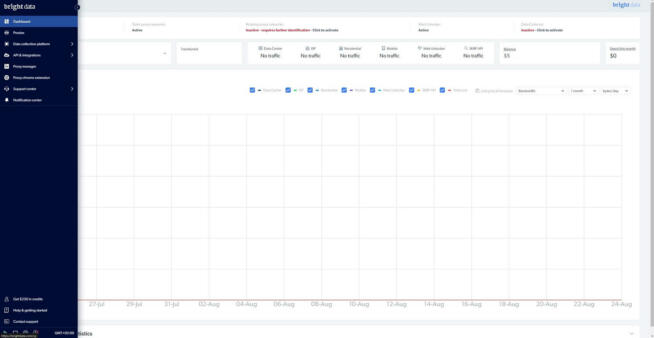 Here, you can see all your proxies and their used bandwidth. In addition, you can see your proxy status and how much money you've spent in the current month. I like that its Dashboard lets you access customer support and Help Center without opening another tab.
Thus, if any issues arise, you can fix them with no hassle. Once again, Bright Data will be perfectly usable for more experienced users. Beginners, on the other hand, will have a tough time getting used to its rich interface that screams complexity and usefulness – as crazy as it sounds.
5. Pricing: How Affordable Is Bright Data?
Complexity doesn't end on its user interface, however. You see, Bright Data's pricing is also somewhat complex, but it can be simplified by going for its "Pay as you go" plan. Take a look below: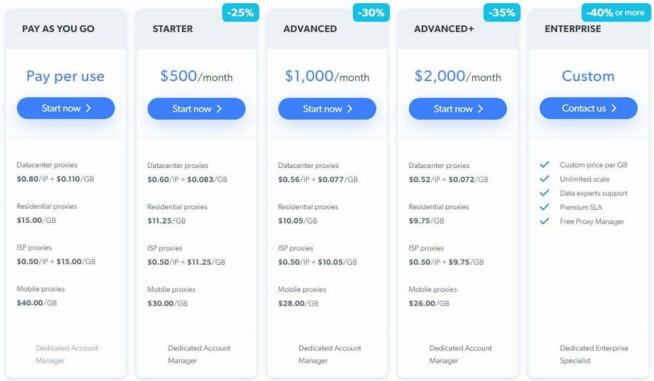 For me, the best solution is to go for the plan on the left. Here, you aren't obligated to pay for anything in advance. Instead, you'll pay pre-defined fees for different proxies. For instance, if you want to use ISP proxies, Bright Data will charge you $0.5 per IP and $15 per gigabyte of bandwidth.
And if you want a mobile proxy, you'll be charged $40 per gigabyte. Then, you have four more plans, including the Enterprise plan for large companies with flexible and customizable pricing. The Starter plan is $500 a month, with drastically reduced prices for all proxies, as you can see.
For most users, the Started plan will be enough, but if you're into more advanced use, the Advanced+ plan is a great deal. However, it costs $2,000 a month but it significantly drops the price of proxies. For example, datacenter proxies will cost $0.52 per IP and just $0.072 per gigabyte of bandwidth.
Compared to the "Pay as you go plan", you do get a lot cheaper prices. To that, we should add a 7-day free trial for companies, which is great for business users.
6. Customer Support
Customer support of Bright Data has gotten better over the years. Their email support is still on the slow side but I like the addition of 24/7 live chat support which is a game changer. If you opt for that, the support team will respond in an instant, which I found convenient for small questions and issues.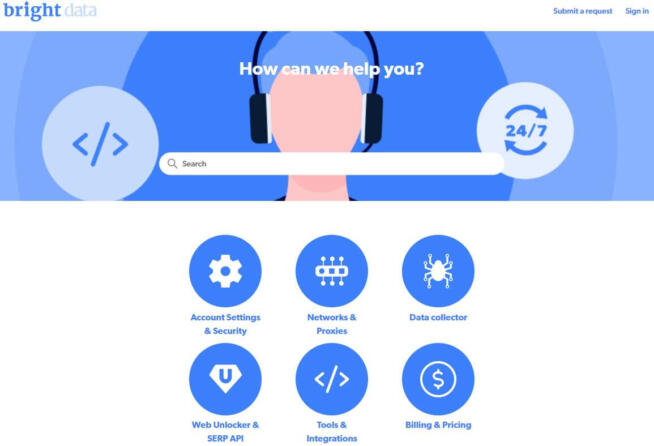 The support team is plenty helpful and I never had any issues with it. This applies to Help Center littered with useful documentation and answers to frequently asked questions. Overall, I would say that customer support is excellent if we exclude email support.
But with 24/7 live chat support in place, I doubt many people will bother sending emails. That is if we're talking about small issues. Bigger issues, which won't happen often, need to be fixed through email support after a thorough investigation.
7. FAQ
7.1 Is Bright Data free?
No, it's not free, but it offers a 7-day free trial for business users. Non-business users have a 3-day refund period as well, but there's no way to use Bright Data for free indefinitely.
7.2 Are there some good alternatives to Bright Data?
Yes, other great proxies include Oxylabs, which is the closest you'll get to this one. However, choices like Soax.com and Smartproxy are also worth a shot.
7.3 Is Luminati and Bright Data the same?
Yes. Luminati changed its name to Bright Data in 2021. The name Luminati seemed awkwardly similar to the behind-the-scenes organization (you know what I mean), which prompted the company to switch to a more "neutral" name.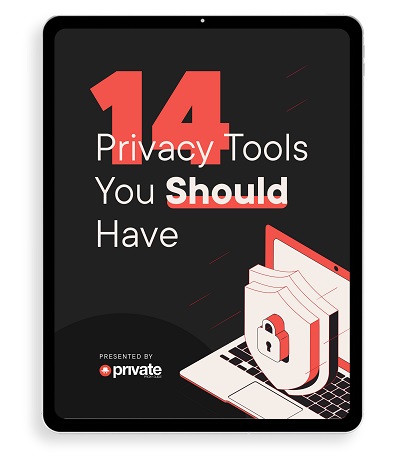 Learn how to stay safe online in this free 34-page eBook.